The MAK-Collection
The question of chemical exposure is a particular issue at workplaces where products are developed and manufactured. But where are to be found reliable, unbiased and comprehensive information?

The MAK-Collection for Occupational Health and Safety answers questions on the impact of several hundred chemical substances on humans, especially those working in the manufacturing process. This series is based on the MAK Values, which for 50 years have been collected and evaluated under occupational health aspects by the Commission for the Investigation of Health Hazards of Chemical Compounds in the Work Area – part of the DFG, the German Research Foundation – alongside other threshold values and classifications. These threshold values and classifications form the basis of the legal regulations in Germany and many other countries around the world.

The MAK-Collection for Occupational Health and Safety draws a bow between the workplace and the employee providing both the toxicological substantiation of threshold values for chemicals at the workplace (Part I and II), plus the suitable monitoring methods (PART III and IV).



Hartwig, Andrea (ed.)
The MAK-Collection for Occupational Health and Safety
Part I: MAK Value Documentations, Volume 26
1. Edition - December 2010
239.- €
VIII, 341 Pages, Hardcover
ISBN-10: 3-527-32306-6
ISBN-13: 978-3-527-32306-7

Detailed description
This volume provides documentations for the established MAK values (maximum workplace concentrations) of selected occupational toxicants, including an authoritative review of the available toxicological studies and data. For each substance, the toxic effects, mechanisms and modes of action, toxicogenetics and metabolism, effects in man and animals are described. In addition, the carcinogenic, germ-cell mutagenic, sensitizing or skin-resorptive effects as well as their toxicity to the reproductive system are evaluated, plus basic physico-chemical data are provided. The documentations are thus not only essential for the application of MAK values but also provide a concise toxicological overview for each substance.

From the contents
Acetic acid
Acrylic acid
Aniline
2-Butoxyethanol (Ethylene glycol monobutyl ether)
Chloroform
Dimethylformamide
Ethanol
Hydrogen bromide
Hydrogen peroxide
Methacrylic acid
Methylmethacrylate
N-Methyl-2-pyrrolidone (vapour)
Sulfuric acid
Tetrahydrothiophene

TOP


---

Hartwig, Andrea (ed.)
The MAK-Collection for Occupational Health and Safety
Part I: MAK Value Documentations, Volume 27
1. Edition - April 2013
199.- €
320 Pages, Hardcover
ISBN-10: 3-527-32308-2
ISBN-13: 978-3-527-32308-1

Detailed description
This volume provides documentations for the established MAK values (maximum workplace concentrations) of selected occupational toxicants, including an authoritative review of the available toxicological studies and data. For each substance, the toxic effects, mechanisms and modes of action, toxicogenetics and metabolism, effects in man and animals are described. In addition, the carcinogenic, germ-cell mutagenic, sensitizing or skin-resorptive effects as well as their toxicity to the reproductive system are evaluated, plus basic physico-chemical data are provided. The documentations are thus not only essential for the application of MAK values but also provide a concise toxicological overview for each substance.

From the contents
Polycyclic aromatic hydrocarbons (PAH)
Benzo[a]anthracene
Cyclopenta[cd]pyrene

(tentative contents)

TOP


---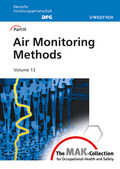 Hartwig, Andrea / Parlar, Harun / Brock, Thomas H. (eds.)
The MAK-Collection for Occupational Health and Safety
Part III: Air Monitoring Methods, Volume 13
1. Edition - October 2012
145.- €
XXVIII, 219 Pages, Hardcover
ISBN-10: 3-527-33071-2
ISBN-13: 978-3-527-33071-3

Detailed description
This volume provides detailed, ready-to-use protocols for air monitoring methods, developed to monitor concentrations of occupational toxicants at the workplace, while they can also be used for environmental monitoring. All the methods are reliable, reproducible, adhere to quality assurance standards and cover all the required steps from sampling to the interpretation of results. This includes data on precision, accuracy, and detection limit, calibration procedures as well as potential sources of systematic errors. In addition, the advantages and disadvantages of each method are clearly outlined.

From the contents
PRELIMINARY REMARKS
Quality assurance at workplace measurements

ANALYTICAL METHODS
Beryllium (BGI 505-13-02)
Bisphenol A (BGI 505-75-01)
Carbon tetrachloride, Method No. 2
Carboxylic acid amides (BGI 505-74-01)
Formic acid methyl ester, Method No. 1
Glycol ethers and glycol esters (BGI 505-76-01)
Lead and its inorganic compounds (BGI 505-73-01)
Metals (chromium, copper and inorganic compounds), Method No. 1
Nickel (BGI 505-10-02)
2-Nitronaphthalene (BGI 505-22-02)
Wood dust (BGI 505-41-02)

APPENDIX
Contents of Volumes 1-13 in alphabetical order
Contents of Volumes 1-13 ordered by CAS numbers


TOP


---