All Volumes
Knäblein, Jörg (ed.)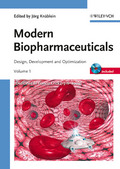 Modern Biopharmaceuticals
1. Edition - August 2005
850.- €
1886 Pages, 4 Volumes, Hardcover
- Handbook/Reference Book -
ISBN: 978-3-527-31184-2
Wiley-VCH, Weinheim

Sample Chapter

Competence Network "Biopharmaceuticals"

From the contents

Volume 1

INTRODUCTION
PART I: BIOPHARMACEUTICALS USED IN MOLECULAR MEDICINE
Genes & genomes - correlation between genes, diseases & biopharmaceuticals
siRNA - the magic bullet & other gene therapeutical approaches
Mobilis in mobile - human embryonic stem cells & other sources for cell therapy


Volume 2

PART II: BIOPHARMACEUTICALS AND THEIR MODE OF ACTION
The clotting cascade - lysis, coagulation & a fine-tuned balance
Errare humanum est - what causes cancer & how to selectively fight tumors
Mundus vult decipi - high mutation rates of HIV & new paradigms for treatment
PART III: IMPROVING THE DEVELOPMENT OF BIOPHARMACEUTICALS
Citius, altius, fortius - acceleration by high throughput & ultra-HT
Early target validation - knock-out mice & more
Revolution by evolution - rational design for desire & the scientific art of optimization


Volume 3

PART IV: PRODUCTION OF BIOPHARMACEUTICALS
The industry's workhorses - mammalian expression systems
A ripe and blooming market - biopharmaceuticals from transgenic animals & plants
Alea non iacta est - improving established expression systems
When success raises its ugly head - outsourcing to uncork the capacity bottleneck
PART V: BIOPHARMACEUTICALS USED FOR DIAGNOSTICS AND IMAGING
From hunter to craftsman - engineering antibodies with nature's universal toolbox
Find, fight & follow - target-specific troica from Mother Nature's Pharmacopoiea
Getting insight - sense the urgency for early diagnostics


Volume 4

PART VI: ADVANCED APPLICATION ROUTES FOR BIOPHARMACEUTICALS
Getting inside - quest for the best & how to improve delivery
Pathfinder - new ways for peptides, proteins & Co
Via mala - the stony road of DNA delivery: back-pack, feed-back & pay-back
Getting beyond - rocket science & science fiction
PART VII: FROM TRANSCRIPTION TO PRESCRIPTION
Opening the therapeutic window - between systemic toxicity & lack of efficacy
Happy end - claim to fame & approval
PART VIII: FROM BENCH TO BEDSIDE - THE AFTERMATHS
Think big & dealmaking for growth - global changes in the health-care sector
News & views - quo vadis, biopharmaceuticals?
Small molecules - light at the end of the tunnel or back to the roots?