Amyloids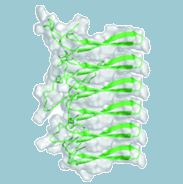 Amyloids is a collective term to describe misfolded proteins that self-assemble into insoluble fibrils both in vitro and in vivo. These protein aggregates are involved in a wide variety of human diseases, from Alzheimer's Disease to Type 2 Diabetes and Rheumatoid Arthritis to Artherosclerosis. Given the importance of amyloids in a disease context, intense study of their biophysical properties has given plenty of new information on ways to inhibit their formation.
Find all articles on amyloids in Wiley Online Library...
Recent Articles

RSS feed
Real-time surveillance: A ligand-based NMR screening approach with a spy molecule and using WaterLOGSY, 1H selective T1 filter, and 19F T2 filter experiments is proposed for monitoring the initial self-aggregation process kinetics of the β1–42 amyloid peptide. This methodology can be used in the screening of large chemical mixtures for the identification of molecules that delay or accelerate the initial aggregation process.
[Full Paper]
Claudio Dalvit, Sara Santi, Reinhard Neier
ChemMedChem, August 07, 2017, https://doi.org/10.1002/cmdc.201700319 Read article
Amyloid hydrogel for sustained growth factors delivery in tissue engineering applications. Amyloid based hydrogels can mimic the extracellular matrix and serve as matrices for tissue engineering applications both in vitro and in vivo. A pH responsive, self-assembled amyloid hydrogel system is used to encapsulate various growth factors for driving stem cell differentiation toward neuronal lineage.
[Full Paper]
Subhadeep Das, Rakesh Kumar, Narendra Nath Jha, Samir K. Maji
Adv. Healthcare Mater., July 24, 2017, https://doi.org/10.1002/adhm.201700368 Read article
Carbon nanodots (CDs) suppress Alzheimer's β-amyloid (Aβ) self-assembly and function as an antiamyloidogenic, β-sheet breaker to disintegrate preformed Aβ aggregates. The branched polyethylenimine (bPEI)-coated CDs (bPEI@CDs) induce higher hindrance on Aβ aggregation compared to bare CDs. Under light illumination, bPEI@CDs display more pronounced effects on Aβ aggregation inhibition and the dissociation of β-sheet-rich assemblies through generating reactive oxygen species.
[Communication]
You Jung Chung, Kayoung Kim, Byung Il Lee, Chan Beum Park
Small, July 17, 2017, https://doi.org/10.1002/smll.201700983 Read article
Rapid and accurate! Inhibitors of transthyretin (TTR) fibril deposition were identified thanks to a structure-based virtual screening of the entire Aldrich Market Select database. The first results of this protocol, despite the unique peculiarity of the TTR site with its symmetry and multi-binding mode, allowed the detection of two very active inhibitors and one scaffold for optimization. Much information, however, is still stored in the outputs.
[Full Paper]
Gabriella Ortore, Adriano Martinelli
ChemMedChem, May 11, 2017, https://doi.org/10.1002/cmdc.201700051 Read article
© Wiley-VCH 2016.