Amyloids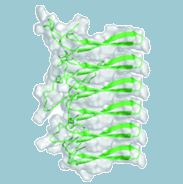 Amyloids is a collective term to describe misfolded proteins that self-assemble into insoluble fibrils both in vitro and in vivo. These protein aggregates are involved in a wide variety of human diseases, from Alzheimer's Disease to Type 2 Diabetes and Rheumatoid Arthritis to Artherosclerosis. Given the importance of amyloids in a disease context, intense study of their biophysical properties has given plenty of new information on ways to inhibit their formation.
Find all articles on amyloids in Wiley Online Library...
Recent Articles
RSS feed
A strategy for programming dynamic biofilm formation is reported for the synchronized assembly of inorganic nano-objects (NOs) in a dynamic, scalable, and hierarchical fashion. Diverse and complex fluorescent quantum dot patterns with a minimum resolution of 100 µm are achieved through programed light regulation. Multilayered heterostructured films through layer-by-layer assembly are demonstrated by temporally controlling the sequential addition of NOs.
[Communication]
Xinyu Wang, Jiahua Pu, Bolin An, Yingfeng Li, Yuequn Shang, Zhijun Ning, Yi Liu, Fang Ba, Jiaming Zhang, Chao Zhong
Adv. Mater., March 08, 2018, https://doi.org/10.1002/adma.201705968 Read article
pK prediction: Protonation of Aβ42 peptide monomer can cause movement of His toward the center mass of the peptide and thus promote the transition from unfolded to folded conformation. For fibril-like Aβ42 oligomers, pK values of key residues, such as salt-bridge formers Asp23 and Lys28, in the current context can be used to predict the stability of the oligomer by comparison to their normal counterparts (see figure).
[Article]
Wei Zhao, Hongqi Ai
ChemPhysChem, March 05, 2018, https://doi.org/10.1002/cphc.201701384 Read article
© Wiley-VCH 2016.