Amyloids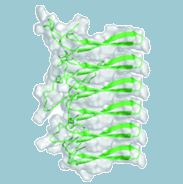 Amyloids is a collective term to describe misfolded proteins that self-assemble into insoluble fibrils both in vitro and in vivo. These protein aggregates are involved in a wide variety of human diseases, from Alzheimer's Disease to Type 2 Diabetes and Rheumatoid Arthritis to Artherosclerosis. Given the importance of amyloids in a disease context, intense study of their biophysical properties has given plenty of new information on ways to inhibit their formation.
Find all articles on amyloids in Wiley Online Library...
Recent Articles

RSS feed
The sooner, the better: Whereas existing probes and techniques fail to detect oligomers at high resolution, we show that the fluorescent 9-(dicyano-vinyl)julolidine (DCVJ) binds amyloid β early aggregates. The demonstrated sensitivity of DCVJ to oligomer structure and packing provides us with a suitable probe to detect the early lag phase of amyloid assembly.
[Communication]
Sureshbabu Nagarajan, Lisa J. Lapidus
ChemBioChem, October 12, 2017, https://doi.org/10.1002/cbic.201700387 Read article
Small change, big effect: Herein, we report a series of compounds to illustrate the extent to which the reactivities of small molecules vary toward different targets as a result of minor structural modifications. We disclose a rational design approach for the development of chemical tools capable of targeting and regulating multiple pathological factors, including metal ions and metal-associated amyloid-β species found in Alzheimer's disease.
[Full Paper]
Michael W. Beck, Jeffrey S. Derrick, Jong-Min Suh, Mingeun Kim, Kyle J. Korshavn, Richard A. Kerr, Woo Jong Cho, Scott D. Larsen, Brandon T. Ruotolo, Ayyalusamy Ramamoorthy, Mi Hee Lim
ChemMedChem, October 09, 2017, https://doi.org/10.1002/cmdc.201700456 Read article
Deep ultraviolet emission at around 285 nm and/or blue emission at ≈450 nm observed in various supramolecular architectures of diphenylalanine-based peptides are reviewed, which are primarily interpreted by quantum confinement effects, shallow radiative traps, and electron delocalization via hydrogen bonds in β-sheet structures. Furthermore, applications of such fluorescent peptide nano/microstructures are also reviewed.
[Review]
Zhixing Gan, Hao Xu
Macromol. Rapid Commun., September 13, 2017, https://doi.org/10.1002/marc.201700370 Read article
© Wiley-VCH 2016.