Amyloids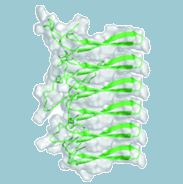 Amyloids is a collective term to describe misfolded proteins that self-assemble into insoluble fibrils both in vitro and in vivo. These protein aggregates are involved in a wide variety of human diseases, from Alzheimer's Disease to Type 2 Diabetes and Rheumatoid Arthritis to Artherosclerosis. Given the importance of amyloids in a disease context, intense study of their biophysical properties has given plenty of new information on ways to inhibit their formation.
Find all articles on amyloids in Wiley Online Library...
Recent Articles

RSS feed
β-Amyloid peptide accumulation in the brain is most likely cause of the Alzheimer's disease. Aggregates of β-sheets of amyloid structures with a graphene flake (see picture) were studied by using DFT calculations. Graphene-flake interactions with amyloid sheets are stronger than the interaction between two amyloid sheets, which confirms experimental observations that graphene inhibits amyloid aggregation.
[Article]
Dragana M. Božinovski, Predrag V. Petrović, Milivoj R. Belić, Snežana D. Zarić
ChemPhysChem, December 13, 2017, https://doi.org/10.1002/cphc.201700847 Read article
Arrested aggregation: Protein misfolding is interrelated to several diseases, including neurodegenerative diseases and type II diabetes. Misfolded/unfolded proteins produce soluble oligomers that accumulate into "amyloid plaques". Inhibition of amyloid-plaque formation by those misfolded proteins will lead to the invention of new therapeutic approaches for amyloid-related diseases. Herein, methylene blue (MB) is used to impede insulin fibrillation.
[Full Paper]
Meghomukta Mukherjee, Jagannath Jana, Subhrangsu Chatterjee
ChemistryOpen, December 07, 2017, https://doi.org/10.1002/open.201700131 Read article
The growth and surface morphology of the layer-by-layer-assembled films are explored, consisting of zwitterionic κ-casein amyloid fibrils (κCF) depending on the types of intermolecular interactions. Stable and mechanically robust κCF/poly(sodium 4-styrenesulfonate) hollow microcapsules are only possible with the electrostatic interactions, while κCF/poly(acrylic acid) samples are ruptured due to the breakage of hydrogen bonding during the removal of sacrificial templates.
[Full Paper]
Jubong Lee, Ji-Hye Lee, Bongjun Yeom, Kookheon Char
Macromol. Chem. Phys., November 09, 2017, https://doi.org/10.1002/macp.201700382 Read article
© Wiley-VCH 2016.