Batteries and Supercapacitors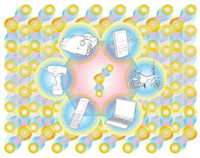 Lithium-ion or otherwise, batteries keep lots of things going, and enable a mobile lifestyle: from mobile phones to intercontinental air travel. Batteries are complex devices whose overall performance and usefulness depend on many factors such as energy density, efficiency, durability, and sustainability. Research in this area is by nature interdisciplinary and involves chemists, physicists, materials scientists, and engineers.
Further reading: K. Ozawa (Ed.), Lithium Ion Rechargeable Batteries: Materials, Technology, and New Applications, Wiley-VCH, 2010.
Find all articles on batteries or supercapacitors in Wiley Online Library...
Recent Articles

RSS feed
Iron in energy storage: A reversible Fe3+/Fe2+ redox couple of an aza-macrocyclic complex has a pH-tunable 590 mV potential range useful for redox-flow battery (RFB) applications. Tunable redox, fast electrochemical kinetics, exceptional stability and cyclability of this complex is promising for the design of both aqueous catholytes and anolytes for RFBs that utilize the earth-abundant element, iron.
[Communication]
Pavel B. Tsitovich, Anjula M. Kosswattaarachchi, Matthew R. Crawley, Timothy Y. Tittiris, Timothy R. Cook, Janet R. Morrow
Chem. Eur. J., October 18, 2017, https://doi.org/10.1002/chem.201704381 Read article
Tailored cathodes: Prussian blue (PB) samples are synthesized through a hydrothermal method with the assistance of acid. The acid not only triggers the chemical reaction to form cubic PB, but also acts as an etching reagent, tailoring the PB morphology. The as-obtained cubic PB with concave centers demonstrates superior cycle stability and rate performance, with good capacity retention (see scheme).
[Full Paper]
Yang Liu, Gangya Wei, Mengyue Ma, Yun Qiao
Chem. Eur. J., October 18, 2017, https://doi.org/10.1002/chem.201703081 Read article
Defect-perfect: Lithium-rich layered Li1.16(Ni0.25Mn0.75)0.84O2 oxide with an antisite-defect layer on the surface is prepared by boracic polyanion doping. The layer retards the drastic layered-to-spinel phase transition and eliminates the concomitant amorphous phase by decreasing the concentration of Li+ vacancies during high-voltage charging, which significantly improves the capacity retention and decreases the voltage decay.
[Article]
Leilei Ma, Lei Mao, Xiaofeng Zhao, Jianhao Lu, Fan Zhang, Pengchong Ding, Lizefang Chen, Fang Lian
ChemElectroChem, October 18, 2017, https://doi.org/10.1002/celc.201700913 Read article
Throw some shapes: As a sustainable alternative anode material in lithium batteries, polyaniline-coated squaric acid shows high specific capacity with unprecedented cycling stability. The polyaniline coating restricts the dissolution of active material into the electrolyte and improves the electronic conductivity of squaric acid.
[Article]
Arnab Ghosh, Sagar Mitra
ChemElectroChem, October 18, 2017, https://doi.org/10.1002/celc.201700866 Read article
From old glass to batteries: A new and more sustainable method to produce Si nanowires in bulk quantities through the direct electrochemical reduction of CaSiO3 at a low temperature of 650 °C was developed. The method uses the low-melting-point ternary molten salts of CaCl2–MgCl2–NaCl, which retain high CaSiO3-solubility, and a supporting electrolyte of CaO, which drastically improves the reaction kinetics and enables the electrolysis at low temperatures.
[Communication]
Yifan Dong, Tyler Slade, Matthew J. Stolt, Linsen Li, Steven N. Girard, Liqiang Mai, Song Jin
Angew. Chem. Int. Ed., October 18, 2017, https://doi.org/10.1002/anie.201707064 Read article
Graphite flakes out: A simple and environmentally friendly hydrothermal method is used to synthesize anode materials composed of NiFe2O4 (NFO) and ultrathin flake graphite (UFG). The optimized NFO/UFG-2 composite shows a stable long-term cycling performance with a high initial Coulombic efficiency of 83.4 % and a high specific capacity of 963.4 mAh g−1 after 300 cycles at a current density of 200 mA g−1.
[Article]
Lina Qu, Xianhua Hou, Xiyan Huang, Qian Liang, Qiang Ru, Bo Wu, Kwok-ho Lam
ChemElectroChem, October 17, 2017, https://doi.org/10.1002/celc.201700862 Read article
The stacked ultrathin Co3O4 nanosheets with surface functionalization possess 2D nanofluidic channels for rapid Li-ion transport in both half- and full-cells.
[Communication]
Chunshuang Yan, Chade Lv, Yue Zhu, Gang Chen, Jingxue Sun, Guihua Yu
Adv. Mater., October 17, 2017, https://doi.org/10.1002/adma.201703909 Read article
Caught on film: By electrochemical AFM investigation at 60 °C, in situ formation of a functional film can be directly monitored at a highly oriented pyrolytic graphite (HOPG) cathode/polysulfide electrolyte interface in Li–S batteries. The film forms by a LiF net capturing polysulfide (PS) intermediates by both physical confinement and chemical anchoring effects.
[Communication]
Shuang-Yan Lang, Yang Shi, Yu-Guo Guo, Rui Wen, Li-Jun Wan
Angew. Chem. Int. Ed., October 16, 2017, https://doi.org/10.1002/anie.201706979 Read article
Based on the relationships among structure evolution, reaction kinetics and performance, understanding the electrochemical reaction mechanism of electrode materials provides guidelines for improving performance and designing electrode materials of LIBs. This article summarizes recent progresses towards unraveling the atomic-scale structure evolution of different electrode materials using in situ TEM with three electrochemical reaction mechanisms: intercalation, conversion and alloying reactions
[Progress Report]
Tongtong Shang, Yuren Wen, Dongdong Xiao, Lin Gu, Yong-Sheng Hu, Hong Li
Adv. Energy Mater., October 16, 2017, https://doi.org/10.1002/aenm.201700709 Read article
Molecular dynamics simulations of silica- and alumina-coated silicon nanowires under uniaxial tension reveal atomistic origins for mechanical property enhancement in coated nanowires. Uncoated nanowires fail by amorphization within a localized shear band, while coated undergo dislocation twinning and large-scale amorphization, improving ductility without significant reduction in tensile strength, increasing apparent toughness by 2–4 times.
[Full Paper]
Anthony Gao, Sankha Mukherjee, Ijya Srivastava, Matthew Daly, Chandra Veer Singh
Adv. Mater. Interfaces, October 16, 2017, https://doi.org/10.1002/admi.201700920 Read article
A new kind of highly flexible, porous, high-wettability, fire-resistant hydroxyapatite nanowire-based separator with superior performance and high safety is prepared for advanced lithium-ion batteries. The batteries with the hydroxyapatite nanowire-based separators show better cyclability and enhanced rate capability compared with those with the commercial polypropylene separator. The as-prepared batteries adopting the hydroxyapatite nanowire-based separator can safely work at 150 °C.
[Communication]
Heng Li, Dabei Wu, Jin Wu, Li-Ying Dong, Ying-Jie Zhu, Xianluo Hu
Adv. Mater., October 16, 2017, https://doi.org/10.1002/adma.201703548 Read article
Mesoporous anatase TiO2 yolk–TiO2(B) shell microspheres are synthesized via a solvothermal process. Porous shells of thin TiO2(B) nanosheets are separated by a gap from the anatase TiO2 cores. These microspheres show a high reversible capacity and long-term cyclability as active anode materials in lithium-ion batteries.
[Full Paper]
Hao Wei, Erwin F. Rodriguez, Anthony F. Hollenkamp, Anand I. Bhatt, Dehong Chen, Rachel A. Caruso
Adv. Funct. Mater., October 16, 2017, https://doi.org/10.1002/adfm.201703270 Read article
Si goes it alone: The thickness of an electrode composed of Si alone was found to increase with the cycle number, with the increase in thickness less noticeable in an bis(fluorosulfonyl)amide (FSA)-based electrolyte than in an organic electrolyte. Li−K emission was observed at all SXES measured points, which means that the lithiation reaction proceeded uniformly in the Si layer.
[Article]
Kazuki Yamaguchi, Yasuhiro Domi, Hiroyuki Usui, Hiroki Sakaguchi
ChemElectroChem, October 13, 2017, https://doi.org/10.1002/celc.201700724 Read article
T-Nb2O5/CNFs are prepared by electrospining and tested as anode materials for sodium-ion batteries. Owning to the superior structural flexibility and pseudocapacitive behavior, T-Nb2O5/CNFs deliver a stabilized capacity of 150 mAh g−1 at 1 A g−1 over 5000 cycles and excellent rate performance (97 mAh g−1 at 8 A g−1), which are promising for large-scale energy-storage systems.
[Communication]
Leping Yang, Yuan-En Zhu, Jian Sheng, Feng Li, Bin Tang, Yue Zhang, Zhen Zhou
Small, October 12, 2017, https://doi.org/10.1002/smll.201702588 Read article
Homogeneous N-doped graphene/S nanocomposites with different S loadings, synthesized using chemical reaction-deposition method and low temperature heat treatment, were electrochemically evaluated as cathode materials for room-temperature Na−S batteries. 25% S nanocomposite exhibited the best performance with capacities of 212 and 136 mAh g−1 in 1st and 10th cycles. This enhanced electrochemical performance is attributed to the improved kinetics by established conductive network and easier intercalation of Na+ into expanded NGNS layers due to S within graphene layers.
[Full Paper]
Yong Hao, Xifei Li, Xueliang Sun, Chunlei Wang
ChemistrySelect, October 12, 2017, https://doi.org/10.1002/slct.201701951 Read article
Binding agreement: A new redox-active polymer binder inserts Na+ ions and shows adhesive properties. This new material is synthesized by adding polyether amine groups onto mixed propylene oxide and ethylene oxide blocks to make p-phenylenediamine and terephthalaldehyde units and form electroactive Schiff-base groups along the macromolecule.
[Full Paper]
Naiara Fernández, Paula Sánchez-Fontecoba, Elizabeth Castillo-Martínez, Javier Carretero-González, Teófilo Rojo, Michel Armand
ChemSusChem, October 12, 2017, https://doi.org/10.1002/cssc.201701471 Read article
The cycle stability of NaCrO2 half cells depends strongly on structural defects in the NaCrO2 crystal which is shown to be controllable through high-energy ball milling (BM) before and after the high-temperature synthesis reaction. The near-perfect NaCrO2 crystal derived from the process with high-energy BM of reactants before the synthesis reaction (i. e., the BM-Before cell) exhibits the highest specific capacity and best capacity retention.
[Article]
Monica Sawicki, Angel L. Ortiz, Mei Luo, Leon L. Shaw
ChemElectroChem, October 12, 2017, https://doi.org/10.1002/celc.201700764 Read article
The origin of slow kinetics of triplite electrode material is demonstrated for the first time. This study unveils that triplite LiFeSO4F particle is generally comprised of "nanodomains" of characteristic transition-metal arrangements, and the domain boundaries significantly reduce the overall lithium diffusivity. This work represents presence of domain boundaries within a crystalline structure playing a critical role in governing the lithium diffusivity.
[Full Paper]
Dong-Hwa Seo, Kyu-Young Park, Haegyeom Kim, Sung-Kyun Jung, Min-Sik Park, Kisuk Kang
Adv. Energy Mater., October 12, 2017, https://doi.org/10.1002/aenm.201701408 Read article
An efficient bifunctional oxygen catalyst comprising hollow Co3O4 nanospheres embedded in N-doped carbon nanowall arrays (NC-Co3O4) is facilely fabricated from a metal–organic framework. The additive-free NC-Co3O4 electrode can be directly utilized as an efficient air cathode for a flexible solid-state Zn–air battery, which demonstrates much improved cycling stability and mechanical flexibility than Pt- and Ir-based zinc–air batteries.
[Communication]
Cao Guan, Afriyanti Sumboja, Haijun Wu, Weina Ren, Ximeng Liu, Hong Zhang, Zhaolin Liu, Chuanwei Cheng, Stephen J. Pennycook, John Wang
Adv. Mater., October 12, 2017, https://doi.org/10.1002/adma.201704117 Read article
An all-integrated anode design via multicomponent chemical interlinking among carbon@void@silica@silicon (CVSS) nanospheres and cross-linked carboxymethyl cellulose and citric acid polymer binder (c-CMC-CA) is developed for achieving electrode/structural stability of a silicon anode during lithiation/delithiation. The obtained excellent electrochemical performance can be ascribed to the collaboration of the double-shelled–yolk-structured silicon and the covalent-interlinked high-strength binder system.
[Communication]
Yajie Liu, Zhixin Tai, Tengfei Zhou, Vitor Sencadas, Jian Zhang, Lei Zhang, Konstantin Konstantinov, Zaiping Guo, Hua Kun Liu
Adv. Mater., October 12, 2017, https://doi.org/10.1002/adma.201703028 Read article
The integration of main-chain imidazolium-based ionic polymer and carbon nanotubes (CNTs) generates one type of new 3D conductive carbon material for high-performance Li–S batteries. The close coverage and seamless junction of CNTs by N-doped porous carbon (NPC) result in inheritance and improvement of high electrical conductivity from CNTs and strong polysulfides entrapping ability from NPC.
[Full Paper]
Hui Pan, Zhibin Cheng, Zhubing Xiao, Xiaoju Li, Ruihu Wang
Adv. Funct. Mater., October 12, 2017, https://doi.org/10.1002/adfm.201703936 Read article
Nanoaluminum@carbon (nAl@C) core–shell nanospheres are developed as a new anode material for dual-ion batteries (DIBs). The DIB exhibits a high rate capability and superior cycling stability with 94.6% capacity retention after 1000 cycles at 15 C, which also achieves a high specific energy of 148 W h kg–1 at 3701 W kg–1, better than most conventional lithium-ion batteries.
[Communication]
Xuefeng Tong, Fan Zhang, Guanghai Chen, Xinyu Liu, Lin Gu, Yongbing Tang
Adv. Energy Mater., October 11, 2017, https://doi.org/10.1002/aenm.201701967 Read article
Group IVA element (Si, Ge, Sn)-based alloying/dealloying electrodes are promising candidates for anodes in next-generation lithium-ion batteries owing to their high gravimetric and volumetric capacities, low working voltages, and natural abundances. The recent progress and important approaches to overcoming and alleviating the drawbacks of Group IVA element-based anodes in full-cell configurations are reviewed.
[Review]
Dequan Liu, Zheng jiao Liu, Xiuwan Li, Wenhe Xie, Qi Wang, Qiming Liu, Yujun Fu, Deyan He
Small, October 10, 2017, https://doi.org/10.1002/smll.201702000 Read article
Janus-faced separator design with ultrathin copper (Cu) metal film coating onto one side surface of the conventional polyethylene separator is proposed for lithium (Li) dendrite suppression and cycling stability improvement. Enabling the separator to be electrically and ionically conductive is very effective to facilitate the electrochemical deposition/stripping of Li metal and modulate of the Li metal/electrolyte interface structure.
[Full Paper]
Hongkyung Lee, Xiaodi Ren, Chaojiang Niu, Lu Yu, Mark H. Engelhard, Inseong Cho, Myung-Hyun Ryou, Hyun Soo Jin, Hee-Tak Kim, Jun Liu, Wu Xu, Ji-Guang Zhang
Adv. Funct. Mater., October 10, 2017, https://doi.org/10.1002/adfm.201704391 Read article
A novel air-stable O3-type Na[Li0.05Mn0.50Ni0.30Cu0.10Mg0.05]O2 is synthesized by a coprecipitation method suitable for mass production followed by high-temperature annealing. Owing to the high industrial feasibility of the synthesis process, good compatibility with pristine hard carbon anode, and excellent electrochemical performance, it can be considered as a promising active material to promote progress toward sodium-ion battery commercialization.
[Communication]
Jianqiu Deng, Wen-Bin Luo, Xiao Lu, Qingrong Yao, Zhongmin Wang, Hua-Kun Liu, Huaiying Zhou, Shi-Xue Dou
Adv. Energy Mater., October 09, 2017, https://doi.org/10.1002/aenm.201701610 Read article
An ultrastable, flexible fiber-shaped Ni–Zn battery with impressive electrochemical performance is rationally demonstrated by employing Ni–NiO heterostructured nanosheets as the cathode. This Ni–NiO//Zn battery exhibits unprecedented cyclic durability both in aqueous (96.6% capacity retention after 10 000 cycles) and polymer (almost no capacity attenuation after 10 000 cycles at 22.2 A g−1) electrolytes.
[Communication]
Yinxiang Zeng, Yue Meng, Zhengzhe Lai, Xiyue Zhang, Minghao Yu, Pingping Fang, Mingmei Wu, Yexiang Tong, Xihong Lu
Adv. Mater., October 09, 2017, https://doi.org/10.1002/adma.201702698 Read article
A CoS quantum dot nanoclusters graphene composite (CoS@G) is applied as anode in potassium-ion batteries (PIBs). The coexistence of CoS quantum dots nanoclusters and graphene nanosheets endows the composite with a large surface area, a highly conductive network, and robust structural stability. In PIBs, the electrode delivers an unprecedented capacity of 310.8 mA h g−1 at 500 m A g−1 after 100 cycles.
[Full Paper]
Hong Gao, Tengfei Zhou, Yang Zheng, Qing Zhang, Yuqing Liu, Jun Chen, Huakun Liu, Zaiping Guo
Adv. Funct. Mater., October 09, 2017, https://doi.org/10.1002/adfm.201702634 Read article
A transition metal selenite - Na2Co2(SeO3)3- is introduced as a new class of 4 V Na-ion positive electrode materials. The moderately inductive polyanionic framework of SeO32− ensures a suitable potential for the Co2+/Co3+ redox couple. A graphene oxide composite delivers a reversible capacity of ≈75 mA h g−1, while reversible structural transformation is observed during the charge/discharge process.
[Full Paper]
Se Young Kim, Dipan Kundu, Linda F. Nazar
Adv. Energy Mater., October 06, 2017, https://doi.org/10.1002/aenm.201701729 Read article
Lithiation mechanism of tunnel-structured α-MnO2 electrode is elucidated by in situ transmission electron microscopy. The rapid lithium-ion diffusion through the tunnels is verified. Moreover, MnO intermediate phase evolution and the development of the MnO and Li2O phases with preferred orientations during conversion reaction procedure are observed for the first time.
[Communication]
Seung-Yong Lee, Lijun Wu, Altug S. Poyraz, Jianping Huang, Amy C. Marschilok, Kenneth J. Takeuchi, Esther S. Takeuchi, Miyoung Kim, Yimei Zhu
Adv. Mater., October 06, 2017, https://doi.org/10.1002/adma.201703186 Read article
The surface/interfacial structure and chemistry of nickel-rich cathodes involving structural defects, redox mechanisms, structural evolutions, side-reactions, etc., are initially presented. Recent advances on stabilizing its surface/interfacial structure and chemistry by surface modification, core−shell/concentration-gradient structure, foreign-ion substitution, hybrid surface and electrolyte additive are summarized. Finally, the remaining challenges including fundamental studies and commercialized applications, and the future research directions are also discussed.
[Review]
Peiyu Hou, Jiangmei Yin, Meng Ding, Jinzhao Huang, Xijin Xu
Small, October 04, 2017, https://doi.org/10.1002/smll.201701802 Read article
The poor interfacial contact between garnet-based solid-state electrolytes and lithium metal anode is successfully addressed by a universal one-step soldering technique. As a demonstration, a molten Li–Sn alloy is successfully coated onto a fresh-polished garnet pellet in less than 10 s, much like a quick soldering step, which results in an interfacial resistance as low as ≈7 Ω cm2.
[Full Paper]
Chengwei Wang, Hua Xie, Lei Zhang, Yunhui Gong, Glenn Pastel, Jiaqi Dai, Boyang Liu, Eric D. Wachsman, Liangbing Hu
Adv. Energy Mater., October 04, 2017, https://doi.org/10.1002/aenm.201701963 Read article
A simple postprocessing method (called maturation) is conceived for improving the cycle life of Si-based electrodes. This improvement originates from the increase of the mechanical strength of the electrode thank to the binder migration at the silicon interparticle contacts and to the formation of copper carboxylate bonds at the film/substrate interface.
[Full Paper]
Cuauhtémoc Reale Hernandez, Aurélien Etiemble, Thierry Douillard, Driss Mazouzi, Zouina Karkar, Eric Maire, Dominique Guyomard, Bernard Lestriez, Lionel Roué
Adv. Energy Mater., October 04, 2017, https://doi.org/10.1002/aenm.201701787 Read article
A high rate and long life potassium-ion battery is achieved by using an amorphous ordered mesoporous carbon with a large interlayer spacing, which can have enough room to accomodate more potassium ions and achieve the smaller strain during the charge/discharege process for high stability.
[Communication]
Wei Wang, Jinhui Zhou, Zhuopeng Wang, Liyun Zhao, Peihao Li, Yong Yang, Chao Yang, Hanxin Huang, Shaojun Guo
Adv. Energy Mater., October 04, 2017, https://doi.org/10.1002/aenm.201701648 Read article
First-principles calculations are used to investigate the thermodynamics of LiF incorporation into lithium transition metal oxide cathodes, which may provide an efficient source of lithium-excess in this class of compounds. Unlike classic well-ordered cathodes, disordered materials can achieve significant fluorination levels due to the presence of locally lithium-rich environments which are highly preferred for fluorine.
[Full Paper]
William D. Richards, Stephen T. Dacek, Daniil A. Kitchaev, Gerbrand Ceder
Adv. Energy Mater., October 04, 2017, https://doi.org/10.1002/aenm.201701533 Read article
A lithium salt polymer of dihydroxyantrhaquinone (LiDHAQS) is synthesized and evaluated as a Li+ cathode. LiDHAQS can store 4 Li+ in a low molecular weight monomer resulting in a capacity of 330 mA h g–1. LiDHAQS maintains 80% of its maximum capacity over 370 cycles and has exceptional rate capabilities maintaining 236 mA h g–1 at a 10C rate.
[Full Paper]
Aaron Petronico, Kimberly L. Bassett, Bruno G. Nicolau, Andrew A. Gewirth, Ralph G. Nuzzo
Adv. Energy Mater., October 04, 2017, https://doi.org/10.1002/aenm.201700960 Read article
A silicon–oxygen battery fiber with high energy density and ultra-high flexibility has been created. The coaxial architecture of the fiber was obtained by using a lithiated silicon/carbon nanotube hybrid fiber as inner anode, a polymer gel as middle electrolyte and a carbon nanotube sheet as outer cathode.
[Communication]
Ye Zhang, Yiding Jiao, Lijun Lu, Lie Wang, Taiqiang Chen, Huisheng Peng
Angew. Chem. Int. Ed., October 02, 2017, https://doi.org/10.1002/anie.201707840 Read article
Shining a light on a novel sulfur cathode for Li–S and Mg–S batteries, a novel sulfur cathode based on sulfide graphdiyne (SGDY) is designed by taking the structure of GDY. Both the assembled Li–S and Mg–S batteries using the SGDY cathode exhibit excellent electrochemical performances including large capacity, superior rate capability, high capacity retention, and high Coulombic efficiency.
[Full Paper]
Huiping Du, Zhonghua Zhang, Jianjiang He, Zili Cui, Jingchao Chai, Jun Ma, Ze Yang, Changshui Huang, Guanglei Cui
Small, September 28, 2017, https://doi.org/10.1002/smll.201702277 Read article
Recent developments and challenges of MxSy (M = Cu, Ag, Au) and their composites with a focus on synthetic methods and their electrochemical applications, including lithium-ion batteries, sodium-ion batteries, lithium-sulfur batteries, and supercapacitors have been reported. The relationships between their morphologies and electrochemical performances are comprehensively summarized and evaluations are given in this review.
[Feature Article]
Yao Lu, Bing Li, Shasha Zheng, Yuxia Xu, Huaiguo Xue, Huan Pang
Adv. Funct. Mater., September 28, 2017, https://doi.org/10.1002/adfm.201703949 Read article
Solid-state Li–air and Li–S batteries with solid electrolytes demonstrate superior safety compared with conventional batteries using liquid organic electrolytes. Solid electrolytes can support long-term operation in open system. Besides, solid electrolytes can effectively prevent "shuttle effect" in Li–S batteries. A comprehensive review of solid electrolytes, cathodes, and interfaces in the solid-state Li–air and Li–S batteries is provided.
[Review]
Yijie Liu, Ping He, Haoshen Zhou
Adv. Energy Mater., September 27, 2017, https://doi.org/10.1002/aenm.201701602 Read article
In NaO2 batteries, the chemical crystallization (growth) of NaO2 is highly sensitive to the surface energy and O2/O2− affinity of the electrode. On gold, strong interaction with O2− leads to formation of small NaO2 flakes, while on carbon (low surface energy) large NaO2 cubes are found. This has significant impact on the cell performance.
[Full Paper]
Lukas Lutz, Daniel Alves Dalla Corte, Yuhui Chen, Dmitry Batuk, Lee R. Johnson, Artem Abakumov, Luis Yate, Eneko Azaceta, Peter G. Bruce, Jean-Marie Tarascon, Alexis Grimaud
Adv. Energy Mater., September 25, 2017, https://doi.org/10.1002/aenm.201701581 Read article
Despite the long period of academic research, it is still a great challenge to realize sodium-ion battery commercialization for market applications. From the perspective of sodium-ion battery future practical application, this review will identify the factors that are restricting its commercialization, and evaluate the existing active materials and sodium-ion-based full-cell system.
[Progress Report]
Jianqiu Deng, Wen-Bin Luo, Shu-Lei Chou, Hua-Kun Liu, Shi-Xue Dou
Adv. Energy Mater., September 25, 2017, https://doi.org/10.1002/aenm.201701428 Read article
The synthesis of MoS2 roses grown upward on reduced graphene oxide sheet (MoS2@rGO) is demonstrated via a two-step solvothermal route. By rational materials and structure design, the MoS2@rGO composite owns several fascinating characteristics for battery applications. When serving as the anode material for K-ion batteries (KIBs), the MoS2@rGO composite exhibits one of the best electrochemical performances for KIBs to date.
[Full Paper]
Keyu Xie, Kai Yuan, Xin Li, Wei Lu, Chao Shen, Chenglu Liang, Robert Vajtai, Pulickel Ajayan, Bingqing Wei
Small, September 22, 2017, https://doi.org/10.1002/smll.201701471 Read article
Not just a phase: The origin of additional capacities for nano-sized transition-metal oxides is a subject of intense debate. This Review provides an up-to-date summary with special emphasis on scenario-based interfacial phenomena and material dimensions in the nanometer regime. In addition, a first attempt is made to systematically classify capacity profiles of nano-sized transition-metal oxides with additional capacity occurrences.
[Review]
Miriam Keppeler, Madhavi Srinivasan
ChemElectroChem, September 22, 2017, https://doi.org/10.1002/celc.201700747 Read article
Surface ZrO2 coated or doped high capacity nickel-rich layered oxides for lithium ion batteries can be prepared by a simple wet chemical process. Depending on the annealing temperature, a ZrO2 coating or a Zr doping is obtained. Zr-doped LiNi0.8Co0.1Mn0.1O2 (NCM811) demonstrates much lower capacity fade, lower impedance, higher rate capability, and a lower voltage hysteresis over the bare material.
[Full Paper]
Florian Schipper, Hana Bouzaglo, Mudit Dixit, Evan M. Erickson, Tina Weigel, Michael Talianker, Judith Grinblat, Larisa Burstein, Michael Schmidt, Jordan Lampert, Christoph Erk, Boris Markovsky, Dan Thomas Major, Doron Aurbach
Adv. Energy Mater., September 22, 2017, https://doi.org/10.1002/aenm.201701682 Read article
In this work, a hierarchically porous and ultrathick "breathable" wood-based cathode for Li-O2 batteries is implemented. Ruthenium nanoparticles are uniformly anchored on the carbonized and activated wood matrix with an open and aligned structure. The Li-O2 battery based on the wood-based cathode shows a high specific area capacity and excellent cycling performance.
[Full Paper]
Huiyu Song, Shaomao Xu, Yiju Li, Jiaqi Dai, Amy Gong, Mingwei Zhu, Chunliang Zhu, Chaoji Chen, Yanan Chen, Yonggang Yao, Boyang Liu, Jianwei Song, Glenn Pastel, Liangbing Hu
Adv. Energy Mater., September 22, 2017, https://doi.org/10.1002/aenm.201701203 Read article
Mixed metal sulfides are promising electrode materials for electrochemical energy storage and conversion systems. This review highlights the recent progresses in rational design and synthesis of mixed metal sulfide-based micro/nanostructures and their applications in lithium-ion batteries, sodium-ion batteries, hybrid supercapacitors, metal-air batteries and water splitting.
[Review]
Xin Yao Yu, Xiong Wen Lou
Adv. Energy Mater., September 21, 2017, https://doi.org/10.1002/aenm.201701592 Read article
Silicon, because of its high specific capacity, is intensively pursued as one of the most promising anode material for next-generation lithium-ion batteries. In this progress report, the focus is on the challenges and recent progress in the development of Si anodes for the widespread applications of lithium-ion battery, including initial Coulombic efficiency, areal capacity, and material cost.
[Progress Report]
Yan Jin, Bin Zhu, Zhenda Lu, Nian Liu, Jia Zhu
Adv. Energy Mater., September 21, 2017, https://doi.org/10.1002/aenm.201700715 Read article
Graphene oxide is composited with recycled paper via a capillary absorption method. After high-temperature annealing, graphene films are homogeneously coated on activated paper carbon (APC), forming an APC/graphene scaffold. The assembled lithium–APC/graphene/sulfur battery exhibits a lifespan of 620 cycles with a 60.5% capacity retention. An APC interlayer further stretches the battery's lifespan up to 1000 cycles.
[Full Paper]
Yunya Zhang, Zan Gao, Xiaodong Li
Small, September 20, 2017, https://doi.org/10.1002/smll.201701927 Read article
Driving success: Oxygen-deficient FeNb11O29 exhibits superior properties in terms of increased electronic conductivity, enhanced Li+-ion diffusion coefficient, significant pseudocapacitive behavior, high reversible capacity, safe working potential, advanced first-cycle coulombic efficiency, outstanding rate capability, and good cyclic stability. Therefore, it may be a promising anode material for high-performance lithium-ion batteries in electric vehicles.
[Article]
Xiaoming Lou, Chunfu Lin, Qiang Luo, Jinbo Zhao, Bin Wang, Jianbao Li, Qian Shao, Xingkui Guo, Ning Wang, Zhanhu Guo
ChemElectroChem, September 20, 2017, https://doi.org/10.1002/celc.201700816 Read article
A Sn4P3-P (Sn:P = 1:3) @graphene nanocomposite synthesized via a novel and facile mechanochemical method is reported, which exhibits unrivalled high-rate capacity retentions of >550 and 371 mA h g−1 at 1 and 2 A g−1, respectively, over 1000 cycles and achieves excellent rate capability (>815, ≈585 and ≈315 mA h g−1 at 0.1, 2, and 10 A g−1, respectively).
[Communication]
Yaolin Xu, Bo Peng, Fokko M. Mulder
Adv. Energy Mater., September 20, 2017, https://doi.org/10.1002/aenm.201701847 Read article
[Article]
Yuexing Jiang, Lu Zou, Junfang Cheng, Yizhen Huang, Lichao Jia, Bo Chi, Jian Pu, Jian Li
ChemElectroChem, September 19, 2017, https://doi.org/10.1002/celc.201700864 Read article
Levels of complexity: The Li1.2Ni0.2Mn0.6O2 micro-/nano-architecture retains a fairly high discharge capacity of approximately 180 mAh g−1 after 180 cycles at the 2C rate (1C=200 mA g−1). Even after a 50-fold (5C/0.1C) increase, a discharge capacity 61.4 % (153.8 mAh g−1) of the capacity at 0.1C (ca. 249.1 mAh g−1) can still be retained, showing excellent rate performances and stability.
[Article]
Wei He, Hongfei Zheng, Xiaokang Ju, Shengyang Li, Yating Ma, Qingshui Xie, Laisen Wang, Baihua Qu, Dong-Liang Peng
ChemElectroChem, September 19, 2017, https://doi.org/10.1002/celc.201700727 Read article
Porous LiMn2O4 (LMO) microspheres composed of numerous primary nanoparticles are synthesized by microemulsion and co-precipitation methods. The well-established porous structure of LMO with abundant ionic channels and good contact with electrolyte endow the spinel a remarkable electrochemical performance.
[Article]
Weijie Zhu, Zhongpei Lu, Xiaojun Lu, Fan Yin, Weili Li, Hongmei Ji, Gang Yang
ChemElectroChem, September 18, 2017, https://doi.org/10.1002/celc.201700785 Read article
Two-step synthesis route is developed to fabricate 3D hierarchical dual Fe3O4/MoS2 nanosheets, in which few-layered MoS2 nanosheets are anchored in 3D Fe3O4 nanosheet network to form the heterojunction structure. Their synergistic effects on lithium-storage performance are also presented.
[Full Paper]
Feifei Lu, Chunbo Xu, Fuchang Meng, Tian Xia, Ruihong Wang, Jingping Wang
Adv. Mater. Interfaces, September 18, 2017, https://doi.org/10.1002/admi.201700639 Read article
Al/Br2 battery: First investigations towards the feasibility of an Al/Br2 battery (see picture) based on bromoaluminate and polybromide ionic liquids are presented. The battery exhibits an open-circuit voltage of 1.1 V and a theoretical energy density of 33 Wh L−1 based on the migration of cations, which could be determined through NMR studies. The battery can be discharged with high resistance values and preliminary charging attempts revealed high overpotentials.
[Article]
Michael Hog, Benedikt Burgenmeister, Kolja Bromberger, Michael Schuster, Sebastian Riedel, Ingo Krossing
ChemElectroChem, September 15, 2017, https://doi.org/10.1002/celc.201700700 Read article
Off the grid: Rhombic dodecahedral N-doped carbon with a porous structure is obtained by using ZIF-8. A Prussian blue//ZIF-derived carbon sodium-ion full battery is built, which demonstrates a stable discharge capacity of 76 mA h g−1 after 50 cycles at a current density of 0.1 A g−1. ZIF could be a promising and outstanding candidate to design functional carbon for sodium-ion batteries in grid storage.
[Article]
Yang Liu, Gangya Wei, Liudi Pan, Mingyan Xiong, Honglin Yan, Yuxi Li, Cong Lu, Yun Qiao
ChemElectroChem, September 14, 2017, https://doi.org/10.1002/celc.201700748 Read article
Origami electrodes: A facile strategy of using carbon fiber paper (CFP) for packaging enhances the performance of dual-ion batteries. CFP provides a highly graphic layer for ion intercalation and amorphous carbon to buffer volume changes on its unique 3D structure. The integration of a current collector as one integrated electrode offers uniform conductivity and avoids material exfoliation and negative influence of binders.
[Article]
Xiaoyuan Shi, Ting Deng, Bingsen Zhang, Wei Zhang, Lu Sui, He Yang, Dong Wang, Wen Shi, Cheng-Meng Chen, Weitao Zheng
ChemElectroChem, September 13, 2017, https://doi.org/10.1002/celc.201700752 Read article
It's Al good: Tetrabutylammonium fluoride (TBAF)-based electrolyte does not result in passivation on the aluminum surface. Al/CuO cells with TBAF-02ED electrolyte exhibit a well-defined initial open circuit voltage of 1.42 V, and a superior discharge specific capacity of 457 mAh g−1. Moreover, by utilizing anhydrous ionic liquid fluoride salts with a strong nucleophilic fluorinion as the electrolyte, the Al cells could sustain a high electrode potential without hydrogen evolution.
[Communication]
Jiaxin Fan, Yinhua Liu, Zhixiong Zhang, Aiye Wang, Li Li, Wenhui Yuan
ChemElectroChem, September 13, 2017, https://doi.org/10.1002/celc.201700617 Read article
Taking charge: Plausible mechanisms for battery charging and discharging at a SPAN cathode are identified. In both discharging and charging, Li atoms preferentially coordinate with N atoms on the backbone, leading to strong Li-SnPAN adsorption energies. Moreover, it is rather difficult to seprate a dissociated SnLi fragment from the backbone, which provides a plausible explanation for the ability of a SPAN cathode to hinder polysulfides from diffusing to the cathode, leading to a reduction of the polysulfide shuttle mechanism.
[Article]
Tianwei Zhu, Jonathan E. Mueller, Matthias Hanauer, Ulrich Sauter, Timo Jacob
ChemElectroChem, September 12, 2017, https://doi.org/10.1002/celc.201700549 Read article
From electrocatalysis to battery science: Surface Pourbaix diagrams that rely on a constrained ab initio thermodynamics approach provide deep insights into the thermodynamically stable surface of an electrocatalyst at different environmental parameters such as the applied electrode potential and pH. This concept is transferred from electrocatalysis to electrode materials in lithium-ion batteries and exemplified with a single-crystalline spinel lithium titanate (111) model electrode.
[Article]
Kai S. Exner
ChemElectroChem, September 11, 2017, https://doi.org/10.1002/celc.201700754 Read article
A 3D hybrid structure built by 0D, 1D, and 2D carbon is carbonized from the biomorphic carbon, namely "three-in-one." The synergistic effects of the carbon with different dimensions provide high electronic conductivity and good structural stability, which contribute to excellent rate performance and low-temperature performance.
[Full Paper]
Yi Cheng, Kai Feng, Huaiqing Wang, Hongzhang Zhang, Xianfeng Li, Huamin Zhang
Adv. Mater. Interfaces, September 11, 2017, https://doi.org/10.1002/admi.201700686 Read article
Solvent-free Li-ion batteries are manufactured with reduced binder and conductive particle additives by determining the optimal mixing conditions of the active, conductive, and binder materials. Optimal mixing is obtained by using a physical powder-mixing model based on interfacial energies. Electrodes manufactured with dry processing display better mechanical bonding and comparable electrochemical performance as conventional slurry-cast electrodes.
[Full Paper]
Brandon Ludwig, Jin Liu, I-Meng Chen, Yangtao Liu, Wan Shou, Yan Wang, Heng Pan
Adv. Mater. Interfaces, September 11, 2017, https://doi.org/10.1002/admi.201700570 Read article
Binder-free and freestanding: The in situ formation of a binder-free and freestanding 3D MnO2/CNTs/CFP electrode increases the use efficiency of the catalyst. It achieves a good specific capacity, with a discharge capacity of 8723.5 mAh g−1
at 100 mA g−1.
[Article]
Si-Jiang Hu, Xiao-Ping Fan, Jing Chen, Ji-Ming Peng, Hong-Qiang Wang, You-Guo Huang, Qing-Yu Li
ChemElectroChem, September 07, 2017, https://doi.org/10.1002/celc.201700582 Read article
Keeping it real: A maximum power density of 296 and 60 mW/cm2 in single cell zinc-air battery and anion exchange membrane fuel cell systems, respectively, establishes the CoNC-900 electrocatalyst to have practical proficiency as a cathode electrocatalyst for real-world energy applications.
[Article]
Harshitha Barike Aiyappa, Siddheshwar N. Bhange, Vijitha P. Sivasankaran, Sreekumar Kurungot
ChemElectroChem, September 07, 2017, https://doi.org/10.1002/celc.201700562 Read article
Fidget spinels: layered-spinel microspheres are prepared on reduced graphene oxide in situ, forming cathode materials for Li-ion batteries. They deliver a considerable capacity of 145 mA h g−1 at an ultrahigh charge– discharge rate of 60 C (12 A g−1).
[Communication]
Dong Luo, Shaohua Fang, Li Yang, Shin-ichi Hirano
ChemSusChem, August 09, 2017, https://doi.org/10.1002/cssc.201701207 Read article
© Wiley-VCH 2016.