Batteries and Supercapacitors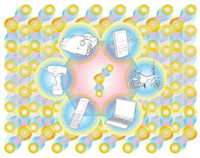 Lithium-ion or otherwise, batteries keep lots of things going, and enable a mobile lifestyle: from mobile phones to intercontinental air travel. Batteries are complex devices whose overall performance and usefulness depend on many factors such as energy density, efficiency, durability, and sustainability. Research in this area is by nature interdisciplinary and involves chemists, physicists, materials scientists, and engineers.
Further reading: K. Ozawa (Ed.), Lithium Ion Rechargeable Batteries: Materials, Technology, and New Applications, Wiley-VCH, 2010.
Find all articles on batteries or supercapacitors in Wiley Online Library...
Recent Articles

RSS feed
Self-help: An omni-healable aqueous lithium-ion battery, fabricated by integrating all of the electroactive components into polymer networks cross-linked through dynamic borate ester bonding, can self-repair its electrodes and electrolyte simultaneously after mechanical breakage. It can also be tailored into complicated patterns without significant deterioration in lithium-storage properties.
[Article]
Zhaohan Hao, Feng Tao, Zhikui Wang, Ximing Cui, Qinmin Pan
ChemElectroChem, December 14, 2017, https://doi.org/10.1002/celc.201701039 Read article
The mechanism of chemical immobilization between host materials and sulfur species in lithium-sulfur batteries (LSBs) is discussed systematically in this Review. The strong chemical immobilizing effect, polar interaction and catalytic effect during electrochemical process are summarized and discussed here. Furthermore, new ideas and solutions for realizing practical application of high-performance LSBs in the future are proposed.
[Review]
Caixia Li, Zhucong Xi, Dexiang Guo, Xiangju Chen, Longwei Yin
Small, December 13, 2017, https://doi.org/10.1002/smll.201701986 Read article
The sodium storage capability of TiSe2 is studied for the first time. The combined in situ XRD and ex-situ HRTEM results suggest that sodium storage is achieved through a multi-step intercalation/deintercalation mechanism. Besides, bulk TiSe2 is easily exfoliated into nanosheets, and might be a promising 2D material platform for energy and electronic applications.
[Full Paper]
Dan Zhang, Guoqiang Zhao, Peng Li, Yu Zhang, Wenbin Qiu, Jie Shu, Yinzhu Jiang, Shi Xue Dou, Wenping Sun
Chem. Eur. J., December 13, 2017, https://doi.org/10.1002/chem.201704661 Read article
A copper nanowire was used for large-scale preparation of ultrathin graphdiyne nanosheets (1.9 nm), and the growth properties were investigated. The ability of the ultrathin graphdiyne nanosheets to store lithium ions was impressive (1380 mAh g−1). Diffusion: in-plane (blue arrow), out-of-plane (red).
[Communication]
Hong Shang, Zicheng Zuo, Liang Li, Fan Wang, Huibiao Liu, Yongjun Li, Yuliang Li
Angew. Chem. Int. Ed., December 13, 2017, https://doi.org/10.1002/anie.201711366 Read article
A bifunctional 3D porous graphene aerogel-supported Ni/MnO (Ni–MnO/rGO aerogel) catalyst is reported that exhibits excellent electrocatalytic activity and stability for the oxygen-reduction and oxygen-evolution reactions in alkaline media. The Ni–MnO/rGO-driven Zn–air batteries can be stably charged and discharged over 100 cycles with high voltaic efficiency, outperforming the more costly Pt/C + RuO2 catalyst-driven Zn–air batteries.
[Communication]
Gengtao Fu, Xiaoxiao Yan, Yifan Chen, Lin Xu, Dongmei Sun, Jong-Min Lee, Yawen Tang
Adv. Mater., December 13, 2017, https://doi.org/10.1002/adma.201704609 Read article
At face value: High-capacity single-crystal H2Ti12O25 nanorods (m-H2Ti12O25) with exposed (0 1 0) facets can be synthesized by the molten-salt method. The superior rate-capacity performance and long cyclic stability of as-prepared m-H2Ti12O25 can be ascribed to its high crystallinity, exposed (0 1 0) facets with a low Li+ migration energy barrier, and short diffusion pathway in the [0 1 0] direction.
[Full Paper]
Qiang Guo, Li Chen, Zizhao Shan, Wee Siang Vincent Lee, Wen Xiao, Zhifang Liu, Jingjing Liang, Gaoli Yang, Junmin Xue
ChemSusChem, December 12, 2017, https://doi.org/10.1002/cssc.201701479 Read article
Quick recharge: Hierarchically structured TiO2/micron carbon fibers composites composed of well-defined nanowires are fabricated through a straightforward impregnation−calcination process. Owing to its unique features, the material delivers an excellent cycling stability with 92 % capacity retention after 5000 cycles at a high current density of 2000 mA g−1, highlighting its great potential for ultralong, fast, rechargeable lithium-ion batteries.
[Article]
Dongdong Wang, Guanghui Zhang, Zhongqiang Shan, Tianyong Zhang, Jianhua Tian
ChemElectroChem, December 12, 2017, https://doi.org/10.1002/celc.201700946 Read article
Two for the price of one: Hierarchical porous N-doped carbon constructed of interconnected and crumpled graphene-like nanosheets (designated as HGOCN-A) is prepared by combining NaCl templating with KOH activation through the solid-state pyrolysis of a urea and glucose complex. HGOCN-A demonstrates excellent electrochemical behaviors as an electrode materials for sodium-ion batteries and all-solid-state symmetric supercapacitors, owing to synergistic effects from the 2D morphology, high BET surface area, and enriched nitrogen doping, as well as an appropriate pore-size distribution, which benefit the electrochemical kinetics.
[Article]
Zhengbao Jia, Can Chen, Guobao Xu, Xiaolin Wei, Liwen Yang
ChemElectroChem, December 12, 2017, https://doi.org/10.1002/celc.201700919 Read article
Safe rechargeable batteries: Ion–solvent complexes in alkali metal batteries have been studied by first-principles calculations and in situ optical microscopy. The ion–solvent complexes have low LUMOs and are readily reduced on an alkali metal anode. A general mechanism for organic electrolyte decomposition and gas evolution was discovered.
[Communication]
Xiang Chen, Xin Shen, Bo Li, Hong-Jie Peng, Xin-Bing Cheng, Bo-Quan Li, Xue-Qiang Zhang, Jia-Qi Huang, Qiang Zhang
Angew. Chem. Int. Ed., December 12, 2017, https://doi.org/10.1002/anie.201711552 Read article
1D nanomaterials (e.g., nanofibers, nanorods, nanowires, nanobelts, etc.) are considered promising electrode materials due to their orientated electronic and ionic transport, short radial distance, and strong tolerance to stress change. The success of numerous 1D nanomaterials fabricated via various methods and their application in sodium–ion batteries is described.
[Review]
Ting Jin, Qingqing Han, Yijing Wang, Lifang Jiao
Small, December 11, 2017, https://doi.org/10.1002/smll.201703086 Read article
CuO with 25 wt% reduced graphene oxide (rGO) owns the best cycling capability and shows no obvious capacity loss after 100 cycles. The high specific surface area improves the loading capacity of Li ions and the reduced size of CuO favors lithium-ion transport. The 3D hierarchical rGO reduces volume expansion during cycling.
[Full Paper]
Songhao Wu, Gaoliang Fu, Weiqiang Lv, Jiake Wei, Wenjin Chen, Huqiang Yi, Meng Gu, Xuedong Bai, Liang Zhu, Chao Tan, Yachun Liang, Gaolong Zhu, Jiarui He, Xinqiang Wang, Kelvin H. L. Zhang, Jie Xiong, Weidong He
Small, December 11, 2017, https://doi.org/10.1002/smll.201702667 Read article
A Stable cross-linked binder network for SnO2 anode of sodium-ion battery was designed by esterification reaction of Polyacrylic acid and soluble starch. The cross-linked binder can effectively enhance the contact between conductive agent and SnO2 particles and serve as a buffer matrix of the expansion of SnO2 during cycling. Therefore, As wecan see, a much better cycle performance was obtained for SnO2 anode of sodium-ion battery.
[Full Paper]
Yanjie Wei, Zhijie Wang, Heng Ye, Jian Mou, Danni Lei, Yong Liu, Wei Lv, Baohua Li, Feiyu Kang, Yan-Bing He
ChemistrySelect, December 11, 2017, https://doi.org/10.1002/slct.201702273 Read article
Expansion pack: Cu-doped Li3VO4 is employed as a lithium-ion battery anode. The introduction of Cu2+ ions into Li3VO4 causes lattice expansion and improved electronic conductivity. As a result, the rate performance of Cu-doped Li3VO4 is significantly enhanced compared to pristine Li3VO4.
[Article]
Kan Wang, Haoyu Fu, Zhuoyu Li, Mengyang Xia, Xiaoqiang Liang, Ruijie Qi, Guozhong Cao, Xianmao Lu
ChemElectroChem, December 11, 2017, https://doi.org/10.1002/celc.201701172 Read article
Double doping: N, Fe co-doped carbon with a high surface area (1776.68 m2 g−1) is prepared by using a bulk production method. The N, Fe co-doped carbon exhibits excellent activity towards the oxygen reduction reaction.
[Article]
Bei-Hua Hou, Qiang Wang, Wen-Chao Lu, Yao Xiao, Hai-Xia Zhang, Min-Ji Liao, Zi-Chun Zhu, Ping Chen
ChemElectroChem, December 11, 2017, https://doi.org/10.1002/celc.201701070 Read article
Porous ZnCo2O4 nanofibrous electrocatalysts are fabricated via single nozzle electrospinning and selective etching process. This optimal 1D and mesoporous nanostructure offers the synergistic effect on electrochemical performances for Li–O2 batteries. ZnCo2O4 nanofiber electrocatalysts exhibit excellent electrocatalytic activity and cyclability for 226 cycles with a limited capacity of 1000 mA h g−1 at a current density of 500 mA g−1.
[Full Paper]
Jae-Chan Kim, Gwang-Hee Lee, Seun Lee, Seung-Ik Oh, Yongku Kang, Dong-Wan Kim
Adv. Mater. Interfaces, December 11, 2017, https://doi.org/10.1002/admi.201701234 Read article
Porous framework zinc pyrovanadate (Zn3V2O7(OH)2·2H3O, ZVO) nanowires are rapidly synthesized using a novel microwave technique. When used as a cathode for an aqueous zinc–ion battery, it is demonstrated that the ZVO cathode can deliver high capacities of 213 and 76 mA h g−1 at current densities of 50 and 3000 mA g−1, respectively.
[Communication]
Chuan Xia, Jing Guo, Yongjiu Lei, Hanfeng Liang, Chao Zhao, Husam N. Alshareef
Adv. Mater., December 11, 2017, https://doi.org/10.1002/adma.201705580 Read article
The capacity and rate capability of current Li–O2 batteries are drastically enhanced with a biomolecular redox mediator of coenzyme Q10, which not only effectively mediates the electron transfer from the cathode to dissolved O2 but also strongly interacts with the newly formed Li2O2 in electrolyte solution retarding its precipitation on the cathode surface.
[Communication]
Yantao Zhang, Liang Wang, Xiaozheng Zhang, Limin Guo, Ying Wang, Zhangquan Peng
Adv. Mater., December 11, 2017, https://doi.org/10.1002/adma.201705571 Read article
A nickel-rich cathode material with homogeneous artificial solid–electrolyte interphase (SEI) layer is developed via a simple, one-step process involving an SEI precursor. The initial artificial SEI compounds are electrochemically rearranged by reacting with the by-products such as acidic species, which enhances the structural and thermal stability. The cathode material demonstrates a high specific capacity and stable interfacial properties.
[Communication]
Junhyeok Kim, Jieun Lee, Hyunsoo Ma, Hu Young Jeong, Hyungyeon Cha, Hyomyung Lee, Youngshin Yoo, Minjoon Park, Jaephil Cho
Adv. Mater., December 11, 2017, https://doi.org/10.1002/adma.201704309 Read article
A carbonyl compound (oligomeric poly(2, 5-dihydroxyl-1,4-benzoquinonyl sulfide)-based flexible cathode with superior rate performance and cyclic stability is reported. The carbonyl compound is served as active material, and single-wall carbon nanotube, can act as a current collector and binder. Since all the materials used are inherently flexible, this flexible electrode is ready for a potential application in flexible lithium-ion batteries.
[Communication]
Kamran Amin, Qinghai Meng, Aziz Ahmad, Meng Cheng, Miao Zhang, Lijuan Mao, Kun Lu, Zhixiang Wei
Adv. Mater., December 11, 2017, https://doi.org/10.1002/adma.201703868 Read article
Holey 2D nanomaterials have shown great promise to address several key challenges of decreased active surfaces, prolonged ion transport pathway, and sluggish ion transport kinetics caused by self-restacking of 2D materials. Recent progress of porous 2D nanomaterials, in terms of the synthetic strategies and their applications in electrochemical energy storage, as well as the future development are summarized.
[Review]
Lele Peng, Zhiwei Fang, Yue Zhu, Chunshuang Yan, Guihua Yu
Adv. Energy Mater., December 08, 2017, https://doi.org/10.1002/aenm.201702179 Read article
A textile-based air cathode is developed with a triple-phase structure to improve Li–O2 battery performance. The hierarchical structure of conductive textile network leads to decoupled pathways for oxygen and electrolyte. Due to noncompetitive transport, the textile-based Li–O2 cathode exhibits a high capacity of 8.6 mAh cm−2, a low overpotential of 1.15 V, and stable operation exceeding 50 cycles.
[Communication]
Shaomao Xu, Yonggang Yao, Yuanyuan Guo, Xiaoqiao Zeng, Steven D. Lacey, Huiyu Song, Chaoji Chen, Yiju Li, Jiaqi Dai, Yanbin Wang, Yanan Chen, Boyang Liu, Kun Fu, Khalil Amine, Jun Lu, Liangbing Hu
Adv. Mater., December 08, 2017, https://doi.org/10.1002/adma.201704907 Read article
Hierarchical yolk–shell microspheres comprising 1D bamboo-like N-doped carbon nanotubes (CNTs) encapsulating Co nanocrystals are first introduced as efficient cathode hosts for Li–S batteries. The synergetic effect of the presence of the N-doped CNTs with Co nanocrystals and the hierarchical structure of yolk-shell microspheres is responsible for the superior performances as the cathode hosts for Li–S batteries.
[Full Paper]
Seung-Keun Park, Jung-Kul Lee, Yun Chan Kang
Adv. Funct. Mater., December 08, 2017, https://doi.org/10.1002/adfm.201705264 Read article
Caught on film: A 3D porous Cu substrate is prepared from commercial Cu foil by etching in ammonia solution and is used as a current collector for a Si thin film anode deposited by magnetron sputtering. The designed electrode exhibits a stable charge capacity of around 67 μAh cm−2 (1675 mAh g−1) over 100 cycles with a coulombic efficiency of 98.4 %. Post-cycling SEM does not reveal any significant degradation/delamination of the prepared Si thin film anode.
[Full Paper]
Aliya Mukanova, Arailym Nurpeissova, Sung-Soo Kim, Maksym Myronov, Zhumabay Bakenov
ChemistryOpen, December 07, 2017, https://doi.org/10.1002/open.201700162 Read article
Cellulose nanofibers (CNF) are synthesized by TEMPO-assisted oxidation method and used to disperse carbon nanotubes (CNT). After filtration, thin (≈10 µm) CNT–CNF films with tunable thickness are obtained. CNT–CNF films demonstrate high mechanical strength (>60 MPa), high electrical conductivity (≈700 S cm−1), and good corrosion resistance in acidic aqueous electrolytes, making them ideal for use as lightweight current collectors.
[Communication]
Wei Luo, John Hayden, Soo-Hwan Jang, Yilin Wang, Ying Zhang, Yudi Kuang, Yanbin Wang, Yubing Zhou, Gary W. Rubloff, Chuan-Fu Lin, Liangbing Hu
Adv. Energy Mater., December 07, 2017, https://doi.org/10.1002/aenm.201702615 Read article
On best behavior: Equations are provided for extracting the value of the diffusion coefficient from GITT measurements. This can be used for soluble species whose concentration is unknown, such as soluble sulfur and polysulfides in lithium-sulfur batteries. The approach can also be applied to ion-insertion electrodes, where non-linearity of concentration and voltage changes would produce unrealistic evaluations of the diffusion coefficient by the classical analysis of GITT data.
[Article]
James W. Dibden, Nina Meddings, John R. Owen, Nuria Garcia-Araez
ChemElectroChem, December 06, 2017, https://doi.org/10.1002/celc.201701004 Read article
Facilitated chemisorption of oxygen molecules and oxygen-containing intermediates on the heteroatom-doped carbon is observed by in situ characterization during the zinc–air battery operation. Improved oxygen reaction activity is induced by this process as confirmed by experimental results. This work gives a new protocol for the operating principle investigation of energy storage systems.
[Communication]
Sisi Liu, Mengfan Wang, Xinyi Sun, Na Xu, Jie Liu, Yuzhou Wang, Tao Qian, Chenglin Yan
Adv. Mater., December 06, 2017, https://doi.org/10.1002/adma.201704898 Read article
The mechanism of the cycling stability improvement by incorporating copper into the spinel Co3O4 structure is revealed at atomic resolution by in situ transmission electron microscopy (TEM). An ultrathin metallic copper framework formed provides a high conductivity backbone and cohesive support to accommodate the volume change and has a cube-on-cube orientation relationship with Li2O in lithiation and CuO in delithiation.
[Communication]
Heguang Liu, Qianqian Li, Zhenpeng Yao, Lei Li, Yuan Li, Chris Wolverton, Mark C. Hersam, Jinsong Wu, Vinayak P. Dravid
Adv. Mater., December 06, 2017, https://doi.org/10.1002/adma.201704851 Read article
Knittable fiber-shaped zinc–air batteries based on atomically thin mesoporous Co3O4 layers strongly coupled with nitrogen-doped reduced graphene oxide nanosheets as bifunctional catalysts of the air electrodes are developed and can be fabricated by a quick, facile, and continuous method. These high-energy-density batteries can be knitted into clothes and used as the power supply for wearable electronic devices.
[Communication]
Yingbo Li, Cheng Zhong, Jie Liu, Xiaoqiao Zeng, Shengxiang Qu, Xiaopeng Han, Yida Deng, Wenbin Hu, Jun Lu
Adv. Mater., December 06, 2017, https://doi.org/10.1002/adma.201703657 Read article
A new type of lithium–air batteries that can effectively work at high temperatures up to 140 °C has been developed through the use of an ionic liquid gel electrolyte, aligned carbon nanotubes and the design of a fiber shape. They could work stably for 380 cycles at 140 °C with the high specific current of 10 A g−1.
[Communication]
Jian Pan, Houpu Li, Hao Sun, Ye Zhang, Lie Wang, Meng Liao, Xuemei Sun, Huisheng Peng
Small, December 04, 2017, https://doi.org/10.1002/smll.201703454 Read article
Wearable electronics are emerging as a platform for next-generation, human-friendly, electronic devices. Consequently, a new class of devices with various functionality and amenability for the human body is essential. Here, reported and developed functional materials and devices are summarized, and the remaining challenges are discussed, suggesting effective strategies to facilitate the full realization of e-textile systems.
[Review]
Jae Sang Heo, Jimi Eom, Yong-Hoon Kim, Sung Kyu Park
Small, December 04, 2017, https://doi.org/10.1002/smll.201703034 Read article
Ultrathin nanosheet assembled Sn0.91Co0.19S2 nanocages with exposed (100) facets are first synthesized. The as-prepared electrode delivers an excellent discharge capacity of 809 mA h g−1 at a current density of 100 mA g−1 with a 91% retention after 60 discharge–charge cycles, which reveals that the Li-ion batteries prepared by Sn0.91Co0.19S2 nanocages have high capacity and great cycling stability.
[Communication]
Bing Li, Peng Gu, Guangxun Zhang, Yao Lu, Kesheng Huang, Huaiguo Xue, Huan Pang
Small, December 04, 2017, https://doi.org/10.1002/smll.201702184 Read article
Non-binding: Co3O4@Co3S4 nanoflakes composed of nanorod arrays on a Ni foam are fabricated by using a facile in situ sulfurization procedure involving a simple hydrothermal treatment followed by calcination and hydrothermal processes. The anode exhibits excellent electrochemical properties for lithium-ion batteries, ascribed to the heterostructure of Co3O4 and Co3S4, along with the Ni foam.
[Article]
Xia Wang, Changkun Liu, Qiang Li, Hongsen Li, Jie Xu, Xianming Chu, Lijuan Zhang, Guoxia Zhao, Hongliang Li, Peizhi Guo, Shandong Li, Xiusong Zhao
ChemElectroChem, December 04, 2017, https://doi.org/10.1002/celc.201701050 Read article
A 3D amorphous carbon (3DAC) with controlled porous and disordered structures is prepared via a facile NaCl template-assisted method. As anode material for sodium-ion batteries, 3DAC exhibits excellent rate capability (66 mA h g−1 at 9.6 A g−1) and high reversible capacity (280 mA h g−1 at 0.03 A g−1) as well as relatively high initial Coulombic efficiency of 75%.
[Full Paper]
Peng Lu, Yi Sun, Hongfa Xiang, Xin Liang, Yan Yu
Adv. Energy Mater., December 04, 2017, https://doi.org/10.1002/aenm.201702434 Read article
This review describes the recent literature results and ongoing efforts in the field to improve the performance of Li, Mn-rich materials as cathodes for Li-ion batteries. It is demonstrated that electrochemical performance of these cathodes can be improved by surface coatings, lattice doping, using surface active additives in the electrolyte solutions, controlling the activation process by temperature and voltage programming.
[Review]
Prasant Kumar Nayak, Evan M. Erickson, Florian Schipper, Tirupathi Rao Penki, Nookala Munichandraiah, Philipp Adelhelm, Hadar Sclar, Francis Amalraj, Boris Markovsky, Doron Aurbach
Adv. Energy Mater., December 04, 2017, https://doi.org/10.1002/aenm.201702397 Read article
K-ion batteries are attracting much attention as an emerging energy storage system for large-scale applications. This review article provides the most up-to-date information on recent progress in the K-technology focusing on important negative and positive electrode materials. This article also discusses the science behind their electrochemistry and K storage mechanism.
[Review]
Haegyeom Kim, Jae Chul Kim, Matteo Bianchini, Dong-Hwa Seo, Jorge Rodriguez-Garcia, Gerbrand Ceder
Adv. Energy Mater., December 04, 2017, https://doi.org/10.1002/aenm.201702384 Read article
A unique porous carbon sheet (PCS) material is developed through a facile synthesis by using phosphorus pentoxide as a single template. When employed as advanced sulfur host for lithium–sulfur batteries, the as-developed PCS delivers multidirectional inner ion pathways and dually physical and chemical sulfur confinements, thus enabling admirably fast sulfur electrochemistry and excellent battery durability.
[Full Paper]
Gaoran Li, Wen Lei, Dan Luo, Ya-Ping Deng, Deli Wang, Zhongwei Chen
Adv. Energy Mater., December 04, 2017, https://doi.org/10.1002/aenm.201702381 Read article
Redox-active and cheap benzoquinone materials that store energy in considerably smaller volumes are reported. When paired with potassium ferrocyanide, an inexpensive and safe food additive, this flow battery chemistry delivers a cell potential of 1.21 V and a peak galvanic power density of 300 mW cm−2. Quantum computational simulation has also identified promising compounds for future improvements.
[Full Paper]
Zhengjin Yang, Liuchuan Tong, Daniel P. Tabor, Eugene S. Beh, Marc-Antoni Goulet, Diana Porcellinis, Alán Aspuru-Guzik, Roy G. Gordon, Michael J. Aziz
Adv. Energy Mater., December 04, 2017, https://doi.org/10.1002/aenm.201702056 Read article
As superior and durable electrocatalysts for rechargeable air cathode, carbon-supported RuSex nanoparticles (NPs) are prepared via a one-pot supercritical ethanol fluid process. Electrochemical characterization and computational calculation reveal that RuSex NPs enable to form amorphous and reversible Li2O2 as discharge, resulting in improved kinetics and cyclic stability in glyme-based electrolyte under the cell operation.
[Full Paper]
Ji-Hoon Jang, Eunjik Lee, Penghao Xiao, Kyusung Park, In Young Kim, Graeme Henkelman, Seong-Ju Hwang, Young-Uk Kwon, John. B. Goodenough
Adv. Energy Mater., December 04, 2017, https://doi.org/10.1002/aenm.201702037 Read article
Here, the Chinese idiom "Xuan Hu Ji Shi" (Practise medicine in order to help the people) is used to express the willingness to save the earth home in peril by developing high energy/high power renewable-energy storage systems. Specifically, several functional additives are prescribed for electrolyte to greatly enhance the performances of a promising high-voltage (5 V-class) LiNi0.5Mn1.5O4/graphite battery system.
[Full Paper]
Gaojie Xu, Chunguang Pang, Bingbing Chen, Jun Ma, Xiao Wang, Jingchao Chai, Qingfu Wang, Weizhong An, Xinhong Zhou, Guanglei Cui, Liquan Chen
Adv. Energy Mater., December 04, 2017, https://doi.org/10.1002/aenm.201701398 Read article
The trihydride–dihydride conversion of rare earth (RE, RE = Y, La, and Gd) generates active H with hydridic nature, which can enhance the Li+ binding to the graphene layers. This novel H-enhanced lithiation mechanism can significantly promote the lithium storage capacity of graphite.
[Communication]
Xinyao Zheng, Chengkai Yang, Xinghua Chang, Teng Wang, Meng Ye, Jing Lu, Henghui Zhou, Jie Zheng, Xingguo Li
Adv. Mater., December 04, 2017, https://doi.org/10.1002/adma.201704353 Read article
Metal-organic framework (MOF)-derived hollow mesoporous carbon nanocubes (HMCNCs) with a uniform nanocubic morphology, a large hollow cavity, an outer microporous shell, and an inner mesoporous shell are synthesized via a novel rigid-interface induced outward contraction approach. When used as a cathode substrate for Li–SeS2 batteries, HMCNCs deliver superior electrochemical performances with stable capacity and outstanding rate capability.
[Full Paper]
Chao Liu, Xiaodan Huang, Jing Wang, Hao Song, Yannan Yang, Yang Liu, Jiansheng Li, Lianjun Wang, Chengzhong Yu
Adv. Funct. Mater., December 04, 2017, https://doi.org/10.1002/adfm.201705253 Read article
2D dual-metal zeolitic imidazolate framework with leaf-like microstructure is rationally chosen as material platform for the facile fabrication of high-dispersed cobalt nanoparticles encapsulated into nitrogen-doped carbon nanotubes as bifunctional air electrodes for a high-performance rechargeable zinc–air battery.
[Full Paper]
Tingting Wang, Zongkui Kou, Shichun Mu, Jingping Liu, Daping He, Ibrahim Saana Amiinu, Wen Meng, Kui Zhou, Zhixiong Luo, Somboon Chaemchuen, Francis Verpoort
Adv. Funct. Mater., December 04, 2017, https://doi.org/10.1002/adfm.201705048 Read article
Anode materials are the key components of a new type of rechargeable metal-ion batteries based on potassium. A class of high capacity anode materials that operate through the mechanism of electrochemical alloying with potassium is discussed. Electrode systems incorporating Sn, P, and Sb are given particular attention; the current state of the field and future research directions are considered.
[Feature Article]
Irin Sultana, Md Mokhlesur Rahman, Ying Chen, Alexey M. Glushenkov
Adv. Funct. Mater., December 04, 2017, https://doi.org/10.1002/adfm.201703857 Read article
Recent advances of phosphorene production approaches have led to the great progress in its energy related applications. In this in-depth review, one can readily access the state of the art research on phosphorene. Examples include stability strategies, electrochemistry energy storage, and energy conversion.
[Review]
Jinbo Pang, Alicja Bachmatiuk, Yin Yin, Barbara Trzebicka, Liang Zhao, Lei Fu, Rafael G. Mendes, Thomas Gemming, Zhongfan Liu, Mark H. Rummeli
Adv. Energy Mater., December 01, 2017, https://doi.org/10.1002/aenm.201702093 Read article
The interfacial science and engineering of Li metal anode and electrolyte are summarized to afford a fundamental understanding in Li deposition behavior and present design principles in constructing robust interface to stabilize Li metal anode in a working battery. The rational combination of different Li metal protection strategies is strongly commended for their practical applications in high-energy-density batteries.
[Review]
Xue-Qiang Zhang, Xin-Bing Cheng, Qiang Zhang
Adv. Mater. Interfaces, December 01, 2017, https://doi.org/10.1002/admi.201701097 Read article
Carbon nanotube incorporated metal oxides are synthesized by a coprecipitation method for the fabrication of flexible nickel-zinc batteries. Binders and additives are added to make inks for flexible electrodes. The cells show no performance drop under bending condition and the overall technology is scalable by printing methods.
[Communication]
Zhiqian Wang, Xianyang Meng, Kun Chen, Somenath Mitra
Adv. Mater. Interfaces, December 01, 2017, https://doi.org/10.1002/admi.201701036 Read article
Vital choice: The effect of solvent on the molecular life of O2− and Li+ produced during the discharge of aprotic Li–O2 batteries is investigated by molecular dynamics simulation. The stability of the Li+ solvation shell largely depends on the solvent donor number. However, the association rate of Li+ and O2− does not necessarily correlate with this solvent property. SSIP=solvent-separated ion pair, CIP=contact ion pair.
[Article]
Vladimir S. Smirnov, Sergey A. Kislenko
ChemPhysChem, November 30, 2017, https://doi.org/10.1002/cphc.201700980 Read article
Self-supported 3D electrode arrays offer the advantage to improve the areal energy and power simultaneously, and thus are suitable for microbatteries. In this perspective, the cutting-edge advancements in design, fabrication, and modification of sodium array electrodes for microbatteries are summarized. Specific emphasis is placed on materials strategies that are capable of tailoring the property and electrochemistry of array electrodes.
[Feature Article]
Jiangfeng Ni, Liang Li
Adv. Funct. Mater., November 29, 2017, https://doi.org/10.1002/adfm.201704880 Read article
A highly active bifunctional electrocatalyst is designed via a structural transformation of 3D ZIF nanocrystals into an array of 1D metal/N functionalized carbon nanorod frameworks. The obtained catalyst exhibits superior bifunctional activity and stability toward both oxygen reduction reaction (ORR) and oxygen evolution reaction (OER), leading to high Zn-air battery performances compared to the state-of-the-art counterparts.
[Full Paper]
Ibrahim Saana Amiinu, Xiaobo Liu, Zonghua Pu, Wenqiang Li, Qidong Li, Jie Zhang, Haolin Tang, Haining Zhang, Shichun Mu
Adv. Funct. Mater., November 29, 2017, https://doi.org/10.1002/adfm.201704638 Read article
Defense barrier: The formed SEI film on a graphite surface inhibits the graphite exfoliation caused by co-intercalation of solvents. Thus, the stable graphite layer with a preformed SEI can function as an effective physical barrier to suppress the polysulfide shuttle and enhance the utilization of the trapped active material. As a result, Li−S cells using the graphite-decorated separator exhibit excellent cycle stability with a low capacity decay of 0.13 % per cycle.
[Article]
Pan Zeng, Liwu Huang, Yamiao Han, Xinling Zhang, Ruixue Zhang, Yungui Chen
ChemElectroChem, November 28, 2017, https://doi.org/10.1002/celc.201700924 Read article
Vertically aligned molybdenum disulfide (MoS2) nanosheets are controllably patterned on electrochemically exfoliated graphene, resulting in 2D graphene-MoS2 hybrids. Due to the excellent mechanical stability, effective exposure of active materials and fast charge transport kinetics, the resultant 2D graphene-MoS2 delivers ultrahigh-specific capacities, impressive cycling stability, and rate capability for both Li-ion batteries and Na-ion batteries.
[Communication]
Gang Wang, Jian Zhang, Sheng Yang, Faxing Wang, Xiaodong Zhuang, Klaus Müllen, Xinliang Feng
Adv. Energy Mater., November 28, 2017, https://doi.org/10.1002/aenm.201702254 Read article
Carbon-sheathed MoS2 nanothorns epitaxially grown on carbon nanotubes (CNTs) are prepared as a high-stable and ultrafast lithium storage material. The epitaxial growth provides strong adhesion between MoS2 and CNTs via chemical C
S bond, ensuring not only a high stability but also a high-efficiency electron-conduction/ion-transportation system on cycling. The prepared electrode exhibits high specific capacity, superior rate capability, and excellent long-cycling stability.
[Full Paper]
Zijia Zhang, Hailei Zhao, Yongqiang Teng, Xiwang Chang, Qing Xia, Zhaolin Li, Jiejun Fang, Zhihong Du, Konrad Świerczek
Adv. Energy Mater., November 28, 2017, https://doi.org/10.1002/aenm.201700174 Read article
A method is devised to double the energy of Se–Li and Se–Na batteries, by creating dense monolithic electrodes with a carbonized cellulose host melt impregnated by Se. The cells yield remarkable performance: 1028 mA h cm−3 (620 mA h g−1) with 82% retention over 300 cycles with Li, and 848 mA h cm−3 (511 mA h g−1) with 98% retention at 150 cycles with Na.
[Full Paper]
Jia Ding, Hui Zhou, Hanlei Zhang, Linyue Tong, David Mitlin
Adv. Energy Mater., November 27, 2017, https://doi.org/10.1002/aenm.201701918 Read article
The illustration of amorphous tin-based composite oxide (ATCO) as a high-performance anode for a sodium ion battery is shown with a high rate of performance of 180 mA h g−1 at current of 2 A g−1 for 15 000 cycles. Quantitative kinetic analysis reveals that the sodium storage is governed by pseudocapacitance, particularly at high current rates.
[Communication]
Xu Yang, Rong-Yu Zhang, Jing Zhao, Zhi-Xuan Wei, Dong-Xue Wang, Xiao-Fei Bie, Yu Gao, Jia Wang, Fei Du, Gang Chen
Adv. Energy Mater., November 27, 2017, https://doi.org/10.1002/aenm.201701827 Read article
A new approach to directly synthesize extremely small core–shell Fe7S8@C nanocrystals is introduced for Na–ion batteries. The ultrafine Fe7S8 core (≈10 nm) enables a highly reversible conversion reaction and the uniform carbon shell (≈2 nm) enhances the electrical conductivity, leading to outstanding energy density (≈911 Wh kg−1), and excellent rate capability (≈550 mA h g−1 at a current rate of 2700 mA g−1).
[Communication]
Min-Jae Choi, Jongsoon Kim, Jung-Keun Yoo, Soonmin Yim, Jaebeom Jeon, Yeon Sik Jung
Small, November 24, 2017, https://doi.org/10.1002/smll.201702816 Read article
Team IL: An ionic liquid (IL) electrolyte is prepared with N,N-diethyl-N-(2-methoxyethyl)-N-methylammonium bis(trifluoromethanesulfonyl) imide ([DEME][TFSI]) and lithium bis(trifluoromethanesulfonyl)imide (LiTFSI) for efficient use in reversible, low-polarization, highperformance Li–O2 batteries.
[Full Paper]
Ulderico Ulissi, Giuseppe Antonio Elia, Sangsik Jeong, Franziska Mueller, Jakub Reiter, Nikolaos Tsiouvaras, Yang-Kook Sun, Bruno Scrosati, Stefano Passerini, Jusef Hassoun
ChemSusChem, November 23, 2017, https://doi.org/10.1002/cssc.201701696 Read article
Poring over silicon: Oxide-free porous and nonporous silicon nanowires (SiNW) were synthesized using metal-assisted chemical etching and were functionalized with acrylic acid in order to process them into anodes for lithium-ion batteries. Their electrochemical behavior was examined closely with the analysis of differential capacity plots.
[Article]
Marcus Schmerling, Daniela Fenske, Fabian Peters, Julian Schwenzel, Matthias Busse
ChemPhysChem, November 23, 2017, https://doi.org/10.1002/cphc.201700892 Read article
An-ion of interest: Conventional Li-ion batteries operate through Li insertion/metal redox reactions. However, there is growing evidence that this mechanism is not the only one. Here, we emphasize the role of anion redox reactions in new-generation electrode materials, especially, in transition-metal polysulfides such as trichalcogenides, VS4, FeS2, etc., in which the key role is played by the
/S2− transformation.
[Concept]
Ekaterina D. Grayfer, Egor M. Pazhetnov, Mariia N. Kozlova, Sofya B. Artemkina, Vladimir E. Fedorov
ChemSusChem, November 22, 2017, https://doi.org/10.1002/cssc.201701709 Read article
The recent progress in layered oxide cathodes for sodium-ion batteries is comprehensively reviewed. Some new perspectives concentrating on phase transition, air stability, and electrochemical performance in layered cathodes are provided, in terms of refining the structure–function–property relationship to rationally design better electrode materials.
[Review]
Peng-Fei Wang, Ya You, Ya-Xia Yin, Yu-Guo Guo
Adv. Energy Mater., November 22, 2017, https://doi.org/10.1002/aenm.201701912 Read article
A Li7V15O36(CO3)-cluster-based Li-ion device exhibits battery-like energy density of 125 W h kg−1 and supercapacitor-like power density of 51.5 kW kg−1 at 100 A g−1, along with a long cycling life (>500 cycles). Moreover, it also permits fast diffusion of large cations, like Na+, and shows a high energy density (390 W h kg−1) as the cathode in full Na-ion batteries.
[Communication]
Jia-Jia Chen, Jian-Chuan Ye, Xia-Guang Zhang, Mark D. Symes, Shao-Cong Fan, De-Liang Long, Ming-Sen Zheng, De-Yin Wu, Leroy Cronin, Quan-Feng Dong
Adv. Energy Mater., November 22, 2017, https://doi.org/10.1002/aenm.201701021 Read article
PEG power: Polymeric ionic liquid-poly(ethylene glycol) composite electrolytes show good ionic conductivity, high thermal and electrochemical stabilities, and allow successful battery operation at high temperature.
[Article]
Sijian Li, Zhengxi Zhang, Kaihua Yang, Li Yang
ChemElectroChem, November 21, 2017, https://doi.org/10.1002/celc.201700984 Read article
In a bind: Water-soluble LA132 is successfully used as a binder for the Li4Ti5O12 (LTO) anode instead of traditional PVdF with promising results.
[Article]
Saravanan Karuppiah, Sylvain Franger, Kalaiselvi Nallathamby
ChemElectroChem, November 21, 2017, https://doi.org/10.1002/celc.201700963 Read article
Added boost: Sulfur and selenium are co-polymerized by inverse vulcanization and investigated as cathodic materials for lithium batteries. Raman spectroscopy and 77Se NMR, together with cyclic voltammetry, confirm the formation of the Se−S hybrid materials. The presence of Se improves the cyclic performance of the hybrids in lithium−sulfur battery cells.
[Article]
Iñaki Gomez, Daniele Mantione, Olatz Leonet, J. Alberto Blazquez, David Mecerreyes
ChemElectroChem, November 21, 2017, https://doi.org/10.1002/celc.201700882 Read article
Exfoliation and carbon coating: The exfoliation and polydopamine coating method are combined to prepare a N-doped carbon coating of exfoliated MoS2 nanoflakes for anodes of lithium-ion batteries. The exfoliation treatment reduced the MoS2 particle size and shortened the Li-ion migration path. The N-doped carbon coating enhanced the conductivity of exfoliated MoS2 nanoflakes, promoted the lithium ion transport, and enhanced the corresponding electrochemical performance. The discharge specific capacity could be stabilized at 562 mAh g−1 after 200 cycles at a current density of 0.5 A g−1.
[Article]
Hang Zhao, Jianlong Li, Hao Wu, Tiange Dong, Yun Zhang, Heng Liu
ChemElectroChem, November 21, 2017, https://doi.org/10.1002/celc.201700842 Read article
Feeling blue? Ni-substituted copper hexacyanoferrates can serve as superior cathodes for aqueous sodium-ion batteries, showing a high working potential (0.62 V vs. Ag/AgCl), outstanding high-rate capacity (56 mAh g−1 at 10 C) and excellent cycling performance (capacity retention of 96 % after 1000 cycles). This finding indicates that Ni substitution is an effective strategy to improve the Na-storage performance of Prussian blue analogues.
[Article]
Wanfeng Li, Fang Zhang, Xingde Xiang, Xiucheng Zhang
ChemElectroChem, November 16, 2017, https://doi.org/10.1002/celc.201700958 Read article
Gel polymer electrolytes represent an attractive alternative to liquid electrolytes due to the superiorities of higher safety, better flexibility, and higher workability, which are promising for the use in electrochemical energy storage for the next-generation flexible and wearable electronics. Their recent advancements, challenges, and perspectives are highlighted to provide guidance for the future study.
[Review]
Xunliang Cheng, Jian Pan, Yang Zhao, Meng Liao, Huisheng Peng
Adv. Energy Mater., November 16, 2017, https://doi.org/10.1002/aenm.201702184 Read article
Recent developments on electrode materials with hierarchical structure are summarized and the effects of hierarchical structures on electrochemical performance are discussed. To deal with the intrinsic defects of the materials themselves, several common structures are proposed to address the problems of cathode and anode materials, such as multidimensional self-assembled structures, core/yolk–shell structures, and porous structures.
[Review]
Limin Zhou, Kai Zhang, Zhe Hu, Zhanliang Tao, Liqiang Mai, Yong-Mook Kang, Shu-Lei Chou, Jun Chen
Adv. Energy Mater., November 16, 2017, https://doi.org/10.1002/aenm.201701415 Read article
A facile and novel one-pot approach is prepared for the first time to synthesize a series of highly uniform pomegranate-like transition metal oxide@nitrogen-doped carbon (TMO@N–C) nanoclusters with a large scale production, which are organized by numerous of ultrafine TMO@N–C subunits (diameter ≈ 4 nm). Such unique nanostructure exhibits high specific capacity, excellent rate performance, and superior cycling stability.
[Full Paper]
Bingqiu Liu, Qi Zhang, Zhanshuang Jin, Lingyu Zhang, Lu Li, Zhigang Gao, Chungang Wang, Haiming Xie, Zhongmin Su
Adv. Energy Mater., November 09, 2017, https://doi.org/10.1002/aenm.201702347 Read article
The limit of anodic stability of Li-rich layered oxide cathode with di-(2,2,2 trifluoroethyl)carbonate (DFDEC) under charging to 5.5 V versus Li is explored, and initial high-voltage cathode–electrolyte interfacial processes are investigated. DFDEC oxidation produces metal fluorides and CF-containing organic compounds as the earliest surface species, which passivates cathode surface and reduces metal dissolution, structural transformation, and degradation of cathode.
[Full Paper]
Hieu Quang Pham, Eui-Hyung Hwang, Young-Gil Kwon, Seung-Wan Song
Adv. Mater. Interfaces, November 09, 2017, https://doi.org/10.1002/admi.201700483 Read article
A novel Na
Se cell, assembled by coupling self-interwoven carbon nanofiber/Se with a carbon-coated separator displays excellent cycling life stability with a high selenium loading of 4.4 mg cm−2. The cell also retains 93.4% of its initial capacity even after resting for six months, making the Na
Se cells competitive for energy storage.
[Full Paper]
Hui Wang, Yang Jiang, Arumugam Manthiram
Adv. Energy Mater., November 08, 2017, https://doi.org/10.1002/aenm.201701953 Read article
The disodium pyridine-2,5-dicarboxylate anode-based Na-ion batteries perform good cyclability and rate performance with a high reversible capacity of 270 mA h g−1. A higher voltage of ≈0.6 V achieved compared with disodium terephthalate, which is confirmed by the computational analysis. The sodiation mechanism is also verified by the good agreement between experimental and computational X-ray diffraction patterns.
[Full Paper]
Harihara Padhy, Yingqian Chen, Johann Lüder, Satyanarayana Reddy Gajella, Sergei Manzhos, Palani Balaya
Adv. Energy Mater., November 08, 2017, https://doi.org/10.1002/aenm.201701572 Read article
For the first time, the mechanisms of P adsorption process are elucidated by combining molecular dynamics simulations and density functional theory calculations. Inspired by the new discoveries, precisely controlled synthesis of hollow microporous carbon nanosphere/red phosphorus composites are achieved as anodes for sodium-ion batteries, which illustrate exceptional mechanical stability upon sodiation/desodiation revealed by in situ transmission electron microscope.
[Full Paper]
Shanshan Yao, Jiang Cui, Jiaqiang Huang, Jian-Qiu Huang, Woon Gie Chong, Lei Qin, Yiu-Wing Mai, Jang-Kyo Kim
Adv. Energy Mater., November 07, 2017, https://doi.org/10.1002/aenm.201702267 Read article
Macroporous catalytic carbon nanotemplates (MC-CNTs) with different graphitic microstructures are fabricated from microbe-derived cellulose by a simple heating process from 800 to 2400 °C. MC-CNTs exhibit a remarkably small overpotential than Al foil electrode and excellent Coulombic efficiency of 99.9% at 1 mA cm−2 (1 A g−1). However, MC-CNTs show distinct cycling performance depending on graphitization degree.
[Communication]
Hyeon Ji Yoon, Na Rae Kim, Hyoung-Joon Jin, Young Soo Yun
Adv. Energy Mater., November 07, 2017, https://doi.org/10.1002/aenm.201701261 Read article
Binding agreement: A new redox-active polymer binder inserts Na+ ions and shows adhesive properties. This new material is synthesized by adding polyether amine groups onto mixed propylene oxide and ethylene oxide blocks to make p-phenylenediamine and terephthalaldehyde units and form electroactive Schiff-base groups along the macromolecule.
[Full Paper]
Naiara Fernández, Paula Sánchez-Fontecoba, Elizabeth Castillo-Martínez, Javier Carretero-González, Teófilo Rojo, Michel Armand
ChemSusChem, October 12, 2017, https://doi.org/10.1002/cssc.201701471 Read article
Fidget spinels: layered-spinel microspheres are prepared on reduced graphene oxide in situ, forming cathode materials for Li-ion batteries. They deliver a considerable capacity of 145 mA h g−1 at an ultrahigh charge– discharge rate of 60 C (12 A g−1).
[Communication]
Dong Luo, Shaohua Fang, Li Yang, Shin-ichi Hirano
ChemSusChem, August 09, 2017, https://doi.org/10.1002/cssc.201701207 Read article
© Wiley-VCH 2016.