Batteries and Supercapacitors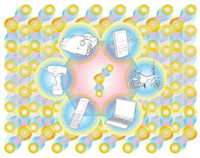 Lithium-ion or otherwise, batteries keep lots of things going, and enable a mobile lifestyle: from mobile phones to intercontinental air travel. Batteries are complex devices whose overall performance and usefulness depend on many factors such as energy density, efficiency, durability, and sustainability. Research in this area is by nature interdisciplinary and involves chemists, physicists, materials scientists, and engineers.
Further reading: K. Ozawa (Ed.), Lithium Ion Rechargeable Batteries: Materials, Technology, and New Applications, Wiley-VCH, 2010.
Find all articles on batteries or supercapacitors in Wiley Online Library...
Recent Articles

RSS feed
[Full Paper]
Shawn Martin, Harry D. Pratt, Travis M. Anderson
Mol. Inf., February 21, 2017, DOI: 10.1002/minf.201600125. Read article
A random copolymer of ethylene oxide with CO2 , namely, poly(ethylene carbonate/ethylene oxide) (P(EC/EO)), has been synthesized as a novel candidate for polymer electrolytes. Electrolyte composed of P(EC/EO) and lithium bis(fluorosulfonyl)imide is promising material for use in all-solid-state batteries because of its very high Li+ conductivity.
[Communication]
Takashi Morioka, Koji Nakano, Yoichi Tominaga
Macromol. Rapid Commun., February 21, 2017, DOI: 10.1002/marc.201600652. Read article
NASICON-structured materials exhibit great structural stability and fast ionic conductivity. More importantly, these materials can be used as cathodes, anodes, and solid electrolytes. In general, the interfacial resistance between a solid electrolyte and the electrodes in solid-state batteries is large. However, if all-NASICON solid-state batteries can be fabricated, the interfacial resistance may be decreased because it can form a solid-solution or composite between electrodes and electrolytes due to their similar structure.
[Review]
Zelang Jian, Yong-Sheng Hu, Xiulei Ji, Wen Chen
Adv. Mater., February 21, 2017, DOI: 10.1002/adma.201601925. Read article
In article number 1606023, Chengzhong Yu and co-workers describe the synthesis of novel yolk-shell Sn@C nanoboxes via a facile, template-free strategy. The thickness of the carbon shell is proved crucial to the nanostructure and electrochemical performance. With an optimized thickness, the Sn@C nanoboxes exhibit a high specific capacity, excellent rate capability, and long cycle life as an anode in lithium ion batteries.
[Cover Picture]
Hongwei Zhang, Xiaodan Huang, Owen Noonan, Liang Zhou, Chengzhong Yu
Adv. Funct. Mater., February 21, 2017, DOI: 10.1002/adfm.201770044. Read article
Unique amorphous V2O5 coated Cu11V6O26 microspheres (Cu11V6O26/V2O5) with a 3D hierarchical architecture presents large reversible capacity, excellent rate capability, and especially outstanding self-recovery capacity as anode material for lithium-ion batteries.
[Full Paper]
Jian Pei, Gang Chen, Qiang Zhang, Changfeng Bie, Jingxue Sun
Small, February 20, 2017, DOI: 10.1002/smll.201603140. Read article
Perovskite oxides as the electrode materials in nonaqueous lithium–oxygen batteries are reviewed. Future research directions of perovskite oxides should focus on the understanding of electrochemical mechanisms during the oxygen reduction and evolution processes, the structure design from nanoparticles to hierarchical porous structures, and the composite incorporation with improved electrical conductivities, catalytic activities, and structural merits.
[Progress Report]
Peng Tan, Meilin Liu, Zongping Shao, Meng Ni
Adv. Energy Mater., February 20, 2017, DOI: 10.1002/aenm.201602674. Read article
Bamboo-like FeCo alloy encapsulated in nitrogen-doped carbon nanotubes exhibits superior catalytic oxygen reduction and oxygen evolution performance than that of noble metal benchmarks, which benefits from the nitrogen-rich and defect-rich catalyst surface. The all-solid-state zinc–air batteries equipped by the synthesized materials show low charging/discharging overpotentials, long lifetime, and high flexibility, suitable for practical application.
[Full Paper]
Chang-Yuan Su, Hui Cheng, Wei Li, Zhao-Qing Liu, Nan Li, Zhufeng Hou, Fu-Quan Bai, Hong-Xing Zhang, Tian-Yi Ma
Adv. Energy Mater., February 20, 2017, DOI: 10.1002/aenm.201602420. Read article
Mn-rich LiFe1-yMnyPO4 (0.5 ≤ y < 1.0) materials are among the most promising cathode materials for next generation of high-energy-density lithium ion batteries. The recent advances of the development of LiFe1-yMnyPO4, especially on the studies of synthesis strategies, structural features, delithiation/lithiation mechanisms, thermodynamic properties, as well as some aspects for future exploration are outlined in this review.
[Review]
Yuanfu Deng, Chunxiang Yang, Kaixiang Zou, Xusong Qin, Zhenxia Zhao, Guohua Chen
Adv. Energy Mater., February 20, 2017, DOI: 10.1002/aenm.201601958. Read article
Flexible, binder-free electrode composed of 2D ultrathin (≈2.5 nm) SnO nanoflake arrays on graphene foam/carbon nanotubes foam is fabricated. Density functional theory calculation, quantitative capacitive analysis, and ex situ Raman and high-resolution transmission electron microscopy verify the role of pseudocapacitive contribution to high-rate Na+ storage and long-term cycle life of sodium ion battery.
[Full Paper]
Minghua Chen, Dongliang Chao, Jilei Liu, Jiaxu Yan, Bowei Zhang, Yizhong Huang, Jianyi Lin, Ze Xiang Shen
Adv. Funct. Mater., February 20, 2017, DOI: 10.1002/adfm.201606232. Read article
Multistage electron donor: The first hexakis(guanidino)benzene derivative donates four electrons at a record low potential.
[Communication]
Benjamin Eberle, Elisabeth Kaifer, Hans-Jörg Himmel
Angew. Chem. Int. Ed., February 17, 2017, DOI: 10.1002/anie.201611189. Read article
Synthesis strategies, tailored material properties and different electrochemical performances are prominent features of good rechargeable batteries. Three major types batteries: Lithium-ion batteries, Sodium-ion batteries and Magnesium-ion batteries built on germanium-based nanomaterials are carefully introduced, and the comprehensive summaries and evaluations are given in this review.
[Review]
Xiao Xiao, Xinran Li, Shasha Zheng, Jinying Shao, Huaiguo Xue, Huan Pang
Adv. Mater. Interfaces, February 15, 2017, DOI: 10.1002/admi.201600798. Read article
An ultrafast rechargeable multi-ions battery is presented, in which multi-ions can electrochemically intercalate into graphite layers, exhibiting a high reversible discharge capacity of ≈100 mAh g−1 and a coulombic efficiency of ≈99% over hundreds of cycles at a high current density. The results may open up a new paradigm for multi-ions-based electrochemical battery technologies and applications.
[Communication]
Shuai Wang, Shuqiang Jiao, Donghua Tian, Hao-Sen Chen, Handong Jiao, Jiguo Tu, Yingjun Liu, Dai-Ning Fang
Adv. Mater., February 15, 2017, DOI: 10.1002/adma.201606349. Read article
Gum tree: Interconnected, porous carbon nanosheets were successfully synthesised using eucalyptus tree leaves. For supercapacitors, the porous carbon electrode exhibited a supercapacitance of 372 F g−1 at a current density of 500 mA g−1 and excellent cycling stability over 15 000 cycles. For lithium ion battery applications, the electrode also demonstrated a high specific capacity of 819 mA h g−1 at a current density of 100 mA g−1 and stable cycling performance.
[Full Paper]
Anjon Kumar Mondal, Katja Kretschmer, Yufei Zhao, Hao Liu, Chengyin Wang, Bing Sun, Guoxiu Wang
Chem. Eur. J., February 14, 2017, DOI: 10.1002/chem.201605019. Read article
Polysulfone membranes grafted with bunch-like tertiary amine groups are successfully synthesized with very high proton to vanadium ion selectivity for vanadium redox flow batteries (VRFBs). The battery with the as-synthesized membrane demonstrates an impressive Coulombic efficiency of 98.9%, energy efficiency of 90.9%, and outstanding chemical stability, showing promising potential in the development of highly efficient and low-cost VRFBs.
[Communication]
Qinglong Tan, Shanfu Lu, Jiangju Si, Haining Wang, Chunxiao Wu, Xianfeng Li, Yan Xiang
Macromol. Rapid Commun., February 13, 2017, DOI: 10.1002/marc.201600710. Read article
Co
N/carbon nanotube core–shell hybrid electrocatalyst is developed via the self-polymerization of dopamine and cobalt on carbon nanotubes followed by high-temperature pyrolysis. It exhibits an excellent electrocatalytic activity for the oxygen reduction reaction, and can serve as the air catalyst to enable high-performance primary Zn–air and Al–air batteries.
[Full Paper]
Yiling Liu, Fengjiao Chen, Wen Ye, Min Zeng, Na Han, Feipeng Zhao, Xinxia Wang, Yanguang Li
Adv. Funct. Mater., February 09, 2017, DOI: 10.1002/adfm.201606034. Read article
Toward replacing vanadium: By combining a viologen unit and a TEMPO radical in a single molecule, a bipolar, redox-active material is created that can serve as both the anode and cathode of a water-based redox-flow battery (RFB). It mimics the redox states of vanadium salts and can, therefore, simplify the operation of organic RFBs. The material is electrochemically investigated and a test RFB cell is built.
[Communication]
Tobias Janoschka, Christian Friebe, Martin D. Hager, Norbert Martin, Ulrich S. Schubert
ChemistryOpen, February 07, 2017, DOI: 10.1002/open.201600155. Read article
This study proposes a high energy density rechargeable battery with a fully transient cathode based on tin (Sn)-doped vanadium oxide (V2O5). The transient battery exhibits an areal capacity of 2 mAh cm−2 with a working voltage above 2.0 V, and can be completely transient in potassium hydroxide (KOH) aqueous solution within a few minutes.
[Full Paper]
Zhengyang Wang, Kun (Kelvin) Fu, Zhen Liu, Yonggang Yao, Jiaqi Dai, Yibo Wang, Boyang Liu, Liangbing Hu
Adv. Funct. Mater., February 06, 2017, DOI: 10.1002/adfm.201605724. Read article
Lawsone (2-hydroxy-1,4-naphthoquinone), a naturally derived red-orange dye, is investigated as a promising cathode material for next-generation lithium batteries. Its success stems from the unique 2D planar packing of lawsone molecules, displaying a high discharge capacity of 280 mA h g−1 (99% theoretical capacity), a high energy density of 664 W h kg−1, and long life of 1000 cycles at 0.5 C along with good rate performance up to 5 C.
[Full Paper]
Joungphil Lee, Moon Jeong Park
Adv. Energy Mater., February 02, 2017, DOI: 10.1002/aenm.201602279. Read article
The multifunctional γ-MnO2 shell as an efficient sulfur host can prevent polysulfide shuttle via physical confinement and chemical interaction. Comprehensive analytical studies identify the new surface interaction mechanism of phase evolution from MnO2 to Mn3O4 on host surface and following surface degradation mechanism in Li-S cells. This sheds new lights on the practical application of the low-cost, high-energy, and long-life Li-S batteries.
[Full Paper]
Lubin Ni, Zhen Wu, Gangjin Zhao, Chunyu Sun, Chuanqiang Zhou, XiangXiang Gong, Guowang Diao
Small, January 30, 2017, DOI: 10.1002/smll.201603466. Read article
Hierarchy concepts are proposed and applied to illustrate hierarchitectures composed of 2D nanomaterials for energy storage devices. For each class of hierarchical structure, the synthetic mechanisms, methods, and morphology characterizations are presented. For the application in various battery systems, their design rules and unique merits are discussed. Future research towards developing advanced lithium batteries, perspectives and challenges is outlined.
[Review]
Lina Cong, Haiming Xie, Jinghong Li
Adv. Energy Mater., January 30, 2017, DOI: 10.1002/aenm.201601906. Read article
Electrochemical (de)lithiation mechanisms of Cu3P and Sn4P3 Li-ion anodes are investigated by scanning electron microscopy, in situ X-ray diffraction and in situ small angle neutron scattering. It is shown that, for Sn4P3, having an additional alloying reaction induces more surface cracks onto the particles than for Cu3P, resulting in worse stability of the solid electrolyte interphase and shorter cycle life.
[Full Paper]
Xin He, Rui Wang, Marian Cristian Stan, Elie Paillard, Jun Wang, Henrich Frielinghaus, Jie Li
Adv. Mater. Interfaces, January 30, 2017, DOI: 10.1002/admi.201601047. Read article
The behavior of pouch-type Li
O2 cells using large-size electrodes is investigated for evaluating and judging real, practical challenges related to this battery technology. Despite the use of optimized cells, unavoidable failure due to formation of LiOH on the Li-anode surface is discovered, which could not be easily distinguished in small-sized cells within several cycles.
[Full Paper]
Hyeon-Ji Shin, Won-Jin Kwak, Doron Aurbach, Yang-Kook Sun
Adv. Funct. Mater., January 30, 2017, DOI: 10.1002/adfm.201605500. Read article
A sulfur/carbon composite based on 3D graphene nanosheet–carbon nanotube matrix exhibits large capacity and remarkable cycle stability owing to the strong covalent interaction between the two components of GN and CNTs, and the rapid electron transfer in the 3D GN–CNT matrix, as well as the stable confinement of sulfur/polysulfide species by produced cobalt nanoparticles.
[Full Paper]
Ze Zhang, Ling-Long Kong, Sheng Liu, Guo-Ran Li, Xue-Ping Gao
Adv. Energy Mater., January 27, 2017, DOI: 10.1002/aenm.201602543. Read article
The Si–void@SiOx nanowire anode is designed by a simple synthetic and environmentally friendly process, and in situ investigation of lithiated Si–void@SiOx nanowire is performed inside a transmission electron microscope. Si–void@SiOx nanowire electrodes exhibit improved lithium storage properties including the high specific capacity and high rate capability.
[Full Paper]
Qian Liu, Zhe Cui, Rujia Zou, Jianhua Zhang, Kaibing Xu, Junqing Hu
Small, January 25, 2017, DOI: 10.1002/smll.201603754. Read article
Salinity gradient energy recovery: The environmentally friendly 2,6-dihydroxyanthraquinone (2,6-DHAQ) and ferrocyanide redox couples are used to integrate reverse electrodialysis stacks and flow batteries, called RED-FB systems, for the efficient capture, storage, and discharge of salinity gradient energy. The maximum power density reaches 3.0 kW m−2-anode and the energy density is 2.4 kWh m−3-anolyte, with an energy efficiency of 30 %.
[Full Paper]
Xiuping Zhu, Taeyoung Kim, Mohammad Rahimi, Christopher A. Gorski, Bruce E. Logan
ChemSusChem, January 25, 2017, DOI: 10.1002/cssc.201601220. Read article
A high-energy nickel-rich cathode with primary particle concentration gradient is developed via a simple, one-step process involving a sacrificial polymeric-bead cluster. The primary particles' gradients and internal buffer space in the secondary particles are successfully formed without any surface coating reagents. It is demonstrated that the cathode material has a high specific capacity and thermal stability.
[Communication]
Junhyeok Kim, Hyeon Cho, Hu Young Jeong, Hyunsoo Ma, Jieun Lee, Jaeseong Hwang, Minjoon Park, Jaephil Cho
Adv. Energy Mater., January 25, 2017, DOI: 10.1002/aenm.201602559. Read article
An ion-selective interlayer of graphene and boron nitride nanosheet is designed and inserted between separator and cathode to decrease the charge transfer resistance, mitigate the shuttling problem, and enhance the performance of lithium–sulfur batteries. The hybrid interlayer is also expected to provide a new approach in other energy-storage systems that require a barrier to control the ion transportations.
[Full Paper]
Ye Fan, Zhi Yang, Wuxing Hua, Dan Liu, Tao Tao, Md Mokhlesur Rahman, Weiwei Lei, Shaoming Huang, Ying Chen
Adv. Energy Mater., January 25, 2017, DOI: 10.1002/aenm.201602380. Read article
The well-designed all-round practical Mg-ion electrolyte fulfills all requirements of easy synthesis, high ionic conductivity, wide potential window up to 3.5 V versus Mg, compatibility with high-capacity selenium and sulfur active materials, and simultaneously noncorrosivity to coin cell assemblies.
[Full Paper]
Zhonghua Zhang, Zili Cui, Lixin Qiao, Jing Guan, Huimin Xu, Xiaogang Wang, Pu Hu, Huiping Du, Shizhen Li, Xinhong Zhou, Shanmu Dong, Zhihong Liu, Guanglei Cui, Liquan Chen
Adv. Energy Mater., January 17, 2017, DOI: 10.1002/aenm.201602055. Read article
Spinel Li4Ti5O12 is one of the most appealing potential candidate anode materials for power lithium-ion batteries due to its excellent cycling and thermal stability. An updated overview of three key industrial application challenges of Li4Ti5O12 (fast-charging, swelling issues and relatively low energy density) and the latest advances in Li4Ti5O12 research for its future development is provided.
[Review]
Tao Yuan, Zhuopeng Tan, Chunrong Ma, Junhe Yang, Zi-Feng Ma, Shiyou Zheng
Adv. Energy Mater., January 17, 2017, DOI: 10.1002/aenm.201601625. Read article
Tungsten disulfide (WS2) with the carbon cloth interlayer shows high utilization of sulfide in the cathode structure where the tungsten disulfide and the carbon cloth interlayer dual functional structure has facile charge transfer and catalytic effect, enabling high battery performance.
[Full Paper]
Jungjin Park, Byeong-Chul Yu, Joong Sun Park, Jang Wook Choi, Chunjoong Kim, Yung-Eun Sung, John B. Goodenough
Adv. Energy Mater., January 16, 2017, DOI: 10.1002/aenm.201602567. Read article
Li4Ti5O12-LiCoO2 lithium ion battery is efficiently photocharged by a high efficiency perovskite solar cell with a maximum power point tracking-based DC–DC voltage boost converter. A high overall efficiency of 9.36% is achieved at 0.5 C discharge rate due to high efficiency from perovskite solar cells, maximum power tracking capability from the boost converter, and low energy loss from the battery.
[Full Paper]
Ashim Gurung, Ke Chen, Reza Khan, Salem Saad Abdulkarim, Geetha Varnekar, Rajesh Pathak, Roya Naderi, Qiquan Qiao
Adv. Energy Mater., January 11, 2017, DOI: 10.1002/aenm.201602105. Read article
A novel yolk–shell Sn@C nanobox composite with controllable structures has been synthesized using a facile approach. The generation of metallic Sn together with the void space and the conversion of polymer to carbon are simultaneously completed in one step. Importantly, with an optimized carbon shell thickness, the composite exhibits high specific capacity, good rate performance, and exceptional cycling stability.
[Full Paper]
Hongwei Zhang, Xiaodan Huang, Owen Noonan, Liang Zhou, Chengzhong Yu
Adv. Funct. Mater., January 11, 2017, DOI: 10.1002/adfm.201606023. Read article
For the first time, graphene and its derivative metal-self-doped graphene (MG) are obtained by a universal technique to thermal chlorination of 2D metal carbides (MxCy). Comparing with top nonmetallic atoms-doped graphene, particular MG demonstrates superb Li-storage properties as anode of LIBs and catalyticalctivities for oxygen reduction and evolution reactions.
[Full Paper]
Zongkui Kou, Tian Meng, Beibei Guo, Ibrahim Saana Amiinu, Wenqiang Li, Jie Zhang, Shichun Mu
Adv. Funct. Mater., January 11, 2017, DOI: 10.1002/adfm.201604904. Read article
A novel battery strategy with a "mediator-ion" solid electrolyte can make the best use of liquid-phase or gas-phase electrode materials to develop low-cost, safe, aqueous energy storage systems.
[Full Paper]
Xingwen Yu, Martha M. Gross, Shaofei Wang, Arumugam Manthiram
Adv. Energy Mater., January 06, 2017, DOI: 10.1002/aenm.201602454. Read article
Constraining electrodeposition of liquid electrolytes in charged nanoporous membranes increases lithium-ion transference number and stabilizes electrodeposition of lithium in rechargeable batteries.
[Full Paper]
Zhengyuan Tu, Michael J. Zachman, Snehashis Choudhury, Shuya Wei, Lin Ma, Yuan Yang, Lena F. Kourkoutis, Lynden A. Archer
Adv. Energy Mater., January 06, 2017, DOI: 10.1002/aenm.201602367. Read article
The rationally designed freestanding and sandwich-structured electrode exhibits enhanced cycling stability with high specific capacity and high coulombic efficiency. This strategy achieves high level of optimization for electrochemical performance through hybridization-combining multiple materials with unique characteristics within a single framework structure.
[Full Paper]
Mingpeng Yu, Junsheng Ma, Ming Xie, Hongquan Song, Fuyang Tian, Shanshan Xu, Yun Zhou, Bei Li, Di Wu, Hong Qiu, Rongming Wang
Adv. Energy Mater., January 06, 2017, DOI: 10.1002/aenm.201602347. Read article
"Single-phase" all-solid-state battery, based on Na3−xV2−xZrx(PO4)3 as the cathode, anode, and electrolyte, is reported. It successfully undergoes room temperature charge–discharge reactions based on the V3+/V2+ (anode) and V3+/V4+ (cathode) redox systems with insertion reaction. The interfacial resistance is essentially zero at the anode and cathode.
[Communication]
Atsushi Inoishi, Takuya Omuta, Eiji Kobayashi, Ayuko Kitajou, Shigeto Okada
Adv. Mater. Interfaces, December 23, 2016, DOI: 10.1002/admi.201600942. Read article
© Wiley-VCH 2016.