Batteries and Supercapacitors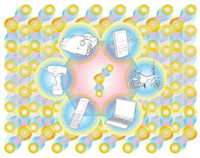 Lithium-ion or otherwise, batteries keep lots of things going, and enable a mobile lifestyle: from mobile phones to intercontinental air travel. Batteries are complex devices whose overall performance and usefulness depend on many factors such as energy density, efficiency, durability, and sustainability. Research in this area is by nature interdisciplinary and involves chemists, physicists, materials scientists, and engineers.
Further reading: K. Ozawa (Ed.), Lithium Ion Rechargeable Batteries: Materials, Technology, and New Applications, Wiley-VCH, 2010.
Find all articles on batteries or supercapacitors in Wiley Online Library...
Recent Articles
RSS feed
Sandwich-like MoS2@SnO2@C nanosheeets are prepared by facile hydrothermal reactions. SnO2 nanosheets can attach to exfoliated MoS2 nanosheets to prevent restacking of adjacent MoS2 nanosheets, and carbon transformed from polyvinylpyrrolidone is coated on MoS2@SnO2, forming a sandwich structure to maintain cycling stability. As anodes for sodium/potassium-ion batteries, the MoS2@SnO2@C electrodes show electrochemical performances.
[Full Paper]
Zhi Chen, Dangui Yin, Ming Zhang
Small, March 15, 2018, https://doi.org/10.1002/smll.201703818 Read article
Bi anodes: In a potassium-ion battery, bismuth delivers a remarkable capacity of approximately 400 mAh g−1 and cycle stability with three distinct two-phase reactions of Bi
KBi2
K3Bi2
K3Bi in a dimethoxyethane-based electrolyte. These properties are ascribed to bismuth′s ability to form 3D porous networks.
[Communication]
Kaixiang Lei, Chenchen Wang, Luojia Liu, Yuwen Luo, Chaonan Mu, Fujun Li, Jun Chen
Angew. Chem. Int. Ed., March 15, 2018, https://doi.org/10.1002/anie.201801389 Read article
A fiber-like electrode with yolk–shell NiS2 nanoparticle-embedded porous carbon fibers is developed via a facile strategy. The hybrid fiber electrode exhibits ultrastable cycling stability with large specific capacity and good rate performance. A fiber-shaped sodium battery is constructed with the hybrid fiber electrode and sodium metal, demonstrating outstanding electrochemical performance, structural robustness, and flexibility.
[Full Paper]
Qi Chen, Shuo Sun, Teng Zhai, Mei Yang, Xiangyu Zhao, Hui Xia
Adv. Energy Mater., March 15, 2018, https://doi.org/10.1002/aenm.201800054 Read article
The enriched edge sites derived from vertical mono- or few-layer 2D layered metal selenides achieve preferential chemical adsorption of polysulfides. Concurrently, polysulfides conversion is promoted via the electron transfer between edge sites and adsorbed polysulfides. When employed for separator modification, polysulfides are well stabilized on the cathode region, which endows lithium–sulfur batteries with the best cycle stability and low-temperature performance.
[Full Paper]
Chao-Ying Fan, Yan-Ping Zheng, Xiao-Hua Zhang, Yan-Hong Shi, Si-Yu Liu, Han-Chi Wang, Xing-Long Wu, Hai-Zhu Sun, Jing-Ping Zhang
Adv. Energy Mater., March 15, 2018, https://doi.org/10.1002/aenm.201703638 Read article
Fully 3D-printed and packaged lithium-ion batteries (LIBs) composed of thick, semisolid biphasic electrodes are created in customized form factors. These 3D-printed, rechargeable LIBs exhibit high areal energy and power densities.
[Communication]
Teng-Sing Wei, Bok Yeop Ahn, Julia Grotto, Jennifer A. Lewis
Adv. Mater., March 15, 2018, https://doi.org/10.1002/adma.201703027 Read article
This review aims to provide an overview of solid-state electrolytes (gels, solid-state polymers, ceramics, and composite electrolytes) for addressing the major drawbacks of Li–S batteries, including the lithium polysulfides shuttle effect and lithium dendrites initiation. In addition, strategies of overcoming deficiencies of solid-state electrolytes such as low room-temperature ionic conductivity and high interfacial resistance are also concluded.
[Feature Article]
Danni Lei, Kai Shi, Heng Ye, Zipei Wan, Yanyan Wang, Lu Shen, Baohua Li, Quan-Hong Yang, Feiyu Kang, Yan-Bing He
Adv. Funct. Mater., March 15, 2018, https://doi.org/10.1002/adfm.201707570 Read article
Encapsulation-type structured MoSe2@hollow carbon nanosphere materials assembled with expanded (002) planes and few-layer MoSe2 nanosheets are successfully controlled synthesized through a facile general strategy. It exhibits ultralong cycling and high rate performance for sodium-ion batteries.
[Full Paper]
Hui Liu, Hong Guo, Beihong Liu, Mengfang Liang, Zhaolin Lv, Keegan R. Adair, Xueliang Sun
Adv. Funct. Mater., March 15, 2018, https://doi.org/10.1002/adfm.201707480 Read article
Anode solid electrolyte interphases (SEI) and cathode electrolyte interphases are essential to improving a battery's electrochemical performance, safety and tolerance against cell failure, and are indispensable components in sodium-ion batteries (SIBs). This review starts from the SEI function and provides a comprehensive summary of the current scientific understanding about how SEI composition and structural properties are related to the interphasial functions in SIBs.
[Review]
Junhua Song, Biwei Xiao, Yuehe Lin, Kang Xu, Xiaolin Li
Adv. Energy Mater., March 14, 2018, https://doi.org/10.1002/aenm.201703082 Read article
Tin can: By locating elemental Sn in an open anionic framework, the particle cracking arising from huge volume expansion of Sn-based anode materials during lithiation/delithiation is alleviated, and the cycling stability is greatly improved (the capacity retention is >92 % after 200 cycles).
[Communication]
Na Wu, Wei Wang, Lu-Qing Kou, Xue Zhang, Ya-Ru Shi, Tao-Hai Li, Feng Li, Jing-Ming Zhou, Yu Wei
Chem. Eur. J., March 13, 2018, https://doi.org/10.1002/chem.201800215 Read article
A soft, elastic, discharge-current-controllable liquid metal-air battery, using gallium-indium liquid metal as anode, and operated at room temperature, is reported for the first time. It shows 0.383 mW cm-2 @1.5 V and effective reactions of Ga – 3e−
Ga3+ and O2 + 2H2O + 4e−
4OH−. The possibility to develop deformable batteries based on this liquid metal electrode is demonstrated.
[Full Paper]
Guicheng Liu, Ji Young Kim, Manxiang Wang, Jae-Young Woo, Lei Wang, Dechun Zou, Joong Kee Lee
Adv. Energy Mater., March 13, 2018, https://doi.org/10.1002/aenm.201703652 Read article
What is the path to follow for improving the performance of carbon anodes to bring Na-ion batteries to a competitive level compared to other technologies? This review responds to this question by undertaking a transversal analysis of the performance, structure, microstructure, and storage mechanisms of sp2 carbons, leading to a roadmap of the present strategies.
[Review]
Damien Saurel, Brahim Orayech, Biwei Xiao, Daniel Carriazo, Xiaolin Li, Teófilo Rojo
Adv. Energy Mater., March 13, 2018, https://doi.org/10.1002/aenm.201703268 Read article
Novel hierarchical Fe2O3@Ni3Se4 nanotubes are successfully fabricated. Electrochemical performance shows that the Fe2O3@Ni3Se4 nanotubes exhibit excellent lithium storage properties including good rate capability and outstanding long-term cycling performance as well as high catalytic performance for the oxygen evolution reaction (low overpotential, small Tafel slope, and excellent long-term durability).
[Communication]
Penglun Zheng, Yu Zhang, Zhengfei Dai, Yun Zheng, Khang Ngoc Dinh, Jun Yang, Raksha Dangol, Xiaobo Liu, Qingyu Yan
Small, March 12, 2018, https://doi.org/10.1002/smll.201704065 Read article
This work reports a novel sulfur/oxygen codoped porous hard carbon microspheres (PCMs) material for high-performance potassium ion batteries. The as-made PCMs anode delivers a high potassiation capacity of 226.6 mA h g−1 at the current density of 50 mA g−1 over 100 cycles. Most impressively, it can maintain an ultrahigh storage capacity of 108.4 mA h g−1 for more than 2000 cycles at 1000 mA g−1.
[Full Paper]
Mei Chen, Wei Wang, Xiao Liang, Sheng Gong, Jie Liu, Qian Wang, Shaojun Guo, Huai Yang
Adv. Energy Mater., March 12, 2018, https://doi.org/10.1002/aenm.201800171 Read article
The high-performance sodium storage performance in Na3V2(PO4)3 is realized by optimizing nanostructure and rational surface engineering. The excellent electrochemical performance of the NVP@C-BN can be attributed to the advantages of the N, B codoped carbon layer and the 3D thin nanoplate assembled 3D flower structure.
[Full Paper]
Yu Jiang, Xuefeng Zhou, Dongjun Li, Xiaolong Cheng, Fanfan Liu, Yan Yu
Adv. Energy Mater., March 12, 2018, https://doi.org/10.1002/aenm.201800068 Read article
An oriented Na3(VO)2(PO4)2F nanorods array on flexible substrates is fabricated and demonstrates high-rate capability and unprecedented long-term durability (10,000 cycles at 50 C). Using the sodium vanadium fluorophosphates array cathode and pseudocapacitive VO2 array anode, an all-array flexible Na-ion hybrid device is constructed, which shows ultrafast sodium ion storage feature to 20 C with high energy density up to 215 W h kg−1.
[Communication]
Dongliang Chao, Chun-Han (Matt) Lai, Pei Liang, Qiulong Wei, Yue-Sheng Wang, Changrong (Rose) Zhu, Gang Deng, Vicky V. T. Doan-Nguyen, Jianyi Lin, Liqiang Mai, Hong Jin Fan, Bruce Dunn, Ze Xiang Shen
Adv. Energy Mater., March 12, 2018, https://doi.org/10.1002/aenm.201800058 Read article
The dendrite suppression capability of Li2S-P2S5 glass electrolyte can be improved significantly by LiI incorporation, and the 70(0.75Li2S-0.25P2S5)-30LiI (LPS30I) electrolyte exhibits the highest capability for dendrite suppression. The critical current density of LPS30I reaches 3.90 mA cm−2 at 100 °C, and the Li/LPS30I/Li cell could cycle 200 h at 1.50 mA cm−2 at 100 °C.
[Communication]
Fudong Han, Jie Yue, Xiangyang Zhu, Chunsheng Wang
Adv. Energy Mater., March 12, 2018, https://doi.org/10.1002/aenm.201703644 Read article
Due to the low formation energy of Ge
Se bondings, a mild driven force such as thermoheating can recover the ordered layer structure, helping c-GeSe2 to get better rate performances than its amorphous counterparts. Electrochemical delithium force also triggers the rebuilding of Ge
Se bonding upon Li-extraction, boosting GeSe2/C with large capacity (1050 mA h g−1), ultrahigh initial coulomb efficiency (94%), and cyclability.
[Full Paper]
Yaqing Wei, Liang Huang, Jun He, Yanpeng Guo, Ruihuan Qin, Huiqiao Li, Tianyou Zhai
Adv. Energy Mater., March 12, 2018, https://doi.org/10.1002/aenm.201703635 Read article
Inspired by photosynthetic plants, a self-standing, defect-enriched, and pyridinic-N dominated bifunctional electrode is constructed with novel core–shell architecture by in situ exfoliation and generation of active sites on graphene nanosheets strongly coupled with carbon fiber. By directly using this material as an electrode, the assembled Zn–air batteries exhibit excellent discharge performance and long-term cycle stability.
[Full Paper]
Chao Hang, Jian Zhang, Jiawei Zhu, Wenqiang Li, Zongkui Kou, Yunhui Huang
Adv. Energy Mater., March 12, 2018, https://doi.org/10.1002/aenm.201703539 Read article
The Fe2O3/CNT cathode in Li
O2 batteries is demonstrated to offer high cyclability and coulombic efficiency in potential limited (dis)charge cycles. This is achived via epitaxially induced nucleation and growth of smaller and more isoptropic Li2O2 crytallites on the Fe2O3 seed crystal catalyst, owing to their similar lattice d-spacing.
[Full Paper]
Zhaolong Li, Swapna Ganapathy, Yaolin Xu, Quanyao Zhu, Wen Chen, Ivan Kochetkov, Chandramohan George, Linda F. Nazar, Marnix Wagemaker
Adv. Energy Mater., March 12, 2018, https://doi.org/10.1002/aenm.201703513 Read article
The novel-designed GeS2/rGO hybrid anode materials are prepared via a facile hydrothermal synthesis and a unique carbo-thermal annealing. The nanocomposites ensure the high reversible specific capacity of 805 mA h g−1 beyond the theoretical capacity and the excellent rate capability (562 mA h g−1 at 5 A g−1), revealing the best use of electrochemically driven amorphization.
[Communication]
Joo-Hyung Kim, Jong Hyuk Yun, Do Kyung Kim
Adv. Energy Mater., March 12, 2018, https://doi.org/10.1002/aenm.201703499 Read article
High-density graphene monolith with "ink-bottle-like" pores was prepared by H3PO4 activation together with a capillary evaporation-induced drying method. These pores can effectively accommodate and confine the lithium polysulfides with their wide body and narrow neck, respectively. When used as a carbon host for a Li–S battery, the device exhibits a high volumetric energy density and long-cycle life.
[Full Paper]
Huan Li, Ying Tao, Chen Zhang, Donghai Liu, Jiayan Luo, Weichao Fan, Yue Xu, Youzhi Li, Conghui You, Zheng-Ze Pan, Mingchun Ye, Zhengyu Chen, Zhang Dong, Da-Wei Wang, Feiyu Kang, Jun Lu, Quan-Hong Yang
Adv. Energy Mater., March 12, 2018, https://doi.org/10.1002/aenm.201703438 Read article
A complete thermodynamic cycle for the battery system Li//LiCoO2 is presented taking into account ionic and electronic work functions.
[Full Paper]
Stephan Schuld, René Hausbrand, Mathias Fingerle, Wolfram Jaegermann, Karl-Michael Weitzel
Adv. Energy Mater., March 12, 2018, https://doi.org/10.1002/aenm.201703411 Read article
An outstanding anode material with superior low-temperature Na-storage performance is first prepared, and then an advanced sodium-ion full battery is assembled and studied via coupling such anode with Na3V2(PO4)2O2F cathode. The assembled full battery exhibits ultralong cycle life, superior low-temperature, and high-power energy-storage performances.
[Communication]
Ying-Ying Wang, Bao-Hua Hou, Jin-Zhi Guo, Qiu-Li Ning, Wei-Lin Pang, Jiawei Wang, Chang-Li Lü, Xing-Long Wu
Adv. Energy Mater., March 12, 2018, https://doi.org/10.1002/aenm.201703252 Read article
Compared to nonaqueous batteries, Aqueous sodium-ion batteries (ASIB) solve the safety problem associated with the highly toxic and flammable organic electrolyte. This review focuses on the latest advances in the development of ASIB systems, including cathode, anode, and electrolyte. Here, the recent progress, challenges, and prospects are proposed to guide the further development of ASIB.
[Review]
Duan Bin, Fei Wang, Andebet Gedamu Tamirat, Liumin Suo, Yonggang Wang, Chunsheng Wang, Yongyao Xia
Adv. Energy Mater., March 12, 2018, https://doi.org/10.1002/aenm.201703008 Read article
Ab initio computational studies of cathode and anode materials for sodium-ion batteries are reviewed. Advanced computational modeling provides significant fundamental understanding and facilitates the research and development of novel electrode materials for high-performance sodium-ion batteries.
[Review]
Qiang Bai, Lufeng Yang, Hailong Chen, Yifei Mo
Adv. Energy Mater., March 12, 2018, https://doi.org/10.1002/aenm.201702998 Read article
Novasis Energies, Inc. and Faradion Limited provide an overview on the scale-up and commercialization of nonaqueous sodium-ion battery technologies applicable for energy storage. The cathode materials developed enable large-scale application of sodium-ion batteries at a lower cost compared to their lithium-ion counterparts. Sodium-ion batteries made by Novasis and Faradion have demonstrated superior capacity, cycling stability, and rate performance.
[Progress Report]
Alexander Bauer, Jie Song, Sean Vail, Wei Pan, Jerry Barker, Yuhao Lu
Adv. Energy Mater., March 12, 2018, https://doi.org/10.1002/aenm.201702869 Read article
Walnut-like multicore–shell MnO nanoparticle encapsulated nitrogen-rich carbon nanocapsules (MnO@NC) as high-performance anode material for lithium-ion batteries are prepared. The MnO@NC nanocapsules exhibit highly reversible capacity and long-term cyclability. Furthermore, a soft-packed full battery based on MnO@NC nanocapsules anode and commercial LiFePO4 cathode present good flexibility and cycling performance, even under continuous bending (folding) and unbending operations.
[Full Paper]
Guoyin Zhu, Lei Wang, Huinan Lin, Liaobo Ma, Peiyang Zhao, Yi Hu, Tao Chen, Renpeng Chen, Yanrong Wang, Zuoxiu Tie, Jie Liu, Zhong Jin
Adv. Funct. Mater., March 12, 2018, https://doi.org/10.1002/adfm.201800003 Read article
A hierarchically porous carbon network with interconnectivity is prepared from salt/metal–organic framework composites. The carbon network demonstrates comparable activity and durability toward the oxygen reduction reaction compared with Pt/C. When it is equipped in the cathodes of primary Zn–air batteries, a 150 h battery life can be achieved, which triples that of the batteries catalyzed by noble metals.
[Full Paper]
Yuhong Qian, Tao An, Karl Erik Birgersson, Zhaolin Liu, Dan Zhao
Small, March 09, 2018, https://doi.org/10.1002/smll.201704169 Read article
"Ni-less" cathode is prepared and tested for the first time to demonstrate high energy density Na–NiCl2 batteries at an operating temperature of 190 °C. The energy density of "Ni-less" cell reaches 405 Wh kg−1 with excellent capacity retention after 300 cycles, making Na–NiCl2 batteries more competitive for stationary energy storage application.
[Full Paper]
Hee-Jung Chang, Xiaochuan Lu, Jeffery F. Bonnett, Nathan L. Canfield, Sori Son, Yoon-Cheol Park, Keeyoung Jung, Vincent L. Sprenkle, Guosheng Li
Adv. Mater. Interfaces, March 08, 2018, https://doi.org/10.1002/admi.201701592 Read article
An ultrafast heterogeneous nucleation facilitated pretreatment is proposed for modifying Li1.143Mn0.544Ni0.136Co0.136O2 cathodes. Target materials present a uniform hierarchical surface configuration of dual aluminum oxide layers and an inner spinel membrane, which serves as protections and facilitates Li+ diffusion. Consequently, it is capable to deliver a high capacity of 296.3 mAh g−1 at 0.1 C, in addition to superior cycling stability and rate performances.
[Full Paper]
Haocheng Guo, Kai Jia, Shaojie Han, Hu Zhao, Bao Qiu, Yonggao Xia, Zhaoping Liu
Adv. Mater. Interfaces, March 08, 2018, https://doi.org/10.1002/admi.201701465 Read article
Sulfur-doped T-Nb2O5 hollow nanospheres uniformly encapsulated into sulfur-doped graphene networks are prepared by a hard template method. The 3D-ordered porous structures not only provide a good electronic transportation path but also offer outstanding ionic conductive channels, leading to an improved sodium storage performance.
[Full Paper]
Fanfan Liu, Xiaolong Cheng, Rui Xu, Ying Wu, Yu Jiang, Yan Yu
Adv. Funct. Mater., March 08, 2018, https://doi.org/10.1002/adfm.201800394 Read article
Various advanced characterization techniques tremendously promote the progress of mechanism understanding in Li–S batteries, providing guidance for the optimization of overall battery performances. This review highlights the importance, and presents the basic principles as well as characteristics of different characterization techniques employed in Li–S systems, which is helpful for the research of Li–S batteries in the future.
[Feature Article]
Enyue Zhao, Kaihui Nie, Xiqian Yu, Yong-Sheng Hu, Fangwei Wang, Jie Xiao, Hong Li, Xuejie Huang
Adv. Funct. Mater., March 08, 2018, https://doi.org/10.1002/adfm.201707543 Read article
The interfaces in all-solid-state Li–S batteries including metallic lithium| solid-state electrolytes (SSEs), SSEs|SSEs, and composite sulfur cathode|SSEs are surveyed and the corresponding approaches to handle the interface issues are proposed toward better electrochemical performance.
[Feature Article]
Junpei Yue, Min Yan, Ya-Xia Yin, Yu-Guo Guo
Adv. Funct. Mater., March 08, 2018, https://doi.org/10.1002/adfm.201707533 Read article
Pyrene-based polymers are demonstrated as high-performance cathode materials for aluminum batteries delivering capacities of up to 100 mAh g−1 at an average voltage of 1.7 V for at least 1000 cycles.
[Communication]
Marc Walter, Kostiantyn V. Kravchyk, Cornelia Böfer, Roland Widmer, Maksym V. Kovalenko
Adv. Mater., March 07, 2018, https://doi.org/10.1002/adma.201705644 Read article
1D silicon anodes with different internal spaces are synthesized to investigate the effect of the spatial ratio of voids and their distribution degree on silicon pulverization. The combined experimental and theoretical approach reveals that the silicon nanowire with well-distributed pores dramatically improves structural stability by accommodating volume expansion during lithiation.
[Communication]
Yoonkook Son, Soojin Sim, Hyunsoo Ma, Min Choi, Yeonguk Son, Noejung Park, Jaephil Cho, Minjoon Park
Adv. Mater., March 07, 2018, https://doi.org/10.1002/adma.201705430 Read article
An advanced sulfur-graphene nanocage (GNC) composite is successfully synthesized with the cage cavity partially filled by cyclo-S8 and graphene layers infiltrated with smaller sulfur molecules (S2–4). As a lithium-sulfur battery cathode, the yolk–shell S8-GNC structure suppresses volumetric variation. Additionally, the success infiltration of S2–4 within graphene layers activates extra sulfur loading sites for improved battery performance.
[Full Paper]
Yifei Yuan, Guoqiang Tan, Jianguo Wen, Jun Lu, Lu Ma, Cong Liu, Xiaobing Zuo, Reza Shahbazian-Yassar, Tianpin Wu, Khalil Amine
Adv. Funct. Mater., March 07, 2018, https://doi.org/10.1002/adfm.201706443 Read article
Any old ions: This study offers a new insight into material design to exploit high-performance P2-type cathode materials for sodium-ion batteries. The incorporation of Mg2+ into intrinsic Na+ vacancies in Na-ion layers leads to a high-performance P2-type cathode material for sodium-ion batteries.
[Full Paper]
Zheng-Yao Li, Huibo Wang, Dongfeng Chen, Kai Sun, Wenyun Yang, Jinbo Yang, Xiangfeng Liu, Songbai Han
ChemSusChem, March 06, 2018, https://doi.org/10.1002/cssc.201702322 Read article
Electrospinning technology is used to prepare phosphorus-functionalized hard carbon with a specific "honeycomb briquette" morphology. This material shows excellent electrochemical performance when applied as an anode material for Na+ storage. First-principle calculation confirms that the ultrahigh capacity of the anode is ascribed to the enhancement of Na-absorption through formation of P
O and P
C bonds in graphitic layers.
[Communication]
Yu Li, Yifei Yuan, Ying Bai, Yuanchang Liu, Zhaohua Wang, Limin Li, Feng Wu, Khalil Amine, Chuan Wu, Jun Lu
Adv. Energy Mater., March 06, 2018, https://doi.org/10.1002/aenm.201702781 Read article
Pros and cons: CNR-MoS2 is composed of hierarchical MoS2 nanosheets tightly grown on carbon nanorods (CNRs). CNR-MoS2 lithium intercalation includes two changes at electrochemical windows 1.0–3.0 V and 0.001–3.0 V. The former corresponds to intercalation/extraction of lithium, which presents excellent cyclic stability but low specific capacity. The latter causes a large phase change in the final Li-S battery system, which delivers a high specific capacity but is accompanied by serious pulverization and fast capacity fading.
[Article]
Manman Wu, Cong Liu, Hui Xu, Jiandong Shen, Yang Yang, Gang Yang
ChemElectroChem, March 05, 2018, https://doi.org/10.1002/celc.201800096 Read article
Perovskite oxide La0.6Sr0.4Co0.2Fe0.8O3 (LSCF) is chosen as one of the most efficient catalysts for lithium–air batteries. The batteries can cycle 156 times in ambient air. The possible performance enhancement mechanism by LSCF is also illustrated and analyzed.
[Full Paper]
Junfang Cheng, Yuexing Jiang, Ming Zhang, Yu Sun, Lu Zou, Bo Chi, Jian Pu, Li Jian
ChemCatChem, March 05, 2018, https://doi.org/10.1002/cctc.201701666 Read article
Iron phosphate-coated flexible carbon nanotube fabric as a multifunctional cathode is synthesized by chemical vapor deposition technology. The presented concept of flexible CNT@FePO4 electrodes with good electrochemical and mechanical performances opens new perspectives toward formation of light-weight, flexible, multifunctional Na-ion battery electrodes based on abundant and cheap materials.
[Full Paper]
Xiaolei Ren, Kostiantyn Turcheniuk, Daniel Lewis, Wenbin Fu, Alexandre Magasinski, Mark W. Schauer, Gleb Yushin
Small, March 02, 2018, https://doi.org/10.1002/smll.201703425 Read article
Using different acids to etch the substrate is adopted to fabricate different architectures of electrode materials through modified reaction interfaces. Based on the method, tunable performance of Ni3S2 for SIBs is realized. This method can be extended to other metal oxides, sulfides, etc. This study is a valuable example how the interfaces can be manipulated during the crystal growing process.
[Full Paper]
Xiaosheng Song, Xifei Li, Zhimin Bai, Bo Yan, Dejun Li
Adv. Mater. Interfaces, March 02, 2018, https://doi.org/10.1002/admi.201701684 Read article
Molybdenum ditelluride nanosheets encapsulated in few-layer graphene are successfully synthesized through a simple heating and ball-milling method, and they display superior cycling stability (capacity retention of 99.5% over 400 cycles at 0.5 A g−1). Ex situ X-ray diffraction and transmission electron microscopy are used to explore the conversion mechanism of MoTe2 with Li.
[Full Paper]
Ning Ma, Xiao-Yu Jiang, Lu Zhang, Xiao-Shuang Wang, Yu-Liang Cao, Xian-Zheng Zhang
Small, February 28, 2018, https://doi.org/10.1002/smll.201703680 Read article
In situ polymerization of nanostructured polyaniline polymer on sulfur/carbon nanofiber matrix provides a three-dimensional conductive network structure for long-range electron transfer while the abundant oxygen and nitrogen heteroatoms in the matrix offer strong adsorption for polysulfides; the freestanding composite cathode could also accommodate the large volume change during cycling and increase the energy density of lithium-sulfur cells.
[Full Paper]
Pei Zhu, Jiadeng Zhu, Chaoyi Yan, Mahmut Dirican, Jun Zang, Hao Jia, Ya Li, Yasar Kiyak, Hongsheng Tan, Xiangwu Zhang
Adv. Mater. Interfaces, February 28, 2018, https://doi.org/10.1002/admi.201701598 Read article
It's fun to stay at the HCNA! A unique holey carbon nanosheet array (HCNA) with superior ion diffusivity is designed and synthesized by an up-bottom approach. When used as an anode material for sodium ion battery, HCNA achieves high reversible capacity and durability.
[Full Paper]
Yuxiang Chen, Jie Li, Yanqing Lai, Junming Li, Zhian Zhang
ChemNanoMat, February 27, 2018, https://doi.org/10.1002/cnma.201800011 Read article
Path to success: Solid-state synthesized Ruddlesden-Popper layered perovskite (RP-LP) materials (Li2SrTa2O7, Li2SrNb2O7, and Li2CaTa2O7 of n=2 crystal structure), are used to prepare composites with poly (ethylene oxide), which are successfully utilized for ionic conductivity studies in solid-state lithium battery applications. The bond valence sum mapping (BVSM) study reveals a two-dimensional conduction pathway for Li+ ions in the RP-LP samples.
[Article]
Prakash Ramakrishnan, Hunho Kwak, Yoon-Ho Cho, Jae Hyun Kim
ChemElectroChem, February 27, 2018, https://doi.org/10.1002/celc.201800017 Read article
Benefiting batteries: A novel high-voltage Li2SiO3-composited LiNi0.5Mn1.5O4 hollow sphere cathode material is synthesized through an in situ aerosol spray pyrolysis process. The aerosol spray pyrolysis process provides a large-scale and continuous way to synthesize 5 V LiNi0.5Mn1.5O4-based cathode materials suitable for industrial applications.
[Article]
Jiang Wang, Ping Nie, Jiangmin Jiang, Yuting Wu, Ruirui Fu, Guiyin Xu, Yadi Zhang, Hui Dou, Xiaogang Zhang
ChemElectroChem, February 27, 2018, https://doi.org/10.1002/celc.201701305 Read article
The reversible intercalation of solvated rather than naked ions into graphite is a peculiar electrode reaction that is currently studied for sodium-ion batteries. Charging/discharging is accompanied by a large yet reversible electrode breathing and the charge transfer seems to occur over a kinetically stabilized interface without a solid electrolyte interphase.
[Full Paper]
Mustafa Goktas, Christoph Bolli, Erik J. Berg, Petr Novák, Kilian Pollok, Falko Langenhorst, Maximilian v. Roeder, Olena Lenchuk, Doreen Mollenhauer, Philipp Adelhelm
Adv. Energy Mater., February 22, 2018, https://doi.org/10.1002/aenm.201702724 Read article
Cycle path:Cobalt nanoparticles deposited on N-doped bimodal mesoporous carbon nanorods (Co@N-CNRs) are successfully synthesized upon pyrolysis of a cobalt metal-organic framework (Co-MOF) precursor. This bifunctional catalyst exhibits better activity and cycling stability than Pt/C+Ir/C when integrated into rechargeable zinc−air batteries.
[Article]
Huijuan Han, Shujun Chao, Zhengyu Bai, Xiaobing Wang, Xiaoli Yang, Jinli Qiao, Zhongwei Chen, Lin Yang
ChemElectroChem, February 21, 2018, https://doi.org/10.1002/celc.201701289 Read article
The superlattice formation of crystal water is detected with α-layered double hydroxide during charging in aqueous electrolytes. The given structural rearrangement involving crystal water allows stable and fast cycling performance, such as 68.3% capacity retention after 10 000 cycles and 172.5 mA h g−1 at 1 min charge, highlighting the promising role of crystal water in advancing electrodes for aqueous rechargeable batteries.
[Full Paper]
Ji Hoon Lee, Hyeon Jeong Lee, Sun Hee Choi, Jaeho Shin, Sung-Yoon Chung, Jang Wook Choi
Adv. Energy Mater., February 21, 2018, https://doi.org/10.1002/aenm.201703572 Read article
The real story: Continuous formation of insulating/passivating (impurity) phase(s)/layer(s) owing to reaction with the electrolyte, causing significant rise in the impedance (upon cell assembly and during electrochemical cycling), and not (in)stability/(ir)reversibility of the fully sodiated phase (i. e. Na4Ti3O7), is the major cause for the rapid capacity fade of Na2Ti3O7-based electrodes. Such issues can be considerably suppressed (and cyclic stability improved) in the presence of stable conducting network (say, with carbon nanotubes) that maintain inter-particle connectivity during electrochemical cycling.
[Article]
Hem Shruti Bhardwaj, Thrinathreddy Ramireddy, Anagha Pradeep, Manoj K. Jangid, Velaga Srihari, Himanshu K. Poswal, Amartya Mukhopadhyay
ChemElectroChem, February 20, 2018, https://doi.org/10.1002/celc.201701276 Read article
Ad LIB: To obtain a stable capacity and average voltage while working over wide potential domains, towards Li-ion batteries (LIBs) with a high specific capacity, layered cathode materials are prepared through the self-combustion reaction method and the electrochemical behaviors are compared. A high specific capacity and good stability are obtained with the composition Li1.2Ni0.24Co0.08Mn0.48O2, which offers the advantage of a low Co content.
[Article]
Tirupathi Rao Penki, Prasant Kumar Nayak, Elena Levi, Judith Grinblat, Yuval Elias, Shalom Luski, Boris Markovsky, Doron Aurbach
ChemElectroChem, February 20, 2018, https://doi.org/10.1002/celc.201701193 Read article
Transition metal sulfides based on graphene have been extensively investigated in the field of electrochemical energy storage applications, including lithium-ion batteries, sodium-ion batteries, and supercapacitors. Recent developments and challenges, in transition metal sulfides based on graphene, with a focus on their synthetic methods and morphologies, are comprehensively summarized and evaluated in this review.
[Review]
Pengbiao Geng, Shasha Zheng, Hao Tang, Rongmei Zhu, Li Zhang, Shuai Cao, Huaiguo Xue, Huan Pang
Adv. Energy Mater., February 19, 2018, https://doi.org/10.1002/aenm.201703259 Read article
Low-cost and large-scalable sulfur-doped carbon anode material is developed for sodium-ion batteries, presenting the best high-rate cycle performance with the longest cycle life ever reported. Density functional theory computations and kinetics analysis demonstrate the sulfur-doped carbon's strong binding affinity for sodium and identify the capacitive charge storage as a large contributor to sodium ion storage which favors ultrafast storage of sodium.
[Full Paper]
Ji Qian, Feng Wu, Yusheng Ye, Menglu Zhang, Yongxin Huang, Yi Xing, Wei Qu, Li Li, Renjie Chen
Adv. Energy Mater., February 19, 2018, https://doi.org/10.1002/aenm.201703159 Read article
The research on sodium batteries started 50 years ago with the discovery of β-Al2O3 for sodium–sulfur and sodium–NiCl2 batteries. This research became very popular 10 years ago with the development of new electrode materials for Na-ion batteries. Recent progresses in the field show that this technology is close to application in large-scale batteries for electrochemical storage of renewable energy.
[Review]
Claude Delmas
Adv. Energy Mater., February 19, 2018, https://doi.org/10.1002/aenm.201703137 Read article
Modeling and simulations are highly efficient tools to gain a better understanding of the very fundamentals as well as a solid support to the development of higher performance sodium-ion battery electrolytes. Herein, the authors review liquid, ionic liquid, polymer, glass, and solid-state electrolytes from a historical perspective, but with a clear focus on the more recent and novel electrolytes.
[Review]
Gustav Åvall, Jonas Mindemark, Daniel Brandell, Patrik Johansson
Adv. Energy Mater., February 19, 2018, https://doi.org/10.1002/aenm.201703036 Read article
The booming solid-state sodium batteries, based on solid-state electrolytes (SSEs), have the promise to be potential alternatives to organic liquid systems due to their improved safety and higher energy density. Recent progress in SSEs, including solid polymer electrolytes, composite polymer electrolytes, inorganic solid electrolytes, etc. and their potential application in solid-state batteries, are reviewed.
[Review]
Chenglong Zhao, Lilu Liu, Xingguo Qi, Yaxiang Lu, Feixiang Wu, Junmei Zhao, Yan Yu, Yong-Sheng Hu, Liquan Chen
Adv. Energy Mater., February 19, 2018, https://doi.org/10.1002/aenm.201703012 Read article
Advanced characterization techniques are applied for a fundamental investigation of sodium-ion batteries (NIBs) from different perspectives at various dimensions and scales during an electrochemical process. By summarizing the comprehensive overview of both static (ex situ) and real-time (in situ or in operando) techniques, it is hoped that this review is helpful for scientists in the research field of NIBs.
[Review]
Zulipiya Shadike, Enyue Zhao, Yong-Ning Zhou, Xiqian Yu, Yong Yang, Enyuan Hu, Seongmin Bak, Lin Gu, Xiao-Qing Yang
Adv. Energy Mater., February 19, 2018, https://doi.org/10.1002/aenm.201702588 Read article
Na+ superionic conductor-type solid electrolyte LAGP (Li1.5Al0.5Ge0.5P3O12) shows favorable conductivity as well as good mechanical strength to prevent Li dendrite penetration. However, the instability of LAGP with Li metal remains a great challenge. An amorphous Ge thin film is sputtered on an LAGP surface to suppress side reactions and produce an intimate contact between Li anode and LAGP.
[Communication]
Yijie Liu, Chao Li, Bojie Li, Hucheng Song, Zhu Cheng, Minrui Chen, Ping He, Haoshen Zhou
Adv. Energy Mater., February 19, 2018, https://doi.org/10.1002/aenm.201702374 Read article
Double trouble: A one dimensional N-CNFs@MoS2 nanocomposite cathode is synthesized and assembled into rechargeable magnesium batteries with two types of dual-salt electrolytes, both of which exhibit good cyclic stability and performance.
[Communication]
Yi-Hong Tan, Fei Zhou, Zhi-Hong Huang, Wei-Tang Yao, Tian-Wen Zhang, Hong-Bin Yao, Lei-Lei Lu, Shu-Hong Yu
ChemElectroChem, February 13, 2018, https://doi.org/10.1002/celc.201701347 Read article
Time to redecorate: SnS/SnSb- and Sn/SnSb-nanoparticle-decorated carbon nanofibers with different redox potentials are synthesized and evaluated as anodes for sodium-ion batteries. The synergistic interaction between the SnS/SnSb composites and S-doped carbon nanofibers results in superior electrochemical performances.
[Article]
Jian Zhu, Chaoqun Shang, Zhenyu Wang, Junjun Zhang, Ying Liu, Shuai Gu, Liangjun Zhou, Hua Cheng, Yingying Gu, Zhouguang Lu
ChemElectroChem, February 12, 2018, https://doi.org/10.1002/celc.201701270 Read article
3D N-doped carbon combs are designed and synthesized through a dodecylamine-induced self-assembling process. Favorable high-rate performances and stability are delivered for Li–S battery cathodes with this host due to the N-doped, interconnected framework which provides excellent electron transfer pathways and physical-chemical absorbability of soluble polysulfides. The novel dodecylamine-induced method provides an inspirational model for promising energy storage materials.
[Full Paper]
Qian Lu, Yijun Zhong, Wei Zhou, Kaiming Liao, Zongping Shao
Adv. Mater. Interfaces, February 12, 2018, https://doi.org/10.1002/admi.201701659 Read article
Catch up Si: This focus review encapsulates targeted synthetic protocols and advanced characterization techniques for nanostructured Si anodes in lithium-ion batteries. From this retrospective and perspective viewpoints, it aims to offer a fundamental understanding of Si anodes and insights into how to approach next-generation designs for Si anodes.
[Focus Review]
Jaegeon Ryu, Taesoo Bok, Sungho Kim, Soojin Park
ChemNanoMat, February 08, 2018, https://doi.org/10.1002/cnma.201700362 Read article
Ain′t no complex that moved: The good rate performance of Li-ion cells with high concentration ionic liquid electrolytes is likely directly influenced by the presence of larger Li+ complexes, which promote Li+-ion transport through structural diffusion and increase the Li+ availability at the electrode.
[Full Paper]
Guinevere A. Giffin, Arianna Moretti, Sangsik Jeong, Kartik Pilar, Marc Brinkkötter, Steven G. Greenbaum, Monika Schönhoff, Stefano Passerini
ChemSusChem, February 05, 2018, https://doi.org/10.1002/cssc.201702288 Read article
Conjugated microporous polymers of polytetra(2-thienyl)ethylene as an anode exhibit excellent electrochemical performance for Li and Na storage.
[Full Paper]
Xue Wang, Chong Zhang, Yunfeng Xu, Qian He, Pan Mu, Yu Chen, Jinghui Zeng, Feng Wang, Jia-Xing Jiang
Macromol. Chem. Phys., January 22, 2018, https://doi.org/10.1002/macp.201700524 Read article
Commercially available epoxy-based solid polymer electrolytes (SPEs) containing a mixture of solvating succinonitrile and weak-binding Li salt are prepared by a simple thermal curing process. These SPEs exhibit high ionic conductivity and storage modulus, suggesting that epoxy-based SPEs with an Li-solvating plastic crystalline plasticizer can provide a pathway to useful SPEs for lithium-ion batteries.
[Full Paper]
Hye Kyeong Jang, Byung Mun Jung, U Hyeok Choi, Sang Bok Lee
Macromol. Chem. Phys., January 15, 2018, https://doi.org/10.1002/macp.201700514 Read article
© Wiley-VCH 2016.