Batteries and Supercapacitors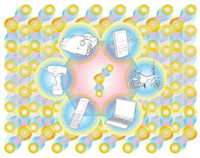 Lithium-ion or otherwise, batteries keep lots of things going, and enable a mobile lifestyle: from mobile phones to intercontinental air travel. Batteries are complex devices whose overall performance and usefulness depend on many factors such as energy density, efficiency, durability, and sustainability. Research in this area is by nature interdisciplinary and involves chemists, physicists, materials scientists, and engineers.
Further reading: K. Ozawa (Ed.), Lithium Ion Rechargeable Batteries: Materials, Technology, and New Applications, Wiley-VCH, 2010.
Find all articles on batteries or supercapacitors in Wiley Online Library...
Recent Articles

RSS feed
X-ray computed microtomography (X-ray μCT) reveals the macrodistribution of active phase (i.e., Ag) and supermacroporous structure in the self-assembled graphene aerogel for the first time. The interconnected 3D Ag network is the key to achieve high oxygen reduction reaction activity and utrahigh rate performance in Zn–air batteries.
[Full Paper]
Shang Hu, Ting Han, Chao Lin, Weikai Xiang, Yonghui Zhao, Peng Gao, Fuping Du, Xiaopeng Li, Yuhan Sun
Adv. Funct. Mater., March 24, 2017, https://doi.org/10.1002/adfm.201700041 Read article
Ultrathin MnO2/graphene oxide/carbon nanotube (G/M@CNT) sandwiched interlayer with synergetic effects of graphene oxide sheets, MnO2 nanoparticles, and superaligned carbon nanotube films, significantly alleviates polysulfide shuttling and improves the cycling stability and rate performance of Li–S batteries. Self-discharge and passivation layer formation on the anode are greatly suppressed by the excellent polysulfide-trapping ability of the G/M@CNT interlayer.
[Full Paper]
Weibang Kong, Lingjia Yan, Yufeng Luo, Datao Wang, Kaili Jiang, Qunqing Li, Shoushan Fan, Jiaping Wang
Adv. Funct. Mater., March 24, 2017, https://doi.org/10.1002/adfm.201606663 Read article
At the top of the aromatic ladder: Two novel ladder-structured dianhydrides originating from naphthalene and perylene building blocks, with large aromaticity, were synthesized and investigated. They deliver a promising electrochemical performance as cathode materials for the application of rechargeable lithium organic batteries.
[Full Paper]
Jian Xie, Wangqiao Chen, Zilong Wang, Kenneth Choo Wei Jie, Ming Liu, Qichun Zhang
Chem. Asian J., March 23, 2017, https://doi.org/10.1002/asia.201700070 Read article
Is there a life after lithium? The most promising alternative to lithium-ion batteries is aluminium. However, the current performance of aluminium-ion batteries is not suitable for large scale application yet. This review article provides a critical overview of the current state-or-the-art in aluminium-ion batteries.
[Review]
Filip Ambroz, Thomas J. Macdonald, Thomas Nann
Adv. Energy Mater., March 23, 2017, https://doi.org/10.1002/aenm.201602093 Read article
MOF, meet CNT: A unique coupling of intertwined CNTs and strung porous carbon polyhedrons was developed as self-standing cathode host for lithium–sulfur batteries. The resultant sulfur electrode showed excellent cyclability and ultra-high energy density.
[Communication]
Yazhi Liu, Gaoran Li, Jing Fu, Zhongwei Chen, Xinsheng Peng
Angew. Chem. Int. Ed., March 22, 2017, https://doi.org/10.1002/anie.201700686 Read article
Silicene, single-layer-thick silicon nanosheets with a honeycomb structure, has been successfully fabricated very recently. Recent progress on the features of silicene that make it a promising anode for lithium-ion batteries (LIBs), including its charge-carrier mobility, chemical stability, and metal–silicene interaction are discussed.
[Research News]
Jincheng Zhuang, Xun Xu, Germanas Peleckis, Weichang Hao, Shi Xue Dou, Yi Du
Adv. Mater., March 22, 2017, https://doi.org/10.1002/adma.201606716 Read article
A tunable 3D nanostructured gel framework with continuous electron pathways can provide hierarchical pores for ion transport and form uniform coatings on each active particle against aggregation. The hybrid gel electrodes based on a polypyrrole gel framework and Fe3O4 nanoparticles demonstrate one of the best rate performance and the highest achieved specific capacities when considering total electrode mass.
[Communication]
Ye Shi, Jun Zhang, Andrea M. Bruck, Yiman Zhang, Jing Li, Eric A. Stach, Kenneth J. Takeuchi, Amy C. Marschilok, Esther S. Takeuchi, Guihua Yu
Adv. Mater., March 22, 2017, https://doi.org/10.1002/adma.201603922 Read article
Think outside the box: In virtue of the synergistic effects of Zn2SnO4/SnO2 and Mn2O3, Zn2SnO4/SnO2@Mn2O3 microboxes exhibit better electrochemical performances compared to Zn2SnO4/SnO2 and Mn2O3.
[Article]
Qingyuan Li, Yong Wang, Dongxia Wang, Wenbin Guo, Fanchao Zhang, Chao Wang, Shanshan Niu
ChemElectroChem, March 21, 2017, https://doi.org/10.1002/celc.201600917 Read article
Layer it on thick:Compared with other lithium ion battery cathode materials, the novel Li(Mn,Ni)2O4-based spinel-layered composites present excellent electrochemical performance.
[Article]
Yunlong Deng, Jirong Mou, Huali Wu, Lin Zhou, Qiaoji Zheng, Kwok Ho Lam, Chenggang Xu, Dunmin Lin
ChemElectroChem, March 21, 2017, https://doi.org/10.1002/celc.201600823 Read article
Asymmetric supercapacitors! RuCo2O4 with a unique marigold-like nanostructure is prepared by a simple electrodeposition method. The material shows excellent performance as an advanced electrode material, including high energy-storage capacitance (1469 F g−1 at 6 A g−1) with excellent rate proficiency and long-lasting operating cycling stability (ca. 91.3 % capacitance retention after 3000 cycles).
[Full Paper]
Deepak P. Dubal, Nilesh R. Chodankar, Rudolf Holze, Do-Heyoung Kim, Pedro Gomez-Romero
ChemSusChem, March 20, 2017, https://doi.org/10.1002/cssc.201700001 Read article
Reaction mechanisms of Li-O2 batteries, including electrochemical formation and decomposition of Li2O2 and LiOH, and reactions of redox mediators during discharge and charge, are discussed in this review paper, as well as future perspectives.
[Review]
Fujun Li, Jun Chen
Adv. Energy Mater., March 20, 2017, https://doi.org/10.1002/aenm.201602934 Read article
A MoS2/Celgard separator is demonstrated to greatly improve cycle stability and Coulombic efficiency when used as separator in Li–S batteries, due to the high lithium conductivity and the stacked structure, which not only acts as ion sieves to block polysulfides, but also provides free spaces to accommodate various polysulfide intermediates via physiochemical interaction.
[Communication]
Zahid Ali Ghazi, Xiao He, Abdul Muqsit Khattak, Niaz Ali Khan, Bin Liang, Azhar Iqbal, Jinxin Wang, Haksong Sin, Lianshan Li, Zhiyong Tang
Adv. Mater., March 20, 2017, https://doi.org/10.1002/adma.201606817 Read article
Nanocompositeanode material: A graphene/SiC nanocomposite is synthesized by using soda papermaking black liquor as a raw material with an in situ thermochemical method at 800 °C.Thisnanocomposite is particularly desirable for high-performance and low-cost next-generation anode materials for future LIBs.
[Article]
XinliYi, Yang Zhang, Wen He, Xudong Zhang, Guihua Yang, Zhaoyang Wang, Yaoyao Wang, Qiaohuan Cheng
ChemElectroChem, March 17, 2017, https://doi.org/10.1002/celc.201700028 Read article
Carbon materials have been considered as promising anode candidate for sodium-ion batteries (SIBs) due to their unique merits. Tremendous efforts have been made to exploit appropriate carbon materials and unveil the corresponding sodium storage mechanism. Here, recent progress, challenges, and prospects of carbon anode materials for SIBs are presented.
[Review]
Hongshuai Hou, Xiaoqing Qiu, Weifeng Wei, Yun Zhang, Xiaobo Ji
Adv. Energy Mater., March 17, 2017, https://doi.org/10.1002/aenm.201602898 Read article
Understanding the electrochemical reaction mechanisms and kinetics is the key challenge for developing breakthroughs with new or existing battery electrode materials. Novel in situ cells combined with synchrotron and neutron techniques reveal structural details which correlate with the electrochemical performance of individual battery cell compositions and improve the understanding of electrochemical performance across the field.
[Research News]
Qinfen Gu, Justin A. Kimpton, Helen E. A. Brand, Zhiyang Wang, Shulei Chou
Adv. Energy Mater., March 17, 2017, https://doi.org/10.1002/aenm.201602831 Read article
A high performing sodium hybrid capacitor is fabricated utilizing graphene nanosheets as high power adsorption electrode and graphene/NaTi2(PO4)3 as a high energy intercalation electrode. High energy retention at high power along with excellent stability of 90% after 75 000 cycles with a lowest ever energy loss of ≈0.13% per 1000 cycles is documented.
[Full Paper]
Ranjith Thangavel, Brindha Moorthy, Do Kyung Kim, Yun-Sung Lee
Adv. Energy Mater., March 17, 2017, https://doi.org/10.1002/aenm.201602654 Read article
Sustai-Na-ble batteries: Electroacitivity of PEDOT/lignin (PEDOT: poly(3,4-ethylenedioxythiophene)) biopolymer is studied in aprotic ionic liquids, demonstrating an effective cathode/electrolyte system that is applied to develop sustainable sodium batteries. These results open up the possibility to use other lignin-derived cathodes in sodium batteries as well as PEDOT/lignin in other electrochemical devices using ionic liquids as electrolytes.
[Full Paper]
Nerea Casado, Matthias Hilder, Cristina Pozo-Gonzalo, Maria Forsyth, David Mecerreyes
ChemSusChem, March 16, 2017, https://doi.org/10.1002/cssc.201700012 Read article
A 3D printable Li-ion battery electrolyte with desirable thermal stability, wettability, and electrochemical properties is demonstrated based upon a dry phase inversion technique. The unique characteristics of the electrolyte ink enable the ability to directly deposit this material over an electrode, yielding a high-performance printed electrode membrane assembly.
[Full Paper]
Aaron J. Blake, Ryan R. Kohlmeyer, James O. Hardin, Eric A. Carmona, Benji Maruyama, John Daniel Berrigan, Hong Huang, Michael F. Durstock
Adv. Energy Mater., March 16, 2017, https://doi.org/10.1002/aenm.201602920 Read article
Sodium-based dual ion full batteries (NDIBs) are reported with soft carbon as anode and graphite as cathode for the first time. The NDIBs deliver high discharge voltage plateau of 3.58 V, superior discharge capacity of 103 mA h g−1, excellent rate performance, and long-term cycling stability over 800 cycles with capacity retention of 81.8%.
[Communication]
Ling Fan, Qian Liu, Suhua Chen, Zhi Xu, Bingan Lu
Adv. Energy Mater., March 16, 2017, https://doi.org/10.1002/aenm.201602778 Read article
A novel dual-ion battery based on potassium-ion electrolyte (K-DIB) is developed in this work using metal foil as both anode and current collector and expanded graphite as cathode. The K-DIB based on Sn foil anode presents a capacity of 66 mAh/g over 3.0–5.0 V, and exhibits a capacity retention of 93% after 300 cycles. Moreover, it delivers a energy density of 155 Wh/kg at a power density of 116 W/kg, comparable with commercial lithium-ion batteries.
[Communication]
Bifa Ji, Fan Zhang, Xiaohe Song, Yongbing Tang
Adv. Mater., March 15, 2017, https://doi.org/10.1002/adma.201700519 Read article
Here, a structure optimization of NaNi0.5Mn0.5O2 through a partial Ti substitution strategy is designed, yielding a series of sodium-sufficient O3-NaNi0.5Mn0.5-xTixO2 (0 ≤ x ≤ 0.5) cathodes for sodium-ion batteries for the first time. The substitution of Ti for Mn could suppress irreversible multiphase transformation in the high voltage regions that is usually observed in O3-type NaNi0.5Mn0.5O2 and retain a highly reversible O3−P3 phase transition, resulting in improved Na cell performance.
[Communication]
Peng-Fei Wang, Hu-Rong Yao, Xin-Yu Liu, Jie-Nan Zhang, Lin Gu, Xi-Qian Yu, Ya-Xia Yin, Yu-Guo Guo
Adv. Mater., March 15, 2017, https://doi.org/10.1002/adma.201700210 Read article
Double carbon shell-encapsulated Si nanoparticles (DCS-Si) perform dual functions in confining the volume changes of Si and stabilizing solid electrolyte interface, which deliver a capacity of 1802 mAh g−1 at 0.2 C, superior rate capability, and cyclability (1000 cycles). Full cell of DCS-Si//LiNi0.45Co0.1Mn1.45O4 exhibits high energy density of 473.6 Wh kg−1, and good cyclability with a capacity retention of 93.8%.
[Communication]
Shuangqiang Chen, Laifa Shen, Peter A. van Aken, Joachim Maier, Yan Yu
Adv. Mater., March 15, 2017, https://doi.org/10.1002/adma.201605650 Read article
A boron-containing iron oxide nanocomposite is successfully synthesized by ball milling mixtures of Fe2O3–xLiBH4 and subsequently heating to 350 °C. The prepared B-containing iron oxide composites exhibit remarkably superior electrochemical performance as anode materials for Li-ion batteries, including high reversible capacity, good rate capability, and long cycling durability.
[Full Paper]
Yun Cao, Yaxiong Yang, Zhuanghe Ren, Ni Jian, Mingxia Gao, Yongjun Wu, Min Zhu, Feng Pan, Yongfeng Liu, Hongge Pan
Adv. Funct. Mater., March 15, 2017, https://doi.org/10.1002/adfm.201700342 Read article
In situtransmission electron microscopy is used to reveal the whole sodiation–desodiation cycling of spinel NiCo2O4 in real time. Two-step phase change during the first sodiation and irreversible conversion reaction during the first desodiation have been identified. Moreover, a reversible and symmetric phase transformation between CoO/Co and NiO/Ni phases is established during subsequent sodiation–desodiation cycles.
[Full Paper]
Chongyang Zhu, Feng Xu, Huihua Min, Yuan Huang, Weiwei Xia, Yuanting Wang, Qingyu Xu, Peng Gao, Litao Sun
Adv. Funct. Mater., March 15, 2017, https://doi.org/10.1002/adfm.201606163 Read article
The softer the better: The oxygen reduction reaction (ORR) in an aprotic ionic liquid is found to be governed by the Lewis acidity of metal cations. Soft cations catalyze the ORR at less negative onset potentials, whereas hard cations hamper the ORR and result in more negative onset potentials. These findings are relevant to designing advanced electrolytes for high-performance metal–air batteries.
[Full Paper]
Eneko Azaceta, Lukas Lutz, Alexis Grimaud, Jose Manuel Vicent-Luna, Said Hamad, Luis Yate, German Cabañero, Hans-Jurgen Grande, Juan A. Anta, Jean-Marie Tarascon, Ramon Tena-Zaera
ChemSusChem, March 14, 2017, https://doi.org/10.1002/cssc.201601464 Read article
Concentrated dimethyl sulfoxide (DMSO)-based electrolyte with optimized salt–solvent coordination can greatly promote stabilization of Li metal, as well as minimize electrolyte decomposition in lithium–oxygen batteries because of the highly stable TFSI−
Li+
(DMSO)3 complex in concentrated electrolyte, i.e., lithium bis(trifluoromethanesulfonyl)imide (LiTFSI)–3DMSO. This study points to new approach on the stable operation of Li–O2 batteries.
[Full Paper]
Bin Liu, Wu Xu, Pengfei Yan, Sun Tai Kim, Mark H. Engelhard, Xiuliang Sun, Donghai Mei, Jaephil Cho, Chong-Min Wang, Ji-Guang Zhang
Adv. Energy Mater., March 08, 2017, https://doi.org/10.1002/aenm.201602605 Read article
Hierarchical 3D graphene nanoribbons/carbon nanotubes–molybdenum disulfide (GR/CNT-MoS2) nanocomposites with unique structures are designed by tightly anchoring monolithic MoS2 nanoflakes on the surface of conductive GR/CNT network, which exhibit promising electrochemical performance of high capacity (1245 mA h g−1), good rate performance, and excellent cycling stability (90.9% capacity retention after 200 cycles).
[Full Paper]
Mingkai Liu, Yuqing Liu, Buzheng Tang, Peng Zhang, Yan Yan, Tianxi Liu
Adv. Mater. Interfaces, March 08, 2017, https://doi.org/10.1002/admi.201601228 Read article
Power web: Spider-like Ge@CNFs/3D graphene foam is prepared as a binder-free, large-capacity, high-rate, and long-life anode in lithium-ion batteries, which shows a capacity of 594 mA h g−1 (based on total mass of the electrode) after 1200 cycles at 0.8 A g−1 and high rate capability with 74 % capacity retention when the current is increased from 0.32 to 12.8 A g−1.
[Communication]
Chang Jian Peng, Lei Wang, Qing Wei Li, Yuan Yuan Li, Kaifu Huo, Paul K. Chu
ChemElectroChem, March 07, 2017, https://doi.org/10.1002/celc.201700072 Read article
Selective Li- and Na-based solid-electrolyte interphase (SEI) membranes can be designed by precycling an electrode in a desired Li- or Na-based electrolyte. Na-based SEI membranes allow easy transport of Li ions, while Li-based SEI membranes shut off Na-ion transport. Therefore, Na-ion storage in hard carbon can be controlled by tuning the SEI layer, while Li-ion intercalation is not affected.
[Communication]
Fernando A. Soto, Pengfei Yan, Mark H. Engelhard, Asma Marzouk, Chongmin Wang, Guiliang Xu, Zonghai Chen, Khalil Amine, Jun Liu, Vincent L. Sprenkle, Fedwa El-Mellouhi, Perla B. Balbuena, Xiaolin Li
Adv. Mater., March 07, 2017, https://doi.org/10.1002/adma.201606860 Read article
LiV3O8 nanorods with controlled size with a high discharge capacity of 275.8 mAh g−1 and excellent capacity retention of 80.5% after 500 cycles at 1 C are demonstrated. They also exhibit a high rate capability up to ≈21 C, possibly serving as alternative cathode materials for high-power and long-life lithium ion batteries.
[Full Paper]
Zhongxue Chen, Fei Xu, Shunan Cao, Zhengfeng Li, Hanxi Yang, Xinping Ai, Yuliang Cao
Small, March 06, 2017, https://doi.org/10.1002/smll.201603148 Read article
Combining in operando synchrotron hard X-ray microscopy with X-ray absorption technique, the irreversible mechanism and large voltage hysteresis in conversion reaction for sodium–metal sulfide batteries is comprehensively elucidated, potentially guiding us in optimization and design of advanced materials with improved performance.
[Full Paper]
Jiajun Wang, Liguang Wang, Christopher Eng, Jun Wang
Adv. Energy Mater., March 03, 2017, https://doi.org/10.1002/aenm.201602706 Read article
A stable anode for Li-ion batteries based on 3D skeletal current collectors with micron size pore structure and Silicon–graphene active material is reported. When the pores of graphene coated stainless steel current collector are used as microfilling chambers for Silicon nanoparticles that are closed by another blanket layer of graphene, remarkable cyclability and enhanced specific capacity are observed for the anode.
[Full Paper]
Manjusha V. Shelke, Hemtej Gullapalli, Kaushik Kalaga, Marco-Tulio F. Rodrigues, Rami Reddy Devarapalli, Robert Vajtai, Pulickel M. Ajayan
Adv. Mater. Interfaces, March 03, 2017, https://doi.org/10.1002/admi.201601043 Read article
Bifunctional catalysts: The developed heteroatom-doped 3D carbon nanofoam-wrapped FeS nanoparticles possesses excellent bifunctional activity, recharging ability, rate performance, and long-time cycle stability for Li–O2 battery applications.
[Full Paper]
Prakash Ramakrishnan, Sangaraju Shanmugam, Jae Hyun Kim
ChemSusChem, March 02, 2017, https://doi.org/10.1002/cssc.201601810 Read article
Got Oxygen? The enhancement of oxygen provision is achieved by incorporating 1,2-(1,1,2,2-tetrafluoroethoxy) ethane as the cosolvent in the electrolyte. The oxygen's diffusivity, rather than solubility, exerts the principal effect on discharge performance of the Li–air battery, especially at higher current density, owing to the ameliorated oxygen's accessibility, which improves the utilization ratio of the whole air cathode.
[Communication]
Hao Wan, Ya Mao, Zixuan Liu, Qingyou Bai, Zhe Peng, Jingjing Bao, Gang Wu, Yang Liu, Deyu Wang, Jingying Xie
ChemSusChem, March 01, 2017, https://doi.org/10.1002/cssc.201601725 Read article
Powerful ternary mix: A composite of CuO, Fe2O3, and mesocarbon microbeads is prepared by high-energy ball milling and applied as a conversion anode in lithium-ion batteries with a high-voltage Li1.35Ni0.48Fe0.1Mn1.72O4 spinel cathode. The cell has a working voltage of 3.6 V and delivers a capacity of 110 mAh gcathode−1 with a Coulombic efficiency above 99 % after 100 cycles at 148 mA gcathode−1.
[Full Paper]
Daniele Di Lecce, Roberta Verrelli, Daniele Campanella, Vittorio Marangon, Jusef Hassoun
ChemSusChem, March 01, 2017, https://doi.org/10.1002/cssc.201601638 Read article
DFT modeling: Geometric configurations of a carbonyl moiety incorporated in small organic molecules such as phenalenyl and anthracene are strongly correlated with their structural stability and redox properties. This information provides an insight into establishing a design strategy for the construction of organic electrodes for lithium-ion batteries.
[Full Paper]
Jong Hoo Park, Tianyuan Liu, Ki Chul Kim, Seung Woo Lee, Seung Soon Jang
ChemSusChem, February 28, 2017, https://doi.org/10.1002/cssc.201601730 Read article
On best behavior: A self-standing and binder-free composite of Cu2Sn3S7/Cu2SnS3/SnS2 (CTS) submicron spheres incorporated with reduced graphene oxdie (RGO) nanosheets (CTS@RGO) is successfully prepared as an anode material for lithium-ion batteries. The lithium storage behavior of the CTS@RGO composite as an anode material is subsequently investigated.
[Article]
Lin Fu, Xiaogang Wang, Jun Ma, Chuanjian Zhang, Jianjiang He, Hongxia Xu, Jingchao Chai, Shizhen Li, Fenglian Chai, Guanglei Cui
ChemElectroChem, February 28, 2017, https://doi.org/10.1002/celc.201700100 Read article
The best source: High-voltage spinel LiNi0.5Mn1.5O4 samples are synthesized by using different manganese sources. LiNi0.5Mn1.5O4 synthesized by using a Mn2+-based source (LNMO-1) shows the best electrochemical properties.
[Article]
Yang Liu, Zhongpei Lu, Chenfang Deng, Wei Xu, Tao Hu, Bo Yan, Gang Yang
ChemElectroChem, February 28, 2017, https://doi.org/10.1002/celc.201700062 Read article
Power drive: Flake-driven nanoparticles of ZnMn2O4 decorated on the sheets of nitrogen-doped graphene create a potential anode with superior capacity and rate capability in lithium-ion batteries.
[Article]
Bongu Chandra Sekhar, Parameswaran Packiyalakshmi, Nallathamby Kalaiselvi
ChemElectroChem, February 28, 2017, https://doi.org/10.1002/celc.201600914 Read article
Needs a little salt: A porous bowl-like LiFePO4/C composite is prepared through the sodium salt process. Owing to the specific porous structure and appropriate Na+ doping, the resultant composite exhibits an outstanding rate capability (119 mAh g−1 at 40 C rate) and ultra-long cycling stability (60.3 % of initial capacity after 3000 cycles at 10 C, only corresponding to 0.013 % capacity decay per cycle).
[Article]
Boya Wang, Yan Wang, Hao Wu, Lei Yao, Li Yang, Jianlong Li, Mingwu Xiang, Yun Zhang, Heng Liu
ChemElectroChem, February 27, 2017, https://doi.org/10.1002/celc.201600854 Read article
The core of the matter: An xLi2O-yB2O3-zLiF layer is successfully coated onto the surface of LiNi1/3Co1/3Mn1/3O2 (NCM) by using a solution-phase method. The xLi2O-yB2O3-zLiF-coated NCM exhibits a superior discharge capacity, rate capability, and cycling stability compared to those of the uncoated material.
[Article]
Qibing Zhang, Lei Wang, Chunhua Zhu, Zhipeng Sun, Wenhua Cheng, Dingding Lv, Wei Ren, Liang Bian, Jinbao Xu, Aimin Chang
ChemElectroChem, February 27, 2017, https://doi.org/10.1002/celc.201600828 Read article
Under construction: A SiOx@CNTs nanocomposite with high conductivity and tap density is prepared. This nanocomposite can deliver an enhanced capacity with a robust rate capability. Advanced lithium−ion batteries are assembled by using SiOx@CNTs/LiNixMn2−xO4 with high working voltages and energy densities.
[Article]
Hai Ming, Jingyi Qiu, Songtong Zhang, Meng Li, Xiayu Zhu, Liming Wang, Jun Ming
ChemElectroChem, February 24, 2017, https://doi.org/10.1002/celc.201700061 Read article
A hybrid material of SnO2-based N-doped carbon architectures with robust structures is prepared for lithium-ion battery anodes. The well-optimized hybrid nanostructure effectively prevents the structural degradation caused by the expansion and contraction during cycling, and therefore exhibits high specific capacity, good cycling stability and rate capability.
[Full Paper]
Dong-Hui Yang, Xianlong Zhou, Ming Zhong, Zhen Zhou, Xian-He Bu
ChemNanoMat, February 22, 2017, https://doi.org/10.1002/cnma.201600371 Read article
[Full Paper]
Shawn Martin, Harry D. Pratt, Travis M. Anderson
Mol. Inf., February 21, 2017, https://doi.org/10.1002/minf.201600125 Read article
A random copolymer of ethylene oxide with CO2 , namely, poly(ethylene carbonate/ethylene oxide) (P(EC/EO)), has been synthesized as a novel candidate for polymer electrolytes. Electrolyte composed of P(EC/EO) and lithium bis(fluorosulfonyl)imide is promising material for use in all-solid-state batteries because of its very high Li+ conductivity.
[Communication]
Takashi Morioka, Koji Nakano, Yoichi Tominaga
Macromol. Rapid Commun., February 21, 2017, https://doi.org/10.1002/marc.201600652 Read article
Unique amorphous V2O5 coated Cu11V6O26 microspheres (Cu11V6O26/V2O5) with a 3D hierarchical architecture presents large reversible capacity, excellent rate capability, and especially outstanding self-recovery capacity as anode material for lithium-ion batteries.
[Full Paper]
Jian Pei, Gang Chen, Qiang Zhang, Changfeng Bie, Jingxue Sun
Small, February 20, 2017, https://doi.org/10.1002/smll.201603140 Read article
Perovskite oxides as the electrode materials in nonaqueous lithium–oxygen batteries are reviewed. Future research directions of perovskite oxides should focus on the understanding of electrochemical mechanisms during the oxygen reduction and evolution processes, the structure design from nanoparticles to hierarchical porous structures, and the composite incorporation with improved electrical conductivities, catalytic activities, and structural merits.
[Progress Report]
Peng Tan, Meilin Liu, Zongping Shao, Meng Ni
Adv. Energy Mater., February 20, 2017, https://doi.org/10.1002/aenm.201602674 Read article
Bamboo-like FeCo alloy encapsulated in nitrogen-doped carbon nanotubes exhibits superior catalytic oxygen reduction and oxygen evolution performance than that of noble metal benchmarks, which benefits from the nitrogen-rich and defect-rich catalyst surface. The all-solid-state zinc–air batteries equipped by the synthesized materials show low charging/discharging overpotentials, long lifetime, and high flexibility, suitable for practical application.
[Full Paper]
Chang-Yuan Su, Hui Cheng, Wei Li, Zhao-Qing Liu, Nan Li, Zhufeng Hou, Fu-Quan Bai, Hong-Xing Zhang, Tian-Yi Ma
Adv. Energy Mater., February 20, 2017, https://doi.org/10.1002/aenm.201602420 Read article
Mn-rich LiFe1-yMnyPO4 (0.5 ≤ y < 1.0) materials are among the most promising cathode materials for next generation of high-energy-density lithium ion batteries. The recent advances of the development of LiFe1-yMnyPO4, especially on the studies of synthesis strategies, structural features, delithiation/lithiation mechanisms, thermodynamic properties, as well as some aspects for future exploration are outlined in this review.
[Review]
Yuanfu Deng, Chunxiang Yang, Kaixiang Zou, Xusong Qin, Zhenxia Zhao, Guohua Chen
Adv. Energy Mater., February 20, 2017, https://doi.org/10.1002/aenm.201601958 Read article
Polysulfone membranes grafted with bunch-like tertiary amine groups are successfully synthesized with very high proton to vanadium ion selectivity for vanadium redox flow batteries (VRFBs). The battery with the as-synthesized membrane demonstrates an impressive Coulombic efficiency of 98.9%, energy efficiency of 90.9%, and outstanding chemical stability, showing promising potential in the development of highly efficient and low-cost VRFBs.
[Communication]
Qinglong Tan, Shanfu Lu, Jiangju Si, Haining Wang, Chunxiao Wu, Xianfeng Li, Yan Xiang
Macromol. Rapid Commun., February 13, 2017, https://doi.org/10.1002/marc.201600710 Read article
Toward replacing vanadium: By combining a viologen unit and a TEMPO radical in a single molecule, a bipolar, redox-active material is created that can serve as both the anode and cathode of a water-based redox-flow battery (RFB). It mimics the redox states of vanadium salts and can, therefore, simplify the operation of organic RFBs. The material is electrochemically investigated and a test RFB cell is built.
[Communication]
Tobias Janoschka, Christian Friebe, Martin D. Hager, Norbert Martin, Ulrich S. Schubert
ChemistryOpen, February 07, 2017, https://doi.org/10.1002/open.201600155 Read article
Lawsone (2-hydroxy-1,4-naphthoquinone), a naturally derived red-orange dye, is investigated as a promising cathode material for next-generation lithium batteries. Its success stems from the unique 2D planar packing of lawsone molecules, displaying a high discharge capacity of 280 mA h g−1 (99% theoretical capacity), a high energy density of 664 W h kg−1, and long life of 1000 cycles at 0.5 C along with good rate performance up to 5 C.
[Full Paper]
Joungphil Lee, Moon Jeong Park
Adv. Energy Mater., February 02, 2017, https://doi.org/10.1002/aenm.201602279 Read article
Hierarchy concepts are proposed and applied to illustrate hierarchitectures composed of 2D nanomaterials for energy storage devices. For each class of hierarchical structure, the synthetic mechanisms, methods, and morphology characterizations are presented. For the application in various battery systems, their design rules and unique merits are discussed. Future research towards developing advanced lithium batteries, perspectives and challenges is outlined.
[Review]
Lina Cong, Haiming Xie, Jinghong Li
Adv. Energy Mater., January 30, 2017, https://doi.org/10.1002/aenm.201601906 Read article
Electrochemical (de)lithiation mechanisms of Cu3P and Sn4P3 Li-ion anodes are investigated by scanning electron microscopy, in situ X-ray diffraction and in situ small angle neutron scattering. It is shown that, for Sn4P3, having an additional alloying reaction induces more surface cracks onto the particles than for Cu3P, resulting in worse stability of the solid electrolyte interphase and shorter cycle life.
[Full Paper]
Xin He, Rui Wang, Marian Cristian Stan, Elie Paillard, Jun Wang, Henrich Frielinghaus, Jie Li
Adv. Mater. Interfaces, January 30, 2017, https://doi.org/10.1002/admi.201601047 Read article
The reaction mechanism of nonaqueous SABs: The morphology and composition of discharge products are closely related to electrolytes, catalysts, and gas atmosphere (O2, CO2, H2O) for sodium–air batteries (SABs). The sodium electrochemical reaction mechanisms with air in nonaqueous SABs involve the reversible formation/decomposition reactions of cubic NaO2, nanosheet or nanofilm Na2O2, Na2CO3, NaHCO3, and Na2C2O4 and NaOH.
[Minireview]
Wen-Wen Yin, Zheng-Wen Fu
ChemCatChem, November 10, 2016, https://doi.org/10.1002/cctc.201600646 Read article
© Wiley-VCH 2016.