Batteries and Supercapacitors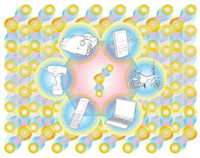 Lithium-ion or otherwise, batteries keep lots of things going, and enable a mobile lifestyle: from mobile phones to intercontinental air travel. Batteries are complex devices whose overall performance and usefulness depend on many factors such as energy density, efficiency, durability, and sustainability. Research in this area is by nature interdisciplinary and involves chemists, physicists, materials scientists, and engineers.
Further reading: K. Ozawa (Ed.), Lithium Ion Rechargeable Batteries: Materials, Technology, and New Applications, Wiley-VCH, 2010.
Find all articles on batteries or supercapacitors in Wiley Online Library...
Recent Articles

RSS feed
It′s as easy as one, two, three: Microporous carbon nanowires triple-doped with N, O and S heteroatoms (NOS-MCNs) were prepared as anode materials to improve the electrochemical performance of sodium-ion batteries. As an anode, the material exhibits a high specific capacity and a long lifespan (≈301 mA h g−1 at 0.2 A g−1 after 1000 cycles).
[Article]
Yun Qiao, Mengyue Ma, Yang Liu, Ruimin Han, Xiaoguang Cheng, Qingling Li, Xiangnan Li, Hongyu Dong, Yanhong Yin, Shuting Yang
ChemElectroChem, August 17, 2017, https://doi.org/10.1002/celc.201700554 Read article
Lithium storage mechanism were studied in MWCNT@Sn1-xTixO2 composites synthesized by hydrothermal method. MWCNT@Sn0.75Ti0.25O2 show the best performance in terms of Li capacity and structure stability (650 mAhg−1 at 0.04 C, after 28 cycles at several rates in a potential window of 0–3 V vs Li/Li+). It shows the insertion mechanism when cycled between 3 and 1 V vs Li/Li+, whereas at cut off potential of 0 V vs Li/Li+ the alloying mechanism is dominant.
[Full Paper]
Mirna Ramírez-Vargas, Julio C. Calva, Mauricio Solís de la Fuente, Oscar A. Jaramillo-Quintero, José R. Herrera-Garza, Próspero Acevedo-Peña, Marina E. Rincón
ChemistrySelect, August 16, 2017, https://doi.org/10.1002/slct.201701284 Read article
The gelling solution: The capacity of a Li–S battery with a high active-material loading is stabilized by using a gel polymer electrolyte (GPE). The GPE enables stable performance close to the theoretical capacity of a S–C composite, prevents sulfur dissolution, and reduces migration of polysulfides to the anode. The functional mechanism of the GPE membrane is revealed by investigating its morphology and the Li-anode/GPE interface at various discharge/charge states.
[Full Paper]
Marco Agostini, Du Hyun Lim, Matthew Sadd, Chiara Fasciani, Maria Assunta Navarra, Stefania Panero, Sergio Brutti, Aleksander Matic, Bruno Scrosati
ChemSusChem, August 16, 2017, https://doi.org/10.1002/cssc.201700977 Read article
Composite cathodes: Metal carbide MXene/reduced graphene oxide hybrid nanosheets are applied as cathode host materials for lithium–sulfur batteries. With their unique 3 D layer structure and functional 2 D surfaces for the effective trapping of sulfur and lithium polysulfides, the composite cathodes deliver a high initial capacity (1144.2 mAh g−1 at 0.5 C) and excellent capacity retention (878.4 mAh g−1 after 300 cycles), so are promising candidates for application in lithium–sulfur batteries (see figure).
[Full Paper]
Weizhai Bao, Xiuqiang Xie, Jing Xu, Xin Guo, Jianjun Song, Wenjian Wu, Dawei Su, Guoxiu Wang
Chem. Eur. J., August 16, 2017, https://doi.org/10.1002/chem.201702387 Read article
Unusually stable trianions BeB11(CN)123−, BeB11(BO)123−, and BeB11(SCN)123−, were synthesized using the octet and Wade–Mingos electron counting rules simultaneously. In the gas phase, the trianions are stable against spontaneous electron emission by 2.65, 1.30, and 0.59 eV, respectively. The chemistry of the stable trianions mimics that of group 15 elements.
[Communication]
Tianshan Zhao, Jian Zhou, Qian Wang, Puru Jena
Angew. Chem. Int. Ed., August 16, 2017, https://doi.org/10.1002/anie.201706764 Read article
Sodium to GO: An obstacle to the development of sodium-based energy systems is the lack of a standard reference electrode. Sodium deforms easily and if rolled into a film to be used as the reference electrode it is difficult to control its shape and thickness. But sodium with 4.5 % reduced graphene oxide (r-GO), then Na@r-GO composite anodes can be processed and molded and have improved electrochemical properties.
[Communication]
Aoxuan Wang, Xianfei Hu, Haoqing Tang, Chanyuan Zhang, Shan Liu, Ying-Wei Yang, Quan-Hong Yang, Jiayan Luo
Angew. Chem. Int. Ed., August 16, 2017, https://doi.org/10.1002/anie.201703937 Read article
Power play: Nickel-based ferricyanides have received widespread attention as cathode materials for aqueous sodium-ion batteries, owing to their room-temperature synthesis and open structural framework. In particular, high-concentration electrolyte enables it cycling with an initial Coulombic efficiency of 99.3 %, excellent high-rate capability (68.1 mAh g−1 at 0.5 C and 63.1 mAh g−1 at 10 C), and outstanding cycling stability (96.3 % capacity retention after 1000 cycles at 10 C).
[Article]
Wanfeng Li, Fang Zhang, Xingde Xiang, Xiucheng Zhang
ChemElectroChem, August 15, 2017, https://doi.org/10.1002/celc.201700776 Read article
High performance lithium (Li) metal batteries with both high rate capability and long cycle life can be obtained at 90 and 60 °C by using cross-linked solid polymer electrolytes. For the first time, the cycle life of the polymer lithium metal batteries is directly correlated to the ionic conductivity of the Li–solid polymer electrolyte interface.
[Full Paper]
Qiwei Pan, Dmitri Barbash, Derrick M. Smith, Hao Qi, Sarah E. Gleeson, Christopher Y. Li
Adv. Energy Mater., August 15, 2017, https://doi.org/10.1002/aenm.201701231 Read article
Simultaneous control of bimetallic oxide nanoparticle elemental composition, size, and crystallinity yields a high-performance bifunctional oxygen evolution and reduction electrocatalyst for rechargeable Zn–air batteries. This method has general applicability toward various binary, tertiary, or even quadruple metal systems.
[Communication]
Li Wei, H. Enis Karahan, Shengli Zhai, Hongwei Liu, Xuncai Chen, Zheng Zhou, Yaojie Lei, Zongwen Liu, Yuan Chen
Adv. Mater., August 14, 2017, https://doi.org/10.1002/adma.201701410 Read article
Long-term planning: A new type of CoO@N-doped carbon matrix composite nanotubes (CoO@NC Ntm) are fabricated by using Co(CO3)0.5(OH)⋅0.11H2O needlelike nanorods as the self-sacrifice templates and polypyrrole as carbon and nitrogen sources. Combining the benefits of the N-doped carbon matrix and the special architecture, CoO@NC Ntm delivers a superior long-term cycling stability and high-rate performance as the anode material for lithium-ion batteries.
[Article]
Manman Ren, Fanyan Li, Weiliang Liu, Mei Li, Guangda Li, Jinpei Hei, Liwei Su, Lianzhou Wang
ChemElectroChem, August 11, 2017, https://doi.org/10.1002/celc.201700694 Read article
A 3D flexible multifunctional hybrid comprised of nitrogen-doped carbon foam@carbon nanotubes decorated with ultrafine MgO nanoparticles (CF@CNTs/MgO) is designed by a structural engineering strategy. This hybrid is used as the self-supported current collector for high-performance Li-S batteries with high sulfur-loading.
[Full Paper]
Mingwu Xiang, Hao Wu, Heng Liu, Ju Huang, Yifeng Zheng, Li Yang, Peng Jing, Yun Zhang, Shixue Dou, Huakun Liu
Adv. Funct. Mater., August 11, 2017, https://doi.org/10.1002/adfm.201702573 Read article
[Article]
Qingwei Li, Yuanyuan Li, Lei Wang, Xiaochuan Ren, Jiabao Zhang, Zhenhua Liao, Xiang Peng, Biao Gao, Paul K Chu, Kaifu Huo
ChemElectroChem, August 10, 2017, https://doi.org/10.1002/celc.201700551 Read article
Fidget spinels: layered-spinel microspheres are prepared on reduced graphene oxide in situ, forming cathode materials for Li-ion batteries. They deliver a considerable capacity of 145 mA h g−1 at an ultrahigh charge– discharge rate of 60 C (12 A g−1).
[Communication]
Dong Luo, Shaohua Fang, Li Yang, Shin-ichi Hirano
ChemSusChem, August 09, 2017, https://doi.org/10.1002/cssc.201701207 Read article
Inside a battery: Operando X-ray diffraction computed tomography was used to study specific components of an essentially unmodified working cell and extract structural information on crystalline and amorphous phases present during cycling by Rietveld and pair distribution function methods. This method was applied for the first detailed structural examination of the cycling of sodium in a phosphorus anode.
[Communication]
Jonas Sottmann, Marco Di Michiel, Helmer Fjellvåg, Lorenzo Malavasi, Serena Margadonna, Ponniah Vajeeston, Gavin B. M. Vaughan, David S. Wragg
Angew. Chem. Int. Ed., August 09, 2017, https://doi.org/10.1002/anie.201704271 Read article
With separation of cathode and anode sides of lithium-oxygen batteries using suitable solution for each side, efficiency and cyclability can be remarkably improved. Dimethylphenazine that facilitates lithium peroxide oxidation at the cathode, cannot cross over to the Li metal anode. Fluorinated ethylene carbonate that stabilizes the Li metal anode cannot be attacked by oxygen species at the cathode.
[Full Paper]
Won-Jin Kwak, Hun-Gi Jung, Doron Aurbach, Yang-Kook Sun
Adv. Energy Mater., August 07, 2017, https://doi.org/10.1002/aenm.201701232 Read article
Li-ion batteries as energy storage devices need to be periodically charged for sustainably powering electronic devices owing to their limited capacities. This work demonstrates the feasibility of utilizing Li-ion batteries as both the energy storage and scavenging units. The self-charging Li-ion batteries are demonstrated to charge themselves up to 3.5 V in about 3 min under wind-induced mechanical excitations.
[Communication]
Kun Zhao, Ya Yang, Xi Liu, Zhong Lin Wang
Adv. Energy Mater., August 07, 2017, https://doi.org/10.1002/aenm.201700103 Read article
Defect engineering strategy in nanocarbon is developed to generate atomically dispersed Co–Nx–C active sites for effective electrocatalysts. As-obtained Co/N/O tri-doped graphene exhibits excellent oxygen reduction reaction/oxygen evolution reaction bifunctional activities and impressive performances in rechargeable and flexible Zn-air batteries. This work provides novel concept to fully utilize the structural defects in nanocarbon for advanced energy storage and conversion.
[Communication]
Cheng Tang, Bin Wang, Hao-Fan Wang, Qiang Zhang
Adv. Mater., August 07, 2017, https://doi.org/10.1002/adma.201703185 Read article
A hydrophilic porous graphene stack is fabricated through a facile thermal transformation of the metal–organic framework crystals with intrinsic 2D structures. The polar surface favors confinement of polysulfide intermediates in a highly electron and ion accessible pores, and thus the coupled redox reaction proceeds in a highly reversible manner in an operating Li–S battery.
[Communication]
Guang-Ping Hao, Cheng Tang, En Zhang, Peiyan Zhai, Jun Yin, Wancheng Zhu, Qiang Zhang, Stefan Kaskel
Adv. Mater., August 07, 2017, https://doi.org/10.1002/adma.201702829 Read article
K-intercalation in P3-structured K0.5MnO2 is demonstrated for the first time. K-intercalation chemistry upon K extraction and insertion isi investigated using in situ X-ray diffraction combined with electrochemical titration and first-principles calculations. Finally, phase transitions driven by the relative phase stability of difference stacking with respect to the K content are observed.
[Communication]
Haegyeom Kim, Dong-Hwa Seo, Jae Chul Kim, Shou-Hang Bo, Lei Liu, Tan Shi, Gerbrand Ceder
Adv. Mater., August 07, 2017, https://doi.org/10.1002/adma.201702480 Read article
Shape-reconfigurable batteries that lead to 2D and 3D polymorphed states while preserving electrochemical functionality are developed. Aluminum–air batteries composed of an aluminum foil and a carbon composite on a cellulose scaffold are adopted as a platform, which represents an advancement in deformable batteries using the shape-reconfigurable-material concept, establishing a paradigm for shape-reconfigurable batteries with exceptional mechanical functionalities.
[Full Paper]
Sangjin Choi, Daehee Lee, Gwangmook Kim, Yoon Yun Lee, Bokyung Kim, Jooho Moon, Wooyoung Shim
Adv. Funct. Mater., August 07, 2017, https://doi.org/10.1002/adfm.201702244 Read article
Sponge-like composites assembled by Co9S8 quantum dots, hollow carbon polyhedra, and 3D reduced graphene oxide (GO) network are fabricated by a simultaneous thermal reduction, carbonization, and sulfidation of zeolitic imidazolate frameworks@GO precursors. Benefiting from the hierarchical porosity, conductive network, structural integrity, and synergistic effect of components, the composites used as binder-free anodes exhibit high specific capacity, good rate performance, and outstanding cycling stability in sodium-ion batteries.
[Full Paper]
Ziliang Chen, Renbing Wu, Miao Liu, Hao Wang, Hongbin Xu, Yanhui Guo, Yun Song, Fang Fang, Xuebin Yu, Dalin Sun
Adv. Funct. Mater., August 07, 2017, https://doi.org/10.1002/adfm.201702046 Read article
Different metal oxide coatings by atomic layer deposition are employed to stabilize the electrochemical stability of P2-Na0.66(Mn0.54Co0.13Ni0.13)O2 cathodes for sodium-ion batteries. The cyclic stability is extremely enhanced after the coating process. Moreover, the P2 materials coated with ZrO2 have improved rate performance with TiO2, Al2O3 layer, due to increased fracture toughness and electrical conductivity of ZrO2 layers.
[Full Paper]
Karthikeyan Kaliyappan, Jian Liu, Biwei Xiao, Andrew Lushington, Ruying Li, Tsun-Kong Sham, Xueliang Sun
Adv. Funct. Mater., August 07, 2017, https://doi.org/10.1002/adfm.201701870 Read article
Grafting and crosslinking: Through cationic grafting of a redox active nitroxyl radical and crosslinking an anionexchange PBI (polybenzimidazole) membrane, we improve the cycling properties of a hybrid flow battery utilizing low-cost components (organic active compound, zinc, anion-exchange membrane).
[Communication]
Zhenjun Chang, Dirk Henkensmeier, Ruiyong Chen
ChemSusChem, August 04, 2017, https://doi.org/10.1002/cssc.201701060 Read article
Fast and stable: Dopamine-derived intertwined nitrogen-doped carbon nanotubes (N-CNTs) are synthesized by using a hard-template method and tested as anodes in sodium-ion batteries. Thanks to the in situ nitrogen doping and 1D ultrathin nanotubes assembling into a 3D network with a hierarchical pore structure, the N-CNTs exhibit excellent rate capability and cycling stability even after 1000 cycles.
[Article]
Kang Ding, Biao Gao, Jijiang Fu, Weili An, Hao Song, Xingxing Li, Qiuyun Yuan, Xuming Zhang, Kaifu Huo, Paul K. Chu
ChemElectroChem, August 04, 2017, https://doi.org/10.1002/celc.201700590 Read article
A multifunctional electrode (ME) consisting of a three-dimensional (3D) porous separator is reported that is modulated with a patterned aluminum anode, which simultaneously works as a current collector, anode material, and separator for a dual-ion battery (DIB). The 3D porous separator enables the ME significantly improved electrolyte uptake and retention capabilities, but also acts as a protecting layer to restrict pulverization of the Al anode. The ME-DIB displays excellent cycling stability and superior rate performance.
[Full Paper]
Songquan Zhang, Meng Wang, Zhiming Zhou, Yongbing Tang
Adv. Funct. Mater., August 04, 2017, https://doi.org/10.1002/adfm.201703035 Read article
Metal chalcogenides including metal sulfides and selenides are intensively studied in the energy field due to their unique physicochemical properties. In this Review, specific attention is given to their state-of-the-art research progress in sodium-ion batteries, lithium-ion batteries, and electrocatalysis hydrogen evolution reaction, oxygen evolution reaction, and oxygen reduction reaction.
[Feature Article]
Yu Zhang, Qian Zhou, Jixin Zhu, Qingyu Yan, Shi Xue Dou, Wenping Sun
Adv. Funct. Mater., August 04, 2017, https://doi.org/10.1002/adfm.201702317 Read article
Water soluble polymer binders with profoundly enhanced chemical/physical interactions with the electrode materials, stronger mechanical adhesion and evidently improved volume variation durability, leading to dramatic improvements in the electrochemical performances of Si-based anodes, spinel/layered oxide cathodes and S cathodes.
[Review]
Jun-Tao Li, Zhan-Yu Wu, Yan-Qiu Lu, Yao Zhou, Qi-Sen Huang, Ling Huang, Shi-Gang Sun
Adv. Energy Mater., July 31, 2017, https://doi.org/10.1002/aenm.201701185 Read article
Oxygen reduction reaction (ORR) and oxygen evolution reaction (OER) are the keys in a series of energy storage and conversion devices. Metal–organic frameworks (MOFs) can act as precursors to prepare superior ORR/OER electrocatalysts. Different strategies for promoting the activity and durability of MOF-derived ORR/OER electrocatalysts are summarized and analyzed, and comments are given for their further development.
[Review]
Yuhong Qian, Inayat Ali Khan, Dan Zhao
Small, July 28, 2017, https://doi.org/10.1002/smll.201701143 Read article
TiO2 feather duster is in situ prepared as sulfur host to enhance the electrochemical kinetics of Li–S batteries by strong interaction between polysulfides and TiO2 nanowires. CC/TiO2/S composite cathode exhibits a capacity of 608 mA h g−1 at 1.0 C after 700 cycles corresponding to capacity decay as low as 0.045% per cycle.
[Full Paper]
Tianyu Lei, Yiming Xie, Xianfu Wang, Shengyi Miao, Jie Xiong, Chenglin Yan
Small, July 27, 2017, https://doi.org/10.1002/smll.201701013 Read article
Hierarchical porous carbonized cobalt oxide inverse opal (C-Co3O4 IO) nanostructures are fabricated via one-pot direct carbonization of inorganic-precursors-containing block copolymer infiltrated into colloid assembly and proposed as efficient electrocatalysts in Li–O2 battery. C-Co3O4 IO shows remarkable bifunctional electrocatalysis due to facilitated charge transport and optimized composition. The Li–O2 cell exhibits prominent performance in terms of capacity, overpotential, and cyclability.
[Full Paper]
Seol A. Cho, Yu Jin Jang, Hee-Dae Lim, Ji-Eun Lee, Yoon Hee Jang, Trang-Thi Hong Nguyen, Filipe Marques Mota, David P. Fenning, Kisuk Kang, Yang Shao-Horn, Dong Ha Kim
Adv. Energy Mater., July 24, 2017, https://doi.org/10.1002/aenm.201700391 Read article
A freestanding and binder-free NiS2/FeS highly porous thin film is developed as a cathode in a Li-S battery. A high volumetric capacity of 580 mA h cm−3 and a long-term stability over 5000 discharge–charge cycles are achieved due to enhanced ion/mass diffusion and reduced volume expansion inside porous metal sulfide materials.
[Communication]
Kun Liang, Kyle Marcus, Shoufeng Zhang, Le Zhou, Yilun Li, Samuel T. De Oliveira, Nina Orlovskaya, Yong-Ho Sohn, Yang Yang
Adv. Energy Mater., July 21, 2017, https://doi.org/10.1002/aenm.201701309 Read article
A novel bicyclical substituted dialkoxy-benzene molecule, 9,10-bis(2-methoxy-ethoxy)-1,2,3,4,5,6,7,8-octahydro-1,4:5,8-dimethanenoanthracene (BODMA), is developed for use as catholyte materials in non-aqueous redox flow batteries with greater solubility (in their neutral state) and improved chemical stability (in their charged state). A hybrid flow cell using BODMA demonstrates stable efficiencies and capacity over 150 cycles. The molecular design approach of BODMA can be inspirational for future development of redox active molecules.
[Communication]
Jingjing Zhang, Zheng Yang, Ilya A. Shkrob, Rajeev S. Assary, Siu on Tung, Benjamin Silcox, Wentao Duan, Junjie Zhang, Chi Cheung Su, Bin Hu, Baofei Pan, Chen Liao, Zhengcheng Zhang, Wei Wang, Larry A. Curtiss, Levi T. Thompson, Xiaoliang Wei, Lu Zhang
Adv. Energy Mater., July 21, 2017, https://doi.org/10.1002/aenm.201701272 Read article
The sodium-ion water-in-salt electrolyte with a wide electrochemical window is proposed through suppressing hydrogen evolution on anode with the formation of a Na+-conducting solid-electrolyte interphase and reducing the overall electrochemical activity of water on cathode. A full aqueous Na-ion battery constructed on Na0.66[Mn0.66Ti0.34]O2 as cathode and NaTi2(PO4)3 as anode exhibits superior performance at both low (0.2 C) and high (1 C) rates.
[Full Paper]
Liumin Suo, Oleg Borodin, Yuesheng Wang, Xiaohui Rong, Wei Sun, Xiiulin Fan, Shuyin Xu, Marshall A. Schroeder, Arthur V. Cresce, Fei Wang, Chongyin Yang, Yong-Sheng Hu, Kang Xu, Chunsheng Wang
Adv. Energy Mater., July 21, 2017, https://doi.org/10.1002/aenm.201701189 Read article
Silicon-based materials are recognized as the most promising anode materials because of the highest theoretical capacity. However, many critical challenges such as losing specific capacity and increasing battery impedance during continuous charge-discharge processes strongly hindered the further application. In this review, the recent progress to utilize surface and interface engineering strategies to overcome these problems is summarized.
[Review]
Wei Luo, Xinqi Chen, Yuan Xia, Miao Chen, Lianjun Wang, Qingqing Wang, Wei Li, Jianping Yang
Adv. Energy Mater., July 21, 2017, https://doi.org/10.1002/aenm.201701083 Read article
A bifunctional NiFe-layered double hydroxide (LDH)/Co,N-carbon nanoframe (CNF) electrocatalyst, comprising 3–5 nm NiFe-LDH particles immobilized on Co,N-doped carbon nanoframes (Co,N-CNF), demonstrates excellent activities for both oxygen evolution reaction and oxygen reduction reaction, and outstanding performance and stability as cathode catalysts in rechargeable zinc–air batteries. Intimate contact between NiFe-LDH and Co,N-CNF preventing NiFe-LDH aggregation is the key to the higher electrocatalytic activity and stability of NiFe-LDH/Co,N-CNF compared to precious metal-based catalysts.
[Full Paper]
Qing Wang, Lu Shang, Run Shi, Xin Zhang, Yufei Zhao, Geoffrey I. N. Waterhouse, Li-Zhu Wu, Chen-Ho Tung, Tierui Zhang
Adv. Energy Mater., July 20, 2017, https://doi.org/10.1002/aenm.201700467 Read article
A freestanding composite based on Fe2O3 nanoparticles encapsulated in peapod-like porous carbon nanofibers uniformly doped with nitrogen is designed as a flexible electrode for high-performance lithium-ion batteries (LIBs) and sodium-ion batteries (SIBs). This electrode delivers a stable capacity of 958 mAh g−1 after 1000 cycles for LIBs and 396 mAh g−1 after 1500 cycles for SIBs at 2000 mA g−1, respectively.
[Full Paper]
Guanglin Xia, Qili Gao, Dalin Sun, Xuebin Yu
Small, July 19, 2017, https://doi.org/10.1002/smll.201701561 Read article
Vacant expression: Oxygen deficient 3D porous Co3O4 nanowires are prepared through NaBH4-treatment of pristine 3D Co3O4. Owing to the enhanced conductivity, as a result of the oxygen deficiency, the oxygen-deficient 3D porous Co3O4 nanowires display superior lithium storage performance compared to the pristine one.
[Communication]
Xiaolei Fan, Muhammad-Sadeeq Balogun, Yongchao Huang, Yexiang Tong
ChemElectroChem, July 19, 2017, https://doi.org/10.1002/celc.201700607 Read article
Ultrathin Li4Ti5O12 nanosheet based hierarchical microspheres demonstrate enhanced rate performance and long cycle life when used in lithium ion batteries as anode materials. The excellent electrochemical performance can be ascribed to the reduced transport path lengths of lithium ions/electrons and the increased electrode/electrolyte interfaces, which are derived from the unique hierarchical structure.
[Full Paper]
Yishi He, Aidaer Muhetaer, Jianming Li, Feifan Wang, Cheng Liu, Qi Li, Dongsheng Xu
Adv. Energy Mater., July 19, 2017, https://doi.org/10.1002/aenm.201700950 Read article
Ultrafine CoP nanoparticles embedded in nitrogen-doped carbon matrix are obtained for the first time. This novel nanostructure greatly shortens the transport length of lithium ions, effectively buffer the volume expansion during the lithiation/delithiation process, and improve the electrical conductivity in anode materials.
[Full Paper]
Kunjie Zhu, Jun Liu, Site Li, Liangliang Liu, Linyu Yang, Sailin Liu, Hao Wang, Tian Xie
Adv. Mater. Interfaces, July 19, 2017, https://doi.org/10.1002/admi.201700377 Read article
An overview of the recent progress of Chevrel phase Mo6T8 (T = S, Se) for their applications in monovalent (lithium and sodium) and multivalent (magnesium, zinc and aluminum) ion batteries is provided, including synthesis methods, intercalation mechanism and various structure-function of Mo6T8, as well as their applications in various advanced batteries.
[Review]
Lin Mei, Jiantie Xu, Zengxi Wei, Huakun Liu, Yutao Li, Jianmin Ma, Shixue Dou
Small, July 18, 2017, https://doi.org/10.1002/smll.201701441 Read article
An efficient approach to tune the redox properties of perylene diimides as high voltage cathodes for organic sodium-ion batteries is proposed. Further, a novel route to tune the shape of the voltage profiles by systematically tuning the dihedral angle in the perylene ring is proposed. A single plateau discharge profile for tetrabromo is achieved in comparison to two-plateau voltage profile of perylene diimide.
[Full Paper]
Harish Banda, Dijo Damien, Kalaivanan Nagarajan, Ashish Raj, Mahesh Hariharan, Manikoth M. Shaijumon
Adv. Energy Mater., July 18, 2017, https://doi.org/10.1002/aenm.201701316 Read article
A highly open oxide framework is successfully used as a high-capacity cathode for nonaqueous rechargeable Al-ion batteries. The large open tunnels allow excellent storage and diffusion of Al species. An ultrafast microwave-assisted technique for chemical insertion of Al3+ ions into host structures is also demonstrated in as little as 30 min in air, which is far superior to the traditional methods.
[Full Paper]
Watchareeya Kaveevivitchai, Ashfia Huq, Shaofei Wang, Min Je Park, Arumugam Manthiram
Small, July 17, 2017, https://doi.org/10.1002/smll.201701296 Read article
A shady affair: Li4Ti5O12 composites containing PVdF-HFP, CMC−Na, or PAA−Na binders are characterized by their electrode morphology and electrochemical performance. The latter is correlated to the composition of the surface layer formation on electrodes either stored for 5 and 10 days or cycled for 10 and 100 cycles.
[Article]
Tim Nordh, Fabian Jeschull, Reza Younesi, Tayfun Koçak, Carl Tengstedt, Kristina Edström, Daniel Brandell
ChemElectroChem, July 17, 2017, https://doi.org/10.1002/celc.201700395 Read article
A stretchable full battery based on a device-scaled wavy structure and an elastic-sticky separator is prepared. High electrochemical performance and long-term stability at repeatable release–stretch cycles are demonstrated. The areal capacity of 3.6 mA h cm−2 and energy density of 170 W h L−1 can be achieved by packing double batteries.
[Communication]
Wei Liu, Jun Chen, Zheng Chen, Kai Liu, Guangmin Zhou, Yongming Sun, Min-Sang Song, Zhenan Bao, Yi Cui
Adv. Energy Mater., July 17, 2017, https://doi.org/10.1002/aenm.201701076 Read article
A simple strategy of mild heat-precipitation followed by an annealing in air is developed to synthesize hierarchical Co3O4 flower-like microspheres. Benefited from its high porosity, large specific surface area, and necessary short activation, the well-designed architecture as an anode for lithium-ion batteries shows an advanced lithium storage performance of high capacity, long-life cycle, and ultrahigh rate capacity.
[Full Paper]
Mengting Liu, Xia Deng, Yaodong Ma, Wenhe Xie, Xiaoyi Hou, Yujun Fu, Deyan He
Adv. Mater. Interfaces, July 17, 2017, https://doi.org/10.1002/admi.201700553 Read article
Old dogs, new tricks: The commercially available Pt/C fuel cell catalyst is introduced into the lithium−sulfur system. The shuttle effect of soluble polysulfide as well as the irreversible deposition of the Li2S2/Li2S can be effectively mitigated, owing to the strong chemical interaction and promoted electrochemical conversion provided by the Pt nanoparticles.
[Article]
Zejing Lin, Xia Li, Wenlong Huang, Xi Zhu, Yun Wang, Zhongqiang Shan
ChemElectroChem, July 14, 2017, https://doi.org/10.1002/celc.201700533 Read article
What's in store: Inspired by the stabilization process for carbon fibers, air oxidation is introduced as a modification for mesocarbon microbeads (MCMBs). The introduction of oxygen atoms contribute to the crosslinking between carbon layers and adjust the disorder degree of MCMBs by increasing defect sites. The larger interlayer spacing and increased defect sites caused by oxidation are beneficial for MCMBs to store and transfer sodium ions.
[Article]
Chao Yuan, Youyu Zhu, Pinyi Zhao, Baojun Yu, Qi Li, Chengyang Wang
ChemElectroChem, July 14, 2017, https://doi.org/10.1002/celc.201700529 Read article
What's in store: Nano-confined Mo2C particles, which are embedded in a porous carbon matrix, show an excellent capacity retention of 95.4 % when employed as anode materials in sodium-ion batteries.
[Article]
Hanxiao Liao, Hongshuai Hou, Yan Zhang, Xiaoqing Qiu, Xiaobo Ji
ChemElectroChem, July 14, 2017, https://doi.org/10.1002/celc.201700407 Read article
Electrolyte additives containing transition-metal salts are demonstrated to stabilize Li2S cathodes by producing conductive and protective surface encapsulation layers on the Li2S particles via in situ chemical reactions that generate transition-metal sulfides electrochemically inactive within the cycling voltage window. The electronic valence band structure of the as-generated encapsulation layer is critical to the initial charging overpotential of the Li2S particles.
[Communication]
Michael J. Klein, Andrei Dolocan, Chenxi Zu, Arumugam Manthiram
Adv. Energy Mater., July 14, 2017, https://doi.org/10.1002/aenm.201701122 Read article
Na-ion intercalation and charge storage mechanism of 2D vanadium carbide MXene are investigated by using a combination of synchrotron-based X-ray techniques. It is demonstrated, for the first time, that the redox reaction at the transition metal site in MXene is responsible for the reversible charge storage. The reversible formation/decomposition of carbonate species at the surface upon sodiation/desodiation is also discussed in detail.
[Full Paper]
Seong-Min Bak, Ruimin Qiao, Wanli Yang, Sungsik Lee, Xiqian Yu, Babak Anasori, Hungsui Lee, Yury Gogotsi, Xiao-Qing Yang
Adv. Energy Mater., July 14, 2017, https://doi.org/10.1002/aenm.201700959 Read article
Foldable Zn-air batteries based on MnOx grown on graphene-coated carbon cloth air cathode have low charge voltage and high discharge voltage. Random coating of graphene flakes provides more active sites to grow MnOx, as well as conducting network and mechanical support for air cathode. The batteries survive over 100 times of continuously folding and unfolding with minimal performance degradation.
[Full Paper]
Afriyanti Sumboja, Mechthild Lübke, Yong Wang, Tao An, Yun Zong, Zhaolin Liu
Adv. Energy Mater., July 14, 2017, https://doi.org/10.1002/aenm.201700927 Read article
A novel dual-carbon battery based on potassium-ion electrolyte (K-DCB) is developed using expanded graphite as cathode and mesocarbon microbead as anode. The K-DCB presents a reversible capacity of 61 mA h g−1 at 1 C, and exhibits excellent cycling performance. This battery works stably over a voltage window of 3.0–5.2 V with medium discharge voltage of 4.5 V, the highest value among the reported potassium-ion batteries.
[Communication]
Bifa Ji, Fan Zhang, Nanzhong Wu, Yongbing Tang
Adv. Energy Mater., July 14, 2017, https://doi.org/10.1002/aenm.201700920 Read article
3D graphene-like structure coated NVP nanoflakes arrays are synthesized via a solid-state reaction in molten hydrocarbon. The unique nanoflake arrays with large surface area can offer effective electrode-electrolyte contact, easy electrolyte path way and shortened ion diffusion distance. The robust 3D graphene scaffold can improve the electron conductivity. The uniform nanoflakes conformally capped with graphene-like layers can keep the structural integrity.
[Communication]
Xinxin Cao, Anqiang Pan, Sainan Liu, Jiang Zhou, Site Li, Guozhong Cao, Jun Liu, Shuquan Liang
Adv. Energy Mater., July 14, 2017, https://doi.org/10.1002/aenm.201700797 Read article
Recent progress on the design and synthesis of bifunctional oxygen reduction/evolution electrocatalysts used in alkaline electrolyte is reviewed. Various types of nanostructured catalysts including metal oxide, hydroxide and sulfide, functional carbon material, metal, and their composites, are presented. The crucial factors determining the oxygen reduction reaction (ORR) and oxygen evolution reaction (OER) performance are also summarized.
[Review]
Zhen-Feng Huang, Jiong Wang, Yuecheng Peng, Chi-Young Jung, Adrian Fisher, Xin Wang
Adv. Energy Mater., July 14, 2017, https://doi.org/10.1002/aenm.201700544 Read article
Flower power: 3D flower-like Cu3[MoO4]2O microspheres are synthesized by using a sequential process from lindgrenite (Cu3(MoO4)2(OH)2). Application of the 3D flower-like microspheres as an anode material for lithium-ion batteries (LIBs) is investigated and the possible electrochemical mechanism is analyzed.
[Article]
Basudev Swain, Duk-Hee Lee, Jun-Sik Kim, Chan-Gi Lee, Dong-Wan Kim, Kyung-Soo Park
ChemElectroChem, July 12, 2017, https://doi.org/10.1002/celc.201700499 Read article
Positive addition: A novel ionized oligomer that is synthesized by neutralizing acrylic-grafted epoxy resin with lithium hydroxide is introduced with PVdF as an additive to form a blending adhesive. The morphology, physical, and electrochemical properties of the composite electrodes are tested and discussed in detail.
[Article]
Zhengbao Zhu, Zhongpei Lu, Jingjing Ding, Gang Yang, Weili Li, Hongmei Ji
ChemElectroChem, July 12, 2017, https://doi.org/10.1002/celc.201700283 Read article
3D core–shell nanostructure obtained by MoOx coating on conducting carbon nanotube (CNT) scaffold demonstrates promising electrochemical activity toward Li/Li+ system. Atomic layer deposition offers supreme control over thickness and conformality of MoOx layer, whereas CNT provides conductive pathway for fast electron transport. Such 3D structure electrode can influence to pursue nano level adornment for better energy storage.
[Full Paper]
Arpan Dhara, Shaibal K. Sarkar, Sagar Mitra
Adv. Mater. Interfaces, July 12, 2017, https://doi.org/10.1002/admi.201700332 Read article
A reference electrode assessment. Sodium metal in contact with NaTFSI(PEO)9 solid polymer electrolyte (SPE) is characterized electrochemically. The potential of the redox couple Me10Fc+/0 vs. sodium metal drifts with time and it is not reproducible, and hence sodium is not suitable as a pseudo-RE – even when an SPE is used.
[Article]
Andrea Boschin, Muhammad E. Abdelhamid, Patrik Johansson
ChemElectroChem, July 06, 2017, https://doi.org/10.1002/celc.201700273 Read article
Come to an arrangement: Hierarchical Mn3O4 microplates composed of stacking porous nanosheets manifest superior lithium storage properties.
[Article]
Fei-Xiang Ma, Hao Bin Wu, Xue-Yin Sun, Pan-Pan Wang, Liang Zhen, Cheng-Yan Xu
ChemElectroChem, July 05, 2017, https://doi.org/10.1002/celc.201700323 Read article
I(r)on power: The redox potential of Fe is appropriately utilized to fabricate a high-performance Li-ion battery and a Li-ion capacitor in a cost-effective manner.
[Article]
Hyun-Kyung Kim, Vanchiappan Aravindan, Ms. Ha-Kyung Roh, Kyujoon Lee, Myung-Hwa Jung, Srinivasan Madhavi, Kwang Chul Roh, Kwang-Bum Kim
ChemElectroChem, July 04, 2017, https://doi.org/10.1002/celc.201700484 Read article
Zig-zag patterns: Key structural motifs of cyclized-poly(acrylonitrile) (PAN) and sulfur/PAN composite (SPAN) are identified and their energies are evaluated using density functional theory (DFT). A zig-zag configuration with multiple kink sites is energetically favorable for PAN materials. The most stable SPAN configurations typically contain S=C double bonds at kink and edge sites and sulfur chains that bridge between neighboring backbones.
[Article]
Tianwei Zhu, Jonathan E. Mueller, Matthias Hanauer, Ulrich Sauter, Timo Jacob
ChemElectroChem, June 30, 2017, https://doi.org/10.1002/celc.201700428 Read article
Testing the tolerance: The conversion reaction involves oxide-ion transport and the formation/decomposition of Li2O, but very limited research has been done on the oxide-ion transport of the anodes. The heavy alkaline/rare earth element in a perovskite for structural stability decreases the specific capacity, but perovskite-type oxides show high tolerance to oxygen deficiency and high oxide-ion conductivity, which could benefit the study on oxide-ion conduction.
[Communication]
Da Li, Jianing Hui, Shaohong Liu, Chengsheng Ni, Jiupai Ni
ChemElectroChem, June 30, 2017, https://doi.org/10.1002/celc.201700381 Read article
Sulfur-doped graphitic carbon nanosheets are designed with controllable interlayer spacing range from 0.38 to 0.41 nm and high surface area of 898.8 m2 g−1. Benefitting from the fast surface-induced capacitive behavior, an excellent rate capability of 161.8 mAh g−1 is acquired at 5 A g−1 after 5000 cycles, providing a novel route for rationally designing carbon anode with enhanced rate capability.
[Full Paper]
Guoqiang Zou, Chao Wang, Hongshuai Hou, Chiwei Wang, Xiaoqing Qiu, Xiaobo Ji
Small, June 26, 2017, https://doi.org/10.1002/smll.201700762 Read article
A new and facile synthetic strategy is developed for the synthesis of a polyphosphazene bearing stable nitroxide radicals as a cathode-active material for rechargeable lithium batteries, which performs over 80 mAh g−1 capacity at a C/2 current density for 50 cycles.
[Full Paper]
Serkan Yeşilot, Ferda Hacıvelioğlu, Sedat Küçükköylü, Kamile Burcu Çelik, Gürkan Sayan, Rezan Demir-Cakan
Macromol. Chem. Phys., June 08, 2017, https://doi.org/10.1002/macp.201700051 Read article
© Wiley-VCH 2016.