Batteries and Supercapacitors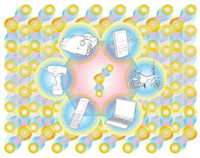 Lithium-ion or otherwise, batteries keep lots of things going, and enable a mobile lifestyle: from mobile phones to intercontinental air travel. Batteries are complex devices whose overall performance and usefulness depend on many factors such as energy density, efficiency, durability, and sustainability. Research in this area is by nature interdisciplinary and involves chemists, physicists, materials scientists, and engineers.
Further reading: K. Ozawa (Ed.), Lithium Ion Rechargeable Batteries: Materials, Technology, and New Applications, Wiley-VCH, 2010.
Find all articles on batteries or supercapacitors in Wiley Online Library...
Recent Articles

RSS feed
A novel strategy for synthesizing hollow Co, N-codoped carbon nanopolyhedra from metal–organic frameworks using in situ evaporation of ZnO templates is proposed. The hollow carbon catalyst shows noticeable improvements in electrokinetics, oxygen reduction reaction selectivity/stability, and resistance to CH3OH, and the corresponding Zn–air battery exhibits a record open circuit potential, thanks to strong confinement effect.
[Full Paper]
Xiaokai Song, Linli Guo, Xuemei Liao, Jian Liu, Jianhua Sun, Xiaopeng Li
Small, April 28, 2017, https://doi.org/10.1002/smll.201700238 Read article
The cathode performance evaluation in lithium-oxygen batteries is much more complicated than that in lithium-ion batteries because of the complexity of the multi-phase electrochemical reaction. Conventional half-cell testing methods may give misleading conclusions. Modified half-cell testing methods are needed to get more instructive results for understanding the cathode chemistry and building high specific energy prototype cells.
[Progress Report]
Wang Zhang, Yue Shen, Dan Sun, Zhimei Huang, Yunhui Huang
Adv. Energy Mater., April 28, 2017, https://doi.org/10.1002/aenm.201602938 Read article
The silicon/flake graphite/carbon (Si/FG/C) composite with hierarchical structure exhibits outstanding electrochemical properties for LIBs.
[Full Paper]
Bing Lu, Bingjie Ma, Ruizhi Yu, Qun Lu, Siyu Cai, Manfang Chen, Zhenyu Wu, Kaixiong Xiang, Xianyou Wang
ChemistrySelect, April 27, 2017, https://doi.org/10.1002/slct.201700607 Read article
An ideal anode: A rod-like Cu2−xSe is synthesized by water evaporation and its electrochemical properties in lithium–ion batteries using an etherbased electrolyte are studied and presented. Ex situ XRD is also used to investigate the electrochemical reaction mechanism.
[Full Paper]
He Li, Jiali Jiang, Feng Wang, Jianxing Huang, Yunhui Wang, Yiyong Zhang, Jinbao Zhao
ChemSusChem, April 27, 2017, https://doi.org/10.1002/cssc.201700317 Read article
Air-powered: Perovskite La0.6Sr0.4Co0.2Fe0.8O3 nanofibers have been decorated with RuO2 nanoparticles as an efficient bifunctional catalyst for rechargeable Li–O2 batteries.
[Full Paper]
Yudong Gong, Xiuling Zhang, Zhipeng Li, Zhiwei Wang, Chunwen Sun, Liquan Chen
ChemNanoMat, April 27, 2017, https://doi.org/10.1002/cnma.201700071 Read article
Simultaneous collection of powder neutron diffraction data and electrochemical data has been used to determine a new discharge mechanism for a thermal battery utilising NiS2 as a cathode, which does not involve Ni7S6. The evolution of the crystalline phases during battery discharge has been studied and four different nickel-containing phases were observed (NiS2, NiS, Ni3S2 and Ni).
[Article]
Julia L. Payne, Julia D. Percival, Kyriakos Giagloglou, Christina J. Crouch, George M. Carins, Ronald I. Smith, Robert Comrie, Richard K. B. Gover, John T. S. Irvine
ChemElectroChem, April 27, 2017, https://doi.org/10.1002/celc.201700095 Read article
The various research strategies that have been utilized to study the elimination of ICL from high capacity anodes, such as alloy and conversion type, are described. In addition, mitigating ICL observed from the carbonaceous anodes is discussed and compared.
[Progress Report]
Vanchiappan Aravindan, Yun-Sung Lee, Srinivasan Madhavi
Adv. Energy Mater., April 27, 2017, https://doi.org/10.1002/aenm.201602607 Read article
A highly flexible rechargeable quasi-solid-state Zn–Mn2@PEDOT battery is demonstrated for the first time. The battery affords a prominent energy density of 504.9 W h kg−1 (33.95 mW h cm−3), substantially outstripping most of the recently reported batteries and supercapacitors. Additionally, benefiting from a protective layer and modified electrolyte, such a Zn–Mn2@PEDOT battery delivers a good durability of 77.7% after 300 cycles.
[Communication]
Yinxiang Zeng, Xiyue Zhang, Yue Meng, Minghao Yu, Jianan Yi, Yiqiang Wu, Xihong Lu, Yexiang Tong
Adv. Mater., April 27, 2017, https://doi.org/10.1002/adma.201700274 Read article
2D heterostructure of graphene–molybdenum sulfide is fabricated by a graphene oxide-assisted ultrasonic method, which is concise, novel, and cost effective. Furthermore, this strategy can be applied to other fields. The results of the electrochemical experiments and kinetic analysis show that the G/MoS2 composite possesses excellent electrochemical properties, and thus can be regarded as a competitive candidate anode for lithium-ion battery.
[Full Paper]
Tailin Wang, Gang Zhao, Changlong Sun, Lei Zhang, Yongzhong Wu, Xiaopeng Hao, Yongliang Shao
Adv. Mater. Interfaces, April 26, 2017, https://doi.org/10.1002/admi.201601187 Read article
Graphite magic! A high-performance Sn-based alloy-type anode is demonstrated as a composite with graphite for sustained sodium storage with an excellent calendar life.
[Article]
Eldho Edison, Wong Chui Ling, Vanchiappan Aravindan, Srinivasan Madhavi
ChemElectroChem, April 25, 2017, https://doi.org/10.1002/celc.201700241 Read article
What is the mechanism? The electrochemical function of LiFeSO4F cathodes is studied with several electrochemical techniques and post mortem materials characterization. A conductive polymer coating alleviates a kinetic barrier for lithium insertion into the LiFeSO4F grains. A transition from solid to solution based diffusion control was observed at C/2, and for practical applications the electronic contacts throughout the electrode must be maintained.
[Article]
Andreas Blidberg, Adam Sobkowiak, Carl Tengstedt, Mario Valvo, Torbjörn Gustafsson, Fredrik Björefors
ChemElectroChem, April 25, 2017, https://doi.org/10.1002/celc.201700192 Read article
A high-performance cathode material is synthesized by confining SeS2 in a highly ordered mesoporous carbon framework with a polydopamine protection sheath for Li–SeS2 batteries. This new cathode material might overcome the bottlenecks of current Li–S systems for high energy density rechargeable batteries.
[Full Paper]
Zhen Li, Jintao Zhang, Hao Bin Wu, Xiong Wen (David) Lou
Adv. Energy Mater., April 25, 2017, https://doi.org/10.1002/aenm.201700281 Read article
Layered metal oxide NaxMO2 (M=Co, Mn, Fe) microspheres have been synthesized via a facile self-templated method as advanced cathode materials for sodium-ion batteries. As an example, the P2-Na0.7CoO2 microspheres exhibit greatly enhanced electrochemical sodium storage properties with high reversible capacity (125 mAh g−1 at 5 mA g−1), superior rate capability and long-term cycle life (86 % capacity retention over 300 cycles).
[Communication]
Yongjin Fang, Xin-Yao Yu, Xiong Wen (David) Lou
Angew. Chem. Int. Ed., April 24, 2017, https://doi.org/10.1002/anie.201702024 Read article
An effective strategy based on the synergetic contributions of metal ions in transition metal layers is proposed to design high-performance layered oxides for Na-ion batteries. The as-obtained NaFe0.45Co0.5Mg0.05O2 shows superior comprehensive performance benefiting from the synergetic effect of Fe3+ with high redox potential, Co3+ with good kinetics, and inactive Mg2+ with compatible radii stabilizing structure.
[Communication]
Hu-Rong Yao, Peng-Fei Wang, Yi Wang, Xiqian Yu, Ya-Xia Yin, Yu-Guo Guo
Adv. Energy Mater., April 24, 2017, https://doi.org/10.1002/aenm.201700189 Read article
NaVPO4F/C nanofibers are synthesized with NaVPO4F nanoparticles (≈6 nm) embedded in porous carbon matrix via an electrospinning method. For Na-storage, NaVPO4F/C nanofibers exhibit extraordinary electrochemical performance: a high capacity (126.3 mA h g−1 at 1 C), a superior rate capability (61.2 mA h g−1 at 50 C), and ultralong cyclability (96.5% capacity retention after 1000 cycles at 2 C).
[Full Paper]
Ting Jin, Yongchang Liu, Yang Li, Kangzhe Cao, Xiaojun Wang, Lifang Jiao
Adv. Energy Mater., April 24, 2017, https://doi.org/10.1002/aenm.201700087 Read article
Comparing the industrially developed benchmarking samples with synthesized Si nanolayer-embedded graphite/carbon hybrids in the graphite-blended electrode, Si nanolayer-embedded graphite/carbon exhibits the highest coulombic efficiency (CE 89.7%) at the first cycle, and cycling stabilization (CE >99.5%) is achieved after only second cycle, even with the least electrode volume expansion. This benchmarking comparison presents concrete guidelines and a comprehensive understanding of the implementation of Si anodes.
[Full Paper]
Sujong Chae, Namhyung Kim, Jiyoung Ma, Jaephil Cho, Minseong Ko
Adv. Energy Mater., April 24, 2017, https://doi.org/10.1002/aenm.201700071 Read article
Atomically thin Bi2MoO6 nanosheets are fabricated that exhibit outstanding high-rate cycling performance toward Li-ion batteries. The excellent electrochemical properties can be ascribed to the strong electric-field effect within the crystal, the unique 2D ultrathin configuration, and the superior structural stability. This work provides a guide to design novel high-performance electrode materials through the manipulation of interface interaction and electronic structure.
[Communication]
Yang Zheng, Tengfei Zhou, Xudong Zhao, Wei Kong Pang, Hong Gao, Sean Li, Zhen Zhou, Huakun Liu, Zaiping Guo
Adv. Mater., April 24, 2017, https://doi.org/10.1002/adma.201700396 Read article
A novel integrated self-package flexible Li–O2 battery is developed with a stable composite anode and flexible gas diffusion layer. Excellent mechanical stability and superior battery performances are successfully achieved under different shapes and even after repeated mechanical twisting, bending processes, showing high promise to power next generation versatile flexible electronics.
[Communication]
Xiao-yang Yang, Ji-jing Xu, Di Bao, Zhi-wen Chang, Da-peng Liu, Yu Zhang, Xin-Bo Zhang
Adv. Mater., April 24, 2017, https://doi.org/10.1002/adma.201700378 Read article
A novel solid electrolyte interface (SEI) blocking layer is facilely developed to encapsulate sulfur and the electrolyte together in a porous carbon sphere cathode. The SEI selectively sieves Li+ ions while efficiently preventing polysulfide accumulation and suppressing undesired polysulfide migration. With this SEI, the sulfur cathode delivers superior stability, extending 600 cycles, while maintaining a good rate capability.
[Communication]
Junling Guo, Xinyu Du, Xiaolong Zhang, Fengxiang Zhang, Jinping Liu
Adv. Mater., April 24, 2017, https://doi.org/10.1002/adma.201700273 Read article
Fe and N-codoped porous 1D carbon nanotubes protected by ultrathin graphitic layers exhibit remarkable electrocatalytic activity toward oxygen reduction reaction (ORR) along with excellent long-term stability in both alkaline and acidic media. Rechargeable zinc-air batteries based on these non-precious catalysts in a decoupled configuration exhibit high round-trip efficiency and excellent cyclic stability.
[Communication]
Sung Hoon Ahn, Xingwen Yu, Arumugam Manthiram
Adv. Mater., April 24, 2017, https://doi.org/10.1002/adma.201606534 Read article
Let's beat the dendrites! All-solid-state lithium-powder battery comprising solid polymer electrolytes based on natural terpenes and lithium-powder anode is found to be effective for suppressing lithium dendrites. This system can substitute the components of conventional lithium-metal battery such as liquid electrolyte/separator and lithium-foil anode, resulting in realization of safe lithium-metal battery system.
[Full Paper]
Jimin Shim, Jae Won Lee, Ki Yoon Bae, Hee Joong Kim, Woo Young Yoon, Jong-Chan Lee
ChemSusChem, April 21, 2017, https://doi.org/10.1002/cssc.201700408 Read article
An ultrafast and long-life aluminum-ion battery is achieved using large-sized few-layer graphene and Al-metal. It retains 90% discharging capacity at 4800 mA g−1 and exhibits no capacity fading over 4500 cycles. Moreover, the size effect plays an important role in rate capability and cycling stability and a staging intercalation chemistry is also addressed during AlCl4− insertion/extraction.
[Full Paper]
Leyuan Zhang, Liang Chen, Hao Luo, Xufeng Zhou, Zhaoping Liu
Adv. Energy Mater., April 21, 2017, https://doi.org/10.1002/aenm.201700034 Read article
High-rate and long-life sodium storage is achieved by using a nanorod-shaped core–shell architecture functionalized with the ultrafine MoO2 nanoparticles. This is evident from the ultralong cycle life of up to 10 000 cycles and the ultrahigh-rate capability of ≈13.7 s for full charge, which is due to the enhanced pseudocapacitance behavior.
[Full Paper]
Changtai Zhao, Chang Yu, Mengdi Zhang, Huawei Huang, Shaofeng Li, Xiaotong Han, Zhibin Liu, Juan Yang, Wei Xiao, Jianneng Liang, Xueliang Sun, Jieshan Qiu
Adv. Energy Mater., April 21, 2017, https://doi.org/10.1002/aenm.201602880 Read article
A binder-free V2O5·nH2O nanoflake cathode, prepared by a simple hydrothermal method, shows decent cyclability and capacity retention for Li+, Na+, and Al3+ insertion/deinsertion. Water molecules in the oxide network lead to a good ion mobility because of the electrostatic shielding effect. The water-deficient V2O5·0.3H2O shows fast kinetics benefiting from the large interlayer spacing and its 3D open structure.
[Full Paper]
Huali Wang, Xuanxuan Bi, Ying Bai, Chuan Wu, Sichen Gu, Shi Chen, Feng Wu, Khalil Amine, Jun Lu
Adv. Energy Mater., April 21, 2017, https://doi.org/10.1002/aenm.201602720 Read article
The modular assembly of microstructures from simple nanoparticles offers a powerful strategy to create materials with new functionalities. A modular-assembled oval-like microstructure is proposed and used as sulfur host for thick electrodes. By tuning the surface of nanoparticles, double Fischer esterification that is conducted among phytic, ethylene glycol, and the functionalized nanoparticles reconfigures scattered nanoparticles into oval-like carbon microstructures.
[Communication]
Yusheng Ye, Feng Wu, Yuting Liu, Teng Zhao, Ji Qian, Yi Xing, Wanlong Li, Jiaqi Huang, Li Li, Qianming Huang, Xuedong Bai, Renjie Chen
Adv. Mater., April 21, 2017, https://doi.org/10.1002/adma.201700598 Read article
Changing oxide conductivity alone suffices for improving the lithiation/delithiation reversibility of tin-oxide lithium-ion batteries. The use of highly conductive black SnO2−x initiates homogeneous microstructure evolutions, forming very fine Sn particles inside Li2O to sustain reversible Sn redox, thus delivering durable capacitance. The addition of highly conducting, well-dispersed reduced graphene oxide further improves the cycling performance.
[Communication]
Wujie Dong, Jijian Xu, Chao Wang, Yue Lu, Xiangye Liu, Xin Wang, Xiaotao Yuan, Zhe Wang, Tianquan Lin, Manling Sui, I-Wei Chen, Fuqiang Huang
Adv. Mater., April 21, 2017, https://doi.org/10.1002/adma.201700136 Read article
The stable tissue-directed/reinforced bifunctional separator/protection film (TBF) is in situ fabricated on the surface of metallic lithium anode. The Li–O2 battery cell with the TBF-modified lithium anodes exhibits an excellent anodic reversibility and effectively improved cathodic long lifetime.
[Communication]
Ji-Jing Xu, Qing-Chao Liu, Yue Yu, Jin Wang, Jun-Min Yan, Xin-Bo Zhang
Adv. Mater., April 21, 2017, https://doi.org/10.1002/adma.201606552 Read article
MoSe2 grown on N,P-co-doped carbon nanosheets exhibits long cycle life and high rate performance in sodium-ion batteries. These features are attributed to the strong binding affinity of N,P-co-doped carbon, the pseudocapacitive nature, and the unique 3D network.
[Full Paper]
Feier Niu, Jing Yang, Nana Wang, Dapeng Zhang, Weiliu Fan, Jian Yang, Yitai Qian
Adv. Funct. Mater., April 21, 2017, https://doi.org/10.1002/adfm.201700522 Read article
A 1D, multichannel, porous binary-phase anatase-TiO2–rutile-TiO2 composite with oxygen-deficient and high grain-boundary density (a-TiO2−x/r-TiO2−x) has been fabricated via electrospinning and subsequent vacuum treatment. The introduction of numerous oxygen vacancies and the high density of grain boundaries between the anatase- and rutile-phase TiO2 are favorable for enhanced electrochemical performance with excellent long cycling stability and superior rate performance.
[Full Paper]
Ying Wu, Yu Jiang, Jinan Shi, Lin Gu, Yan Yu
Small, April 18, 2017, https://doi.org/10.1002/smll.201700129 Read article
Hierarchical TiO2/SnO2 hollow spheres coated with graphitized carbon (HTSO/GC-HSs) are synthesized based on a self-templated method. The as-prepared mesoporous HTSO/GC-HSs present an approximate yolk-double–shell structure, with high specific area and small nanocrystals of TiO2 and SnO2, and thus exhibit superior electrochemical reactivity and stability when used as anode materials for Li-ion batteries.
[Full Paper]
Huiqi Xie, Min Chen, Limin Wu
Small, April 18, 2017, https://doi.org/10.1002/smll.201604283 Read article
Take it slow: Room-temperature synthesis of α-phase Ni–Co LDHs nanosheet arrays on various substrates was achieved by diaphragm-regulated reactions, which could find many applications, including in alkaline batteries and surface wettability control.
[Full Paper]
Xinghua Meng, Da Deng
ChemNanoMat, April 18, 2017, https://doi.org/10.1002/cnma.201700035 Read article
Uniform Na2Ti3O7 hollow spheres assembled from N-doped carbon-coated ultrathin nanosheets are synthesized. A unique multilayer structure of nanosheets is presumed to facilitate the diffusion of sodium ions, while the carbon-coating increases the conductivity. The as-prepared sample delivers more than 60 mAh g−1 at 50 C, which is achieved by its unique structure.
[Communication]
Fangxi Xie, Lei Zhang, Dawei Su, Mietek Jaroniec, Shi-Zhang Qiao
Adv. Mater., April 18, 2017, https://doi.org/10.1002/adma.201700989 Read article
Quinonoid imine (
NH+
)is proposed for anchoring polysulfides and facilitating the formation of Li2S2/Li2S in a working cell. The adsorption and redox activities of polysulfides are significantly enhanced, while the shuttle effect is largely mitigated. This provides not only new insight into the anchoring of intermediate in a working cell, but also the strategy to enhance the redox reactions on nitrogen containing functional groups.
[Communication]
Chen-Yu Chen, Hong-Jie Peng, Ting-Zheng Hou, Pei-Yan Zhai, Bo-Quan Li, Cheng Tang, Wancheng Zhu, Jia-Qi Huang, Qiang Zhang
Adv. Mater., April 18, 2017, https://doi.org/10.1002/adma.201606802 Read article
Remarkable rate performance: The hierarchical architecture of a MoS2/Ti3C2Tx composite is credited for an improved electrochemical performance, in which ultrasmall MoS2 nanosheets expand the interspacing of Ti3C2Tx layers, making the surface active sites more accessible for Na+.
[Article]
Yuting Wu, Ping Nie, Jiangmin Jiang, Bing Ding, Hui Dou, Xiaogang Zhang
ChemElectroChem, April 13, 2017, https://doi.org/10.1002/celc.201700060 Read article
In this work, a novel polyvinylidene fluoride-hexafluoropropylene separator membrane with interparticle structure with a two-step dissolving method without extract solvent is designed. The interparticle chain (I-C) membrane shows excellent high temperature resistance. The assembled lithium-ion batteries own a capacity of 175 mAh g−1 at 110 °C and endure thermal treatment at 165 °C.
[Communication]
Luhan Ye, Xinyi Shi, Zuoxiang Zhang, Jingna Liu, Xian Jian, Muhammad Waqas, Weidong He
Adv. Mater. Interfaces, April 13, 2017, https://doi.org/10.1002/admi.201601236 Read article
Lithium-ion batteries: Ultrathin hybrid nanosheets composed of troilite FeS and wurtzite ZnS nanocrystals have been synthesized by an organic solution-based synthesis. It is found that an optimum ratio between the constituents is required to give full play to each component. From the preliminary results, the composite sulfide with a molar ratio of Fe/Zn=7.29 exhibits higher capacities of 805, 705, 567, 381, and 245 mA h g−1 at current densities of 0.1, 0.5, 1, 2, and 5 A g−1, respectively, compared with electrodes with other ratios and its single-component counterparts.
[Full Paper]
Chen Xu, Hui Teng Tan, Mani Ulaganathan, Qingyu Yan
ChemNanoMat, April 12, 2017, https://doi.org/10.1002/cnma.201700059 Read article
When's the next shuttle? To suppress the polysulfides (PSs) shuttling effect, a simple modification of the separator is developed by introducing lithium fluoride (LiF) as a coating layer. Owing to the interaction between LiF and dimethoxymethane (an electrolyte solvent), a dense and viscous sol layer is formed that suppresses PSs passing from the cathode to the anode.
[Article]
Chao Li, Peng Zhang, Jianhui Dai, Xiu Shen, Yueying Peng, Yiyong Zhang, Jinbao Zhao
ChemElectroChem, April 12, 2017, https://doi.org/10.1002/celc.201700154 Read article
Nitrogen and phosphorus codoped carbon framework with Li2S nanoparticles impregnated is designed as a high-performance binder-free cathode for Li–S batteries. The porous 3D architecture facilitates fast ion and electron transport to each Li2S nanoparticle, improving the utilization of active material and rate capability.
[Communication]
Jun Zhang, Ye Shi, Yu Ding, Lele Peng, Wenkui Zhang, Guihua Yu
Adv. Energy Mater., April 10, 2017, https://doi.org/10.1002/aenm.201602876 Read article
Safer Li-ion batteries: A safe electrolyte consisting of high temperature stability solvent and salt is applied in Li-ion batteries. The electrolyte was formulated by using adiponitrile and lithium bis(trimethylsulfonyl)imide (LiTFSI) and then studied in a battery system made by an Li4Ti5O12 (LTO) anode and LiNi1/3Co1/3Mn1/3O2 (NMC) cathode.
[Article]
Douaa Farhat, Fouad Ghamouss, Julia Maibach, Kristina Edström, Daniel Lemordant
ChemPhysChem, April 07, 2017, https://doi.org/10.1002/cphc.201700058 Read article
Sheet-on-sheet hierarchical composites of MnO2 nanosheets on activated eggplant carbon microsheet (AEPC), namely AEPC@MnO2, are prepared by in situ growth of MnO2 on AEPC, and show promise as a material for high-performance Zn-air and Zn-MnO2 batteries.
[Communication]
Bing Li, Jianwei Chai, Xiaoming Ge, Tao An, Poh-Chong Lim, Zhaolin Liu, Yun Zong
ChemNanoMat, April 07, 2017, https://doi.org/10.1002/cnma.201700043 Read article
Ad-LIB: The diffusion behaviors of Li ions in silicon slabs with a piezoelectric field are investigated by using density functional theory. The results show that the diffusivity of Li in Si can be significantly enhanced by applying the electric field generated from the piezoelectric material. A new generation of anode composite materials can be designed based on this idea and the piezoelectric material is used to accommodate the volume variation of active materials of Si and enhance the charging rate of lithium-ion batteries.
[Article]
Zhiguo Wang, Zhijie Li, Yong Qing Fu
ChemElectroChem, April 07, 2017, https://doi.org/10.1002/celc.201700043 Read article
Superionic conductivity: LATP–Bi2O3 composite solid electrolyte (LATP=Li1+xAlxTi2−x(PO4)3) shows very high total conductivity (9.4×10−4 S cm−1) at room temperature. The Bi2O3 acts as a microstructural modifier to effectively reduce the fabrication temperature and promote the densification of the LATP electrolyte, thereby improving its structural integrity and ionic conductivity.
[Full Paper]
Sang-Don Lee, Kyu-Nam Jung, Hyeongil Kim, Hyun-Seop Shin, Seung-Wan Song, Min-Sik Park, Jong-Won Lee
ChemSusChem, April 05, 2017, https://doi.org/10.1002/cssc.201700104 Read article
Extending the olive branch: Fe3O4 nanoparticles embedded in a micro-sized olive-shaped carbon skeleton are prepared by pyrolyzing MIL-88(Fe) precursors in a nitrogen atmosphere by using inexpensive raw materials and solvents. Fe3O4/C composites exhibit excellent lithium storage properties with high capacity, stable cycling performance, and good rate capability.
[Article]
Xiufeng Yao, Zhanxu Yang, Chengyuan Qi, Yue Li, Tianfeng Cai, Tieqiang Ren
ChemElectroChem, April 05, 2017, https://doi.org/10.1002/celc.201700130 Read article
Caught in the void: Robust silicon nanoparticles@void@graphitic carbon spheres (Si@void@C) as the anode of lithium-ion batteries are designed and demonstrated. This Si@void@C composite sphere-based anode shows a stable discharge capacity as high as 1565 mAhg−1 after 1000 cycles charge/discharge performances.
[Article]
Xiaomei Ma, Yujie Gao, Min Chen, Limin Wu
ChemElectroChem, April 04, 2017, https://doi.org/10.1002/celc.201700173 Read article
Porous power: TiO2/N-doped porous carbon nanocomposites are fabricated by directly carbonizing NH2-MIL-125(Ti). The nanocomposites exhibit excellent sodium storage properties in terms of specific capacity, rate capability, and long-term cycling stability.
[Article]
Xuebo Zhao, Chunliu Yan, Xin Gu, Liangjun Li, Pengcheng Dai, Dawei Li, Hongyu Zhang
ChemElectroChem, April 04, 2017, https://doi.org/10.1002/celc.201700159 Read article
A carbon nanofiber/MnO flexible electrode for lithium-ion batteries is designed and synthesized. The carbon nanofibers play the roles of conductive channel and elastically astricting MnO particles during lithiation/delithiation.
[Full Paper]
Ting Wang, Hangang Li, Shaojun Shi, Ting Liu, Gang Yang, Yimin Chao, Fan Yin
Small, April 03, 2017, https://doi.org/10.1002/smll.201604182 Read article
Easy access: The amorphous framework provides easier Na+ accessibility and better strain accommodation, originating from the volumetric variations during sodiation/desodiation. The prepared porous amorphous Co2P/N,B-co-doped carbon composite (A-Co2P/CxNyBz-650) exhibits much better Na-storage properties in terms of higher Na-storage capacity (354.8 mA h g−1 at 25 mA g−1), longer cycling stability, excellent rate performance (121.6 mA h g−1 at 1 A g−1), and longer cycling stability (84.9 % capacity retention ratio over 100 cycles) compared to the crystalline counterparts.
[Article]
Yue-Ming Xing, Xiao-Hua Zhang, Dai-Huo Liu, Wen-Hao Li, Ling-Na Sun, Hong-Bo Geng, Jing-Ping Zhang, Hong-Yu Guan, Xing-Long Wu
ChemElectroChem, April 03, 2017, https://doi.org/10.1002/celc.201700093 Read article
A flexible free-standing porous MoS2–graphene film is fabricated via a facile spontaneous self-assembly process and subsequent freeze-drying. The birefringent lyotropic liquid crystalline behavior in the precursor facilitates the hydrogel formation. The produced film exhibits greatly improved electrochemical properties in lithium-ion batteries. This work may provide a new avenue for the development of flexible composite electrodes.
[Full Paper]
Yunfeng Chao, Rouhollah Jalili, Yu Ge, Caiyun Wang, Tian Zheng, Kewei Shu, Gordon G. Wallace
Adv. Funct. Mater., April 03, 2017, https://doi.org/10.1002/adfm.201700234 Read article
A new type of composite salt in porous matrix adsorbents that results from combining metal-organic frameworks (MOFs) and hygroscopic salts (CaCl2, LiCl) has been synthesized by spray-drying continuous-flow method. The applicability of these MOF-based CSPMs has been demonstrated for potential applications in thermal batteries and refrigerator systems, demonstrating high capacity and energetic efficiency.
[Full Paper]
Luis Garzón-Tovar, Javier Pérez-Carvajal, Inhar Imaz, Daniel Maspoch
Adv. Funct. Mater., April 03, 2017, https://doi.org/10.1002/adfm.201606424 Read article
The origin of the capacity increasing is verified by a long-life Sn–Fe3O4@graphite composite anode, demonstrating that the capacity increasing comes from the partial reversible formation and dissolution of growing solid electrolyte interphase on the surface of active materials. This process causes the Li+ irreversible consuming, but also favors the kinetics of the ternary composite anode in the battery system.
[Full Paper]
Hanyin Zhang, Renzong Hu, Yuxuan Liu, Jiangwen Liu, Zhongchen Lu, Min Zhu
Adv. Mater. Interfaces, March 31, 2017, https://doi.org/10.1002/admi.201700113 Read article
Salt-free cell: Decreasing the contribution of salt costs to the total electrolyte cost for nonaqueous redox flow batteries is essential for economic viability. A nonaqueous flow battery utilizing ionic active materials completely removes the need for a supporting salt. The cell cycling performance and area-specific specific resistance are comparable to those of state-of-the-art nonaqueous flow cells with high salt concentrations.
[Full Paper]
Jarrod D. Milshtein, Sydney L. Fisher, Tanya M. Breault, Levi T. Thompson, Fikile R. Brushett
ChemSusChem, March 30, 2017, https://doi.org/10.1002/cssc.201700028 Read article
High in fiber: Porous FeCO3 nanosheets grow in a stable manner on the surface of carbon nanofibers (CNFs), and the flexible FeCO3/CNF film presents a specific surface area as high as 302.6 m2 g−1. Benefiting from the synergistic effects between FeCO3 and the CNF network, FeCO3/CNF presents excellent cyclic stability, making it a promising candidate as a flexible and binder-free anode material for highly reversible lithium-storage devices.
[Article]
Mengxi Zhao, Ye Liu, Jialin Jiang, Chao Ma, Gang Yang, Fan Yin, Yang Yang
ChemElectroChem, March 29, 2017, https://doi.org/10.1002/celc.201700126 Read article
Hydrogen-treated TiO2-covered electrodes: A rutile shell is built around a graphite felt electrode to increase its selectivity for the V3+/V2+ redox reaction and to inhibit the hydrogen evolution reaction. The shell is partially reduced in hydrogen, forming oxygen vacancies in the TiO2 structure, which enhances the catalytic activity for the vanadium negative reaction. This results in an electrode that is suitable for vanadium redox flow batteries at high rates (up to 300 mA cm−2) and for long-term cycling.
[Full Paper]
Javier Vázquez-Galván, Cristina Flox, Cristian Fàbrega, Edgar Ventosa, Andres Parra, Teresa Andreu, Joan Ramón Morante
ChemSusChem, March 28, 2017, https://doi.org/10.1002/cssc.201700017 Read article
Nitrogen-doped carbon nanospheres are synthesized from two cheap, readily available and sustainable precursors: tannic acid and urea. In combination with a structuring agent, the nitrogen content, sphere size and surface can be tuned. The straightforward oven synthesis offers a more sustainable synthesis alternative to classical conductive soots.
[Full Paper]
Thomas Berthold, Claudia Ramirez Castro, Martin Winter, Gerhard Hoerpel, Mert Kurttepeli, Sara Bals, Markus Antonietti, Nina Fechler
ChemNanoMat, March 28, 2017, https://doi.org/10.1002/cnma.201700051 Read article
Fabrication through nature: A novel polycrystalline MnO sphere/S-doped carbon composite with hierarchical porosity is constructed by using a cost-effective synthetic approach with natural marine biomass, gelidium amansii, as renewable precursors. The composite shows potential as an outstanding anode material for lithium-ion batteries.
[Article]
Hongzhan Yang, Wei Liu, Yuan Zhang, Huanlei Wang, Shuang Liu, Shougang Chen, Fengli Cheng, Shuping Zhao, Enchao Hao
ChemElectroChem, March 27, 2017, https://doi.org/10.1002/celc.201700066 Read article
High Performance Fe3O4−rGO nanocomposite Negative Electrodes: Fe3O4−rGO nanocomposites are synthesized by using a facile electrostatic coagulation method and are employed as promising negative electrode materials.
[Article]
Jaime S. Sanchez, Afshin Pendashteh, Jesus Palma, Marc Anderson, Rebeca Marcilla
ChemElectroChem, March 27, 2017, https://doi.org/10.1002/celc.201700048 Read article
X-ray computed microtomography (X-ray μCT) reveals the macrodistribution of active phase (i.e., Ag) and supermacroporous structure in the self-assembled graphene aerogel for the first time. The interconnected 3D Ag network is the key to achieve high oxygen reduction reaction activity and utrahigh rate performance in Zn–air batteries.
[Full Paper]
Shang Hu, Ting Han, Chao Lin, Weikai Xiang, Yonghui Zhao, Peng Gao, Fuping Du, Xiaopeng Li, Yuhan Sun
Adv. Funct. Mater., March 24, 2017, https://doi.org/10.1002/adfm.201700041 Read article
Is there a life after lithium? The most promising alternative to lithium-ion batteries is aluminium. However, the current performance of aluminium-ion batteries is not suitable for large scale application yet. This review article provides a critical overview of the current state-or-the-art in aluminium-ion batteries.
[Review]
Filip Ambroz, Thomas J. Macdonald, Thomas Nann
Adv. Energy Mater., March 23, 2017, https://doi.org/10.1002/aenm.201602093 Read article
Think outside the box: In virtue of the synergistic effects of Zn2SnO4/SnO2 and Mn2O3, Zn2SnO4/SnO2@Mn2O3 microboxes exhibit better electrochemical performances compared to Zn2SnO4/SnO2 and Mn2O3.
[Article]
Qingyuan Li, Yong Wang, Dongxia Wang, Wenbin Guo, Fanchao Zhang, Chao Wang, Shanshan Niu
ChemElectroChem, March 21, 2017, https://doi.org/10.1002/celc.201600917 Read article
Layer it on thick:Compared with other lithium ion battery cathode materials, the novel Li(Mn,Ni)2O4-based spinel-layered composites present excellent electrochemical performance.
[Article]
Yunlong Deng, Jirong Mou, Huali Wu, Lin Zhou, Qiaoji Zheng, Kwok Ho Lam, Chenggang Xu, Dunmin Lin
ChemElectroChem, March 21, 2017, https://doi.org/10.1002/celc.201600823 Read article
Reaction mechanisms of Li-O2 batteries, including electrochemical formation and decomposition of Li2O2 and LiOH, and reactions of redox mediators during discharge and charge, are discussed in this review paper, as well as future perspectives.
[Review]
Fujun Li, Jun Chen
Adv. Energy Mater., March 20, 2017, https://doi.org/10.1002/aenm.201602934 Read article
Carbon materials have been considered as promising anode candidate for sodium-ion batteries (SIBs) due to their unique merits. Tremendous efforts have been made to exploit appropriate carbon materials and unveil the corresponding sodium storage mechanism. Here, recent progress, challenges, and prospects of carbon anode materials for SIBs are presented.
[Review]
Hongshuai Hou, Xiaoqing Qiu, Weifeng Wei, Yun Zhang, Xiaobo Ji
Adv. Energy Mater., March 17, 2017, https://doi.org/10.1002/aenm.201602898 Read article
Understanding the electrochemical reaction mechanisms and kinetics is the key challenge for developing breakthroughs with new or existing battery electrode materials. Novel in situ cells combined with synchrotron and neutron techniques reveal structural details which correlate with the electrochemical performance of individual battery cell compositions and improve the understanding of electrochemical performance across the field.
[Research News]
Qinfen Gu, Justin A. Kimpton, Helen E. A. Brand, Zhiyang Wang, Shulei Chou
Adv. Energy Mater., March 17, 2017, https://doi.org/10.1002/aenm.201602831 Read article
A high performing sodium hybrid capacitor is fabricated utilizing graphene nanosheets as high power adsorption electrode and graphene/NaTi2(PO4)3 as a high energy intercalation electrode. High energy retention at high power along with excellent stability of 90% after 75 000 cycles with a lowest ever energy loss of ≈0.13% per 1000 cycles is documented.
[Full Paper]
Ranjith Thangavel, Brindha Moorthy, Do Kyung Kim, Yun-Sung Lee
Adv. Energy Mater., March 17, 2017, https://doi.org/10.1002/aenm.201602654 Read article
A 3D printable Li-ion battery electrolyte with desirable thermal stability, wettability, and electrochemical properties is demonstrated based upon a dry phase inversion technique. The unique characteristics of the electrolyte ink enable the ability to directly deposit this material over an electrode, yielding a high-performance printed electrode membrane assembly.
[Full Paper]
Aaron J. Blake, Ryan R. Kohlmeyer, James O. Hardin, Eric A. Carmona, Benji Maruyama, John Daniel Berrigan, Hong Huang, Michael F. Durstock
Adv. Energy Mater., March 16, 2017, https://doi.org/10.1002/aenm.201602920 Read article
Sodium-based dual ion full batteries (NDIBs) are reported with soft carbon as anode and graphite as cathode for the first time. The NDIBs deliver high discharge voltage plateau of 3.58 V, superior discharge capacity of 103 mA h g−1, excellent rate performance, and long-term cycling stability over 800 cycles with capacity retention of 81.8%.
[Communication]
Ling Fan, Qian Liu, Suhua Chen, Zhi Xu, Bingan Lu
Adv. Energy Mater., March 16, 2017, https://doi.org/10.1002/aenm.201602778 Read article
Concentrated dimethyl sulfoxide (DMSO)-based electrolyte with optimized salt–solvent coordination can greatly promote stabilization of Li metal, as well as minimize electrolyte decomposition in lithium–oxygen batteries because of the highly stable TFSI−
Li+
(DMSO)3 complex in concentrated electrolyte, i.e., lithium bis(trifluoromethanesulfonyl)imide (LiTFSI)–3DMSO. This study points to new approach on the stable operation of Li–O2 batteries.
[Full Paper]
Bin Liu, Wu Xu, Pengfei Yan, Sun Tai Kim, Mark H. Engelhard, Xiuliang Sun, Donghai Mei, Jaephil Cho, Chong-Min Wang, Ji-Guang Zhang
Adv. Energy Mater., March 08, 2017, https://doi.org/10.1002/aenm.201602605 Read article
Combining in operando synchrotron hard X-ray microscopy with X-ray absorption technique, the irreversible mechanism and large voltage hysteresis in conversion reaction for sodium–metal sulfide batteries is comprehensively elucidated, potentially guiding us in optimization and design of advanced materials with improved performance.
[Full Paper]
Jiajun Wang, Liguang Wang, Christopher Eng, Jun Wang
Adv. Energy Mater., March 03, 2017, https://doi.org/10.1002/aenm.201602706 Read article
[Full Paper]
Shawn Martin, Harry D. Pratt, Travis M. Anderson
Mol. Inf., February 21, 2017, https://doi.org/10.1002/minf.201600125 Read article
© Wiley-VCH 2016.