Batteries and Supercapacitors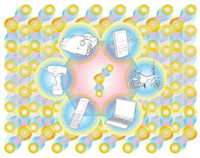 Lithium-ion or otherwise, batteries keep lots of things going, and enable a mobile lifestyle: from mobile phones to intercontinental air travel. Batteries are complex devices whose overall performance and usefulness depend on many factors such as energy density, efficiency, durability, and sustainability. Research in this area is by nature interdisciplinary and involves chemists, physicists, materials scientists, and engineers.
Further reading: K. Ozawa (Ed.), Lithium Ion Rechargeable Batteries: Materials, Technology, and New Applications, Wiley-VCH, 2010.
Find all articles on batteries or supercapacitors in Wiley Online Library...
Recent Articles

RSS feed
Keep the TEMPO: Stable porous organic frameworks (POFs) with a built-in radical moiety (TEMPO) were prepared by a bottom-up strategy. These TEMPO-POFs were applied as host cathode materials for Li−S batteries with good cycling performance. Furthermore, TEMPO-POFs with sulfur embedded showed excellent rate capability with limited capacity loss at rates of 0.1–1 C.
[Full Paper]
Baolong Zhou, Xiang Hu, Guang Zeng, Shiwu Li, Zhenhai Wen, Long Chen
ChemSusChem, June 26, 2017, https://doi.org/10.1002/cssc.201700749 Read article
Hierarchical LiNi0.6Mn0.2Co0.2O2@LiCoPO4@graphene architectures are purposefully designed via sur-/interface engineering strategy, and exhibit excellent electrochemical behaviors within high cut-off voltage at elevated working temperatures for advanced Li-ion batteries as promising cathodes.
[Full Paper]
Longwei Liang, Chen Wu, Xiaofei Sun, Xuan Sun, Linrui Hou, Jinfeng Sun, Changzhou Yuan
Adv. Mater. Interfaces, June 23, 2017, https://doi.org/10.1002/admi.201700382 Read article
Metal sulfides and metal selenides have shown great progress as anode materials for sodium-ion batteries because of their versatile material species, easily controlled morphology, and high theoretical specific capacity. Their advances and challenges are summarized, showing their importance for next-generation energy storage and conversion devices.
[Review]
Zhe Hu, Qiannan Liu, Shu-Lei Chou, Shi-Xue Dou
Adv. Mater., June 23, 2017, https://doi.org/10.1002/adma.201700606 Read article
The synthesis of Na2Fe[Fe(CN)6] as cathode hosts for lithium–sulfur (Li–S) battery is reported. This open framework can store sulfur and acts as a polysulfide diffusion inhibitor based on the Lewis acid–base bonding effect for high-performance Li–S batteries. Li–S batteries based on this concept exhibit high specific capacity, good cycling stability, and superior rate capability.
[Communication]
Dawei Su, Michael Cortie, Hongbo Fan, Guoxiu Wang
Adv. Mater., June 23, 2017, https://doi.org/10.1002/adma.201700587 Read article
A high-voltage sodium-super-ion-conductor-type cathode significantly enhances the energy density of sodium-ion batteries. Its low-strain crystal lattice during the successive (de-)sodiation and superior Na transport kinetics promise high-rate capabilities, long-term cycle life, superior low-temperature performance, and excellent full-cell performance, providing a preview of their practical applications.
[Communication]
Jin-Zhi Guo, Peng-Fei Wang, Xing-Long Wu, Xiao-Hua Zhang, Qingyu Yan, Hong Chen, Jing-Ping Zhang, Yu-Guo Guo
Adv. Mater., June 22, 2017, https://doi.org/10.1002/adma.201701968 Read article
Advanced carbon-coated LVO (LVO⊂C) sub-micrometer spheres comprising nanoscale carbon-coating primary particles are synthesized by a morphology-inheritance route. When combined with a LiNi0.5Mn1.5O4 cathode, the rationally designed full cell demonstrates an estimated energy density of 205 W h kg−1, high-power performances up to 20 C, and pronounced long-term cyclability.
[Communication]
Laifa Shen, Shuangqiang Chen, Joachim Maier, Yan Yu
Adv. Mater., June 22, 2017, https://doi.org/10.1002/adma.201701571 Read article
Metal oxide nanosheets are synthesized using a graphene oxide planar-confined growth strategy, which employs graphene oxide sheets as 2D templates. The synthesis method is general and versatile, as demonstrated by the wide range of oxides and doped oxides created, and the controllable properties. The oxide nanosheets have very promising performance as Li-ion battery anodes.
[Communication]
Ayman A. AbdelHamid, Yue Yu, Jinhua Yang, Jackie Y. Ying
Adv. Mater., June 22, 2017, https://doi.org/10.1002/adma.201701427 Read article
An integrated dual-ion battery design is developed with active materials, current collectors, and separator, assembled in one flexible component. This design demonstrates high capacity retention close to 99% after 200 cycles at a high current rate of 120 C.
[Communication]
Chunlei Jiang, Yue Fang, Jihui Lang, Yongbing Tang
Adv. Energy Mater., June 21, 2017, https://doi.org/10.1002/aenm.201700913 Read article
Inspired by Li2MnO3 redox reactions, Na(Li1/3Mn2/3)O2 operated by anionic redox reactions (labile lone-pair O) is rationally designed based on the site preference of Na in the Li sites of Li2MnO3 for high-energy-density cathodes. Na(Li1/3Mn2/3)O2 shows high redox potentials (≈4.2 V vs Na/Na+) with high charge capacity (190 mAh g−1), utilizing O2−/O− anionic redox with the fixed Mn4+ during desodiation.
[Communication]
Duho Kim, Maenghyo Cho, Kyeongjae Cho
Adv. Mater., June 21, 2017, https://doi.org/10.1002/adma.201701788 Read article
SnO2 triple-shelled hollow superstructures with a low carbon content (4.83%) can withstand a huge volume expansion of ≈231.8% and deliver a high reversible capacity of 1099 mAh g−1 even after 1450 cycles, due to their self-synergistic structure-preservation behavior that protects the superstructures from collapse and guarantees the electrode structural integrity during long-term cycling.
[Communication]
Lianhai Zu, Qingmei Su, Feng Zhu, Bingjie Chen, Huanhuan Lu, Chengxin Peng, Ting He, Gaohui Du, Pengfei He, Kai Chen, Shihe Yang, Jinhu Yang, Huisheng Peng
Adv. Mater., June 21, 2017, https://doi.org/10.1002/adma.201701494 Read article
Recharging your batteries: Li−CO2 batteries skillfully combine the decrease of CO2 with energy storage systems. Compared with solid electrocatalysts and cathode structures, the utilization of redox mediators in Li−CO2 batteries is a promising new approach to greatly enhance the electrochemical performances.
[Communication]
Xin-Gai Wang, Chengyi Wang, Zhaojun Xie, Xin Zhang, Yanan Chen, Dihua Wu, Zhen Zhou
ChemElectroChem, June 20, 2017, https://doi.org/10.1002/celc.201700539 Read article
Have your cake and eat it: A "regular" and "alternate" WS2/C nanocomposite called "multilayer-cake" is successfully synthesized, which demonstrates a high capacity of 829.4 mAh⋅g−1 at 0.3 A⋅g−1 after 140 cycles, and could still deliver a stable capacity of about 326.8 mAh⋅g−1 at a current density of 8.0 A⋅g−1.
[Article]
Jiaming Zou, Cheng Liu, Zhanxu Yang, Chengyuan Qi, Xiaorong Wang, Qingdong Qiao, Xian Wu, Tieqiang Ren
ChemElectroChem, June 20, 2017, https://doi.org/10.1002/celc.201700414 Read article
A volt of confidence: A high-voltage potassium-rich cathode for potassium-ion batteries is synthesized and characterized. The study also detects the incompatibility between a commonly used electrolyte [1 M KFSI in 1:1 (v/v) EC: DEC] and the potassium metal, resulting in large overpotentials and cell failures. FEC is an effective additive that reduces many of the cell debilities, but it also shows some reactivity towards KMFC.
[Article]
Xi Jiang, Tianran Zhang, Liuqing Yang, Guochun Li, Jim Yang Lee
ChemElectroChem, June 20, 2017, https://doi.org/10.1002/celc.201700410 Read article
A novel Cu
N/C oxygen reduction reaction electrocatalyst with a highly active hybrid Cu coordination site of N
Cu(II)
Cu0 and hierarchical porous structure is successfully constructed with a simple but efficient metal–organic-framework-based metal-doping-induced synthesis strategy. The optimized 25% Cu
N/C catalyst shows comparable electrocatalytic activity but superior durability in 0.1 m KOH solution and a Zn–air battery, compared with 30 wt% Pt/C.
[Full Paper]
Qingxue Lai, Junjie Zhu, Yingxuan Zhao, Yanyu Liang, Jianping He, Junhong Chen
Small, June 19, 2017, https://doi.org/10.1002/smll.201700740 Read article
Predictive tool: Using experimentally determined sulfur solubilities as references, the solubilities of cyclo-S8 in binary and ternary electrolytes have been predicted on the basis of COSMO-RS computations for the first time. The presented results prove this method to be a useful tool for exploring novel Li–S battery electrolytes and enhanced understanding at the molecular level (see graphic).
[Full Paper]
Steffen Jeschke, Patrik Johansson
Chem. Eur. J., June 19, 2017, https://doi.org/10.1002/chem.201701011 Read article
Anodes play an important role in resolving the issues of conventional lithium sulfur batteries. This review introduces the most recent progress in anodes for lithium–sulfur batteries. To suppress the corrosion reaction occurred and the formation of Li dendrites on the surface of lithium metal, various strategies are summarized. Employing alternative anodes for sulfur-based rechargeable batteries is also discussed.
[Review]
Tao Tao, Shengguo Lu, Ye Fan, Weiwei Lei, Shaoming Huang, Ying Chen
Adv. Mater., June 19, 2017, https://doi.org/10.1002/adma.201700542 Read article
In situ characterization techniques of rechargeable battery materials, applied for the investigation of structural evolution, surface/interface changes, and monitoring of gas generation during battery operation, pave the way for unveiling the battery storage mechanism and its performance fading routes, and provide a fruitful strategy to design electrode materials with superb electrochemical performance. The current challenges and potential development perspectives are summarized with the aim of expanding battery applications.
[Review]
Yijun Yang, Xizheng Liu, Zhonghua Dai, Fangli Yuan, Yoshio Bando, Dmitri Golberg, Xi Wang
Adv. Mater., June 19, 2017, https://doi.org/10.1002/adma.201606922 Read article
Interlayer engineering of transition-metal dichalcogenides (TMDs) nanostructures opens up a new door for tuning their physical and chemical properties and optimizing their device performance. This review summarizes the recent advances of interlayer-expanded TMDs nanostructures focusing on the synthesis strategies and their applications in rechargeable batteries, pseudocapacitors and electrolysis.
[Review]
Jun Xu, Junjun Zhang, Wenjun Zhang, Chun-Sing Lee
Adv. Energy Mater., June 16, 2017, https://doi.org/10.1002/aenm.201700571 Read article
MO-Co@N-doped carbon (M = Zn or Co) are prepared by using a bimetal metal–organic framework (containing Zn and Co) as precursor, showing excellent activity (EORR − EOER ≈ 0.78 V) and durability toward both oxygen reduction and evolution reactions as well as prominent Zn–air battery performance. It is revealed that inactive Zn plays vital roles in developing these highly efficient bifunctional catalysts.
[Full Paper]
Biaohua Chen, Xiaobo He, Fengxiang Yin, Hao Wang, Di-Jia Liu, Ruixing Shi, Jinnan Chen, Hongwei Yin
Adv. Funct. Mater., June 14, 2017, https://doi.org/10.1002/adfm.201700795 Read article
V-barrier: All-vanadium redox flow cells containing vinylpyridine-based amphoteric ion-exchange membranes show higher efficiency, less pronounced electrolyte imbalance, and significantly reduced capacity fading compared to the cells with the benchmark material Nafion 117.
[Full Paper]
Olga Nibel, Tomasz Rojek, Thomas J. Schmidt, Lorenz Gubler
ChemSusChem, June 12, 2017, https://doi.org/10.1002/cssc.201700610 Read article
Insane in the membrane: A nanofiber single-ion conducting electrolyte membrane is fabricated by using an electrospinning technique. By virtue of its nanofibrous morphology, it performs up to a 5C charge/discharge rate under ambient temperature conditions. It delivers a discharge capacity 163 mAh g−1 at 0.5 C rate, which is better than conventional liquid electrolytes
[Article]
Rupesh Rohan, Tsung-Chieh Kuo, Meng-Wei Chen, Jyh-Tsung Lee
ChemElectroChem, June 12, 2017, https://doi.org/10.1002/celc.201700389 Read article
The high reversibility of [lithium–ether]+ co-intercalation in graphite is demonstrated for the first time. This mechanism shows unexpectedly fast kinetics which presents its potential usage in high-power batteries. The fundamental origin of this unforeseen reversibility and the high power capability is unveiled through the combined first-principles calculations and extensive experimental characterizations in comparison with normal lithium intercalation.
[Full Paper]
Haegyeom Kim, Kyungmi Lim, Gabin Yoon, Jae-Hyuk Park, Kyojin Ku, Hee-Dae Lim, Yung-Eun Sung, Kisuk Kang
Adv. Energy Mater., June 12, 2017, https://doi.org/10.1002/aenm.201700418 Read article
Function over form: functional binders based on a general combination of polyether- and amide-containing polymers enable high-capacity electrodes for lithium–sulfur batteries using only commercially available materials and a simple water-based preparation procedure.
[Full Paper]
Matthew J. Lacey, Viking Österlund, Andreas Bergfelt, Fabian Jeschull, Tim Bowden, Daniel Brandell
ChemSusChem, June 09, 2017, https://doi.org/10.1002/cssc.201700743 Read article
A carbon-free TiO2−x electrode is introduced as a stable and efficient cathode for Li–O2 batteries. The oxygen deficiency and hierarchical architecture are deliberately incorporated for the reversible formation/decomposition of Li2O2 toroid and for the rapid transport of reaction species, while preventing the electrode from being clogged. Such "breathable carbon-free electrode" exhibits one of the best round-trip efficiencies over 300 cycles.
[Full Paper]
Joonhyeon Kang, Jinyoung Kim, Sangheon Lee, Sungun Wi, Chunjoong Kim, Seungmin Hyun, Seunghoon Nam, Yongjoon Park, Byungwoo Park
Adv. Energy Mater., June 09, 2017, https://doi.org/10.1002/aenm.201700814 Read article
A lithium amide-borohydride superionic solid-state electrolyte with conductivities exceeding 10−3 S cm−1 near room temperature is developed. Integrated in an Li4Ti5O12-based half-cell, a high rate performance and stable cycling over 400 cycles at 1 C is achieved, demonstrating its potential as electrolyte for high-power lithium-ion batteries.
[Full Paper]
Yigang Yan, Ruben-Simon Kühnel, Arndt Remhof, Léo Duchêne, Eduardo Cuervo Reyes, Daniel Rentsch, Zbigniew Łodziana, Corsin Battaglia
Adv. Energy Mater., June 09, 2017, https://doi.org/10.1002/aenm.201700294 Read article
Room-temperature sodium-sulfur (RT-Na/S) batteries are regaining immense attention due to their high theoretical energy densities and low cost, which make them promising candidates for application in large-scale energy storage, especially in stationary electrical grids. The research on this system is currently in its infancy and it is encountering severe challenges in terms of low electroactivity, limited cycling life, and serious self-charging.
[Progress Report]
Yun-Xiao Wang, Binwei Zhang, Weihong Lai, Yanfei Xu, Shu-Lei Chou, Hua-Kun Liu, Shi-Xue Dou
Adv. Energy Mater., June 09, 2017, https://doi.org/10.1002/aenm.201602829 Read article
A new and facile synthetic strategy is developed for the synthesis of a polyphosphazene bearing stable nitroxide radicals as a cathode-active material for rechargeable lithium batteries, which performs over 80 mAh g−1 capacity at a C/2 current density for 50 cycles.
[Full Paper]
Serkan Yeşilot, Ferda Hacıvelioğlu, Sedat Küçükköylü, Kamile Burcu Çelik, Gürkan Sayan, Rezan Demir-Cakan
Macromol. Chem. Phys., June 08, 2017, https://doi.org/10.1002/macp.201700051 Read article
Light it up: A RGO/Ni foam composite with a hierarchical 3D porous structure is easily fabricated through flame reduction, exhibiting excellent performances in supercapacitors and lithium-ion batteries.
[Article]
Jing Yang, Xiaofeng Li, Shuang Han, Ruling Huang, Qian-Qian Wang, Jin Qu, Zhong-Zhen Yu
ChemElectroChem, June 08, 2017, https://doi.org/10.1002/celc.201700405 Read article
In a spin: A Li4Ti5O12 (LTO)/carbon nanofiber (CNF) film anode was synthesized through the electrospinning fabrication of the CNFs and chemical deposition of LTO over the CNF surface. The electrode displayed a high discharge specific capacity, an outstanding rate capability, and long cycling stability for lithium-ion batteries.
[Article]
Zhaobao Zhang, Xiang Deng, Jaka Sunarso, Rui Cai, Shiyong Chu, Jie Miao, Wei Zhou, Zongping Shao
ChemElectroChem, June 08, 2017, https://doi.org/10.1002/celc.201700351 Read article
Full cycle: A new single-ion conducting polymer electrolyte for lithium-ion batteries was prepared. The lithium allyl sulfonate segments in the electrolyte provide a transferable lithium-ion source and the Lewis base groups in the flexible side chain of hexafluorobutyl methacrylate segments facilitate solvation and desolvation. The single lithium-ion copolymer electrolyte exhibits good cycling performance.
[Article]
Pan-Ying Ji, Jun Fang, Yi-Yong Zhang, Peng Zhang, Jin-Bao Zhao
ChemElectroChem, June 08, 2017, https://doi.org/10.1002/celc.201700256 Read article
Size matters: Suitable pore sizes of membranes for vanadium redox flow batteries are investigated by studying volume differences between hydrated multivalent vanadium ions and charge-balancing ions. DFT results indicate that the radii of all charge-balancing ions are less than 3.01 Å and all hydrated multivalent vanadium ions are greater than 3.78 Å. The results also suggest that cation-exchange membranes with pore sizes ranging from 3.98 to 7.56 Å and anion-exchange membranes from 6.02 to 7.56 Å are suitable for the VRB application.
[Article]
Zaichun Liu, Ruilian Li, Jizhong Chen, Xiongwei Wu, Kai Zhang, Jun Mo, Xinhai Yuan, Hongmei Jiang, Rudolf Holze, Yuping Wu
ChemElectroChem, June 08, 2017, https://doi.org/10.1002/celc.201700244 Read article
Picking holes in carbon: A ZnO/3DOMC composite was prepared by deposition of ZnO nanoparticles on 3DOMC (three dimensionally ordered macroporous carbon). The material exhibited ordered macropores and mesopores and demonstrated high specific capacity and stable cycling performance as an anode for Li-ion batteries.
[Article]
Chengwei Zhang, Zheng Zhang, Fuxing Yin, Yongguang Zhang, Almagul Mentbayeva, Moulay-Rachid Babaa, Anara Molkenova, Zhumabay Bakenov
ChemElectroChem, June 08, 2017, https://doi.org/10.1002/celc.201700239 Read article
Germanium-based anode materials for lithium ion batteries are usually modified by structural design and strategies to prevent the agglomeration of nanoparticles, buffer/accommodate volume expansion during lithiation, and provide good electrical conductivity, thereby improving the electrochemical performance. Here, a comprehensive summary of the fabrication and strategies of diverse Ge-based materials and a unique Sn@C@Ge@C double-shell carbon architecture are provided.
[Progress Report]
Dan Li, Hongqiang Wang, Tengfei Zhou, Wenchao Zhang, Hua Kun Liu, Zaiping Guo
Adv. Energy Mater., June 08, 2017, https://doi.org/10.1002/aenm.201700488 Read article
Organized nanocomposite comprising linear sulfur chains and oleylamine-functionalized reduced graphene oxide is used as a conducting co-polymeric active material in Li-S batteries to achieve exceptional cycle retention and improved rate capability. The systematic analyses coherently reveal that confined sulfur nanodomains and adjoining electric conductive pathways are both critical for facile reactions in all three regimes, offering a useful design rule for sulfur electrodes.
[Full Paper]
Jungjin Park, Eui Tae Kim, Chunjoong Kim, Jeffrey Pyun, Hyung-Seok Jang, Jaeho Shin, Jang Wook Choi, Kookheon Char, Yung-Eun Sung
Adv. Energy Mater., June 08, 2017, https://doi.org/10.1002/aenm.201700074 Read article
No dendrites, no problems: The performance of the hybrid rechargeable aqueous Zn/LiMn2O4 battery increases when a low-corrosive and dendrite-inhibitive gel electrolyte is used. Less self-discharge and higher cyclability are observed.
[Full Paper]
Tuan K. A. Hoang, The Nam Long Doan, Julie Hyeonjoo Cho, Jane Ying Jun Su, Christine Lee, Changyu Lu, P. Chen
ChemSusChem, June 05, 2017, https://doi.org/10.1002/cssc.201700441 Read article
Controllable synthesis of CuCo2O4@C film with CuCo2O4 nanodots (≈3 nm) homogeneously embedded in an N-doped carbon matrix is achieved by an electrospinning technique, and further evaluated as a self-supported anode for Na-ion batteries. The nanocomposite exhibits excellent electrochemical properties with high reversible capacity, high-rate capability, and long cyclic stability.
[Full Paper]
Xiaojun Wang, Kangzhe Cao, Yijing Wang, Lifang Jiao
Small, June 01, 2017, https://doi.org/10.1002/smll.201700873 Read article
Code of conduct: Two solutions for creating porous structures with Cu doping are designed to solve both the large volume expansion and low electrical conductivity. Porous Cu-doped CoSe2 manifests both a superior rate capacity of about 747 mAh/g at 5 A/g and a stable cycling capacity of about 807 mAh/g for 200 cycles.
[Communication]
Dahong Chen, Gang Chen, Jian Pei, Yongyuan Hu, Zhongzheng Qin, Jinli Wang, Fugui Wu
ChemElectroChem, June 01, 2017, https://doi.org/10.1002/celc.201700384 Read article
Material world: A black phosphorus−carbon nanocomposite is synthesized from commercial red phosphorus and low-cost super P carbon black, and it exhibits an excellent performance/cost ratio, remarkable capacity retention, and cycling stability as the anode for sodium-ion batteries.
[Communication]
Bo Peng, Yaolin Xu, Kai Liu, Xiaoqun Wang, Fokko M. Mulder
ChemElectroChem, June 01, 2017, https://doi.org/10.1002/celc.201700345 Read article
Stress relief: A facile two-step hydrothermal route is introduced to prepare hollow SnO2/SnS2 hybrids. Subsequently, their electrochemical performances as anodes in Na-ion batteries are investigated. The as-prepared hollow SnO2/SnS2 hybrids are composed of ultrafine SnS2 nanosheets, which directly grow on the pre-grown hollow SnO2 hollow spheres. In the structure, both the SnO2 hollow structures and surrounding SnS2 nanosheets are able to alleviate internal stress during sodiation/desodiation.
[Article]
Ke Wang, Ying Huang, Xiulan Qin, Mingyue Wang, Xu Sun, Meng Yu
ChemElectroChem, May 31, 2017, https://doi.org/10.1002/celc.201700309 Read article
A Ge@N-doped carbon nanotubes (Ge@N-CNTs) composite with Ge nanoparticles uniformly distributed in the N-CNTs is synthesized by capillary action through decreasing the surface tension of the solution. The uniformly distributed Ge nanoparticles could effectively utilize void spaces to accommodate the huge volume changes of Ge. The Ge@N-CNTs composite demonstrates enhanced cycling stability and excellent rate capability as an anode material for lithium-ion batteries.
[Communication]
Haipeng Guo, Boyang Ruan, Lili Liu, Lei Zhang, Zhanliang Tao, Shulei Chou, Jiazhao Wang, Huakun Liu
Small, May 30, 2017, https://doi.org/10.1002/smll.201700920 Read article
Standing still: Free-standing trimethylolpropane ethoxylate triacrylate gel polymer electrolyte is synthesized by a chemical cross-linking process, and used as an electrolyte and separator membrane at high temperature. The as-prepared gel polymer electrolyte membrane with carbon nanofiber interlayers can effectively prevent polysulfide shuttle effect, leading to significantly enhanced electrochemical properties.
[Communication]
Sinho Choi, Jianjun Song, Chengyin Wang, Soojin Park, Guoxiu Wang
Chem. Asian J., May 30, 2017, https://doi.org/10.1002/asia.201700402 Read article
Design of stable dianions: First-principles calculations are carried out to explore how to enhance the dianion stability of polycyclic hydrocarbon molecules by substituting the H atoms by other electronegative ligands and/or core C atoms by electron deficient B atom. Indeed, the dianion of B2C8(CN)8 (see picture) is more stable than its monoanion with a total energy difference of 1.97 eV. Their potential application as new electrolyte in Li-ion battery is also discussed.
[Article]
Mingmin Zhong, Jian Zhou, Puru Jena
ChemPhysChem, May 29, 2017, https://doi.org/10.1002/cphc.201700346 Read article
Pervoskite iron fluoride (KFeF3) of open framework is proposed as a high-rate Na-ion battery cathode. Prestuffing large-sized K+ into channels leads to the preservation of cubic phase with fast isotropic 3D diffusion as a consequence of no distortion of FeF6 octahedra during first K-extraction and following Na-storage cycling.
[Full Paper]
Dunping Cao, Congling Yin, Dingren Shi, Zhengwen Fu, Jincang Zhang, Chilin Li
Adv. Funct. Mater., May 29, 2017, https://doi.org/10.1002/adfm.201701130 Read article
3D lithium-ion breathable hybrid electrodes are successfully constructed by anchoring Fe3O4 nanoparticles onto highly conductive 3D current collectors of Ni nanotube arrays and encapsulating them with reversibly switching δ-MnO2 layers. As a result of integrity retention and efficient ion/electron transport, the Ni/Fe3O4@MnO2 electrodes exhibit superior cyclability and high-capacity lithium storage.
[Full Paper]
Ying-Qi Li, Jian-Chen Li, Xing-You Lang, Zi Wen, Wei-Tao Zheng, Qing Jiang
Adv. Funct. Mater., May 29, 2017, https://doi.org/10.1002/adfm.201700447 Read article
Facile interlayer expansion in layered material with designed structure is applied in lithium–magnesium hybrid battery. With an improved magnesium ion diffusion kinetics and good electrochemical performance, it provides a step forward to the cost-effective and high-energy battery application.
[Full Paper]
Xin Fan, Rohit Ranganathan Gaddam, Nanjundan Ashok Kumar, Xiu Song Zhao
Adv. Energy Mater., May 26, 2017, https://doi.org/10.1002/aenm.201700317 Read article
Oxygen vacancies (OVs) evoked blue-colored TiO2(B) nanobelts are first designed as superior anodes for sodium-ion batteries. They feature remarkable high-rate performance and durable long-term cycle life because of their ability to take full advantage of OVs to elevate electronic conductivity and lower sodiated energy barriers. A high capacity of 80.9 mAh g−1 (at 3350 mA g−1) is still maintained after 5000 cycles.
[Full Paper]
Yan Zhang, Zhiying Ding, Christopher W. Foster, Craig E. Banks, Xiaoqing Qiu, Xiaobo Ji
Adv. Funct. Mater., May 24, 2017, https://doi.org/10.1002/adfm.201700856 Read article
Time to recharge:A three-dimensional nanocomposite of iron-based fluoride loaded in N-doped porous carbon is successfully synthesized by using a facile method. The resulting 3D nanocomposite shows enhanced electrochemical performance compared to the bare iron fluoride.
[Article]
Xiaopeng Li, Yongzhi Zhang, Yan Meng, Guangqun Tan, Junke Ou, Yujue Wang, Qian Zhao, Hongyan Yuan, Dan Xiao
ChemElectroChem, May 23, 2017, https://doi.org/10.1002/celc.201700259 Read article
A nonaqueous reversible room-temperature aluminum-sulfur battery is demonstrated with a strategically designed cathode structure and mechanistically studied with a sequence of electrochemical, spectroscopic, and microscopic techniques.
[Communication]
Xingwen Yu, Arumugam Manthiram
Adv. Energy Mater., May 23, 2017, https://doi.org/10.1002/aenm.201700561 Read article
An all-manganese-based binder-free stretchable lithium-ion battery with 100% stretchability is prepared based on the LiMn2O4/carbon nanotube (CNT) cathode and MnOx/CNT anode. A little capacity decay of 0.04% per cycle in the battery under the repeated unstretched and stretched states is achieved.
[Full Paper]
Taoli Gu, Zeyuan Cao, Bingqing Wei
Adv. Energy Mater., May 23, 2017, https://doi.org/10.1002/aenm.201700369 Read article
Carbon coated bimetallic sulfide hollow nanocubes can be obtained by polydopamine coating on Prussian blue analog precursors prior to the sulfidation process. The optimum carbon coated bimetallic sulfide nanocubes as sodium ion battery anode can deliver improved specific capacity, rate performance, and cycling stability, due to the higher surface area, smaller charge transfer resistance, and higher diffusion coefficient.
[Full Paper]
Jingwei Chen, Shaohui Li, Vipin Kumar, Pooi See Lee
Adv. Energy Mater., May 23, 2017, https://doi.org/10.1002/aenm.201700180 Read article
The structure of hard carbon is systematically tuned by heteroatom doping, which reveals the mechanism of sodium storage in hard carbon. Through P- and S-doping, the d-spacing of hard carbon is dilated, which leads to a higher plateau capacity, while P- and B-doping generate more defects site, which enhances the first sodiation capacity. Computational studies provide indispensable confirmation of the mechanism.
[Full Paper]
Zhifei Li, Clement Bommier, Zhi Sen Chong, Zelang Jian, Todd Wesley Surta, Xingfeng Wang, Zhenyu Xing, Joerg C. Neuefeind, William F. Stickle, Michelle Dolgos, P. Alex Greaney, Xiulei Ji
Adv. Energy Mater., May 23, 2017, https://doi.org/10.1002/aenm.201602894 Read article
Highly oxygen-deficient Li4Ti5O12 with conformal amorphous-carbon displays excellent electrochemical performance due to the highlighted effects of interfacial modifications. The proposed synthesis method is a one-pot, facile, and extremely inexpensive strategy.
[Full Paper]
Ralph Nicolai Nasara, Ping-chun Tsai, Shih-kang Lin
Adv. Mater. Interfaces, May 23, 2017, https://doi.org/10.1002/admi.201700329 Read article
Ultrathin and mesoporous Co3O4 layers are in situ grown on the surface of carbon fibers with maximum interfacial contact area as high-performance air electrode for a flexible rechargeable Zn–air battery integrated with a flexible display device. The whole integrated device not only possesses excellent flexibility but also has shape-tailorable capability that can operate during the tailoring processes.
[Full Paper]
Xu Chen, Bin Liu, Cheng Zhong, Zhi Liu, Jie Liu, Lu Ma, Yida Deng, Xiaopeng Han, Tianpin Wu, Wenbin Hu, Jun Lu
Adv. Energy Mater., May 22, 2017, https://doi.org/10.1002/aenm.201700779 Read article
Li-rich, xLi2MnO3·(1−x)LiNiaCobMncO2 (a + b + c = 1), Li-ion battery cathode materials suffer a debilitating voltage fade during cycling that prohibits their commercialization. NH3 treatment of Li-rich materials is shown herein to limit voltage fading throughout cycling. This is caused by a bulk reduction of the material, subtle surface changes, and extraction of Li-salts.
[Full Paper]
Evan M. Erickson, Hadar Sclar, Florian Schipper, Jing Liu, Ruiyuan Tian, Chandan Ghanty, Larisa Burstein, Nicole Leifer, Judith Grinblat, Michael Talianker, Ji-Yong Shin, Jordan K. Lampert, Boris Markovsky, Anatoly I. Frenkel, Doron Aurbach
Adv. Energy Mater., May 22, 2017, https://doi.org/10.1002/aenm.201700708 Read article
A new method is described to prepare core–shell Ti3SiC2@K2Ti8O17 composites bestowing high sodium-ion intercalation pseudocapacitance by alkalization hydrothermal reaction and hydrogenation. High capacity and structural stability, especially at high rates, are achieved simultaneously. The method is highlighted by its simplicity and high yield and can be extended to prepare other MAX-based electrode materials.
[Full Paper]
Guodong Zou, Jianxin Guo, Xianyu Liu, Qingrui Zhang, Gang Huang, Carlos Fernandez, Qiuming Peng
Adv. Energy Mater., May 22, 2017, https://doi.org/10.1002/aenm.201700700 Read article
Beneath the shell: A novel heterogeneous yolk−shell CuO@CuFe2O4 hybrid is synthesized by using a facile interfacial reaction and subsequent heat treatment. The obtained heterogeneous hybrid exhibits enhanced electrochemical properties, owing to the special yolk−shell structure and heterogeneous components, with the relatively high electrical conductivity of CuFe2O4 and the firm shell of CuO@CuFe2O4.
[Article]
Peng Liu, Wu Lei, Xifeng Xia, Qingli Hao
ChemElectroChem, May 19, 2017, https://doi.org/10.1002/celc.201700313 Read article
Full of life: This work demonstrates the electrochemical performance of V2O3 polycrystalline nanorods (poly-NRs) as a cathode material for Li-ion batteries. Through galvanostatic cycling, it is demonstrated that poly-NRs offer excellent capacity retention over 750 cycles when cycled in a half-cell against a Li anode. The performance of V2O3 poly-NRs in a full Li-ion cell paired with a pre-charged Co3O4 inverse opal structured anode is also reported.
[Article]
David McNulty, D. Noel Buckley, Colm O'Dwyer
ChemElectroChem, May 19, 2017, https://doi.org/10.1002/celc.201700202 Read article
That′s so metal: A new carbon- and binder-free O2 cathode is fabricated by electroplating Ru-nanoparticle-coated ultralight Ni foam, which has good electron-conducting and electrocatalytic properties. This all-metal monolithic structure suppresses CO2 evolution and provides 306 times higher capacity than commercial Ni foam-based O2 cathodes.
[Communication]
Ziqiang Liu, Ningning Feng, Zihan Shen, Fujun Li, Ping He, Huigang Zhang, Haoshen Zhou
ChemSusChem, May 18, 2017, https://doi.org/10.1002/cssc.201700567 Read article
Just a drop: As the templates for the preparation of α-Fe2O3 hollow spheres, several quasi-emulsion mixtures are prepared with different volume ratios of glycerol to water, which can produce glycerol droplet templates with different sizes for the size changes of the α-Fe2O3 hollow sphere (FHS).
[Article]
Yoongon Kim, Eunjung Choi, Jong Guk Kim, Seungjun Lee, Wongeun Yoon, Moon-Ho Ham, Won Bae Kim
ChemElectroChem, May 18, 2017, https://doi.org/10.1002/celc.201700320 Read article
Nanophase S particles from ball milling of microsized S powder are combined with surface coating of Al2O3 via low-temperature atomic layer deposition (ALD). The ALD Al2O3 evolves with ALD cycles from dispersed nanoparticles, to porous, connected films, and finally to dense and continuous films. The result is high performance Li–S batteries at high S loading.
[Full Paper]
Xiangbo Meng, Yuzi Liu, Yanqiang Cao, Yang Ren, Wenquan Lu, Jeffrey W. Elam
Adv. Mater. Interfaces, May 18, 2017, https://doi.org/10.1002/admi.201700096 Read article
The additional intercalation of sodium into polyanionic frameworks of the family Na3V2(PO4)2F3-2yO2y is reported. The most oxygen-rich compound, in particular, obtains extra capacity at a relatively high voltage and operando XRD demonstrates a low volume change upon cycling. Aluminum substitution is finally used into this framework to experimentally demonstrate how to improve sodium kinetics in this highly sodiated regime.
[Full Paper]
Matteo Bianchini, Penghao Xiao, Yan Wang, Gerbrand Ceder
Adv. Energy Mater., May 16, 2017, https://doi.org/10.1002/aenm.201700514 Read article
A microbattery entirely based on nontoxic, organic, abundant, and inexpensive raw materials and fabricated with cost-efficient scalable manufacturing processes is presented. The nature of the device allows it to be discarded without the need for any specific recycling facilities after use, because it biotically degrades to simple compounds, such as CO2, CH4, H2O, and N2, as a result of the action of micro-organisms.
[Full Paper]
Juan Pablo Esquivel, Perla Alday, Omar A. Ibrahim, Belén Fernández, Erik Kjeang, Neus Sabaté
Adv. Energy Mater., May 16, 2017, https://doi.org/10.1002/aenm.201700275 Read article
Transition-metal (Fe, Co, Ni) based metal-organic frameworks represent one promising kind of power materials for electrochemical energy storage. Synthesis strategies, tailored material properties and different electrochemical performances are prominent features of supercapacitors and batteries. Transition-metal (Fe, Co, Ni) based metal-organic frameworks and their derivative nanomaterials comprehensively summarized and evaluations are given in this review.
[Review]
Shasha Zheng, Xinran Li, Bingyi Yan, Qin Hu, Yuxia Xu, Xiao Xiao, Huaiguo Xue, Huan Pang
Adv. Energy Mater., May 16, 2017, https://doi.org/10.1002/aenm.201602733 Read article
The performance of Li–O2 batteries with a redox mediator is improved by using a negatively charged polymer-coated separator. Coating PEDOT:PSS on the GF/C separator mitigated the migration of the redox mediator to the Li metal anode, leading to a more than tenfold extension in cycle life with high round-trip efficiency of 90%.
[Communication]
Seon Hwa Lee, Jin-Bum Park, Hyung-Seok Lim, Yang-Kook Sun
Adv. Energy Mater., May 12, 2017, https://doi.org/10.1002/aenm.201602417 Read article
Mimicking battery aging: The aging of electrolytes in lithium-ion batteries is studied by radiolysis that simulates accelerated aging. Ultrafast decay of the solvated electron in a mixture of ethylene carbonate (EC)/diethyl carbonate (DEC) is attributed to the electron attachment on the EC molecule exclusively, which leads to the formation of the EC radical anion.
[Article]
Furong Wang, Fanny Varenne, Daniel Ortiz, Valentin Pinzio, Mehran Mostafavi, Sophie Le Caër
ChemPhysChem, May 10, 2017, https://doi.org/10.1002/cphc.201700320 Read article
TiC0.7N0.3 shows high energy density and stable performance for over 7000 cycles at high drain currents (≈10 mA cm−2) in non-aqueous Li–I2 battery. The performance is attributed to the matching work function of the catalyst with that of I3−/I− redox couple, favorable adsorption energy for the intermediate and the corrosion resistance of the ceramic toward iodide/iodine redox reaction.
[Communication]
V. G. Anju, Muthu P. Austeria, S. Sampath
Adv. Mater. Interfaces, May 09, 2017, https://doi.org/10.1002/admi.201700151 Read article
Air-powered: Perovskite La0.6Sr0.4Co0.2Fe0.8O3 nanofibers have been decorated with RuO2 nanoparticles as an efficient bifunctional catalyst for rechargeable Li–O2 batteries.
[Full Paper]
Yudong Gong, Xiuling Zhang, Zhipeng Li, Zhiwei Wang, Chunwen Sun, Liquan Chen
ChemNanoMat, April 27, 2017, https://doi.org/10.1002/cnma.201700071 Read article
2D heterostructure of graphene–molybdenum sulfide is fabricated by a graphene oxide-assisted ultrasonic method, which is concise, novel, and cost effective. Furthermore, this strategy can be applied to other fields. The results of the electrochemical experiments and kinetic analysis show that the G/MoS2 composite possesses excellent electrochemical properties, and thus can be regarded as a competitive candidate anode for lithium-ion battery.
[Full Paper]
Tailin Wang, Gang Zhao, Changlong Sun, Lei Zhang, Yongzhong Wu, Xiaopeng Hao, Yongliang Shao
Adv. Mater. Interfaces, April 26, 2017, https://doi.org/10.1002/admi.201601187 Read article
Take it slow: Room-temperature synthesis of α-phase Ni–Co LDHs nanosheet arrays on various substrates was achieved by diaphragm-regulated reactions, which could find many applications, including in alkaline batteries and surface wettability control.
[Full Paper]
Xinghua Meng, Da Deng
ChemNanoMat, April 18, 2017, https://doi.org/10.1002/cnma.201700035 Read article
[Full Paper]
Shawn Martin, Harry D. Pratt, Travis M. Anderson
Mol. Inf., February 21, 2017, https://doi.org/10.1002/minf.201600125 Read article
© Wiley-VCH 2016.