Biocatalysis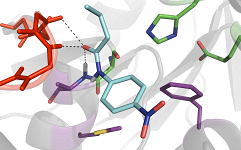 Using the catalytic power of enzymes to perform highly stereoselective organic transformations has been the basis of the ever-expanding field of biocatalysis. Enzymes have evolved over millions of years to be some of the best catalysts available to chemists. Now, through advances in molecular and synthetic biology, chemists are able to redesign the active sights of many enzymes to fit their synthetic needs.
The image by U. Bornscheuer et al. is from an article on the activity of a bacillus subtilis esterase, which appeared in a special issue of ChemCatChem on biocatalysis.
Find all articles on biocatalysis in Wiley Online Library...
Recent Articles

RSS feed
The big [O]: A highly regioselective, environmentally friendly method for the synthesis of amides from amines is developed. With biocatalytic α-oxidation, various cyclic amines and N-methylanilines are oxidized smoothly to give the corresponding amides. Mechanistic studies suggest that the amide oxygen atom of this biocatalytic α-oxidation process is derived from water.
[Communication]
Daijun Zheng, Xiaojian Zhou, Baodong Cui, Wenyong Han, Nanwei Wan, Yongzheng Chen
ChemCatChem, February 15, 2017, DOI: 10.1002/cctc.201601703. Read article
Linking two worlds: As a further expansion of the biocatalytic repertoire, carbene insertion into Si−H bonds catalyzed by the heme protein cytochrome c was recently reported. This new biocatalyst holds great promise because it enables the highly selective incorporation of silicon into molecules without prior protection of existing functional groups.
[Highlight]
Stephan Lütz
Angew. Chem. Int. Ed., February 15, 2017, DOI: 10.1002/anie.201612543. Read article
Driven in CARs: Carboxylic acid reductases (CARs) are enzymes that reduce such acids to aldehydes. Example CARs from across the phylogeny are characterized. Generally, CARs prefer electron-rich substrates. Inhibition studies support an ordered binding of substrates in the first catalytic step.
[Full Paper]
William Finnigan, Adam Thomas, Holly Cromar, Ben Gough, Radka Snajdrova, Joseph P. Adams, Jennifer A. Littlechild, Nicholas J. Harmer
ChemCatChem, February 14, 2017, DOI: 10.1002/cctc.201601249. Read article
Lighten up: We investigate the photohydrogen production of the xanthene dye 5-carboxyeosin and the [FeFe]-hydrogenase of Chlamydomonas reinhardtii. The three-component system is effectively fueled by ambient sunlight on two typical winter days in February.
[Full Paper]
David Adam, Lisa Bösche, Leonardo Castañeda-Losada, Martin Winkler, Ulf-Peter Apfel, Thomas Happe
ChemSusChem, February 09, 2017, DOI: 10.1002/cssc.201601523. Read article
Personal power: The road to safe and effective implantable electrical power devices has been long—and the goal has not been reached yet, although significant scientific and technological progress has been made. This Review highlights stages in the development of implanted fuel cells capable of providing electrical power for running implanted "personal electronics".
[Minireview]
Sergey Shleev
ChemPlusChem, January 31, 2017, DOI: 10.1002/cplu.201600536. Read article
Directed evolution of the thermostable transketolase from Geobacillus stearothermophilus yielded several variants with up to 7.2-fold higher activity for aliphatic aldehydes and high enantioselectivity (>70 % ee) in favor of either of the 3S or of the 3R configuration in the asymmetric carboligation step.
[Communication]
Chaoqiang Zhou, Thangavelu Saravanan, Marion Lorillière, Dongzhi Wei, Franck Charmantray, Laurence Hecquet, Wolf-Dieter Fessner, Dong Yi
ChemBioChem, January 27, 2017, DOI: 10.1002/cbic.201600609. Read article
N-O means N-O, does it? Natural aldoxime dehydratases can break 1,2-benzisoxazoles by catalyzing the non-natural Kemp elimination reaction. Mutational studies and control of the iron(II) heme redox state suggest a strong structure–activity relationship for the C=N-O motif.
[Communication]
Yufeng Miao, Richard Metzner, Yasuhisa Asano
ChemBioChem, January 25, 2017, DOI: 10.1002/cbic.201600596. Read article
Organometallic compounds repurposed: Iridium complexes that have been considered to be ineffective anticancer agents are shown to be highly selective cancer cell chemosensitizers when co-administered with clinically used platinum drugs. This discovery opens up new opportunities in combination drug therapy that can be aided by small-molecule synthetic catalysts.
[Full Paper]
Lu Yang, Sohini Bose, Anh H. Ngo, Loi H. Do
ChemMedChem, January 18, 2017, DOI: 10.1002/cmdc.201600638. Read article
The nose knows: A lipase-catalyzed acylation reaction of crude Haitian vetiver essential oil was studied as an alternative to chemical processes for the manufacture of an industrially relevant fragrance ingredient. A competitive process that involved a recyclable immobilized lipase was developed and used up to the kilogram scale. It quantitatively delivered the target product with good productivity (see scheme).
[Full Paper]
Irene Notar Francesco, Jean-Jacques Filippi, Sylvain Antoniotti
ChemPlusChem, January 12, 2017, DOI: 10.1002/cplu.201600617. Read article
Save the sun for later: It is shown how the extremely active [FeFe] hydrogenase from Desulfovibrio desulfuricans can reduce protons to H2 in the presence of limited amounts of O2 at low potentials (see figure). Furthermore, the robustness of this enzyme under illumination is demonstrated. These studies together show that this hydrogenase is an excellent candidate for use in solar-to-hydrogen devices.
[Communication]
Patricia Rodríguez-Maciá, James A. Birrell, Wolfgang Lubitz, Olaf Rüdiger
ChemPlusChem, November 03, 2016, DOI: 10.1002/cplu.201600508. Read article
© Wiley-VCH 2016.