Biocatalysis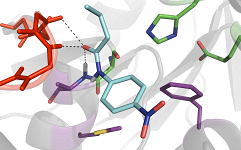 Using the catalytic power of enzymes to perform highly stereoselective organic transformations has been the basis of the ever-expanding field of biocatalysis. Enzymes have evolved over millions of years to be some of the best catalysts available to chemists. Now, through advances in molecular and synthetic biology, chemists are able to redesign the active sights of many enzymes to fit their synthetic needs.
The image by U. Bornscheuer et al. is from an article on the activity of a bacillus subtilis esterase, which appeared in a special issue of ChemCatChem on biocatalysis.
Find all articles on biocatalysis in Wiley Online Library...
Recent Articles

RSS feed
A powerful tool kit for recombinant protein expression has been developed by using wild-type P. pastoris. A diverse spectrum of proteins and enzymes has been successfully produced by extracellular expression. Cytoplasmic expression and cell-surface display created whole-cell biocatalysts for biotransformation reactions, while metabolically engineered strains were used as microbial cell factories to produce value-added chemicals.
[Review]
Veeresh Juturu, Jin Chuan Wu
ChemBioChem, December 13, 2017, https://doi.org/10.1002/cbic.201700460 Read article
Sol-gel chemistry is a resourceful toolbox for the preparation of advanced materials and this applies particularly to the design of advanced and tailored heterogeneous catalysts. By tweaking the classical sol-gel chemistry process it is possible to expand the scope of sol-gel routes and to yield new kinds of catalytic materials with remarkable properties and performance. This Personal Account exemplifies such strategies where one plays with the nature of the templating agent, the processing and drying conditions, the nature of the precursors or the nature of the solvent.
[Personal Account]
Damien P. Debecker
Chem. Rec., December 11, 2017, https://doi.org/10.1002/tcr.201700068 Read article
A million units per liter: The small hydroxynitrile lyase (HNL) from D. tyermannii can be produced in pro- and eukaryotic hosts in exceptionally high amounts. DtHNL constitutes up to 80 % of the soluble protein in P. pastoris. Immobilization as crosslinked enzyme aggregates (CLEAs) improves biocatalyst stability and allows DtHNL to be used at low pH.
[Communication]
Elisa Lanfranchi, Birgit Grill, Zainab Raghoebar, Sander Van Pelt, Roger A. Sheldon, Kerstin Steiner, Anton Glieder, Margit Winkler
ChemBioChem, December 11, 2017, https://doi.org/10.1002/cbic.201700419 Read article
A bioinspired photoelectrochemical cell (PEC) configured with protonated graphitic carbon nitride (p-g-C3N4) and carbon nanotube hybrid (CNT/p-g-C3N4) film cathode, and a FeOOH-deposited bismuth vanadate (FeOOH/BiVO4) photoanode produces alkanes via an old yellow enzyme homologue from Thermus scotoductus. Photoexcited electrons provided by the FeOOH/BiVO4 photoanode are transferred to the robust and self-standing CNT/p-g-C3N4 hybrid film that electrocatalytically reduces a flavin mononucleotide mediator.
[Full Paper]
Eun Jin Son, Sahng Ha Lee, Su Keun Kuk, Milja Pesic, Da Som Choi, Jong Wan Ko, Kayoung Kim, Frank Hollmann, Chan Beum Park
Adv. Funct. Mater., December 07, 2017, https://doi.org/10.1002/adfm.201705232 Read article
Couple up: d-Phenylalanine derivatives are valuable chiral building blocks for many pharmaceuticals. The development of an E. coli whole-cell system that couples Proteus mirabilis l-amino acid deaminase with an engineered aminotransferase that displays native-like activity towards d-phenylalanine allows the synthesis of these derivatives with high enantiomeric excess from commercially available racemic mixtures or l-amino acids.
[Full Paper]
Curtis J. W. Walton, Fabio Parmeggiani, Janet E. B. Barber, Jenna L. McCann, Nicholas J. Turner, Roberto A. Chica
ChemCatChem, December 05, 2017, https://doi.org/10.1002/cctc.201701068 Read article
Stable in the face of heat: The enzymatic production of several modified nucleoside-5′-monophosphates is performed by uracil phosphoribosyltransferase from Thermus themophilus, TtUPRT. In addition, the functional and structural characterization of TtUPRT is reported for first time.
[Full Paper]
Jon del Arco, Javier Acosta, Humberto M. Pereira, Almudena Perona, Neratur K. Lokanath, Naoki Kunishima, Jesús Fernández-Lucas
ChemCatChem, December 04, 2017, https://doi.org/10.1002/cctc.201701223 Read article
Biocatalytic reductive amination made easy: Chiral secondary and tertiary amines are ubiquitous in pharmaceutical, fine, and specialty chemicals, but their synthesis typically suffers from significant sustainability and selectivity challenges. Herein, a panel of imine reductases (IREDs) give broad substrate coverage by using stoichiometric reactants with excellent selectivity.
[Communication]
Gheorghe-Doru Roiban, Marcelo Kern, Zhi Liu, Julia Hyslop, Pei Lyn Tey, Matthew S. Levine, Lydia S. Jordan, Kristin K. Brown, Timin Hadi, Leigh Anne F. Ihnken, Murray J. B. Brown
ChemCatChem, November 30, 2017, https://doi.org/10.1002/cctc.201701379 Read article
Down to the last detail: An online method for following the progress of oxygen-dependent enzymatic reactions by accurately measuring the oxygen mass balance in the gas phase of a reactor is demonstrated and validated. Such kinetic data form the basis for reaction characterisation, from which bottlenecks and strategies for overcoming them can be identified.
[Full Paper]
Murray P. Meissner, Mathias Nordblad, John M. Woodley
ChemBioChem, November 29, 2017, https://doi.org/10.1002/cbic.201700577 Read article
[Review]
Manfred T. Reetz
Isr. J. Chem., November 22, 2017, https://doi.org/10.1002/ijch.201700091 Read article
Cascades in cells: A synthetic cascade for the transformation of primary alcohols into polyhydroxylated compounds through in situ preparation of cytotoxic aldehyde intermediates and subsequent aldolase-mediated C−C bond formation is investigated. The optimized whole-cell catalyst, combined with a refined solid-phase extraction downstream purification protocol gives optically pure aldol products.
[Full Paper]
Thomas Wiesinger, Thomas Bayer, Sofia Milker, Marko D. Mihovilovic, Florian Rudroff
ChemBioChem, November 09, 2017, https://doi.org/10.1002/cbic.201700464 Read article
Don't move! The synthesis of l-amino acids is catalysed by a hierarchical, multifunctional, heterogeneous biocatalyst. The hierarchical architecture irreversibly co-immobilises l-alanine dehydrogenase from B. subtilis (l-AlaDH-Bs) and formate dehydrogenase from C. boidinii (FDH-Cb), with polyethyleneimine on porous agarose beads. The two enzymes and polymer colocalise across the whole microstructure of the porous carrier.
[Full Paper]
Susana Velasco-Lozano, Eunice S. da Silva, Jordi Llop, Fernando López-Gallego
ChemBioChem, November 03, 2017, https://doi.org/10.1002/cbic.201700493 Read article
© Wiley-VCH 2016.