Biocatalysis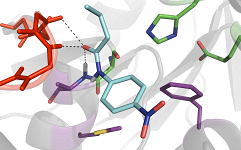 Using the catalytic power of enzymes to perform highly stereoselective organic transformations has been the basis of the ever-expanding field of biocatalysis. Enzymes have evolved over millions of years to be some of the best catalysts available to chemists. Now, through advances in molecular and synthetic biology, chemists are able to redesign the active sights of many enzymes to fit their synthetic needs.
The image by U. Bornscheuer et al. is from an article on the activity of a bacillus subtilis esterase, which appeared in a special issue of ChemCatChem on biocatalysis.
Find all articles on biocatalysis in Wiley Online Library...
Recent Articles

RSS feed
Through the link: The facile and eco-friendly synthesis of highly active carbon nanodots-silica hybrid photocatalyst (CNDSH) by a reverse microemulsion method with a nonionic surfactant. The photocatalyst-biocatalyst coupled system developed using CNDSH as photocatalyst functions efficiently to carry out high NADH regeneration followed by its consumption in exclusive formic acid production from CO2.
[Full Paper]
Rajesh K. Yadav, Abhishek Kumar, No-Joong Park, Dolly Yadav, Jin-Ook Baeg
ChemCatChem, August 03, 2017, https://doi.org/10.1002/cctc.201700789 Read article
Complex separation: Microbial production of 2,3-butanediol based on renewable resources enables high titers; however, the recovery of this hydrophilic high-boiling compound from aqueous fermentation broths remains challenging. Anionic extraction based on reversible esterification with phenylboronate is proposed for the isolation of 2,3-butanediol from aqueous solutions. The recovered bio-2,3-butanediol can be efficiently transformed into methyl ethyl ketone.
[Full Paper]
Peter Drabo, Till Tiso, Benedikt Heyman, Eda Sarikaya, Paula Gaspar, Jochen Förster, Jochen Büchs, Lars Mathias Blank, Irina Delidovich
ChemSusChem, August 02, 2017, https://doi.org/10.1002/cssc.201700899 Read article
Chemistry to lower blood pressure: An innovative and convenient process for the synthesis of captopril, an angiotensin-converting enzyme inhibitor widely used for the treatment of hypertension, is developed by exploiting a chemoenzymatic pathway in a flow reactor. This flow-based synthetic route includes a biocatalyzed heterogeneous regio- and stereoselective oxidation reaction, followed, after isolation of the carboxylic acid, by three sequential chemical steps.
[Full Paper]
Valerio De Vitis, Federica Dall'Oglio, Andrea Pinto, Carlo De Micheli, Francesco Molinari, Paola Conti, Diego Romano, Lucia Tamborini
ChemistryOpen, July 28, 2017, https://doi.org/10.1002/open.201700082 Read article
Design of an enzymatic cascade: For the first biocatalytic one-pot double oxidation of α-isophorone to ketoisophorone, variants of the self-sufficient P450cam-RhFRed with improved activity are combined with Cm-ADH10 from Candida magnoliae. The reaction shows a productivity of up to 1.4 g L−1 d−1.
[Full Paper]
Michele Tavanti, Fabio Parmeggiani, J. Rubén Gómez Castellanos, Andrea Mattevi, Nicholas J. Turner
ChemCatChem, July 24, 2017, https://doi.org/10.1002/cctc.201700620 Read article
© Wiley-VCH 2016.