Biocatalysis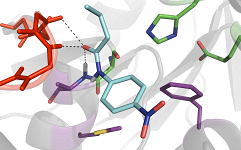 Using the catalytic power of enzymes to perform highly stereoselective organic transformations has been the basis of the ever-expanding field of biocatalysis. Enzymes have evolved over millions of years to be some of the best catalysts available to chemists. Now, through advances in molecular and synthetic biology, chemists are able to redesign the active sights of many enzymes to fit their synthetic needs.
The image by U. Bornscheuer et al. is from an article on the activity of a bacillus subtilis esterase, which appeared in a special issue of ChemCatChem on biocatalysis.
Find all articles on biocatalysis in Wiley Online Library...
Recent Articles

RSS feed
Revealing secrets: The importance of boron in biological systems is rather unexplored and its potential role as a catalytic anchor atom often neglected. We show that boric acid can restore chloroperoxidase activity of C. inaequalis recombinant apo-haloperoxidase's in the presence of hydrogen peroxide and chloride ions through a stabilized peroxyborate intermediate. This raises the question if there are more roles to discover for boron in nature.
[Communication]
Filipe Natalio, Stefanie Wiese, Wolfgang Brandt, Ludger Wessjohann
Chem. Eur. J., March 23, 2017, https://doi.org/10.1002/chem.201605230 Read article
Skills acquisition by solvents: Blends of deep eutectic solvents and water lead to less viscous media that enable lipase-catalyzed synthetic reactions and that dissolve substrates with different polarities. These blends show enzyme compatibility, retain their nonconventional nature, are nonviscous, and are excellent solubilizers for challenging substrates.
[Communication]
Nadia Guajardo, Habil Pablo Domínguez de María, Katherine Ahumada, Rodrigo A. Schrebler, Rodrigo Ramírez-Tagle, Fernando Crespo, Carlos Carlesi
ChemCatChem, March 23, 2017, https://doi.org/10.1002/cctc.201601575 Read article
Layer-by-layer assembly of lipid bilayers is used to multiply the surface concentration of electroactive membrane enzymes at electrodes. The interconnected membrane multilayers, akin to that of thylakoid membranes, are investigated using cyclic voltammetry to reveal a linear increase in biocatalytic activity with each additional membrane layer containing a ubiquinol oxidase or an oxygen-tolerant hydrogenase.
[Full Paper]
George R. Heath, Mengqiu Li, Honling Rong, Valentin Radu, Stefan Frielingsdorf, Oliver Lenz, Julea N. Butt, Lars J. C. Jeuken
Adv. Funct. Mater., March 21, 2017, https://doi.org/10.1002/adfm.201606265 Read article
Enzyme immobilization: A nanoporous carbon derived from metal–organic framework is used as a support for the immobilization of Burkholderia cepacia lipase, and the resulting catalytic system shows good activity for biodiesel production.
[Communication]
Li-Hao Liu, Yung-Han Shih, Wan-Ling Liu, Chia-Her Lin, Hsi-Ya Huang
ChemSusChem, March 07, 2017, https://doi.org/10.1002/cssc.201700142 Read article
Offering support: Enzymes can be immobilized on metal–organic framework (MOF) supports in a rapid and facile manner under mild conditions, and the enzymes retain their catalytic activities.
[Communication]
Victoria Gascón, Cristina Carucci, Mayra B. Jiménez, Rosa M. Blanco, Manuel Sánchez-Sánchez, Edmond Magner
ChemCatChem, March 02, 2017, https://doi.org/10.1002/cctc.201601342 Read article
Cracking the codes: Biocatalysis is particularly beneficial for DNA-encoded libraries, as it is highly selective and can be performed in aqueous environments. In this work, we demonstrated the application of biocatalysis for the on-DNA synthesis of carbohydrate-based libraries by using enzymatic oxidation and glycosylation in combination with traditional organic chemistry.
[Communication]
Baptiste Thomas, Xiaojie Lu, William R. Birmingham, Kun Huang, Peter Both, Juana Elizabeth Reyes Martinez, Robert J. Young, Christopher P. Davie, Sabine L. Flitsch
ChemBioChem, February 28, 2017, https://doi.org/10.1002/cbic.201600678 Read article
Personal power: The road to safe and effective implantable electrical power devices has been long—and the goal has not been reached yet, although significant scientific and technological progress has been made. This Review highlights stages in the development of implanted fuel cells capable of providing electrical power for running implanted "personal electronics".
[Minireview]
Sergey Shleev
ChemPlusChem, January 31, 2017, https://doi.org/10.1002/cplu.201600536 Read article
Save the sun for later: It is shown how the extremely active [FeFe] hydrogenase from Desulfovibrio desulfuricans can reduce protons to H2 in the presence of limited amounts of O2 at low potentials (see figure). Furthermore, the robustness of this enzyme under illumination is demonstrated. These studies together show that this hydrogenase is an excellent candidate for use in solar-to-hydrogen devices.
[Communication]
Patricia Rodríguez-Maciá, James A. Birrell, Wolfgang Lubitz, Olaf Rüdiger
ChemPlusChem, November 03, 2016, https://doi.org/10.1002/cplu.201600508 Read article
© Wiley-VCH 2016.