Biocatalysis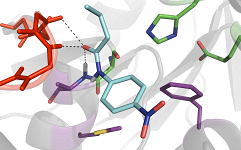 Using the catalytic power of enzymes to perform highly stereoselective organic transformations has been the basis of the ever-expanding field of biocatalysis. Enzymes have evolved over millions of years to be some of the best catalysts available to chemists. Now, through advances in molecular and synthetic biology, chemists are able to redesign the active sights of many enzymes to fit their synthetic needs.
The image by U. Bornscheuer et al. is from an article on the activity of a bacillus subtilis esterase, which appeared in a special issue of ChemCatChem on biocatalysis.
Find all articles on biocatalysis in Wiley Online Library...
Recent Articles

RSS feed
Biocatalysis scores! Furans are promising biogenic feedstocks, yet very reactive and thus challenging for their valorization. The mild reaction conditions applied in biocatalysis may create opportunities for biorefineries and furans.
[Review]
Pablo Domínguez de María, Nadia Guajardo
ChemSusChem, October 17, 2017, https://doi.org/10.1002/cssc.201701583 Read article
Two in one: Inexpensive and stable polyphosphate fuels a four-enzyme cascade for the application of acyl-coenzyme A (acyl-CoA)-dependent transferases by using a broad range of acyl donors and acceptors. The two cofactors required in this system, acyl-CoA and adenosine triphosphate (ATP), are regenerated by using carboxylate-CoA ligases and polyphosphate kinases.
[Communication]
Silja Mordhorst, Alice Maurer, Désirée Popadić, Johanna Brech, Jennifer N. Andexer
ChemCatChem, October 16, 2017, https://doi.org/10.1002/cctc.201700848 Read article
Enzyme matchmaking: A set of unnatural bifunctional oxidase–peroxidases fusion enzymes have been created through protein engineering. The artificial enzymes retain the capability to bind the two required cofactors and are catalytically active as oxidases and peroxidases. These fusion enzymes can be used for biosensing purposes or for dioxygen-driven, one-pot, two-step cascade oxidation reactions.
[Communication]
Dana I. Colpa, Nikola Lončar, Mareike Schmidt, Marco W. Fraaije
ChemBioChem, October 11, 2017, https://doi.org/10.1002/cbic.201700478 Read article
What a bind! The CYP101B1 enzyme from the bacteria N. aromaticivorans has been engineered to better bind and oxidise hydrophobic aromatic substrates. His85 was identified by sequence alignment as a potential active-site residue. The H85F variant improved activity and offered unusual selectivity options.
[Full Paper]
Md. Raihan Sarkar, Joel H. Z. Lee, Stephen G. Bell
ChemBioChem, October 09, 2017, https://doi.org/10.1002/cbic.201700316 Read article
This Minireview discusses the biocatalytic applicability of key enzymes for the biosynthesis of isoprenoid quinones. Proof of concept of synthetic applications of these biocatalysts and efforts made to engineer them are highlighted.
[Minireview]
Godwin A. Aleku, Beatrycze Nowicka, Nicholas J. Turner
ChemCatChem, October 02, 2017, https://doi.org/10.1002/cctc.201700685 Read article
Come together: The remarkable site selectivity and broad substrate scope of engineered flavin-dependent halogenases (FDHs) has led to much interest in their potential as biocatalysts. Herein, we report that synthetic, fused FDH–flavin reductase proteins can increase product titers compared to the individual components for biocatalysis in E. coli.
[Communication]
Mary C. Andorfer, Ketaki D. Belsare, Anna M. Girlich, Jared C. Lewis
ChemBioChem, September 22, 2017, https://doi.org/10.1002/cbic.201700391 Read article
PET idea: The synthesis and evaluation of a new class of A2a adenosine receptor agonist, designed around a 5′-fluorodeoxy-adenosine scaffold, are reported. The fluoromethyl group at the C-5′ position allows for the radiosynthesis of [18F]PET tracer analogues by enzymatic fluorination of chlorinated precursors with [18F]fluoride.
[Full Paper]
Phillip T. Lowe, Sergio Dall'Angelo, Thea Mulder-Krieger, Adriaan P. IJzerman, Matteo Zanda, David O'Hagan
ChemBioChem, September 21, 2017, https://doi.org/10.1002/cbic.201700382 Read article
A biocatalytic Friedel–Crafts-like acylation is described. The scope of the activating groups of the acetyl donors as well as the influence and effect of amines as additive on the reaction are studied.
[Full Paper]
Nina G. Schmidt, Wolfgang Kroutil
Eur. J. Org. Chem., September 19, 2017, https://doi.org/10.1002/ejoc.201701079 Read article
Going with the flow: A new continuous-flow biocatalytic process for the oxidation of amines to aldehydes, commonly used as flavours and fragrances, was achieved in an enzyme-mediated single step. An ω-transaminase from Halomonas elongata was exploited as a heterogeneous biocatalyst in a packed-bed reactor, under highly favourable reaction conditions in the presence of pyruvate, generating l-alanine as a benign by-product.
[Full Paper]
Martina L. Contente, Federica Dall'Oglio, Lucia Tamborini, Francesco Molinari, Francesca Paradisi
ChemCatChem, September 13, 2017, https://doi.org/10.1002/cctc.201701147 Read article
Designed to share: Rational engineering of the cofactor dependence in a nonselective alcohol dehydrogenase opens the door to a second generation of hydrogen-borrowing enzyme cascades for the amination of alcohols.
[Communication]
Matthew P. Thompson, Nicholas J. Turner
ChemCatChem, September 13, 2017, https://doi.org/10.1002/cctc.201701092 Read article
© Wiley-VCH 2016.