C–C Coupling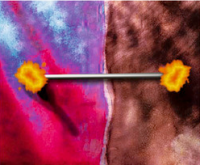 The development of metal-catalyzed cross-coupling reactions over the past 30 years has revolutionized the way, carbon-carbon bonds between sp and sp2 carbon atoms are formed. These methods have profoundly changed the protocols for the construction of natural products, building blocks for supramolecular chemistry and self-assembly, organic materials and polymers, and lead compounds in medicinal chemistry from simpler entities. The 2010 Nobel prize in chemistry for E. Negishi, R. Heck, and A. Suzuki underlines the importance of direct bond formation betweeen carbon atoms.
Read the laureates' lectures:
Ei-ichi Negishi*
Magical Power of Transition Metals: Past, Present, and Future (Nobel Lecture)
Angew. Chem. 2011, 123, 6870–6897; Angew. Chem. Int. Ed. 2011, 50, 6738–6764
Akira Suzuki*
Cross-Coupling Reactions Of Organoboranes: An Easy Way To Construct C–C Bonds (Nobel Lecture)
Angew. Chem. 2011, 123, 6854–6869; Angew. Chem. Int. Ed. 2011, 50, 6722–6737
Find all articles on C–C coupling in Wiley Online Library...
Recent Articles

RSS feed
A platform to improve the outlook: The palladium-catalyzed asymmetric coupling of 2-iodo-3-methylcyclohex-2-enones and aryl boronic acids provided axially chiral enone–arene systems with several potential sites for further transformation (see scheme). In particular, these cyclohexenone-based atropisomers serve as a valuable platform for the synthesis of biaryl atropisomers with different ortho substituents.
[Communication]
Chongqing Pan, Zixi Zhu, Mingkai Zhang, Zhenhua Gu
Angew. Chem. Int. Ed., March 24, 2017, https://doi.org/10.1002/anie.201701467 Read article
The conversion of aryl halides to phenols under mild reaction conditions is a longstanding and formidable challenge in organic chemistry. The rational design of a broadly applicable Pd-catalyzed method to prepare phenols with benzaldehyde oxime as a hydroxide surrogate is now reported. These reactions occur under mildly basic conditions and enable the late-stage hydroxylation of functionally dense aryl halides.
[Communication]
Patrick S. Fier, Kevin M. Maloney
Angew. Chem. Int. Ed., March 24, 2017, https://doi.org/10.1002/anie.201700244 Read article
Solid chemistry: A convenient method for the preparation of solid zinc enolates with enhanced air and moisture stability is described. These enolates undergo Pd- and Cu-catalyzed cross-couplings. The reactive N-morpholino amides can be readily converted into aldehydes or various ketones. These new zinc enolates were employed in the short synthesis of a 3-formylindole derivative that is a potent inhibitor of tubulin polymerization.
[Communication]
Yi-Hung Chen, Mario Ellwart, Georgios Toupalas, Yusuke Ebe, Paul Knochel
Angew. Chem. Int. Ed., March 22, 2017, https://doi.org/10.1002/anie.201700216 Read article
Gimme the light! Benzylic C−H bonds of toluene derivatives are directly arylated with aryl halides by means of a nickel–dtbbpy catalyst under irradiation with UV light; dtbbpy=4,4′-di-tert-butyl-2,2′-bipyridine.
[Communication]
Naoki Ishida, Yusuke Masuda, Norikazu Ishikawa, Masahiro Murakami
Asian J. Org. Chem., March 21, 2017, https://doi.org/10.1002/ajoc.201700115 Read article
The formation of C–C and C–O cross-coupling products of phenols and arenes by direct C–H activation has been achieved in the absence of leaving-group functionalities by visible-light photoredox catalysis. The efficiency and chemoselectivity (homo- vs. cross-coupling and C–C vs. C–O) were rationalized on the basis of the oxidation potentials and nucleophilicity values of the aromatic substrates.
[Full Paper]
Anna Eisenhofer, Johnny Hioe, Ruth M. Gschwind, Burkhard König
Eur. J. Org. Chem., March 15, 2017, https://doi.org/10.1002/ejoc.201700211 Read article
[Communication]
Christophe Lévêque, Vincent Corcé, Ludwig Chenneberg, Cyril Ollivier, Louis Fensterbank
Eur. J. Org. Chem., March 15, 2017, https://doi.org/10.1002/ejoc.201601571 Read article
Truly madly deeply! Cationic pyridiniophosphine ligands have been synthetized for a general deep eutectic solvent (DES) compatible catalytic system. These ligands, in combination with PdCl2, have been successfully applied to different cross coupling reactions. These cationic phosphines improved the catalytic activity of palladium as no other traditional ligand could in such polar media. The catalyst and solvent could be recycled up to 5 times without depletion of yields.
[Full Paper]
Xavier Marset, Abbas Khoshnood, Lia Sotorríos, Enrique Gómez-Bengoa, Diego A. Alonso, Diego J. Ramón
ChemCatChem, March 10, 2017, https://doi.org/10.1002/cctc.201601544 Read article
I′m so free: A transition-metal (TM)-free and halogen-free NaOtBu-mediated oxidative cross-coupling between the sp3 C−H bond of oxindoles and an sp2 C−H bond of nitroarenes has been developed to access 3-aryl substituted and 3,3-aryldisubstituted oxindoles in DMSO at room temperature with a short reaction time. The synthesized 3-oxindoles were further transformed into advanced heterocycles: benzofuroindoles, indoloindoles, and substituted indoles.
[Full Paper]
Moh. Sattar, Vandana Rathore, Ch. Durga Prasad, Sangit Kumar
Chem. Asian J., March 02, 2017, https://doi.org/10.1002/asia.201601647 Read article
Would you like a fuel upgrade? We propose an attractive strategy to effectively upgrade two fractions of torrefaction simultaneously through hydroxyalkylation/aldol condensation reactions. After hydrodeoxygenation (HDO) processing, saturated alkanes with carbon chains ranging from C10–C16 are obtained, which can be used as transportation fuel or refinery feed.
[Full Paper]
Tuong V. Bui, Tawan Sooknoi, Daniel E. Resasco
ChemSusChem, March 01, 2017, https://doi.org/10.1002/cssc.201601251 Read article
Iron grafted over mesoporous silica (8 wt %Fe/SBA-15) is a sustainable, efficient heterogeneous iron catalyst for direct arylation of biphenyl methane C(sp3)−H and benzene C(sp2)−H bonds (see scheme; DDQ=2,3-dichloro-5,6-dicyano-1,4-benzoquinone, DCE=dichloroethane; DTBP=di-tert-butyl peroxide). Unlike homogeneous iron, the 8 wt %Fe/SBA-15 catalyst does not need support from an electron-withdrawing group and additives to arylate benzene and could be successfully recycled five times.
[Full Paper]
C. Rajendran, G. Satishkumar
ChemCatChem, March 01, 2017, https://doi.org/10.1002/cctc.201601562 Read article
Blue is the color: A mild and simple method has been developed for highly selective C(sp2)−H amination reactions of arenes through visible-light-mediated photoredox catalysis.
[Full Paper]
Ganesh Pandey, Deepak Singh, Ramkrishna Laha
Asian J. Org. Chem., February 24, 2017, https://doi.org/10.1002/ajoc.201600535 Read article
[Microreview]
Sara Roslin, Luke R. Odell
Eur. J. Org. Chem., February 20, 2017, https://doi.org/10.1002/ejoc.201601479 Read article
Copper proves its worth: Tetrasubstituted allenes have been prepared from the CuBr2-catalyzed reaction of readily available quaternary ammonium salts and Grignard reagents. The reaction proceeds smoothly giving products in good to excellent yields (see scheme).
[Communication]
Shengming Ma, Qi Liu, Xinjun Tang, Yujuan Cai
Asian J. Org. Chem., February 17, 2017, https://doi.org/10.1002/ajoc.201600620 Read article
1-2-Switch: A complementary set of Pd-based catalyst systems has been developed for the synthesis of two different pyran-annulated polyheterocycles, indeno[1,2,3-de]chromenes, and pyrano[2,3-c]carbazoles from a common intermediate.
[Full Paper]
K. Ranjith Reddy, Prakash Kannaboina, Parthasarathi Das
Asian J. Org. Chem., February 14, 2017, https://doi.org/10.1002/ajoc.201600530 Read article
Scholl coupling reactions proceed by unexpected oxidation/coupling pathways.
[Full Paper]
Mark S. Little, Stephen G. Yeates, Aula A. Alwattar, Kane W. J. Heard, James Raftery, Alyn C. Edwards, Adam. V. S. Parry, Peter Quayle
Eur. J. Org. Chem., January 30, 2017, https://doi.org/10.1002/ejoc.201601580 Read article
Good morning sunshine! Visible-light photoredox decarboxylative coupling reactions have become an important chemical transformation because of their wide substrate scope, mild reaction conditions, high efficiency, and practicability. Herein, we have summarized recent advances in this synthetic strategy, which include details regarding the formation of C−C and C−Y (Y=heteroatom) bonds.
[Focus Review]
Yunhe Jin, Hua Fu
Asian J. Org. Chem., January 23, 2017, https://doi.org/10.1002/ajoc.201600513 Read article
"Sunflow" – The combination of a microcapillary reactor and sunlight enables fast and green photoredox and H-atom-transfer reactions in continuous flow. Kinetic studies reveal high reaction rates with a simple and inexpensive reactor setup (less than 90 USD acquisition value).
[Communication]
Alexander M. Nauth, Alexander Lipp, Benjamin Lipp, Till Opatz
Eur. J. Org. Chem., December 28, 2016, https://doi.org/10.1002/ejoc.201601394 Read article
© Wiley-VCH 2016.