C–C Coupling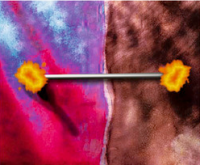 The development of metal-catalyzed cross-coupling reactions over the past 30 years has revolutionized the way, carbon-carbon bonds between sp and sp2 carbon atoms are formed. These methods have profoundly changed the protocols for the construction of natural products, building blocks for supramolecular chemistry and self-assembly, organic materials and polymers, and lead compounds in medicinal chemistry from simpler entities. The 2010 Nobel prize in chemistry for E. Negishi, R. Heck, and A. Suzuki underlines the importance of direct bond formation betweeen carbon atoms.
Read the laureates' lectures:
Ei-ichi Negishi*
Magical Power of Transition Metals: Past, Present, and Future (Nobel Lecture)
Angew. Chem. 2011, 123, 6870–6897; Angew. Chem. Int. Ed. 2011, 50, 6738–6764
Akira Suzuki*
Cross-Coupling Reactions Of Organoboranes: An Easy Way To Construct C–C Bonds (Nobel Lecture)
Angew. Chem. 2011, 123, 6854–6869; Angew. Chem. Int. Ed. 2011, 50, 6722–6737
Find all articles on C–C coupling in Wiley Online Library...
Recent Articles
RSS feed
A one, two combo: The combination of conventional transition-metal-catalyzed coupling (2 e− process) and photoredox catalysis (1 e− process) has emerged as a powerful approach to catalyze difficult cross-coupling reactions under mild reaction conditions. Reported is the use of a single palladium carbodicarbene (CDC) complex that mediates both a Suzuki–Miyaura coupling and photoredox catalysis for C−N bond formation upon visible-light irradiation.
[Communication]
Yu-Cheng Hsu, Vincent C.-C. Wang, Ka-Chun Au-Yeung, Chung-Yu Tsai, Chun-Chi Chang, Bo-Chao Lin, Yi-Tsu Chan, Chao-Ping Hsu, Glenn P. A. Yap, Titel Jurca, Tiow-Gan Ong
Angew. Chem. Int. Ed., March 13, 2018, https://doi.org/10.1002/anie.201800951 Read article
Various transition metal-catalyzed dicarbofunctionalization reactions of olefins are described. These reactions are conducted with transition metals such as Ti, Cr, Mn, Fe, Co, Ni, Cu, Rh and Pd, and are performed both intra- and intermolecularly in two-, three- and multi-component manners to contruct complex carbon skeletons from simple and readily available feedstock chemicals.
[Personal Account]
Roshan K. Dhungana, Shekhar KC, Prakash Basnet, Ramesh Giri
Chem. Rec., March 08, 2018, https://doi.org/10.1002/tcr.201700098 Read article
[Microreview]
Jordi Royes, Ana B. Cuenca, Elena Fernández
Eur. J. Org. Chem., March 08, 2018, https://doi.org/10.1002/ejoc.201701786 Read article
One-pot trans-alkenes: A reductive cross-coupling of alkynes and aryl iodides using a novel catalytic system composed of a catalytic amount of palladium dichloride and a promoter precursor, hafnocene difluoride (Cp2HfF2), in the presence of a mild reducing reagent, a hydrosilane, leads to a one-pot preparation of trans-alkenes.
[Full Paper]
Keita Takahashi, Yohei Ogiwara, Norio Sakai
Chem. Asian J., March 05, 2018, https://doi.org/10.1002/asia.201701775 Read article
Growing big(ger): Atomically dispersed Au–Clx supported on carbon is active in the homocoupling of phenylboronic acid. However, even after just a short exposure time to the reactants, rapid reduction and sintering of the Au species into larger metallic nanoparticles occurs, which are proposed to be the true active species.
[Full Paper]
Tanja E. Parmentier, Simon R. Dawson, Grazia Malta, Li Lu, Thomas E. Davies, Simon A. Kondrat, Simon J. Freakley, Christopher J. Kiely, Graham J. Hutchings
ChemCatChem, March 02, 2018, https://doi.org/10.1002/cctc.201701840 Read article
This microreview briefly summarizes the recent developments in Pd-catalyzed cross-coupling in ionic liquids. In addition, we also highlight the synthetic methods, catalytic systems, and mechanisms of selected coupling reactions.
[Microreview]
Jianxiao Li, Shaorong Yang, Wanqing Wu, Huanfeng Jiang
Eur. J. Org. Chem., February 23, 2018, https://doi.org/10.1002/ejoc.201701509 Read article
Cinnamon challenge: An efficient cross-dehydrogenative coupling of benzylic C(sp3)−H of ethyl arylacetates with benzoic/cinnamic acids has been developed to afford α-acyloxy esters in reasonably high yields under environmentally benign conditions.
[Communication]
Anup Kumar Sharma, Promod Kumar, Ramesh Kumar Vishwakarma, Krishna Nand Singh
Asian J. Org. Chem., February 21, 2018, https://doi.org/10.1002/ajoc.201800029 Read article
CH-CH-changes: A variety of 2-aryl-substituted benzoxazoles and benzothiazoles were prepared under mild conditions by a copper-catalyzed C−H bond arylation reaction with in situ generated aryl diazonium salts. Diphenylamine and 2,3′-bipyridine were also obtained under the same reaction conditions by employing aniline and pyridin-3-amine, respectively, as the sole starting material.
[Full Paper]
Pengju Feng, Guojian Ma, Tianyu Zhang, Changwei Wang
Asian J. Org. Chem., February 19, 2018, https://doi.org/10.1002/ajoc.201800002 Read article
Selective cross-coupling: The electrochemical oxidative cross-coupling reaction represents an elegant method to synthesize the desired N,O-biaryl motifs. Twelve derivatives are prepared by using this transformation. The desired products can be obtained in yields up to 48 % without having to resort to elaborate leaving groups or expensive transition-metal catalysts.
[Communication]
Benedikt Dahms, Robert Franke, Siegfried R. Waldvogel
ChemElectroChem, February 13, 2018, https://doi.org/10.1002/celc.201800050 Read article
Continuum loop: Copper nanospheres that are self-propelled into continuums of iron nanoclusters to fabricate and engineer two-dimensional heterometallic arrays under external magnetic field with high order distribution of the metal centers show high stability in the Csp−S coupling reactions.
[Full Paper]
P. Ghaderi-Shekhi Abadi, E. Rafiee, M. Joshaghani
ChemNanoMat, February 06, 2018, https://doi.org/10.1002/cnma.201700359 Read article
CuI NP catalysis: A highly efficient, sustainable, and atom-economical synthesis of tertiary 3-aminopropenoates from alkynes and secondary amines has been developed by using heterogeneous copper(I) iodide nanoparticles (CuI NPs) as a catalyst.
[Full Paper]
Onkar S. Nayal, Maheshwar S. Thakur, Manoranjan Kumar, Shaifali, Rahul Upadhyay, Sushil K. Maurya
Asian J. Org. Chem., February 01, 2018, https://doi.org/10.1002/ajoc.201700682 Read article
S−F 49ers: Methods for the synthesis of fluorosulfates from the reactions of phenols and alcohols with sulfuryl fluoride, fluorosulfonic acid, sulfuryl chloride fluoride, and fluorosulfonic anhydride are summarized. The broad application of fluorosulfates in synthetic transformations, which include catalyzed amination, cross-coupling, sulfur(VI) fluoride exchange, carbonylation, hydrolysis, and alcoholysis, are also discussed.
[Focus Review]
Lekkala Revathi, Lekkala Ravindar, Jing Leng, Kadalipura Puttaswamy Rakesh, Hua-Li Qin
Asian J. Org. Chem., January 31, 2018, https://doi.org/10.1002/ajoc.201700591 Read article
In the cross-fire: This Focus Review highlights recent advances in the Liebeskind–Srogl cross-coupling reaction of a wide variety of organosulfur compounds with different organometallic reagents, and its applications in organic synthesis.
[Focus Review]
Hong-Gang Cheng, Han Chen, Yue Liu, Qianghui Zhou
Asian J. Org. Chem., January 26, 2018, https://doi.org/10.1002/ajoc.201700651 Read article
It only costs a nickel! A nickel-catalyzed C−H heteroarylation at the 2 position of oxazolines with heteroaryl halides is described. This method is an efficient synthesis for various oxazoline-containing multidentate chiral ligands.
[Communication]
Peng Lu, Chong-Lei Ji, Zhan Lu
Asian J. Org. Chem., September 06, 2017, https://doi.org/10.1002/ajoc.201700446 Read article
© Wiley-VCH 2016.