C–C Coupling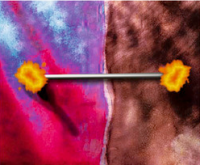 The development of metal-catalyzed cross-coupling reactions over the past 30 years has revolutionized the way, carbon-carbon bonds between sp and sp2 carbon atoms are formed. These methods have profoundly changed the protocols for the construction of natural products, building blocks for supramolecular chemistry and self-assembly, organic materials and polymers, and lead compounds in medicinal chemistry from simpler entities. The 2010 Nobel prize in chemistry for E. Negishi, R. Heck, and A. Suzuki underlines the importance of direct bond formation betweeen carbon atoms.
Read the laureates' lectures:
Ei-ichi Negishi*
Magical Power of Transition Metals: Past, Present, and Future (Nobel Lecture)
Angew. Chem. 2011, 123, 6870–6897; Angew. Chem. Int. Ed. 2011, 50, 6738–6764
Akira Suzuki*
Cross-Coupling Reactions Of Organoboranes: An Easy Way To Construct C–C Bonds (Nobel Lecture)
Angew. Chem. 2011, 123, 6854–6869; Angew. Chem. Int. Ed. 2011, 50, 6722–6737
Find all articles on C–C coupling in Wiley Online Library...
Recent Articles

RSS feed
A Lewis acid catalyzed double hydro(hetero)arylation of alkyl-substituted pentafulvenes to synthesize bisindole-substituted cyclopentenoids is developed. In addition, we also demonstrate a hydroheteroarylation–dehydroxylation reaction of 2-hydroxy-substituted pentafulvenes to afford bisindole derivatives with isoprenyl-substituted cyclopentene moieties.
[Full Paper]
Parameswaran Sasikumar, Bernard Prabha, Sarngadharan Sarath Chand, Maniyamma Aswathy, Murali Madhukrishnan, Preethalayam Preethanuj, Eringathodi Suresh, Florian Jaroschik, Kokkuvayil Vasu Radhakrishnan
Eur. J. Org. Chem., August 16, 2017, https://doi.org/10.1002/ejoc.201700742 Read article
Into the major or minor groove: The interaction modes of three polyamines (see figure) with a self-complementary 16 base pair duplex, are investigated by all-atom explicit-solvent molecular dynamics. Results show that the formation of DNA–polyamine cross-links involves deprotonation of the guanine radical cation to attack the polyamines.
[Full Paper]
Emmanuelle Bignon, Chen-Hui Chan, Christophe Morell, Antonio Monari, Jean-Luc Ravanat, Elise Dumont
Chem. Eur. J., August 16, 2017, https://doi.org/10.1002/chem.201702065 Read article
A bowl-shaped antiaromatic molecule was synthesized by deformation of a planar antiaromatic π-conjugation system upon insertion of palladium into the small cavity of a metal-free norcorrole. The latter was prepared from demetalation of a copper norcorrole obtained from the intramolecular coupling of a bis(diiododipyrrin) copper complex with copper thiophenecarboxylate.
[Communication]
Tsubasa Yonezawa, Siham A. Shafie, Satoru Hiroto, Hiroshi Shinokubo
Angew. Chem. Int. Ed., August 16, 2017, https://doi.org/10.1002/anie.201706134 Read article
Only with fluorine: A palladium-catalyzed cross-coupling of secondary α-(trifluoromethyl)benzyl tosylates with (hetero)aryl boronic acids enables the stereoselective synthesis of more than twenty 1,1-diaryl-2,2,2-trifluoroethanes. The cross-coupling was shown to occur with predominant inversion of configuration.
[Communication]
Marta Brambilla, Matthew Tredwell
Angew. Chem. Int. Ed., August 15, 2017, https://doi.org/10.1002/anie.201706631 Read article
[Full Paper]
Bharat K. Sharma, Swati Dixit, Sajeev Chacko, Rajesh M. Kamble, Neeraj Agarwal
Eur. J. Org. Chem., August 11, 2017, https://doi.org/10.1002/ejoc.201700769 Read article
The introduction of borylzinc reagents in palladium-catalyzed borylations led to the first systematic method for the synthesis of acylboranes, a rare class of organoboron compounds. Here a critical mechanistic insight into this new bora-Negishi methodology is offered by combining experimental and computational efforts. The studies demonstrate the monoligated nature of the Pd active species and guided the access to related Pd precursors with improved performance.
[Full Paper]
Jesús Campos, Ainara Nova, Eugene L. Kolychev, Simon Aldridge
Chem. Eur. J., August 10, 2017, https://doi.org/10.1002/chem.201702703 Read article
CO2 neutral: Although seemingly trivial, C(sp3)−Si cross-coupling between unactivated alkyl electrophiles and silicon (pro)nucleophiles had been elusive until recently. The present decarboxylative silylation of N-hydroxyphthalimide (NHPI) esters makes use of Si−B reagents as the source of silicon and is catalyzed by copper(I). This broadly applicable reaction is shown to follow a radical mechanism and also proceeds in the dark.
[Communication]
Weichao Xue, Martin Oestreich
Angew. Chem. Int. Ed., August 10, 2017, https://doi.org/10.1002/anie.201706611 Read article
When two become one: A strategy was developed for transforming olefins into homoallylic nitriles through a mechanism that combines copper catalysis with alkyl nitrile radicals. The radicals are easily generated from alkyl nitriles in the presence of the mild oxidant di-tert-butyl peroxide. This cross-dehydrogenative coupling between simple olefins and alkylnitriles bears advantages over the conventional use of halides and toxic cyanide reagents.
[Communication]
Xuesong Wu, Jan Riedel, Vy M. Dong
Angew. Chem. Int. Ed., August 10, 2017, https://doi.org/10.1002/anie.201705859 Read article
Rising to the challenge: The microwave-promoted α-alkylation of ketones with cycloalkanes as alkylating agents under metal-free conditions is presented. This selective cross-coupling of different carbon radicals is a challenge because of the inherent instability and reactivity of these intermediates. The cross-coupling of C(sp3)−H bonds described herein provides a successful example of the realization of this difficult task.
[Full Paper]
Qian-Qian Wang, Zhang-Xin Wang, Xin-Ying Zhang, Xue-Sen Fan
Asian J. Org. Chem., August 09, 2017, https://doi.org/10.1002/ajoc.201700256 Read article
Bioinspired dip catalysts are fabricated using soft lithography technique on polymer substrates and demonstrated to be highly efficient for catalyzing Suzuki–Miyaura cross-coupling reactions after loading with Pd nanoparticles. Percentage yields of the reaction can be correlated with the surface topographical features of substrates and the developed strategy can be utilized to fabricate many dip catalysts, with intriguing surface features.
[Full Paper]
Vipul Sharma, Ashish Bahuguna, Venkata Krishnan
Adv. Mater. Interfaces, July 28, 2017, https://doi.org/10.1002/admi.201700604 Read article
Waste not, want not: Mussel shell waste is transformed into individual calcium carbonate plates (ICCPs) and is used as a support for palladium nanoparticles (NPs). Pd/ICCP catalyzes the Sonogashira cross-coupling of aryl iodides with terminal acetylenes in the presence of K2CO3 without the use of copper or an external ligand. The Pd/ICCP catalyst can be reused up to three times and activity over 90 % is maintained with negligible Pd-metal leaching.
[Full Paper]
Trin Saetan, Chutiparn Lertvachirapaiboon, Sanong Ekgasit, Mongkol Sukwattanasinitt, Sumrit Wacharasindhu
Chem. Asian J., July 27, 2017, https://doi.org/10.1002/asia.201700537 Read article
The latest advances in the preparation of graphene supported metal nanoparticles and their application in the catalytic organic transformation of both carbon-carbon (C−C) and carbon-heteroatom (C−X) bonds.
[Personal Account]
Mahmoud Nasrollahzadeh, Zahra Issaabadi, Mohammad Mostafa Tohidi, S. Mohammad Sajadi
Chem. Rec., July 26, 2017, https://doi.org/10.1002/tcr.201700022 Read article
[Review]
Naohiko Yoshikai
Isr. J. Chem., July 26, 2017, https://doi.org/10.1002/ijch.201700047 Read article
In this personal account, a variety of spirocycles were constructed by sequential use of metathesis and cycloaddition reactions along with different name reactions such as Claisen rearrangement (CR), Grignard addition, Fischer indolization (FI), Suzuki–Miyaura (SM) cross-coupling and the retro-Diels–Alder (rDA) reaction as key steps.
[Microreview]
Sambasivarao Kotha, Nageswara Rao Panguluri, Rashid Ali
Eur. J. Org. Chem., July 24, 2017, https://doi.org/10.1002/ejoc.201700439 Read article
[Microreview]
Giorgio Tseberlidis, Daniela Intrieri, Alessandro Caselli
Eur. J. Inorg. Chem., July 20, 2017, https://doi.org/10.1002/ejic.201700633 Read article
Poison-resistant reaction: Bis(tri-tert-butylphosphine)palladium-catalyzed arylation of ortho-sulfanyl aryl halides with sodium tetraarylborates proceeds smoothly without any additional bases in high yields, providing a reliable route to 2-sulfanylbiaryls. This arylation protocol offers a practical solution to overcome the poisoning behavior of aryl sulfides in such cross-coupling arylation.
[Communication]
Dhananjayan Vasu, Jan Niklas Hausmann, Hayate Saito, Tomoyuki Yanagi, Hideki Yorimitsu, Atsuhiro Osuka
Asian J. Org. Chem., July 17, 2017, https://doi.org/10.1002/ajoc.201700323 Read article
An innovative route for the construction of C4-dicarbonylation of anilines from simple and readily available anilines and phenyl acetylene has been developed. The iodine-promoted oxidative cross-coupling reaction performed well and the highlight of this protocol was not N−H functionalization but C−H functionalization of unprotected anilines.
[Full Paper]
Panpan Wang, Yajie Fu, Ping Wu, Xin Guo, Baohua Chen
Asian J. Org. Chem., July 05, 2017, https://doi.org/10.1002/ajoc.201700212 Read article
Diels or no deal: To build the bicyclic pharmacophore of spirolide C, a Diels–Alder reaction between a chiral α-exomethylene lactam and a 2-silatrane-1,3-heptadien-5-yne derivative was achieved with over 60 % diastereoselectivity.
[Full Paper]
Hiroshi Tsuchikawa, Kou Minamino, Sho Hayashi, Michio Murata
Asian J. Org. Chem., July 04, 2017, https://doi.org/10.1002/ajoc.201700164 Read article
Take your pick: A method for the ligand-controlled divergent synthesis of aldehydes and carboxylic acids from aryl halides under identical reaction conditions is established. Generally, small sterically hindered monodentate alkylphosphines facilitate the formation of aldehydes, whereas wide-bite-angle bidentate ligands promote the formation of acids. Cy=cyclohexyl, DCC=dicyclohexylcarbodiimide, Xantphos=4,5-bis(diphenylphosphino)-9,9-dimethylxanthene.
[Communication]
Fu-Peng Wu, Jin-Bao Peng, Ling-Shen Meng, Xinxin Qi, Xiao-Feng Wu
ChemCatChem, June 27, 2017, https://doi.org/10.1002/cctc.201700517 Read article
One to sweeten the pot: A protocol was developed for the synthesis of C-glycosyl trans-stilbenes by using a microwave-assisted Heck coupling of C-aryl glycosyl halides and substituted styrenes. A broad substrate scope in terms of sugars, styrenes, and aryl aglycones was shown, and the synthesis of a non-natural C2 symmetric bis(C-glycosyl) stilbene was achieved. Finally, three analogues were shown to have human SGLT-2 inhibitory activity.
[Full Paper]
Kalyana Kumar Ponnapalli, Avijit Kumar Adak, Anindya Das, Jen-Shin Song, Szu-Huei Wu, Chung-Ming Sun, Chun-Cheng Lin
Asian J. Org. Chem., June 19, 2017, https://doi.org/10.1002/ajoc.201700148 Read article
Turning on a DIME: A p-donating BI-DIME ligand in the presence of Triton X-100 surfactant in water showed excellent activity for Suzuki–Miyaura cross-coupling reactions at low Pd(OAc)2 loading (500 ppm) to afford various biaryl and heterobiaryl products in high yields. A kinetic study enabled a further decrease in the catalyst loading and this method was successfully applied to the synthesis of active pharmaceutical ingredients (APIs).
[Full Paper]
Nitinchandra D. Patel, Daniel Rivalti, Frederic G. Buono, Arindom Chatterjee, Bo Qu, Stefan Braith, Jean-Nicolas Desrosiers, Sonia Rodriguez, Joshua D. Sieber, Nizar Haddad, Keith R. Fandrick, Heewon Lee, Nathan K. Yee, Carl A. Busacca, Chris H. Senanayake
Asian J. Org. Chem., May 04, 2017, https://doi.org/10.1002/ajoc.201700137 Read article
Copper proves its worth: Tetrasubstituted allenes have been prepared from the CuBr2-catalyzed reaction of readily available quaternary ammonium salts and Grignard reagents. The reaction proceeds smoothly giving products in good to excellent yields (see scheme).
[Communication]
Shengming Ma, Qi Liu, Xinjun Tang, Yujuan Cai
Asian J. Org. Chem., February 17, 2017, https://doi.org/10.1002/ajoc.201600620 Read article
© Wiley-VCH 2016.