C–C Coupling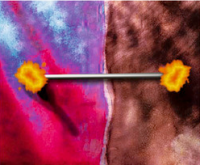 The development of metal-catalyzed cross-coupling reactions over the past 30 years has revolutionized the way, carbon-carbon bonds between sp and sp2 carbon atoms are formed. These methods have profoundly changed the protocols for the construction of natural products, building blocks for supramolecular chemistry and self-assembly, organic materials and polymers, and lead compounds in medicinal chemistry from simpler entities. The 2010 Nobel prize in chemistry for E. Negishi, R. Heck, and A. Suzuki underlines the importance of direct bond formation betweeen carbon atoms.
Read the laureates' lectures:
Ei-ichi Negishi*
Magical Power of Transition Metals: Past, Present, and Future (Nobel Lecture)
Angew. Chem. 2011, 123, 6870–6897; Angew. Chem. Int. Ed. 2011, 50, 6738–6764
Akira Suzuki*
Cross-Coupling Reactions Of Organoboranes: An Easy Way To Construct C–C Bonds (Nobel Lecture)
Angew. Chem. 2011, 123, 6854–6869; Angew. Chem. Int. Ed. 2011, 50, 6722–6737
Find all articles on C–C coupling in Wiley Online Library...
Recent Articles

RSS feed
Good prediction: Mechanistic aspects of cross-dehydrogenative coupling (CDC) reactions are examined by experimental and computational methods. A rationale is provided for the ubiquity of the N-aryl group in these reactions. The aryl substituent stabilizes two intermediates and the high-energy transition state that connects them, which together represent the rate-determining step which allows a prediction as to whether new CDC substrates will react either well or poorly.
[Full Paper]
Althea S.-K. Tsang, A. Stephen K. Hashmi, Peter Comba, Marion Kerscher, Bun Chan, Matthew H. Todd
Chem. Eur. J., June 21, 2017, https://doi.org/10.1002/chem.201700430 Read article
Access denied: Denying the reaction to proceed via the ortho-position (via substituents) in acetal-linked substrates, a C
O transposition coupled with the elimination of formaldehyde (as a traceless linker) is achieved. This allows for a new selective way to form C−C bonds and a new synthetic approach towards highly substituted 2-phenyl phenols.
[Full Paper]
Pabhon Poonpatana, Gabriel dos Passos Gomes, Thomas Hurrle, Kimhoa Chardon, Stefan Bräse, Kye-Simeon Masters, Igor Alabugin
Chem. Eur. J., June 19, 2017, https://doi.org/10.1002/chem.201700085 Read article
One to sweeten the pot: A protocol was developed for the synthesis of C-glycosyl trans-stilbenes by using a microwave-assisted Heck coupling of C-aryl glycosyl halides and substituted styrenes. A broad substrate scope in terms of sugars, styrenes, and aryl aglycones was shown, and the synthesis of a non-natural C2 symmetric bis(C-glycosyl) stilbene was achieved. Finally, three analogues were shown to have human SGLT-2 inhibitory activity.
[Full Paper]
Kalyana Kumar Ponnapalli, Avijit Kumar Adak, Anindya Das, Jen-Shin Song, Szu-Huei Wu, Chung-Ming Sun, Chun-Cheng Lin
Asian J. Org. Chem., June 19, 2017, https://doi.org/10.1002/ajoc.201700148 Read article
It's not easy being green! An oxidative cross-coupling reaction between methylhetarenes and imidazoheterocycles has been achieved by employing an eco-friendly iodine/dimethyl sulfoxide reagent system. This C(sp2)−H carbonylation method has a wide substrate scope and good functional group tolerance and enabled the construction of highly functionalized imidazoheterocycles in very good yields.
[Full Paper]
Faria Sultana, Siddiq Pasha Shaik, Abdullah Alarifi, Ajay Kumar Srivastava, Ahmed Kamal
Asian J. Org. Chem., May 12, 2017, https://doi.org/10.1002/ajoc.201700173 Read article
Turning on a DIME: A p-donating BI-DIME ligand in the presence of Triton X-100 surfactant in water showed excellent activity for Suzuki–Miyaura cross-coupling reactions at low Pd(OAc)2 loading (500 ppm) to afford various biaryl and heterobiaryl products in high yields. A kinetic study enabled a further decrease in the catalyst loading and this method was successfully applied to the synthesis of active pharmaceutical ingredients (APIs).
[Full Paper]
Nitinchandra D. Patel, Daniel Rivalti, Frederic G. Buono, Arindom Chatterjee, Bo Qu, Stefan Braith, Jean-Nicolas Desrosiers, Sonia Rodriguez, Joshua D. Sieber, Nizar Haddad, Keith R. Fandrick, Heewon Lee, Nathan K. Yee, Carl A. Busacca, Chris H. Senanayake
Asian J. Org. Chem., May 04, 2017, https://doi.org/10.1002/ajoc.201700137 Read article
Developing efficient and selective routes for biaryl synthesis is of great interest. Decarboxylative oxidative coupling is appealing, because both substrate classes are readily available, and only CO2 and H2O are formed as side products. Furthermore, the carboxyl group offers a site for selective transformations. This review details decarboxylative oxidative coupling from 2008 to the present.
[Microreview]
Gregory J. P. Perry, Igor Larrosa
Eur. J. Org. Chem., April 26, 2017, https://doi.org/10.1002/ejoc.201700121 Read article
C–H activation in saturated ethers followed by functionalization with various coupling partners under oxidative conditions has been an area of significant interest. This microreview sheds light on C–C and C–heteroatom bond formation in these inactivated ethers.
[Microreview]
Aanchal Batra, Paramjit Singh, Kamal Nain Singh
Eur. J. Org. Chem., April 20, 2017, https://doi.org/10.1002/ejoc.201700341 Read article
Copper proves its worth: Tetrasubstituted allenes have been prepared from the CuBr2-catalyzed reaction of readily available quaternary ammonium salts and Grignard reagents. The reaction proceeds smoothly giving products in good to excellent yields (see scheme).
[Communication]
Shengming Ma, Qi Liu, Xinjun Tang, Yujuan Cai
Asian J. Org. Chem., February 17, 2017, https://doi.org/10.1002/ajoc.201600620 Read article
© Wiley-VCH 2016.