Carbon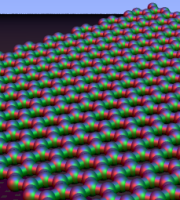 Talking about carbon, one automatically thinks of carbon nanotubes and fullerenes. But there is much more to this broad subject area. Advances in graphene research, templating methods, and the emergence of nanodiamonds make this field a rich area of research.
The variety of recent breakthroughs indicates that carbon, in all its variations, is the material of the early 21st century. The 2010 Nobel Prize in Physics was awarded to A. Geim and K. S. Novoselov for their work on graphene. Don't miss the hottest results and newest trends—you'll find the latest carbon research articles on this page.

RSS feed
Recent Articles
β-Amyloid peptide accumulation in the brain is most likely cause of the Alzheimer's disease. Aggregates of β-sheets of amyloid structures with a graphene flake (see picture) were studied by using DFT calculations. Graphene-flake interactions with amyloid sheets are stronger than the interaction between two amyloid sheets, which confirms experimental observations that graphene inhibits amyloid aggregation.
[Article]
Dragana M. Božinovski, Predrag V. Petrović, Milivoj R. Belić, Snežana D. Zarić
ChemPhysChem, December 13, 2017, https://doi.org/10.1002/cphc.201700847 Read article
Permitted doping: B/N co-doped graphene samples were synthesized by using differently generated graphene oxide and various B/N precursors. The final composition highly depends on both factors. The electrochemical behavior of all samples with respect to the oxygen reduction reaction was also investigated and correlated with the presence of metallic impurities.
[Full Paper]
Vlastimil Mazánek, Stanislava Matějková, David Sedmidubský, Martin Pumera, Zdeněk Sofer
Chem. Eur. J., December 13, 2017, https://doi.org/10.1002/chem.201704515 Read article
[Full Paper]
Raja Zaidatul Akhmar Raja Jamaluddin, Lee Yook Heng, Ling Ling Tan, Kwok Feng Chong
Electroanalysis, December 11, 2017, https://doi.org/10.1002/elan.201700612 Read article
A 3D architectured framework is fabricated and applied as anode for high-performing direct carbon fuel cells. The fuel cells demonstrate remarkable power densities below 600 °C, attributed to highly improved mass transfer and increased triple-phase boundaries within the 3D anode. This approach provides a promising strategy in developing 3D functional electrodes for fuel cells and other electrochemical devices.
[Communication]
Wei Wu, Yunya Zhang, Dong Ding, Ting He
Adv. Mater., December 08, 2017, https://doi.org/10.1002/adma.201704745 Read article
Resistance is useful: A new sandwich-like silica@Ni@silica multicore–shell catalyst is prepared. This catalyst shows a stable catalytic performance and high carbon resistance for the low-temperature dry reforming of methane because of the confinement effect.
[Full Paper]
Zhoufeng Bian, Sibudjing Kawi
ChemCatChem, December 07, 2017, https://doi.org/10.1002/cctc.201701024 Read article
Road to Ru−N: Remarkable activity in the hydrogen evolution reaction is observed with Ru−C3N4/rGO nanocomposites in which Ru ions are embedded into the C3N4 scaffold by Ru−N coordination bonds, leading to redistribution of electrons within the nanocomposites. Interactions among the three structural components facilitate hydrogen adsorption and reduction, owing to enhanced electrical conductivity, charge carrier density, and increased number of active sites.
[Full Paper]
Yi Peng, Wanzhang Pan, Nan Wang, Jia-En Lu, Shaowei Chen
ChemSusChem, December 05, 2017, https://doi.org/10.1002/cssc.201701880 Read article
The trihydride–dihydride conversion of rare earth (RE, RE = Y, La, and Gd) generates active H with hydridic nature, which can enhance the Li+ binding to the graphene layers. This novel H-enhanced lithiation mechanism can significantly promote the lithium storage capacity of graphite.
[Communication]
Xinyao Zheng, Chengkai Yang, Xinghua Chang, Teng Wang, Meng Ye, Jing Lu, Henghui Zhou, Jie Zheng, Xingguo Li
Adv. Mater., December 04, 2017, https://doi.org/10.1002/adma.201704353 Read article
In this paper a novel superamphiphilic graphene-based material prepared through a simple dip-coating method, which is different from the conventionally coating graphene on polyurethane foams via reduction of graphene oxide is reported. Wetting behavior can be controlled by increasing the amount of cellulose nanowhiskers. The superamphiphilic foams can be reused for adsorbing liquids for more than 20 cycles without losing their superamphiphilicity.
[Full Paper]
Xiaotan Zhang, Dongyan Liu, Guoxin Sui
Adv. Mater. Interfaces, December 01, 2017, https://doi.org/10.1002/admi.201701094 Read article
Recent advances in the changes of electrical properties of 2D materials by self-assembled monolayers (SAMs) are reviewed in this paper. When 2D materials (i.e., graphene, transition metal dichalcogenides) are in contact with SAMs having different end groups, alkyl chain lengths, and linker groups, their electrical properties are changed.
[Review]
Wi Hyoung Lee, Yeong Don Park
Adv. Mater. Interfaces, December 01, 2017, https://doi.org/10.1002/admi.201700316 Read article
Tagged and tethered: Two N-heterocyclic carbene (NHC) complexes of rhodium(I) adorned with pyrene functionalities were supported onto the surface of reduced graphene oxide. The dimetallic complex with two pyrene tags affords higher catalytic activity, better recyclability, and improved selectivity compared with the related monometallic complex with only one pyrene functionality.
[Full Paper]
Sheila Ruiz-Botella, Eduardo Peris
ChemCatChem, November 30, 2017, https://doi.org/10.1002/cctc.201701277 Read article
A novel approach to develop superelastic wet-spun hybrid carbon nanotube graphene fibers is demonstrated. Fabrication of spring-like coiled fiber coated with an elastic polymer shows an extraordinary elasticity capable of 800% strain while affording a specific capacitance of ≈138 F g−1. The developed processing method is scalable for the fabrication of industrial quantities of wearable technology (Smart Textiles).
[Full Paper]
Zan Lu, Javad Foroughi, Caiyun Wang, Hairu Long, Gordon G. Wallace
Adv. Energy Mater., November 29, 2017, https://doi.org/10.1002/aenm.201702047 Read article
Defense barrier: The formed SEI film on a graphite surface inhibits the graphite exfoliation caused by co-intercalation of solvents. Thus, the stable graphite layer with a preformed SEI can function as an effective physical barrier to suppress the polysulfide shuttle and enhance the utilization of the trapped active material. As a result, Li−S cells using the graphite-decorated separator exhibit excellent cycle stability with a low capacity decay of 0.13 % per cycle.
[Article]
Pan Zeng, Liwu Huang, Yamiao Han, Xinling Zhang, Ruixue Zhang, Yungui Chen
ChemElectroChem, November 28, 2017, https://doi.org/10.1002/celc.201700924 Read article
Vertically aligned molybdenum disulfide (MoS2) nanosheets are controllably patterned on electrochemically exfoliated graphene, resulting in 2D graphene-MoS2 hybrids. Due to the excellent mechanical stability, effective exposure of active materials and fast charge transport kinetics, the resultant 2D graphene-MoS2 delivers ultrahigh-specific capacities, impressive cycling stability, and rate capability for both Li-ion batteries and Na-ion batteries.
[Communication]
Gang Wang, Jian Zhang, Sheng Yang, Faxing Wang, Xiaodong Zhuang, Klaus Müllen, Xinliang Feng
Adv. Energy Mater., November 28, 2017, https://doi.org/10.1002/aenm.201702254 Read article
Ru metalloporphyrins supported on a graphene sheet are proposed as a promising electrocatalyst in the CO2 reduction to methane. DFT calculations suggest that the pathway via the carboxyl intermediate is thermodynamically preferred, whereas the formate requires the smallest overpotential.
[Full Paper]
Kinga Szkaradek, Krzysztof Buzar, Evgeny A. Pidko, Bartłomiej M. Szyja
ChemCatChem, November 27, 2017, https://doi.org/10.1002/cctc.201701045 Read article
A graphene oxide rolled-up tube production process is presented using wax-printed membranes for the fabrication of micromotors. The resultant graphene oxide rolled-up tubes show magnetic and catalytic movement within the addition of magnetic nanoparticles or sputtered platinum in the surface of graphene oxide before the scrolling process. These micromotors are successfully exploited for oil removal from water.
[Full Paper]
Luis Baptista-Pires, Jahir Orozco, Pablo Guardia, Arben Merkoçi
Small, November 24, 2017, https://doi.org/10.1002/smll.201702746 Read article
Carbon folds: Carbon nanotubes loaded on graphene microfolds with mesoporous structures, large specific surface areas, highly exposed carbon skeleton, and enriched heteroatomic doping were mass-produced by a low-temperature spray-drying procedure, affording excellent bifunctional electrocatalytic activity for both the oxygen reduction reaction and oxygen evolution reaction with superb durability and methanol tolerance.
[Full Paper]
Bo Fang, Jia Yang, Chen Chen, Chunxiao Zhang, Dan Chang, Hangxun Xu, Chao Gao
ChemCatChem, November 23, 2017, https://doi.org/10.1002/cctc.201700985 Read article
Time to split: The synthesis of Co9S8 nanocrystals encapsulated in nitrogen/sulfur-doped mesoporous graphitized carbon derived from a polymer−metal complex is reported. The nanocrystals exhibit similar electrocatalytic activity and superior stability for water-splitting reactions (oxygen reduction/oxygen evolution). The remarkable electrochemical properties are mainly attributed to the synergetic effects between Co9S8, heteroatoms, and graphitized carbon in alkaline medium, especially for the oxygen evolution reaction.
[Article]
Saad M Alshehri, Jahangeer Ahmed, Aslam Khan, Mu Naushad, Tansir Ahamad
ChemElectroChem, November 21, 2017, https://doi.org/10.1002/celc.201700955 Read article
In a crump: Defect-rich crumpled graphene oxide (CGO) is fabricated by using a modified Hummers method, followed by fast thermal treatment. Abundant defective and doping sites are created, presenting on the crumpled edges. Highly comparable oxygen reduction reaction performance of the CGO is demonstrated relative to commercial Pt/C.
[Communication]
Mei Guo, Chaochao Qiu, Yu Li, Xiuyan Jin, Guoxin Zhang, Xiaoming Sun
ChemElectroChem, November 16, 2017, https://doi.org/10.1002/celc.201701158 Read article
[Full Paper]
Juliana de Fátima Giarola, Valdir Mano, Arnaldo César Pereira
Electroanalysis, November 14, 2017, https://doi.org/10.1002/elan.201700538 Read article
Graphene fibers with spindle-knotted structure for oil adsorption are fabricated by microfluidics.
[Communication]
Ziqian Wu, Jie Wang, Ze Zhao, Yunru Yu, Luoran Shang, Yuanjin Zhao
ChemPhysChem, November 13, 2017, https://doi.org/10.1002/cphc.201700939 Read article
Mind your Ps and Ns: P, N co-doped reduced graphene oxide was obtained in a solution process by heating phytic acid and ammonium hydroxide at reflux on graphene oxide. The material showed excellent ORR catalytic and an excellent four-electron reaction.
[Full Paper]
Dawoon Jang, Seungjun Lee, Sujin Kim, Kwangrok Choi, Sunghee Park, Junghoon Oh, Sungjin Park
ChemNanoMat, November 13, 2017, https://doi.org/10.1002/cnma.201700241 Read article
An electrical-manipulated plasmon–exciton coupling device, based on monolayer graphene–Ag nanoparticles hybrid system, is fabricated as the surface-enhanced Raman scattering substrate. The gate voltage can increase density of state of hot electrons on the conduction band of graphene, and bias voltage can make hot electrons with higher kinetic energy. Both gate voltage and electrical currents can significantly promote plasmon–exciton-codriven surface catalytic reaction.
[Full Paper]
En Cao, Xiao Guo, Liqiang Zhang, Ying Shi, Weihua Lin, Xiaochun Liu, Yurui Fang, Liyan Zhou, Yinghui Sun, Yuzhi Song, Wenjie Liang, Mengtao Sun
Adv. Mater. Interfaces, November 09, 2017, https://doi.org/10.1002/admi.201700869 Read article
We reveal the physical principle of plasmon-exciton coupling interaction with steady absorption spectroscopy, and ultrafast transition absorption spectroscopy, based on the pump-prop technology. Secondly, we introduce the fabrication of electro-optical device of two-dimensional semiconductor-nanostructure noble metals hybrid, based on the plasmon-exciton coupling interactions. Thirdly, we introduce the applications of plasmon-exciton coupling interaction in the field of surface catalytic reactions.
[Personal Account]
Jingang Wang, Weihua Lin, Xuefeng Xu, Fengcai Ma, Mengtao Sun
Chem. Rec., October 16, 2017, https://doi.org/10.1002/tcr.201700053 Read article
The latest advances in the preparation of graphene supported metal nanoparticles and their application in the catalytic organic transformation of both carbon-carbon (C−C) and carbon-heteroatom (C−X) bonds.
[Personal Account]
Mahmoud Nasrollahzadeh, Zahra Issaabadi, Mohammad Mostafa Tohidi, S. Mohammad Sajadi
Chem. Rec., July 26, 2017, https://doi.org/10.1002/tcr.201700022 Read article
Layers of support: The role of two-dimensional layered materials as catalyst supports with improved catalytic activity towards various chemical and electrochemical reactions has been reviewed. This review focuses on new techniques to improve the catalytic activity and stability of the nanomaterials by tuning the structural and electronic properties of the support.
[Focus Review]
Amit Kumar, Qiang Xu
ChemNanoMat, July 19, 2017, https://doi.org/10.1002/cnma.201700139 Read article
© Wiley-VCH 2016.