Carbon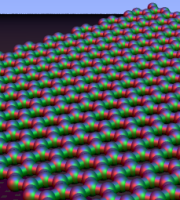 Talking about carbon, one automatically thinks of carbon nanotubes and fullerenes. But there is much more to this broad subject area. Advances in graphene research, templating methods, and the emergence of nanodiamonds make this field a rich area of research.
The variety of recent breakthroughs indicates that carbon, in all its variations, is the material of the early 21st century. The 2010 Nobel Prize in Physics was awarded to A. Geim and K. S. Novoselov for their work on graphene. Don't miss the hottest results and newest trends—you'll find the latest carbon research articles on this page.

RSS feed
Recent Articles
Holey sheet! A high N-doping level, large surface area, and high porosity were achieved in nitrogen-doped graphitic carbon nanosheets prepared by the replication of polysaccharide on in situ synthesized graphitic carbon nitride (g-C3N4) sheet templates (see figure). A similar four-electron transfer pathway was exhibited as calculated from the yield of H2O2.
[Full Paper]
Qi Li, Dan Xu, Xu Ou, Feng Yan
Chem. Asian J., June 22, 2017, https://doi.org/10.1002/asia.201700586 Read article
SnO2 triple-shelled hollow superstructures with a low carbon content (4.83%) can withstand a huge volume expansion of ≈231.8% and deliver a high reversible capacity of 1099 mAh g−1 even after 1450 cycles, due to their self-synergistic structure-preservation behavior that protects the superstructures from collapse and guarantees the electrode structural integrity during long-term cycling.
[Communication]
Lianhai Zu, Qingmei Su, Feng Zhu, Bingjie Chen, Huanhuan Lu, Chengxin Peng, Ting He, Gaohui Du, Pengfei He, Kai Chen, Shihe Yang, Jinhu Yang, Huisheng Peng
Adv. Mater., June 21, 2017, https://doi.org/10.1002/adma.201701494 Read article
Size versus capacitance: A facile, aqueous, self-catalyzed polymerization method has been developed for the mass production of monodisperse carbon microspheres. The resultant carbon spheres exhibit a size-dependent supercapacitor performance; the capacitance increases with decreasing particle size. Nitrogen and oxygen codoped carbon spheres deliver a high specific capacitance, excellent rate capability, and outstanding cycling stability (see figure).
[Full Paper]
Qiang Yu, Doudou Guan, Zechao Zhuang, Jiantao Li, Changwei Shi, Wen Luo, Liang Zhou, Dongyuan Zhao, Liqiang Mai
ChemPlusChem, June 20, 2017, https://doi.org/10.1002/cplu.201700182 Read article
The extensive electrical characterization of lateral MoS2–graphene heterojunctions synthesized through seed-free consecutive chemical vapor deposition processes is reported. Device-level experiments, Kelvin probe force microscopy characterizations, and theoretical modeling show that the MoS2–graphene field-effect transistors exhibit an order of magnitude higher mobility and lower noise metrics compared with MoS2–metal devices due to smaller Schottky barrier height at the contacts.
[Full Paper]
Amirhossein Behranginia, Poya Yasaei, Arnab K. Majee, Vinod K. Sangwan, Fei Long, Cameron J. Foss, Tara Foroozan, Shadi Fuladi, Mohammad Reza Hantehzadeh, Reza Shahbazian-Yassar, Mark C. Hersam, Zlatan Aksamija, Amin Salehi-Khojin
Small, June 19, 2017, https://doi.org/10.1002/smll.201604301 Read article
Using advanced transmission electron microscopy techniques, DNA origami nanostructures that are deposited onto different substrates such as atomically thin graphene, functionalized graphene, and carbon are visualized. It is observed that the DNA nanostructures are distorted when deposited onto graphene, while no such distortion is seen on carbon, which is likely due to π–π interaction of DNA bases with graphene.
[Full Paper]
Yoones Kabiri, Adithya N. Ananth, Jaco van der Torre, Allard Katan, Jin-Yong Hong, Sairam Malladi, Jing Kong, Henny Zandbergen, Cees Dekker
Small, June 16, 2017, https://doi.org/10.1002/smll.201700876 Read article
Faradaic charge transfer is observed from a complex biofluid into a flexible graphene microelectrode in the absence of an applied bias. The Faradaic current responds sensitively and rapidly to pH variation. The results provide a detailed understanding of the electrical double layer above graphene, and pave the way for early cancer diagnosis via monitoring of extracellular pH.
[Communication]
Jinglei Ping, Jacquelyn E. Blum, Ramya Vishnubhotla, Amey Vrudhula, Carl H. Naylor, Zhaoli Gao, Jeffery G. Saven, Alan T. Charlie Johnson
Small, June 14, 2017, https://doi.org/10.1002/smll.201700564 Read article
Graphene grown by chemical vapour deposition (CVD) is dry-transferred from its growth substrate onto hexagonal boron nitride with the help of exfoliated MoS2 flakes, for the first time allowing the solution-free fabrication of complex van-der-Waals heterostructures from CVD graphene. Transport measurements reveal that the disorder potential in the graphene and the maximum resistance at the Dirac point strongly depend on the doping of the MoS2 layer.
[Rapid Research Letter]
Luca Banszerus, Kenji Watanabe, Takashi Taniguchi, Bernd Beschoten, Christoph Stampfer
Phys. Status Solidi RRL, June 14, 2017, https://doi.org/10.1002/pssr.201700136 Read article
The fabrication of all-transparent flexible vertical Schottky barrier transistors and logic gates based on graphene–metal oxide–metal heterostructures and ion gel gate dielectrics is demonstrated. The resulting vertical devices show high current densities (18.9 A cm−2) and on–off current ratios (>104) at low voltages.
[Full Paper]
Seongchan Kim, Young Jin Choi, Yongsuk Choi, Moon Sung Kang, Jeong Ho Cho
Adv. Funct. Mater., June 14, 2017, https://doi.org/10.1002/adfm.201700651 Read article
Twins, but not twins: Polyoxometalates (POMs) can exhibit high energy density for supercapacitors (SCs) due to rapid and reversible multielectron redox reactions. On the other hand, the energy storing capacity can be also increased by extending the operating voltage boundary of the device by creating an asymmetric SC. Both of these strategies are combined herein: reduced graphene oxide (rGO) is combined with either PMo12 to be used as positive electrode or with PW12, which is used as negative electrode.
[Full Paper]
Deepak P. Dubal, Nilesh R. Chodankar, Ajayan Vinu, Do-Heyoung Kim, Pedro Gomez-Romero
ChemSusChem, June 12, 2017, https://doi.org/10.1002/cssc.201700792 Read article
The high reversibility of [lithium–ether]+ co-intercalation in graphite is demonstrated for the first time. This mechanism shows unexpectedly fast kinetics which presents its potential usage in high-power batteries. The fundamental origin of this unforeseen reversibility and the high power capability is unveiled through the combined first-principles calculations and extensive experimental characterizations in comparison with normal lithium intercalation.
[Full Paper]
Haegyeom Kim, Kyungmi Lim, Gabin Yoon, Jae-Hyuk Park, Kyojin Ku, Hee-Dae Lim, Yung-Eun Sung, Kisuk Kang
Adv. Energy Mater., June 12, 2017, https://doi.org/10.1002/aenm.201700418 Read article
[Full Paper]
Ceren Kaçar, Pınar Esra Erden, Esma Kılıç
Electroanalysis, June 08, 2017, https://doi.org/10.1002/elan.201700207 Read article
Perfectly noncovalent! The adsorption of dopamine on perfect graphene involves noncovalent interactions of π–π and CH⋅⋅⋅π character, according to the adsorption mode, as well as electron drift from substrate to adsorbate. On graphene with monovacancies, a hydrogen bond is formed involving a hydroxy group of dopamine and a carbon atom of the vacancy in the AB stacking mode.
[Article]
Ana C. Rossi Fernández, Norberto J. Castellani
ChemPhysChem, June 08, 2017, https://doi.org/10.1002/cphc.201700252 Read article
Light it up: A RGO/Ni foam composite with a hierarchical 3D porous structure is easily fabricated through flame reduction, exhibiting excellent performances in supercapacitors and lithium-ion batteries.
[Article]
Jing Yang, Xiaofeng Li, Shuang Han, Ruling Huang, Qian-Qian Wang, Jin Qu, Zhong-Zhen Yu
ChemElectroChem, June 08, 2017, https://doi.org/10.1002/celc.201700405 Read article
Step by step: Hierarchical NiCo2O4@MnO2 core-shell nanowire arrays have been synthesized on graphene-nickel foam by a stepwise synthetic approach. The nanowire arrays exhibit a maximum energy density of 27.8 Wh Kg−1 at a power density of 400.3 W Kg−1. An application of the asymmetric supercapacitor is demonstrated by lighting up a light-emitting diode (LED) with two devices in series.
[Article]
Hao Chen, Chien-Kuo Hsieh, Yue Yang, Xiao Ying Liu, Che-Hsien Lin, Chuen-Horng Tsai, Zhong Quan Wen, Fan Dong, Yu Xin Zhang
ChemElectroChem, June 08, 2017, https://doi.org/10.1002/celc.201700041 Read article
[Full Paper]
Yongqin Liu, Lu Wang, Lingxi Yang, Yi Zhan, Lina Zou, Baoxian Ye
Electroanalysis, June 06, 2017, https://doi.org/10.1002/elan.201700175 Read article
Super energy storage: A high-energy supercapacitor was fabricated by engineering the pores of biomass-derived carbon with various pore-forming agents. Carbon with poor textural properties performed better than carbon with excellent textural properties. A high energy density of about 70 Wh kg−1 and a high power density of around 6 kW kg−1 were achieved (see figure) with an ultralow capacitance degradation of about 0.066 % per 1000 cycles.
[Full Paper]
Ranjith Thangavel, Karthikeyan Kaliyappan, Hari Vignesh Ramasamy, Xueliang Sun, Yun-Sung Lee
ChemSusChem, June 05, 2017, https://doi.org/10.1002/cssc.201700492 Read article
Graphene coated oxides are a significant platform for both fundamental studies and applications in catalysis. The latest advances in the synthesis and applications of graphene-coated oxides are reviewed. The challenges in the future studies are also discussed.
[Minireview]
Wen Luo, Spyridon Zafeiratos
ChemCatChem, June 05, 2017, https://doi.org/10.1002/cctc.201700178 Read article
A semiconducting, germanium-assisted, chemical vapor deposition approach is proposed for the direct growth of monolayer graphene on arbitrary dielectric substrates. By prepatterning the catalytic Ge layer, the graphene with desired pattern is achieved on dielectric substrates conveniently and readily. As a semiconductor-technology-compatible method, this approach will expedite the practical application of graphene in electronic and optoelectronic devices.
[Full Paper]
Ziwen Wang, Zhongying Xue, Miao Zhang, Yongqiang Wang, Xiaoming Xie, Paul K. Chu, Peng Zhou, Zengfeng Di, Xi Wang
Small, May 31, 2017, https://doi.org/10.1002/smll.201700929 Read article
Aligned single-crystalline anatase-TiO2-nanorod-cluster–graphene architectures (rGO/ATRCs) are developed via a shape-controlled, one-step solvothermal route. The application of rGO/ATRCs in photoelectrochemical solar cells shows remarkably enhanced performance over conventional nanoparticle–graphene hybrids. The nanostructural design and materials characteristics accelerate the charge transport collaboratively.
[Full Paper]
Yang Wang, Xueqin Liu, Zhen Li, Ya Cao, Yinchang Li, Xupo Liu, Songru Jia, Yanli Zhao
Small, May 30, 2017, https://doi.org/10.1002/smll.201700793 Read article
A photoresist-derived carbon-based all-solid-state micro-supercapacitor with embedded MoS2@rGO and carbon nanotubes, which cooperatively enhances the performance of a micro-supercapacitor, is described. It is demonstrated that the micro-supercapacitor fabricated by this novel microfabrication process has high capacitance, high energy density, and remarkable cycling performance. The microstructuring of alternating stacked MoS2@rGO/carbon and CNT/carbon for micro-supercapacitors is a highly effective approach to achieve high-performance microdevices.
[Full Paper]
Wei Yang, Liang He, Xiaocong Tian, Mengyu Yan, Hui Yuan, Xiaobin Liao, Jiashen Meng, Zhimeng Hao, Liqiang Mai
Small, May 30, 2017, https://doi.org/10.1002/smll.201700639 Read article
Let′s stick together: A new family of triply doped graphenes is proposed on the basis of DFT calculations. Combining Al, Si, P, or S with BN units leads to unexpected electronic properties and increased chemical reactivity due to charge redistribution, and the dopant atoms prefer to be bonded to one another instead of separated (see figure).
[Article]
Saif Ullah, Pablo A. Denis, Fernando Sato
ChemPhysChem, May 29, 2017, https://doi.org/10.1002/cphc.201700278 Read article
Atomic layer deposition (ALD) on pristine graphene is a challenge due to the absence of dangling bonds, leading to non-uniform film coverage. In this paper an overview of the different methods to achieve uniform deposition of ALD on graphene reported to date is presented. The advantages and disadvantages of each method are discussed from the perspective of ALD, together with the opportunities for further research.
[Review]
René H. J. Vervuurt, Wilhelmus M. M. (Erwin) Kessels, Ageeth A. Bol
Adv. Mater. Interfaces, May 26, 2017, https://doi.org/10.1002/admi.201700232 Read article
Pores and play: A facile and simultaneous activation–exfoliation–reassembly technique to perform structural modification and pore tailoring of carbonaceous matrices conveniently is established. The 3 D network of thin carbon nanosheets consists of micro-, meso-, and macropores. When TiO2 nanosheets are combined with the hierarchical layered carbon structure, enhanced adsorption and catalytic properties are achieved.
[Full Paper]
Wei Li Ong, Judith Hui Min Wong, Serene Wen Ling Ng, Hui Ru Tan, Yee Fun Lim, Ghim Wei Ho
ChemCatChem, May 22, 2017, https://doi.org/10.1002/cctc.201700137 Read article
Four major kinds of oxygen-containing groups exist in graphene oxide including hydroxyl (C
O), epoxide (C
O
C), carbonyl (C
O), and carboxyl (COOH). Different reduction methods will result in different varieties and amounts of oxygen-containing groups on the reduced graphene oxide which can exhibit diverse responses for bacteria.
[Full Paper]
Jiajun Qiu, Donghui Wang, Hao Geng, Jingshu Guo, Shi Qian, Xuanyong Liu
Adv. Mater. Interfaces, May 18, 2017, https://doi.org/10.1002/admi.201700228 Read article
Nitroxyl-radical functionalization of graphene, derived by solution exfoliation, via Diels-Alder cycloaddition, enabling its use as redox-active electrode material in organic energy storage devices. Time-resolved electron paramagnetic resonance spectroscopy gives an interesting insight into the stability of the radical species during reaction. Combined with Raman spectroscopy, elemental analysis, and cyclic voltammetry, the success of the graphene functionalization can be proven.
[Full Paper]
Ion-Matei Lazar, Arpad M. Rostas, Paula S. Straub, Erik Schleicher, Stefan Weber, Rolf Mülhaupt
Macromol. Chem. Phys., May 17, 2017, https://doi.org/10.1002/macp.201700050 Read article
Carbon nanotubes and DNA are commonly hybridized for carbon nanotube purification. Methods are developed to remove single stranded DNA from single walled carbon nanotubes. Enzyme treatment with exonuclease 1 achieves phosphodiester cleavage but nucleosides remain adsorbed. It is found that hydrolytic and oxidative chemical treatments are the most promising.
[Full Paper]
Cameron J. Shearer, LePing Yu, Renzo Fenati, Alexander J. Sibley, Jamie S. Quinton, Christopher T. Gibson, Amanda V. Ellis, Gunther G. Andersson, Joseph G. Shapter
Chem. Asian J., May 12, 2017, https://doi.org/10.1002/asia.201700446 Read article
© Wiley-VCH 2016.