Carbon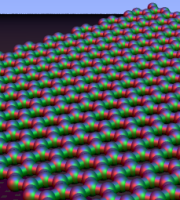 Talking about carbon, one automatically thinks of carbon nanotubes and fullerenes. But there is much more to this broad subject area. Advances in graphene research, templating methods, and the emergence of nanodiamonds make this field a rich area of research.
The variety of recent breakthroughs indicates that carbon, in all its variations, is the material of the early 21st century. The 2010 Nobel Prize in Physics was awarded to A. Geim and K. S. Novoselov for their work on graphene. Don't miss the hottest results and newest trends—you'll find the latest carbon research articles on this page.

RSS feed
Recent Articles
Theoretical calculations show that higher order cycloaddition reactions are possible onto doped graphene, graphene oxide, armchair edges and single sided hydrogenated/fluorinated graphene. In particular we found that the [6+4] cycloaddition of tropone is possible on the aforementioned graphene derivatives.
[Communication]
Pablo A. Denis
ChemistrySelect, October 18, 2017, https://doi.org/10.1002/slct.201702191 Read article
Delivering doped dots to nuclei: A new method for the synthesis of nitrogen-doped carbon quantum dots (N-CQDs) through a mild one-pot hydrothermal process is reported (see figure). The N-CQDs could penetrate into the HeLa cell nucleus without any further functionalization. Moreover, the fluorescence of N-CQDs could be selectively quenched by Cu2+, which suggested applications for the detection of Cu2+ in human plasma.
[Full Paper]
Jiliang Ci, Ye Tian, Shigenori Kuga, Zhongwei Niu, Min Wu, Yong Huang
Chem. Asian J., October 18, 2017, https://doi.org/10.1002/asia.201700880 Read article
Graphite flakes out: A simple and environmentally friendly hydrothermal method is used to synthesize anode materials composed of NiFe2O4 (NFO) and ultrathin flake graphite (UFG). The optimized NFO/UFG-2 composite shows a stable long-term cycling performance with a high initial Coulombic efficiency of 83.4 % and a high specific capacity of 963.4 mAh g−1 after 300 cycles at a current density of 200 mA g−1.
[Article]
Lina Qu, Xianhua Hou, Xiyan Huang, Qian Liang, Qiang Ru, Bo Wu, Kwok-ho Lam
ChemElectroChem, October 17, 2017, https://doi.org/10.1002/celc.201700862 Read article
Bioinspired structural color stripes with tailorable width, spacing, color, and even combination of the colored patterns are generated by assembling colloidal nanoparticles in capillaries. With the integration of a graphene hydrogel, the materials are endowed with NIR-light-controlled reversible bending behavior with self-reporting color indication, which also show a great potential anti-counterfeiting application as NIR-light-triggered dynamic barcode labels.
[Communication]
Ze Zhao, Huan Wang, Luoran Shang, Yunru Yu, Fanfan Fu, Yuanjin Zhao, Zhongze Gu
Adv. Mater., October 17, 2017, https://doi.org/10.1002/adma.201704569 Read article
We reveal the physical principle of plasmon-exciton coupling interaction with steady absorption spectroscopy, and ultrafast transition absorption spectroscopy, based on the pump-prop technology. Secondly, we introduce the fabrication of electro-optical device of two-dimensional semiconductor-nanostructure noble metals hybrid, based on the plasmon-exciton coupling interactions. Thirdly, we introduce the applications of plasmon-exciton coupling interaction in the field of surface catalytic reactions.
[Personal Account]
Jingang Wang, Weihua Lin, Xuefeng Xu, Fengcai Ma, Mengtao Sun
Chem. Rec., October 16, 2017, https://doi.org/10.1002/tcr.201700053 Read article
A universal printing technology is demonstrated to fabricate graphene-based linear tandem micro-supercapacitors, with tailored planar device geometry and metal-free current collectors and interconnects, on different substrates. The fabricated devices show high-voltage output, remarkable flexibility, and outstanding electrochemical performance due to the advanced device geometry and high-performance 2D nanosheets.
[Communication]
Xiaoyu Shi, Zhong-Shuai Wu, Jieqiong Qin, Shuanghao Zheng, Sen Wang, Feng Zhou, Chenglin Sun, Xinhe Bao
Adv. Mater., October 13, 2017, https://doi.org/10.1002/adma.201703034 Read article
Vertically aligned mesochannel depth and size of sandwich-type nanocomposites of reduced graphene oxide (GO) and periodic mesoporus silica can be tailored by tuning synthesis conditions and alkyl chain length of CnTA+ templates, whose formation mode is examined by the high photon flux SAXS technique and zeta-potential-based solution chemistry of surfactant and GO mixtures.
[Full Paper]
Zheng-Ming Wang, Wenqin Peng, Yoshiko Takenaka, Noriko Yoshizawa, Katsunori Kosuge, Wendong Wang, Geoffrey A. Ozin
Adv. Funct. Mater., October 12, 2017, https://doi.org/10.1002/adfm.201704066 Read article
Natural nacre provides an inspiration for constructing fatigue-resistant graphene-based nanocomposites by means of interfacial interactions crosslinking and building blocks toughening, which can impede the crack growth through crack deflection, crack bridging, and plastic deformation.
[Feature Article]
Sijie Wan, Qunfeng Cheng
Adv. Funct. Mater., October 11, 2017, https://doi.org/10.1002/adfm.201703459 Read article
DIY catalysts: Efficient Pd/Carbon catalysts are prepared using a simple experimental procedure based on the direct deposition of Pd0 species from a commercially available tris(dibenzylideneacetone)dipalladium(0) complex. Application in cross-coupling and hydrogenation reactions and easy catalyst recycling are demonstrated.
[Full Paper]
Sergey A. Yakukhnov, Evgeniy O. Pentsak, Konstantin I. Galkin, Roman M. Mironenko, Vladimir A. Drozdov, Vladimir A. Likholobov, Valentine P. Ananikov
ChemCatChem, October 10, 2017, https://doi.org/10.1002/cctc.201700738 Read article
Foam party: CeO2 microspheres on 3 D graphene foam are synthesized by an in situ hydrothermal process. The materials are studied as flexible cathodes for foldable lithium-air batteries and show stable discharge and charge platforms even at 80 cycles.
[Full Paper]
Yuexing Jiang, Junfang Cheng, Lu Zou, Xinyu Li, Yizhen Huang, Lichao Jia, Bo Chi, Jian Pu, Jian Li
ChemCatChem, October 09, 2017, https://doi.org/10.1002/cctc.201700942 Read article
Conducting shell for nanotubes: A platinum electrocatalyst fabricated from polyelectrolyte-coated carbon nanotubes shows high durability and excellent performance in polymer electrolyte fuel cells.
[Full Paper]
Zehui Yang, Jing Li, Quan Zhang, Ying Ling, Xinxin Yu, Weiwei Cai
ChemCatChem, October 02, 2017, https://doi.org/10.1002/cctc.201700796 Read article
Carbon nanotubes (CNTs)/graphenes are unique one-dimensional/two-dimensional structures composed of sp2 hybridized carbon atoms and excellent physicochemical properties. Heteroatom-doped CNT/graphene-based catalysts show advantages of high-content active sites, good electron/ion transport capability, excellent durability, and low cost. These catalysts demonstrate attractive oxygen reduction reaction performance and therefore may find applications in metal–air batteries and fuel cells.
[Review]
Jin-Cheng Li, Peng-Xiang Hou, Chang Liu
Small, September 29, 2017, https://doi.org/10.1002/smll.201702002 Read article
Effective construction work: This study demonstrates 3 D printing methods for carbon-supported NiMo monolithic catalysts showing improved catalytic activity compared to pelleted catalysts. 2 D and 3 D visualization techniques reveal uniform dispersion of catalyst particles on the porous carbon and radial micro-cracks on the 3D printed monolith.
[Full Paper]
Muxina Konarova, Waqas Aslam, Lei Ge, Qing Ma, Fengqiu Tang, Victor Rudolph, Jorge Norberto Beltramini
ChemCatChem, September 25, 2017, https://doi.org/10.1002/cctc.201700829 Read article
Man power: Manganese impurities in graphene are shown to improve the catalytic activity of nitrogen-doped graphene (NG) for the hydrogen evolution reaction in acid media by influencing the ratio of different nitrogen functionalities. The overpotential is improved by 122 mV by impregnating graphene with Mn. The enhanced catalytic performance is attributed to an increase in the number of active sites.
[Communication]
Maryam Bayati, Keith Scott
ChemCatChem, September 25, 2017, https://doi.org/10.1002/cctc.201700744 Read article
High-performance and broadband photodetectors based on the hybrid graphene-Cu3−xP nanocrystal structure are demonstrated. A flexible graphene-Cu3−xP photodetector on polyethylene naphthalate substrate capable of infrared (IR) light detection is realized and the photocurrent shows no obvious degradation even after 5000 times bending, indicating a very good flexibility. This work paves a new way for fabrication of broadband and flexible IR optoelectronic devices.
[Communication]
Tian Sun, Yongjie Wang, Wenzhi Yu, Yusheng Wang, Zhigao Dai, Zeke Liu, Bannur Nanjunda Shivananju, Yupeng Zhang, Kai Fu, Babar Shabbir, Wanli Ma, Shaojuan Li, Qiaoliang Bao
Small, September 22, 2017, https://doi.org/10.1002/smll.201701881 Read article
The synthesis of MoS2 roses grown upward on reduced graphene oxide sheet (MoS2@rGO) is demonstrated via a two-step solvothermal route. By rational materials and structure design, the MoS2@rGO composite owns several fascinating characteristics for battery applications. When serving as the anode material for K-ion batteries (KIBs), the MoS2@rGO composite exhibits one of the best electrochemical performances for KIBs to date.
[Full Paper]
Keyu Xie, Kai Yuan, Xin Li, Wei Lu, Chao Shen, Chenglu Liang, Robert Vajtai, Pulickel Ajayan, Bingqing Wei
Small, September 22, 2017, https://doi.org/10.1002/smll.201701471 Read article
In the company of corroles: Graphene-supported cobalt corroles are active and stable catalysts for the hydrogen evolution reaction in water over a wide pH range of 0–14. The introduction of a pyrenyl group to the corrole macrocycle and the use of a triphenylphosphine axial ligand on Co improve the catalytic efficiency significantly.
[Full Paper]
Xialiang Li, Haitao Lei, Xiaojun Guo, Xueli Zhao, Shuping Ding, Xueqing Gao, Wei Zhang, Rui Cao
ChemSusChem, September 21, 2017, https://doi.org/10.1002/cssc.201701196 Read article
Graphene oxide is composited with recycled paper via a capillary absorption method. After high-temperature annealing, graphene films are homogeneously coated on activated paper carbon (APC), forming an APC/graphene scaffold. The assembled lithium–APC/graphene/sulfur battery exhibits a lifespan of 620 cycles with a 60.5% capacity retention. An APC interlayer further stretches the battery's lifespan up to 1000 cycles.
[Full Paper]
Yunya Zhang, Zan Gao, Xiaodong Li
Small, September 20, 2017, https://doi.org/10.1002/smll.201701927 Read article
Two structurally different nickel(II) tetraphenylporphyrin diazonium compounds – meso-NiTPP-N2+ and β-NiTPP-N2+ - where utilized to build up covalently linked graphene-porphyrin hybrids via a reductive graphite intercalation/exfoliation approach. Due to the direct attachment of the N2 leaving group to the pyrrole ring which would lead to pronounced deformation of the covalently bound moiety, a basal plane addition of β-NiTPP-N2+ is highly unlikely.
The latest advances in the preparation of graphene supported metal nanoparticles and their application in the catalytic organic transformation of both carbon-carbon (C−C) and carbon-heteroatom (C−X) bonds.