Carbon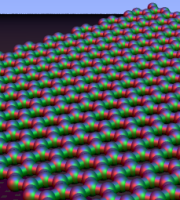 Talking about carbon, one automatically thinks of carbon nanotubes and fullerenes. But there is much more to this broad subject area. Advances in graphene research, templating methods, and the emergence of nanodiamonds make this field a rich area of research.
The variety of recent breakthroughs indicates that carbon, in all its variations, is the material of the early 21st century. The 2010 Nobel Prize in Physics was awarded to A. Geim and K. S. Novoselov for their work on graphene. Don't miss the hottest results and newest trends—you'll find the latest carbon research articles on this page.

RSS feed
Recent Articles
Graphite magic! A high-performance Sn-based alloy-type anode is demonstrated as a composite with graphite for sustained sodium storage with an excellent calendar life.
[Article]
Eldho Edison, Wong Chui Ling, Vanchiappan Aravindan, Srinivasan Madhavi
ChemElectroChem, April 25, 2017, https://doi.org/10.1002/celc.201700241 Read article
Dead-end tube membrane ultrafiltration is used to produce a dense compact network structure in which carbon nanotubes are well dispersed between graphene layers, thereby preventing restacking of the graphene sheets and maximizing the electrochemically active surface area of the electrode. This uniform and densely compacted electrode structure results in supercapacitors with very high volumetric energy density (≈2.7 mWh cm−3).
[Full Paper]
Yange Yu, Jing Zhong, Wei Sun, Rajesh Kumar, Nikhil Koratkar
Adv. Funct. Mater., April 25, 2017, https://doi.org/10.1002/adfm.201606461 Read article
An ultrafast and long-life aluminum-ion battery is achieved using large-sized few-layer graphene and Al-metal. It retains 90% discharging capacity at 4800 mA g−1 and exhibits no capacity fading over 4500 cycles. Moreover, the size effect plays an important role in rate capability and cycling stability and a staging intercalation chemistry is also addressed during AlCl4− insertion/extraction.
[Full Paper]
Leyuan Zhang, Liang Chen, Hao Luo, Xufeng Zhou, Zhaoping Liu
Adv. Energy Mater., April 21, 2017, https://doi.org/10.1002/aenm.201700034 Read article
MoSe2 grown on N,P-co-doped carbon nanosheets exhibits long cycle life and high rate performance in sodium-ion batteries. These features are attributed to the strong binding affinity of N,P-co-doped carbon, the pseudocapacitive nature, and the unique 3D network.
[Full Paper]
Feier Niu, Jing Yang, Nana Wang, Dapeng Zhang, Weiliu Fan, Jian Yang, Yitai Qian
Adv. Funct. Mater., April 21, 2017, https://doi.org/10.1002/adfm.201700522 Read article
Isotropic linear elastic materials such as silicone rubber are transformed in materials with auxetic behavior (i.e., negative Poisson's ratio) through microorganism digestion. Additionally, these bionic composites offer negative electrical resistance change under strain with superior toughness even if they are less dense. Through such unexpected multifunctional material properties, superior stretchablity and damage resistance, these composites pave the way for extreme applications.
[Full Paper]
Luca Valentini, Silvia Bittolo Bon, Nicola M. Pugno
Adv. Funct. Mater., April 21, 2017, https://doi.org/10.1002/adfm.201606526 Read article
Robust and selective zeolitic imidazolate framework (ZIF) membranes are synthesized by interfacial fluidic processing on macroporous carbon fibers. Such a generalized ZIF membrane synthesis process overcomes issues of stability and enables the use of ZIF membranes in a wide range of molecular separations.
[Communication]
Kiwon Eum, Chen Ma, Dong-Yeun Koh, Fereshteh Rashidi, Zhong Li, Christopher W. Jones, Ryan P. Lively, Sankar Nair
Adv. Mater. Interfaces, April 20, 2017, https://doi.org/10.1002/admi.201700080 Read article
The effect of substrates on the thermoelectric properties of Bi2Te3 (BT) and Sb2Te3 (ST) films grown by PECVD was investigated. Thermoelectric properties were strongly dependent on the deposition temperature. Power factors of the BT (ST) films on graphene substrate are higher than that of SiO2/Si. The power factor of the ST thin films grown at 300 °C, 35.9 μWcm−1K−2, is the highest value among the results regarding MOCVD processed films reported up to now.
[Rapid Research Letter]
Chang Wan Lee, Gun Hwan Kim, Ji Woon Choi, Ki-Seok An, Jin-Sang Kim, Hyungjun Kim, Young Kuk Lee
Phys. Status Solidi RRL, April 19, 2017, https://doi.org/10.1002/pssr.201700029 Read article
Layer it on: MX2/Graphene (MX2/Gr, M=Mo, W; X=S, Se, etc.) and MX2/MX2 heterostructures have demonstrated their superiority in electronics, optoelectronics and some energy-related applications. In this Focus Review, recent progress in the controllable construction and characterization of MX2/Gr and MX2/MX2 heterostructures is summarized, as well as their multiple applications in energy-related fields.
[Focus Review]
Pengfei Yang, Zhepeng Zhang, Jianping Shi, Shaolong Jiang, Yanfeng Zhang
ChemNanoMat, April 19, 2017, https://doi.org/10.1002/cnma.201700031 Read article
High-speed photodetection with an internal gain as large as 106 is realized for the first time in atomically thin heterostructures of WS2 and graphene. Highly mobile ions in the ionic-polymer gate are used to screen charge traps enabling the creation of photodetectors suitable for video-frame-rate imaging applications.
[Communication]
Jake D. Mehew, Selim Unal, Elias Torres Alonso, Gareth F. Jones, Saad Fadhil Ramadhan, Monica F. Craciun, Saverio Russo
Adv. Mater., April 18, 2017, https://doi.org/10.1002/adma.201700222 Read article
Quinonoid imine (
NH+
)is proposed for anchoring polysulfides and facilitating the formation of Li2S2/Li2S in a working cell. The adsorption and redox activities of polysulfides are significantly enhanced, while the shuttle effect is largely mitigated. This provides not only new insight into the anchoring of intermediate in a working cell, but also the strategy to enhance the redox reactions on nitrogen containing functional groups.
[Communication]
Chen-Yu Chen, Hong-Jie Peng, Ting-Zheng Hou, Pei-Yan Zhai, Bo-Quan Li, Cheng Tang, Wancheng Zhu, Jia-Qi Huang, Qiang Zhang
Adv. Mater., April 18, 2017, https://doi.org/10.1002/adma.201606802 Read article
Graphene/polymer nanocomposites as high-performance electrode materials for supercapacitors have been reviewed. Major challenges to be tackled and future perspectives are also highlighted.
[Focus Review]
Xiaoyan Zhang, Paolo Samorì
ChemNanoMat, April 12, 2017, https://doi.org/10.1002/cnma.201700055 Read article
Synergistic effects: ZnO nanoparticles encapsulated into N-doped porous carbon with multiple catalytic sites are rationally synthesized by pyrolysis of a metal–organic framework followed by a moderate oxidation treatment. Based on the synergy of multiple sites (ZnO, pyridinic N, hydroxyl, and carboxyl groups), the resultant catalyst exhibits excellent activity, selectivity, and recyclability in the CO2 cycloaddtion reactions with epoxides under mild conditions.
[Communication]
Meili Ding, Si Chen, Xiao-Qin Liu, Lin-Bing Sun, Junling Lu, Hai-Long Jiang
ChemSusChem, April 11, 2017, https://doi.org/10.1002/cssc.201700245 Read article
Potential catalyst: A one-pot hydrothermal synthesis of self-assembled manganese sulfide on graphene layers (MnS/G) is recognized as a non-precious-metal catalyst for an efficient oxygen reduction reaction in alkaline medium. The optimized material is utilized as a cathode catalyst in a membrane electrode assembly for validation in an anion exchange membrane fuel cell. MnS/G is shown to have potential as an alternative non-precious-metal catalyst for fuel cell applications.
[Article]
Asokan Arunchander, Shaik Gouse Peera, Akhila Kumar Sahu
ChemElectroChem, April 11, 2017, https://doi.org/10.1002/celc.201700160 Read article
Uniform ultrathin (CoP)x–(FeP)1−x nanorods are successfully decorated on the surface of 2D graphene nanosheets. The as-prepared (CoP)x–(FeP)1−x–NRs/G hybrids show a large exposed surface, controllable mesoporous texture, and small mass transport resistance. They can be used as an excellent electrocatalyst for boosting hydrogen evolution reaction catalysis.
[Full Paper]
Baocang Liu, Lili Huo, Zhiqing Gao, Guolei Zhi, Geng Zhang, Jun Zhang
Small, April 10, 2017, https://doi.org/10.1002/smll.201700092 Read article
W-onderful C-atalyst: New 2 D tungsten carbide-based materials (NC@WxC/NRGO) are synthesized by controlling the structure and composition of polyoxotungstate/conductive polypyrrole/graphene (PCG) precursor precisely and performing a temperature-programmed reaction. The composite presents splendid performance toward the hydrogen evolution reaction (HER) in acidic media and is one of the highest HER catalysts among the tungsten carbide-based materials.
[Full Paper]
Xiao-Li Wang, Yu-Jia Tang, Wei Huang, Chun-Hui Liu, Long-Zhang Dong, Shun-Li Li, Ya-Qian Lan
ChemSusChem, April 10, 2017, https://doi.org/10.1002/cssc.201700276 Read article
Catalyst or support: Graphene hybrids have been considered as very promising electrocatalysts for water electrolysis. This Minireview summarizes the recent advances of graphene hybrid electrocatalysts for overall water-splitting, especially highlighting the detailed roles of graphene as catalysts and/or supports in electrochemical water-splitting.
[Minireview]
Jiayuan Li, Zeqiong Zhao, Yuanyuan Ma, Yongquan Qu
ChemCatChem, April 06, 2017, https://doi.org/10.1002/cctc.201700175 Read article
The energy crisis and air pollution, as crucial issues for sustainable development of our planet, have puzzled us for decades. Turning air pollutants into materials for energy storage is a promising way to solve the environmental and energy issues simultaneously.
[Focus Review]
Jiachen Liang, Chen Zhang, Donghai Liu, Lina Zhang, Guowei Ling, Quan-Hong Yang
ChemNanoMat, April 04, 2017, https://doi.org/10.1002/cnma.201700038 Read article
All-carbon hybrid aerogels consisting of pristine carbon nanotubes (CNTs) and graphene oxide (GO) have been prepared using an extremely simple approach. The potential use of such three-dimensional all-carbon aerogels with net-like porous carbon walls as a promising electrode material for supercapacitors has also been demonstrated.
[Full Paper]
Kening Wan, Siliang Liu, Chao Zhang, Le Li, Zhe Zhao, Tianxi Liu, Yi Xie
ChemNanoMat, April 04, 2017, https://doi.org/10.1002/cnma.201700037 Read article
It's got potential: A comprehensive electrogeneration study is presented together with the electrochemical characterization of the attained electroactive graphene-polypyrrole composite films, with a focus on identifying the driving electrochemical reactions.
[Article]
Jose G. Martinez, Miguel Ayán-Varela, Juan I. Paredes, Silvia Villar-Rodil, Salvador D. Aznar-Cervantes, Toribio F. Otero
ChemElectroChem, April 04, 2017, https://doi.org/10.1002/celc.201700047 Read article
Olive-like nitrogen-doped carbon with embedded Ge nanoparticles is synthesized and characterized. The novel structure endows high charge capacity and stable cycle performance for the anode of a lithium ion battery.
[Full Paper]
Xiaomei Ma, Yongning Zhou, Min Chen, Limin Wu
Small, April 03, 2017, https://doi.org/10.1002/smll.201700403 Read article
Graphene multielectrode arrays (GMEAS), reported in this work exhibit excellent ability to record electrophysiological signals. Cardiac-like cell activity as well as complex neuronal activity can be recorded with the arrays of graphene-based electrodes. Low noise performance, the corresponding large signal to noise ratio, and excellent long term in vitro stability place the GMEAs at the forefront of electrophysiological tools.
[Full Paper]
Dmitry Kireev, Silke Seyock, Johannes Lewen, Vanessa Maybeck, Bernhard Wolfrum, Andreas Offenhäusser
Adv. Healthcare Mater., April 03, 2017, https://doi.org/10.1002/adhm.201601433 Read article
A facile one-pot solvothermal method is developed to produce phosphorus covalently crosslinking SnO2 and graphene. In this structure, a buffer layer of phosphorus covalently "bridges" both graphene and tin oxide nanocrystals through P
C and Sn
O
P bonding, respectively. The electrode is able to accommodate the huge volume variation of tin oxide, remain excellent structure integrity, and manifests long-life, high-rate cycling.
[Full Paper]
Lei Zhang, Kangning Zhao, Ruohan Yu, Mengyu Yan, Wangwang Xu, Yifan Dong, Wenhao Ren, Xu Xu, Chunjuan Tang, Liqiang Mai
Small, March 31, 2017, https://doi.org/10.1002/smll.201603973 Read article
A biofuel cell operating in human sweat sample was used to activate an electronic watch as an example micro-electronic device.
[Full Paper]
Ashkan Koushanpour, Maria Gamella, Evgeny Katz
Electroanalysis, March 29, 2017, https://doi.org/10.1002/elan.201700126 Read article
Under construction: A solvothermal method is used to fabricate Cu/Ni nanoparticle-modified N-doped graphene (Cu/Ni/N-graphene) hybrids. Owing to the interactions of Cu and Ni with the N-graphene sheets in the hybrids, an electrochemical sensor based on a Cu52/Ni48/N-graphene hybrid-modified glassy carbon electrode (Cu52/Ni48/N-graphene/GCE) is constructed. The as-fabricated sensor is utilized as a non-enzymatic glucose and ethanol sensor, which exhibits high stability, excellent reproducibility, and good electrocatalytic activity for the rapid detection of glucose and ethanol.
[Article]
Kong-Lin Wu, Bin-Bin Jiang, Ya-Miao Cai, Xian-Wen Wei, Xiang-Zi Li, Weng-Chon Cheong
ChemElectroChem, March 29, 2017, https://doi.org/10.1002/celc.201700078 Read article
The large-volume, high-concentration, plane-defect-free, few-layer graphene dispersion is fast produced at high yield through wet ball milling, which is further processed into graphene paper through filtration, annealing, and mechanical compression. The obtained FAC-graphene paper, which is filtrated, annealed, and compressed, has the ultrahigh electrical conductivity of 2231 S cm−1 and thermal conductivity of 1529 W m−1 K−1, making it superior to previously reported graphene paper.
[Full Paper]
Chao Teng, Dan Xie, Jianfeng Wang, Zhi Yang, Guangyuan Ren, Ying Zhu
Adv. Funct. Mater., March 29, 2017, https://doi.org/10.1002/adfm.201700240 Read article
High Performance Fe3O4−rGO nanocomposite Negative Electrodes: Fe3O4−rGO nanocomposites are synthesized by using a facile electrostatic coagulation method and are employed as promising negative electrode materials.
[Article]
Jaime S. Sanchez, Afshin Pendashteh, Jesus Palma, Marc Anderson, Rebeca Marcilla
ChemElectroChem, March 27, 2017, https://doi.org/10.1002/celc.201700048 Read article
A high performing sodium hybrid capacitor is fabricated utilizing graphene nanosheets as high power adsorption electrode and graphene/NaTi2(PO4)3 as a high energy intercalation electrode. High energy retention at high power along with excellent stability of 90% after 75 000 cycles with a lowest ever energy loss of ≈0.13% per 1000 cycles is documented.
[Full Paper]
Ranjith Thangavel, Brindha Moorthy, Do Kyung Kim, Yun-Sung Lee
Adv. Energy Mater., March 17, 2017, https://doi.org/10.1002/aenm.201602654 Read article
Sodium-based dual ion full batteries (NDIBs) are reported with soft carbon as anode and graphite as cathode for the first time. The NDIBs deliver high discharge voltage plateau of 3.58 V, superior discharge capacity of 103 mA h g−1, excellent rate performance, and long-term cycling stability over 800 cycles with capacity retention of 81.8%.
[Communication]
Ling Fan, Qian Liu, Suhua Chen, Zhi Xu, Bingan Lu
Adv. Energy Mater., March 16, 2017, https://doi.org/10.1002/aenm.201602778 Read article
[Full Paper]
Elham Honarvarfard, Maria Gamella, Devika Channaveerappa, Costel C. Darie, Arshak Poghossian, Michael J. Schöning, Evgeny Katz
Electroanalysis, March 03, 2017, https://doi.org/10.1002/elan.201700095 Read article
Ultrasensitive iron-triggered nanosized Fe
CoOOH nanoparticles are integrated on graphene surface by a novel and simple conversion tailoring strategy, producing the hybrids with rich active sites, distinct pore structure, and numerous channels together with interconnected conducting networks. The Fe
CoOOH/G hybrids can deliver a low overpotential of 330 mV at 10 mA cm−2 and excellent durability as an oxygen evolution electrocatalyst.
[Full Paper]
Xiaotong Han, Chang Yu, Si Zhou, Changtai Zhao, Huawei Huang, Juan Yang, Zhibin Liu, Jijun Zhao, Jieshan Qiu
Adv. Energy Mater., March 03, 2017, https://doi.org/10.1002/aenm.201602148 Read article
The coupling of TiO2 with the narrow-band-gap semiconductor CdS is utilized to improve the photoresponse of TiO2, and the introduction of graphene into the binary TiO2/CdS material as a charge-transfer promoter is highly expected to enhance the photovoltaic activity.
[Full Paper]
Yanan Zhang, Chengxiang Wang, Zhimin Yuan, Luyuan Zhang, Longwei Yin
Eur. J. Inorg. Chem., February 27, 2017, https://doi.org/10.1002/ejic.201601535 Read article
Bend me, shape me: We report the fabrication of a new composite hydrogel of N-doped graphene (NG) that contains embedded Ni(OH)2 nanoplates. Asymmetric solid-state supercapacitors prepared from such hydrogel films as positive electrodes deliver high energy densities. The high output cell voltage allows a light-emitting diode to be operated with a single capacitor.
[Full Paper]
Hao Xie, Shaochun Tang, Dongdong Li, Sascha Vongehr, Xiangkang Meng
ChemSusChem, April 20, 2016, https://doi.org/10.1002/cssc.201600150 Read article
© Wiley-VCH 2016.