Carbon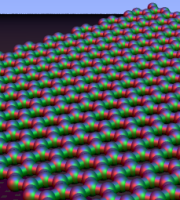 Talking about carbon, one automatically thinks of carbon nanotubes and fullerenes. But there is much more to this broad subject area. Advances in graphene research, templating methods, and the emergence of nanodiamonds make this field a rich area of research.
The variety of recent breakthroughs indicates that carbon, in all its variations, is the material of the early 21st century. The 2010 Nobel Prize in Physics was awarded to A. Geim and K. S. Novoselov for their work on graphene. Don't miss the hottest results and newest trends—you'll find the latest carbon research articles on this page.
RSS feed
Recent Articles
What is the path to follow for improving the performance of carbon anodes to bring Na-ion batteries to a competitive level compared to other technologies? This review responds to this question by undertaking a transversal analysis of the performance, structure, microstructure, and storage mechanisms of sp2 carbons, leading to a roadmap of the present strategies.
[Review]
Damien Saurel, Brahim Orayech, Biwei Xiao, Daniel Carriazo, Xiaolin Li, Teófilo Rojo
Adv. Energy Mater., March 13, 2018, https://doi.org/10.1002/aenm.201703268 Read article
Inspired by photosynthetic plants, a self-standing, defect-enriched, and pyridinic-N dominated bifunctional electrode is constructed with novel core–shell architecture by in situ exfoliation and generation of active sites on graphene nanosheets strongly coupled with carbon fiber. By directly using this material as an electrode, the assembled Zn–air batteries exhibit excellent discharge performance and long-term cycle stability.
[Full Paper]
Chao Hang, Jian Zhang, Jiawei Zhu, Wenqiang Li, Zongkui Kou, Yunhui Huang
Adv. Energy Mater., March 12, 2018, https://doi.org/10.1002/aenm.201703539 Read article
Carbon coordination chemistry: The electronic structure of the pentagonal-pyramidal hexamethylbenzene dication C6(CH3)62+ is investigated through intrinsic bond orbital analysis, effective oxidation state analysis, ring current analysis, and comparison with well-established coordination complexes. The central carbon atom behaves like a transition metal, and incorporates both possible modes of coordination chemistry at carbon, that is, serving as an electron-pair donor and as an electron-pair acceptor, all within a purely hydrocarbon framework.
[Full Paper]
Johannes E. M. N. Klein, Remco W. A. Havenith, Gerald Knizia
Chem. Eur. J., March 09, 2018, https://doi.org/10.1002/chem.201705812 Read article
A graphene film based humidity sensor is designed with a hydrophobic surface and uniformly distributed ring-like wrinkles that exhibit excellent performance in breath sensing. The wrinkled morphology of graphene sensor can effectively prevent the aggregation of water microdroplets and thus maximize the evaporation rate.
[Full Paper]
Zhen Zhen, Zechen Li, Xuanliang Zhao, Yujia Zhong, Li Zhang, Qiao Chen, Tingting Yang, Hongwei Zhu
Small, March 08, 2018, https://doi.org/10.1002/smll.201703848 Read article
Graphite nanomaterials are superhydrophobic and selectively adsorb nonpolar water pollutants. Yet, this feature hinders their applicability in dynamic membrane processes due to fouling and presence of polar pollutants, unless they are hydrophilized. Here, graphite nanofilaments as the building blocks of a buckypaper membrane are oxidized (hydrophilized) through a customized thermal treatment to be able to remove polar and nonpolar pollutants.
[Full Paper]
Shahin Homaeigohar, Thomas Strunskus, Julian Strobel, Lorenz Kienle, Mady Elbahri
Adv. Mater. Interfaces, March 08, 2018, https://doi.org/10.1002/admi.201800001 Read article
Nickel wanders with coke: Nb-doped NiAl2O4 catalysts are synthesized and used in the oxidative dehydrogenation (ODH) reaction of n-octane. Nickel migration and varying concentration of defect sites are established upon the substitution of Nb and coke deposition.
[Full Paper]
Majid D. Farahani, Venkata D. B. C. Dasireddy, Holger B. Friedrich
ChemCatChem, March 07, 2018, https://doi.org/10.1002/cctc.201701940 Read article
A spontaneously reducing/assembling strategy is developed to fabricate large-area pure reduced graphene oxide (RGO) and RGO–metal oxide/hydroxide composite films in an alkaline condition. The RGO-based films can directly serve as both cathodes and anodes of flexible asymmetric supercapacitors with sandwich and microsized configurations. These flexible asymmetric supercapacitor devices exhibit excellent and stable electrochemical performance even at different bending states.
[Full Paper]
Xinyu Wang, Fang Wan, Linlin Zhang, Zifang Zhao, Zhiqiang Niu, Jun Chen
Adv. Funct. Mater., March 07, 2018, https://doi.org/10.1002/adfm.201707247 Read article
Iron clad: A nitrogen-doped graphene-supported iron catalyst is used for the first time in the hydrogenation of nitroarenes to give the corresponding amines with excellent activity and chemoselectivity under mild reaction conditions. The unique structure of FeNx/C in the catalyst is proven to contribute to the hydrogenation activity.
[Communication]
Zuojun Wei, Yaxin Hou, Xinmiao Zhu, Liangyu Guo, Yingxin Liu, Anyun Zhang
ChemCatChem, March 05, 2018, https://doi.org/10.1002/cctc.201701949 Read article
This report explains the current state and potential research directions of antimicrobial graphenes focusing on three major aspects: (i) the mechanisms of antimicrobial activity referring to structure–property–activity relationships, (ii) proposed modes for utilization in biomedical antimicrobial applications, (iii) remaining questions concerning the fundamental understanding and critical considerations for future use in clinical settings.
[Progress Report]
Hüseyin Enis Karahan, Christian Wiraja, Chenjie Xu, Jun Wei, Yilei Wang, Liang Wang, Fei Liu, Yuan Chen
Adv. Healthcare Mater., March 05, 2018, https://doi.org/10.1002/adhm.201701406 Read article
Power of two: Sulfur and nitrogen codoped mesoporous graphene derived from the calcination of a composite of mesoporous graphene and thiourea not only presents high porosity, but also exhibits outstanding capacitive behavior, with respect to that of symmetric supercapacitors and lithium-ion hybrid capacitors.
[Full Paper]
Xinlong Ma, Daowei Gao
ChemSusChem, March 02, 2018, https://doi.org/10.1002/cssc.201702457 Read article
Photo finish: A ternary hybrid composed of reduced graphene oxide (RGO) and CdS decorated with Ag nanoparticles enhances the selective photocatalytic CO2 reduction into CO under visible light.
[Full Paper]
Zezhou Zhu, Ying Han, Caiping Chen, Zhengxin Ding, Jinlin Long, Yidong Hou
ChemCatChem, March 02, 2018, https://doi.org/10.1002/cctc.201701573 Read article
Totally tubular: N-Doped mesoporous carbon nanorods have been prepared through nano-confined decomposition in silica nanotubes with porous shells, in which limited and slow release of the gaseous water and finite precursor inside the silica nanotubes are responsible for the formation of mesoporous structures (see figure).
[Full Paper]
Xueteng Liu, Fei Pang, Jianping Ge
Chem. Asian J., March 02, 2018, https://doi.org/10.1002/asia.201800112 Read article
A straightforward but efficient, graphene oxide based system enables the rapid detection of free Cu ions in either biological fluidics or living cells without tedious pretreatment. The assay shows great promise in both fundamental research and routine clinical diagnostics.
[Full Paper]
Wenshu Zheng, Huiling Li, Wenwen Chen, Jiangjiang Zhang, Nuoxin Wang, Xuefeng Guo, Xingyu Jiang
Small, March 01, 2018, https://doi.org/10.1002/smll.201703857 Read article
Molybdenum ditelluride nanosheets encapsulated in few-layer graphene are successfully synthesized through a simple heating and ball-milling method, and they display superior cycling stability (capacity retention of 99.5% over 400 cycles at 0.5 A g−1). Ex situ X-ray diffraction and transmission electron microscopy are used to explore the conversion mechanism of MoTe2 with Li.
[Full Paper]
Ning Ma, Xiao-Yu Jiang, Lu Zhang, Xiao-Shuang Wang, Yu-Liang Cao, Xian-Zheng Zhang
Small, February 28, 2018, https://doi.org/10.1002/smll.201703680 Read article
Graphene has great application potential in the evolution of next generation flexible electronics. In this work, flexible graphene field effect transistors (GFETs) with very short gate-length of 50 nm were fabricated on a polyimide (PI) substrate. The GFET demonstrates an extrinsic fT of 56 GHz, which is the highest extrinsic fT achieved in flexible GFETs reported to date.
[Rapid Research Letter]
Cui Yu, Zezhao He, Xubo Song, Qingbin Liu, Libo Gao, Bing Yao, Tingting Han, Xuedong Gao, Yuanjie Lv, Zhihong Feng, Shujun Cai
Phys. Status Solidi RRL, February 28, 2018, https://doi.org/10.1002/pssr.201700435 Read article
It's fun to stay at the HCNA! A unique holey carbon nanosheet array (HCNA) with superior ion diffusivity is designed and synthesized by an up-bottom approach. When used as an anode material for sodium ion battery, HCNA achieves high reversible capacity and durability.
[Full Paper]
Yuxiang Chen, Jie Li, Yanqing Lai, Junming Li, Zhian Zhang
ChemNanoMat, February 27, 2018, https://doi.org/10.1002/cnma.201800011 Read article
Inspired by the hierarchical micro/nanoscale structure and abundant interface of nacre, a bioinspired graphene-based nanocomposite is demonstrated via multiple synergistic toughening effect including building blocks, hydrogen, and ionic bonding together endow integrated high strength, toughness, and electrical conductivity. This graphene-based nanocomposite is promising in the application of flexible electric devices in the future.
[Full Paper]
Yuan Gao, Hanjie Xu, Qunfeng Cheng
Adv. Mater. Interfaces, February 26, 2018, https://doi.org/10.1002/admi.201800145 Read article
The reversible intercalation of solvated rather than naked ions into graphite is a peculiar electrode reaction that is currently studied for sodium-ion batteries. Charging/discharging is accompanied by a large yet reversible electrode breathing and the charge transfer seems to occur over a kinetically stabilized interface without a solid electrolyte interphase.
[Full Paper]
Mustafa Goktas, Christoph Bolli, Erik J. Berg, Petr Novák, Kilian Pollok, Falko Langenhorst, Maximilian v. Roeder, Olena Lenchuk, Doreen Mollenhauer, Philipp Adelhelm
Adv. Energy Mater., February 22, 2018, https://doi.org/10.1002/aenm.201702724 Read article
On the dot: In this review, we summarize the recent progress in carbon dots synthesized from bottom-up approaches. The dots possess high absorption and charge-transfer abilities for light-harvesting applications (see figure).
[Focus Review]
Yuri Choi, Yeongkyu Choi, Oh-Hoon Kwon, Byeong-Su Kim
Chem. Asian J., February 21, 2018, https://doi.org/10.1002/asia.201701736 Read article
Transition metal sulfides based on graphene have been extensively investigated in the field of electrochemical energy storage applications, including lithium-ion batteries, sodium-ion batteries, and supercapacitors. Recent developments and challenges, in transition metal sulfides based on graphene, with a focus on their synthetic methods and morphologies, are comprehensively summarized and evaluated in this review.
[Review]
Pengbiao Geng, Shasha Zheng, Hao Tang, Rongmei Zhu, Li Zhang, Shuai Cao, Huaiguo Xue, Huan Pang
Adv. Energy Mater., February 19, 2018, https://doi.org/10.1002/aenm.201703259 Read article
[Original Research Paper]
E. Sarwar, T. Noor, N. Iqbal, Y. Mehmood, S. Ahmed, R. Mehek
Fuel Cells, February 16, 2018, https://doi.org/10.1002/fuce.201700143 Read article
Stuck on graphene: The adsorption of carbon monoxide on graphene is modeled at several levels of theory running from CCSD(T) calculations to molecular-dynamics (MD) simulations. The results show that the introduction of flexibility in graphene, which simulates the effects associated to curvature of the surface, diminish the adsorption level and that, as expected, adsorption also diminishes with temperature.
[Article]
Jake Wilson, Noelia Faginas-Lago, Jelle Vekeman, Inmaculada G. Cuesta, José Sánchez-Marín, Alfredo Sánchez de Merás
ChemPhysChem, February 13, 2018, https://doi.org/10.1002/cphc.201701387 Read article
Calling the Shottky: Heterojunctions (10 cm2) between ZnO and carbon nanotube (CNT) fiber sheets were synthesized in situ directly onto the CNT array to result in a bulk Schottky junction with a built-in current collector of CNTs (see figure). Photoconductivity measurements were performed to prove the charge transfer through the interface. The resulting hybrid was shown to be piezoresistive and piezoelectric under transverse compression.
[Full Paper]
Alfonso Monreal-Bernal, Juan J. Vilatela
ChemPlusChem, February 09, 2018, https://doi.org/10.1002/cplu.201700522 Read article
[Personal Account]
Marta González, Javier Pozuelo, Juan Baselga
Chem. Rec., January 30, 2018, https://doi.org/10.1002/tcr.201700066 Read article
[Personal Account]
M. Martin-Gallego, V. Yuste-Sanchez, R. Sanchez-Hidalgo, R. Verdejo, M.A. Lopez-Manchado
Chem. Rec., January 10, 2018, https://doi.org/10.1002/tcr.201700095 Read article
Controlling the void: Nitrogen-doped, carbon-coated Fe2O3 yolk–shell nanospindle composites (γ-Fe2O3@NC) are successfully synthesized through a facile double-coating route (see figure). With a highly conductive coating and precisely controlled void space, the composite exhibits a high specific capacity, cycling stability, and excellent rate performance in prototype lithium half-cells, and thus, is a promising anode candidate for use in lithium-ion batteries.
[Full Paper]
Bao-Lin Zhang, Sen Xin, Haili Qin, Huai-Ping Cong, Shu-Hong Yu
ChemPlusChem, January 09, 2018, https://doi.org/10.1002/cplu.201700488 Read article
We reveal the physical principle of plasmon-exciton coupling interaction with steady absorption spectroscopy, and ultrafast transition absorption spectroscopy, based on the pump-prop technology. Secondly, we introduce the fabrication of electro-optical device of two-dimensional semiconductor-nanostructure noble metals hybrid, based on the plasmon-exciton coupling interactions. Thirdly, we introduce the applications of plasmon-exciton coupling interaction in the field of surface catalytic reactions.
[Personal Account]
Jingang Wang, Weihua Lin, Xuefeng Xu, Fengcai Ma, Mengtao Sun
Chem. Rec., October 16, 2017, https://doi.org/10.1002/tcr.201700053 Read article
© Wiley-VCH 2016.