Carbon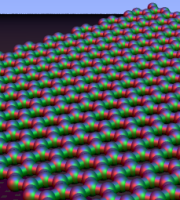 Talking about carbon, one automatically thinks of carbon nanotubes and fullerenes. But there is much more to this broad subject area. Advances in graphene research, templating methods, and the emergence of nanodiamonds make this field a rich area of research.
The variety of recent breakthroughs indicates that carbon, in all its variations, is the material of the early 21st century. The 2010 Nobel Prize in Physics was awarded to A. Geim and K. S. Novoselov for their work on graphene. Don't miss the hottest results and newest trends—you'll find the latest carbon research articles on this page.

RSS feed
Recent Articles
In article number 1701314, Il-kwon Oh and co-workers develop high-performance ionic artificial muscles for next-generation soft haptic devices using 3D graphene–CNT–Ni heteronanostructures. The 3D graphene–CNT–Ni heteronanostructures embedded in electrodes and the ionic membrane of the artificial muscles provide sufficient contact area with the electrically conductive 3D networks, which result in improved bending deformation and blocking force of the ionic artificial muscles.
[Cover Picture]
Jaehwan Kim, Seok-Hu Bae, Moumita Kotal, Tyler Stalbaum, Kwang J. Kim, Il-Kwon Oh
Small, August 17, 2017, https://doi.org/10.1002/smll.201770167 Read article
A joint effort: Polymers based on [7]helicene and thiophene are prepared. Conductive and non-conductive thin layers are synthesized electrochemically. Carbon and indium tin oxide substrates are used for polymer deposition. A joint experimental and computational approach is applied.
[Communication]
Jan Hrbáč, Tomáš Strašák, Ladislav Fekete, Vít Ladányi, Jan Pokorný, Jiří Bulíř, Miloš Krbal, Jaroslav Žádný, Jan Storch, Jan Vacek
ChemElectroChem, August 17, 2017, https://doi.org/10.1002/celc.201700441 Read article
SMTX-AuNPs and SMTX-AuNPs/RGO nanostructures were prepared as covalent drug delivery systems for pH-triggered release of the anti-cancer drug mitoxantrone (MTX). After structural and morphological characterization, their in vitro anticancer activities were investigated against MCF-7 breast cancer cells. The results indicate that SMTX-AuNPs have better activity on cancer cells than free MTX and SMTX-AuNPs/RGO. This finding suggests that the use of graphene-based materials for the covalent drug delivery systems need to be revisited.
[Full Paper]
Abbas Jafarizad, Ayuob Aghanejad, Melike Sevim, Önder Metin, Jaleh Barar, Yadollah Omidi, Duygu Ekinci
ChemistrySelect, August 16, 2017, https://doi.org/10.1002/slct.201701178 Read article
Composite cathodes: Metal carbide MXene/reduced graphene oxide hybrid nanosheets are applied as cathode host materials for lithium–sulfur batteries. With their unique 3 D layer structure and functional 2 D surfaces for the effective trapping of sulfur and lithium polysulfides, the composite cathodes deliver a high initial capacity (1144.2 mAh g−1 at 0.5 C) and excellent capacity retention (878.4 mAh g−1 after 300 cycles), so are promising candidates for application in lithium–sulfur batteries (see figure).
[Full Paper]
Weizhai Bao, Xiuqiang Xie, Jing Xu, Xin Guo, Jianjun Song, Wenjian Wu, Dawei Su, Guoxiu Wang
Chem. Eur. J., August 16, 2017, https://doi.org/10.1002/chem.201702387 Read article
Say no to the solvent: A new organic graphene nanocomposite composed of 2-aminoanthraquinone (AAQ) nanowires wrapped within the 3 D graphene network is synthesized through antisolvent crystallization followed by self-assembly. The nanocomposite can serve as a foldable and binder-free cathode for lithium-ion batteries, with high capacity, long cycle life, and superior rate performance.
[Full Paper]
Guanhui Yang, Fanxing Bu, Yanshan Huang, Yu Zhang, Imran Shakir, Yuxi Xu
ChemSusChem, August 15, 2017, https://doi.org/10.1002/cssc.201701175 Read article
Super booster! The specific capacitance of a porous N-doped carbon is boosted by orthogonal optimization of microstructure and surface chemistry. The evolution of the surface chemistry is carefully followed by X-ray photoelectron spectroscopy and N2 sorption porosimetry, which reveals stepwise surface functionalization and simultaneous carbon etching during acid treatment.
[Full Paper]
Jasper Biemolt, Ilse M. Denekamp, Thierry K. Slot, Gadi Rothenberg, David Eisenberg
ChemSusChem, August 15, 2017, https://doi.org/10.1002/cssc.201700902 Read article
Hydrogenation of single-walled carbon nanotubes by means of Birch reduction leads to graphene-based carbon nanostripes with uniform dimensions. The weight concentration of hydrogen is 8.78 wt. % and has a composition of C1H1.22O0.05.
[Full Paper]
Daniel Bouša, Štěphán Huber, David Sedmidubský, Martin Pumera, Zdeněk Sofer
Chem. Eur. J., August 10, 2017, https://doi.org/10.1002/chem.201702691 Read article
Teaming up! A method for combining Mn-macrocyclic complexes with few-layer graphene is shown to produce active MnOX/G catalysts for reversible oxygen electrodes. It is demonstrated how the synergistic interaction between species formed during the synthesis and the Fe impurities contained in graphene flakes results in an enhanced electrocatalytic activity of MnOX/G catalysts towards both the oxygen evolution reaction (OER) and oxygen reduction reaction (ORR) (see picture).
[Article]
Dulce M. Morales, Justus Masa, Corina Andronescu, Wolfgang Schuhmann
ChemElectroChem, August 10, 2017, https://doi.org/10.1002/celc.201700496 Read article
Carbon nanomaterials are employed in diverse biological applications. This Review Article by Teradal and Jelinek highlights applications of carbon nanotubes, graphene, and carbon dots in biosensing, drug delivery, bioimaging, tissue engineering, and regenerative medicine. In particular, their unique physical properties and relative biocompatibility make carbon nanomaterials attractive vehicles for biological uses.
[Review]
Nagappa L. Teradal, Raz Jelinek
Adv. Healthcare Mater., August 04, 2017, https://doi.org/10.1002/adhm.201700574 Read article
Two-dimensional (2D) nanostructures are highly attractive for nanodevices due to their high surface-to-volume ratio and good compatibility with device design. The most recent advancements in the synthesis, surface engineering, and funcationlization of various 2D nanostructures including metal oxides, graphene, metal dichalcogenides, phosphorene, BN and Mxenes for high-performance gas sensors are reviewed.
[Feature Article]
Xianghong Liu, Tiantian Ma, Nicola Pinna, Jun Zhang
Adv. Funct. Mater., August 02, 2017, https://doi.org/10.1002/adfm.201702168 Read article
I've got the power: Iron(II) phthalocyanine (FePc) is deposited onto two different carbonaceous supports. Rotating ring disk electrode (RRDE) analysis and electrochemical measurements in microbial fuel cells (MFCs) show that carbon black (Black Pearls)-supported FePc (Fe-BP(N)) exhibits the highest performance. A high maximum power density is achieved.
[Full Paper]
Carlo Santoro, Rohan Gokhale, Barbara Mecheri, Alessandra D'Epifanio, Silvia Licoccia, Alexey Serov, Kateryna Artyushkova, Plamen Atanassov
ChemSusChem, August 01, 2017, https://doi.org/10.1002/cssc.201700851 Read article
Greater than the sum of its parts: A rational compositional and architectural design of mixed-transition-metal sulfides in hybridization with reduced graphene oxide has led to superior anode materials with high capacity and cycling performance for Li-ion batteries (see figure; TAA=thioacetamide).
[Full Paper]
Fangchun Han, Xiuling Jiao, Dairong Chen, Cheng Li
Chem. Asian J., August 01, 2017, https://doi.org/10.1002/asia.201700722 Read article
Support your local batteries! A facile strategy is demonstrated for fabricating free-standing vertical graphene (VG) supported Li2S encapsulated within carbon shell (VG/Li2S-C) cathode, which exhibits enhanced electrochemical performance with high capacity and noticeable cycles due to the unique architecture coherent conductive network and good blocking layer for polysulfides (see figure).
[Full Paper]
Donghuang Wang, Xinhui Xia, Yadong Wang, Dong Xie, Yu Zhong, Jianbo Wu, Xiuli Wang, Jiangping Tu
Chem. Eur. J., July 27, 2017, https://doi.org/10.1002/chem.201702779 Read article
Bound catalyst: Vanadium(V) species adsorbed on activated carbon have a higher activity for ketol oxidation to carboxylic acids than homogeneous vanadium species.
[Full Paper]
Yoshinao Nakagawa, Dai Sekine, Naoyuki Obara, Masazumi Tamura, Keiichi Tomishige
ChemCatChem, July 27, 2017, https://doi.org/10.1002/cctc.201700566 Read article
A novel free-standing ultralarge graphene nanosheets/solvent-exfoliated tungsten disulfide nanoflakes composite paper exhibits excellent mechanical stability, flexibility, and electrical conductivity. It can be used as high-performance electrode materials for flexible all-solid-state supercapacitors. The highest areal-specific capacitance of 312.4 mF cm−2 can be achieved with a high capacity retention of ≈88.1% after 5000 charge–discharge cycles.
[Full Paper]
Jianbo Li, Kexuan Liao, Xinran Wang, Penghui Shi, Jinchen Fan, Qunjie Xu, Yulin Min
Adv. Mater. Interfaces, July 27, 2017, https://doi.org/10.1002/admi.201700419 Read article
The latest advances in the preparation of graphene supported metal nanoparticles and their application in the catalytic organic transformation of both carbon-carbon (C−C) and carbon-heteroatom (C−X) bonds.
[Personal Account]
Mahmoud Nasrollahzadeh, Zahra Issaabadi, Mohammad Mostafa Tohidi, S. Mohammad Sajadi
Chem. Rec., July 26, 2017, https://doi.org/10.1002/tcr.201700022 Read article
Two in one: Two distinct sets of amorphous carbonaceous material with aromatic sp2 carbon clusters are generated simultaneously and separately in a two-compartment electrochemical cell in aqueous medium. It is demonstrated that both carbon-based materials are negatively charged and that incorporation of nitrogen from N2 occurs. These materials display unique optical properties, exhibiting deep ultraviolet emission, in addition to blue luminescence.
[Article]
Andreia D. Veloso, Ana M. Botelho do Rego, Ana M. Ferraria, Luís F. V. Ferreira, Diana P. Ferreira, Pedro B. Tavares, Romeu Videira, Ana S. Viana, M. Cristina Oliveira
ChemElectroChem, July 26, 2017, https://doi.org/10.1002/celc.201700386 Read article
That′s sweet! Glucose is converted in 87 % selectivity to succinic acid under catalytic wet oxidation conditions using ruthenium supported on N-containing graphene as a catalyst without the addition of amines as a co-catalyst.
[Full Paper]
Cristina Rizescu, Iunia Podolean, Bogdan Cojocaru, Vasile I. Parvulescu, Simona M. Coman, Josep Albero, Hermenegildo Garcia
ChemCatChem, July 26, 2017, https://doi.org/10.1002/cctc.201700383 Read article
Conformal coating of graphene in any arbitrary-shape, even 3D irregular shapes, is critical to the surface-functionalized structural materials in their actual form for practical applications. As demonstrated by ceramics, graphene conformal-coated ceramics (GCCs) are successfully obtained. More significantly, GCCs find a broad range of real applications by enabling the low-cost construction of heating devices, electroluminescent devices, and touchpads.
[Communication]
Lifang Tan, Jiangli Han, Junlai Zuo, Ke Huang, Jilei Chen, Chenxiao Wang, Wenjing Lu, Lei Fu
Adv. Mater. Interfaces, July 26, 2017, https://doi.org/10.1002/admi.201700467 Read article
[Original Research Paper]
S. E. Neto, D. Melo-Diogo, I. J. Correia, C. M. Paquete, R. O. Louro
Fuel Cells, July 25, 2017, https://doi.org/10.1002/fuce.201700023 Read article
Layers of support: The role of two-dimensional layered materials as catalyst supports with improved catalytic activity towards various chemical and electrochemical reactions has been reviewed. This review focuses on new techniques to improve the catalytic activity and stability of the nanomaterials by tuning the structural and electronic properties of the support.
[Focus Review]
Amit Kumar, Qiang Xu
ChemNanoMat, July 19, 2017, https://doi.org/10.1002/cnma.201700139 Read article
Highly capacitive graphene is prepared by a molten sodium amide treatment of expanded graphene at about 600 K. The treatment leads to densification and N-doping as well as creating in-plane nanopores to serve as ion transport shortcuts in the resultant dense graphene stacks, which delivers both high gravimetric and volumetric capacitances in both aqueous and lithium battery electrolytes.
[Full Paper]
Shuang Lin, Chunyan Zhang, Zhiyong Wang, Sheng Dai, Xianbo Jin
Adv. Energy Mater., July 14, 2017, https://doi.org/10.1002/aenm.201700766 Read article
Thermal transport across MoS2 and graphene monolayers is investigated through a combination of experiments, simulations, and modeling. The thermal boundary conductance (TBC) across MoS2 at 295 K is found to be 20.3–33.5 MW m−2 K−1 on SiO2/Si, and 19–37.5 MW m−2 K−1 on c-sapphire, respectively. This study also unveils that TBC is remarkably affected by encapsulation due to phonon mode hybridization and emergence of Rayleigh waves.
[Communication]
Poya Yasaei, Cameron J. Foss, Klas Karis, Amirhossein Behranginia, Ahmed I. El-Ghandour, Arman Fathizadeh, Javier Olivares, Arnab K. Majee, Craig D. Foster, Fatemeh Khalili-Araghi, Zlatan Aksamija, Amin Salehi-Khojin
Adv. Mater. Interfaces, July 13, 2017, https://doi.org/10.1002/admi.201700334 Read article
One-atom-thick graphene is often covered by adsorbed contamination, often making it challenging to observe and manipulate its atomic structure. By heating the sample in a vacuum chamber directly connected to an electron microscope, it is possible to obtain large atomically clean areas to enable many further studies.
Novel narrow-bandgap graphene nanoribbons with armchair edges and a width of 9 atoms are studied by a multi-technique approach. The investigation of core-level and unoccupied states is performed by X-ray photoelectron spectroscopy and near edge X-ray absorption. These experiments are complemented by band structure measurements using angle-resolved photoemission. Finally, the first experimental data on the polarization dependence of the Raman modes of graphene nanoribbons areshown.