Carbon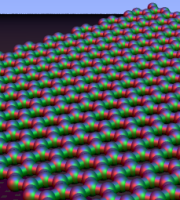 Talking about carbon, one automatically thinks of carbon nanotubes and fullerenes. But there is much more to this broad subject area. Advances in graphene research, templating methods, and the emergence of nanodiamonds make this field a rich area of research.
The variety of recent breakthroughs indicates that carbon, in all its variations, is the material of the early 21st century. The 2010 Nobel Prize in Physics was awarded to A. Geim and K. S. Novoselov for their work on graphene. Don't miss the hottest results and newest trends—you'll find the latest carbon research articles on this page.

RSS feed
Recent Articles
Modified carbon nanotubes were prepared via heat treatment under ammonia gas. X-ray photoemission spectroscopy (XPS) and Raman spectroscopy confirm the inclusion of surface carbonyl groups in these modified nanotubes. Via rotating disk electrode (RDE) experiments in an alkaline medium, the modified nanotubes were found to equal the activity of a Pt/C standard and exceed the stability of the platinum catalyst.
[Full Paper]
John Stacy, Andrew John Yost, Yagya N Regmi, Brian Leonard, TeYu Chien, Maohong Fan
ChemistrySelect, February 21, 2017, DOI: 10.1002/slct.201600810. Read article
Defect/edge-selective Friedel–Crafts acylation in mild polyphosphoric acid/phosphorous pentoxide medium is one of the best alternative methods for scalable, yet simple and efficient, functionalization of carbon materials, which offers more options for tailoring properties and processing of such materials. The method is an alternative to the most commonly utilized oxidation medium, nitric acid/sulfuric acid mixtures, which are too corrosive and causes serious damage to highly ordered graphitic frameworks.
[Research News]
Jeong-Min Seo, Loon-Seng Tan, Jong-Beom Baek
Adv. Mater., February 21, 2017, DOI: 10.1002/adma.201606317. Read article
Two-dimensional materials such as graphene, transition metal dichalcogenides, and black phosphorus, open up new routes to ultrafast and ultra-wideband optical modulation. Recent advances including free-space, fiber-based, and chip-integrated modulation approaches are presented. Cons and pros of the 2D materials for optical modulation are investigated. Challenges and opportunities in this field are discussed.
[Review]
Shaoliang Yu, Xiaoqin Wu, Yipei Wang, Xin Guo, Limin Tong
Adv. Mater., February 21, 2017, DOI: 10.1002/adma.201606128. Read article
Heterojunction photocatalysts attract a lot of attention because of their effectiveness for spatial separation of photogenerated electron–hole pairs. Therefore, various types of heterojunction photocatalyst are applied in different photocatalytic fields, including H2 production, CO2 reduction, and pollutant degradation. The development of heterojunction photocatalysts can lead to significant advancements in the photocatalysis field.
[Review]
Jingxiang Low, Jiaguo Yu, Mietek Jaroniec, Swelm Wageh, Ahmed A. Al-Ghamdi
Adv. Mater., February 21, 2017, DOI: 10.1002/adma.201601694. Read article
Flexible electrodes: A metal–phenolic carbon nanocomposite film is designed and assembled by metal–organic coordination. The phenolic groups of tannic acid facilitate the aqueous dispersion and cross-linking of carbon nanotubes and provide redox-active sites for pseudocapacitance. The resulting materials exhibit high strength, flexibility, and stable volumetric capacitance under bending conditions.
[Full Paper]
Jun Young Oh, Yeonsu Jung, Young Shik Cho, Jaeyoo Choi, Ji Ho Youk, Nina Fechler, Seung Jae Yang, Chong Rae Park
ChemSusChem, February 20, 2017, DOI: 10.1002/cssc.201601615. Read article
Inkjet-printed graphene circuits induce mesenchymal stem cell differentiation into Schwann cells via solely electrical stimulation. Fluorescent immunolabeling and paracrine activity measurements reveal higher levels of differentiation for cells grown on and electrical stimulated by the graphene circuits versus conventional chemical methods. These results are a step toward the creation of implantable neural network circuits for in vivo stem cell differentiation for neuroregeneration.
[Full Paper]
Suprem R. Das, Metin Uz, Shaowei Ding, Matthew T. Lentner, John A. Hondred, Allison A. Cargill, Donald S. Sakaguchi, Surya Mallapragada, Jonathan C. Claussen
Adv. Healthcare Mater., February 20, 2017, DOI: 10.1002/adhm.201601087. Read article
Easy synthesis: Three-dimensional hierarchical porous N,S-codoped graphene nanosheets are synthesized by polymerization followed by pyrolysis for the catalysis of oxygen reduction reaction in both alkaline and acid media.
[Full Paper]
Zheng Huang, Haihui Zhou, Wenji Yang, Chaopeng Fu, Liang Chen, Yafei Kuang
ChemCatChem, February 17, 2017, DOI: 10.1002/cctc.201601387. Read article
Caged catalyst: The degradation of 4-nitrophenol is realized by a single surface-cleaned PtPd alloy nanocube caged within a nitrogen-doped hollow carbon nanosphere. The carbon-shell-covered PtPd nanocube can catalyze the complete conversion of 4-nitrophenol in 2 min. Furthermore, the single-nanoparticle catalyst showed a high catalytic stability with 100 % conversion after at least four cycles.
[Full Paper]
Chunmei Zhang, Ruizhong Zhang, Shuijian He, Lei Li, Xiaodan Wang, Minmin Liu, Wei Chen
ChemCatChem, February 16, 2017, DOI: 10.1002/cctc.201601364. Read article
Numerous conventional materials are transformed through the integration of multiple functions on their surface when covered by a graphene coating. Importantly, their intrinsic superior properties are also retained. Here, the progress in all kinds of conventional materials is highlighted, and a general concept of graphene-X is proposed.
[Concepts]
Lifang Tan, Chenxiao Wang, Mengqi Zeng, Lei Fu
Small, February 15, 2017, DOI: 10.1002/smll.201603337. Read article
Carbocatalysts for carbocations: Graphene oxide and graphene oxide CO2H are used as catalysts in processes involving carbocationic intermediates, such as the pinacol rearrangement and direct nucleophilic substitution. High yields are obtained with the heterogeneous catalyst to be recycled up to five times.
[Full Paper]
Melania Gómez-Martínez, Alejandro Baeza, Diego A. Alonso
ChemCatChem, February 15, 2017, DOI: 10.1002/cctc.201601362. Read article
An ultrafast rechargeable multi-ions battery is presented, in which multi-ions can electrochemically intercalate into graphite layers, exhibiting a high reversible discharge capacity of ≈100 mAh g−1 and a coulombic efficiency of ≈99% over hundreds of cycles at a high current density. The results may open up a new paradigm for multi-ions-based electrochemical battery technologies and applications.
[Communication]
Shuai Wang, Shuqiang Jiao, Donghua Tian, Hao-Sen Chen, Handong Jiao, Jiguo Tu, Yingjun Liu, Dai-Ning Fang
Adv. Mater., February 15, 2017, DOI: 10.1002/adma.201606349. Read article
A novel lyotropic liquid-crystal-based assembly strategy is developed for the first time to fabricate composite films of vanadium pentoxide nanobelts and graphene oxide sheets with highly oriented layered structures. The resulting films manifest high electrical conductivity, good mechanical stability, and excellent flexibility, which allow them to be utilized as high performance electrodes in flexible energy storage devices.
[Full Paper]
Haiqing Liu, Yanping Tang, Chi Wang, Zhixiao Xu, Chongqing Yang, Tao Huang, Fan Zhang, Dongqing Wu, Xinliang Feng
Adv. Funct. Mater., February 15, 2017, DOI: 10.1002/adfm.201606269. Read article
Black gold: A highly active N- and S-co-doped ketjenblack (N/S-Kb) has been prepared by facile pyrolysis of a mixture of thiourea and Kb in the presence of FeCl3⋅6 H2O followed by an acid-leaching process (see graphic). The obtained N/S-Kb catalyst shows impressive oxygen reduction reaction activity with an onset potential of 0.08 V at 0.1 mA cm−2, coupled with long-term durability and superior methanol tolerance in alkaline media.
[Full Paper]
Guang-Chun Cheng, Guang-Lan Li, Cai-Di Liu, Li-Fang Yuan, Wen-Wen Chen, Ce Hao
Chem. Eur. J., February 14, 2017, DOI: 10.1002/chem.201604930. Read article
Graphene films and graphene-based hybrid films assembled using the liquid–air interfacial assembly can be directly deposited on flexible substrates with no complicated substrate-transfer procedure and then are used as active electrodes to fabricate the planar film supercapacitors, which have a large areal specific capacitance, excellent capacitive retention, and high flexibility.
[Full Paper]
Xiangrong Chen, Ting Xiang, Zhengjie Li, Yanlin Wu, Hailong Wu, Zhaofa Cheng, Jiao-Jing Shao, Quan-Hong Yang
Adv. Mater. Interfaces, February 13, 2017, DOI: 10.1002/admi.201601127. Read article
As-developed scanning electron microscope optical method using pressurized blister with intercalated single and dual nanoparticles achieves adhesion energies of monolayer/few-layer/multilayer graphene sheets on SiO2, which are in exceedingly close agreement with the previously measured results. This method can be extended for actuate determination and mapping analysis of interfacial adhesion between other 2D materials and various substrates.
[Full Paper]
Xiangyang Gao, Xiyu Yu, Buxuan Li, Shangchun Fan, Cheng Li
Adv. Mater. Interfaces, February 13, 2017, DOI: 10.1002/admi.201601023. Read article
A hierarchical-structured sheet-on-sheet sandwich-like nanocomposite based on CoNiOx and reduced graphene oxide is engineered and developed through a self-assembly procedure followed with heat treatment. The resulting nanocomposite exhibits advanced electrocatalytic activity and stability for water oxidation.
[Full Paper]
Ping Li, Hua Chun Zeng
Adv. Funct. Mater., February 10, 2017, DOI: 10.1002/adfm.201606325. Read article
Auto-awesome! An autoreduced catalyst that comprises Cu nanoparticles encapsulated inside the nanochannels of carbon nanotubes (Cu@CNTs) that did not need further reduction is prepared and exhibited an excellent catalytic performance for the hydrogenation of dimethyl oxalate (DMO).
[Full Paper]
Peipei Ai, Minghui Tan, Yuki Ishikuro, Yuta Hosoi, Guohui Yang, Yoshiharu Yoneyama, Noritatsu Tsubaki
ChemCatChem, February 09, 2017, DOI: 10.1002/cctc.201601503. Read article
Yummy! Corn on the cob! A hollow spherical carbon was prepared from corncob lignin through spray drying followed by carbonization. It shows a high rate performance as an electrode for supercapacitors owing to its hierarchical porous structure obtained after spray drying. This study describes a facile strategy for the microstructure control of biomass-derived carbons.
[Communication]
Zheng-Ze Pan, Liubing Dong, Wei Lv, Dequn Zheng, Zhengjie Li, Chong Luo, Cheng Zheng, Quan-Hong Yang, Feiyu Kang
Chem. Asian J., February 07, 2017, DOI: 10.1002/asia.201601724. Read article
Hydrogen from formic acid: A significantly increased rate of hydrogen production from biomass-derived formic acid over Pd/C catalysts is provided by N-doping of the support. This is assigned to the formation of electron-deficient single Pd atoms stabilized by pyridinic species of the support.
[Full Paper]
Monika Zacharska, Lyubov G. Bulusheva, Alexander S. Lisitsyn, Sergey Beloshapkin, Yina Guo, Andrey L. Chuvilin, Elena V. Shlyakhova, Olga Y. Podyacheva, James J. Leahy, Alexander V. Okotrub, Dmitri A. Bulushev
ChemSusChem, February 03, 2017, DOI: 10.1002/cssc.201601637. Read article
A competing sulfur-capture principle jointly with strict epitaxial mechanism is first proposed for the initial topography evolution of MoS2 domains with Mo or S terminations on the graphene template. The electron transfer between Gr and MoS2 is also experimentally evaluated. The understanding for optimizing the experimental design to synthesize the desirable heterostructures for various applications is provided.
[Full Paper]
Wen Wan, Linjie Zhan, Binbin Xu, Feng Zhao, Zhenwei Zhu, Yinghui Zhou, Zhilin Yang, Tienmo Shih, Weiwei Cai
Small, February 02, 2017, DOI: 10.1002/smll.201603549. Read article
Stronger together: An ionic liquid (IL)-based polymer and allyl-modified mesoporous silica (SBA-15) hybrid material functionalized with an intermolecular hydroxyl group were synthesized. In the carbonation of CO2 and epoxides, polymers that contain both ILs and OH show higher activity than polymers that contain only ILs, which suggests a cooperative effect of OH and ILs (see figure).
[Full Paper]
Sanjeevi Jayakumar, He Li, Yaopeng Zhao, Jian Chen, Qihua Yang
Chem. Asian J., February 02, 2017, DOI: 10.1002/asia.201601676. Read article
A nitrogen-doped 3D graphene foam assembled with nanoscroll structure is constructed via a facile mild-heating methodology using polar molecule of formamide as the driving regent. The as-prepared graphene nanoscroll foam exhibits promising performance in organic pollutants removal with improved adsorption rate and high binding affinity, which is thought to be a novel adsorption material.
[Communication]
Qile Fang, Xufeng Zhou, Wei Deng, Yuewen Liu, Zhi Zheng, Zhaoping Liu
Small, February 01, 2017, DOI: 10.1002/smll.201603779. Read article
Manipulating or effectively incorporating graphene oxide (GO), a novel 2-dimensional material, into a membrane structure in three different forms, including i) pure/skeleton membrane material, ii) additive in and iii) functional coating on matrix membranes, is shown to significantly improve water purification performance.
[Progress Report]
Mahdi Fathizadeh, Weiwei L. Xu, Fanglei Zhou, Yeomin Yoon, Miao Yu
Adv. Mater. Interfaces, January 31, 2017, DOI: 10.1002/admi.201600918. Read article
A sulfur/carbon composite based on 3D graphene nanosheet–carbon nanotube matrix exhibits large capacity and remarkable cycle stability owing to the strong covalent interaction between the two components of GN and CNTs, and the rapid electron transfer in the 3D GN–CNT matrix, as well as the stable confinement of sulfur/polysulfide species by produced cobalt nanoparticles.
[Full Paper]
Ze Zhang, Ling-Long Kong, Sheng Liu, Guo-Ran Li, Xue-Ping Gao
Adv. Energy Mater., January 27, 2017, DOI: 10.1002/aenm.201602543. Read article
Inspired by sophisticated interfacial architecture of nacre, a super fatigue-resistant graphene-based nanocomposite via synergistic interfacial interactions of covalent and ionic bonding, which shows promising applications in flexible energy devices, is demonstrated.
[Full Paper]
Sijie Wan, Feiyu Xu, Lei Jiang, Qunfeng Cheng
Adv. Funct. Mater., January 27, 2017, DOI: 10.1002/adfm.201605636. Read article
Epitaxial Bi2Te3 (BT) and Sb2Te3 (ST) thin films with very smooth surface deposited on the graphene substrate are demonstrated. Intensity ratios of I (006)/I (015) of the BT and ST thin films grown on graphene substrate increased as the deposition temperature increased above 250 °C, which was not observed on SiO2/Si substrate. Such high-quality BT and ST thin films are expected to be applied to thermoelectric devices.
[Rapid Research Letter]
Chang Wan Lee, Gun Hwan Kim, Seong Gu Kang, Min-A Kang, Ki-Seok An, Hyungjun Kim, Young Kuk Lee
Phys. Status Solidi RRL, January 25, 2017, DOI: 10.1002/pssr.201600369. Read article
Single-layer graphene with low defect concentration is synthesized conformal on top of nickel droplets dewet from nickel thin film. Layer number is controlled by controlling the thickness of the initial catalyst nickel film. Connected graphene sheets grown on isolated nickel droplets are directly employed as a photosensor device using the graphene photothermal effect.
[Full Paper]
Xining Zang, Qin Zhou, Jiyoung Chang, Kwok Siong Teh, Minsong Wei, Alex Zettl, Liwei Lin
Adv. Mater. Interfaces, January 25, 2017, DOI: 10.1002/admi.201600783. Read article
Carbon and on: A 3 D N-doped hierarchical porous carbon derived from sodium alginate provides a high surface area and a unique interconnected structure. This material exhibits an efficient activity for the oxygen reduction reaction and excellent durability and methanol tolerance.
[Full Paper]
Cuijuan Xuan, Zexing Wu, Wen Lei, Jie Wang, Junpo Guo, Deli Wang
ChemCatChem, January 20, 2017, DOI: 10.1002/cctc.201601284. Read article
DFT calculations show that Graphitic N with low doping concentration and distributed near the edge sites is the ideal candidate as a catalyst with high OER activity.
[Full Paper]
Xiangkai Kong, Qiangchun Liu, Debao Chen, Guilin Chen
ChemCatChem, January 12, 2017, DOI: 10.1002/cctc.201601268. Read article
The rationally designed freestanding and sandwich-structured electrode exhibits enhanced cycling stability with high specific capacity and high coulombic efficiency. This strategy achieves high level of optimization for electrochemical performance through hybridization-combining multiple materials with unique characteristics within a single framework structure.
[Full Paper]
Mingpeng Yu, Junsheng Ma, Ming Xie, Hongquan Song, Fuyang Tian, Shanshan Xu, Yun Zhou, Bei Li, Di Wu, Hong Qiu, Rongming Wang
Adv. Energy Mater., January 06, 2017, DOI: 10.1002/aenm.201602347. Read article
[Full Paper]
Diego L.C. Golinelli, Sergio A.S. Machado, Ivana Cesarino
Electroanalysis, December 23, 2016, DOI: 10.1002/elan.201600669. Read article
Liquid exfoliation is one of the most promising techniques for the mass production of graphene and its processing into useful materials. Here, a viable approach compatible with large-scale industrial application in the polymer industry is presented. The approach is based on commercial molecules such as aromatic perylene diimide dyes for the exfoliation of few-layer graphene nanosheets in low-boiling organic solvents (see figure).
[Full Paper]
Andrea Liscio, Konstantinos Kouroupis-Agalou, Alessandro Kovtun, Elias Gebremedhn, Mohamed El Garah, Wassima Rekab, Emanuele Orgiu, Loris Giorgini, Paolo Samorì, David Beljonne, Vincenzo Palermo
ChemPlusChem, November 30, 2016, DOI: 10.1002/cplu.201600503. Read article
Bifunctional non-precious-metal catalyst: A hybrid electrocatalyst consisting of earth-abundant materials is constructed by a facile one-pot thermal treatment method. The Co-based nanoparticles grown on 2 D N-doped macroporous carbon nanosheets (Co–N-pCNs) with the polymerizable ionic liquids (PILs) display superior catalytic performance for both oxygen reduction and oxygen evolution reaction.
[Full Paper]
Jian Gao, Na Ma, Yumei Zheng, Jiafeng Zhang, Jianzhou Gui, Chunkai Guo, Huiqin An, Xiaoyao Tan, Zhen Yin, Ding Ma
ChemCatChem, November 25, 2016, DOI: 10.1002/cctc.201601207. Read article
[Communication]
Shouliang Yang, Yumeng Xi, Jiahua Chen, Zhen Yang
Isr. J. Chem., October 26, 2016, DOI: 10.1002/ijch.201600104. Read article
© Wiley-VCH 2016.