Carbon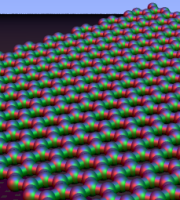 Talking about carbon, one automatically thinks of carbon nanotubes and fullerenes. But there is much more to this broad subject area. Advances in graphene research, templating methods, and the emergence of nanodiamonds make this field a rich area of research.
The variety of recent breakthroughs indicates that carbon, in all its variations, is the material of the early 21st century. The 2010 Nobel Prize in Physics was awarded to A. Geim and K. S. Novoselov for their work on graphene. Don't miss the hottest results and newest trends—you'll find the latest carbon research articles on this page.

RSS feed
Recent Articles
Going dotty: Fe3O4 nanoparticles modified with graphene quantum dots (GQD) are used for the stabilization of PdCu bimetallic nanoparticles. This material is applied as an efficient catalyst for the Sonogashira reaction of aryl iodides, bromides, and chlorides in toluene or N,N-dimethylacetamide at 60–110 °C in very high yields with 0.3 mol % of Pd loading.
[Full Paper]
Mohammad Gholinejad, Jahantab Ahmadi, Carmen Nájera, Mohammad Seyedhamzeh, Fatemeh Zareh, Mohsen Kompany-Zareh
ChemCatChem, March 24, 2017, https://doi.org/10.1002/cctc.201601519 Read article
Representative snapshots illustrating how surface oxidation rate can affect conformational changes of prefolded poly(T)20 on graphene surfaces. In the case of the surface with low or high oxidation rate, strong van der Waals or electrostatic interactions make poly(T)20 unstable. However, on graphene oxide with moderate oxidation rate, poly(T)20 has a good structural retention due to balanced nonbonded interactions.
[Full Paper]
Ho Shin Kim, Barry L. Farmer, Yaroslava G. Yingling
Adv. Mater. Interfaces, March 21, 2017, https://doi.org/10.1002/admi.201601168 Read article
A high performing sodium hybrid capacitor is fabricated utilizing graphene nanosheets as high power adsorption electrode and graphene/NaTi2(PO4)3 as a high energy intercalation electrode. High energy retention at high power along with excellent stability of 90% after 75 000 cycles with a lowest ever energy loss of ≈0.13% per 1000 cycles is documented.
[Full Paper]
Ranjith Thangavel, Brindha Moorthy, Do Kyung Kim, Yun-Sung Lee
Adv. Energy Mater., March 17, 2017, https://doi.org/10.1002/aenm.201602654 Read article
Sodium-based dual ion full batteries (NDIBs) are reported with soft carbon as anode and graphite as cathode for the first time. The NDIBs deliver high discharge voltage plateau of 3.58 V, superior discharge capacity of 103 mA h g−1, excellent rate performance, and long-term cycling stability over 800 cycles with capacity retention of 81.8%.
[Communication]
Ling Fan, Qian Liu, Suhua Chen, Zhi Xu, Bingan Lu
Adv. Energy Mater., March 16, 2017, https://doi.org/10.1002/aenm.201602778 Read article
A sensitive, robust, and noninvasive probing of dielectric properties in epitaxial SrTiO3 thin film with oxygen vacancies is presented, based on the scalable hysteretic quantum conductance of graphene. The device concept, composed of 2D layered materials and transition-metal oxides, provides an interesting opportunity for understanding the fundamental physical properties of materials that would otherwise not be possible.
[Communication]
Kyeong Tae Kang, Haeyong Kang, Jeongmin Park, Dongseok Suh, Woo Seok Choi
Adv. Mater., March 16, 2017, https://doi.org/10.1002/adma.201700071 Read article
A graphene–porous silicon nanocomposite is proposed for a novel concept of tunable compliant substrate for epitaxy, which extends the range of available lattice constants for epitaxial semiconductor alloys. Remarkable properties are demonstrated experimentally: thermal stability up to 900 °C, lattice tuning of at least 0.9% mismatch, and compliance under stress. A theoretical model is proposed to define the compliant substrate design rules.
[Full Paper]
Abderrahim Rahim Boucherif, Abderraouf Boucherif, Gitanjali Kolhatkar, Andreas Ruediger, Richard Arès
Small, March 15, 2017, https://doi.org/10.1002/smll.201603269 Read article
Edge-rich, oxygen-functionalized graphene can be in situ generated on the surface of carbon fibers by Ar-plasma etching. Both oxygen doping and defects contribute significantly to enhanced electrocatalytic activity for the oxygen reduction reaction and oxygen evolution reaction.
[Communication]
Zhijuan Liu, Zhenghang Zhao, Yanyong Wang, Shuo Dou, Dafeng Yan, Dongdong Liu, Zhenhai Xia, Shuangyin Wang
Adv. Mater., March 09, 2017, https://doi.org/10.1002/adma.201606207 Read article
This study demonstrates polysulfated graphene sheets mimicking the extracellular matrix of cells and their interactions with vesicular stomatitis virus (VSV). A New and facile method of controlling the density of functionalized graphene sheets is used and the multivalent interaction with the VSV virus has been successfully tuned.
[Full Paper]
Mohammad Fardin Gholami, Daniel Lauster, Kai Ludwig, Julian Storm, Benjamin Ziem, Nikolai Severin, Christoph Böttcher, Jürgen P. Rabe, Andreas Herrmann, Mohsen Adeli, Rainer Haag
Adv. Funct. Mater., March 08, 2017, https://doi.org/10.1002/adfm.201606477 Read article
Using pristine, natural flake graphene as a 2D surfactant to stabilize water-in-oil emulsions, polymer foams are formed that selectively swell in various solvents and demonstrate changes in resistivity with deformation. Graphite exfoliation and templated polymerization is enabled by the surface activity of graphene, and is driven by graphene spreading at high energy interfaces to lower the overall energy of the system.
[Communication]
Steven J. Woltornist, Deepthi Varghese, Daniel Massucci, Zhen Cao, Andrey V. Dobrynin, Douglas H. Adamson
Adv. Mater., March 06, 2017, https://doi.org/10.1002/adma.201604947 Read article
[Full Paper]
Elham Honarvarfard, Maria Gamella, Devika Channaveerappa, Costel C. Darie, Arshak Poghossian, Michael J. Schöning, Evgeny Katz
Electroanalysis, March 03, 2017, https://doi.org/10.1002/elan.201700095 Read article
Ultrasensitive iron-triggered nanosized Fe
CoOOH nanoparticles are integrated on graphene surface by a novel and simple conversion tailoring strategy, producing the hybrids with rich active sites, distinct pore structure, and numerous channels together with interconnected conducting networks. The Fe
CoOOH/G hybrids can deliver a low overpotential of 330 mV at 10 mA cm−2 and excellent durability as an oxygen evolution electrocatalyst.
[Full Paper]
Xiaotong Han, Chang Yu, Si Zhou, Changtai Zhao, Huawei Huang, Juan Yang, Zhibin Liu, Jijun Zhao, Jieshan Qiu
Adv. Energy Mater., March 03, 2017, https://doi.org/10.1002/aenm.201602148 Read article
A stable anode for Li-ion batteries based on 3D skeletal current collectors with micron size pore structure and Silicon–graphene active material is reported. When the pores of graphene coated stainless steel current collector are used as microfilling chambers for Silicon nanoparticles that are closed by another blanket layer of graphene, remarkable cyclability and enhanced specific capacity are observed for the anode.
[Full Paper]
Manjusha V. Shelke, Hemtej Gullapalli, Kaushik Kalaga, Marco-Tulio F. Rodrigues, Rami Reddy Devarapalli, Robert Vajtai, Pulickel M. Ajayan
Adv. Mater. Interfaces, March 03, 2017, https://doi.org/10.1002/admi.201601043 Read article
Hard graft: The efficient grafting of alkynyl groups through a two-step nucleophilic addition and propargylic capture reaction is proposed. The attached alkyne moieties are further reacted with azide derivatives through copper-catalyzed alkyne–azide cycloaddition (CuAAC).
[Communication]
Antonin Desmecht, Sophie Hermans, Olivier Riant
ChemistryOpen, February 28, 2017, https://doi.org/10.1002/open.201600170 Read article
Self-help groups for peptides: A novel, simple approach is used to analyze the stabilization effect of amino acid side chains on peptide assemblies. The structures of 4,4′-bipyridyl–polypeptide co-assemblies on highly oriented pyrolytic graphite are studied using scanning tunneling microscopy. The lamellae widths of peptides are directly related to the stabilization effect of the side chains. This work will provide molecular insights into the propensity for aggregation of amyloid peptides.
[Article]
Yuanyuan Guo, Jingfei Hou, Xuemei Zhang, Yanlian Yang, Chen Wang
ChemPhysChem, February 28, 2017, https://doi.org/10.1002/cphc.201601353 Read article
The coupling of TiO2 with the narrow-band-gap semiconductor CdS is utilized to improve the photoresponse of TiO2, and the introduction of graphene into the binary TiO2/CdS material as a charge-transfer promoter is highly expected to enhance the photovoltaic activity.
[Full Paper]
Yanan Zhang, Chengxiang Wang, Zhimin Yuan, Luyuan Zhang, Longwei Yin
Eur. J. Inorg. Chem., February 27, 2017, https://doi.org/10.1002/ejic.201601535 Read article
N-doped reduced graphene oxide samples can be prepared in a simple, fast and energy-efficient manner by laser-assisted synthesis.
[Article]
Dejan Kepić, Stefania Sandoval, Ángel Pérez del Pino, Enikö György, Laura Cabana, Belén Ballesteros, Gerard Tobias
ChemPhysChem, February 27, 2017, https://doi.org/10.1002/cphc.201601256 Read article
Excessive cation injection into a resistive switching layer beyond the requirement of conductive filament formation, leads to deterioration of conductive-bridge random access memory (CBRAM) performance. The cation injection can be localized by inserting a nanohole graphene between active electrode and resistive switching layer. The nanoscale localized cation injection, validated by conductive atomic force microscopy, gives rise to enhanced CBRAM performance.
[Full Paper]
Xiaolong Zhao, Sen Liu, Jiebin Niu, Lei Liao, Qi Liu, Xiangheng Xiao, Hangbing Lv, Shibing Long, Writam Banerjee, Wenqing Li, Shuyao Si, Ming Liu
Small, February 24, 2017, https://doi.org/10.1002/smll.201603948 Read article
Flexible electrodes: A metal–phenolic carbon nanocomposite film is designed and assembled by metal–organic coordination. The phenolic groups of tannic acid facilitate the aqueous dispersion and cross-linking of carbon nanotubes and provide redox-active sites for pseudocapacitance. The resulting materials exhibit high strength, flexibility, and stable volumetric capacitance under bending conditions.
[Full Paper]
Jun Young Oh, Yeonsu Jung, Young Shik Cho, Jaeyoo Choi, Ji Ho Youk, Nina Fechler, Seung Jae Yang, Chong Rae Park
ChemSusChem, February 20, 2017, https://doi.org/10.1002/cssc.201601615 Read article
Inkjet-printed graphene circuits induce mesenchymal stem cell differentiation into Schwann cells via solely electrical stimulation. Fluorescent immunolabeling and paracrine activity measurements reveal higher levels of differentiation for cells grown on and electrical stimulated by the graphene circuits versus conventional chemical methods. These results are a step toward the creation of implantable neural network circuits for in vivo stem cell differentiation for neuroregeneration.
[Full Paper]
Suprem R. Das, Metin Uz, Shaowei Ding, Matthew T. Lentner, John A. Hondred, Allison A. Cargill, Donald S. Sakaguchi, Surya Mallapragada, Jonathan C. Claussen
Adv. Healthcare Mater., February 20, 2017, https://doi.org/10.1002/adhm.201601087 Read article
Numerous conventional materials are transformed through the integration of multiple functions on their surface when covered by a graphene coating. Importantly, their intrinsic superior properties are also retained. Here, the progress in all kinds of conventional materials is highlighted, and a general concept of graphene-X is proposed.
[Concepts]
Lifang Tan, Chenxiao Wang, Mengqi Zeng, Lei Fu
Small, February 15, 2017, https://doi.org/10.1002/smll.201603337 Read article
Graphene films and graphene-based hybrid films assembled using the liquid–air interfacial assembly can be directly deposited on flexible substrates with no complicated substrate-transfer procedure and then are used as active electrodes to fabricate the planar film supercapacitors, which have a large areal specific capacitance, excellent capacitive retention, and high flexibility.
[Full Paper]
Xiangrong Chen, Ting Xiang, Zhengjie Li, Yanlin Wu, Hailong Wu, Zhaofa Cheng, Jiao-Jing Shao, Quan-Hong Yang
Adv. Mater. Interfaces, February 13, 2017, https://doi.org/10.1002/admi.201601127 Read article
As-developed scanning electron microscope optical method using pressurized blister with intercalated single and dual nanoparticles achieves adhesion energies of monolayer/few-layer/multilayer graphene sheets on SiO2, which are in exceedingly close agreement with the previously measured results. This method can be extended for actuate determination and mapping analysis of interfacial adhesion between other 2D materials and various substrates.
[Full Paper]
Xiangyang Gao, Xiyu Yu, Buxuan Li, Shangchun Fan, Cheng Li
Adv. Mater. Interfaces, February 13, 2017, https://doi.org/10.1002/admi.201601023 Read article
Bifunctional non-precious-metal catalyst: A hybrid electrocatalyst consisting of earth-abundant materials is constructed by a facile one-pot thermal treatment method. The Co-based nanoparticles grown on 2 D N-doped macroporous carbon nanosheets (Co–N-pCNs) with the polymerizable ionic liquids (PILs) display superior catalytic performance for both oxygen reduction and oxygen evolution reaction.
[Full Paper]
Jian Gao, Na Ma, Yumei Zheng, Jiafeng Zhang, Jianzhou Gui, Chunkai Guo, Huiqin An, Xiaoyao Tan, Zhen Yin, Ding Ma
ChemCatChem, November 25, 2016, https://doi.org/10.1002/cctc.201601207 Read article
[Communication]
Shouliang Yang, Yumeng Xi, Jiahua Chen, Zhen Yang
Isr. J. Chem., October 26, 2016, https://doi.org/10.1002/ijch.201600104 Read article
© Wiley-VCH 2016.