Carbon Dioxide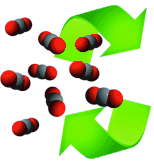 CO2 emission causes many environmental problems. To mitigate the concentration of CO2 in the atmosphere, the fixation, activation, and capture of CO2 through chemical reactions is important. Increasingly, CO2 is used as a carbon source in syntheses.
Find all articles on carbon dioxide in Wiley Online Library...
Recent Articles
RSS feed
Taking a deep breath: A metal–organic framework with a paddle-wheel secondary building unit is activated by direct thermal evacuation, guest exchange with a volatile solvent, and supercritical CO2 drying. The solvent exchange step produces a pure breathing phase with high sorption capacity, selectivity for CO2 over N2 and CH4, and substantial hysteresis.
[Communication]
Emile R. Engel, Abdelaziz Jouaiti, Charl X. Bezuidenhout, Mir Wais Hosseini, Leonard J. Barbour
Angew. Chem. Int. Ed., June 22, 2017, https://doi.org/10.1002/anie.201704044 Read article
The decaniobate cluster [Nb10O28]6− was found to act as a Lewis base catalyst for CO2 fixation to styrene oxide. Based on a kinetic study, it is proposed that the reaction proceeds via the Eley–Rideal mechanism through which reductively activated CO2 on oxygen sites of [Nb10O28]6− undergoes cycloaddition with styrene oxide. DFT calculation suggests that corner O atoms of [Nb10O28]6− are the most effective active sites of CO2 in terms of electronic charge transfer.
[Full Paper]
Shun Hayashi, Seiji Yamazoe, Kiichirou Koyasu, Tatsuya Tsukuda
Chem. Asian J., June 21, 2017, https://doi.org/10.1002/asia.201700534 Read article
Capture it! An inexpensive and efficient cobalt-coordinated conjugated microporous polymer (Co-CMP-2) catalyst for the cycloaddition reaction of CO2 with ethylene oxide was developed. This catalyst achieved an exceptionally high TOF of 23 300 h−1 under mild conditions.
[Full Paper]
Jian Xiong, Rui-Xia Yang, Yong Xie, Nian-Yu Huang, Kun Zou, Wei-Qiao Deng
ChemCatChem, June 12, 2017, https://doi.org/10.1002/cctc.201700386 Read article
A facile method and novel mechanism using microneedle-structured polydimethysiloxane are applied for triboelectric generator (MN-TEG) applications. High electrical output performance shows an open-circuit voltage of 102.8 V, short-circuit current of 41.3 µA, and a current density of 1.5 µA cm−2. The MN-TEG is especially fabricated by a low-cost, simple, and quick-manufacturing method including CO2 laser ablation and molding processes.
[Full Paper]
Van-Long Trinh, Chen-Kuei Chung
Small, June 08, 2017, https://doi.org/10.1002/smll.201700373 Read article
Step-by-step: The reaction mechanisms of formate production is summarized based on computational, electrokinetic, and in situ analyses, focusing on SnOx catalysts. CO2 molecules are activated to carbonate and CO2− anion species over a reduced oxide surface, followed by additional electron and proton transfer to form HCOOH.
[Minireview]
Chan Woo Lee, Nam Heon Cho, Ki Dong Yang, Ki Tae Nam
ChemElectroChem, June 06, 2017, https://doi.org/10.1002/celc.201700335 Read article
The computer never lies! DFT calculations revealed that the bicyclic guanidine-catalyzed coupling reaction of alkynyl indoles with CO2 proceeds via a specific base-catalyzed mechanism (via bifunctional activation) rather than an electrophilic or nucleophilic CO2 activation mechanism.
[Full Paper]
Choon Wee Kee, Kai Qi Elizabeth Peh, Ming Wah Wong
Chem. Asian J., June 05, 2017, https://doi.org/10.1002/asia.201700338 Read article
Keeping it simple: Polyimidazolium salts containing aromatic linkers with differing steric demands are prepared in a single step from commercially available reagents. The polyimidazolium salts are efficient heterogeneous catalysts for the cycloaddition of CO2 into epoxides to form cyclic carbonates operating under ambient conditions. The polyimidazolium salts display prolonged lifetimes and are able to convert a range of different epoxides.
[Full Paper]
Wei Zhong, Felix D. Bobbink, Zhaofu Fei, Paul J. Dyson
ChemSusChem, June 01, 2017, https://doi.org/10.1002/cssc.201700570 Read article
Heterocycle promotion: An Ag2O/TMG (1,1,3,3-tetramethylguanidine) promoted substrate-driven and divergent route leads to a variety of heterocycles from propargyl alcohols, CO2, and 2-aminoethanols with turnover numbers up to 1260. The reaction proceeds through a cascade pathway with α-alkylidene cyclic carbonate as the intermediate.
[Article]
Xue-Dong Li, Qing-Wen Song, Xian-Dong Lang, Yao Chang, Liang-Nian He
ChemPhysChem, May 23, 2017, https://doi.org/10.1002/cphc.201700297 Read article
CO2 adsorption: The adsorption of CO2 on CeO2(110) single crystals is studied. It is found that CO2 adsorbs as a carbonate species on both fully oxidized CeO2(110) and partially reduced CeO2−x(110). Under the measurement conditions, the oxidation state of the surface remains unchanged, that is, CO2 does not re-oxidize the reduced CeO2−x(110) surface and there is no conversion of CO2 to CO.
[Article]
Chengwu Yang, Fabian Bebensee, Jun Chen, Xiaojuan Yu, Alexei Nefedov, Christof Wöll
ChemPhysChem, May 19, 2017, https://doi.org/10.1002/cphc.201700240 Read article
N-heterocyclic olefins–CO2 adducts, functionalized by alkyl substituents on the α-carbon, were successfully synthesized and characterized by X-ray diffraction, which showed high stability and catalytic activity for the carboxylative cyclization of CO2 with terminal and internal propargylic alcohols to afford cis α-alkylidene cyclic carbonates in moderate to good yields with complete stereoselectivity.
[Full Paper]
Hui Zhou, Guo-Xu Wang, Xiao-Bing Lu
Asian J. Org. Chem., May 18, 2017, https://doi.org/10.1002/ajoc.201700152 Read article
Radical polymerization of styrene in aqueous emulsions pressurized by CO2 is investigated with a view to development of low energy miniemulsion polymerization. These polymerizations do not proceed as true miniemulsion polymerization systems, but are also characterized by a significant contribution of particle formation via secondary nucleation as in an ab initio emulsion polymerization.
[Full Paper]
Noor Hadzuin Nik Hadzir, Siming Dong, Rhiannon P. Kuchel, Frank P. Lucien, Per B. Zetterlund
Macromol. Chem. Phys., May 08, 2017, https://doi.org/10.1002/macp.201700128 Read article
Assembling high-quality heterostructures with desirable compositions and sequences is a great challenge. In this work, complex heterostructures of WS2-WO3⋅H2O/1T-2H MoS2 have been prepared with selective stacking assembly and the assistance of supercritical CO2 (SC CO2).
[Communication]
Yumei Ren, Qun Xu, Chongze Wang, Xiaoli Zheng, Yu Jia, Yuhang Qi, Yunchun Zhou, Xinan Yang, Zhenyu Zhang
ChemNanoMat, April 28, 2017, https://doi.org/10.1002/cnma.201700058 Read article
Supercritical CO2-assisted reverse-micelle-induced phase engineering can form strained 2D single-layers, which directly contributes to the successful transformation of 2H- to 1T-phase MS2. The obtained 1T-MoS2 exhibits good activity for the hydrogen evolution reaction in comparison with 2H-MoS2.
[Communication]
Xin Tong, Yuhang Qi, Jing Chen, Nan Wang, Qun Xu
ChemNanoMat, March 01, 2017, https://doi.org/10.1002/cnma.201700011 Read article
© Wiley-VCH 2016.