Carbon Dioxide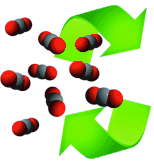 CO2 emission causes many environmental problems. To mitigate the concentration of CO2 in the atmosphere, the fixation, activation, and capture of CO2 through chemical reactions is important. Increasingly, CO2 is used as a carbon source in syntheses.
Find all articles on carbon dioxide in Wiley Online Library...
Recent Articles
RSS feed
Move over Kolbe–Schmitt: The direct C−H carboxylation of aromatic compounds with non-toxic, low-cost, and renewable CO2 provides an ideal strategy to construct C−C bonds from a step- and atom-economical point of view. This Minireview presents recent advances on the area of C−H carboxylation of (hetero)aromatic compounds through CO2 fixation.
[Minireview]
Junfei Luo, Igor Larrosa
ChemSusChem, August 16, 2017, https://doi.org/10.1002/cssc.201701058 Read article
Zeolitic imidazolate frameworks (ZIF-8) are synthesized using various zinc sources in aqueous solution. These materials are effective catalysts for electrochemical reduction of CO2, with CO as the major product. The roles of the electrolyte and Zn nodes are investigated in detail.
[Communication]
Yulin Wang, Pengfei Hou, Zhuo Wang, Peng Kang
ChemPhysChem, August 16, 2017, https://doi.org/10.1002/cphc.201700716 Read article
Leroux et al. performed a set of experiments reported in our study and claim that they failed to reproduce the thermoresponsive liposomal system containing ammonium bicarbonate (ABC) that could trigger drug release under mild heating. We disagree with their assessments and speculate that the different method used by Leroux et al. to prepare the aqueous ABC is the culprit.
[Correspondence]
Wei-Lin Wan, Min-Fan Chung, Po-Chien Shih, Hsing-Wen Sung
Angew. Chem. Int. Ed., August 16, 2017, https://doi.org/10.1002/anie.201706509 Read article
Brookite TiO2 quasi-nanocubes (Cu-BTN) decorated with Cu nanoclusters are synthesized, showing significantly improved activity and selectivity for CO2 photoreduction to CH4 as compared to pristine BTN and Ag-BTN.
[Article]
Jingpeng Jin, Jiang Luo, Ling Zan, Tianyou Peng
ChemPhysChem, August 15, 2017, https://doi.org/10.1002/cphc.201700563 Read article
Easy as 1-2-3! Oxazolidinones are prepared through a three-component reaction of CO2, epoxides, and amines promoted by a combination of Bu4NI and 1,8-diazabicyclo[5.4.0]undec-7-ene (DBU). This metal-free and easily available catalytic system is applicable to a broad range of substrates, including conventionally challenging ones (e.g., aliphatic epoxides), at atmospheric pressure. Preliminary mechanistic studies suggest β-amino alcohols as intermediates.
[Communication]
Min Lv, Peng Wang, Dan Yuan, Yingming Yao
ChemCatChem, August 15, 2017, https://doi.org/10.1002/cctc.201700594 Read article
Modeling biomimetic CO2 reduction: The authors use computational quantum chemistry and umbrella sampling to study how free energy contributions affect aqueous-phase hydride transfers to CO2 at room temperature. Explicit sampling of solvent configurations along reaction pathways is recommended for future mechanistic studies of CO2 reduction catalysts.
[Article]
Mitchell C. Groenenboom, John A. Keith
ChemPhysChem, August 10, 2017, https://doi.org/10.1002/cphc.201700608 Read article
Critical update: Advances in the field of solvation in supercritical CO2 have often been promoted thanks to molecular interpretations provided by computational approaches. In this paper, theoretical work is reviewed that has been done in the past years and possible research guidelines for future studies are discussed.
[Review]
Francesca Ingrosso, Manuel F. Ruiz-López
ChemPhysChem, August 10, 2017, https://doi.org/10.1002/cphc.201700434 Read article
Complete control: Highly substituted 2-cyclopentenones were stereospecifically and regioselectively constructed with high catalytic efficiency through Lewis acid catalyzed decarboxylative Nazarov cyclization of the cyclic carbonate derivative, which was prepared by reacting the propargyl alcohol with carbon dioxide in the presence of a silver catalyst. The stereochemistry of the 2-cyclopentenone is strictly controlled by the geometry of the alkene in the starting material.
[Communication]
Keiichi Komatsuki, Yuta Sadamitsu, Kohei Sekine, Kodai Saito, Tohru Yamada
Angew. Chem. Int. Ed., August 10, 2017, https://doi.org/10.1002/anie.201705909 Read article
Trapped, but active: Aqueous solutions of ionic liquids (IL) with basic anions are employed for CO2 capture, resulting in higher values of sorption. The success of these experiments can be attributed to the occurrence of physical and chemical sorption, mainly owing to bicarbonate formation. Our detailed study shows that bicarbonate species are a result of the reversible reaction between water molecules trapped in the IL activated by the contact ion pair and CO2.
[Full Paper]
Nathalia M. Simon, Marcileia Zanatta, Francisco P. dos Santos, Marta C. Corvo, Eurico J. Cabrita, Jairton Dupont
ChemSusChem, August 09, 2017, https://doi.org/10.1002/cssc.201701044 Read article
PEC on the cheek: This Focus Review highlights recent advances in the development of hybrid semiconductor-based systems for the photoelectrochemical (PEC) reduction of CO2 into CO, HCOOH, MeOH, and CH4.
[Focus Review]
Aniruddha Dey, Debabrata Maiti, Goutam Kumar Lahiri
Asian J. Org. Chem., August 09, 2017, https://doi.org/10.1002/ajoc.201700351 Read article
Go for gold: Supported subnanometer gold catalysts deliver good catalytic activity and selectivity in hydrogenation of CO2 to methanol at low temperature. The combination of zirconia and the gold particles shows the best catalytic performance, with selectivity to methanol up to 73 % at 180 °C.
[Full Paper]
Congyi Wu, Peng Zhang, Zhaofu Zhang, Lujun Zhang, Guanying Yang, Buxing Han
ChemCatChem, August 07, 2017, https://doi.org/10.1002/cctc.201700872 Read article
What′s the catch? The surface polarity of a microporous polymer was modified by using a post-synthesis method to improve CO2 capture (see figure). Incorporation of -NH2 and -SO3Li groups in the micropores could markedly enhance both the CO2 uptake capacity and CO2/N2 selectivity. Surface functionalization provides an efficient approach to adjust the CO2 capture properties of microporous polymers.
[Full Paper]
Jian Chen, He Li, Mingmei Zhong, Qihua Yang
Chem. Asian J., August 04, 2017, https://doi.org/10.1002/asia.201700779 Read article
Bifunctional boron phosphate: The inexpensive and non-toxic BPO4/KI binary catalyst system could efficiently catalyze the cycloaddition of CO2 with various epoxides, and various corresponding cyclic carbonates could be produced with high yields (93–99 %). In the catalytic system, BPO4, a Brønsted and Lewis acid hybrid, played the role of activating the epoxy ring, and thus enhanced the activity of KI.
[Full Paper]
Zhimin Xue, Xinhui Zhao, Jinfang Wang, Tiancheng Mu
Chem. Asian J., August 03, 2017, https://doi.org/10.1002/asia.201700688 Read article
Carbon dioxide fixation: ZnTe-modified TiO2 photocatalysts with a ZnTe content as low as 1.96 % exhibit good visible-light activity for the photoreduction of CO2 to CH4, which is attributed to its high BET specific surface area and the formation of a p–n junction at the ZnTe/TiO2 interface that can facilitate the charge transfer.
[Article]
Muhammad Fahad Ehsan, Rabia Khan, Tao He
ChemPhysChem, July 28, 2017, https://doi.org/10.1002/cphc.201700404 Read article
Nanocatalysts playing the melody of sustainability: The continuous discovery of new heterogeneous catalysts with a nanostructural organization is pushing forward the realization of energy and environmental schemes with sustainability as the common denominator. Hydrogen production, CO2 reduction, and nitrogen fixation are currently some of the most investigated processes aiming at switching the planet to a better lifestyle soon.
[Concept]
Michele Melchionna, Paolo Fornasiero
ChemCatChem, July 26, 2017, https://doi.org/10.1002/cctc.201700489 Read article
The route matters: A series of M2(BDC)2(DABCO) (M=Zn, Co, Ni, Cu; BDC=1,4-benzene dicarboxylate; DABCO=1,4-diazabicyclo[2.2.2]octane) metal–organic frameworks (M-DABCO) are prepared by using a solvothermal route, and their activity in the cycloaddition of CO2 to epoxides is investigated. The most active catalyst, Zn-DABCO, is also prepared by using a spray-drying method and the physicochemical properties of both types of Zn-DABCO are compared.
[Full Paper]
Bibimaryam Mousavi, Somboon Chaemchuen, Behrooz Moosavi, Kui Zhou, Mekhman Yusubov, Francis Verpoort
ChemistryOpen, July 20, 2017, https://doi.org/10.1002/open.201700060 Read article
Di- or mono-carboxylation: DFT calculations combined with electrochemical techniques were used to investigate the electrocarboxylation of benzalacetone. A dicarboxylation mechanism, assisted with in situ generated Mg2+, has been proposed.
[Communication]
Huan Wang, Hong-Wei Zhu, Rong-Rong Guo, Qiao-Li Hu, Sheng Zeng, Jia-Xing Lu
Asian J. Org. Chem., July 13, 2017, https://doi.org/10.1002/ajoc.201700233 Read article
Crystallising the problem: CO2 and energy penalties related to the most well-known types of CO2 mineralization processes developed to date are analyzed and compared. Important variables are identified that contribute to high CO2 and energy penalties so that future research can focus on optimisation of these variables.
[Article]
Pavan Kumar Naraharisetti, Tze Yuen Yeo, Jie Bu
ChemPhysChem, July 11, 2017, https://doi.org/10.1002/cphc.201700565 Read article
Diffusion profusion: The diffusivity of CO2 and N2 in the small-pore metal–organic framework MIL-91(Ti) is explored by using a combination of quasielastic neutron scattering measurements and molecular dynamics simulations. The diffusivities of both CO2 and N2 fall in the range of 10−9 to 10−10 m2 s−1 at 230 to 300 K. At 300 K, the extrapolated N2 diffusivity is about 20 times faster than that of CO2.
[Article]
Renjith Sasimohanan Pillai, Hervé Jobic, Michael Marek Koza, Farid Nouar, Christian Serre, Guillaume Maurin, Naseem Ahmed Ramsahye
ChemPhysChem, July 10, 2017, https://doi.org/10.1002/cphc.201700459 Read article
N-heterocyclic olefins–CO2 adducts, functionalized by alkyl substituents on the α-carbon, were successfully synthesized and characterized by X-ray diffraction, which showed high stability and catalytic activity for the carboxylative cyclization of CO2 with terminal and internal propargylic alcohols to afford cis α-alkylidene cyclic carbonates in moderate to good yields with complete stereoselectivity.
[Full Paper]
Hui Zhou, Guo-Xu Wang, Xiao-Bing Lu
Asian J. Org. Chem., May 18, 2017, https://doi.org/10.1002/ajoc.201700152 Read article
Assembling high-quality heterostructures with desirable compositions and sequences is a great challenge. In this work, complex heterostructures of WS2-WO3⋅H2O/1T-2H MoS2 have been prepared with selective stacking assembly and the assistance of supercritical CO2 (SC CO2).
[Communication]
Yumei Ren, Qun Xu, Chongze Wang, Xiaoli Zheng, Yu Jia, Yuhang Qi, Yunchun Zhou, Xinan Yang, Zhenyu Zhang
ChemNanoMat, April 28, 2017, https://doi.org/10.1002/cnma.201700058 Read article
© Wiley-VCH 2016.