Carbon Dioxide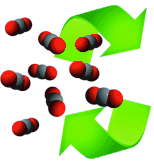 CO2 emission causes many environmental problems. To mitigate the concentration of CO2 in the atmosphere, the fixation, activation, and capture of CO2 through chemical reactions is important. Increasingly, CO2 is used as a carbon source in syntheses.
Find all articles on carbon dioxide in Wiley Online Library...
Recent Articles
RSS feed
Current affairs: In the potential range investigated with a platinum electrode, the N-methyl pyridinium cation is not electroactive with or without CO2 because of the absence of the N−H bond. In contrast, irreversible reduction occurs at a glassy carbon electrode with pyridinium ions, with an increase in the current when CO2 is added into the aqueous electrolyte.
[Full Paper]
Estelle Lebègue, Julia Agullo, Daniel Bélanger
ChemSusChem, December 05, 2017, https://doi.org/10.1002/cssc.201701745 Read article
Time to convert: A novel needle-like porous indium electrode for efficient electrochemical conversion of CO2 is developed by using the hydrogen bubble dynamic template in the presence of Cl− salt. Owing to its dendritic nanoscale structure, this indium electrode exhibits excellent electrocatalytic activity and formate selectivity.
[Article]
Zheng Xia, Matthew Freeman, Dongxiao Zhang, Bin Yang, Lecheng Lei, Zhongjian Li, Yang Hou
ChemElectroChem, November 29, 2017, https://doi.org/10.1002/celc.201700935 Read article
The reactivity of oxide-dissolved hydrogen in the reduction of CO2 to CO is investigated using the pre-reduced perovskite materials La0.6Sr0.4FeO3-δ (LSF64) and SrTi0.7Fe0.3O3-δ (STF73). This is of particular interest in hydrogen solid-oxide electrolysis cell technology, where proton-conducting ceramics and the reaction 2e−+2H++CO2
CO+H2O are of paramount importance. Hydrogen dissolved in STF73 reacts quantitatively with CO2, whereas LSF64 tends to retain hydrogen.
[Article]
Matthias Grünbacher, Thomas Götsch, Alexander K. Opitz, Bernhard Klötzer, Simon Penner
ChemPhysChem, November 28, 2017, https://doi.org/10.1002/cphc.201700970 Read article
Capture and transform it: The construction of a flexible and switchable 3D MOF-1 a is described, which is decorated with NH2 groups and can not only realize the capture of CO2 but also demonstrates selective heterogeneous catalytic properties depending on the size of the catalytic substrates, in a similar way to sophisticated biological systems.
[Full Paper]
Dan Zhao, Xiao-Hui Liu, Chendan Zhu, Yan-Shang Kang, Peng Wang, Zhuangzhi Shi, Yi Lu, Wei-Yin Sun
ChemCatChem, November 27, 2017, https://doi.org/10.1002/cctc.201701190 Read article
In the matrix: Highly dispersed iron-doped ordered mesoporous alumina is synthesized and used as an excellent catalyst for the oxidative dehydrogenation of 1-butene with the use of carbon dioxide. The structural properties as well as the existing form of the iron species in the catalyst are found to play a key role in the reaction.
[Communication]
Bing Yan, Yue Gao, Bolong Wang, Xingting Fan, Fakhre Alam, Jian Li, Tao Jiang
ChemCatChem, November 23, 2017, https://doi.org/10.1002/cctc.201701255 Read article
POP stars: Porous organic polymers (POPs) containing imidazolium and triazine units are presented here. The roles of task-specific components such as triazine, imidazolium, hydroxyl, and counter anions in CO2 absorption and catalytic conversion are illustrated. The catalytic systems show high catalytic activity and excellent recyclability in solvent- and additive-free cycloaddition reaction of CO2 with epoxides.
[Full Paper]
Hong Zhong, Yanqing Su, Xingwei Chen, Xiaoju Li, Ruihu Wang
ChemSusChem, November 22, 2017, https://doi.org/10.1002/cssc.201701821 Read article
The secret of the N site: A propanol substituent at the N site of the imidazonium ring can bridge a hydrogen-bonding chain between the C2−H and the O of the CO2, which enables fast proton-hoping transfer, leading to a significant decrease of the activation barrier for the reduction of CO2 to CO in the presence of imidazolium ionic liquids as electrolyte additives with catalytic activity.
[Communication]
Lin Zhang, Nian Wu, Jichen Zhang, Yang Hu, Zhiyong Wang, Lin Zhuang, Xianbo Jin
ChemSusChem, November 22, 2017, https://doi.org/10.1002/cssc.201701673 Read article
Primitive materials: The combination of an IrIII-based octahedral metalloligand and the linear unit [Ni(cyclam)] easily affords porous complexes with a primitive cubic framework. These materials exhibit promising CO2/N2 separation.
[Communication]
Sheng-Li Huang, Naifang Liu, Yun Ling, He-Kuan Luo
Chem. Asian J., November 14, 2017, https://doi.org/10.1002/asia.201701339 Read article
Carbonated drinks: Aryl- and alkenylalkoxysilanes undergo carboxylation with carbon dioxide in the presence of CuBr as a catalyst and CsF as an activator, to afford carboxylic acids in good to high yields.
[Communication]
Thanh V. Q. Nguyen, Woo-Jin Yoo, Shū Kobayashi
Asian J. Org. Chem., November 08, 2017, https://doi.org/10.1002/ajoc.201700519 Read article
[Full Paper]
Guangya He, Hanyu Tang, Hui Wang, Zhaoyong Bian
Electroanalysis, November 07, 2017, https://doi.org/10.1002/elan.201700525 Read article
A little S makes a big difference: The presence of only 2.7 at % sulfur in a copper catalyst can tune its selectivity significantly for CO2 electroreduction from a wide range of products to almost exclusively formate [−13.9 mA cm−2 at −0.9 V vs. the reversible hydrogen electrode (RHE)]. A clear positive correlation between the sulfur content and the production of formate is demonstrated.
[Full Paper]
Yun Huang, Yilin Deng, Albertus D. Handoko, Gregory K. L. Goh, Boon Siang Yeo
ChemSusChem, October 12, 2017, https://doi.org/10.1002/cssc.201701314 Read article
Trapped, but active: Aqueous solutions of ionic liquids (IL) with basic anions are employed for CO2 capture, resulting in higher values of sorption. The success of these experiments can be attributed to the occurrence of physical and chemical sorption, mainly owing to bicarbonate formation. Our detailed study shows that bicarbonate species are a result of the reversible reaction between water molecules trapped in the IL activated by the contact ion pair and CO2.
[Full Paper]
Nathalia M. Simon, Marcileia Zanatta, Francisco P. dos Santos, Marta C. Corvo, Eurico J. Cabrita, Jairton Dupont
ChemSusChem, August 09, 2017, https://doi.org/10.1002/cssc.201701044 Read article
© Wiley-VCH 2016.