Carbon Dioxide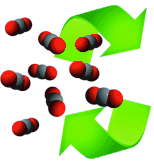 CO2 emission causes many environmental problems. To mitigate the concentration of CO2 in the atmosphere, the fixation, activation, and capture of CO2 through chemical reactions is important. Increasingly, CO2 is used as a carbon source in syntheses.
Find all articles on carbon dioxide in Wiley Online Library...
Recent Articles
RSS feed
Assembling high-quality heterostructures with desirable compositions and sequences is a great challenge. In this work, complex heterostructures of WS2-WO3⋅H2O/1T-2H MoS2 have been prepared with selective stacking assembly and the assistance of supercritical CO2 (SC CO2).
[Communication]
Yumei Ren, Qun Xu, Chongze Wang, Xiaoli Zheng, Yu Jia, Yuhang Qi, Yunchun Zhou, Xinan Yang, Zhenyu Zhang
ChemNanoMat, April 28, 2017, https://doi.org/10.1002/cnma.201700058 Read article
Taking a direct route: N-Formylation of isoquinolines with CO2 and H2 represents a step-economical route for the synthesis of N-formyl-tetrahydroisoquinolines. A heterogeneous cobalt catalyst (Co0) and ZnCl2, which together have an excellent cooperative effect in the catalytic process, can achieve the reaction with moderate to high yields.
[Full Paper]
Zhenhong He, Hangyu Liu, Huizhen Liu, Qingli Qian, Qinglei Meng, Qingqing Mei, Buxing Han
ChemCatChem, April 28, 2017, https://doi.org/10.1002/cctc.201601682 Read article
See the corrole-ation? The combination of a manganese corrole and tetrabutyl ammonium bromide results in a powerful cooperative catalysts system for CO2 fixation with epoxides under mild conditions.
[Communication]
Maximilian Tiffner, Sabrina Gonglach, Michael Haas, Wolfgang Schöfberger, Mario Waser
Chem. Asian J., April 20, 2017, https://doi.org/10.1002/asia.201700354 Read article
Efficient carbon dioxide (CO2) hydrogenation catalyst: Zigzag Pt–Co nanowires with Pt-rich surface, abundant steps/edges, and high percentages of Pt0 atoms on surface are demonstrated as highly efficient catalysts for CO2 hydrogenation to methanol, in which the appropriate carboxylate intermediates are formed in the methanol production.
[Communication]
Shuxing Bai, Qi Shao, Yonggang Feng, Lingzheng Bu, Xiaoqing Huang
Small, April 18, 2017, https://doi.org/10.1002/smll.201604311 Read article
Solving the problem: The physical phenomenon of gas oversolubility in nanoconfined liquids is applied for the catalytic cycloaddition of carbon dioxide to epoxides to generate cyclic carbonates at room temperature under atmospheric pressure. A hybrid adsorbent based on the MCM-41 silica material exhibits enhanced catalytic properties and multicycle stability, providing an effective and sustainable catalytic system.
[Communication]
Maria V. Zakharova, Freddy Kleitz, Frédéric-Georges Fontaine
ChemCatChem, April 07, 2017, https://doi.org/10.1002/cctc.201700247 Read article
Lead on lead: Electroreduction of CO2 in the distillable ionic liquid dimethylammonium dimethylcarbamate (dimcarb) is investigated with an oxide-derived lead (od-Pb) electrode. Compared with unmodified polycrystalline Pb, where H2 is the dominant electrolysis product, od-Pb possesses impressive catalytic properties for the reduction of CO2, with faradaic efficiencies for the generation of CO and [HCOO]− of approximately 10 and 75 %, respectively.
[Article]
Lu Chen, Fengwang Li, Cameron L. Bentley, Mike Horne, Alan M. Bond, Jie Zhang
ChemElectroChem, April 04, 2017, https://doi.org/10.1002/celc.201700217 Read article
We can do both: An imidazolium hydrogen carbonate ionic liquid can serve as both a recyclable catalyst (C) and dehydrant (D) for the direct synthesis of dimethyl carbonate (DMC) from CO2 and CH3OH at room temperature (see scheme). A high conversion of CH3OH and excellent selectivity of DMC are obtained.
[Full Paper]
Tianxiang Zhao, Xingbang Hu, Dongsheng Wu, Rui Li, Guoqiang Yang, Youting Wu
ChemSusChem, March 29, 2017, https://doi.org/10.1002/cssc.201700128 Read article
The penny drops: The reaction mechanism on nitrogen-doped sp2 nanocarbon materials is resolved by clarifying the authentic origin of the carbonaceous products: CO and HCO2−. Two carbon-reduction pathways are identified: a dominant pathway leading to CO from CO2 and a secondary pathway leading to HCO2− from HCO3−. Neither hydrocarbon (CxHy) nor alcohol or aldehyde (CxHyOz) were detected in the reduction of CO2.
[Communication]
Junyuan Xu, Bingsen Zhang, Bolun Wang, KuangHsu Wu, Zhangquan Peng, Qingfeng Li, Gabriele Centi, Dang Sheng Su
ChemElectroChem, March 23, 2017, https://doi.org/10.1002/celc.201700104 Read article
By specific control, starter-based redox-responsive polycarbonates from CO2 and epoxides are reported by combination of immortal polymerization and prereaction approach. Via judicious use of 3,3′-dithiodipropionic acid as starter, the initiating group of traditional binary catalyst system is completely suppressed, resulting in pure starter-initiated polymer. The polymer is liable under reducing conditions and can be further modified by cross metathesis.
[Communication]
Shunjie Liu, Xun Zhao, Hongchen Guo, Yusheng Qin, Xianhong Wang, Fosong Wang
Macromol. Rapid Commun., March 21, 2017, https://doi.org/10.1002/marc.201600754 Read article
Supercritical CO2-assisted reverse-micelle-induced phase engineering can form strained 2D single-layers, which directly contributes to the successful transformation of 2H- to 1T-phase MS2. The obtained 1T-MoS2 exhibits good activity for the hydrogen evolution reaction in comparison with 2H-MoS2.
[Communication]
Xin Tong, Yuhang Qi, Jing Chen, Nan Wang, Qun Xu
ChemNanoMat, March 01, 2017, https://doi.org/10.1002/cnma.201700011 Read article
© Wiley-VCH 2016.