Carbon Dioxide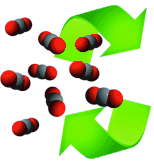 CO2 emission causes many environmental problems. To mitigate the concentration of CO2 in the atmosphere, the fixation, activation, and capture of CO2 through chemical reactions is important. Increasingly, CO2 is used as a carbon source in syntheses.
Find all articles on carbon dioxide in Wiley Online Library...
Recent Articles
RSS feed
Promoting effect of potassium: In the hydrogenation of CO2 over K-promoted FeCo bimetallic catalysts, initial CO2 conversion was dependent on K loading, whereas most catalysts exhibited similar conversion levels after a few hours. Decarburization suggests that potassium stabilizes iron carbides and decreases the hydrogenation function of the catalysts; thus, it controls product selectivity. Potassium enhanced acetic acid formation and suppressed ethanol production.
[Full Paper]
Muthu Kumaran Gnanamani, Hussein H. Hamdeh, Gary Jacobs, Wilson D. Shafer, Shelley D. Hopps, Gerald A. Thomas, Burtron H. Davis
ChemCatChem, March 24, 2017, https://doi.org/10.1002/cctc.201601337 Read article
Electrochemical energy conversion: A Na+-conducting direct formate fuel cell (Na-DFFC) was successfully developed and operated without adding OH− and Na+ ions. Contrary to the conventional chlor-alkali process, the Na-DFFC enables to generate electricity and produce base simultaneously without polluting the environment.
[Communication]
Yinshi Li, Ying Feng, Xianda Sun, Yaling He
Angew. Chem. Int. Ed., March 24, 2017, https://doi.org/10.1002/anie.201701816 Read article
The penny drops: The reaction mechanism on nitrogen-doped sp2 nanocarbon materials is resolved by clarifying the authentic origin of the carbonaceous products: CO and HCO2−. Two carbon-reduction pathways are identified: a dominant pathway leading to CO from CO2 and a secondary pathway leading to HCO2− from HCO3−. Neither hydrocarbon (CxHy) nor alcohol or aldehyde (CxHyOz) were detected in the reduction of CO2.
[Communication]
Junyuan Xu, Bingsen Zhang, Bolun Wang, KuangHsu Wu, Zhangquan Peng, Qingfeng Li, Gabriele Centi, Dang Sheng Su
ChemElectroChem, March 23, 2017, https://doi.org/10.1002/celc.201700104 Read article
By specific control, starter-based redox-responsive polycarbonates from CO2 and epoxides are reported by combination of immortal polymerization and prereaction approach. Via judicious use of 3,3′-dithiodipropionic acid as starter, the initiating group of traditional binary catalyst system is completely suppressed, resulting in pure starter-initiated polymer. The polymer is liable under reducing conditions and can be further modified by cross metathesis.
[Communication]
Shunjie Liu, Xun Zhao, Hongchen Guo, Yusheng Qin, Xianhong Wang, Fosong Wang
Macromol. Rapid Commun., March 21, 2017, https://doi.org/10.1002/marc.201600754 Read article
From ugly duckling to beautiful C1: Although CO2 may represent an ideal C1 source, it is challenging to use it as a raw material and direct carboxylation with CO2 has mainly been confined to highly reactive species. However, recent significant breakthroughs have been made in photochemical carboxylation of challenging, un-acidic, C(sp3)−H bonds, including benzylic, allylic and amine C−H bonds.
[Highlight]
Yong-Yuan Gui, Wen-Jun Zhou, Jian-Heng Ye, Da-Gang Yu
ChemSusChem, March 21, 2017, https://doi.org/10.1002/cssc.201700205 Read article
Zinc rocks: A new method for synthesizing carbamates directly from amines and CO2 was developed. A commercially available zinc compound was used as the catalyst, and the addition of an N-donor ligand increased the yield to 96 % (isolated product). Both aliphatic and aromatic amines could be activated, and thus the utility of this reaction in organic synthesis and the polyurethane industry is broad.
[Full Paper]
Qiao Zhang, Hao-Yu Yuan, Norihisa Fukaya, Hiroyuki Yasuda, Jun-Chul Choi
ChemSusChem, March 03, 2017, https://doi.org/10.1002/cssc.201601878 Read article
Capturing MOFs: A simple screening strategy is proposed to follow the CO2 adsorption behaviour of 45 metal– organic frameworks (MOFs) that are pre-equilibrated with varying amounts of H2O. Different behaviours are observed and discussed, ranging from large decreases in CO2 uptake with degree of wetting to a negligible influence of water. Materials showing promising CO2 uptake are highlighted as of interest for further studies.
[Full Paper]
Nicolas Chanut, Sandrine Bourrelly, Bogdan Kuchta, Christian Serre, Jong-San Chang, Paul A. Wright, Philip L. Llewellyn
ChemSusChem, March 02, 2017, https://doi.org/10.1002/cssc.201601816 Read article
Supercritical CO2-assisted reverse-micelle-induced phase engineering can form strained 2D single-layers, which directly contributes to the successful transformation of 2H- to 1T-phase MS2. The obtained 1T-MoS2 exhibits good activity for the hydrogen evolution reaction in comparison with 2H-MoS2.
[Communication]
Xin Tong, Yuhang Qi, Jing Chen, Nan Wang, Qun Xu
ChemNanoMat, March 01, 2017, https://doi.org/10.1002/cnma.201700011 Read article
A random copolymer of ethylene oxide with CO2 , namely, poly(ethylene carbonate/ethylene oxide) (P(EC/EO)), has been synthesized as a novel candidate for polymer electrolytes. Electrolyte composed of P(EC/EO) and lithium bis(fluorosulfonyl)imide is promising material for use in all-solid-state batteries because of its very high Li+ conductivity.
[Communication]
Takashi Morioka, Koji Nakano, Yoichi Tominaga
Macromol. Rapid Commun., February 21, 2017, https://doi.org/10.1002/marc.201600652 Read article
POP catalysts: Metallosalen-based ionic porous organic polymers (POPs) catalysts (DVB@ISA and DVB@ISZ) exhibit excellent cooperative effect in CO2involved organic reactions such as the cycloaddition reaction from epoxides and N-formylation of amines with hydrosilanes, acting as bifunctional heterogeneous catalysts.
[Full Paper]
Rongchang Luo, Yaju Chen, Qian He, Xiaowei Lin, Qihang Xu, Xiaohui He, Wuying Zhang, Xiantai Zhou, Hongbing Ji
ChemSusChem, February 17, 2017, https://doi.org/10.1002/cssc.201601846 Read article
[Communication]
Sreekumar Vellalath, Daniel Romo
Isr. J. Chem., January 18, 2017, https://doi.org/10.1002/ijch.201600125 Read article
© Wiley-VCH 2016.