Carbon Dioxide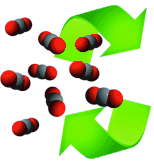 CO2 emission causes many environmental problems. To mitigate the concentration of CO2 in the atmosphere, the fixation, activation, and capture of CO2 through chemical reactions is important. Increasingly, CO2 is used as a carbon source in syntheses.
Find all articles on carbon dioxide in Wiley Online Library...
Recent Articles
RSS feed
A buffer strategy boosts the aqueous stability of a MOF over a broad range of pH values. The local buffer environment resulting from the weak acid–base pairs (green/blue bars on right of picture) of the custom-designed organic ligand also greatly facilitates the performance of MOF in chemical fixation of carbon dioxide under ambient conditions.
[Communication]
Hongming He, Qi Sun, Wenyang Gao, Jason A. Perman, Fuxing Sun, Guangshan Zhu, Briana Aguila, Katherine Forrest, Brian Space, Shengqian Ma
Angew. Chem. Int. Ed., March 15, 2018, https://doi.org/10.1002/anie.201801122 Read article
The organometallic complex fac-[MnI(CO)3(bis-MeNHC)Br] is a very active catalyst for the selective electrocatalytic reduction of CO2 to CO, exceeding 100 turnovers with excellent faradaic yields (ηCO≈95 %) in anhydrous CH3CN. The addition of water leads to the highest maximum turnover frequency (TOFmax≈ 320 000 s−1) ever reported for a manganese-based catalyst.
[Communication]
Federico Franco, Mara F. Pinto, Beatriz Royo, Julio Lloret-Fillol
Angew. Chem. Int. Ed., March 14, 2018, https://doi.org/10.1002/anie.201800705 Read article
Imidazolium-based cationic covalent triazine frameworks (CCTFs) were successfully synthesised from starting monomer 1,3-bis(4-cyanophenyl)imidazolium chloride through an ionothermal method. Owing to the unique ionic feature of the stable CCTFs, they not only exhibit enhanced CO2 uptake capacity but also show highly efficient catalysis in the cycloaddition reaction of epoxides and CO2 without addition of any additive under mild conditions.
[Full Paper]
Tao-Tao Liu, Rui Xu, Jun-Dong Yi, Jun Liang, Xu-Sheng Wang, Peng-Chao Shi, Yuan-Biao Huang, Rong Cao
ChemCatChem, March 05, 2018, https://doi.org/10.1002/cctc.201800023 Read article
ZIFs and buts: Zeolitic imidazolate framework-derived N-doped carbon-supported metal carbide catalysts (M/ZIF-8-C; M=Ni, Fe, Co, and Cu) were prepared for selective CO2 hydrogenation. Pyridinic N in the support effects CO2 adsorption, whereas dispersed metal and metal carbide serve as active sites for CO2 hydrogenation. Ni/ZIF-8-C exhibits good catalytic performance, which results from high dispersion of the metal and exposure of the carbide.
[Full Paper]
Yunhua Li, Xiaohu Cai, Sijing Chen, Hua Zhang, Kevin H. L. Zhang, Jinqing Hong, Binghui Chen, Dong-Hau Kuo, Wenju Wang
ChemSusChem, February 28, 2018, https://doi.org/10.1002/cssc.201800016 Read article
Flawless M&Ms: Defect-free mixed-matrix membranes (MMMs) were prepared by incorporating hydrophilic metal-organic polyhedra (MOPs) into cross-linked polyethylene oxide (XLPEO) for efficient CO2 separation. In comparison with conventional neat XLPEO, the homogenous dispersion of 5-tri(ethylene glycol) (EG3)-MOPs in XLPEO enhanced CO2 permeability of MMMs. Upon increasing the amount of EG3-MOPs, the membrane performance such as CO2/N2 selectivity was steadily improved because of unsaturated CuII sites at paddle-wheel units.
[Communication]
Yang No Yun, Muhammad Sohail, Jong-Ho Moon, Tae Woo Kim, Kyeng Min Park, Dong Hyuk Chun, Young Cheol Park, Churl-Hee Cho, Hyunuk Kim
Chem. Asian J., February 27, 2018, https://doi.org/10.1002/asia.201701647 Read article
Electric/light orchestration: Four cobalt complexes with tripodal ligands are utilized as high-performance molecular electro- and photocatalysts for the reduction of CO2 to CO in a water-containing system. By the introduction of less basic aromatic nitrogen donors in the tripodal ligands, the overpotentials can be reduced down to record low values of 200–380 mV, leading to high efficiency and selectivity for photocatalytic reduction of CO2 to CO.
[Full Paper]
Jia-Wei Wang, Hai-Hua Huang, Jia-Kai Sun, Ting Ouyang, Di-Chang Zhong, Tong-Bu Lu
ChemSusChem, February 19, 2018, https://doi.org/10.1002/cssc.201702280 Read article
A bit of the old ultraviolet: The use of vacuum UV (VUV) irradiation in processes that convert CO2 into useful products remains largely unexplored. VUV-initiated CO2 reduction can achieve excellent conversion under common photochemical reaction conditions when H2 and non-reducible oxides are present. Infrared spectroscopy provides evidence for a chain reaction initiated by VUV-induced CO2 splitting, which is enhanced in the presence of H2 and silica.
[Full Paper]
Chao Liu, Justin M. Notestein, Eric Weitz, Kimberly A. Gray
ChemSusChem, February 13, 2018, https://doi.org/10.1002/cssc.201702341 Read article
© Wiley-VCH 2016.