Carbon Dioxide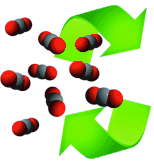 CO2 emission causes many environmental problems. To mitigate the concentration of CO2 in the atmosphere, the fixation, activation, and capture of CO2 through chemical reactions is important. Increasingly, CO2 is used as a carbon source in syntheses.
Find all articles on carbon dioxide in Wiley Online Library...
Recent Articles
RSS feed
Two pillars of strength: The electrochemical reduction of CO2 in aqueous solution mediated by tetraruthenated metalloporphyrins (CoII and ZnII) in Nafion and polyvinyl chloride as a support is reported. The comparative aspects of the two polymeric matrices are expressed in terms of the electrocatalytic behavior toward carbon dioxide reduction of both sets of modified electrodes.
[Article]
Karla Calfumán, Jessica Honores, Diego Guzmán, Macarena Ohlbaum, Francisco Armijo, Rodrigo Del Río, Mauricio Isaacs
ChemElectroChem, October 18, 2017, https://doi.org/10.1002/celc.201700653 Read article
[Full Paper]
Konstantina I. Alexopoulou, Michael Leibold, Olaf Walter, Thomas A. Zevaco, Siegfried Schindler
Eur. J. Inorg. Chem., October 16, 2017, https://doi.org/10.1002/ejic.201700854 Read article
Simple yet good: Nitrogen-functionalized meso–macroporous polymers were synthesized through a facile, aqueous, and template-free route, starting from readily available reagents. They are found to have competitive CO2 capacities and outstanding CO2/N2 selectivities as well as excellent performance for the catalytic cycloaddition of propylene oxide with CO2 after metalation.
[Communication]
Kuan Huang, Fujian Liu, Lilong Jiang, Sheng Dai
ChemSusChem, October 13, 2017, https://doi.org/10.1002/cssc.201701666 Read article
A little S makes a big difference: The presence of only 2.7 at % sulfur in a copper catalyst can tune its selectivity significantly for CO2 electroreduction from a wide range of products to almost exclusively formate [−13.9 mA cm−2 at −0.9 V vs. the reversible hydrogen electrode (RHE)]. A clear positive correlation between the sulfur content and the production of formate is demonstrated.
[Full Paper]
Yun Huang, Yilin Deng, Albertus D. Handoko, Gregory K. L. Goh, Boon Siang Yeo
ChemSusChem, October 12, 2017, https://doi.org/10.1002/cssc.201701314 Read article
Out of gas: A new strategy involving the computer-assisted design of imidazolate-based ionic liquids (ILs) through tuning the absorption enthalpy and the basicity of the ILs to improve SO2 capture, CO2 capture, and SO2/CO2 selectivity is reported. This method may pave a new way to design materials for gas absorption and utilization.
[Full Paper]
Guokai Cui, Ning Zhao, Jianji Wang, Congmin Wang
Chem. Asian J., October 11, 2017, https://doi.org/10.1002/asia.201701215 Read article
All-in-one nanomaterial: This Review provides a critical survey of the dendritic fibrous nanosilica (DFNS) family of materials, and the discussion includes synthesis, mechanism of formation, and applications in catalysis, photocatalysis, energy harvesting and storage, magnetic and composite materials, CO2 mitigation, biomedical applications, and analytical applications.
[Review]
Ayan Maity, Vivek Polshettiwar
ChemSusChem, October 09, 2017, https://doi.org/10.1002/cssc.201701076 Read article
Thermoelectric ceramic BiCuSeO is found to increase the catalytic activity of Pt by several hundreds of times when it is used as a catalyst support and a large temperature gradient exists across its thickness. This is attributed to the ability of thermoelectric material to shift the Fermi level and work function at its surface with temperature.
[Full Paper]
Abdenour Achour, Kan Chen, Michael J. Reece, Zhaorong Huang
Adv. Energy Mater., October 06, 2017, https://doi.org/10.1002/aenm.201701430 Read article
Activation and transformation of CO2 are enabled by catalytic surfaces with various forms of energetic inputs inducing characteristic reactivities. The authors summarize the physicochemical properties of CO2 and its activated forms. They also discuss key elements to be considered for efficient CO2 activation and its selective transformation to targeted products.
[Concept]
Andrea Álvarez, Marta Borges, Juan José Corral-Pérez, Joan Giner Olcina, Lingjun Hu, Damien Cornu, Rui Huang, Dragos Stoian, Atsushi Urakawa
ChemPhysChem, October 05, 2017, https://doi.org/10.1002/cphc.201700782 Read article
How to place a catalyst in a plasma reactor? The location of the catalyst bed in a packed-bed dielectric barrier discharge reactor plays a crucial role in determining the performance of the plasma conversion of carbon dioxide. Argon plasma treatment of the reacted nickel catalyst results in higher carbon dioxide conversion than that of the untreated catalyst.
[Article]
Danhua Mei, Xin Tu
ChemPhysChem, September 26, 2017, https://doi.org/10.1002/cphc.201700752 Read article
Simultaneous conversion: CO2 and nitrate ions are converted to urea using a TiO2–Nafion nanocomposite electrode as an electrocatalyst below −1.0 V versus Ag/AgCl at room temperature and atmospheric pressure. The CO and NH3 precursors resulting from the conversion of CO2 and nitrate ions are adsorbed on TiO2 and subsequently converted to urea.
[Communication]
Duraisamy Saravanakumar, Jieun Song, Sunhye Lee, Nam Hwi Hur, Woonsup Shin
ChemSusChem, September 19, 2017, https://doi.org/10.1002/cssc.201701448 Read article
Cupric CO2 conversion: The photocatalytic reduction of CO2 to CO by a [Cu(qpy)]2+ (qpy: quaterpyridine) is highly efficient and selective. In MeCN solution in the presence of Ru(bpy)32+ (bpy: bipyridine), BIH (1,3-dimethyl-2-phenyl-2,3-dihydro-1H-benzo[d]imidazole) and TEOA (triethanolamine), and 3 % H2O, high turnover number and selectivity are obtained, the highest among molecular 3d-metal catalysts reported so far.
[Communication]
Zhenguo Guo, Fei Yu, Ying Yang, Chi-Fai Leung, Siu-Mui Ng, Chi-Chiu Ko, Claudio Cometto, Tai-Chu Lau, Marc Robert
ChemSusChem, September 13, 2017, https://doi.org/10.1002/cssc.201701354 Read article
A 3D nanostrip architecture composed of Bi2MoO6 is presented. The material exhibits good photocatalytic activity for CO2 reduction, which can be attributed to its high specific surface area, high light-absorption intensity, suitable thickness for fast charge-carrier migration, and the presence of pores for reactant transport.
[Article]
Yuan Zhang, Liang Li, Qiutong Han, Lanqin Tang, Xingyu Chen, Jianqiang Hu, Zhaosheng Li, Yong Zhou, Junming Liu, Zhigang Zou
ChemPhysChem, August 29, 2017, https://doi.org/10.1002/cphc.201700655 Read article
Allied alloys: In this review, a detailed discussion on the development of bimetallic Ni-based catalysts for dry reforming of methane (DRM) including nickel alloyed with noble metals (Pt, Ru, Ir etc.) and transition metals (Co, Fe, Cu) is presented. Special emphasis is placed on the underlying principles that lead to synergistic effects and enhance catalyst performance. Finally, an outlook is presented for future development of Ni-based bimetallic catalysts.
[Review]
Zhoufeng Bian, Sonali Das, Ming Hui Wai, Plaifa Hongmanorom, Sibudjing Kawi
ChemPhysChem, August 22, 2017, https://doi.org/10.1002/cphc.201700529 Read article
The higher the better: Areal catalyst density tunes the product distribution during catalytic CO2 electroreduction. Kinetically enhanced CO(g) readsorption and reactive *CO dimerization in higher areal particle density condition result in higher ethylene formation.
[Full Paper]
Xingli Wang, Ana Sofia Varela, Arno Bergmann, Stefanie Kühl, Peter Strasser
ChemSusChem, August 21, 2017, https://doi.org/10.1002/cssc.201701179 Read article
Electrochemical CO2 reduction by two new Re and Mn catalysts in homogeneous and heterogeneous phases is studied. A glassy carbon electrode (GCE) surface is functionalized with the two complexes by two different methods, leading to the formation of C−N and C−C chemical bonds. The chemically modified GCEs show efficient conversion of CO2 to CO, with turnover numbers about 60 times higher than those of the corresponding catalysts in homogeneous solutions.
[Article]
Cunfa Sun, Laura Rotundo, Claudio Garino, Luca Nencini, Sam S. Yoon, Roberto Gobetto, Carlo Nervi
ChemPhysChem, August 18, 2017, https://doi.org/10.1002/cphc.201700739 Read article
Zeolitic imidazolate frameworks (ZIF-8) are synthesized using various zinc sources in aqueous solution. These materials are effective catalysts for electrochemical reduction of CO2, with CO as the major product. The roles of the electrolyte and Zn nodes are investigated in detail.
[Communication]
Yulin Wang, Pengfei Hou, Zhuo Wang, Peng Kang
ChemPhysChem, August 16, 2017, https://doi.org/10.1002/cphc.201700716 Read article
Brookite TiO2 quasi-nanocubes (Cu-BTN) decorated with Cu nanoclusters are synthesized, showing significantly improved activity and selectivity for CO2 photoreduction to CH4 as compared to pristine BTN and Ag-BTN.
[Article]
Jingpeng Jin, Jiang Luo, Ling Zan, Tianyou Peng
ChemPhysChem, August 15, 2017, https://doi.org/10.1002/cphc.201700563 Read article
Trapped, but active: Aqueous solutions of ionic liquids (IL) with basic anions are employed for CO2 capture, resulting in higher values of sorption. The success of these experiments can be attributed to the occurrence of physical and chemical sorption, mainly owing to bicarbonate formation. Our detailed study shows that bicarbonate species are a result of the reversible reaction between water molecules trapped in the IL activated by the contact ion pair and CO2.
[Full Paper]
Nathalia M. Simon, Marcileia Zanatta, Francisco P. dos Santos, Marta C. Corvo, Eurico J. Cabrita, Jairton Dupont
ChemSusChem, August 09, 2017, https://doi.org/10.1002/cssc.201701044 Read article
PEC on the cheek: This Focus Review highlights recent advances in the development of hybrid semiconductor-based systems for the photoelectrochemical (PEC) reduction of CO2 into CO, HCOOH, MeOH, and CH4.
[Focus Review]
Aniruddha Dey, Debabrata Maiti, Goutam Kumar Lahiri
Asian J. Org. Chem., August 09, 2017, https://doi.org/10.1002/ajoc.201700351 Read article
© Wiley-VCH 2016.