Drug Delivery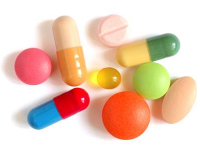 The importance of drug delivery to chemists, medicinal and otherwise, has increased since the advent of integrated drug discovery processes. Physicochemical and biological barriers, pathways for drug delivery, formulation, pharmacokinetic and pharmacodynamic issues, metabolism, and cell culture models used in studying drug delivery are just some of the topics that make drug delivery an exciting field for researchers.
Find all articles on drug delivery in Wiley Online Library...
Recent Articles

RSS feed
A multicompartment drug release system is developed for dynamic modulation of tissue responses. The system is composed of electrosprayed spheres embedded within an electrospun mat of core–shell fibers. Different compartments are formed that are capable of releasing drugs over distinct timescales. When anti-inflammatory and antifibrotic drugs are incorporated, these systems are able to reduce the foreign body response to implants.
[Full Paper]
Aaron H. Morris, Rajwant S. Mahal, Jillian Udell, Michelle Wu, Themis R. Kyriakides
Adv. Healthcare Mater., June 21, 2017, https://doi.org/10.1002/adhm.201700370 Read article
Strong together: A strategy for the use of tumor-targeting and pH/redox dual responsive nanoparticles for the controlled intracellular delivery of a combination of doxorubicin and indomethacin is demonstrated. The strategy allows synergistic chemo-anti-inflammatory effects and overcomes multidrug resistance (see figure; COX-2=cyclooxygenase-2).
[Full Paper]
Liandong Feng, Yuqi Wang, Zhiliang Luo, Zheng Huang, Yan Zhang, Kai Guo, Deju Ye
Chem. Eur. J., June 19, 2017, https://doi.org/10.1002/chem.201701524 Read article
Catch and release: Cellulose-based nanofiber sponges are porous all-organic materials with an interesting capacity for adsorbing and releasing active principles like amoxicillin and ibuprofen (see figure). Citric acid can be used as suitable co-crosslinker in order to modulate the mechanical properties of the sponges and their delivery performances, without affecting the inner microstructure.
[Full Paper]
Andrea Fiorati, Gianluca Turco, Andrea Travan, Enrico Caneva, Nadia Pastori, Massimo Cametti, Carlo Punta, Lucio Melone
ChemPlusChem, June 13, 2017, https://doi.org/10.1002/cplu.201700185 Read article
Finally there is the release: A pH-responsive antibiotic delivery device has been developed by depositing a dual plasma polymer layer of poly(1,7-octadiene) and poly(acrylic acid) on porous silicon. The hydrophobic poly(1,7-octadiene) slows the release of the hydrophilic levofloxacin, while poly(acrylic acid) allows faster release at pH 8 while further impeding release at pH 5. Such a device can be implemented in early antibiotic intervention for chronic wound management.
[Full Paper]
Roshan B. Vasani, Endre J. Szili, Gayathri Rajeev, Nicolas H. Voelcker
Chem. Asian J., June 07, 2017, https://doi.org/10.1002/asia.201700427 Read article
Combo cancer killer: Antibody-coated and highly porous silicon-based nanocarriers can actively target and selectively deliver multiple therapeutics for the combination of chemotherapy and hyperthermia. This synergistic treatment can maximize targeted cytotoxicity at the lowest possible doses.
[Communication]
Anna Cifuentes-Rius, Angela Ivask, Ester Sporleder, Ishdeep Kaur, Yasmin Assan, Shasha Rao, David Warther, Clive A. Prestidge, Jean-Olivier Durand, Nicolas H. Voelcker
Small, June 01, 2017, https://doi.org/10.1002/smll.201701201 Read article
Molecular beacon-based micelle system (a-MBM) presents its capability to combat multidrug resistance (MDR) in a sequential and synergistic way. With enhanced enzymatic stability, excellent target selectivity, and high drug-loading capacity, a-MBMs allows for visualization of MDR1 mRNA and specifically inhibits MDR1 gene expression. It also results in a high chemotherapeutic efficacy because of successful restoration of drug sensitivity.
[Full Paper]
Ruili Zhang, Shi Gao, Zhongliang Wang, Da Han, Lin Liu, Qingjie Ma, Weihong Tan, Jie Tian, Xiaoyuan Chen
Adv. Funct. Mater., May 30, 2017, https://doi.org/10.1002/adfm.201701027 Read article
Dendritic mesoporous silica nanoparticles are used to encapsulate the highly toxic antitumor drug TNF-α. Efficiency of the employed system is tested in 2D and 3D tumor cell cultures. Encapsulation in mesoporous silica nanoparticles is a promising approach to enhance delivery and efficacy of antitumor drugs is demonstrated, while minimizing adverse side effects.
[Full Paper]
Arne Kienzle, Sven Kurch, Janine Schlöder, Carsten Berges, Robert Ose, Jonathan Schupp, Andrea Tuettenberg, Henning Weiss, Jennifer Schultze, Svenja Winzen, Meike Schinnerer, Kaloian Koynov, Markus Mezger, Nikolas K. Haass, Wolfgang Tremel, Helmut Jonuleit
Adv. Healthcare Mater., May 29, 2017, https://doi.org/10.1002/adhm.201700012 Read article
© Wiley-VCH 2016.