Fluorine Chemistry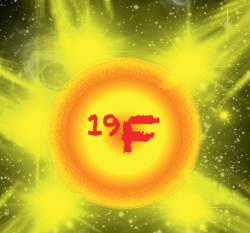 Rapid improvements in the understanding of fluorine and organofluorine chemistry are allowing fluorinated compounds to be synthesised more easily and safely than ever before. By using innovative fluorination techniques, chemists can harness the unique properties of fluorine for novel applications in biological, pharmaceutical and materials science. Recently, there has been increased interest in research on the development of new radiolabelling reagents and methods for the late-stage introduction of 18F into biologically active molecules for applications in positron emission tomography.
The image is taken from the cover featuring a Microreview by T. Billard et al. on direct trifluoromethylthiolation reactions published in the European Journal of Organic Chemistry.
Recommended Reading
P. Kirsch, Modern Fluoroorganic Chemistry: Synthesis Reactivity, Applications, Wiley-VCH, Weinheim, 2013.
J.-P. Begue, D. Bonnet-Delpon, Bioorganic and Medicinal Chemistry of Fluorine, Wiley, Hoboken, 2008
I. Ojima (Ed.), Fluorine in Medicinal Chemistry and Chemical Biology, Wiley, Chichester, UK, 2009
Find all articles on biocatalysis in Wiley Online Library...
Recent Articles

RSS feed
Don't go alone at δ. Among many N-fluoroalkylpiperidines, those with a single fluorine substituent at the δ-position proved to be unstable under very mild biophysical assay conditions. This is a caveat to molecular design in drug discovery.
[Full Paper]
Raffael Vorberg, Erick M. Carreira, Klaus Müller
ChemMedChem, February 16, 2017, DOI: 10.1002/cmdc.201700027. Read article
A true blue! Blue-emitting gold(III) complexes have been achieved through rational modifications of the phenylpyridine ligand scaffold (see figure). One complex shows an excellent quantum efficiency of 28 % and high stability, which indicates that these complexes have potential in OLED applications. The results of a DFT study support the photophysical properties observed spectroscopically.
[Full Paper]
Michael Bachmann, Jasmin Terreni, Olivier Blacque, Koushik Venkatesan
Chem. Eur. J., February 14, 2017, DOI: 10.1002/chem.201605567. Read article
Erythrosine B has been utilized as a novel photoredox sensitizer in the arylation-cyclization reaction of N-alkyl-N-aryl-2-(trifluoromethyl)acrylamides to indolin-2-ones. Arenediazonium tetrafluoroborates served as the source aryl radicals under the irradiation of blue LEDs at –50 °C. The scope and the limitations were investigated, and 27 examples (up to 83 % yield) are presented.
[Communication]
Zsombor Gonda, Ferenc Béke, Orsolya Tischler, Milán Petró, Zoltán Novák, Balázs L. Tóth
Eur. J. Org. Chem., February 10, 2017, DOI: 10.1002/ejoc.201601493. Read article
[Original Research Paper]
J. Aicart, J. Kuhn, O. Kesler
Fuel Cells, February 01, 2017, DOI: 10.1002/fuce.201600110. Read article
Breaking C−Cl bonds: Aluminum chlorofluoride (ACF) and high-surface aluminum fluoride act as powerful Lewis acids to promote the cleavage of C−Cl bonds in the presence of Et3SiH. The chlorinated compounds underwent Friedel–Crafts type reactions or hydrodechlorination reactions with high conversions.
[Full Paper]
Agnieszka K. Siwek, Mike Ahrens, Michael Feist, Thomas Braun, Erhard Kemnitz
ChemCatChem, January 18, 2017, DOI: 10.1002/cctc.201601238. Read article
Activator-free: An additive-free photoredox-catalyzed trifluoromethylthiolation of aromatic alkenes has been developed. Trifluoromethanesulfenyl radical (.SCF3) is efficiently generated from a photocatalyst and an electrophilic triflouromethylthiolating reagent. This photoredox system induces a regioselective oxytrifluoromethylthiolation of carbon–carbon double bonds through catalytic processes without any activator.
[Communication]
Yanjie Li, Takashi Koike, Munetaka Akita
Asian J. Org. Chem., January 18, 2017, DOI: 10.1002/ajoc.201600562. Read article
A novel polymerization method, step transfer-addition and radical-termination, suitable for α,ω-unconjugated dienes has been discovered through the construction of perfluorocarbon-containing alternating copolymers under irradiation of visible light at room temperature for the first time.
[Communication]
Tianchi Xu, Hongnan Yin, Xiaohong Li, Lifen Zhang, Zhenping Cheng, Xiulin Zhu
Macromol. Rapid Commun., November 11, 2016, DOI: 10.1002/marc.201600587. Read article
© Wiley-VCH 2016.