Fluorine Chemistry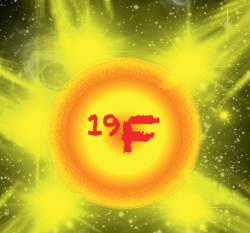 Rapid improvements in the understanding of fluorine and organofluorine chemistry are allowing fluorinated compounds to be synthesised more easily and safely than ever before. By using innovative fluorination techniques, chemists can harness the unique properties of fluorine for novel applications in biological, pharmaceutical and materials science. Recently, there has been increased interest in research on the development of new radiolabelling reagents and methods for the late-stage introduction of 18F into biologically active molecules for applications in positron emission tomography.
The image is taken from the cover featuring a Microreview by T. Billard et al. on direct trifluoromethylthiolation reactions published in the European Journal of Organic Chemistry.
Recommended Reading
P. Kirsch, Modern Fluoroorganic Chemistry: Synthesis Reactivity, Applications, Wiley-VCH, Weinheim, 2013.
J.-P. Begue, D. Bonnet-Delpon, Bioorganic and Medicinal Chemistry of Fluorine, Wiley, Hoboken, 2008
I. Ojima (Ed.), Fluorine in Medicinal Chemistry and Chemical Biology, Wiley, Chichester, UK, 2009
Find all articles on biocatalysis in Wiley Online Library...
Recent Articles

RSS feed
[Communication]
Changpeng Chen, Runsheng Zeng, Jingyu Zhang, Yingsheng Zhao
Eur. J. Org. Chem., December 14, 2017, https://doi.org/10.1002/ejoc.201701150 Read article
Now available in H/D: Nanoscopic aluminum chlorofluoride (ACF) exhibits excellent catalytic activity in the H/D-exchange reaction of CH4 with deuterated arenes or cyclohexane that results from the interaction of strong Al Lewis acid centers and the reactants at the ACF surface.
[Communication]
Beatriz Calvo, Thomas Braun, Erhard Kemnitz
ChemCatChem, December 13, 2017, https://doi.org/10.1002/cctc.201701327 Read article
The cyclopropane ring-opening of gem-difluorocyclopropyl acetaldehydes producing selectively (E,E)- and (E,Z)-conjugated fluorodienals is described. Two stereodivergent methods are presented to access both stereoisomers in high yield and selectivity. The mechanistic aspect of these transformations is discussed.
[Communication]
Simon Specklin, Johan Fenneteau, Parthasarathi Subramanian, Janine Cossy
Chem. Eur. J., December 12, 2017, https://doi.org/10.1002/chem.201704956 Read article
From sporadic to emergent chemistry: After "intermittent" developments these last decades, the introductions of CF3Se group into organic molecules are recently showing promising progress.
[Minireview]
Anis Tlili, Ermal Ismalaj, Quentin Glenadel, Clément Ghiazza, Thierry Billard
Chem. Eur. J., December 12, 2017, https://doi.org/10.1002/chem.201704637 Read article
Gas-free pentafluoroethylation: Perfluoroalkylation reactions are often characterized by the tedious handling of gases, which lead to the development of numerous easy-to-handle perfluoroalkylation reagents. In the course of this the hypervalent [PPh4][Sn(C2F5)5] represents an easily accessible, storable and solid precursor for the generation of the highly reactive LiC2F5. Its reactivity and the separation of tin-containing by-products were shown in several pentafluoroethylation reactions.
[Full Paper]
Markus Wiesemann, Johannes Klösener, Beate Neumann, Hans-Georg Stammler, Berthold Hoge
Chem. Eur. J., December 11, 2017, https://doi.org/10.1002/chem.201704807 Read article
Stable when the heat is turned up! Lithium-ion batteries composed of normal lithium-rich layered oxides (LLOs) explode at 135 °C, but those with fluorine-doped LLOs are more thermally stable and do not explode. Reduced transition metals in fluorinated LLOs suppress the formation of unstable surface phases (see figure).
[Article]
Andrei Kapylou, Jay Hyok Song, Aleksandr Missiul, Dong Jin Ham, Dong Han Kim, San Moon, Jin Hwan Park
ChemPhysChem, December 07, 2017, https://doi.org/10.1002/cphc.201700927 Read article
[Full Paper]
Jongkonporn Phetcharawetch, Nolan M. Betterley, Darunee Soorukram, Manat Pohmakotr, Vichai Reutrakul, Chutima Kuhakarn
Eur. J. Org. Chem., December 06, 2017, https://doi.org/10.1002/ejoc.201701322 Read article
Unusual intramolecular interactions between the 7-nitrogen and amide α-H atoms in fluorinated N1-acylated 7-azaindolines have been analyzed by experimental and computational means. As these intramolecular interactions also occur in non-fluorinated N1-acylated 7-azaindolines and similar heterocycles, this study is relevant to medicinal chemistry, potentially contributing to drug discovery programs.
[Full Paper]
Lennart Brewitz, Hidetoshi Noda, Naoya Kumagai, Masakatsu Shibasaki
Eur. J. Org. Chem., November 20, 2017, https://doi.org/10.1002/ejoc.201701083 Read article
It suddenly clicked: Clicking a pyridazine core via triazole moieties to fluoroaryl units affords versatile electron-deficient building blocks with defined conformational preferences and supramolecular organization for foldamer design and n-type organic semiconductors.
[Full Paper]
Irén Birkenfelder, Johannes Gurke, Lutz Grubert, Stefan Hecht, Bernd M. Schmidt
Chem. Asian J., November 20, 2017, https://doi.org/10.1002/asia.201701277 Read article
Get some space: The impact of a spacer between the polar complexing head and the F ponytail in fluorinated malonamides is studied in detail in relation to the extraction of various metals from the aqueous to the organic phase. Long-range electronic effects can be attenuated in a satisfactory way with three CH2 groups in most cases, but sole attenuation of inductive effects may sometimes be insufficient for metal stabilization in fluorous media.
[Article]
Bertrand Braibant, Xavier Le Goff, Damien Bourgeois, Daniel Meyer
ChemPhysChem, November 02, 2017, https://doi.org/10.1002/cphc.201701030 Read article
[Personal Account]
Loránd Kiss, Ferenc Fülöp
Chem. Rec., September 11, 2017, https://doi.org/10.1002/tcr.201700038 Read article
© Wiley-VCH 2016.