Fluorine Chemistry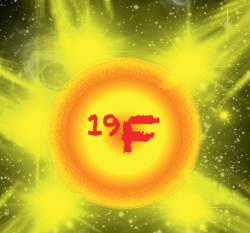 Rapid improvements in the understanding of fluorine and organofluorine chemistry are allowing fluorinated compounds to be synthesised more easily and safely than ever before. By using innovative fluorination techniques, chemists can harness the unique properties of fluorine for novel applications in biological, pharmaceutical and materials science. Recently, there has been increased interest in research on the development of new radiolabelling reagents and methods for the late-stage introduction of 18F into biologically active molecules for applications in positron emission tomography.
The image is taken from the cover featuring a Microreview by T. Billard et al. on direct trifluoromethylthiolation reactions published in the European Journal of Organic Chemistry.
Recommended Reading
P. Kirsch, Modern Fluoroorganic Chemistry: Synthesis Reactivity, Applications, Wiley-VCH, Weinheim, 2013.
J.-P. Begue, D. Bonnet-Delpon, Bioorganic and Medicinal Chemistry of Fluorine, Wiley, Hoboken, 2008
I. Ojima (Ed.), Fluorine in Medicinal Chemistry and Chemical Biology, Wiley, Chichester, UK, 2009
Find all articles on biocatalysis in Wiley Online Library...
Recent Articles

RSS feed
Tagging lipids: A set of four orthogonal 19F and 15N labels was developed for structural determination of membrane-bound peptides by means of solid-state NMR spectroscopy (see figure). This approach maximizes the information content by employing a small number of labels. In an application, the secondary structure and orientation of a membrane-active peptaibol bound to lipid bilayers was elucidated, despite its short length and high mobility.
[Full Paper]
Stephan L. Grage, Sezgin Kara, Andrea Bordessa, Véronique Doan, Fabio Rizzolo, Marina Putzu, Tomáš Kubař, Anna Maria Papini, Grégory Chaume, Thierry Brigaud, Sergii Afonin, Anne S. Ulrich
Chem. Eur. J., February 21, 2018, https://doi.org/10.1002/chem.201704307 Read article
Fluoro and fauna: The catalytic asymmetric synthesis of CF3-substituted tertiary propargylic alcohols is summarized, based on three retrosynthetic approaches, namely one trifluoromethylation approach and two building-block strategies.
[Focus Review]
Hidetoshi Noda, Naoya Kumagai, Masakatsu Shibasaki
Asian J. Org. Chem., February 21, 2018, https://doi.org/10.1002/ajoc.201800013 Read article
[Full Paper]
Christian Alter, Beate Neumann, Hans-Georg Stammler, Berthold Hoge
Eur. J. Inorg. Chem., February 12, 2018, https://doi.org/10.1002/ejic.201701402 Read article
[Full Paper]
Julia Bader, Nikolai Ignat'ev, Berthold Hoge
Eur. J. Inorg. Chem., February 12, 2018, https://doi.org/10.1002/ejic.201701375 Read article
Pic'd curiosity: A simple protocol for the synthesis of 2-(trifluoromethyl)aniline derivatives through Cu-catalyzed picolinamide-directed C−H trifluoromethylation is developed. The reaction shows good reactivity and gives the target products in moderate to good yields. Furthermore, the directing group can be recovered in excellent yield. Application of this strategy to the synthesis of floctafenine is demonstrated, and a plausible mechanism is proposed.
[Communication]
Jun Xu, Ke Cheng, Chao Shen, Renren Bai, Yuanyuan Xie, Pengfei Zhang
ChemCatChem, February 06, 2018, https://doi.org/10.1002/cctc.201701596 Read article
[Microreview]
Alexandra Feraldi-Xypolia, Domingo Gomez Pardo, Janine Cossy
Eur. J. Org. Chem., February 02, 2018, https://doi.org/10.1002/ejoc.201701412 Read article
[Full Paper]
Paul Hebeisen, Urs Weiss, André Alker, Bernd Kuhn, Klaus Müller, Fang Wang, G. K. Surya Prakash
Eur. J. Org. Chem., January 30, 2018, https://doi.org/10.1002/ejoc.201701758 Read article
A combination of organocatalytic aldehyde gem-difluorination and copper-catalyzed decarboxylative aldolization has been developed providing a one-pot access to gem-difluorohydrins. This is possible by the in situ generation and trapping of the volatile bis-fluorinated aldehyde intermediates using a compatible decarboxylative aldolization, resulting in the otherwise difficult C–C bond formation.
[Communication]
Angela Ricucci, Jean Rodriguez, Adrien Quintard
Eur. J. Org. Chem., January 17, 2018, https://doi.org/10.1002/ejoc.201701459 Read article
Take it to heart: Subphthalocyanines can be crystallized as toluene and benzene clathrates in which the arene molecule is at the center of the concave π surface (see figure). Quantum mechanical calculations and distributed multipole analysis show that the main source of arene–subphthalocyanine (Subpc) attractions is dispersion interactions.
[Communication]
Satoru Mori, Jiandong Wang, Etsuko Tokunaga, Motoo Shiro, Takashi Matsumoto, Seiji Tsuzuki, Norio Shibata
ChemPlusChem, December 28, 2017, https://doi.org/10.1002/cplu.201700508 Read article
[Personal Account]
Loránd Kiss, Ferenc Fülöp
Chem. Rec., September 11, 2017, https://doi.org/10.1002/tcr.201700038 Read article
© Wiley-VCH 2016.