Fluorine Chemistry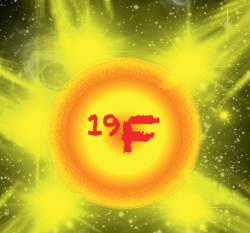 Rapid improvements in the understanding of fluorine and organofluorine chemistry are allowing fluorinated compounds to be synthesised more easily and safely than ever before. By using innovative fluorination techniques, chemists can harness the unique properties of fluorine for novel applications in biological, pharmaceutical and materials science. Recently, there has been increased interest in research on the development of new radiolabelling reagents and methods for the late-stage introduction of 18F into biologically active molecules for applications in positron emission tomography.
The image is taken from the cover featuring a Microreview by T. Billard et al. on direct trifluoromethylthiolation reactions published in the European Journal of Organic Chemistry.
Recommended Reading
P. Kirsch, Modern Fluoroorganic Chemistry: Synthesis Reactivity, Applications, Wiley-VCH, Weinheim, 2013.
J.-P. Begue, D. Bonnet-Delpon, Bioorganic and Medicinal Chemistry of Fluorine, Wiley, Hoboken, 2008
I. Ojima (Ed.), Fluorine in Medicinal Chemistry and Chemical Biology, Wiley, Chichester, UK, 2009
Find all articles on biocatalysis in Wiley Online Library...
Recent Articles

RSS feed
A practical methodology for the synthesis of fluoroketones by using commercially available AgF2 and cyclopropanols is described. The regioselective introduction of a remote C–F bond is enabled through a hypothetical oxidative radical mechanism. This approach provides convenient access to valuable fluorinated ketone building blocks.
[Full Paper]
Yuanlin Deng, Nabeelah I. Kauser, Shahidul M. Islam, Justin T. Mohr
Eur. J. Org. Chem., October 18, 2017, https://doi.org/10.1002/ejoc.201700899 Read article
[Full Paper]
F. Martínez-Rojas, M. A. Del Valle, M. Isaacs, Galo Ramírez, F. Armijo
Electroanalysis, October 17, 2017, https://doi.org/10.1002/elan.201700516 Read article
Live action: An engineered microbial host for organofluorine metabolism can produce a fluorinated diketide at around 50 % yield. The diketide can be used as a monomer to produce fluorinated poly(hydroxyalkanoate) bioplastics in vivo with fluorine substitution of up to 15 %. This system provides a platform to generate a broad range of fluorinated small-molecule targets in living cells.
[Communication]
Benjamin W. Thuronyi, Thomas M. Privalsky, Michelle C. Y. Chang
Angew. Chem. Int. Ed., September 26, 2017, https://doi.org/10.1002/anie.201706696 Read article
[Personal Account]
Loránd Kiss, Ferenc Fülöp
Chem. Rec., September 11, 2017, https://doi.org/10.1002/tcr.201700038 Read article
Quinuclidine and DABCO are the best organic bases identified, to promote the nucleophilic substitution by [18F]fluoride ion in 5-substituted 2-halopyridines (halo = Cl or Br), and to increase the radiochemical yields to practically useful levels (> 15 %). A quaternary ammonium salt was proposed as the reaction intermediate.
[Full Paper]
Gregory R. Naumiec, Lisheng Cai, Shuiyu Lu, Victor W. Pike
Eur. J. Org. Chem., September 04, 2017, https://doi.org/10.1002/ejoc.201700970 Read article
[Full Paper]
Josué M. Silla, Daniela R. Silva, Matheus P. Freitas
Mol. Inf., August 28, 2017, https://doi.org/10.1002/minf.201700084 Read article
[Full Paper]
Pavlo S. Lebed, Johan Fenneteau, Yong Wu, Janine Cossy, Pavel K. Mykhailiuk
Eur. J. Org. Chem., August 15, 2017, https://doi.org/10.1002/ejoc.201700803 Read article
Double trouble: The application of Kobayashi′s aryne precursor for the simultaneous construction of two sigma bonds on an arene ring and its importance in organic chemistry are described. Examples include transformations that employ transition-metal catalysis and those that do not.
[Focus Review]
Manjoorahmed Asamdi, Kishor H. Chikhalia
Asian J. Org. Chem., August 10, 2017, https://doi.org/10.1002/ajoc.201700284 Read article
Introduction of fluorine into an aromatic ring of phenylboronic acid enhances its Lewis acidity, but makes it prone to the hydrodeboronation reaction. The pKa values obtained by potentiometric and spectrophotometric methods are in good agreement.
[Full Paper]
Dorota Zarzeczańska, Agnieszka Adamczyk-Woźniak, Amanda Kulpa, Tadeusz Ossowski, Andrzej Sporzyński
Eur. J. Inorg. Chem., August 07, 2017, https://doi.org/10.1002/ejic.201700546 Read article
© Wiley-VCH 2016.