Fluorine Chemistry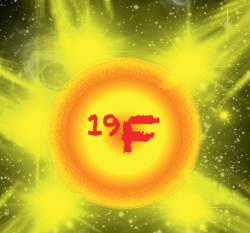 Rapid improvements in the understanding of fluorine and organofluorine chemistry are allowing fluorinated compounds to be synthesised more easily and safely than ever before. By using innovative fluorination techniques, chemists can harness the unique properties of fluorine for novel applications in biological, pharmaceutical and materials science. Recently, there has been increased interest in research on the development of new radiolabelling reagents and methods for the late-stage introduction of 18F into biologically active molecules for applications in positron emission tomography.
The image is taken from the cover featuring a Microreview by T. Billard et al. on direct trifluoromethylthiolation reactions published in the European Journal of Organic Chemistry.
Recommended Reading
P. Kirsch, Modern Fluoroorganic Chemistry: Synthesis Reactivity, Applications, Wiley-VCH, Weinheim, 2013.
J.-P. Begue, D. Bonnet-Delpon, Bioorganic and Medicinal Chemistry of Fluorine, Wiley, Hoboken, 2008
I. Ojima (Ed.), Fluorine in Medicinal Chemistry and Chemical Biology, Wiley, Chichester, UK, 2009
Find all articles on biocatalysis in Wiley Online Library...
Recent Articles

RSS feed
[Full Paper]
Christian Alter, Beate Neumann, Hans-Georg Stammler, Lothar Weber, Berthold Hoge
Eur. J. Inorg. Chem., June 22, 2017, https://doi.org/10.1002/ejic.201700526 Read article
NMR signals of 3-fluoropyridine are enhanced by ≈100-fold, corresponding to 0.3 % nuclear spin polarization (at 9.4 T), using 50 % parahydrogen. While future optimization efforts can further increase the efficiency of 19F hyperpolarization (i.e. in excess of 20 % using the presented approach), the authors demonstrate the potential of this technology on pioneering examples of high-resolution hyperpolarized 19F imaging and hyperpolarized 19F pH sensing.
[Communication]
Roman V. Shchepin, Boyd M. Goodson, Thomas Theis, Warren S. Warren, Eduard Y. Chekmenev
ChemPhysChem, June 13, 2017, https://doi.org/10.1002/cphc.201700594 Read article
Faster under pressure: The first application of chiral phosphoric acids as catalysts under hyperbaric conditions is reported. The reaction of indoles with trifluoromethyl ketones is effectively accelerated at 9 kbar (1 kbar=100 MPa) with a very low loading of a 1,1′-bi-2-naphthol (BINOL)-derived phosphoric acid (0.05–0.2 mol % of TRIP) and gives the products with high enantioselectivity (up to 98 % ee).
[Communication]
Michał Biedrzycki, Adrian Kasztelan, Piotr Kwiatkowski
ChemCatChem, June 05, 2017, https://doi.org/10.1002/cctc.201700281 Read article
Build me up! 4-Fluoropyridazines can be synthesized by a [2+1]/[3+2] cycloaddition sequence between an alkyne, a difluorocarbene source, and a diazo compound. This approach is highly modular with broad functional group compatibility and does not require the isolation of any reactive intermediates. The fluoropyridazines can then be diversified by nucleophilic aromatic substitution to give a wider range of 3,4,6-trisubstituted pyridazines (see scheme; Nu=nucleophile).
[Full Paper]
Alexandra Feraldi-Xypolia, Gregory Fredj, Gaël Tran, Tomoki Tsuchiya, Jean-Pierre Vors, Pavel Mykhailiuk, Domingo Gomez Pardo, Janine Cossy
Asian J. Org. Chem., June 01, 2017, https://doi.org/10.1002/ajoc.201700216 Read article
A fluorine-containing difunctional benzoxazine is synthesized by hydrosilylation of an allyl- and fluorine-containing monofunctional benzoxazine. The resultant polybenzoxazine possesses a broad glass transition temperature range and exhibits triple-shape-memory behaviors. The dynamic mechanical and shape-memory properties of the polybenzoxazine are influenced by the combined effect of the cross-linking density and the intermolecular Ar
F···HO hydrogen bonding.
[Full Paper]
Yanfang Liu, Rongrong Wang, Qin An, Xuehui Su, Cuiyun Li, Shanshan Shen, Guoyan Huo
Macromol. Chem. Phys., May 22, 2017, https://doi.org/10.1002/macp.201700079 Read article
A novel polymerization method, step transfer-addition and radical-termination, suitable for α,ω-unconjugated dienes has been discovered through the construction of perfluorocarbon-containing alternating copolymers under irradiation of visible light at room temperature for the first time.
[Communication]
Tianchi Xu, Hongnan Yin, Xiaohong Li, Lifen Zhang, Zhenping Cheng, Xiulin Zhu
Macromol. Rapid Commun., November 11, 2016, https://doi.org/10.1002/marc.201600587 Read article
© Wiley-VCH 2016.