Gold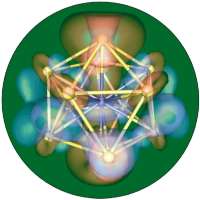 Zum Golde drängt, am Golde hängt doch alles.
For gold contend, On gold depend All things.
J. W. Goethe, Faust I
The element gold has many personalities, of which the image of a noble but soft, yellow metal would first across one's mind. The recently discovered nanoparticles and nanowires containing gold are a natural extension of this aspect, as are the uses of gold in electronics and decoration. Thought to be noble, gold actually has a rich chemistry. Fascinating in its complexity for academic chemists, this chemistry has potential applications in materials science, medicine and, recently, in both heterogeneous and homogeneous catalysis. Some fresh promises are related to the optical properties of certain gold compounds or to the possibility of forming new nanostructures based on gold. The unique properties of gold are strongly influenced by relativistic effects.
[1] P. Pyykkö, Theoretical Chemistry of Gold
Angew. Chem. 2004, 116, 4512–4557; Angew. Chem. Int. Ed. 2004, 43, 4412–4456
[2] A. S. K. Hashmi, The Catalysis Gold Rush: New Claims
Angew. Chem. 2005, 117, 7150; Angew. Chem. Int. Ed. 2005, 44, 6990
[3] G. Schmid, B. Corain, Nanoparticulated Gold: Syntheses, Structures, Electronics, and Reactivities
Eur. J. Inorg. Chem. 2003, 3081
Recent Articles

RSS feed
A composite based on aramid nanofibers and gold nanoparticles reveals high mechanical properties and conductivity, being competitive with the best nanocomposites and amorphous metals. Gold nanoparticles are self-assembled in chains on aramid nanofibers, which reduces the percolation threshold. Thermal annealing further facilitates charge transport. The scalable fabrication of the free-standing composites sheets leads to ground-breaking materials for wearable electronics and plasmonics.
[Full Paper]
Jing Lyu, Xinzhi Wang, Lehao Liu, Yoonseob Kim, Ekembu K. Tanyi, Hang Chi, Wenchun Feng, Lizhi Xu, Tiehu Li, Mikhail A. Noginov, Ctirad Uher, Mark D. Hammig, Nicholas A. Kotov
Adv. Funct. Mater., October 21, 2016, DOI: 10.1002/adfm.201603230. Read article
We prepared water and organic solvent dispersible gold nanorods using long-chain amidoamine derivative (C18AA) as a capping agent, which shows selective adsorption properties on gold surfaces. Furthermore, dispersion solvent of the C18AA-capped gold nanorods were controlled by pH change.
[Full Paper]
Yoshiro Imura, Kunihiro Fukuda, Clara Morita-Imura, Takeshi Kawai
ChemistrySelect, October 20, 2016, DOI: 10.1002/slct.201601248. Read article
[Full Paper]
Hadassah Elgavi Sinai, David Avnir
Isr. J. Chem., October 20, 2016, DOI: 10.1002/ijch.201600082. Read article
[Full Paper]
Waleed A. El-Said, Kawthar Abd El-Hameed, Nagwa Abo El-Maali, Hayam G. Sayyed
Electroanalysis, October 17, 2016, DOI: 10.1002/elan.201600467. Read article
Films of gold nanoparticles are easily fabricated by layer-by-layer assembly. With increasing number of layers a transition of the electric property from insulating to conducting can be achieved. This conductivity leads to controllable thermogenesis of the film, which can be employed for drug release of loaded hydrogels.
[Communication]
Peng Wang, Jianfei Sun, Zhichao Lou, Fengguo Fan, Ke Hu, Yi Sun, Ning Gu
Adv. Mater., October 13, 2016, DOI: 10.1002/adma.201603632. Read article
Rosy outlook: Bioinspired rose-petal-like substrates with extremely high water adhesion have been generated by combining micropatterning and electropolymerization (see figure). The micropatterning specifications (pillar diameter and pitch) and the electropolymerization parameters were found to be key to obtaining both high water apparent contact angles and a high hysteresis.
[Full Paper]
Thierry Darmanin, Radoslaw Bombera, Pascal Colpo, Andrea Valsesia, Jean-Pierre Laugier, François Rossi, Frédéric Guittard
ChemPlusChem, October 12, 2016, DOI: 10.1002/cplu.201600387. Read article
Permeation free energy depends on the nature of the permeating nanoparticle. Hydrophilic bare gold nanoparticles (AuNPs) easily get adsorbed to the bilayer surface while further insertion into the lipid bilayer is energetically expensive. Surface passivation (octane-thiol) of the AuNP significantly enhances the energy barrier for nanoparticle insertion. The free energy for bare and capped AuNP insertion varies with the different modes of interactions with the lipid bilayer.
[Article]
Anil R. Mhashal, Sudip Roy
ChemPhysChem, October 12, 2016, DOI: 10.1002/cphc.201600690. Read article
[Full Paper]
Hamdi Joda, Ada Sedova, Waqas Awan, Gerd-Uwe Flechsig
Electroanalysis, October 10, 2016, DOI: 10.1002/elan.201600523. Read article
[Full Paper]
Paolo Bollella, Christopher Schulz, Gabriele Favero, Franco Mazzei, Roland Ludwig, Lo Gorton, Riccarda Antiochia
Electroanalysis, October 10, 2016, DOI: 10.1002/elan.201600476. Read article
[Communication]
Mamoru Ito, Ryosuke Kawasaki, Kyalo Stephen Kanyiva, Takanori Shibata
Eur. J. Org. Chem., October 10, 2016, DOI: 10.1002/ejoc.201601147. Read article
A schematic for the mechanism of accelerating the assembly of intercalated discs (IDs) in cardiac myocytes regulated by gold nanoparticles (AuNPs) is presented. AuNPs with local nanoscale stiffness in the substrate activate β1-integrin signaling, which mediates the activation of integrin-linked kinase (ILK) and its downstream signal kinase by stimulating expression of the transcription factors GATA4 and MEF-2c.
[Communication]
Yi Li, Xiaoli Shi, Lei Tian, Hongyu Sun, Yujing Wu, Xia Li, Jianjun Li, Yujie Wei, Xinxiao Han, Jiao Zhang, Xiaowei Jia, Rui Bai, Limin Jing, Peng Ding, Huiliang Liu, Dong Han
Adv. Mater., October 10, 2016, DOI: 10.1002/adma.201603027. Read article
A plasmonic nanopin-based colorimetric sensor is developed for ricin qualitative recognition and analysis. This antibody-functionalized nanopin-cavity biosensor features high sensitivity and fast response, allowing for visual quantitative ricin detection within the range of 10–120 ng mL−1 (0.15 × 10−9–1.8 × 10−9 m), a limit of detection of 10 ng mL−1 and the typical measurement time of less than 10 min.
[Full Paper]
Jiao-Rong Fan, Jia Zhu, Wen-Gang Wu, Yun Huang
Small, October 06, 2016, DOI: 10.1002/smll.201601710. Read article
Hollow nanoporous TiO2-coated gold rods: A hierarchical-template synthesis strategy was developed to synthesize hollow nanoporous gold rods and corresponding TiO2-coated gold rods, which show promise for applications in heterogeneous catalysis.
[Full Paper]
Lei Gao, Chen-Nan Liang, Hui-Hui Li, Zhe-Xue Lu
ChemNanoMat, October 05, 2016, DOI: 10.1002/cnma.201600244. Read article
Multipatterns of gold nanoparticles and proteins are simultaneously prepared on a large scale using Printing and Vacuum Lithography to direct cell adhesion on a substrate and to control the cell microenvironment by modulating the gold assemblies' properties as well as the cell-substrate affinity. The application of the system to pattern a range of mammalian cell lines is tested, and readouts on cell viability and cell morphology are obtained.
[Full Paper]
Cyrille Hamon, Malou Henriksen-Lacey, Andrea La Porta, Melania Rosique, Judith Langer, Leonardo Scarabelli, Ana Belén Serrano Montes, Guillermo González-Rubio, Marian M. de Pancorbo, Luis M. Liz-Marzán, Lourdes Basabe-Desmonts
Adv. Funct. Mater., September 28, 2016, DOI: 10.1002/adfm.201602225. Read article
The Au-Fe ions (AuCl4− ions (i.e., HAuCl4) and Fe2+ ions (i.e., FeCl2)) can be converted to Au NCs and iron complexes in the presence of glutathione (GSH). Since the tumor microenvironment is richer in GSH compared with normal cells or tissues, this is encouraging for the use of Au-Fe ions for target cancer multimodal bioimaging.
[Full Paper]
Chunqiu Zhao, Tianyu Du, Fawad ur Rehman, Lanmei Lai, Xiaoli Liu, Xuerui Jiang, Xiaoqi Li, Yun Chen, Hang Zhang, Yi Sun, Shouhua Luo, Hui Jiang, Matthias Selke, Xuemei Wang
Small, September 27, 2016, DOI: 10.1002/smll.201602526. Read article
The adsorption of cystine, a cysteine dimer, on the Au(110) slab in water solution is investigated using ReaxFF molecular dynamics simulations. All the steps of the mechanism, namely physisorption, disulfide bond breaking, chemisorption, formation of staples, and reformation of the disulfide bridge in a crowded environment are identified and characterized in detail.
[Full Paper]
Susanna Monti, Vincenzo Carravetta, Hans Ågren
Small, September 27, 2016, DOI: 10.1002/smll.201602275. Read article
Intratumoral delivery of typical therapeutic agents (doxorubicin, trastuzumab, and pegylated gold nanorods) can be significantly enhanced by degrading tumor microenvironment component hyaluronan with long-acting hyaluronidase PH20-Fc. Meanwhile, the performance of PH20-Fc varies among these three therapeutic agents due to ther different nanoscales, and Tmab benefits most in penetration and accumulation.
[Full Paper]
Shan Liu, Wei Wei, Bo Xie, Hua Yue, Dezhi Ni, Yali Bao, Guanghui Ma, Zhiguo G. Su
Adv. Healthcare Mater., September 27, 2016, DOI: 10.1002/adhm.201600528. Read article
The functionalization of hybrid polymer/gold planet–satellite nanostructures with functional polymer is achieved by introducing linear reversible addition–fragmentation chain transfer polymers of 4-(chloromethyl)benzyl acrylate. Insights into the fine structural details of the polymeric part of these nanostructures are obtained via scanning transmission electron microscopy and spectrum imaging.
[Communication]
Christian Rossner, Vladimir Roddatis, Sergei Lopatin, Philipp Vana
Macromol. Rapid Commun., September 26, 2016, DOI: 10.1002/marc.201600480. Read article
Golden combination: The iodination of terminal alkynes using N-iodosuccinimide in the presence of a AuI-NHC (NHC=N-heterocyclic carbene) catalyst was achieved in good to excellent yields under mild reaction conditions. The resulting 1-iodoalkynes were used as organic building blocks for the synthesis of trisubstituted (Z)-fluoroalkenes in two sequential steps: The selective AuI-catalyzed hydrofluorination to yield (Z)-2-fluoro-1-iodoalkenes, followed by a Suzuki–Miyaura cross-coupling with aryl boronic acids catalyzed by a PdII-NHC complex.
[Full Paper]
Alberto Gómez-Herrera, Fady Nahra, Marcel Brill, Steven P. Nolan, Catherine S. J. Cazin
ChemCatChem, September 26, 2016, DOI: 10.1002/cctc.201600868. Read article
Plasmonic gold (pGOLD) chip-based diagnosis of lung cancer is performed using multiplexed near-infrared detection of biomarkers in the serum samples of patients. Multiplexed microarray analysis of biomarkers in 10 μL of human serum on a pGOLD chip leads to markedly improved limit-of-quantification, limit-of-detection, reproducibility, and higher diagnostic sensitivity and specificity compared to traditional biochips and Luminex technology currently in use in hospitals.
[Full Paper]
Bin Liu, Yaling Li, Hao Wan, Lin Wang, Wei Xu, Shoujun Zhu, Yongye Liang, Bo Zhang, Jiatao Lou, Hongjie Dai, Kun Qian
Adv. Funct. Mater., September 26, 2016, DOI: 10.1002/adfm.201603547. Read article
Solid gold: A new array-based technology for the simultaneous capture, chemical labelling and mass spectrometric analysis of peptides is presented. This new solid-phase array platform has the advantages of minimal sample manipulation and is suitable for multiple analyses of single protein digests on a single MALDI target plate.
[Communication]
Roberto Castangia, Siân R. Hudson, Helen K. Robinson, Sabine L. Flitsch, Jane Thomas-Oates, Anne Routledge
ChemBioChem, September 21, 2016, DOI: 10.1002/cbic.201600347. Read article
[Full Paper]
Yu-Jun Shi, Antonio Laguna, M. Dolores Villacampa, M. Concepción Gimeno
Eur. J. Inorg. Chem., September 13, 2016, DOI: 10.1002/ejic.201600929. Read article
[Full Paper]
Michél Liebscher, Clemens Bruhn, Ulrich Siemeling, Joe Baio, Hao Lu, Tobias Weidner
Eur. J. Inorg. Chem., September 13, 2016, DOI: 10.1002/ejic.201600892. Read article
The Au-catalyzed reaction of ferrocene with propargylic esters provides ferrocene derivatives featuring a functionalized vinyl moiety through initial 1,2-acyloxy rearrangement with generation of a gold carbene intermediate and subsequent electrophilic aromatic substitution. This method demonstrates the potential of carbene intermediates in the C–H bond functionalization of ferrocene.
[Communication]
Enol López, Tatiana Suárez, Alfredo Ballesteros, Luis A. López
Eur. J. Inorg. Chem., August 29, 2016, DOI: 10.1002/ejic.201600836. Read article
[Full Paper]
Rodtichoti Wannapob, Panote Thavarungkul, Supaporn Dawan, Apon Numnuam, Warakorn Limbut, Proespichaya Kanatharana
Electroanalysis, August 25, 2016, DOI: 10.1002/elan.201600371. Read article
[Full Paper]
Shu Zhu, Xia Lin, Qinghong Wang, Qiao Xia, Peiyao Ran, Yingzi Fu
Electroanalysis, August 25, 2016, DOI: 10.1002/elan.201600329. Read article
Good AsV gold: The first colorimetric sensor specifically for arsenate makes use of gold nanoparticles. The sensing rationale relies on the selective inhibition of acid phosphatase bioactivity by arsenate, leading to the reversal of solution color from blue to red.
[Communication]
Jia Zhang, Chuan-Ling Zhang, Shu-Hong Yu
ChemPlusChem, August 03, 2016, DOI: 10.1002/cplu.201600355. Read article
© Wiley-VCH 2016.