Gold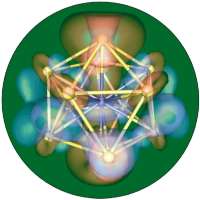 Zum Golde drängt, am Golde hängt doch alles.
For gold contend, On gold depend All things.
J. W. Goethe, Faust I
The element gold has many personalities, of which the image of a noble but soft, yellow metal would first across one's mind. The recently discovered nanoparticles and nanowires containing gold are a natural extension of this aspect, as are the uses of gold in electronics and decoration. Thought to be noble, gold actually has a rich chemistry. Fascinating in its complexity for academic chemists, this chemistry has potential applications in materials science, medicine and, recently, in both heterogeneous and homogeneous catalysis. Some fresh promises are related to the optical properties of certain gold compounds or to the possibility of forming new nanostructures based on gold. The unique properties of gold are strongly influenced by relativistic effects.
[1] P. Pyykkö, Theoretical Chemistry of Gold
Angew. Chem. 2004, 116, 4512–4557; Angew. Chem. Int. Ed. 2004, 43, 4412–4456
[2] A. S. K. Hashmi, The Catalysis Gold Rush: New Claims
Angew. Chem. 2005, 117, 7150; Angew. Chem. Int. Ed. 2005, 44, 6990
[3] G. Schmid, B. Corain, Nanoparticulated Gold: Syntheses, Structures, Electronics, and Reactivities
Eur. J. Inorg. Chem. 2003, 3081
Recent Articles

RSS feed
[Full Paper]
Siti Fatimah Nur Abdul Aziz, Ruzniza Zawawi, Shahrul Ainliah Alang Ahmad
Electroanalysis, January 18, 2018, https://doi.org/10.1002/elan.201700736 Read article
The AuI-catalyzed reaction of 2-(1-alkynyl)-2-alken-1-ones with azomethine imines regio- and diastereoselectively affords furo[3,4-d]tetrahydropyridazines in a tandem cyclization/intermolecular [3+3]-cycloaddition process under mild conditions.
[Communication]
Qingwei Du, Jörg-Martin Neudörfl, Hans-Günther Schmalz
Chem. Eur. J., January 17, 2018, https://doi.org/10.1002/chem.201800042 Read article
Going for gold: Gold-catalyzed alkyne hydration was studied by using in situ reacting mass spectrometry (MS) technology. By monitoring the reaction process in solution under different conditions and examining the reaction occurrence in the early reaction stage, experimental evidence to support that the bis-gold complex is a crucial reaction intermediate was collected (see scheme).
[Full Paper]
Mei Lu, Yijin Su, Pengyi Zhao, Xiaohan Ye, Yi Cai, Xiaodong Shi, Eric Masson, Fengyao Li, J. Larry Campbell, Hao Chen
Chem. Eur. J., January 17, 2018, https://doi.org/10.1002/chem.201703666 Read article
Nanotemplates derived from the self-assembly of linear ABC-type terpolymers are used to achieve well-defined metallic dot arrays with "outside-the-box" symmetries. Following this strategy, highly ordered gold nanodot arrays with unique p3m1 and p2 symmetries are demonstrated from patterned templates formed by thin-film cubic Q214 and orthorhombic O70 network structures.
[Communication]
Karim Aissou, Muhammad Mumtaz, Alberto Alvarez-Fernandez, Jean Mercat, Ségolène Antoine, Gilles Pécastaings, Virginie Ponsinet, Cécile Dobrzynski, Guillaume Fleury, Georges Hadziioannou
Macromol. Rapid Commun., January 16, 2018, https://doi.org/10.1002/marc.201700754 Read article
Golden Countdown: Cascaded one-electron reductions are observed in the gas phase for monoalkylgold(III) [CF3AuX3]− complexes (X=Cl, Br) that result from the stepwise homolytic cleavage of Au−C and Au−X bonds. The processes were also studied using DFT methods.
[Communication]
Miguel Baya, Alberto Pérez-Bitrián, Sonia Martínez-Salvador, Antonio Martín, José M. Casas, Babil Menjón, Jesús Orduna
Chem. Eur. J., January 16, 2018, https://doi.org/10.1002/chem.201705509 Read article
Down to the wire: A self-sufficient nanocatalyst composed of two enzymes wired through gold nanoparticles is designed. The gold nanoparticles permit direct electrochemical "communication" between the two enzymes, allowing electron transfer to occur. These nanocatalysts are used for the direct oxidation of various carbohydrates with molecular oxygen. LAC=laccase, GDH=glucose dehydrogenase.
[Communication]
Dalius Ratautas, Eimantas Ramonas, Liucija Marcinkevičienė, Rolandas Meškys, Juozas Kulys
ChemCatChem, January 15, 2018, https://doi.org/10.1002/cctc.201701738 Read article
Colloidal circular Au nanodisks with controllable diameters and thicknesses are synthesized. Their in-plane dipolar plasmon resonance can be synthetically varied from the visible to near-infrared region. Homodimers and heterodimers in different geometrical configurations are assembled out of the circular Au nanodisks with different thicknesses. They display rich plasmon modes that can rarely be seen on other dimeric metal nanostructures.
[Full Paper]
Ximin Cui, Feng Qin, Qifeng Ruan, Xiaolu Zhuo, Jianfang Wang
Adv. Funct. Mater., January 15, 2018, https://doi.org/10.1002/adfm.201705516 Read article
[Short Communication]
Sarasi K. K. Galagedera, Loan Huynh, Falko Wachholz, Martin Jacobsen, Phensinee Haruehanroengra, Jia Sheng, Alan A. Chen, Gerd-Uwe Flechsig
Electroanalysis, January 12, 2018, https://doi.org/10.1002/elan.201700734 Read article
[Communication]
Yongchun Fu, Maria R. Ehrenburg, Peter Broekmann, Alexander V. Rudnev
ChemElectroChem, January 12, 2018, https://doi.org/10.1002/celc.201701209 Read article
Unsupported Au25-xAgx(SR)18 nanoclusters (NCs) have been utilized for a photoinduced oxidation catalysis. The mechanism of the reaction was established by using UV-vis, EPR and GCMS. Under visible irradiation, the NCs donate electrons to triplet oxygen to generate singlet oxygen to initiate the transformation of benzylamines into imines.
[Full Paper]
Chong Hanbao, Gao Guiqi, Chai Jinsong, Yang Sha, Rao Bo, Li Guang, Zhu Manzhou
ChemNanoMat, January 11, 2018, https://doi.org/10.1002/cnma.201700336 Read article
A Si-ght for sore eyes: In contrast to monohydrosilanes (R3SiH), which in the presence of supported gold nanoparticles primarily undergo typical β-(E)-hydrosilylation reactions with alkynes, dihydrosilanes (R2SiH2) under catalysis of Au/TiO2 lead primarily to cis-1,2-dehydrogenative disilylation reactions.
[Communication]
Iakovos Saridakis, Marios Kidonakis, Manolis Stratakis
ChemCatChem, January 10, 2018, https://doi.org/10.1002/cctc.201701526 Read article
Golden channel walls: A Au/HPCN (hollow porous carbon nanospheres) porous catalyst, which is both durable and uniform, is synthesized by a facile in situ reduction route for continuous and efficient catalytic CO oxidation.
[Full Paper]
Jiafu Qu, Haiguang Zhu, Dongyun Chen, Najun Li, Qingfeng Xu, Jianping Xie, Hua Li, Jinghui He, Jianmei Lu
ChemCatChem, January 10, 2018, https://doi.org/10.1002/cctc.201701463 Read article
Boomerang effect: Gold(I)-N-heterocyclic carbene (NHC) complexes are successfully immobilized on PMO materials via straightforward acid–base reactions with the corresponding [Au(OH)(NHC)] synthon. This catalyst design strategy results in a boomerang-type catalyst for the hydration of alkynes. The catalyst can be recovered and then reused several times without any loss in efficiency.
[Article]
Els De Canck, Fady Nahra, Kevin Bevernaege, Sofie Vanden Broeck, Judith Ouwehand, Diederick Maes, Steven P. Nolan, Pascal Van Der Voort
ChemPhysChem, January 05, 2018, https://doi.org/10.1002/cphc.201701102 Read article
Gold nanoparticles (GNPs) ranging from ≈5-90 nm are engineered to mimic nanocarriers of various sizes. The ability of the GNPs to cross the blood-brain tumor barrier (BBTB) is investigated in tumor bearing rats. The results indicate that 70 nm GNPs enabled maximum drug delivery to the glioma after the BBTB breakdown induced by retro-inverso bradykinin (RI-BK).
[Full Paper]
Bingxia Su, Ruifeng Wang, Zuoxu Xie, Huitong Ruan, Jichen Li, Cao Xie, Weiyue Lu, Jing Wang, Dongli Wang, Min Liu
Small, January 02, 2018, https://doi.org/10.1002/smll.201702331 Read article
[Full Paper]
Paulina Sierra-Rosales, Rodrigo Torres, Carlos Sepúlveda, Marcelo J. Kogan, Juan Arturo Squella
Electroanalysis, December 29, 2017, https://doi.org/10.1002/elan.201700633 Read article
[Communication]
Karsten Klauke, Svenja Werner, Fabian Mohr
Eur. J. Inorg. Chem., December 29, 2017, https://doi.org/10.1002/ejic.201701321 Read article
Encapsulation of transition metal catalysts into the monolayers of gold nanoparticles generates nanoreactors that provide water solubility and a protective environment for the catalysts.
[Communication]
Youngdo Jeong, Gulen Yesilbag Tonga, Bradley Duncan, Bo Yan, Riddha Das, Chonticha Sahub, Vincent M. Rotello
Small, December 22, 2017, https://doi.org/10.1002/smll.201702198 Read article
[Full Paper]
Lucas Talamini, Nicole Zanato, Eduardo Zapp, Daniela Brondani, Eduard Westphal, Hugo Gallardo, Iolanda Cruz Vieira
Electroanalysis, December 21, 2017, https://doi.org/10.1002/elan.201700651 Read article
The paper sensor is fabricated based on gold nanoparticles. It can be used to detect 11 benzimidazoles simultaneously, including albendazole, albendazole s-oxide, albendazole sulfone, fenbendazole, fenbendazole sulfone, flubendazole, mebendazole, parbendazole, oxfendazole, oxibendazole, and carbendazim within 5 min in food samples.
[Full Paper]
Lingling Guo, Xiaoling Wu, Liqiang Liu, Hua Kuang, Chuanlai Xu
Small, December 20, 2017, https://doi.org/10.1002/smll.201701782 Read article
[Personal Account]
Elif Ertem, Marta Diez-Castellnou, Quy Khac Ong, Francesco Stellacci
Chem. Rec., December 18, 2017, https://doi.org/10.1002/tcr.201700065 Read article
[Full Paper]
Shasha Feng, Xiaoping Wei, Li Zhong, Jianping Li
Electroanalysis, December 18, 2017, https://doi.org/10.1002/elan.201700514 Read article
The road less traveled: We demonstrate that the ligand landscape on a nanocluster (NC) surface can be used to modulate the catalytic active sites of metal NCs in solution thus to direct the reaction towards desirable products through a pathway different from that commonly reported. We highlight the importance of ligands on nanogold catalysts to tailor the active site exposure and selectivity of ligand-protected metal NC catalysts.
[Communication]
Ricca Rahman Nasaruddin, Tiankai Chen, Jingguo Li, Nirmal Goswami, Jiaguang Zhang, Ning Yan, Jianping Xie
ChemCatChem, December 15, 2017, https://doi.org/10.1002/cctc.201701472 Read article
We review recent progress on the synthesis of gold/polymer composite colloids. The focus lies on composites derived from hydrophobic interactions and those containing smart polymers. Synthesis strategies are discussed and the main features and advantages derived from the combination of polymers and gold nanoparticles are discussed, with a special emphasis towards applications based on SERS.
[Personal Account]
Malte S. Strozyk, Dorleta Jimenez de Aberasturi, Luis M. Liz-Marzán
Chem. Rec., December 14, 2017, https://doi.org/10.1002/tcr.201700082 Read article
The most typical characterization of nonviral carriers of DNA is by size, size distribution, and ζ potential and very little is known about their detailed composition. Novel nanoparticulate systems that combine properties of condensing, protecting, and transport of genetic material with diagnostic and sensing modalities are developed and investigated by dynamic and static light scattering to establish what the systems really carry.
[Full Paper]
Emi Haladjova, Grigoris Mountrichas, Stergios Pispas, Stanislav Rangelov
Macromol. Chem. Phys., December 11, 2017, https://doi.org/10.1002/macp.201700428 Read article
[Review]
Filip Bihelovic, Bojan Vulovic, Radomir N. Saicic
Isr. J. Chem., December 11, 2017, https://doi.org/10.1002/ijch.201700033 Read article
[Review]
Philippe McGee, Julie Brousseau, Louis Barriault
Isr. J. Chem., November 06, 2017, https://doi.org/10.1002/ijch.201700054 Read article
The synthesis, structure, magnetic, and calorimetric spin-crossover (SCO) properties of doubly and triply interlocked iron(II) frameworks based on the bis-monodentate 2,6-naphthyridine ligand are described and discussed in the context of Hofmann-like clathrate SCO compounds.
[Full Paper]
Lucía Piñeiro-López, Francisco Javier-Valverde-Muñoz, Maksym Seredyuk, Carlos Bartual-Murgui, M. Carmen Muñoz, José Antonio Real
Eur. J. Inorg. Chem., October 11, 2017, https://doi.org/10.1002/ejic.201700920 Read article
A HF acid sensor with good recyclability and selectivity was fabricated by embedding a 2D Au nanosphere array in a 3-acrylamidophenylboronic acid-functionalized hydrogel film. The volume of hydrogel film swelled with increasing concentration of HF acid, resulting in a red shift of the diffraction wavelength. The concentration of HF acid could be detected by monitoring the wavelength of the diffraction spectra.
[Communication]
Dandan Men, Lifeng Hang, Honghua Zhang, Xiaomin Zhang, Xianjun Lyu, Weiping Cai, Yue Li
ChemNanoMat, October 10, 2017, https://doi.org/10.1002/cnma.201700228 Read article
© Wiley-VCH 2016.