Gold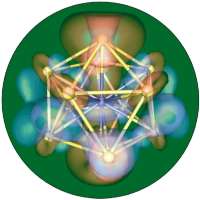 Zum Golde drängt, am Golde hängt doch alles.
For gold contend, On gold depend All things.
J. W. Goethe, Faust I
The element gold has many personalities, of which the image of a noble but soft, yellow metal would first across one's mind. The recently discovered nanoparticles and nanowires containing gold are a natural extension of this aspect, as are the uses of gold in electronics and decoration. Thought to be noble, gold actually has a rich chemistry. Fascinating in its complexity for academic chemists, this chemistry has potential applications in materials science, medicine and, recently, in both heterogeneous and homogeneous catalysis. Some fresh promises are related to the optical properties of certain gold compounds or to the possibility of forming new nanostructures based on gold. The unique properties of gold are strongly influenced by relativistic effects.
[1] P. Pyykkö, Theoretical Chemistry of Gold
Angew. Chem. 2004, 116, 4512–4557; Angew. Chem. Int. Ed. 2004, 43, 4412–4456
[2] A. S. K. Hashmi, The Catalysis Gold Rush: New Claims
Angew. Chem. 2005, 117, 7150; Angew. Chem. Int. Ed. 2005, 44, 6990
[3] G. Schmid, B. Corain, Nanoparticulated Gold: Syntheses, Structures, Electronics, and Reactivities
Eur. J. Inorg. Chem. 2003, 3081
Recent Articles

RSS feed
Double-crown Pd4(PET)8 and Pd5(PET)10 were successfully doped with gold through two Au atoms replacing one Pd atom with the other double-crown structure essentially unchanged. Au4Pd2(PET)8 is the smallest chiral bimetal nanoclusters so far and it bears chirality originating from not only the helixed Au4Pd2S8 framework but also unanimous R or S configuration of sulfur atoms in the enantiomer.
[Full Paper]
Jishi Chen, Liren Liu, Xu Liu, Lingwen Liao, Shengli Zhuang, Shiming Zhou, Jinlong Yang, Zhikun Wu
Chem. Eur. J., November 16, 2017, https://doi.org/10.1002/chem.201704413 Read article
After the Gold Rush: Stop–start scanning transmission electron microscopy was used to track gold (Au) species formed during the low-temperature water–gas shift reaction over Au/CeZrO4. Au nanoparticles formed during the heating of the catalyst to reaction temperature agglomerate under reaction conditions. X-ray photoelectron spectroscopy reveals that catalyst deactivation is an outcome of particle agglomeration.
[Communication]
James H. Carter, Xi Liu, Qian He, Sultan Althahban, Ewa Nowicka, Simon J. Freakley, Liwei Niu, David J. Morgan, Yongwang Li, J. W. (Hans) Niemantsverdriet, Stanislaw Golunski, Christopher J. Kiely, Graham J. Hutchings
Angew. Chem. Int. Ed., November 15, 2017, https://doi.org/10.1002/anie.201709708 Read article
The most strained organogold complexes reported so far were synthesized and investigated by experiment, spectroscopy and theory regarding their reactivity, and their chemical and physical properties. This interesting insight into the chemistry of strained organogold complexes may open up new points of view concerning a variety of modern gold-mediated reactions, often involving strained alkyls.
[Communication]
Florian F. Mulks, Shirin Faraji, Frank Rominger, Andreas Dreuw, A. Stephen K. Hashmi
Chem. Eur. J., November 14, 2017, https://doi.org/10.1002/chem.201704652 Read article
Colloid-templated porous silica embedded with AgAu bimetallic nanoparticles was utilized for the selective oxidation of methanol to methyl formate. This system demonstrated high conversion efficiency, selectivity, stability, and reproducibility. The modularity of the synthesis establishes a platform for making and testing rationally designed catalysts.
[Full Paper]
Tanya Shirman, Judith Lattimer, Mathilde Luneau, Elijah Shirman, Christian Reece, Michael Aizenberg, Robert J. Madix, Joanna Aizenberg, Cynthia M. Friend
Chem. Eur. J., November 14, 2017, https://doi.org/10.1002/chem.201704552 Read article
So free, so good. A version of Suzuki cross-coupling is realized by merging visible photoredox catalysis and [AuI] catalysis. The employment of colored and photolabile arylazosulfone as reaction partners enables the biaryl forming protocol to be performed under photocatalyst-free conditions.
[Communication]
Christopher Sauer, Yang Liu, Assunta De Nisi, Stefano Protti, Maurizio Fagnoni, Marco Bandini
ChemCatChem, November 14, 2017, https://doi.org/10.1002/cctc.201701436 Read article
A metal–polyphenol network coated nanotheranostic system for metastatic tumor treatments is developed. The theranostic system can inhibit primary tumor and suppress the tumor metastasis effectively with combined photothermal and chemotherapy and the release of polyphenol. Moreover, the system shows superior imaging capability in computerized tomography and magnetic resonance imaging.
[Full Paper]
Jin-Xuan Fan, Di-Wei Zheng, Wen-Wen Mei, Si Chen, Si-Yi Chen, Si-Xue Cheng, Xian-Zheng Zhang
Small, November 10, 2017, https://doi.org/10.1002/smll.201702714 Read article
The AuNRs@SiO2-G3 nanocomposites with uniform size and excellent stability are prepared by grafting polyamidoamine dendrimers up to third generation onto the surface of mesoporous silica-coated gold nanorods (AuNRs@SiO2) via a divergent technique. They show great potential to be used as a multifunctional nanoplatform to improve photothermal effect with the complement of gene silencing and chemotherapy, which may provide new possibilities for cancer treatment.
[Full Paper]
Qianyu Zhang, Li Wang, Yajun Jiang, Wei Gao, Yinsong Wang, Xiaoying Yang, Xinlin Yang, Zunfeng Liu
Adv. Mater. Interfaces, November 09, 2017, https://doi.org/10.1002/admi.201701166 Read article
Hydroamination mechanism: Density functional theory calculations have been used to investigate the mechanism of intramolecular hydroamination of unactivated alkenes by using primary amines on gold nanoclusters under aerobic conditions. The olefin activation mechanism was calculated to be the most energetically feasible of the three possible pathways, whereas the amine activation pathway suffered from a high activation barrier.
[Full Paper]
Karan Bobuatong, Hidehiro Sakurai, Masahiro Ehara
ChemCatChem, November 08, 2017, https://doi.org/10.1002/cctc.201700839 Read article
[Review]
Philippe McGee, Julie Brousseau, Louis Barriault
Isr. J. Chem., November 06, 2017, https://doi.org/10.1002/ijch.201700054 Read article
Plasmonic nanopores are developed by assembling gold nanoparticles into a gold porous sphere (GPS) on the tip of a glass nanopipette using i-motif DNA as linker molecules. The GPS with clear ionic current rectification, potential response, and strong surface-enhanced Raman scattering properties is used as a multiparameter pH-sensitive nanodevice and successfully applied in probing the regional pH in single cells.
[Full Paper]
Hailing Liu, Qiucen Jiang, Jie Pang, Zeyu Jiang, Jiao Cao, Lina Ji, Xinghua Xia, Kang Wang
Adv. Funct. Mater., November 06, 2017, https://doi.org/10.1002/adfm.201703847 Read article
Depositing extra-thin gold film upon silver nanoislands grown on a glass surface with out-diffusion technique allows both tuning the spectral position of surface plasmon resonance and increasing the efficiency of surface enhanced Raman scattering. The gold coating can also prevent silver nanoislands from degradation in air and isolate analytes from biologically aggressive silver.
[Rapid Research Letter]
Ekaterina Babich, Alexey Redkov, Igor Reduto, Andrey Lipovskii
Phys. Status Solidi RRL, November 03, 2017, https://doi.org/10.1002/pssr.201700226 Read article
[Full Paper]
Shanmugam Manivannan, Juwon Jeong, Dong-Ku Kang, Kyuwon Kim
Electroanalysis, November 03, 2017, https://doi.org/10.1002/elan.201700451 Read article
Vapochromic gold(I)–silver(I) cluster is responsive to coordinative small molecules such as MeOH, Me2CO, and MeCN, and the sensing mechanism is related to the formation of coordination bonding between the silver atom and the molecule of volatile organic compound (VOC).
[Communication]
Zhen Lei, Shan-Shan Chang, Quan-Ming Wang
Eur. J. Inorg. Chem., November 03, 2017, https://doi.org/10.1002/ejic.201701012 Read article
Non-equilibrium structure formation of 10 nm DNA-coated gold nanoparticles is investigated in a binary heterocoagulation process for different stoichiometries. The growth of the nanoparticles could be effectively controlled, resulting in nanoparticle clusters between a few tens of nanometers up to micrometers, which solidifies the idea that this approach represents a scale-free approach. Moreover, the differences in cluster size directly correspond to a change of the optical properties of the nanoparticle suspensions.
[Article]
Benedikt Buchmann, Fabian Manfred Hecht, Carla Pernpeintner, Theobald Lohmueller, Andreas R. Bausch
ChemPhysChem, October 30, 2017, https://doi.org/10.1002/cphc.201700844 Read article
An asthma drug reporting chiral amplification: The lyotropic chromonic liquid crystal nematic phase formed by disodium cromoglycate (DSCG) in water is used to elucidate the substantial chiral amplification by chiral L-cysteine-capped gold nanoparticles vs. the neat, non-bound amino acid.
[Communication]
Leah Bergquist, Torsten Hegmann
ChemNanoMat, October 24, 2017, https://doi.org/10.1002/cnma.201700286 Read article
[Full Paper]
Azeez O. Idris, Nonhlangabezo Mabuba, Omotayo A. Arotiba
Electroanalysis, October 23, 2017, https://doi.org/10.1002/elan.201700491 Read article
The synthesis, structure, magnetic, and calorimetric spin-crossover (SCO) properties of doubly and triply interlocked iron(II) frameworks based on the bis-monodentate 2,6-naphthyridine ligand are described and discussed in the context of Hofmann-like clathrate SCO compounds.
[Full Paper]
Lucía Piñeiro-López, Francisco Javier-Valverde-Muñoz, Maksym Seredyuk, Carlos Bartual-Murgui, M. Carmen Muñoz, José Antonio Real
Eur. J. Inorg. Chem., October 11, 2017, https://doi.org/10.1002/ejic.201700920 Read article
[Full Paper]
Mir F. Mousavi, Masoud Amiri, Abolhassan Noori, Seyyed Mehdi Khoshfetrat
Electroanalysis, October 10, 2017, https://doi.org/10.1002/elan.201700363 Read article
A HF acid sensor with good recyclability and selectivity was fabricated by embedding a 2D Au nanosphere array in a 3-acrylamidophenylboronic acid-functionalized hydrogel film. The volume of hydrogel film swelled with increasing concentration of HF acid, resulting in a red shift of the diffraction wavelength. The concentration of HF acid could be detected by monitoring the wavelength of the diffraction spectra.
[Communication]
Dandan Men, Lifeng Hang, Honghua Zhang, Xiaomin Zhang, Xianjun Lyu, Weiping Cai, Yue Li
ChemNanoMat, October 10, 2017, https://doi.org/10.1002/cnma.201700228 Read article
Strategies to improve the brightness of Au NCs are compared. Traditional approaches exploit size and ligand control and selective replacement of a fraction of gold atoms. Biomolecules as proteins used as template yield biocompatible bright NCs. Aggregation induced emission (AIE), rigidification and the use of light harvesting ligands promise to be intriguing tools for the design of ultra-bright NCs.
[Microreview]
Andrea Cantelli, Gloria Guidetti, Jeannette Manzi, Valeria Caponetti, Marco Montalti
Eur. J. Inorg. Chem., October 06, 2017, https://doi.org/10.1002/ejic.201700735 Read article
A new series of crown ether-based dinuclear bis(alkynyl)-bridged gold(I) isocyanide complexes was found to display cation- and solvent-induced supramolecular assembly properties through the switching "on" and "off" of the inter- and intramolecular Au···Au interactions.
[Full Paper]
Frankie Chi-Ming Leung, Vivian Wing-Wah Yam
Eur. J. Inorg. Chem., October 04, 2017, https://doi.org/10.1002/ejic.201700877 Read article
A hybrid Au nanosphere/molybdenum-doped bismuth vanadium oxide (Mo:BiVO4) photoanode interwoven in a hexagonal pattern to investigate the plasmon-induced energy transfer effect on the photoelectrochemical performance of Mo:BiVO4 is described. This study finds that the Au nanosphere array not only increases the light absorption of the photoanode as expected but also improves both its charge transport and charge transfer efficiencies via plasmon induced energy transfer.
[Full Paper]
Jung Kyu Kim, Xinjian Shi, Myung Jin Jeong, Joonsuk Park, Hyun Soo Han, Suk Hyun Kim, Yu Guo, Tony F. Heinz, Shanhui Fan, Chang-Lyoul Lee, Jong Hyeok Park, Xiaolin Zheng
Adv. Energy Mater., October 04, 2017, https://doi.org/10.1002/aenm.201701765 Read article
[Full Paper]
Koushik Barman, Bishwajit Changmai, Sk Jasimuddin
Electroanalysis, September 29, 2017, https://doi.org/10.1002/elan.201700430 Read article
Gold multipod nanoparticle cores–zeolitic imidazolate framework shells (GMN@ZIF-67) nanohybrids are successfully synthesized and fully characterized. The size of the GMN@ZIF-67 nanohybrids can be adjusted by either varying the molar ratio of ZIF-67 precursors or the quantity of GMNs used.
[Communication]
Hien Duy Mai, Van Cam Thi Le, Thu Minh Thi Pham, Jae-Hyeon Ko, Hyojong Yoo
ChemNanoMat, September 22, 2017, https://doi.org/10.1002/cnma.201700233 Read article
3D Nanoporous gold (NPG) was fabricated by facile chemical-dealloying method, through which a novel porous ′cone shaped protrusion′ morphology was formed on the top of a surface. NPG@Pd catalyst was fabricated using this specific topology as a substrate to load Pd thin film and enhance methanol electro-oxidation performance induced by metal migration effect between NPG substrate and Pd thin film.
[Full Paper]
Yi Xu, Pak Man Yiu, Guangcun Shan, Tamaki Shibayama, Seiichi Watanabe, Masato Ohnuma, Wei Huang, Chan-Hung Shek
ChemNanoMat, September 22, 2017, https://doi.org/10.1002/cnma.201700170 Read article
[Full Paper]
Bekir Çakıroğlu, Mahmut Özacar
Electroanalysis, September 20, 2017, https://doi.org/10.1002/elan.201700420 Read article
A nanostructured paper chemiresistor with negative-going response dominant characteristics to human breathing and sweating is demonstrated, which involves decoration of a nanofibrous membrane paper with dendronized gold nanoparticles to enable highly tunable sensitivity in moisture-dominant sensing environment and constitutes a promising new strategy to design sensing array elements for wearable breath and sweat sensors.
[Full Paper]
Shan Yan, Xin Liu, Zakiya Skeete, Ning He, Zhi-Hui Xie, Wei Zhao, Jack P. Lombardi, Kai Liu, Ning Kang, Jin Luo, Benjamin S. Hsiao, Mark Poliks, Ivan Gitsov, Chuan-Jian Zhong
Adv. Mater. Interfaces, September 19, 2017, https://doi.org/10.1002/admi.201700380 Read article
[Article]
Jan Nickolaus, Simon H. Schlindwein, Martin Nieger, Dietrich Gudat
Z. Anorg. Allg. Chem., August 25, 2017, https://doi.org/10.1002/zaac.201700209 Read article
© Wiley-VCH 2016.