Gold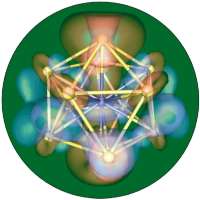 Zum Golde drängt, am Golde hängt doch alles.
For gold contend, On gold depend All things.
J. W. Goethe, Faust I
The element gold has many personalities, of which the image of a noble but soft, yellow metal would first across one's mind. The recently discovered nanoparticles and nanowires containing gold are a natural extension of this aspect, as are the uses of gold in electronics and decoration. Thought to be noble, gold actually has a rich chemistry. Fascinating in its complexity for academic chemists, this chemistry has potential applications in materials science, medicine and, recently, in both heterogeneous and homogeneous catalysis. Some fresh promises are related to the optical properties of certain gold compounds or to the possibility of forming new nanostructures based on gold. The unique properties of gold are strongly influenced by relativistic effects.
[1] P. Pyykkö, Theoretical Chemistry of Gold
Angew. Chem. 2004, 116, 4512–4557; Angew. Chem. Int. Ed. 2004, 43, 4412–4456
[2] A. S. K. Hashmi, The Catalysis Gold Rush: New Claims
Angew. Chem. 2005, 117, 7150; Angew. Chem. Int. Ed. 2005, 44, 6990
[3] G. Schmid, B. Corain, Nanoparticulated Gold: Syntheses, Structures, Electronics, and Reactivities
Eur. J. Inorg. Chem. 2003, 3081
Recent Articles

RSS feed
Gentle and steady: The continuous wave (CW) laser ablation of Au in water is investigated. In the absence of a secondary ablation mechanism associated with cavitation bubble collapse, the formed nanoparticles present a single population with a variable mean size and a small size dispersion.
[Article]
Alexey O. Kucherik, Yury V. Ryabchikov, Stella V. Kutrovskaya, Ahmed Al-Kattan, Sergei M. Arakelyan, Tatiana E. Itina, Andrei V. Kabashin
ChemPhysChem, March 23, 2017, https://doi.org/10.1002/cphc.201601419 Read article
Avoiding the heat: A boron nitride nanosphere-supported gold–copper catalyst is synthesized for the selective oxidation of ethanol to acetaldehyde. This catalyst exhibits excellent activity and selectivity at a high gas hourly space velocity and a low operation temperature owing to its unique geometric and electronic structures.
[Communication]
Yang Wang, Lei Shi, Wenduo Lu, Qiang Sun, Zifeng Wang, Chunyi Zhi, An-Hui Lu
ChemCatChem, March 23, 2017, https://doi.org/10.1002/cctc.201700002 Read article
Golden contribution: The unprecedented gold(I) activation of thiourea organocatalysts is described. The synergic effect between both species affords a more acidic and rigid catalytic complex than that provided by the thiourea alone, producing better reactivity and selectivity and reducing the catalyst loading to 1–3 mol %.
[Full Paper]
Anabel Izaga, Raquel P. Herrera, M. Concepción Gimeno
ChemCatChem, March 23, 2017, https://doi.org/10.1002/cctc.201601527 Read article
Gold nanoparticle hybrid polymersomes based on amphiphilic pH-sensitive polyphosphazenes (IAuPNP-3) are constructed by in situ generation method to inhibit the leakage of water-soluble doxorubicin hydrochloride (DOX·HCl) during circulation due to strengthened packing density of polymersome membrane, as well as to facilitate pH-responsive intracellular drug release. Consequently, DOX·HCl-loaded IAuPNP-3 significantly improves in vivo antitumor efficacy.
[Full Paper]
Jun Fu, Lina Liang, Liyan Qiu
Adv. Funct. Mater., March 23, 2017, https://doi.org/10.1002/adfm.201604981 Read article
Turning bad into good: By using a simple yet facile annealing treatment, the surface-bound surfactants can be utilized to stabilize Au colloids on supports, rather than cause issues of surface blockage and particle sinter.
[Communication]
Wangcheng Zhan, Yuan Shu, Yujie Sheng, Huiyuan Zhu, Yanglong Guo, Li Wang, Yun Guo, Jinshui Zhang, Guanzhong Lu, Sheng Dai
Angew. Chem. Int. Ed., March 22, 2017, https://doi.org/10.1002/anie.201701191 Read article
Released in print: Formulations of positively and negatively charged mesoporous silica nanoparticles or spherical gold nanoparticles with a hydrogel bioink were used for biofabrication. Negatively charged nanoparticles are released rapidly and positively charged nanoparticles slowly. This generic principle may allow nanoparticles to be used in biofabrication for spatiotemporal control of drug release.
[Communication]
Bernhard Baumann, Tomasz Jungst, Simone Stichler, Susanne Feineis, Oliver Wiltschka, Matthias Kuhlmann, Mika Lindén, Jürgen Groll
Angew. Chem. Int. Ed., March 22, 2017, https://doi.org/10.1002/anie.201700153 Read article
Using atomic force microscopy-based force spectroscopy, the binding affinity of an artificial antibody to an antigen (hemoglobin) is found to be weaker than that of a natural antibody. The fine difference in the molecular interactions manifests into a significant difference in the bioanalytical parameters of biosensors based on these recognition elements.
[Communication]
Congzhou Wang, Rong Hu, Jeremiah J. Morrissey, Evan D. Kharasch, Srikanth Singamaneni
Small, March 21, 2017, https://doi.org/10.1002/smll.201604255 Read article
The ramification pattern of gold nanorods is fabricated by drying its suspension between two glass slides. The aspect ratio of the nanorods and the pinning on the contact line among air, water, and substrate are important. After being baked, this pattern also conducts electricity. The method of patterning is useful for microwiring without the additional need to pattern the wires into specific shapes.
[Communication]
Tomo Kurimura, Yoshiko Takenaka, Satoru Kidoaki, Masatoshi Ichikawa
Adv. Mater. Interfaces, March 21, 2017, https://doi.org/10.1002/admi.201601125 Read article
Pot-of-gold: A new pathway in the dual gold-catalyzed reactions of thiophene-tethered diynes has been identified. A series of fully conjugated alkynyl-substituted benzothiophenes and benzofurans was obtained by a formal cyclisation/dimerization sequence. All the products are fluorescent, owing to their extended conjugation (see figure).
[Full Paper]
Svetlana Tšupova, Max M. Hansmann, Matthias Rudolph, Frank Rominger, A. Stephen K. Hashmi
Chem. Eur. J., March 20, 2017, https://doi.org/10.1002/chem.201700061 Read article
Breaking up DNA: Gold(I) complexes of ClickPhos [2.2]paracyclophane ligands were synthesized. Their efficiency in cytotoxicity was investigated in HeLa, MCF7, and HCT116 cells as well in a zebrafish model. The compounds presented herein are potent metal-based cytostatics displaying LD50 values from 3.5–38 μm in different tumor cell lines and induce DNA breaks (DSBs) as shown by H2AX phosphorylation (γH2AX) at foci of DSBs.
[Full Paper]
Sebastian Bestgen, Carmen Seidl, Thomas Wiesner, Andreas Zimmer, Martina Falk, Beate Köberle, Martina Austeri, Jan Paradies, Stefan Bräse, Ute Schepers, Peter W. Roesky
Chem. Eur. J., March 20, 2017, https://doi.org/10.1002/chem.201605237 Read article
Golden balls: SiliaCat Au, a nanoscale gold sol–gel hybrid material, is employed in the selective oxidation of alcohols under solvent-free conditions with oxygen as the primary oxidant. The catalyst is recyclable, and we revealed structural details that will be useful in the development of new applications for this functional material to other areas of catalysis, analytical chemistry, bioimaging, and photonics.
[Full Paper]
Rosaria Ciriminna, Gabriele Scandura, Valerica Pandarus, Riccardo Delisi, Antonino Scurria, François Béland, Giovanni Palmisano, Mario Pagliaro
ChemCatChem, March 15, 2017, https://doi.org/10.1002/cctc.201601514 Read article
Gold nanoprobes are developed to guide brain-tumor surgery by crossing the blood–brain barrier. Assembly of the nanoprobes in the acidic tumor extracellular fluid triggers the activation of both the magnetic resonance signal for preoperatively defining the tumor margins and the surface-enhanced resonance Raman spectroscopy signal for intraoperatively guiding the tumor surgery. These nanoprobes are promising candidates to improve the outcome of brain-tumor surgery.
[Communication]
Xihui Gao, Qi Yue, Zining Liu, Mengjing Ke, Xingyu Zhou, Sihan Li, Jianping Zhang, Ren Zhang, Liang Chen, Ying Mao, Cong Li
Adv. Mater., March 15, 2017, https://doi.org/10.1002/adma.201603917 Read article
Hip HAP: Three nanocatalysts of Au supported on needle-like, lamella-like, and rodlike hydroxyapatite (N-HAP, L-HAP, and R-HAP) are employed in the direct oxidative esterification of methacrolein to produce methyl methacrylate. N-HAP-supported Au has the best catalytic performance because of surface cooperative effects between the abundant acid–base sites for the preferential chemisorption of methacrolein and highly dispersed active Au species for the favorable formation of β-hydride and oxygen activation.
[Full Paper]
Jun Gao, Guoli Fan, Lan Yang, Xinzhong Cao, Peng Zhang, Feng Li
ChemCatChem, March 14, 2017, https://doi.org/10.1002/cctc.201601560 Read article
The addition of gold nanoparticles in the postproduction treatment of iron oxide nanoparticles to form a nanocomposite material can improve the magnetic-heating properties of the iron oxide when it is subjected to an alternating magnetic field.
[Full Paper]
Gavin Bell, Lara K. Bogart, Paul Southern, Malini Olivo, Quentin A. Pankhurst, Ivan P. Parkin
Eur. J. Inorg. Chem., March 03, 2017, https://doi.org/10.1002/ejic.201601432 Read article
Many thiolate-protected molecular Au clusters, of different cluster sizes and with varying neutral or anionic thiolate ligands, have been reported over the past two decades. In this paper, a novel, facile and high-yield synthetic approach to produce a new series of thiolate-protected molecular Au clusters is presented.
[Communication]
Yohei Ishida, Yu-Ling Huang, Tetsu Yonezawa, Kunihiro Narita
ChemNanoMat, March 02, 2017, https://doi.org/10.1002/cnma.201700012 Read article
Waterworks: Direct surface-enhanced Raman scattering (SERS)-based quantification of inorganic metal species is problematic, because they have a small Raman cross-section or even no vibrational mode. An Au@SiO2@phenyl-azathiacrown SERS substrate is developed for quantification of such metal species, as exemplified by inorganic mercury (HgII). Size-fit and S-pulling effects of azathiacrown linked by phenyl on Au@SiO2 nanoparticles allow us to perform a direct, sensitive, and specific quantification of HgII in various waters.
[Communication]
Yuchao Wu, Limin Yang, Qiuquan Wang
ChemistryOpen, March 01, 2017, https://doi.org/10.1002/open.201600135 Read article
[Article]
Christoph Ludwig Teske, Helge Reinsch, Huayna Terraschke, Wolfgang Bensch
Z. Anorg. Allg. Chem., February 27, 2017, https://doi.org/10.1002/zaac.201600425 Read article
Bang for your buck: If the gold nanoparticle productivity exceeds a break-even value of 550 mg h−1, laser ablation synthesis is more economic than chemical synthesis. For industrial scale applications, synthesis costs can be significantly reduced by higher laser power for the laser-based method or by higher centrifugation capacity for wet-chemical synthesis.
[Article]
Sandra Jendrzej, Bilal Gökce, Matthias Epple, Stephan Barcikowski
ChemPhysChem, February 27, 2017, https://doi.org/10.1002/cphc.201601139 Read article
Sold on gold: Efficient single-pot oxidative functionalization of cyclohexane and benzyl and methylbenzyl alcohols under mild conditions with high selectivity was catalyzed by reusable Au nanoparticles on Al2O3, Fe2O3, ZnO, and TiO2. Au nanoparticles on Fe2O3 led to an unusual almost exclusive formation of cyclohexanol by control of reaction time, but Au nanoparticles on TiO2 had a remarkable catalytic effect on acetophenone yield.
[Full Paper]
Luísa Margarida Dias Ribeiro de Sousa Martins, Sónia Alexandra Correia Carabineiro, Jiawei Wang, Bruno Gonçalo Martins Rocha, Francisco José Maldonado-Hódar, Armando José Latourrette de Oliveira Pombeiro
ChemCatChem, February 23, 2017, https://doi.org/10.1002/cctc.201601442 Read article
Islands in the sea: Bifunctional Ag@SiO2/Au nanoparticles were used as a SERS probe to monitor the stepwise Au-catalyzed reduction and Ag-catalyzed oxidation reactions.
[Full Paper]
Yiren Wu, Dong Su, Dong Qin
ChemNanoMat, February 22, 2017, https://doi.org/10.1002/cnma.201600359 Read article
[Full Paper]
Srikant Sahoo, Prasanta Kumar Sahoo, Ashis Kumar Satpati
Electroanalysis, February 16, 2017, https://doi.org/10.1002/elan.201600676 Read article
Easy transport: A polymeric membrane-supported gold nanoparticle (AuNP) catalyst is prepared on the basis of the extraction and in situ reduction of AuIII in one stage achieved by a facilitated transport system. This process is a synergic phenomenon in which all the membrane components are involved. The catalysts allow 95.4 % reduction of 4-nitrophenol in aqueous solution in 25 min and provides catalysis and separation in the same stage.
[Full Paper]
Lucía Mora-Tamez, Vicente Esquivel-Peña, Ana L. Ocampo, Eduardo Rodríguez de San Miguel, Daniel Grande, Josefina de Gyves
ChemSusChem, February 15, 2017, https://doi.org/10.1002/cssc.201601883 Read article
[Full Paper]
Md. Hakimul Haque, Md. Nazmul Islam, Farhadul Islam, Vinod Gopalan, Nam-Trung Nguyen, Alfred K. Lam, Muhammad J. A. Shiddiky
Electroanalysis, February 09, 2017, https://doi.org/10.1002/elan.201700039 Read article
Show me your bits! Reversible C−C bond formation/cleavage on gold was induced electrochemically on a layer of acridan-based electron donor 1 that was transformed into acridinium 22+. Due to its high electrochemical bistability, this dynamic redox pair may be useful as a unimolecular memory unit, in which one molecule acts as one bit.
[Communication]
Eisuke Ohta, Hiromitsu Uehara, Ying Han, Kazuhisa Wada, Hidenori Noguchi, Ryo Katoono, Yusuke Ishigaki, Hiroshi Ikeda, Kohei Uosaki, Takanori Suzuki
ChemPlusChem, February 08, 2017, https://doi.org/10.1002/cplu.201600649 Read article
Lightning attack: Surface-modified gold multibranched nanoparticles (AuMs) are prepared through the simple chemical reduction of gold chloride aqueous solution followed by in situ modification using water-soluble arenediazonium tosylates with different functional organic groups. The antibacterial effect of surface-modified AuMs is evaluated by using Escherichia coli and Staphylococcus epidermidis bacteria under IR light illumination and without external triggering. Strong plasmon resonance on the AuMs cups leads to a significant reduction of the light power needed to kill bacteria.
[Full Paper]
Yevgeniya Kalachyova, Anasiya Olshtrem, Olga A. Guselnikova, Pavel S. Postnikov, Roman Elashnikov, Pavel Ulbrich, Silvie Rimpelova, Václav Švorčík, Oleksiy Lyutakov
ChemistryOpen, February 07, 2017, https://doi.org/10.1002/open.201600159 Read article
[Full Paper]
Natalija German, Arunas Ramanavicius, Almira Ramanaviciene
Electroanalysis, February 01, 2017, https://doi.org/10.1002/elan.201600680 Read article
Go for gold! Gold nanoparticles that were functionalised with a thiol rhodamine derivative serve as a multimodal probe for cellular imaging. The normal pH-dependent fluorescence of rhodamine is inversed, with higher emission observed at high pH. The probe was shown to localise in the mitochondria.
[Communication]
Charlotte J. Eling, Thomas W. Price, Addison R. L. Marshall, Francesco Narda Viscomi, Peter Robinson, George Firth, Ali M. Adawi, Jean-Sebastien G. Bouillard, Graeme J. Stasiuk
ChemPlusChem, January 31, 2017, https://doi.org/10.1002/cplu.201600593 Read article
[Full Paper]
Abdel-Nasser Kawde, Md. Abdul Aziz, Manal El-Zohri, Nadeem Baig, Nurudeen Odewunmi
Electroanalysis, January 26, 2017, https://doi.org/10.1002/elan.201600709 Read article
Two Au–dithiocarbamato complexes are promising anticancer agents. Spectrometric studies revealed different patterns of interaction with HSA and ctDNA as model biomolecules, likely due to differences in redox chemistry. One complex was tested against A549 lung carcinoma cells using an xCELLigence Real-Time Cell Analysis system; measures of impedance by non-invasive Au microelectrodes showed that the complex inhibits cell proliferation after only 4 h.
[Full Paper]
Chiara Nardon, Giulia Boscutti, Chiara Gabbiani, Lara Massai, Nicolò Pettenuzzo, Ambrogio Fassina, Luigi Messori, Dolores Fregona
Eur. J. Inorg. Chem., January 23, 2017, https://doi.org/10.1002/ejic.201601215 Read article
[Short Communication]
Lisha Chen, Shuai Liu, Fengxia Chang, Xia Xie, Zhiwei Zhu
Electroanalysis, January 20, 2017, https://doi.org/10.1002/elan.201600747 Read article
[Full Paper]
Cheng Fanga, Mallavarapu Megharaj, Ravi Naidu
Electroanalysis, December 29, 2016, https://doi.org/10.1002/elan.201600724 Read article
Enzymatic fuel cells: Nanoporous gold (NPG) electrodes with tunable pore size from 5 to 60 nm were prepared and utilized for the immobilization of bilirubin oxidase (BOx) and glucose dehydrogenase (GDH) for use in biofuel cells. The devices with NPG-confined enzymes show high power outputs and enhanced long-term operation and storage stability, an improvement associated with the physical confinement of the enzyme within the porous network (see figure).
[Full Paper]
Till Siepenkoetter, Urszula Salaj-Kosla, Xinxin Xiao, Peter Ó Conghaile, Marcos Pita, Roland Ludwig, Edmond Magner
ChemPlusChem, November 25, 2016, https://doi.org/10.1002/cplu.201600455 Read article
Direct route: An approach for lactose biosensing is reported. The biosensor is based on the direct electron transfer from cellobiose dehydrogenase from Phanerochaete sordida electrostatically attached onto gold electrodes premodified with polyethyleneimine-capped gold nanoparticles (see figure).
[Full Paper]
Mojtaba Tavahodi, Roberto Ortiz, Christopher Schulz, Ali Ekhtiari, Roland Ludwig, Behzad Haghighi, Lo Gorton
ChemPlusChem, October 26, 2016, https://doi.org/10.1002/cplu.201600453 Read article
© Wiley-VCH 2016.