Gold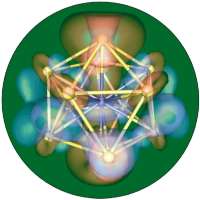 Zum Golde drängt, am Golde hängt doch alles.
For gold contend, On gold depend All things.
J. W. Goethe, Faust I
The element gold has many personalities, of which the image of a noble but soft, yellow metal would first across one's mind. The recently discovered nanoparticles and nanowires containing gold are a natural extension of this aspect, as are the uses of gold in electronics and decoration. Thought to be noble, gold actually has a rich chemistry. Fascinating in its complexity for academic chemists, this chemistry has potential applications in materials science, medicine and, recently, in both heterogeneous and homogeneous catalysis. Some fresh promises are related to the optical properties of certain gold compounds or to the possibility of forming new nanostructures based on gold. The unique properties of gold are strongly influenced by relativistic effects.
[1] P. Pyykkö, Theoretical Chemistry of Gold
Angew. Chem. 2004, 116, 4512–4557; Angew. Chem. Int. Ed. 2004, 43, 4412–4456
[2] A. S. K. Hashmi, The Catalysis Gold Rush: New Claims
Angew. Chem. 2005, 117, 7150; Angew. Chem. Int. Ed. 2005, 44, 6990
[3] G. Schmid, B. Corain, Nanoparticulated Gold: Syntheses, Structures, Electronics, and Reactivities
Eur. J. Inorg. Chem. 2003, 3081
Recent Articles

RSS feed
Coming together: The integration of TiO2 with a AuI complex containing a thiocoumarin moiety results in a catalyst that is intrinsically active for the photogeneration of H2. This is the first example of a AuI-complex–semiconductor hybrid photocatalyst. The rate of H2 generation under dynamic conditions from water/ethanol is approximately one order of magnitude superior on a metal basis to that obtained over conventional TiO2 decorated with Au metal nanoparticles.
[Communication]
Elisabet Aguiló, Lluís Soler, Albert Casanovas, Artur J. Moro, João Carlos Lima, Laura Rodríguez, Jordi Llorca
ChemCatChem, July 21, 2017, https://doi.org/10.1002/cctc.201700518 Read article
The golden days: Nucleophilic addition to thioalkynes was investigated under various catalytic conditions with gold(I) complexes being identified as the optimal catalysts. Structural evaluation of the product revealed an unexpected cis-addition, arising from a gold-associated thioketene intermediate. Based on this interesting mechanistic insight, a gold(I)-catalyzed thioether addition to thioalkynes was developed as a novel approach to prepare ketene dithioacetals with good yields and high efficiency.
[Communication]
Xiaohan Ye, Jin Wang, Shengtao Ding, Seyedmorteza Hosseyni, Lukasz Wojtas, Novruz G. Akhmedov, Xiaodong Shi
Chem. Eur. J., July 20, 2017, https://doi.org/10.1002/chem.201702710 Read article
[Full Paper]
Richard Dudeney, Jeffrey D. Newman, Frank Davis, Steven J. Setford, Ibtisam E. Tothill
Electroanalysis, July 19, 2017, https://doi.org/10.1002/elan.201700242 Read article
Cation-bound π systems: The C2H2/4⋅⋅⋅M+⋅⋅⋅C2H2/4 (M+=H+, Li+, Au+) complexes are analyzed by means of MP2 and CASPT2 calculations. In the proton-bound π-electron species (see figure), π⋅⋅⋅H+⋅⋅⋅π hydrogen bonds occur, and similar π⋅⋅⋅Au+⋅⋅⋅π and π⋅⋅⋅Li+⋅⋅⋅π interactions are detected for the gold and lithium complexes, respectively.
[Article]
Sławomir J. Grabowski, Fernando Ruipérez
ChemPhysChem, July 19, 2017, https://doi.org/10.1002/cphc.201700574 Read article
One intermediate, two reaction channels: Following the intrinsic reaction coordinates of a Au-catalysed sigmatropic rearrangement and a protodeauration reaction, two different reaction pathways were found aided by intrinsic bond orbital analysis, showing the versatility of vinyl gold species in the context of catalysis.
[Full Paper]
Laura Nunes dos Santos Comprido, Johannes E. M. N. Klein, Gerald Knizia, Johannes Kästner, A. Stephen K. Hashmi
Chem. Eur. J., July 19, 2017, https://doi.org/10.1002/chem.201702023 Read article
The pH-responsive zwitterionic amphiphile was used for the functionalization of unsupported Au nanocrystals (NCs), a SiO2 support, and SiO2-supported AuNCs in a biphasic water/chloroform system. The unsupported AuNCs were reversibly transferred by pH control, but phase transfer yield was low due to aggregation of AuNCs. The SiO2 support was reversibly dispersed and precipitated by pH control. The SiO2-supported AuNCs were also reversibly dispersed and precipitated without the loss of AuNCs due to the improved stability by supporting.
[Full Paper]
Yoshiro Imura, Yoshikazu So, Clara Morita-Imura, Takeshi Kawai
ChemistrySelect, July 18, 2017, https://doi.org/10.1002/slct.201701096 Read article
[Full Paper]
Darío Xavier Orellana Jaramillo, Anandhakumar Sukeri, Lucas P.H. Saravia, Patricio Javier Espinoza-Montero, Mauro Bertotti
Electroanalysis, July 18, 2017, https://doi.org/10.1002/elan.201700301 Read article
Flowing together: While self-assembled gold nanorods (SGNs) are flowing, the reflected light has a low degree of polarization at a specific wavelength. In comparison, when the SGNs are not moving, the reflected light has a high degree of polarization. This effect can be used for tumor imaging.
[Communication]
Ke Hou, Dror Fixler, Bing Han, Lin Shi, Idit Feder, Hamootal Duadi, Xiaoli Wang, Zhiyong Tang
ChemNanoMat, July 17, 2017, https://doi.org/10.1002/cnma.201700157 Read article
Tweaking the electronics: Trifluoromethylation of inert gold corroles dramatically changes their structural, optical, and electrochemical properties, as was proven by a combination of analytical methods. The tetra-CF3-substituted gold complex serves as an electrocatalyst for proton reduction to hydrogen gas.
[Communication]
Kolanu Sudhakar, Amir Mizrahi, Monica Kosa, Natalia Fridman, Boris Tumanskii, Magal Saphier, Zeev Gross
Angew. Chem. Int. Ed., July 17, 2017, https://doi.org/10.1002/anie.201705007 Read article
The random hot spots created in a volume gold nanorod assembly are found to be polarization and spectrum sensitive and the encoding of such hot spots can be utilized for multidimensional optical data storage with an ultrahigh density of ≈13.8 Tbit cm−3 and ultralow energy of only a few picojoule per pulse.
[Communication]
Qiaofeng Dai, Min Ouyang, Weiguang Yuan, Jinxiang Li, Banghong Guo, Sheng Lan, Songhao Liu, Qiming Zhang, Guang Lu, Shaolong Tie, Haidong Deng, Yi Xu, Min Gu
Adv. Mater., July 17, 2017, https://doi.org/10.1002/adma.201701918 Read article
Here, an intraocular lens with Au@SiO2 nanorod-modified rim (Nano-IOLs) is reported. Compared to the commercially available IOLs, Nano-IOLs retains the intrinsic biocompatibility and optical properties and meanwhile exhibits extraordinary region-confined photothermal effect. In vitro and rabbit experimental results confirm that Nano-IOLs can effectively kill LECs nearby the rim and effectively prevent the occurrence of posterior capsule opacification.
[Communication]
Yao-Xin Lin, Xue-Feng Hu, Yang Zhao, Yu-Juan Gao, Chao Yang, Sheng-Lin Qiao, Yi Wang, Pei-Pei Yang, Jiao Yan, Xin-Ce Sui, Zeng-Ying Qiao, Li-Li Li, Jiang-Bing Xie, Si-Quan Zhu, Xiao-Chun Wu, Yongsheng Li, Lei Wang, Hao Wang
Adv. Mater., July 17, 2017, https://doi.org/10.1002/adma.201701617 Read article
DNA hybridization-directed anchoring of gold nanoparticles on various substrates leads to 2D single-nanoparticle-layer plasmonic films with humidity-responsive switchable chromogenic properties upon wetting–dewetting transitions.
[Communication]
Jianlei Shen, Binquan Luan, Hao Pei, Zaixing Yang, Xiaolei Zuo, Gang Liu, Jiye Shi, Lihua Wang, Ruhong Zhou, Wenlong Cheng, Chunhai Fan
Adv. Mater., July 17, 2017, https://doi.org/10.1002/adma.201606796 Read article
A universal way for the implementation of metal nanoparticles intopoly(lactic-co-glycolic acid)microstructures via the electrohydrodynamic co-jetting process is presented. Metal nanoparticles of different shape and size are embedded into multicompartmental fluorescent microstructures. Their spatial distribution is analyzed using 3D surface-enhanced Raman scattering and confocal fluorescence microscopy.
[Full Paper]
Malte S. Strozyk, Dorleta Jimenez de Aberasturi, Jason V. Gregory, Mathias Brust, Joerg Lahann, Luis M. Liz-Marzán
Adv. Funct. Mater., July 14, 2017, https://doi.org/10.1002/adfm.201701626 Read article
The super bowl: Excellent binding affinity is found between a corannulene-based di-N-heterocyclic carbene (NHC) gold complex and fullerene-C60, producing guest–host complexes of 1:3 stoichiometry.
[Full Paper]
Carmen Mejuto, Luis Escobar, Gregorio Guisado-Barrios, Pablo Ballester, Dmitry Gusev, Eduardo Peris
Chem. Eur. J., July 13, 2017, https://doi.org/10.1002/chem.201701728 Read article
Nanosecond plasmonic heating of gold nanoparticles creates an ultrahigh and ultrashort temperature increase, leading to selective inactivation and unfolding of proteins adjacent to the nanoparticle.
[Communication]
Peiyuan Kang, Zhuo Chen, Steven O. Nielsen, Kenneth Hoyt, Sheena D'Arcy, Jeremiah J. Gassensmith, Zhenpeng Qin
Small, July 11, 2017, https://doi.org/10.1002/smll.201700841 Read article
Hierarchical hetero-nanostructures (rare-earth (RE)-Au-ethanolamine-functionalized poly(glycidyl methacrylate) (PGEA)) consisting of gold nanoshell-coated RE nanorods and hydroxyl-rich polycations are synthesized for versatile imaging-guided complementary cancer therapy.
[Full Paper]
Lizhi Song, Nana Zhao, Fu-Jian Xu
Adv. Funct. Mater., July 07, 2017, https://doi.org/10.1002/adfm.201701255 Read article
The strength of dihydrogen bond formation, as measured by binding energy Ebind, between a range of gold(I) hydrides as proton acceptors and main group proton donors in various ratios, reflects the negative charge transferred (CT) from acceptor to donor upon association.
[Article]
Ignacy Cukrowski, Jurgens H. de Lange, Ferdinand Groenewald, Helgard G. Raubenheimer
ChemPhysChem, July 06, 2017, https://doi.org/10.1002/cphc.201700383 Read article
A functionalizable 3D gradient structure of in situ formed gold nanoparticles in a macroporous nonionic block copolymer hydrogel matrix is made through gold ion diffusion control and additive manufacturing. The polymer provides a matrix for diffusion of gold ions, acts as a template for controlling nanoparticle growth, and facilitates the in situ reduction of gold ions to gold nanoparticles.
[Communication]
Jelle Penders, Anand K. Rajasekharan, Mats Hulander, Martin Andersson
Macromol. Rapid Commun., July 03, 2017, https://doi.org/10.1002/marc.201700231 Read article
Just a spoonful of sugar: Mesoporous Au films (MpGFs) are synthesized by a simple electrochemical process in the presence of a surfactant, where the mesoporous structure can be controlled by the size of the polymeric micelles. Under optimal potentials, the current response for other interfering molecules is minimal while the current response for glucose is maximal. A linear relationship between the current response and the glucose content is observed over a wide range of concentration.
[Article]
Asep Sugih Nugraha, Cuiling Li, Jiang Bo, Muhammad Iqbal, Saad M. Alshehri, Tansir Ahamad, Victor Malgras, Yusuke Yamauchi, Toru Asahi
ChemElectroChem, June 28, 2017, https://doi.org/10.1002/celc.201700548 Read article
Handy cluster chirality! Chiral nanomaterials have received wide interest, but the exact origin of chirality at the atomic level has remained elusive for a long time. Recent significant progress in atomically precise gold nanoclusters (see figure) and total structure determination has unveiled several origins of chirality, that is, chirality in the core, chirality at the Au–S interface, chiral patterns of achiral ligand, and chiral ligand induction.
[Focus Review]
Chenjie Zeng, Rongchao Jin
Chem. Asian J., June 27, 2017, https://doi.org/10.1002/asia.201700023 Read article
Aromatic molecule–seed particle interactions are introduced as a novel chemical approach to control anisotropic growth of gold nanorods (Au NRs). The interaction of seeds with reducing aromatic molecules produces Au NRs with higher aspect ratios and red-shifted plasmonic peaks, while the interaction with gold surface-binding molecules yields Au NRs with lower aspect ratios and blue-shifted peaks. These observations enable more sophisticated engineering of anisotropic nanoparticle growth.
[Full Paper]
Jun Hui Soh, Yiyang Lin, Michael R. Thomas, Nevena Todorova, Charalambos Kallepitis, Irene Yarovsky, Jackie Y. Ying, Molly M. Stevens
Adv. Funct. Mater., June 26, 2017, https://doi.org/10.1002/adfm.201700523 Read article
The cover picture shows the first member of a dynamic redox system attached to a gold surface that can undergo electrochemical switching on the surface. Reversible C−C bond formation/cleavage upon two-electron transfer endows the system with high electrochemical stability. This study demonstrates a prototype toward the realization of molecular-based data storage devices using electrochemical input by a scanning tunneling microscopy tip. Details are given in the Communication by Takanori Suzuki and co-workers on page 1043 in Issue 7, 2017 (DOI: 10.1002/cplu.201600649).
[Cover Picture]
Eisuke Ohta, Hiromitsu Uehara, Ying Han, Kazuhisa Wada, Hidenori Noguchi, Ryo Katoono, Yusuke Ishigaki, Hiroshi Ikeda, Kohei Uosaki, Takanori Suzuki
ChemPlusChem, June 14, 2017, https://doi.org/10.1002/cplu.201700267 Read article
[Full Paper]
Tirivashe Elton Chiwunze, Neeta Bachheti Thapliyal, Venkata Narayana Palakollu, Rajshekhar Karpoormath
Electroanalysis, June 13, 2017, https://doi.org/10.1002/elan.201700154 Read article
Slippery slope: The combination of surface structuration and molecular layers allows the preparation of tunable surface gradients. Wetting is modulated by reductive desorption of layers by means of bipolar electrochemistry (see figure).
[Article]
Laurent Bouffier, Stéphane Reculusa, Valérie Ravaine, Alexander Kuhn
ChemPhysChem, June 13, 2017, https://doi.org/10.1002/cphc.201700398 Read article
Photo-crosslinkable and amine containing block copolymer nanoparticles are synthesized via RAFT polymerization-induced self-assembly and stabilized by photo-crosslinking. The crosslinked block copolymer nanoparticles can be used as stable templates for in situ formation of polymer/gold hybrid nanoparticles.
[Communication]
Jianbing Huang, Decai Li, Hui Liang, Jiang Lu
Macromol. Rapid Commun., June 12, 2017, https://doi.org/10.1002/marc.201700202 Read article
Alloys on my mind: Peptide-FlgA3-based AuPd bimetallic nanoparticles are fabricated and employed as an efficient electrocatalyst for the oxygen reduction reaction (ORR) in alkaline solution. The sample with a Au/Pd ratio of 1:2 exhibits the best activity, with an ORR performance comparable with that of Pt/C and a markedly higher long-term stability than Pt/C. These findings can pave the way for the fabrication of bimetallic nanoparticles with enhanced electrocatalytic properties under mild conditions.
[Full Paper]
Dongliang Li, Zhenghua Tang, Shaowei Chen, Yong Tian, Xiufang Wang
ChemCatChem, June 12, 2017, https://doi.org/10.1002/cctc.201700299 Read article
[Full Paper]
Fang Shang, Yuan Liu, Sui Wang, Yufang Hu, Zhiyong Guo
Electroanalysis, June 08, 2017, https://doi.org/10.1002/elan.201700223 Read article
[Full Paper]
Bożena Karbowska, Tomasz Rębiś, Grzegorz Milczarek
Electroanalysis, June 08, 2017, https://doi.org/10.1002/elan.201700090 Read article
From wood to polymers with gold: Carbon-supported gold nanoparticles are highly active in the direct oxidation of glucose to glucaric acid, an intermediate in the synthesis of biobased adipic acid. The catalyst outperforms Pt/C catalysts in both glucose/metal ratio and reaction conditions.
[Full Paper]
Stefania Solmi, Calogero Morreale, Francesca Ospitali, Stefano Agnoli, Fabrizio Cavani
ChemCatChem, June 08, 2017, https://doi.org/10.1002/cctc.201700089 Read article
Catalysis au naturale: We show that polymer stabilizers are not necessary to produce catalysts that are highly active for the selective oxidation of glycerol and benzyl alcohol. Gold and gold–palladium nanoparticles prepared in the absence of polyvinyl alcohol and polyvinylpyrrolidone stabilizers show identical activity to those prepared with stabilizers, but crucially, the polymer additives alter the reaction selectivity.
[Communication]
Laura Abis, Simon J. Freakley, Georgios Dodekatos, David J. Morgan, Meenakshisundaram Sankar, Nikolaos Dimitratos, Qian He, Christopher J. Kiely, Graham J. Hutchings
ChemCatChem, June 06, 2017, https://doi.org/10.1002/cctc.201700483 Read article
An easy, fast, and reproducible in situ method for preparation of Au nanoparticles (AuNPs) at or near the polymer surface with controlled size distribution without agglomeration, with thiol functionalized initiator for polyethyleneglycol-based acrylate formulations by UV curing is reported. Prepared AuNP/polymer nanocoatings exhibit a reflective gold mirror view.
[Full Paper]
Tolga Çeper, Nergis Arsu
Macromol. Chem. Phys., May 23, 2017, https://doi.org/10.1002/macp.201700030 Read article
[Full Paper]
D. Ogończyk, M. Gocyla, T. Andryszewski, M. Opallo
Electroanalysis, May 22, 2017, https://doi.org/10.1002/elan.201700188 Read article
[Article]
Frank Stegemann, Christopher Benndorf, Yuemei Zhang, Manfred Bartsch, Helmut Zacharias, Boniface P. T. Fokwa, Hellmut Eckert, Oliver Janka
Z. Anorg. Allg. Chem., May 19, 2017, https://doi.org/10.1002/zaac.201700103 Read article
Ah, sugar sugar! Asiaticoside, the major active biomarker of the traditional medicinal plant Centella asiatica, was synthesized in a convergent linear sequence over 14 steps in 6 % overall yield by starting from ursolic acid.
[Full Paper]
Wenbo Shao, Xin Cao, Lei Shen, Fuyi Zhang, Biao Yu
Asian J. Org. Chem., May 10, 2017, https://doi.org/10.1002/ajoc.201700153 Read article
Show me your bits! Reversible C−C bond formation/cleavage on gold was induced electrochemically on a layer of acridan-based electron donor 1 that was transformed into acridinium 22+. Due to its high electrochemical bistability, this dynamic redox pair may be useful as a unimolecular memory unit, in which one molecule acts as one bit.
[Communication]
Eisuke Ohta, Hiromitsu Uehara, Ying Han, Kazuhisa Wada, Hidenori Noguchi, Ryo Katoono, Yusuke Ishigaki, Hiroshi Ikeda, Kohei Uosaki, Takanori Suzuki
ChemPlusChem, February 08, 2017, https://doi.org/10.1002/cplu.201600649 Read article
© Wiley-VCH 2016.