Surfaces and Interfaces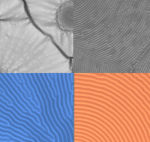 Interfaces and surfaces are where the action happens. Catalysis, molecular recognition, charge transfer, polymerization and many other critical processes take place at the boundary between one medium and another. With the need to integrate new materials into devices, and applications ranging from catalysis to sensors, medicine to self-cleaning surfaces, and displays to lasers, fundamental and applied studies of surface and interface processes and optimization are of critical importance in developing new technology to meet today's challenges. The selection of recent research articles presented below illustrates the vast potential of this field.
For recent reviews, see

RSS feed
Recent Articles
Surface plasmon resonance in combination with HeLa cells is used to study cell uptake kinetics of several types of nanoparticles relevant to drug delivery applications. Mesoporous silica nanoparticles, branched polyethylenimine-plasmid DNA polyplexes, and red blood cell derived extracellular vesicles clearly show differences in the nature of the nanoparticle cell uptake depending on the type of nanoparticle under examination.
[Full Paper]
Teemu Suutari, Tiina Silen, Didem S˛en Karaman, Heikki Saari, Diti Desai, Erja Kerkelä, Saara Laitinen, Martina Hanzlikova, Jessica M. Rosenholm, Marjo Yliperttula, Tapani Viitala
Small, September 30, 2016, DOI: 10.1002/smll.201601815. Read article
[Full Paper]
Zhi Gao, Lan Yang, Guoli Fan, Feng Li
ChemCatChem, September 30, 2016, DOI: 10.1002/cctc.201601070. Read article
A surface fabrication method based on soft-lithography with inorganic polymer is developed for superior boiling heat transfer performance. Porous and nonporous micropillars are fabricated with selective control of wettability in designed manner. This method is expected to substitute pervious metal and silicon based methods with a cost-effective material and simple fabrication process.
[Communication]
Hyunwoo Noh, Jin-Oh Kim, Dong-Hwi Kim, Hyun Sun Park, Yoon-Ho Hwang, Moo Hwan Kim, Dong-Pyo Kim
Adv. Mater. Interfaces, September 30, 2016, DOI: 10.1002/admi.201600507. Read article
Choose a different path: The adsorption of 2,11-diiodohexabenzocoronene (HBC-I2) on the SiC(0001) 3×3 surface is investigated by DFT and STM. The dissociation pathway is favorable for this polycyclic aromatic hydrocarbon on the surface, which opens up the way for the functionalization of wide band gap semiconductors, such as silicon carbide.
[Article]
Philippe Sonnet, Louise Stauffer, Marie Gille, David Bléger, Stefan Hecht, Cesare Cejas, Gérald Dujardin, Andrew J. Mayne
ChemPhysChem, September 28, 2016, DOI: 10.1002/cphc.201600764. Read article
Electric eel-skin-inspired mechanically durable and super-stretchable nanogenerator is demonstrated for the first time by using triboelectric effect. This newly designed nanogenerator can produce electricity by touch or tapping despite under various extreme mechanical deformations or even after experiencing damage. This device can be used not only as deformable and wearable power source but also as fully autonomous and self-sufficient adaptive electronic skin system.
[Communication]
Ying-Chih Lai, Jianan Deng, Simiao Niu, Wenbo Peng, Changsheng Wu, Ruiyuan Liu, Zhen Wen, Zhong Lin Wang
Adv. Mater., September 28, 2016, DOI: 10.1002/adma.201603527. Read article
In situ observation of single-molecule surface reactions from low to high affinities is achieved by resonant coupling between optical whispering-gallery modes and the localized surface plasmon of nanorods. Transient and permanent interactions between ligands (thiol, amine) and the gold surface are monitored without labels, allowing direct determination of the associated kinetic constants and rapid development of new functionalization protocols.
[Communication]
Eugene Kim, Martin D. Baaske, Frank Vollmer
Adv. Mater., September 28, 2016, DOI: 10.1002/adma.201603153. Read article
A protocol to quantify the distribution of surface atoms of concave nanocatalysts according to their coordination number is proposed. The 3D surface of an Au@Pd concave nanocube is reconstructed and segmented. The crystallographic coordinates and low-coordinate surface atom densities of the concave facets are determined. The result shows that 32% of the surface atoms are low-coordinated, which may contribute to the high activity.
[Communication]
Ye Xia, Xiaoyan Zhong, Xiaoxing Ke, Gui-Rong Zhang, Zhiying Cheng, Bo-Qing Xu
Small, September 27, 2016, DOI: 10.1002/smll.201601944. Read article
Just like a mirror, the footprint of surface plasmon resonance (SPR)-generated hot electrons is clearly imaged by SPR-enhanced vibrational spectroscopy. Being indicative to the multiple transferring processes and to the abundance of hot electrons (HEs), the p-nitirothiophenol to p-aminobenzenethiol reaction is capable of tracking the fate of HEs. This ultimately leads us to unravel the key factor that constrains the utilization of Ag as plasmonic catalyst.
[Full Paper]
Rui Liu, Zuoliang He, Jiefang Sun, Jingfu Liu, Guibin Jiang
Small, September 27, 2016, DOI: 10.1002/smll.201601773. Read article
A flexible electronic paper in full color is realized by plasmonic metasurfaces with conjugated polymers. An ultrathin large-area electrochromic material is presented which provides high polarization-independent reflection, strong contrast, fast response time, and long-term stability. This technology opens up for new electronic readers and posters with ultralow power consumption.
[Communication]
Kunli Xiong, Gustav Emilsson, Ali Maziz, Xinxin Yang, Lei Shao, Edwin W. H. Jager, Andreas B. Dahlin
Adv. Mater., September 27, 2016, DOI: 10.1002/adma.201603358. Read article
Cancer is a heterogeneous disease manifesting as a variety of intricate subtypes, which requires different treatment strategies. Herein a rapid (80 min) multiplexed platform strategy for subtyping prostate cancer tumor and urine samples based on their RNA biomarker profiles is presented. This platform methodology could be a useful cancer subtyping tool for personalized treatment decisions (i.e., precision medicine).
[Full Paper]
Kevin M. Koo, Eugene J. H. Wee, Paul N. Mainwaring, Yuling Wang, Matt Trau
Small, September 26, 2016, DOI: 10.1002/smll.201602161. Read article
A novel unidirectional liquid spreading surface with an inclined arc pitted groove, inspired by the continuous unidirectional liquid spreading mechanism on the peristome surface of N. alata, is explored and fabricated by two-step UV lithography. Its superior unidirectional liquid spreading capability to that of other surface patterns is demonstrated, and its unidirectional liquid spreading mechanism is investigated.
[Communication]
Huawei Chen, Liwen Zhang, Pengfei Zhang, Deyuan Zhang, Zhiwu Han, Lei Jiang
Small, September 26, 2016, DOI: 10.1002/smll.201601676. Read article
On the surface: Solid-state NMR spectroscopy shows that entangled carboxylic acid ligands interact with the surface of metal oxide nanocrystals through hydrogen-bonding and electrostatic interactions (see figure). Tightly bound carboxylic acids are mostly adsorbed on the nanocrystal surface through both the proton and carboxylate. A minor chelating mode is also identified.
[Full Paper]
Jonathan De Roo, Edwin A. Baquero, Yannick Coppel, Katrien De Keukeleere, Isabel Van Driessche, Céline Nayral, Zeger Hens, Fabien Delpech
ChemPlusChem, September 26, 2016, DOI: 10.1002/cplu.201600372. Read article
Magnesium-ion batteries: Cycle performance of bulk and film Sn electrodes in Mg half-cells, Mg diffusivity, and surface film formation in PhMgCl/THF electrolyte are studied. Bulk Sn electrode delivers 334–289 mAh g−1 over 30 cycles, and XPS reveals formation of a surface film composed of a mixture of inorganic Sn and Mg salts and organic functionality due to THF decomposition (see figure).
[Article]
Dan-Thien Nguyen, Xuan Minh Tran, Joonsup Kang, Seung-Wan Song
ChemElectroChem, September 26, 2016, DOI: 10.1002/celc.201600400. Read article
Material-induced cell aggregation drives a proangiogenic expression profile. Copolymer substrates containing cell-repellent and cell-adhesive domains force the aggregation of human mesenchymal stem cells, which results in enhanced tubulogenesis in vitro and stabilization of vasculature in vivo. These findings can be used to design instructive biomaterial scaffolds for clinical use.
[Communication]
Spencer W. Crowder, Daniel A. Balikov, Timothy C. Boire, Devin McCormack, Jung Bok Lee, Mukesh K. Gupta, Melissa C. Skala, Hak-Joon Sung
Adv. Healthcare Mater., September 26, 2016, DOI: 10.1002/adhm.201600819. Read article
Doping has been widely used to engineer efficient photocatalysts for water splitting process in energy conversion and storage systems. Although composition tuning via heteroatom doping is one of the strategies to enhance photoactivity, the origin of the increasing activity by doping keeps unclear and the illustrations of its role most fall in the band engineering. Herein we report that the dopants rhodium on the surface of Zn2GeO4, which affect the band structure negligibly, can act as active sites for water splitting. As a result, the Rhδ+/Zn2GeO4 photocatalyst demonstrates excellent stability for 460 days and significant enhancement of the photocatalytic activity to that of the undoped photocatalyst. The findings in this work may open the door for a rethinking of the detailed principles of dopants in photocatalysis, and highlight a feasible route to fabricating efficient photocatalysts.
[Communication]
Yu Lei Wang, Yu Hang Li, Xue Lu Wang, Ai Ping Chen, Huagui Yang
ChemPlusChem, September 23, 2016, DOI: 10.1002/cplu.201600445. Read article
The state of the art of scanning probe microscopy (SPM) methods applied to energy conversion and storage devices, specifically lithium ion batteries is reviewed with emphasis on the electroactive elements. The unique abilities of SPM-based methods to provide localized information has proven highly valuable for in-depth understanding of lithium ion batteries (LIBs) fundamental mechanisms, processes and degradation. As such, SPM analysis is poised to play a strong role in the competition for new higher performing LIB, especially given the unprecedented choice and availability of SPM techniques tailored to provide physical and chemical information at the nanoscale.
[Review]
Laurence Danis, Samantha M Gateman, Christian Kuss, Steen B Schougaard, Janine Mauzeroll
ChemElectroChem, September 23, 2016, DOI: 10.1002/celc.201600571. Read article
rGO for efficiency! The effect of incorporating reduced graphene oxide (rGO) within the electron-transport, active, and hole-transport layers of a perovskite solar cell is investigated. Incorporation of rGO into the mesoporous TiO2 matrix results in highly efficient solar cells with power conversion efficiency of up to 19.54 %.
[Communication]
Kyung Taek Cho, Giulia Grancini, Yonghui Lee, Dimitrios Konios, Sanghyun Paek, Emmanuel Kymakis, Mohammad Khaja Nazeeruddin
ChemSusChem, September 22, 2016, DOI: 10.1002/cssc.201601070. Read article
Immobilization of colloidal assemblies onto solid supports via a fast UV-triggered click-reaction is achieved. Transient assemblies of microparticles and colloidal materials can be captured and transferred to solid supports. The technique does not require complex reaction conditions, and is compatible with a variety of particle assembly methods.
[Communication]
Debora Walker, Dhruv P. Singh, Peer Fischer
Adv. Mater., September 22, 2016, DOI: 10.1002/adma.201603586. Read article
III–V on Si tandem solar cell has the potential for lower cost. Efficiency improvement of SiGe on Si solar cell was demonstrated by optimizing the back surface field. This SiGe cell can be used as the bottom cell in a III–V on Si tandem solar cell.
[rrl solar]
Dun Li, Xin Zhao, Li Wang, Brianna Conrad, Anastasia Soeriyadi, Anthony Lochtefeld, Andrew Gerger, Allen Barnett, Ivan Perez-Wurfl
Phys. Status Solidi RRL, September 21, 2016, DOI: 10.1002/pssr.201600231. Read article
Surface doping as dissolution plug: We present a surface-doping design for mitigating transition metal (TM) dissolution in LiNi0.5Mn1.5O4 (LNMO) nanoparticles. We use first-principles surface calculations to understand the characteristics of LNMO surfaces and origins of surface dissolutions, then design Ti-surface-doped (TSD) LNMO. TSD-LNMO experimentally shows reduced TM dissolutions and improved electrochemical performances.
[Full Paper]
Jin-Myoung Lim, Rye-Gyeong Oh, Duho Kim, Woosuk Cho, Kyeongjae Cho, Maenghyo Cho, Min-Sik Park
ChemSusChem, September 21, 2016, DOI: 10.1002/cssc.201600821. Read article
Phase-transfer catalysis: FeIII meso-tetra-(4-N-methyl-pyridyl) porphine (FeIIITMPyP) is found to catalyze oxygen reduction at the liquid/liquid interface. Based on the size-selective ion-transfer voltammetry at the nanoscopic liquid/liquid interface, the reaction is rationalized to proceed through the phase-transfer catalysis mechanism.
[Article]
Xiao Huang, Yaofang Xuan, Lisiqi Xie, Bin Su
ChemElectroChem, September 20, 2016, DOI: 10.1002/celc.201600480. Read article
A novel approach to characterize the electronic structure of transparent conductive oxides, namely, to distinguish between optically and transport-relevant states is presented. Consequently, "optical" and "electronic" band offsets at the CdTe/(Zn,Mg)O interface are derived and it is demonstrated that the "electronic" band offset is suitable for electron transport across the interface (a flat conduction band alignment of 0.02 ± 0.20 eV), while the "optical band offset" is not (a significant 0.48 ± 0.20 eV spike).
[Full Paper]
Douglas A. Duncan, Rueben Mendelsberg, Michelle Mezher, Kimberly Horsley, Samantha G. Rosenberg, Monika Blum, Gang Xiong, Lothar Weinhardt, Markus Gloeckler, Clemens Heske
Adv. Mater. Interfaces, September 20, 2016, DOI: 10.1002/admi.201600418. Read article
The dimensional crossover of MoS2 from 1D nanoribbons to 2D islands synthesized by the assembly of Mo and S atoms on Au(100) surface is studied. It is found that the thermodynamic instability of the armchair edges causes the 1D system to develop faceted zigzag edges, which manifests in the morphological evolution from 1D ribbons to 2D triangles as the system size increases.
[Full Paper]
Hai Xu, Zijing Ding, Chang Tai Nai, Yang Bao, Fang Cheng, Sherman J. R. Tan, Kian Ping Loh
Adv. Funct. Mater., September 20, 2016, DOI: 10.1002/adfm.201603887. Read article
Surface acoustic waves are induced in a nanoslit formed by room-temperature bonding of lithium niobate, and drive capillary drainage against over 1 MPa of filling pressure, offer femtoliter droplet manipulation, and provide a means to fractionate and deagglomerate particles.
[Full Paper]
Morteza Miansari, James R. Friend
Adv. Funct. Mater., September 20, 2016, DOI: 10.1002/adfm.201602425. Read article
Very thin polydopamine (PDA) coating with 20–30 nanometer thickness is prepared through self-polymerization of dopamine. This PDA nanocoating can generate high local heat upon near-infrared (NIR) irradiation in minutes, leading to the efficient killing of both Gram negative and positive bacteria, and fungus as well.
[Communication]
Wenxi Lei, Kefeng Ren, Tingting Chen, Xiachao Chen, Bochao Li, Hao Chang, Jian Ji
Adv. Mater. Interfaces, September 19, 2016, DOI: 10.1002/admi.201600767. Read article
Rationally designed hierarchical Au–TiO2 nanorod arrays (NRAs) are constructed on flexible carbon cloth. With the advantages of Au–TiO2–C systems, the Au–TiO2 NRAs on carbon cloth demonstrate high plasmon induced visible light photocatalysis activity and excellent circulating stability. The surface plasmon resonance-induced hot electrons transfer from Au nanoparticles to neighboring TiO2 accounts most for the enhanced visible light photocatalysis of the sample.
[Full Paper]
Huimin Shi, Xuejiao Wang, Mengjie Zheng, Xing Wu, Yiqin Chen, Zhengmei Yang, Guanhua Zhang, Huigao Duan
Adv. Mater. Interfaces, September 16, 2016, DOI: 10.1002/admi.201600588. Read article
Joining forces: Bimetallic iron–silver nanoparticles (NPs) can be synthesized by laser ablation, with surface-enhanced Raman spectroscopy (SERS) performances, ready responses to magnetic fields, and complete flexibility in surface coating, and used for the magnetic assembly of SERS substrates. Magnetic assembly allows a significant increase in the SERS signal of analytes compared with non-assembled NPs (see figure).
[Article]
Stefano Scaramuzza, Denis Badocco, Paolo Pastore, Diego F. Coral, Marcela B. Fernández van Raap, Vincenzo Amendola
ChemPhysChem, September 15, 2016, DOI: 10.1002/cphc.201600651. Read article
Leach away: Carbon-supported Pt–Cu alloy nanoparticles (Cu/Pt=2.6 on average) are used to study the influence of (electro)chemical leaching on their activity in the oxygen reduction reaction (ORR). ORR activity of the chemically leached nanoparticles was twice that of the original sample and was achieved by particles with a Cu-depleted alloy core topped by a Pt monolayer. Electrochemical leaching of this Cu-depleted material provided the highest ORR activity.
[Article]
Olga Petrova, Christian Kulp, Marga-Martina Pohl, Rik ter Veen, Lothar Veith, Thomas Grehl, Maurits W. E. van den Berg, Hidde Brongersma, Michael Bron, Wolfgang Grünert
ChemElectroChem, September 15, 2016, DOI: 10.1002/celc.201600468. Read article
[Full Paper]
Marek Mooste, Elo Kibena-Põldsepp, Leonard Matisen, Kaido Tammeveski
Electroanalysis, September 14, 2016, DOI: 10.1002/elan.201600451. Read article
Silicone nanofilaments (SNFs) are coated on glass beads and used as support material for silver nanoparticles (AgNPs) in water disinfection. The high surface area of SNFs significantly enhances the AgNP loading. Thus, the AgNP-SNF-nanocomposite-coated glass beads show superior antibacterial activity against E. coli compared to AgNP-coated glass beads without SNF.
[Full Paper]
Margrith Meier, Angela Suppiger, Leo Eberl, Stefan Seeger
Small, September 13, 2016, DOI: 10.1002/smll.201601072. Read article
Porous polymer for CO2 capture and heterogeneous catalysis: A new porous organic polymer (poly-divinylbenzene-co-triallyloxytriazine) has been synthesized through radical co-polymerization. The polymer showed good CO2 adsorption properties and excellent catalytic activity for the synthesis of 2-amino-4 H-chromenes under microwave irradiation.
[Full Paper]
Piyali Bhanja, Sauvik Chatterjee, Asim Bhaumik
ChemCatChem, September 12, 2016, DOI: 10.1002/cctc.201600840. Read article
A new hydrophobic/lipophobic surface with high liquid drop adhesion based on fluoroalkyl-silica is developed. This surface demonstrates superior confining capabilities, which could confine not only aqueous solutions, but also surfactant solutions and organic solutions. For the first time, the paper-based hydrophobic/lipophobic surface is adapted for biochemical sensing where aggressive liquids are involved.
[Full Paper]
Yue Zhang, Tingting Ren, Tong Li, Junhui He, Deyu Fang
Adv. Mater. Interfaces, September 12, 2016, DOI: 10.1002/admi.201600672. Read article
Pinning of the nanocrystal memories induced by high density of dangling bonds near the Pt nanoparticle (NP)/tunneling dielectric interface results in asymmetric charging/discharging characteristics of a Pt NP embedded MOS capacitor with intended nonvolatile memory applications with electron programming favored over hole programming. These dangling bonds are deemed to be an increasing function of the Pt NP surface coverage.
[Full Paper]
Somik Mukherjee, Haisheng Zheng, Keshab Gangopadhyay, Shubhra Gangopadhyay
Adv. Mater. Interfaces, September 12, 2016, DOI: 10.1002/admi.201600436. Read article
Spring loaded: A molecular spring (MS) system formed by a highly hydrophobic metal–organic framework (MOF) and water (see figure) with exceptional stability, efficiency, and operating pressure is reported. This is the first MS having such a combination of properties and the first nonhysteretic MOF-based heterogeneous lyophobic system. Mechanical and thermal characteristics of the MS are presented.
[Communication]
Yaroslav Grosu, Mian Li, Yun-Lei Peng, Dong Luo, Dan Li, Abdessamad Faik, Jean-Marie Nedelec, Jean-Pierre Grolier
ChemPhysChem, September 09, 2016, DOI: 10.1002/cphc.201600567. Read article
Interfacial coupling: Electron-transfer (ET)/ion-transfer (IT) coupling between ferrocene (Fc) and [Fe(CN)6]3− at the water/1,2-dichloroethane (DCE) interface is investigated by using pipette electrodes. These ET and IT reactions are completely coupled, and whether coupling mechanism 1 or 2 (see figure) dominates depends on the concentration ratio of the redox species in the two phases.
[Article]
Xin Zhang, Haomin Wang, Celeste Morris, Chaoyue Gu, Mingzhi Li, Lane Baker, Yuanhua Shao
ChemElectroChem, September 09, 2016, DOI: 10.1002/celc.201600234. Read article
Protein adsorption onto quantum dots immersed in human blood serum is characterized in situ by using dual-focus fluorescence correlation spectroscopy, revealing a thin, irreversibly bound protein adsorption layer.
[Full Paper]
Haixia Wang, Li Shang, Pauline Maffre, Siegfried Hohmann, Frank Kirschhöfer, Gerald Brenner-Weiß, Gerd Ulrich Nienhaus
Small, September 08, 2016, DOI: 10.1002/smll.201602283. Read article
Split-green fluorescence protein (sGFP) fragments are used as molecular glue to assemble plasmonic gold nanoparticles into surface-enhanced Raman scattering (SERS) nanoprobes with controlled hot spot geometry. Numerical modeling of a variety of nanocluster sizes and shapes indicate that near-infrared SERS enhancement of the GFP chromophore within hot spots can be achieved with factors of 108–109 that are sufficiently large for single molecule SERS detection.
[Full Paper]
Taerin Chung, Tugba Koker, Fabien Pinaud
Small, September 08, 2016, DOI: 10.1002/smll.201601631. Read article
[Review]
Daniel Miller, Daniel Dreyer, Christopher Bielawski, Donald Paul, Benny Freeman
Angew. Chem. Int. Ed., September 08, 2016, DOI: 10.1002/anie.201601509. Read article
An efficient methodology to tailor the crystal growth and functionality of highly dispersed metal nanoparticle is developed by employing exfoliated inorganic nanosheets as substrates. The selection of appropriate crystal structure of substrate nanosheet is fairly crucial in stabilizing atomically dispersed metal nanoparticles and also in optimizing their functionalities through the control of chemical interaction between metal and nanosheet.
[Full Paper]
Jiyoon Seo, Xiaoyan Jin, Minho Kim, In Young Kim, Yun Kyung Jo, Sandipan Bera, Nam-Suk Lee, Wan In Lee, Hyungjun Kim, Seong-Ju Hwang
Adv. Mater. Interfaces, September 07, 2016, DOI: 10.1002/admi.201600661. Read article
Recent development and applications of atomic layer deposition (ALD) in Li-based batteries, especially beyond Li-ion systems, are reviewed. The ALD technique has made a notable contribution to the Li-based batteries, including improving the specific capacity, cycle life, rate capability, and round-trip efficiency. Finally, suggestions for the further development of ALD techniques for these batteries are provided.
[Review]
Lu Ma, Ramsay B. Nuwayhid, Tianpin Wu, Yu Lei, Khalil Amine, Jun Lu
Adv. Mater. Interfaces, September 05, 2016, DOI: 10.1002/admi.201600564. Read article
The photovoltage and lifetime of the photo-excited carriers at the SrTiO3 surface drastically change with the SrRuO3 overlayers, as element specifically tracked by time-resolved core-level photoemission spectroscopy. The results show that the optical responses of oxide semiconductor heterostructures are designed by the band alignment scheme and they are tailored by the film growth.
[Communication]
Ryu Yukawa, Susumu Yamamoto, Kazuma Akikubo, Kaori Takeuchi, Kenichi Ozawa, Hiroshi Kumigashira, Iwao Matsuda
Adv. Mater. Interfaces, September 05, 2016, DOI: 10.1002/admi.201600527. Read article
Various ways of surface engineering electrode materials, selectively for lithium and sodium ion batteries, respectively, are highlighted. Emphasis is put on how the nanostructures and surface coating with conductive components intimately modify the electrode properties and finally boost the energy storage performance.
[Progress Report]
Jing Xu, Guichong Jia, Wenjie Mai, Hong Jin Fan
Adv. Mater. Interfaces, September 04, 2016, DOI: 10.1002/admi.201600430. Read article
Atomic layer deposition (ALD) can deposit high-quality compact thin films with good accuracy and low temperature, which may help to solve the challenges related to power conversion efficiency and stability of organometal halide perovskite solar cells. This review highlights the key developments using ALD in synthesizing basic building blocks and optimizing perovskite solar cell performances.
[Review]
Kaimo Deng, Liang Li
Adv. Mater. Interfaces, September 01, 2016, DOI: 10.1002/admi.201600505. Read article
Atomic layer deposition (ALD) is a technique of vapor phase depositions in which sequential dosing and purging of precursor vapors produce conformal and high quality thin films in nanoscale on a variety of structures. The ALD films have been successfully explored to improve the performance and long-term stability of sensitized solar cells.
[Progress Report]
Do Han Kim, Mark D. Losego, Qing Peng, Gregory N. Parsons
Adv. Mater. Interfaces, September 01, 2016, DOI: 10.1002/admi.201600354. Read article
The interaction between soft interfaces such as biological membranes is governed by their molecular composition. It is also closely linked to their structural response in terms of molecular conformations and elemental distributions to the process of bringing them into contact.
[Progress Report]
Emanuel Schneck
Adv. Mater. Interfaces, September 01, 2016, DOI: 10.1002/admi.201600349. Read article
A seedy story: The effect of chemical charging on the plasmonic behavior of silver metal nanoparticles (Ag MNPs) as redox catalysts is explored. Our results demonstrate that cadmium selenide quantum dot (Q-CdSe) seeds not only enhance the redox catalytic activity of Ag MNPs but also provide stability towards polarization of their plasmonic behavior.
[Article]
Pravin P. Ingole, Mohsin A. Bhat
ChemPhysChem, August 31, 2016, DOI: 10.1002/cphc.201600823. Read article
The adsorption of protein molecules from aqueous solution is significantly enhanced in presence of hexane vapor. The thermodynamic model assumes a double layer adsorption at the surface consisting of a primary adsorption layer consisting of protein and hexane molecules while the secondary layer is formed essentially by hexane molecules adsorbed from the hexane vapor phase.
[Full Paper]
Reinhard Miller, Eugene V. Aksenenko, Volodymyr I. Kovalchuk, Dmytro V. Trukhin, Yuri I. Tarasevich, Valentin B. Fainerman
Adv. Mater. Interfaces, August 31, 2016, DOI: 10.1002/admi.201600031. Read article
Surface species revealed: The formation of CO2 surface species on amine-grafted SBA-15 is observed through in situ FTIR spectroscopy. The results show that the structures of carbamate and carbamic acid species are different between primary and secondary amines, whereas only a small concentration of bicarbonate ions is observed on tertiary amines under ostensibly dry conditions.
[Full Paper]
Guo Shiou Foo, Jason J. Lee, Chia-Hsin Chen, Sophia E. Hayes, Carsten Sievers, Christopher W. Jones
ChemSusChem, August 30, 2016, DOI: 10.1002/cssc.201600809. Read article
Two faced: The morphological influence of Ir(1 1 1), Ir(1 1 0), and Ru(0 0 0 1) single crystals on oxide formation and the resulting oxygen evolution reaction activity is presented. Precise pretreatment control reveals distinct surface oxides on the studied single-crystalline model catalyst. These results provide guidelines for enhanced catalyst design.
[Full Paper]
Ebru Özer, Camillo Spöri, Tobias Reier, Peter Strasser
ChemCatChem, August 30, 2016, DOI: 10.1002/cctc.201600423. Read article
A piezoelectric nanogenerator composed of nanofibers of P(VDF-TrFE) and BaTiO3 nanostructures is demonstrated using a conducting carbon cloth as the current collector. Filling of interfiber spaces with BaTiO3 nanostructures results in enhanced performance, suggesting a crucial role of the interface polarization. A maximum power output of 28 μW cm−2 is realized and the device can successfully charge a smart phone.
[Full Paper]
Dipti Dhakras, Satishchandra Ogale
Adv. Mater. Interfaces, August 30, 2016, DOI: 10.1002/admi.201600492. Read article
The proposed low temperature, oxidative plasma process demonstrates utility for preferentially removing membranes from shape memory polymer embolic foams to increase fluid permeability and cellular infiltration. Other surface effects are also characterized, including time dependent hydrophobicity, cell spreading, and platelet attachment. The proposed process shows promise for developing embolic devices or tissue scaffolds.
[Communication]
Landon D. Nash, Nicole C. Docherty, Mary Beth B. Monroe, Kendal P. Ezell, James K. Carrow, Sayyeda M. Hasan, Akhilesh K. Gaharwar, Duncan J. Maitland
Macromol. Rapid Commun., August 29, 2016, DOI: 10.1002/marc.201600268. Read article
Tungsten disulfide nanotubes are coated with a conformal, humin-like polymeric shell by a simple method. The thickness of the shell is tunable, and the synthetic building blocks are commercially available. This surface modification opens the option for second-level functionalization and for the improved ability to incorporate the nanotubes and other transition metal chalcogenide nanostructures in polymeric matrices.
[Full Paper]
Hagit Sade, Jean-Paul Lellouche
Adv. Mater. Interfaces, August 29, 2016, DOI: 10.1002/admi.201600307. Read article
An ultrahigh-density cell microarray is developed, which is applicable for reverse cell transfection and performing high-throughput cell screenings. Surfaces patterned with superhydrophilic microspots separated by superhydrophobic barriers confine printed aqueous solutions and subsequently adherent cells within each microspot. Several factors in the system are identified and optimized that affect transfection efficiency and cytotoxicity.
[Full Paper]
Erica Ueda, Wenqian Feng, Pavel A. Levkin
Adv. Healthcare Mater., August 29, 2016, DOI: 10.1002/adhm.201600518. Read article
Hydrogen adsorbed on surfaces is involved in a variety of chemical processes while it exhibits vibrational and rotational dynamics in its adsorption potential. Furthermore, hydrogen exchanges an electron with surfaces having a significant effect on the surface electronic structure. In this personal account, we review our recent studies on surface nuclear dynamics, transport across surfaces, catalytic hydrogenation reactions, and charge transfer between the surface and hydrogen by using nuclear reaction analysis and resonance enhanced multiphoton ionization in combination with surface science techniques.
[Personal Account]
K. Fukutani, M. Wilde, S. Ogura
The Chemical Record, August 26, 2016, DOI: 10.1002/tcr.201600077. Read article
A facile and binder-free coating method, termed Langmuir–Blodgett–Scooping, is reported. The method takes advantage of Marangoni stresses and self-assembly to rapidly create functional coating films of various nanomaterials, with single-particle thickness resolution, at an air–water interface (left). Transfer of the film to a conventional separator yields membranes that enhance cathode material utilization in lithium–sulfur batteries (right).
[Communication]
Mun Sek Kim, Lin Ma, Snehashis Choudhury, Lynden A. Archer
Adv. Mater. Interfaces, August 25, 2016, DOI: 10.1002/admi.201600450. Read article
A new plasmonic active array, the so-called TopUp substrate, is introduced. It is prepared using a smart combination of a bottom-up process and a top-down prepared template structure. The desert-rose-like structures on gold templates are characterized and the application as a plasmonic substrate in analytical science is introduced, using the advantage of a strong field enhancement under surface-enhanced Raman spectroscopy conditions.
[Full Paper]
Sophie Patze, Uwe Huebner, Karina Weber, Dana Cialla-May, Juergen Popp
Adv. Mater. Interfaces, August 24, 2016, DOI: 10.1002/admi.201600549. Read article
A successful method using partially hydrolyzed amphiphilic polyhedral oligomeric silsesquioxane-poly (methyl methacrylate) as a surfactant and matrix to obtain brightly emitting composites comprising of NaYF4:Yb,Er nanoparticles is demonstrated. The infrared (IR) emitting composite shows an improved thermal stability and mostly single particle dispersion for 10 vol% of solids which leads to lower scattering losses and brighter IR emissions.
[Full Paper]
Xinyu Zhao, Yang Sun, Chaobin He, Mei Chee Tan
Adv. Mater. Interfaces, August 24, 2016, DOI: 10.1002/admi.201600334. Read article
Moral support: Affinity capturing and enrichment of a His6-tagged membrane protein (β-secretase) is demonstrated while it remains embedded in a continuous lipid membrane.
[Communication]
Anders Gunnarsson, Lisa Simonsson Nyström, Sabina Burazerovic, Jenny Gunnarsson, Arjan Snijder, Stefan Geschwindner, Fredrik Höök
ChemistryOpen, August 22, 2016, DOI: 10.1002/open.201600070. Read article
The adsorption of six electron donor–acceptor organic molecules on various sizes of graphene nanoflakes containing two common defects, double-vacancy (5-8-5) and Stone–Wales (55-77), indicates that the direction of charge transfer (CT) between graphene nanoflakes and molecules depends on the type of donor–acceptor organic molecule and not on the defect type and the size of the nanoflakes.
[Article]
Mehdi Shakourian-Fard, Zahra Jamshidi, Ganesh Kamath
ChemPhysChem, August 22, 2016, DOI: 10.1002/cphc.201600614. Read article
Modern catalysis research is associated with a shift from largely empirical approaches towards the rational design of improved catalytic processes. An important contribution to this development is due to the rise of quantum chemical methods, which have enabled researchers to resolve reactions at the atomistic level and thus gain a deeper understanding of catalytic processes. This review will show selected examples of how quantum chemical studies have advanced our understanding of how organic molecules react over metal catalysts, which is of eminent importance for various industrial processes.
[Personal Account]
Lyudmila Moskaleva, Cheng-chau Chiu, Alexander Genest, Notker Rösch
The Chemical Record, August 15, 2016, DOI: 10.1002/tcr.201600048. Read article
Layered double hydroxide aggregation: Mono-, multi-, and polyvalent anions adsorb on layered double hydroxide (LDH) platelets to different extents, leading to different charging and aggregation behavior in aqueous suspensions. Simple monovalent salts destabilize LDHs by charge screening, polyelectrolytes by charge neutralization, whereas multivalent ions destabilize them by both effects. Highly stable LDH particles can be obtained by surface modification with polymeric compounds.
[Review]
Marko Pavlovic, Paul Rouster, Tamas Oncsik, Istvan Szilagyi
ChemPlusChem, August 12, 2016, DOI: 10.1002/cplu.201600295. Read article
A strategy which combines photolithography and visible light induced surface initiated graft crosslinking polymerization to fabricate well-defined hierarchical complex 3D patterns on polymer substrate is developed. This method does not involve tedious pre-treatment steps and has great potential applications in the preparation of polymer-based multicomponent biomolecule microarrays.
[Communication]
Changwen Zhao, Bin He, Guan Wang, Yuhong Ma, Wantai Yang
Macromol. Rapid Commun., August 09, 2016, DOI: 10.1002/marc.201600307. Read article
[Full Paper]
Rejane M. P. Silva, Lucas C. Lima, Ivanise Gaubeur, Hugo B. Suffredini
Electroanalysis, August 05, 2016, DOI: 10.1002/elan.201600429. Read article
[Full Paper]
Magdalena Gebala, Fabio La Mantia, Pauline Eugene Michaels, Simone Ciampi, Bakul Gupta, Stephen G. Parker, Roya Tavallaie, J. Justin Gooding
Electroanalysis, August 05, 2016, DOI: 10.1002/elan.201600285. Read article
Manganese hex: The reversible reaction of surface manganese species on hexagonal SrMnO3 with O2 leads to the formation of manganese–superoxo species, which likely catalyze the selective oxidative transformation of various types of organic substrates into the desired oxygenated or dehydrogenated products.
[Full Paper]
Shuma Kawasaki, Keigo Kamata, Michikazu Hara
ChemCatChem, August 05, 2016, DOI: 10.1002/cctc.201600613. Read article
Periodic minimal interface: Attachment of iodine atoms onto the headgroup of an amphiphilic zwitterion leads to the formation of a bicontinuous cubic liquid-crystalline assembly with a primitive-type infinite periodic minimal surface. Halogen bonding between the iodine atoms and the anions plays an important role in controlling the interface curvature of the assembly.
[Communication]
Takahiro Ichikawa, Akiyoshi Okafuji, Takashi Kato, Hiroyuki Ohno
ChemistryOpen, August 02, 2016, DOI: 10.1002/open.201600054. Read article
Competing Interests: The potential of polymer-based synthetic mimics of antimicrobial peptides (SMAMPs) as active ingredients in antimicrobial layer-by-layer architectures is investigated. These systems are studied by zeta potential measurements, surface plasmon resonance spectroscopy, and antimicrobial assays. The charges of the polycationic SMAMPs are needed both for layer stability and antimicrobial activity. Therefore, the assembly conditions need to be carefully adjusted.
[Full Paper]
Franziska Dorner, Alicia Malek-Luz, Julia S. Saar, Sebastian Bonaus, Ali Al-Ahmad, Karen Lienkamp
Macromol. Chem. Phys., August 01, 2016, DOI: 10.1002/macp.201600268. Read article
The formation of different conducting polymer platforms with azido groups and the study of the surface hydrophobicity and water adhesion by post-functionalization with aromatic groups are reported.
[Full Paper]
Guilhem Godeau, Jessica N'Na, Frédéric Guittard, Thierry Darmanin
Macromol. Chem. Phys., August 01, 2016, DOI: 10.1002/macp.201600196. Read article
[Review]
Katherine W. Pulsipher, Ivan J. Dmochowski
Isr. J. Chem., July 29, 2016, DOI: 10.1002/ijch.201600017. Read article
As prepared and reduced form of 5 wt % Pd on CeZrO4-δ exhibit 100 % conversion for typical Suzuki C−C coupling reaction in 2.5 and 1 h, respectively; whereas, 1 wt % Pd photodeposited on reduced CeZrO4-δ support shows 100 % conversion in 20 min. Mechanistic investigations suggests a strong metal-support interaction through charge transfer, especially through oxygen vacancy sites on support.
[Full Paper]
Anand S. Burange, Rakesh Shukla, Avesh Kumar Tyagi, Chinnakonda S. Gopinath
ChemistrySelect, July 22, 2016, DOI: 10.1002/slct.201600655. Read article
Investigation of the surface properties with relaxation and reconstruction are crucial for understanding covellite stability and chemical reactivity. Three different cleavage planes along (001) direction leading to the exposition of the sulfur and copper atoms were investigated under DFT/Plane Waves formalism. Five relaxed surfaces arising from the cleavage planes were studied.
[Full Paper]
Antonio L. Soares, Egon C. Dos Santos, Ángel Morales-García, Hélio A. Duarte, Heitor A. De Abreu
ChemistrySelect, July 22, 2016, DOI: 10.1002/slct.201600422. Read article
Chain gang: On cooling, absorbed acetic acid crystallized and aggregated on the surface of Al2O3 in cluster chains, which slowed acetate formation by covering the surface active sites on Al2O3. Crystalline acetic acid reacted with Al2O3 itself.
[Full Paper]
Siqi Hou, Shengrui Tong, Ying Zhang, Fang Tan, Yucong Guo, Maofa Ge
Chem. Asian J., July 13, 2016, DOI: 10.1002/asia.201600402. Read article
From seeds to nanocrystals: Silicon and germanium nanocrystals (NCs) are attractive materials owing to their unique size and surface-dependent optical properties. The synthesis, surface functionalization, optical properties, biomedical applications, and cytotoxicity of these NCs are compared and contrasted (see figure).
[Review]
Benjamin F. P. McVey, Sujay Prabakar, Justin J. Gooding, Richard D. Tilley
ChemPlusChem, June 27, 2016, DOI: 10.1002/cplu.201600207. Read article
[Communication]
I. Khalakhan, R. Fiala, J. Lavková, P. Kúš, A. Ostroverkh, M. Václavů, M. Vorokhta, I. Matolínová, V. Matolín
Fuel Cells, June 15, 2016, DOI: 10.1002/fuce.201600016. Read article
Finding reaction paths: the artificial force induced reaction (AFIR) method has been developed for exploring chemical structures and reaction pathways using computers. A technical overview of the AFIR method is presented, together with some numerical examples. The numerical results demonstrate its high applicability and efficiency
[Personal Account]
Satoshi Maeda, Yu Harabuchi, Makito Takagi, Tetsuya Taketsugu, Keiji Morokuma
The Chemical Record, June 03, 2016, DOI: 10.1002/tcr.201600043. Read article
Anharmonic downward distortion (ADD), indicated by the arrows, plays the role of a guidepost in the scaled hypersphere search method for searching reaction pathways connecting EQ, TS, and DC on the potential energy surface, one after another, to complete global reaction route mapping.
[Personal Account]
Koichi Ohno
The Chemical Record, April 05, 2016, DOI: 10.1002/tcr.201500284. Read article
Novel dendrons for multipresentation: Water soluble, tetravalent glycodendrons that perform as powerful mannose-binding-lectin (MBL) antagonists are described. The stable scaffold adopted is a versatile tool for nested-layer multipresentation, which enabled the preparation of higher valency antagonists. All the constructs were tested as MBL-C antagonist by a surface-plasmon-resonance assay and showed binding with IC50 values in the low micromolar range.
[Communication]
Giulio Goti, Alessandro Palmioli, Matteo Stravalaci, Sara Sattin, Maria-Grazia De Simoni, Marco Gobbi, Anna Bernardi
Chem. Eur. J., January 15, 2016, DOI: 10.1002/chem.201504388. Read article.
Chains linked: Through the interplay of high-resolution scanning tunneling microscopy imaging and density functional theory calculations, the stepwise homocoupling of alkyl chains on Cu(110) is demonstrated, proceeding from the intact chain, via the dehydrogenative intermediates, to the final coupling products.
[Communication]
Liangliang Cai, Qiang Sun, Chi Zhang, Yuanqi Ding, Wei Xu
Chem. Eur. J., January 8, 2016, DOI: 10.1002/chem.201504152. Read article.
NPs@surfaces: Molecular cross-linkers direct the immobilization of two different gold nanoparticles (AuNPs) on different substrates. Aggregates and island-like films were obtained by using two electronically different cross-linkers and two types of AuNPs with hydrophilic or hydrophobic capping layers (see figure; Cit=citrate, TOAB=tetraoctylammonium bromide).
[Full Paper]
Sreejith Shankar, Meital Orbach, Revital Kaminker, Michal Lahav, Milko E. van der Boom
Chem. Eur. J., January 7, 2016, DOI: 10.1002/chem.201503297. Read article.
Porphyrin swap shop: Spectroscopic adsorption studies on two complementary model systems, atomically clean thin MgO(100) films and MgO nanocube powders, show that low-coordinated surface cations located in corner, edge, or step regions of the MgO surfaces are subject to ion exchange between adsorbed porphyrin molecules and the oxide surface.
[Full Paper]
Johannes Schneider, Matthias Franke, Martin Gurrath, Michael Röckert, Thomas Berger, Johannes Bernardi, Bernd Meyer, Hans-Peter Steinrück, Ole Lytken, Oliver Diwald
Chem. Eur. J., December 18, 2015, DOI: 10.1002/chem.201503661. Read article.
Inspired by nature: The ability of blue mussels and other marine creatures to attach to surfaces underwater and to make advanced materials have gained increasing awareness and interest amongst chemists. The combination of catechols and coordination chemistry to yield self-healing materials is the most recent sprout on this growing tree and is the focus of this Minireview.
[Minireview]
Marie Krogsgaard, Vicki Nue, Henrik Birkedal
Chem. Eur. J., November 12, 2015, DOI: 10.1002/chem.201503380. Read article.
The evolution of the solid electrolyte interface (SEI) in carbon-coated ZnFe2O4 (ZFO-C) anodes is studied by soft X-ray absorption spectroscopy (XAS). Experiments probe locally the SEI growth in the 2–100 nm range, using both total electron (TEY) and total fluorescence (TFY) yield techniques. XAS analysis shows that the SEI grows preferentially around the ZFO-C nanoparticles.
[Communication]
Andrea Di Cicco, Angelo Giglia, Roberto Gunnella, Stephan L. Koch, Franziska Mueller, Francesco Nobili, Marta Pasqualini, Stefano Passerini, Roberto Tossici, Agnieszka Witkowska
Adv. Energy Mater., July 03, 2015, DOI: 10.1002/aenm.201500642. Read article
Keeping it clean: A crystal growth mechanism of Bi5O7I nanobelts is proposed. The modified Bi5O7I composites show excellent degradation activity of malachite green and bactericidal effects against Pseudomonas aeruginosa, which may be attributed to the higher charge carrier separation efficiency of these heterojunction structures (see figure).
[Full Paper]
Chaohong Liu, Dun Zhang
Chem. Eur. J., June 30, 2015, DOI: 10.1002/chem.201500383. Read article.
© Wiley-VCH 2015.