Surfaces and Interfaces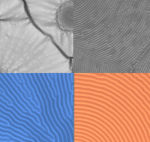 Interfaces and surfaces are where the action happens. Catalysis, molecular recognition, charge transfer, polymerization and many other critical processes take place at the boundary between one medium and another. With the need to integrate new materials into devices, and applications ranging from catalysis to sensors, medicine to self-cleaning surfaces, and displays to lasers, fundamental and applied studies of surface and interface processes and optimization are of critical importance in developing new technology to meet today's challenges. The selection of recent research articles presented below illustrates the vast potential of this field.
For recent reviews, see
RSS feed
Recent Articles
An investigation of bimetallic (Ag/Au) nanoslit films with little inter-diffusion and long-term stability focusing on optical properties and refractive index sensitivity as a comparison to pure gold nanoslit films was conducted by using a semi-analytical analysis, FDTD simulation and SPR optical transmission.
[Full Paper]
Taylor Mabe, Zheng Zeng, Bhawna Bagra, James Ryan, Jianjun Wei
ChemistrySelect, March 15, 2018, https://doi.org/10.1002/slct.201800576 Read article
Three novel Cd(II) complexes [Cd2LOEt(μ1,3-SCN)(η1-SCN)]n (1), [Cd4(LOEt)2(μ1,1-N3)3(η1-N3)]2 (2) and [Cd2(LOEt)(Cl)2.CH3OH].CH3OH(3) have been synthesized in presence of pseudohalides (SCN−/N3−) or Cl− as spacer and Schiff base ligand (H2LOEt) via self-assembly process. Ligand based luminescent properties of these complexes have been studied in DMSO solution at room temperature. Intermolecular interactions with respect to percentages of hydrogen bonding of cadmium (II) complexes 1–3 were quantified by Hirshfeld surface and fingerprint plots. Antibacterial and antibiofilm properties were investigated which is a potent inhibitor against both Gram-positive and Gram-negative bacterial strains.
[Full Paper]
Dhrubajyoti Majumdar, Jayanta Kumar Biswas, Monojit Mondal, Manabolu Surya Surendra Babu, Sourav Das, Ramesh K. Metre, Sreejith S. SreeKumar, Kalipada Bankura, Dipankar Mishra
ChemistrySelect, March 15, 2018, https://doi.org/10.1002/slct.201702970 Read article
Nitrogen, sulfur co-doped hollow carbon nanospheres are fabricated using surface-attached polymer monolayers as both nitrogen and sulfur sources, followed by removal of silica templates. The maximum electrocatalytic activity towards oxygen reduction reactions of the synthesized materials under basic media is comparable to that of commercial Pt/C catalysts (10 mV difference in half-wave potential).
[Full Paper]
Junbo Wang, Xiaofeng Li, Meiling Fan, Haining Zhang, Wenmao Tu
ChemistrySelect, March 15, 2018, https://doi.org/10.1002/slct.201702834 Read article
According to the two-stage kinetics model for polydopamine layer growth proposed in this paper, the maximum growth rate always occurs at a constant fraction (around 40%) of the final film thickness. Considering the great amount of effort put into the novel applications of polydopamine, understanding the kinetics of its layer growth is of great importance.
[Full Paper]
Mojtaba Habibi Rad, Ali Zamanian, Seyed Mohamad Mahdi Hadavi, Ali Khanlarkhani
Macromol. Chem. Phys., March 15, 2018, https://doi.org/10.1002/macp.201700505 Read article
Double perovskite Sr2FeMo2/3Mg1/3O6−δ shows very interesting structural/catalytic properties, excellent redox stability and high electrochemical performance. These excellent properties are related to the discovered anti-site defects, which is triggered by Mg doping for Mo and created by the occupancy of Fe at both B and B′-sites. The anti-site defects are found to be beneficial to ionic conductivity and electrochemical catalytic activity.
[Full Paper]
Zhihong Du, Hailei Zhao, Shanming Li, Yang Zhang, Xiwang Chang, Qing Xia, Ning Chen, Lin Gu, Konrad Świerczek, Yan Li, Tianrang Yang, Ke An
Adv. Energy Mater., March 15, 2018, https://doi.org/10.1002/aenm.201800062 Read article
Triply periodic minimal surfaces and related materials have attracted great attention due to their highly symmetrical structures and optimized properties. The formation, properties, and applications of related materials in natural and artificial systems are summarized. Lyotropic liquid-crystal phases, block copolymer systems, and their inorganic replicas are emphasized and discussed in detail.
[Review]
Lu Han, Shunai Che
Adv. Mater., March 15, 2018, https://doi.org/10.1002/adma.201705708 Read article
Light is shed on the effects of lead precursors on the performance of lead sulfide quantum dot (PbS QD) solar cells. The efficiency of PbS QDs synthesized from PbAc is significantly higher than that from PbO and the mechanism underneath is investigated. A new avenue is opened to improve the performance of PbS QD photovoltaic devices by lead precursor engineering.
[Communication]
Yongjie Wang, Kunyuan Lu, Lu Han, Zeke Liu, Guozheng Shi, Honghua Fang, Si Chen, Tian Wu, Fan Yang, Mengfan Gu, Sijie Zhou, Xufeng Ling, Xun Tang, Jiawei Zheng, Maria Antonietta Loi, Wanli Ma
Adv. Mater., March 15, 2018, https://doi.org/10.1002/adma.201704871 Read article
Surface fluorination of a low-temperature atomic layer deposited TiO2 film enables its use as electron selective layer in a planar n-i-p perovskite solar cells. Thanks to the fluorine rich surface of the TiO2 the adhesion with the perovskite massively improves, boosting the photovoltaic performance.
[Communication]
Valerio Zardetto, Francesco di Giacomo, Herbert Lifka, Marcel A. Verheijen, Christ H. L. Weijtens, Lachlan E. Black, Sjoerd Veenstra, Wilhelmus M. M. Kessels, Ronn Andriessen, Mariadriana Creatore
Adv. Mater. Interfaces, March 14, 2018, https://doi.org/10.1002/admi.201701456 Read article
The cell surface serves important functions such as the regulation of cell-cell and cell-environment interactions. The understanding and manipulation of the cell surface is important for a wide range of fundamental studies and therapeutic applications. Here, we review the recent development of chemical and enzymatic approaches to cell surface engineering with particular emphasis on discussing the advantages and limitations of each of these strategies.
[Minireview]
Xiaobao Bi, Juan Yin, Ashley Chen Guanbang, Chuan-Fa Liu
Chem. Eur. J., March 13, 2018, https://doi.org/10.1002/chem.201705049 Read article
Drug watch: A functional surface is designed for the practical detection of a synthetic cannabinoid model. The sensor can easily be miniaturized and adapted to analyze various illicit drugs.
[Communication]
Tulay Yilmaz Sengel, Emine Guler Celik, Cansu Aydogan, Zinar Pinar Gumus, Raif Ilktac, Eda Aydindogan, Mustafa Ciftci, Ebru Aldemir, Hakan Coskunol, Suna Timur, Yusuf Yagci
ChemElectroChem, March 13, 2018, https://doi.org/10.1002/celc.201800015 Read article
Let it rain: The dependence of stability and activity of Ni2P/SiO2 hydrodeoxygenation (HDO) catalysts on the support surface polarity is addressed in detail. The correlation between catalyst performance and support surface polarity indicates that, to prevent deactivation of the catalyst by water under reaction conditions, the affinity of the support towards polar substances must be decreased below a certain threshold value.
[Full Paper]
Michael Dierks, Zhengwen Cao, Jinesh C. Manayil, Jeganathan Akilavasan, Karen Wilson, Ferdi Schüth, Roberto Rinaldi
ChemCatChem, March 13, 2018, https://doi.org/10.1002/cctc.201702001 Read article
Join the dots: A norbornene-bearing carboxylic acid ligand can be added to quantum dot (QD) syntheses and generate "clickable" QDs. Further click reaction with a hydrophilic molecule yields water-soluble QDs that are suitable for cell-labeling applications.
[Communication]
Yue Chen, Jose M. Cordero, Hua Wang, Daniel Franke, Odin B. Achorn, Francesca S. Freyria, Igor Coropceanu, He Wei, Ou Chen, David J. Mooney, Moungi G. Bawendi
Angew. Chem. Int. Ed., March 13, 2018, https://doi.org/10.1002/anie.201801113 Read article
A redox-active coordination network was prepared in a solvent-free molten-metal process with the new multistate redox-active/multi-interactive ligand H2TPP. The ligand as well as the network can adopt multiple redox states, including mixed-valence (MV) states, owing to the two redox-active moieties in the H2TPP ligand.
[Communication]
Joo Yeon Ha, Jin Young Koo, Hiroyoshi Ohtsu, Yumi Yakiyama, Kimoon Kim, Daisuke Hashizume, Masaki Kawano
Angew. Chem. Int. Ed., March 13, 2018, https://doi.org/10.1002/anie.201713035 Read article
Manipulation and steering of hyperbolic surface polaritons in hexagonal boron nitride are demonstrated. The reflection, transmission, and scattering coefficients of polaritons are also investigated around the sample corner and alter these coefficients by changing the corner angle. A high-degree propagation steering of polaritons by tailoring the sample geometry is also accomplished.
[Communication]
Siyuan Dai, Mykhailo Tymchenko, Yafang Yang, Qiong Ma, Marta Pita-Vidal, Kenji Watanabe, Takashi Taniguchi, Pablo Jarillo-Herrero, Michael M. Fogler, Andrea Alù, Dimitri N. Basov
Adv. Mater., March 13, 2018, https://doi.org/10.1002/adma.201706358 Read article
Porous silicon (PSi) has attracted increasing attention for biomedical applications. With controllable geometry, tunable nanoporous structure, large pore volume, high specific surface area, and versatile surface chemistry, PSi exhibits superior performance as a versatile drug carrier. Recent progress in the use of PSi in drug delivery and cancer immunotherapy is reviewed and discussed.
[Review]
Wei Li, Zehua Liu, Flavia Fontana, Yaping Ding, Dongfei Liu, Jouni T. Hirvonen, Hélder A. Santos
Adv. Mater., March 13, 2018, https://doi.org/10.1002/adma.201703740 Read article
Polydimethylsiloxane substrates with 3D topographical features at micrometer and sub-micrometer levels are fabricated by photolithography and cell-imprinting techniques to mimic the in vivo physical cues communicated to stem cells and cardiomyocytes in the process of maturation. The substrates elicit faster differentiation and more-mature phenotype in the produced cardiomyocytes due to reorganization of cytoskeletal and chromatin architectures.
[Full Paper]
Parisa P. S. S. Abadi, Jessica C. Garbern, Shahed Behzadi, Michael J. Hill, Jason S. Tresback, Tiam Heydari, Mohammad Reza Ejtehadi, Nafis Ahmed, Elizabeth Copley, Haniyeh Aghaverdi, Richard T. Lee, Omid C. Farokhzad, Morteza Mahmoudi
Adv. Funct. Mater., March 13, 2018, https://doi.org/10.1002/adfm.201707378 Read article
A Novel flexible and ultrahigh energy density colloid-carbon cloth capacitor is reported. The enhanced surface/interface of carbon cloth support colloids increases the cycling stability of colloidal capacitor without decline of its activity.
[Communication]
Xitong Liang, Kunfeng Chen, Dongfeng Xue
Adv. Energy Mater., March 12, 2018, https://doi.org/10.1002/aenm.201703329 Read article
The interface-mediated transfer of gold nanohole arrays prepared via nanosphere lithography on zinc oxide sacrificial layers is shown. The high mechanical stability of the nanohole arrays allows for the preparation of free-standing nanomeshes and multilayer metal–insulator–metal structures.
[Full Paper]
Christian Stelling, Markus Retsch
Adv. Mater. Interfaces, March 12, 2018, https://doi.org/10.1002/admi.201800154 Read article
Fiber-shaped photodetectors are contructed based on ZnO/graphene Schottky junction to achieve excellent device performance. Together with the built-in electric field from the Schottky junction, the conformal contacts are in favor of the separation and transport of photoinduced carriers. Moreover, the device performance can be further improved by applying external compressive strain due to the piezoelectronic effect of ZnO.
[Full Paper]
Zhengfeng Zhu, Shalong Wang, Ying Zhu, Xuhai Liu, Yousheng Zou, Yu Gu, Dan Ju, Haibo Zeng
Adv. Mater. Interfaces, March 12, 2018, https://doi.org/10.1002/admi.201800136 Read article
The instability of CsPbBr3 nanocrystals (NCs) is attributed to not only the internal crystal structure feature but also to the external factors including the illumination, humidity, oxygen, and UV, which lead to the degradation and photoluminescence (PL) loss of CsPbBr3 NCs. Therefore, surface passivation plays a crucial role in the improvement of PL quantum yield, stability, and device performance.
[Review]
Dandan Yang, Xiaoming Li, Haibo Zeng
Adv. Mater. Interfaces, March 12, 2018, https://doi.org/10.1002/admi.201701662 Read article
Sheets gone dotty: Efficient photocatalysts for hydrogen production through water splitting have been achieved by decorating WS2/graphitic carbon nitride (CN) 2D/2D nanosheets with CdS quantum dots. The improved photocatalytic activity can be attributed to the highly efficient charge-transfer pathways built among the three components.
[Full Paper]
Yajun Zou, D. Jian-Wen Shi, Dandan Ma, Zhaoyang Fan, Linhao Cheng, Diankun Sun, Zeyan Wang, Chunming Niu
ChemSusChem, March 09, 2018, https://doi.org/10.1002/cssc.201800053 Read article
Surface and interface engineering: A surface and interface co-design on Ag2S@MoS2 core–shell nanowire heterojunctions was developed for enhanced photocatalytic H2 production under visible-light irradiation through steering the light shielding, interfacial charge-transfer ability, average charge-transfer distance, and number of reactive sites.
[Full Paper]
Lijie Bai, Xiaotong Cai, Jingjing Lu, Luna Li, Shuxian Zhong, Liang Wu, Peijun Gong, Jianrong Chen, Song Bai
ChemCatChem, March 09, 2018, https://doi.org/10.1002/cctc.201701998 Read article
Similar to stone pebbles on the seabed attracting marine organisms, the DNA-decorated silica nanoparticles reported here have a high affinity to live cells. This phenomenon can be exploited for cellular uptake studies and cell guidance on microstructured surfaces.
[Full Paper]
Arnold Leidner, Simone Weigel, Jens Bauer, Jens Reiber, Alessandro Angelin, Maximilian Grösche, Tim Scharnweber, Christof M. Niemeyer
Adv. Funct. Mater., March 09, 2018, https://doi.org/10.1002/adfm.201707572 Read article
Structurally colored micropatterns are created by simultaneously employing photonic bandgaps (PBGs) and surface plasmon resonance (SPR). Inverse opals with uniform nanohole arrays are subjected to regioselective gold deposition, which yields two distinct regions of PBG- and SPR-colored inverse opals. The dual-colored micropatterns show the unique shape of reflectance spectrum and novel optical responses, which are promising as advanced anticounterfeiting materials.
[Full Paper]
HanGyeol Lee, Tae Yoon Jeon, Su Yeon Lee, Seung Yeol Lee, Shin-Hyun Kim
Adv. Funct. Mater., March 09, 2018, https://doi.org/10.1002/adfm.201706664 Read article
The interfaces in all-solid-state Li–S batteries including metallic lithium| solid-state electrolytes (SSEs), SSEs|SSEs, and composite sulfur cathode|SSEs are surveyed and the corresponding approaches to handle the interface issues are proposed toward better electrochemical performance.
[Feature Article]
Junpei Yue, Min Yan, Ya-Xia Yin, Yu-Guo Guo
Adv. Funct. Mater., March 08, 2018, https://doi.org/10.1002/adfm.201707533 Read article
A novel flexible, unconditioned superoleophobic/superhydrophilic coating is proposed. The coated porous substrates have good performance in separating oil–water mixtures and stabilized oil-in-water emulsions. Of particular interest, the treated surface has a controllable drivability of oil droplets. The mechanical durability of coated surfaces substantially increases by applying the proposed ferroconcrete-like structure.
[Full Paper]
Feiran Li, Ziran Wang, Suichu Huang, Yunlu Pan, Xuezeng Zhao
Adv. Funct. Mater., March 08, 2018, https://doi.org/10.1002/adfm.201706867 Read article
A DNA origami flexor powered by the thermo-responsive properties of poly(N-isopropylacrylamide) is demonstrated. The actuation mechanism provides a convenient, easy to incorporate, biocompatible route to control the conformation of DNA origami nanomachines using external stimuli.
[Full Paper]
Vladimir A. Turek, Rohit Chikkaraddy, Sean Cormier, Bill Stockham, Tao Ding, Ulrich F. Keyser, Jeremy J. Baumberg
Adv. Funct. Mater., March 08, 2018, https://doi.org/10.1002/adfm.201706410 Read article
Mechanics at work! Electronic structure calculations and dynamics simulations reveal that a nearby unpaired nucleobase accelerates and changes the initial excited state isomerization dynamics and mechanism of an azobenzene that is covalently attached to DNA duplexes.
[Communication]
Dan Wu, Ya-Ting Wang, Wei-Hai Fang, Ganglong Cui, Walter Thiel
Chem. Asian J., March 07, 2018, https://doi.org/10.1002/asia.201800006 Read article
Hollow nanowire array, or "nanotraw", was recently developed to penetrate cell membrane and to provide temporal and dose control of the delivery of biomolecules into cells. In this work, a simple approach of preparing nanostraws with different structures including various diameters, lengths, and densities is developed, and their applications in gene transfection are explored.
[Full Paper]
Gen He, Hui-Jiuan Chen, Di Liu, Yuping Feng, Chengduan Yang, Tian Hang, Jiangming Wu, Yuhong Cao, Xi Xie
Adv. Mater. Interfaces, March 07, 2018, https://doi.org/10.1002/admi.201701535 Read article
Lithium-ion battery cathode surfaces are decorated with alkylphosphonate self-assembled monolayers (SAMs). Electrochemical characterization shows that alkylphosphonate layer choice impacts electrochemical behavior, a consequence of the affinity of the SAM with the battery electrolyte. Computational studies report on SAM-electrolyte and SAM-cathode stability. Lithium-ion half cells constructed with SAM modified cathodes show that surface modification leads to reduction in capacity fade.
[Full Paper]
Bruno G. Nicolau, Aaron Petronico, Kendra Letchworth-Weaver, Yasaman Ghadar, Richard T. Haasch, Julio A. N. T. Soares, Ryan T. Rooney, Maria K. Y. Chan, Andrew A. Gewirth, Ralph G. Nuzzo
Adv. Mater. Interfaces, March 07, 2018, https://doi.org/10.1002/admi.201701292 Read article
The performance of functional polymer interfaces is not only determined by the type of tethered macromolecule, but critically rests on the density of the grafted chains. The key characteristics of the current methods for grafting-density determination are quantitatively assed, while, concomitantly, a perspective is provided for the development of advanced and direct methods to assess this critical parameter.
[Progress Report]
Lukas Michalek, Leonie Barner, Christopher Barner-Kowollik
Adv. Mater., March 07, 2018, https://doi.org/10.1002/adma.201706321 Read article
A series of recently reported on-surface syntheses of low-dimensional carbon nanostructures with atomic precision is reviewed and summarized, including graphene-derived nanostructures and the emerging carbon nanostructures with acetylenic scaffolding (i.e., metalated carbyne). It is hoped that this on-surface synthesis strategy will continue to push the boundaries of organic chemistry, surface science, and materials science.
[Review]
Qiang Sun, Renyuan Zhang, Jun Qiu, Rui Liu, Wei Xu
Adv. Mater., March 07, 2018, https://doi.org/10.1002/adma.201705630 Read article
Hierarchically structured ZSM-5 zeolites (HSZ) were synthesized and passivated by dealumination or CLD of TEOS. Surface-passivated HSZ showed remarkably enhanced shape selectivity (p-X selectivity) and improved catalytic activity than the microporous ZSM-5 counterparts in the model reaction of o-X isomerization.
[Full Paper]
Jian Lv, Zile Hua, Jian Zhou, Zhicheng Liu, Hangle Guo, Jianlin Shi
ChemCatChem, March 06, 2018, https://doi.org/10.1002/cctc.201800044 Read article
Next generation spintronics faces the integration of molecular-based and/or 2D materials with traditional inorganic ones. This represents the formation of new hybrid interfaces with a non-innocent role in the performance of the devices. This personal account summarises different interfaces found in the most common multilayer spintronic devices based on molecules. One step forward we consider as perspective the potential of the integration of molecular functionalized 2D materials into the devices and the formation of hybrid smart interfaces based on stimuli-responsive molecular systems.
[Personal Account]
Alicia Forment-Aliaga, Eugenio Coronado
Chem. Rec., March 05, 2018, https://doi.org/10.1002/tcr.201700109 Read article
Fabricating nano-chameleons: A universal wet-chemical shell-by-shell coating procedure resulting in colloidal titanium dioxide (TiO2) and iron oxide (Fe3O4) nanoparticles with dynamically and reversibly tunable surface energies is reported. As a result, the bilayer coating process enables controlled fabrication of nanoparticles with colloidal stability in fluorocarbons, hydrocarbons, and water.
[Full Paper]
Lukas Zeininger, Lisa M. S. Stiegler, Luis Portilla, Marcus Halik, Andreas Hirsch
ChemistryOpen, March 05, 2018, https://doi.org/10.1002/open.201800011 Read article
Surface-enhanced Raman scattering (SERS)-based approaches to detect and characterize antibiotic-resistant bacteria are reviewed in this contribution. SERS technologies hold promise to enable rapid detection and fundamental understanding of resistance mechanisms. This review focuses on SERS-active nanomaterials (nanoparticles and nanostructured surfaces) for bacterial detection and SERS-based detection of antibiotic-resistant bacteria. Recent developments in SERS-based antibiotic susceptibility testing and bacterial mapping are also covered.
[Review]
Daniel D. Galvan, Qiuming Yu
Adv. Healthcare Mater., March 05, 2018, https://doi.org/10.1002/adhm.201701335 Read article
How does a crystal grow? The appearance of the substrate-induced phase of a benzothiophene derivative is studied. Samples include thin films prepared by solution processing and single crystals grown from different solvents. The polymorphic structures of the films can be differentiated by means of mid-IR spectroscopy, whereas lattice phonon Raman spectroscopy is applicable to thicker films and crystals (see figure).
[Article]
Benedikt Schrode, Andrew O. F. Jones, Roland Resel, Natalia Bedoya, Robert Schennach, Yves Henri Geerts, Christian Ruzié, Michele Sferrazza, Aldo Brillante, Tommaso Salzillo, Elisabetta Venuti
ChemPhysChem, March 02, 2018, https://doi.org/10.1002/cphc.201701378 Read article
Under pressure: Near-ambient pressure scanning tunneling microscopy is used to reveal reversible oxygen-driven phase transitions on the Ni(1 1 1) model catalyst. The pressure-dependent nickel oxide formation could affect catalytic activity, which is investigated carefully using direct in situ observations at elevated pressures.
[Full Paper]
Myung Cheol Noh, Jeongjin Kim, Won Hui Doh, Ki-Jeong Kim, Jeong Young Park
ChemCatChem, March 02, 2018, https://doi.org/10.1002/cctc.201702002 Read article
Using different acids to etch the substrate is adopted to fabricate different architectures of electrode materials through modified reaction interfaces. Based on the method, tunable performance of Ni3S2 for SIBs is realized. This method can be extended to other metal oxides, sulfides, etc. This study is a valuable example how the interfaces can be manipulated during the crystal growing process.
[Full Paper]
Xiaosheng Song, Xifei Li, Zhimin Bai, Bo Yan, Dejun Li
Adv. Mater. Interfaces, March 02, 2018, https://doi.org/10.1002/admi.201701684 Read article
Nanoalloys are a playground to establish structure-properties relationships within the nano-matter. Rational design of the synthesis parameters (oxidation state of precursors, reaction temperature, stoichiometry) gives unique access to nanoparticles with well-defined surface. Reactivity of nanoparticles under environmental conditions is investigated. In situ microscopy, near-ambient-pressure x-ray photoelectron spectroscopy and soft x-ray absorption spectroscopy highlight complex transformation of the nanoparticles under O2, H2 and reactive gas mixtures.
[Personal Account]
Sophie Carenco
Chem. Rec., March 01, 2018, https://doi.org/10.1002/tcr.201700106 Read article
Robust TiO2 nanosheets: Ultrathin TiO2 nanosheets of about 4 nm are uniformly decorated onto the surface of silica-modified reduced graphene oxide (RGO). These robust TiO2 nanosheets interconnect each other and form a unique net-like architecture. Significantly, the TiO2@RGO products show superior structural stability and excellent photocatalytic activity for degradation of organic dyes.
[Full Paper]
Minghong Wu, Lanbing Gu, Qiong Wang, Chao Wang, Haijiao Zhang
ChemNanoMat, March 01, 2018, https://doi.org/10.1002/cnma.201700369 Read article
Light-induced surface modification of natural plant microparticles increases surface hydrophilicity for interfacial science and cellular applications. The modification of surface chemistry provides tunable control over particle wetting properties, emulsification characteristics, and particle/cell adhesion.
[Full Paper]
Ee-Lin Tan, Michael G. Potroz, Gaia Ferracci, Joshua A. Jackman, Haram Jung, Lili Wang, Nam-Joon Cho
Adv. Funct. Mater., March 01, 2018, https://doi.org/10.1002/adfm.201707568 Read article
Inspired by intracellular protein–nucleic acid binding events that often occur at nanoscale biointerface, here a high-performance trans-scale functional interface capable of considerably enhancing in vitro DNA-enzyme interaction is reported. The high-curvature nanostructuring surface affords high probe density and absolute molecular numbers, accelerates interfacial biomolecular diffusions, allows probe molecules to be easily accessible, and enables ultrasensitive detection of miRNA.
[Full Paper]
Lei Ye, Fan Yang, Yuanlin Ding, Haibin Yu, Lin Yuan, Qi Dai, Yujie Sun, Xiaoxue Wu, Yang Xiang, Guo-Jun Zhang
Adv. Funct. Mater., March 01, 2018, https://doi.org/10.1002/adfm.201706981 Read article
The adsorption controversy: The adsorption orientation of adenine on gold and silver surfaces has been a matter of debate. The many, and often conflicting, reports of adenine adsorption on nanoparticles, electrodes, and other surfaces are discussed herein.
[Minireview]
Scott G. Harroun
ChemPhysChem, February 28, 2018, https://doi.org/10.1002/cphc.201701223 Read article
The cathode plays an important role in the performance of a battery and accounts for the majority of the costs. Cobalt oxides are the most used cathode materials for lithium-ion batteries. This review discusses the disadvantages of these cathodes and presents various methods to improve the electrochemical performance as well as the capacity lifespan.
[Review]
Zhongchen Tian, Hui Yu, Zhong Zhang, Xijin Xu
CBEN, February 28, 2018, https://doi.org/10.1002/cben.201700008 Read article
Multiple interfaces in polyaniline-based ternary hybrid nanomaterials are designed to decouple the thermoelectric parameters so that power factor can be largely enhanced. The optimized Te-multiwalled carbon nanotube/polyaniline hybrid film shows competitive thermoelectric performances and good mechanical properties. Moreover, this strategy is economical with reduced consumption of Te.
[Full Paper]
Yao Wang, Chao Yu, Ming Sheng, Silong Song, Yuan Deng
Adv. Mater. Interfaces, February 28, 2018, https://doi.org/10.1002/admi.201701168 Read article
Binary colloidal crystal (BCC) surfaces with variable topographies are fabricated via an evaporation-induced method. A thin coating with identical chemistry is deposited on top of the different BCC topographies using an allylamine plasma polymer (AAMpp). The BCC surfaces with micrometer-sized topography can easily trap bacteria and delay biofilm formation despite the presence of the highly adhesive AAMpp.
[Full Paper]
Hitesh Pingle, Peng-Yuan Wang, Helmut Thissen, Peter Kingshott
Small, February 27, 2018, https://doi.org/10.1002/smll.201703574 Read article
Easily fabricated photomobile liquid-crystalline polymer films are developed using N-benzylideneaniline as a photoresponsive mesogenic crosslinker. Upon exposure to UV light, the film exhibits macroscopic bending and then spontaneously reverts to the initial shape when the light is turned off. The bending behavior is affected by the surface composition of the film determined by the preparation process.
[Full Paper]
Mizuho Kondo, Kotaro Makino, Kazutoshi Miyake, Yoshiaki Matsuo, Ryohei Fukae, Nobuhiro Kawatsuki
Macromol. Chem. Phys., February 26, 2018, https://doi.org/10.1002/macp.201700602 Read article
A light matter: The discovery of new plasmonic amorphous materials might offer new means of light–matter interactions, thus leading to exciting opportunities for their practical application (see figure). This review focuses on amorphous plasmonic materials and summarizes state-of-the art experiments on these materials for enhanced localized surface plasmon resonances.
[Focus Review]
Chuanhui Zhu, Qun Xu
Chem. Asian J., February 23, 2018, https://doi.org/10.1002/asia.201701722 Read article
[Microreview]
Tomoyuki Haraguchi, Kazuya Otsubo, Hiroshi Kitagawa
Eur. J. Inorg. Chem., February 20, 2018, https://doi.org/10.1002/ejic.201701234 Read article
A method for making high surface area hybrid materials (up to 130 m2 g−1) consisting of grafted Ti sites on chitosan is described. Control over Ti grafting conditions is shown to induce the self-organization into a unique spatial pattern. This pattern is correlated to cooperative interactions between Ti and the primary amines during catalytic testing.
[Full Paper]
Christine Khoury, Oz M. Gazit
ChemNanoMat, February 20, 2018, https://doi.org/10.1002/cnma.201700358 Read article
Hard graft: Carbon functionalization is investigated by using diazonium chemistry in the presence of 2,2-diphenylpicrylhydrazyl (DPPH). Previously assumed to be caused by radical capture, the control mechanism is in fact based on a redox reaction involving the reduced form of DPPH. The approach is extended to the use of substituted benzoquinones as grafting inhibitors and can produce modulated surface coverages.
[Article]
Isidoro López, Marius Cesbron, Eric Levillain, Tony Breton
ChemElectroChem, February 19, 2018, https://doi.org/10.1002/celc.201701331 Read article
The booming solid-state sodium batteries, based on solid-state electrolytes (SSEs), have the promise to be potential alternatives to organic liquid systems due to their improved safety and higher energy density. Recent progress in SSEs, including solid polymer electrolytes, composite polymer electrolytes, inorganic solid electrolytes, etc. and their potential application in solid-state batteries, are reviewed.
[Review]
Chenglong Zhao, Lilu Liu, Xingguo Qi, Yaxiang Lu, Feixiang Wu, Junmei Zhao, Yan Yu, Yong-Sheng Hu, Liquan Chen
Adv. Energy Mater., February 19, 2018, https://doi.org/10.1002/aenm.201703012 Read article
Na+ superionic conductor-type solid electrolyte LAGP (Li1.5Al0.5Ge0.5P3O12) shows favorable conductivity as well as good mechanical strength to prevent Li dendrite penetration. However, the instability of LAGP with Li metal remains a great challenge. An amorphous Ge thin film is sputtered on an LAGP surface to suppress side reactions and produce an intimate contact between Li anode and LAGP.
[Communication]
Yijie Liu, Chao Li, Bojie Li, Hucheng Song, Zhu Cheng, Minrui Chen, Ping He, Haoshen Zhou
Adv. Energy Mater., February 19, 2018, https://doi.org/10.1002/aenm.201702374 Read article
Shed some light: Owing to surface plasmon resonance, Pt1Au2 nanodendrites display 1.8-fold enhancements in catalytic activity under visible-light irradiation compared to that under dark conditions, showing great potential for serving as highly efficient photoelectrocatalysts for liquid fuel oxidation and beyond.
[Article]
Hui Xu, Pingping Song, Jin Wang, Fei Gao, Yangping Zhang, Jun Guo, Yukou Du, Junwei Di
ChemElectroChem, February 15, 2018, https://doi.org/10.1002/celc.201701345 Read article
Surface attraction: The affinity of the water layer to the surface is observed to significantly affect the performance of free energy calculation methods, especially at the region close to the surface (see figure). Three well-established computational algorithms are systemically compared and evaluated to compute the adsorption free energy of small molecules on graphene and hydroxyapatite.
[Article]
Qichao Wei, Weilong Zhao, Yang Yang, Beiliang Cui, Zhijun Xu, Xiaoning Yang
ChemPhysChem, February 13, 2018, https://doi.org/10.1002/cphc.201701241 Read article
The spontaneous emission lifetime of organic chromophores located near hyperbolic metamaterial (HMM) multilayer nanostructures is independent of the number of pairs in the surface plasmon polaritons, and emission interference dominant regimes, while it decreases in the hyperbolic dispersion dominant regime. The spontaneous emission lifetime is similarly affected by transverse positive and transverse negative HMMs.
[Full Paper]
Kwang Jin Lee, Yeon Ui Lee, Sang Jun Kim, Pascal André
Adv. Mater. Interfaces, February 13, 2018, https://doi.org/10.1002/admi.201701629 Read article
Hats off: The MnOx/La0.8Sr0.2MnO3-δ heterostructure is constructed through the selective dissolution of La and Sr cations and exposure to Mn cations. MnOx/La0.8Sr0.2MnO3-δ exhibits improved electrocatalytic activity towards the oxygen reduction reaction in alkaline solution. This work provides a facile surface engineering strategy (i. e. HNO3 treatment) for promoting the ORR activity of perovskite oxides.
[Article]
Jing Yu, Dengjie Chen, Mattia Saccoccio, Kwunyu Lam, Francesco Ciucci
ChemElectroChem, February 12, 2018, https://doi.org/10.1002/celc.201701248 Read article
The LaAlO3/SrTiO3 (LAO/STO) heterointerfaces show the giant and reversible resistance switching behavior in the BiFeO3 (BFO)/LAO/STO device. The electroresistance ratio is as large as 102 and the photo-dark resistance ratio >20 at LAO/STO interface. The reversible resistance switching and photoresponse are attributed to ferroelectric polarization in the BFO layer.
[Full Paper]
Zhaomeng Gao, Xiushi Huang, Pei Li, Longfei Wang, Ling Wei, Weifeng Zhang, Haizhong Guo
Adv. Mater. Interfaces, February 12, 2018, https://doi.org/10.1002/admi.201701565 Read article
Surface plasmon resonance effect of metal nanostructures is established as an efficient and attractive strategy to boost visible-light or even near-infrared-responsive photo-electrochemical water splitting devices for substantial solar-to-chemical energy conversion. In this review article, different plasmonic metal/semiconductor nanoarchitectures including planar thin films, 1D composited, and 3D spatially hierarchical heterostructures are comprehensively and systematically elucidated.
[Review]
Fang-Xing Xiao, Bin Liu
Adv. Mater. Interfaces, February 12, 2018, https://doi.org/10.1002/admi.201701098 Read article
Calling the Shottky: Heterojunctions (10 cm2) between ZnO and carbon nanotube (CNT) fiber sheets were synthesized in situ directly onto the CNT array to result in a bulk Schottky junction with a built-in current collector of CNTs (see figure). Photoconductivity measurements were performed to prove the charge transfer through the interface. The resulting hybrid was shown to be piezoresistive and piezoelectric under transverse compression.
[Full Paper]
Alfonso Monreal-Bernal, Juan J. Vilatela
ChemPlusChem, February 09, 2018, https://doi.org/10.1002/cplu.201700522 Read article
Direct 3D printing of reactive agitating impellers for water treatment is prepared via 3D printing and surface activation strategy. They exhibit excellent catalytic performance and stability in different heterogeneous reactions (Fenton reaction and heavy metal removal), and can be conveniently enlarged for practical applications with no significant decline of catalytic performance.
[Full Paper]
Xueyan Sun, Ying Yan, Lijing Zhang, Guangxin Ma, Yang Liu, Yongxian Yu, Qi An, Shengyang Tao
Adv. Mater. Interfaces, February 09, 2018, https://doi.org/10.1002/admi.201701626 Read article
Hymn to HER: Surface charge redistribution after nitrogen modulation simultaneously facilitates formation of H2 from low-coordinated oxygen (LCO) sites and desorption of OHad− from nickel sites, which in turn promotes the initial water adsorption step and subsequent water dissociation. The modulated NiO, which is rich in LCO atoms, exhibits significantly enhanced activity and robust stability for hydrogen evolution in alkaline environments.
[Communication]
Le Zhang, Peng Fei Liu, Yu Hang Li, Meng Yang Zu, Xu Li, Zheng Jiang, Yun Wang, Huijun Zhao, Hua Gui Yang
ChemSusChem, February 08, 2018, https://doi.org/10.1002/cssc.201702371 Read article
[Full Paper]
Eden E. L. Tanner, Richard G. Compton
Electroanalysis, February 07, 2018, https://doi.org/10.1002/elan.201700807 Read article
[Full Paper]
Yuan Liu, Yunxia Hu, Sui Wang, Zhiyong Guo, Yufang Hu
Electroanalysis, February 07, 2018, https://doi.org/10.1002/elan.201700660 Read article
A random copolymer of polyhedral oligomeric silsesquioxane (POSS) methacrylate and 2-(methacryloyloxy)ethyl phosphorylcholine (MPC) improves both surface and bulk properties. It is found that only the POSS bearing ethyl group induces the increased mechanical strength, low surface wettability, and cellular attachment. The finding is anticipated to be tuned for both surface and bulk functions of poly-MPC for biomedical applications.
[Full Paper]
Suchismita Chatterjee, Takuya Matsumoto, Takashi Nishino, Tooru Ooya
Macromol. Chem. Phys., February 05, 2018, https://doi.org/10.1002/macp.201700572 Read article
[Full Paper]
Kutay Icoz, Mehmet Cagri Soylu, Zeynep Canikara, Ekrem Unal
Electroanalysis, February 05, 2018, https://doi.org/10.1002/elan.201700789 Read article
[Personal Account]
Wei Ma, Hui Wu, Yuji Higaki, Atsushi Takahara
Chem. Rec., January 17, 2018, https://doi.org/10.1002/tcr.201700093 Read article
A photoamine generator on a silicon wafer surface is activated by UV light in the presence of N-carboxyanhydrides (NCA) monomer. This triggered the NCA ring-opening grafting from NCA polymerization and the formation of polypeptide polymer brushes. Extensive analysis by X-ray photoelectron spectroscopy, ellipsometry, and time-of-flight secondary ion mass spectroscopy confirmed the presence of grafted polypeptide.
[Communication]
Timo Stukenkemper, Xavier Paquez, M. W. G. M. Verhoeven, Emiel J. M. Hensen, Aylvin A. Dias, Dermot F. Brougham, Andreas Heise
Macromol. Rapid Commun., January 15, 2018, https://doi.org/10.1002/marc.201700743 Read article
Breath figure provides a convenient approach to fabricating the honeycomb-like substrates with highly ordered hexagonal pore arrays. There are many strategies to functionalize the honeycomb films for biological applications, including modulating chemistry, wettability, and morphological parameters. The honeycomb films exhibit high potential in biological fields including for cell scaffold, antibacteria, bio-macromolecule arrays, bioseparation, and biosensors.
[Progress Report]
Shuangshuang Chen, Su Gao, Jiange Jing, Qinghua Lu
Adv. Healthcare Mater., January 15, 2018, https://doi.org/10.1002/adhm.201701043 Read article
A facile approach to construct binary poly(N-isopropylacrylamide)/ poly[poly(ethylene glycol) methyl ether methacrylate] (POEGMA) brushes pattern is developed for controlled cell adhesion. PNIPAAm chains capture and release cells by thermoresponsiveness while POEGMA chains capture diseased cells specifically, inducing a switch of normal RBCs arrays to hemolytic RBCs arrays on the pattern with temperature.
[Communication]
Jianwen Hou, Lele Cui, Runhai Chen, Xiaodong Xu, Jiayue Chen, Ligang Yin, Jingchuan Liu, Qiang Shi, Jinghua Yin
Macromol. Rapid Commun., January 04, 2018, https://doi.org/10.1002/marc.201700572 Read article
Show me the light: Recently, optical techniques, including light extraction, recombination zone probing and spectral filtering based on the microcavity effect and localized surface plasmon resonance from metal nanoparticles, have been shown to improve the performance of light-emitting electrochemical cells. This Minireview provides an overview of these novel optical techniques.
[Minireview]
Hai-Ching Su
ChemPlusChem, January 03, 2018, https://doi.org/10.1002/cplu.201700455 Read article
Recently, a new conceptual paradigm, nanoarchitectonics, has been proposed to combine nanotechnology and other methodologies including supramolecular chemistry, self-assembly and self-organization to satisfy major features of nanoscience and promote the creation of functional materials and systems. In this account article, our recent research results on materials development based on the nanoarchitectonics concept are summarized.
[Personal Account]
Katsuhiko Ariga, Taizo Mori, Lok Kumar Shrestha
Chem. Rec., December 04, 2017, https://doi.org/10.1002/tcr.201700070 Read article
In this review we highlight the latest progress of CB[n]-mediated host-guest complexes on surface with special attention to stimuli-responsive studies. Stimulus-responsive systems by pH, light or electrochemistry are attractive as such systems offer advantages such as dynamicity and reversibility, so that they are able to function as molecular machines or mimic molecular systems from nature.
[Review]
Maike Wiemann, Pascal Jonkheijm
Isr. J. Chem., November 23, 2017, https://doi.org/10.1002/ijch.201700109 Read article
Polydopamine based colloids are an important class of functional materials because they integrate bioinspired polydopamine chemistry from natural melanin and adhesive proteins secreted in mussel foots with colloidal science. We thereby review the recent progress in the synthesis and applications of polydopamine based colloidal materials.
[Personal Account]
Ziwei Deng, Bin Shang, Bo Peng
Chem. Rec., November 10, 2017, https://doi.org/10.1002/tcr.201700051 Read article
© Wiley-VCH 2016.