Surfaces and Interfaces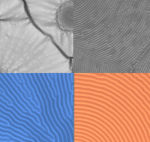 Interfaces and surfaces are where the action happens. Catalysis, molecular recognition, charge transfer, polymerization and many other critical processes take place at the boundary between one medium and another. With the need to integrate new materials into devices, and applications ranging from catalysis to sensors, medicine to self-cleaning surfaces, and displays to lasers, fundamental and applied studies of surface and interface processes and optimization are of critical importance in developing new technology to meet today's challenges. The selection of recent research articles presented below illustrates the vast potential of this field.
For recent reviews, see

RSS feed
Recent Articles
Postpromotion with iron: Trace amount of Fe promoters selectively decorated on the Au surface efficiently activate an inactive Au/SiO2 catalyst for CO oxidation. After oxidation of Fe2+ to Fe3+, Au nanoparticles collect the hydrolysis products of Fe3+ through a heterogeneous nucleation/growth mechanism and an electrostatic adsorption mechanism.
[Full Paper]
Chunzheng Wu, Giovanni Bertoni, Sergio Marras, Liberato Manna, Massimo Colombo
ChemCatChem, July 24, 2017, https://doi.org/10.1002/cctc.201700533 Read article
Sulfur vacancies (SVs) inherent in MoS2 are generally detrimental for carrier mobility and optical properties. Thiols have been investigated for SV repair and surface functionalization. Electron-donating groups on thiols support repair whereas electron-withdrawing groups facilitate functionalization. The predominant reaction can also be switched by increasing the temperature.
[Communication]
Qiang Li, Yinghe Zhao, Chongyi Ling, Shijun Yuan, Qian Chen, Jinlan Wang
Angew. Chem. Int. Ed., July 24, 2017, https://doi.org/10.1002/anie.201706038 Read article
Spatially separated CdS sphere shells with a selective reduction surface are synthesized by a novel strategy. In this case, the CoP and MnOx nanoparticles as the cocatalysts are located at the outer and inner surface of shells, respectively. The directional migration of photogenerated charges is responsible for the stable and enhanced photocatalytic H2 evolution and rhodamine B degradation under solar light irradiation.
[Full Paper]
Mingyang Xing, Bocheng Qiu, Mengmeng Du, Qiaohong Zhu, Lingzhi Wang, Jinlong Zhang
Adv. Funct. Mater., July 24, 2017, https://doi.org/10.1002/adfm.201702624 Read article
Metal–organic framework/chitosan materials are tested for inhibitory bacterial attachment using Pseudomonas aeruginosa. These materials show excellent reductions in bacterial attachment, with ≈85% reduction observed over 6 and 24 h exposure periods. The films also demonstrate reusability as an antibacterial surface. This represents the first use of a water-stable, copper-based metal–organic framework within a polymer for biofilm inhibition.
[Full Paper]
Bella H. Neufeld, Megan J. Neufeld, Alec Lutzke, Sarah M. Schweickart, Melissa M. Reynolds
Adv. Funct. Mater., July 24, 2017, https://doi.org/10.1002/adfm.201702255 Read article
Silicon-based materials are recognized as the most promising anode materials because of the highest theoretical capacity. However, many critical challenges such as losing specific capacity and increasing battery impedance during continuous charge-discharge processes strongly hindered the further application. In this review, the recent progress to utilize surface and interface engineering strategies to overcome these problems is summarized.
[Review]
Wei Luo, Xinqi Chen, Yuan Xia, Miao Chen, Lianjun Wang, Qingqing Wang, Wei Li, Jianping Yang
Adv. Energy Mater., July 21, 2017, https://doi.org/10.1002/aenm.201701083 Read article
Ternary solar cells with minimum voltage losses around 0.25 eV are designed by combining two donor polymers with same bulk and interface energy which make the hole transportation like in one donor polymer. The voltage losses were minimized due to EICT+ ≈ EICT−, where the trade-off between enhancing of charge generation and charge recombination by ICT states arrives at sweet spot.
[Full Paper]
Chuanfei Wang, Wei Zhang, Xiangyi Meng, Jonas Bergqvist, Xianjie Liu, Zewdneh Genene, Xiaofeng Xu, Arkady Yartsev, Olle Inganäs, Wei Ma, Ergang Wang, Mats Fahlman
Adv. Energy Mater., July 20, 2017, https://doi.org/10.1002/aenm.201700390 Read article
Deep insight into the moisture stability of Cesium-containing perovskite is gained in this work. A rapid degradation is observed along with the appearance of CsPbI3 when exposed to high-level humidity. An interfacial engineering with phenylethylammonium iodide (PEAI) is employed to retard the degradation and finally deliveres an enhanced photovoltaic performance from 13% to 17% with much improved stability.
[Full Paper]
Nan Li, Zonglong Zhu, Qingshun Dong, Jiangwei Li, Zhanlue Yang, Chu-Chen Chueh, Alex K.-Y. Jen, Liduo Wang
Adv. Mater. Interfaces, July 20, 2017, https://doi.org/10.1002/admi.201700598 Read article
CuxS nanoflake arrays (NFAs) with abundant surficial defects and a perfect internal structure are applied in photoelectrochemical (PEC) water splitting; the surficial defects give rise to strong localized surface plasmon resonance effect and quick charge separation near the surface. They also provide active sites for catalyzing hydrogen evolution. As a result, the NFAs achieve the top PEC properties ever reported for CuxS-based photocathodes.
[Communication]
Kaixv Ren, Pengfei Yin, Yuzhu Zhou, Xingzhong Cao, Cunku Dong, Lan Cui, Hui Liu, Xiwen Du
Small, July 19, 2017, https://doi.org/10.1002/smll.201700867 Read article
Dual wrinkling structure on the surface of uniform-sized biodegradable microparticles is prepared by using blends of hydrophobic polymer and amphiphilic block copolymer and by introducing dimple-forming organic phase change materials. Both labyrinthine and hexagonal dimple structures are spontaneously formed from the conventional microparticle fabrication procedure of the solvent-emulsion evaporation method.
[Full Paper]
Jinsol Im, Dongik Yoo, Jihoon Kim, Sukeun Yoon, Kuk Young Cho
Macromol. Chem. Phys., July 19, 2017, https://doi.org/10.1002/macp.201700152 Read article
Overcoming obstacles: Ultrafast photoinduced carrier dynamics behind state-of-the-art, efficient perovskite interfaces are monitored in the near-IR spectral region. Electron and hole injection occur within a few hundreds of femtoseconds in optimized mesoporous TiO2/perovskite and hole transporting material/perovskite interfaces (see figure).
[Article]
Giulia Grancini, Daniele Viola, Yonghui Lee, Michael Saliba, Sanghyun Paek, Kyung Taek Cho, Simonetta Orlandi, Marco Cavazzini, Fernando Fungo, Mohammad I. Hossain, Abdelhak Belaidi, Nouar Tabet, Gianluca Pozzi, Giulio Cerullo, Mohammad Khaja Nazeeruddin
ChemPhysChem, July 19, 2017, https://doi.org/10.1002/cphc.201700492 Read article
It's what's on the surface that counts: Controlling the surface termination of SrTiO3 by thermal pretreatment (Sr enrichment) and chemical etching (Ti enrichment) enabled the catalytic selectivity for the conversion of 2-propanol to be tuned over a wide range. The findings have significant implications for catalysis by mixed oxides, the surface and bulk compositions of which can differ depending on treatment and reaction conditions.
[Communication]
Felipe Polo-Garzon, Shi-Ze Yang, Victor Fung, Guo Shiou Foo, Elizabeth E. Bickel, Matthew F. Chisholm, De-en Jiang, Zili Wu
Angew. Chem. Int. Ed., July 19, 2017, https://doi.org/10.1002/anie.201704656 Read article
Vacancy formation and plasmon response were analyzed in Cu2S semiconducting nanocrystals (NCs) treated with iodine (I2). The redox reaction between Cu2S and I2 creates vacancies in the Cu2S phase that increase in number with NC size. The plasmonic response can be tuned either by the size of the NCs or by the doping level of holes, which is governed by the I/Cu ratio.
[Communication]
Orian Elimelech, Jing Liu, Anna M. Plonka, Anatoly I. Frenkel, Uri Banin
Angew. Chem. Int. Ed., July 19, 2017, https://doi.org/10.1002/anie.201702673 Read article
The widely used toxic chlorobenzene for the perovskite and Spiro-OMeTAD film processing is replaced by a green solvent of ethyl acetate. This green solvent engineering produces pinhole-free films of both the perovskite and Spiro-OMeTAD hole transport layer. Via the synergic interface optimization, an impressive power conversion efficiency up to 19.43% is achieved.
[Full Paper]
Tongle Bu, Lan Wu, Xueping Liu, Xiaokun Yang, Peng Zhou, Xinxin Yu, Tianshi Qin, Jiangjian Shi, Song Wang, Saisai Li, Zhiliang Ku, Yong Peng, Fuzhi Huang, Qingbo Meng, Yi-Bing Cheng, Jie Zhong
Adv. Energy Mater., July 18, 2017, https://doi.org/10.1002/aenm.201700576 Read article
On-chip single-molecule surface-enhanced Raman scattering (SERS) monitors free of the "memory effect" are fabricated in microfluidics by the two-step photoreduction method. Proved by bianalyte statistics, on-chip single-molecule detection is accomplished. This is a quick and well-reproducible microfluidic SERS technique with the detection limit as low as 10−13m. At the single-molecule level, the detection reproducibility can reach up to 50%.
[Communication]
Wenjie Yan, Longkun Yang, Jianing Chen, Yaqi Wu, Peijie Wang, Zhipeng Li
Adv. Mater., July 18, 2017, https://doi.org/10.1002/adma.201702893 Read article
pH-/thermal-/glutathione-responsive polymer zippers are screened and explored to tune nanocarrier surface compositions on command for precise tumor targeting in vivo. The nanocarriers remain stealthy during blood circulation, but their surfaces are activated by the acidic microenvironment and photothermal heating at tumor sites for enhanced cellular uptake and efficient drug release, presenting a versatile engineering strategy for nanomedicinal use.
[Communication]
Penghui Zhang, Yan Wang, Jing Lian, Qi Shen, Chen Wang, Bohan Ma, Yuchao Zhang, Tingting Xu, Jianxin Li, Yongping Shao, Feng Xu, Jun-Jie Zhu
Adv. Mater., July 18, 2017, https://doi.org/10.1002/adma.201702311 Read article
A biomimetic monolayer copper membrane is cleverly designed and successfully fabricated on steel mesh substrate via a simple and effective method. It not only possesses the ability of energy-efficient oil–water separation but also shows excellent self-recovery anti-oil-fouling properties, which is inspired by the typical nonwetting strategy of butterfly wing scales.
[Full Paper]
Zhiwu Han, Bo Li, Zhengzhi Mu, Shichao Niu, Junqiu Zhang, Luquan Ren
Small, July 17, 2017, https://doi.org/10.1002/smll.201701121 Read article
A shady affair: Li4Ti5O12 composites containing PVdF-HFP, CMC−Na, or PAA−Na binders are characterized by their electrode morphology and electrochemical performance. The latter is correlated to the composition of the surface layer formation on electrodes either stored for 5 and 10 days or cycled for 10 and 100 cycles.
[Article]
Tim Nordh, Fabian Jeschull, Reza Younesi, Tayfun Koçak, Carl Tengstedt, Kristina Edström, Daniel Brandell
ChemElectroChem, July 17, 2017, https://doi.org/10.1002/celc.201700395 Read article
A general and versatile strategy to develop robust, stretchable and impermeable hydrogel laminates is presented to overcome common limitations of hydrogel materials such as weak mechanical properties and permeability. The laminates have tunable mechanical properties and enable spatial control of the sensing and release properties, as demonstrated by drug release and pH sensing to different sides of the laminate.
[Communication]
German A. Parada, Hyunwoo Yuk, Xinyue Liu, Alex J. Hsieh, Xuanhe Zhao
Adv. Healthcare Mater., July 17, 2017, https://doi.org/10.1002/adhm.201700520 Read article
This work offers a new use of direct laser interference patterning (DLIP) technique, on cobalt-chromium (CoCr) alloys, to obtain linear patterned and chemically modified surfaces. The obtained topography induces endothelial cell alignment and migration, and, chemical changes reduce platelet adhesion. Consequently, DLIP can be a one-step technique to obtain surfaces with the capacity to enhance endothelialization and reduce thrombogenicity.
[Full Paper]
Romain Schieber, Federico Lasserre, Michael Hans, Marc Fernández-Yagüe, Maribel Díaz-Ricart, Ginés Escolar, Maria-Pau Ginebra, Frank Mücklich, Marta Pegueroles
Adv. Healthcare Mater., July 17, 2017, https://doi.org/10.1002/adhm.201700327 Read article
Electrolyte additives containing transition-metal salts are demonstrated to stabilize Li2S cathodes by producing conductive and protective surface encapsulation layers on the Li2S particles via in situ chemical reactions that generate transition-metal sulfides electrochemically inactive within the cycling voltage window. The electronic valence band structure of the as-generated encapsulation layer is critical to the initial charging overpotential of the Li2S particles.
[Communication]
Michael J. Klein, Andrei Dolocan, Chenxi Zu, Arumugam Manthiram
Adv. Energy Mater., July 14, 2017, https://doi.org/10.1002/aenm.201701122 Read article
A universal way for the implementation of metal nanoparticles intopoly(lactic-co-glycolic acid)microstructures via the electrohydrodynamic co-jetting process is presented. Metal nanoparticles of different shape and size are embedded into multicompartmental fluorescent microstructures. Their spatial distribution is analyzed using 3D surface-enhanced Raman scattering and confocal fluorescence microscopy.
[Full Paper]
Malte S. Strozyk, Dorleta Jimenez de Aberasturi, Jason V. Gregory, Mathias Brust, Joerg Lahann, Luis M. Liz-Marzán
Adv. Funct. Mater., July 14, 2017, https://doi.org/10.1002/adfm.201701626 Read article
High intensity focused ultrasound (HIFU) is promising for tissue ablation but suffers from off-target side effects. This work reports 100 nm mesoporous, hydrophobically modified silica nanoparticles coated with phospholipid monolayers, polyethylene glycol, and folate. These particles are uptaken into breast cancer cells without change in viability, but administration of HIFU with uptaken particles results in cell death.
[Communication]
Adem Yildirim, Rajarshi Chattaraj, Nicholas T. Blum, Dennis Shi, Kaushlendra Kumar, Andrew P. Goodwin
Adv. Healthcare Mater., July 12, 2017, https://doi.org/10.1002/adhm.201700514 Read article
Fluorescent carbon nanodots (CDs) are documented as a game-changer for the flow visualization of mixing, microfluidic droplets, etc. For the first time, this study synthesizes and introduces CDs microsized seeding particles for quantitative measurements of flow fields at microscale. Overall, it is demonstrated that fluorescent CDs can serve as an advantageous whereas affordable material for visualization in microfluidics.
[Communication]
Yi Huang, Lian Xiao, Tingting An, Wenxiang Lim, Teckneng Wong, Handong Sun
Small, July 11, 2017, https://doi.org/10.1002/smll.201700869 Read article
Rapid microwave-assisted exfoliation of layered oxide perovskites leads to individual nanosheets in as little as 1 h. Subsequent treatments, utilizing microwaves in post-exfoliation surface-modification reactions, allows the production of organically functionalized metal-oxide nanosheets in less than an hour. Rapid and facile production of organic-hybrid nanosheets with controlled surface groups is of great significance for the production of functional composites with tunable properties.
[Full Paper]
Sara Akbarian-Tefaghi, Taha Rostamzadeh, Treva T. Brown, Clare Davis-Wheeler, John B. Wiley
ChemNanoMat, July 11, 2017, https://doi.org/10.1002/cnma.201700124 Read article
The on-surface synthesis of rylene-type grapheme nanoribbons (GNRs) on Au(111) surfaces via direct dehydrogenative C
C coupling is reported. The quaterrylene molecules undergo various pathways of cyclodehydrogenation: At submonolayer coverage, predominant reaction products are kinked with an angle of 150°, while the selectivity toward the straight GNRs is significantly enhanced at one monolayer.
[Full Paper]
Zeying Cai, Limin She, Yangyong He, Liqin Wu, Lang Cai, Dingyong Zhong
Macromol. Chem. Phys., July 10, 2017, https://doi.org/10.1002/macp.201700155 Read article
Low-cost copper nanowire embedded elastomer-based thermal interface materials are prepared successfully via a freeze-casting approach, which can have a thermal percolation at low filler fractions of 0.018 Φ. A 19-fold enhancement in thermal conductivity is achieved while keeping the elastic modulus below 250 kPa to ensure mechanical compliance. Microwave welding can further overcome the interfacial thermal resistance.
[Full Paper]
Sushrut Bhanushali, Prakash Chandra Ghosh, George P. Simon, Wenlong Cheng
Adv. Mater. Interfaces, July 10, 2017, https://doi.org/10.1002/admi.201700387 Read article
The unique nanodome structured BiVO4/GaOxN1−x (BVO/GaON) bilayer photoanode is prepared by a facile solution method, and that exhibits an improved photoelectrochemical water splitting performance due to the larger electrochemical surface area, improves the light absorption, charge separation, and transfer efficiencies.
[Full Paper]
Bong Kyun Kang, Gill Sang Han, Ji Hyun Baek, Dong Geon Lee, Young Hyun Song, Seok Bin Kwon, In Sun Cho, Hyun Suk Jung, Dae Ho Yoon
Adv. Mater. Interfaces, July 10, 2017, https://doi.org/10.1002/admi.201700323 Read article
A family of graphene derivatives with defined polymer coverage, density of functional groups, fluorescence intensity, surface charge and size are synthesized and their cellular uptake is investigated. It is found that the combination of size and surface charge plays a pivotal role in the cellular uptake pathways of these graphene derivatives.
[Full Paper]
Zhaoxu Tu, Katharina Achazi, Andrea Schulz, Rolf Mülhaupt, Steffen Thierbach, Eckart Rühl, Mohsen Adeli, Rainer Haag
Adv. Funct. Mater., July 10, 2017, https://doi.org/10.1002/adfm.201701837 Read article
Quaternary compound BiSeTeSe2 in bulk and thin film forms has been investigated by density functional theory. The results show that BiSeTeSe2 alloy with a bulk band gap of nearly 0.316 eV can be termed as the best strong 3D topological insulator investigated so far. Surface states of BiSeTeSe2 consist of a single Dirac cone near the Γ point, and the Dirac point lies exactly at Fermi level, in very good agreement with experiment. To preserve metallic surface states, the thickness of a thin film must be greater than 8 quintuple layers (QLs). The relative charge density of surface states calculations show that these metallic states have penetrated within 2.5–3.5 QLs into the bulk.
[Rapid Research Letter]
Zahra Mohammadpourrad, Mohammadreza Abolhassani
Phys. Status Solidi RRL, July 07, 2017, https://doi.org/10.1002/pssr.201700146 Read article
Hierarchical self-assembly: Semi-fluorinated alkanes (FnHm) self-assemble into highly monodisperse nano-domains at the air/water interface. Grazing incidence small angle X-ray scattering (GISAXS) is used to elucidate the mesoscopic structure of FnHm Langmuir monolayers. The full calculation of form and structure factors reveals the impact of the fluoro- and hydrocarbon block lengths on the size, shape and lateral organization of the nano-domains.
[Article]
Mariam Veschgini, Wasim Abuillan, Shigeto Inoue, Akihisa Yamamoto, Salomé Mielke, Xianhe Liu, Oleg Konovalov, Marie Pierre Krafft, Motomu Tanaka
ChemPhysChem, July 07, 2017, https://doi.org/10.1002/cphc.201700325 Read article
A mucin1 (MUC1) DNA aptamer targeted surface-enhanced Raman scattering (SERS) nanoparticle is developed by surface functionalization of SERS nanoparticles. These nanoparticles are optically and structurally stable in biological fluid and target MUC1 overexpressing breast cancer cells in vitro. By coinjection with a nontargeted nanoparticle, this study shows that the MUC1 aptamer targeted nanoparticles home specifically to MUC1 overexpressing tumor tissue in vivo.
[Full Paper]
Suchetan Pal, Stefan Harmsen, Anton Oseledchyk, Hsiao-Ting Hsu, Moritz F. Kircher
Adv. Funct. Mater., July 06, 2017, https://doi.org/10.1002/adfm.201606632 Read article
Crystallization behavior and chain folding surface free energy of polymer nanocomposites of poly(vinylidene fluoride-co-hexafluoropropylene containing graphene oxide (GO) as potentially useful piezoelectric materials are explored. The results indicate that GO helps in the formation of polar crystals (β-crystal) which are useful for piezoelectric properties.
[Full Paper]
Marzieh Choolaei, Vahabodin Goodarzi, Hossein Ali Khonakdar, Seyed Hassan Jafari, Javad Seyfi, Mohammad Reza Saeb, Liane Häußler, Regine Boldt
Macromol. Chem. Phys., July 04, 2017, https://doi.org/10.1002/macp.201700103 Read article
The topography of porous 3D biomaterials can be tuned to direct cell behavior. A novel solvent-exchange based thermally induced phase separation (TIPS) process is explored. Combined with additive manufacturing, this biofabrication technology affords materials with varying topographies in function of the temperature and nonsolvent employed. These scaffolds enhance the osteogenic potential when the topographical features are at the submicron level.
[Communication]
A. Di Luca, J. R. Wijn, C. A. Blitterswijka, S. Camarero-Espinosa, L. Moroni
Macromol. Rapid Commun., July 03, 2017, https://doi.org/10.1002/marc.201700186 Read article
Model interfaces are coated with random, diblock, and triblock copolymers of polystyrene and poly(ethylene glycol) methacrylate. Coating is facilitated with the random copolymer while the coating density decreases using the diblock copolymer and is the lowest with the triblock copolymer. Both the diblock and the triblock copolymers are more efficient to promote hydration and fouling resistance than the random copolymer.
[Full Paper]
Chih-Chen Yeh, Antoine Venault, Lu-Chen Yeh, Arunachalam Chinnathambi, Sulaiman Ali Alharbi, Akon Higuchi, Yung Chang
Macromol. Chem. Phys., July 03, 2017, https://doi.org/10.1002/macp.201700102 Read article
Break it! A combination of theory and experiments were used to investigate the nature of the active site for the selective transformation of m-cresol to toluene. Through variation of metal loading, particle size and support phase, it was demonstrated that sites responsible for direct C−O cleavage lie at the perimeter of the metal particle.
[Full Paper]
Taiwo O. Omotoso, Byeongjin Baek, Lars C. Grabow, Steven P. Crossley
ChemCatChem, July 03, 2017, https://doi.org/10.1002/cctc.201700157 Read article
A surface modification method to achieve controlled cell adhesion and growth on top of electrically conducting polymer films is presented. Using chemical grafting followed by selective laser ablation, cell-attracting and cell-repelling areas are introduced, leading to spatially controlled localization of cell populations. This simple, minimally destructive approach can be applied on a variety of substrates for bioelectronic applications.
[Communication]
David Ohayon, Charalampos Pitsalidis, Anna-Maria Pappa, Adel Hama, Yi Zhang, Laurent Gallais, Roisin M. Owens
Adv. Mater. Interfaces, June 29, 2017, https://doi.org/10.1002/admi.201700191 Read article
Lithium-metal anodes with improved electrochemical performances are obtained through a fast and reproducible mechanical technique. Using the roll-press technique, it is possible to flatten and thin the native surface film of the lithium-metal anodes resulting in a decrease of the initial resistance as well as a more homogeneous lithium dissolution-deposition reflected through the overpotentials' shape.
[Full Paper]
Jens Becking, Albert Gröbmeyer, Martin Kolek, Uta Rodehorst, Susanne Schulze, Martin Winter, Peter Bieker, Marian Cristian Stan
Adv. Mater. Interfaces, June 29, 2017, https://doi.org/10.1002/admi.201700166 Read article
[Full Paper]
Budi Riza Putra, Barak D.B. Aaronson, Elena Madrid, Klaus Mathwig, Mariolino Carta, Richard Malpass-Evans, Neil B. McKeown, Frank Marken
Electroanalysis, June 27, 2017, https://doi.org/10.1002/elan.201700247 Read article
Solvating the surface: Implicit solvation models within the DFT framework can be used to describe liquid–metal interfaces (see figure) in a computationally cheap manner. Solvation effects were found for many surface-chemistry processes, including adsorption and several catalytic reactions, and it was also determined which chemical descriptors may be important for predicting solvation effects.
[Article]
Satish Kumar Iyemperumal, N. Aaron Deskins
ChemPhysChem, June 27, 2017, https://doi.org/10.1002/cphc.201700162 Read article
Neurons rely on physical signals throughout development and regeneration. Recent advances in fabrication and materials led to the development of 2D and 3D engineered platforms that can mimic the native extracellular environment. This Progress Report exploits studies of platforms generated with a range of physical topographies, from micro- down to nano- scale, that interact effectively with neurons, affecting differentiation, outgrowth and activity. Matching these specific needs may advance therapies and brain-machine interface applications.
[Progress Report]
Michal Marcus, Koby Baranes, Matthew Park, Insung S. Choi, Kyungtae Kang, Orit Shefi
Adv. Healthcare Mater., June 22, 2017, https://doi.org/10.1002/adhm.201700267 Read article
Nano-structured cellulose (nanocellulose) is used in a variety of industrial fields, from paper and packaging to food additives or energy. The production of nanocellulose from cellulosic biomass, mostly wood, usually involves environmentally unfriendly chemical processes. This review highlights the use of enzymes for the isolation and modification of nanocellulose as sustainable alternative.
[Review]
Sadaf Afrin, Zoheb Karim
CBEN, June 20, 2017, https://doi.org/10.1002/cben.201600001 Read article
Unknown waters: Quantum/classical molecular dynamics simulations combined with high-level ab initio calculations have been carried out to study the H-abstraction from methyl chloride by the OH radical in gas phase and at the air–water interface. The reaction dynamics and time scales are discussed.
[Article]
Marilia T. C. Martins-Costa, Josep M. Anglada, Manuel F. Ruiz-López
ChemPhysChem, June 14, 2017, https://doi.org/10.1002/cphc.201700437 Read article
FET chance: A field-effect-transistor-based glucose sensor, that is, a glucose transistor, is optimized to monitor changes in glucose concentration on the order of μM. Emphasis was placed on suppressing the nonspecific adsorption of proteins such as albumin, thereby increasing the signal-to-noise ratio, resulting in the more highly sensitive and precise detection of low-molecular-weight glucose.
[Article]
Yuta Uematsu, Taira Kajisa, Toshiya Sakata
ChemElectroChem, June 14, 2017, https://doi.org/10.1002/celc.201700419 Read article
This article highlights how advanced Raman techniques with extreme chemical, spatial and temporal resolution constitute valuable alternative surface analysis tools and provide otherwise inaccessible information about complex interfacial (electro)chemical processes.
[Minireview]
Natalia Martín Sabanés, Katrin F. Domke
ChemElectroChem, June 09, 2017, https://doi.org/10.1002/celc.201700293 Read article
Control at both the micro- and nanoscale: Scanning tunnelling microscopy is employed to demonstrate that Au-pyridyl coordination can be used to globally control and locally manipulate the polymorphism of a two-dimensional coordination network on metal surfaces. Using the STM tip, α-network domains were locally created within the homogeneous β-network domain areas on Au(111).
[Article]
Yang Song, Yuxu Wang, Qiao Jin, Kun Zhou, Ziliang Shi, Pei-Nian Liu, Yu-qiang Ma
ChemPhysChem, June 07, 2017, https://doi.org/10.1002/cphc.201700439 Read article
The surface chemistry of mesoporous silica nanorods (MSNR) shows significant impact on their adjuvant potency. Compared to pristine MSNR with
OH surface group, highly hydrophobic
C18 functionalization displays significantly enhanced both humoral and cellular mediated immune response, while
NH2 modification only moderately improves humoral immunity. These findings may provide useful guidance for the rational design of effective silica based vaccines.
[Full Paper]
Yannan Yang, Manasi Jambhrunkar, Prasanna Lakshmi Abbaraju, Meihua Yu, Min Zhang, Chengzhong Yu
Adv. Healthcare Mater., May 29, 2017, https://doi.org/10.1002/adhm.201700466 Read article
Artificial peptides inspired by diatoms assemble into silica nucleation pits at surfaces. While silica bioprecipitation of nanoparticles is routinely obtained in solution, it is shown for the first time how mineral peptides assemble into a 2D lattice at surfaces and produce nanostructured silica. The confinement to the surface has a strong influence on bioprecipitation with potential for future biomimetic silica designs.
[Full Paper]
Hao Lu, Yeneneh Yimer, Rüdiger Berger, Mischa Bonn, Jim Pfaendtner, Tobias Weidner
Adv. Mater. Interfaces, May 26, 2017, https://doi.org/10.1002/admi.201700399 Read article
The performance of self-assembled alkane monolayers as the thermal interface material is assessed via molecular simulations, which demonstrate high thermal transparency and structural flexibility, and tunablity through the chain length, packing density, and deformation.
[Full Paper]
Yanlei Wang, Yu Cao, Ke Zhou, Zhiping Xu
Adv. Mater. Interfaces, May 23, 2017, https://doi.org/10.1002/admi.201700355 Read article
A novel approach to controlling the surface of gallium liquid metal alloys through organic ligands which modify the native oxide is presented. Modification of the liquid metal's surface energy (illustrated via a change in water contact angle in the figure), work function, and reduced chemical alloying with solid metal electrodes is demonstrated.
[Communication]
Nahid Ilyas, Alexander Cook, Christopher E. Tabor
Adv. Mater. Interfaces, May 22, 2017, https://doi.org/10.1002/admi.201700141 Read article
Location-selective and precursor-free laser-assisted nanowelding of graphene to metals is developed to improve interfacial properties, leading to an ultralow graphene–metal contact resistance of 2.57 Ω µm with minimal degradation in carrier mobility due the structural modifications in graphene being limited to its edges within the contact area. This method is applied to a suspended graphene photodetector with increased photocurrent by fourfold.
[Full Paper]
Kamran Keramatnejad, Yun Shen Zhou, Da Wei Li, Hossein Rabiee Golgir, Xi Huang, Qi Ming Zhou, Jing Feng Song, Stephen Ducharme, Yong Feng Lu
Adv. Mater. Interfaces, May 18, 2017, https://doi.org/10.1002/admi.201700294 Read article
A new implantable capacitive electrode array for electrocorticography signal recording is developed with barium titanate/polyimide (BaTiO3/PI) nanocomposite. This ultrathin and electrically safe capacitive BaTiO3/PI electrode array is capable of attaching to the biological tissue conformably. In vivo neural experiments indicate its feasibility. This work shows the potentials of capacitive BaTiO3/PI electrode arrays in the field of brain/computer interfaces.
[Full Paper]
Changyong Chen, Miaomiao Xue, Yige Wen, Guang Yao, Yan Cui, Feiyi Liao, Zhuocheng Yan, Long Huang, Saeed Ahmed Khan, Min Gao, Taisong Pan, Hulin Zhang, Wei Jing, Daqing Guo, Sanfeng Zhang, Hailiang Yao, Xiong Zhou, Qiang Li, Yang Xia, Yuan Lin
Adv. Healthcare Mater., May 11, 2017, https://doi.org/10.1002/adhm.201700305 Read article
© Wiley-VCH 2016.