Surfaces and Interfaces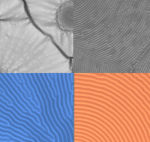 Interfaces and surfaces are where the action happens. Catalysis, molecular recognition, charge transfer, polymerization and many other critical processes take place at the boundary between one medium and another. With the need to integrate new materials into devices, and applications ranging from catalysis to sensors, medicine to self-cleaning surfaces, and displays to lasers, fundamental and applied studies of surface and interface processes and optimization are of critical importance in developing new technology to meet today's challenges. The selection of recent research articles presented below illustrates the vast potential of this field.
For recent reviews, see

RSS feed
Recent Articles
[Article]
Y. Ugur Kayran, Nergis Cinar, Daliborka Jambrec, Wolfgang Schuhmann
ChemElectroChem, January 19, 2018, https://doi.org/10.1002/celc.201701220 Read article
Surface-confined olefin metathesis was studied by scanning tunneling microscopy to determine the effects of substituents, reaction temperature, and pressure. Surface confinement significantly enhances the formation of linear polymers and allows selective synthesis of specific oligomers that are difficult to obtain by solution-phase synthesis. DCC=Dynamic covalent chemistry.
[Communication]
Chunhua Liu, Eunsol Park, Yinghua Jin, Jie Liu, Yanxia Yu, Wei Zhang, Shengbin Lei, Wenping Hu
Angew. Chem. Int. Ed., January 19, 2018, https://doi.org/10.1002/anie.201711040 Read article
Surface passivation of ZnO by a thin layer of MgO and protonated ethanolamine readily makes ZnO a very promising electron-transporting material for creating efficient, hysteresis-free and stable perovskite solar cells (PSCs). PSCs, stable in air for more than 300 h, are achieved when graphene is used to encapsulate the cells.
[Communication]
Jing Cao, Binghui Wu, Ruihao Chen, Youyunqi Wu, Yong Hui, Bing-Wei Mao, Nanfeng Zheng
Adv. Mater., January 19, 2018, https://doi.org/10.1002/adma.201705596 Read article
Anisotropic Ag2S-edged Au-triangular nanoprisms (TNPs), exhibiting almost four-fold higher efficiency than Ag2S-covered ones in hydrogen generation under visible-NIR light irradiation, are synthesized by controlling preferential overgrowth of Ag2S. Single-particle photoluminescence and finite-difference-time-domain studies demonstrate that Ag2S-edged Au-TNPs have the desired configuration for plasmon-induced hot electron transfer and charge separation, leading to highly efficient hydrogen generation.
[Full Paper]
Zaizhu Lou, Sooyeon Kim, Mamoru Fujitsuka, Xianguang Yang, Baojun Li, Tetsuro Majima
Adv. Funct. Mater., January 19, 2018, https://doi.org/10.1002/adfm.201706969 Read article
Catanionic surfactant vesicles (CVs) can be functionalized with a wide variety of chemical moieties. Functionalized CVs can be biochemically modified and inkjet printed. CVs can be used to create high-specificity and high-throughput arrays.
[Full Paper]
Amanda Mahle, Neeraja Dashaputre, Philip DeShong, Daniel C. Stein
Adv. Funct. Mater., January 19, 2018, https://doi.org/10.1002/adfm.201706215 Read article
New chemoresponsive liquid crystal materials with improved water tolerance are designed using quantum mechanical calculations. Theory helps find the right relative strength of binding of liquid crystals, targeted organophosphates, and nontargeted water to metal-cation-functionalized surfaces, leading to selective chemical responses of the liquid crystal. Computational model predictions are verified by experimental results in 14 out of 16 cases.
[Full Paper]
Huaizhe Yu, Tibor Szilvási, Prabin Rai, Robert J. Twieg, Manos Mavrikakis, Nicholas L. Abbott
Adv. Funct. Mater., January 19, 2018, https://doi.org/10.1002/adfm.201703581 Read article
[Full Paper]
Siti Fatimah Nur Abdul Aziz, Ruzniza Zawawi, Shahrul Ainliah Alang Ahmad
Electroanalysis, January 18, 2018, https://doi.org/10.1002/elan.201700736 Read article
Tip of the iceberg: Pd-tipped Au nanorods (NRs) are prepared in the presence of CTAB and 5-BrSA for the electrocatalytic hydrogen evolution reaction in the visible and near-infrared region. The tipped NRs exhibit a lower onset overpotential (40 mV) and higher exchange current density (1.585 mA/cm2) than fully covered ones, which is ascribed to synergetic photothermal and photoelectric effects.
[Article]
Yan Wei, Zhenlu Zhao, Ping Yang
ChemElectroChem, January 18, 2018, https://doi.org/10.1002/celc.201701299 Read article
Origin of ion specificity: The ionovoltaic device driven by droplet flow showed ion specificity by which different ions with identical charges shows different output performance. The origin of ion specificity at solid–liquid interface is investigated.
[Communication]
Junwoo Park, Suhwan Song, ChaeHo Shin, YoungJun Yang, Stefan A. L. Weber, Eunji Sim, Youn Sang Kim
Angew. Chem. Int. Ed., January 18, 2018, https://doi.org/10.1002/anie.201711505 Read article
[Personal Account]
Wei Ma, Hui Wu, Yuji Higaki, Atsushi Takahara
Chem. Rec., January 17, 2018, https://doi.org/10.1002/tcr.201700093 Read article
High-index terminated anatase TiO2 and its modifications are reviewed. Owing to the high density of atomic steps, kinks, ledges, dangling bonds, and abundant unsaturated coordination sites, these high-index adorned anatase TiO2 crystals have a bright prospect in the field of photocatalysis, lithium ion batteries, dye-sensitized solar cells, among others.
[Microreview]
Zhen Zhou, Yaqin Yu, Zhaoxia Ding, Meimei Zuo, Chuanyong Jing
Eur. J. Inorg. Chem., January 17, 2018, https://doi.org/10.1002/ejic.201701027 Read article
The local morphology at organic donor/acceptor interfaces has recently been shown to greatly influence charge transfer state energies and dynamics. This progress report summarizes some of the key discussions in recent literature concerning the role of local morphology in the charge transfer and charge generation process in organic photovoltaics, as well as the potential impact on device performance.
[Progress Report]
YunHui L. Lin, Michael A. Fusella, Barry P. Rand
Adv. Energy Mater., January 17, 2018, https://doi.org/10.1002/aenm.201702816 Read article
Sr-substitution in the perovskite LaCrO3 promotes oxidation of the surface Cr cations in oxidizing conditions. Ambient pressure X-ray photoelectron spectroscopy quantifies the Cr valence in situ and identifies oxidized Cr as the site for hydroxylation in a water environment, which reduces the Cr oxidation state.
[Full Paper]
Kelsey A. Stoerzinger, Yingge Du, Kyuwook Ihm, Kelvin H. L. Zhang, Jun Cai, J. Trey Diulus, Ryan T. Frederick, Gregory S. Herman, Ethan J. Crumlin, Scott A. Chambers
Adv. Mater. Interfaces, January 17, 2018, https://doi.org/10.1002/admi.201701363 Read article
A well-defined, xeno-free, and multipurpose peptide-presenting hydrogel surface is developed on the tissue culture plate via carboxymethyl chitosan grafting and subsequent immobilization of two functional peptides. Such an unique surface can support the culture and manipulation of the osteoblastic maturation of human induced pluripotent stem cells, showing a great promise for the bone regenerative medicine and tissue engineering.
[Full Paper]
Yi Deng, Shicheng Wei, Lei Yang, Weizhong Yang, Matthew S. Dargusch, Zhi-Gang Chen
Adv. Funct. Mater., January 17, 2018, https://doi.org/10.1002/adfm.201705546 Read article
FTSPR: Simple LSPR-based biosensing combined with magnetic rotation by introducing a ferromagnetic Fe segment into plasmonic Au blocks by an electrochemical method is demonstrated. By introducing specific binding events, a dynamically perturbed system was realized, resulting in the frequency lag of nanorods above a critical driving frequency that was analyzed by Fourier transformation.
[Communication]
Insub Jung, Haneul Yoo, Hee-Jeong Jang, Sanghyun Cho, Kyungeun Lee, Seunghun Hong, Sungho Park
Angew. Chem. Int. Ed., January 16, 2018, https://doi.org/10.1002/anie.201710619 Read article
1 nm molybdenum carbide nanoparticles embedded within a mesh-like nitrogen–carbon bifunctional catalyst are demonstrated. Such an unique architecture of molybdenum-based material exhibits superb hydrogen evolution and oxygen reduction performances, exceeding those of well-developed bifunctional non-noble metal based catalysts. This work exemplifies the possibility for achieving a Pt-alternative electrocatalyst from both the experimental and theoretical studies.
[Full Paper]
Zhihua Cheng, Qiang Fu, Qing Han, Yukun Xiao, Yuan Liang, Yang Zhao, Liangti Qu
Adv. Funct. Mater., January 16, 2018, https://doi.org/10.1002/adfm.201705967 Read article
A photoamine generator on a silicon wafer surface is activated by UV light in the presence of N-carboxyanhydrides (NCA) monomer. This triggered the NCA ring-opening grafting from NCA polymerization and the formation of polypeptide polymer brushes. Extensive analysis by X-ray photoelectron spectroscopy, ellipsometry, and time-of-flight secondary ion mass spectroscopy confirmed the presence of grafted polypeptide.
[Communication]
Timo Stukenkemper, Xavier Paquez, M. W. G. M. Verhoeven, Emiel J. M. Hensen, Aylvin A. Dias, Dermot F. Brougham, Andreas Heise
Macromol. Rapid Commun., January 15, 2018, https://doi.org/10.1002/marc.201700743 Read article
An air–water interface polymerization method is proposed for the fabrication of polypyrrole inverse opals without overlayers, during which colloidal crystals floating on pyrrole solution are employed as templates for the polymerization of pyrrole. The doped inverse opals could be applied as alternatives for the Pt counter-electrodes in dye-sensitized solar cells.
[Full Paper]
Liduo Deng, Likui Wang, Yunxing Li, Gang Shi, Yun Liu, Bolong Yao
Macromol. Chem. Phys., January 15, 2018, https://doi.org/10.1002/macp.201700489 Read article
Heterojunction connecting by interface chemical bonds is a promising method as it can provide more efficient route for photogenerated charge separation. In this work, oxygen vacancy forming on the surface of SrTiO3 is employed to fabricate heterojunction with ZnCdS, which provides an excellent interface for photogenerated charge transfer and separation.
[Full Paper]
Dandan Sun, Yue Zhang, Shuang Yan, Kaili Sun, Guixue Wang, Yuyu Bu, Guangwen Xie
Adv. Mater. Interfaces, January 15, 2018, https://doi.org/10.1002/admi.201701325 Read article
Nano titanium monoxide with the crystalline core (TiO) covered with a ≈5 nm shell of amorphous TiO1+x is the first time to be prepared and the highest Tc (11 K) in the binary Ti–O system is observed. Through controllable reduction and soft oxidation, the obtained sample is observed with nearly linear (1.0–1.9) variation of O/Ti ratio across the amorphous layer, suggesting a smooth interface which contributes to the unusual superconductivity.
[Communication]
Jijian Xu, Dong Wang, Heliang Yao, Kejun Bu, Jie Pan, Jianqiao He, Fangfang Xu, Zhanglian Hong, Xiaobo Chen, Fuqiang Huang
Adv. Mater., January 15, 2018, https://doi.org/10.1002/adma.201706240 Read article
The interfacial properties between CsPbI2Br absorber and poly(3-hexylthiophene) (P3HT) hole-acceptor are improved by passivating the surface defects of CsPbI2Br and reducing the energy disorder of P3HT. Consequently, a stable inorganic perovskite solar cell with high power conversion efficiency of 12.02% and minimal energy loss of 0.50 eV is obtained.
[Communication]
Qingsen Zeng, Xiaoyu Zhang, Xiaolei Feng, Siyu Lu, Zhaolai Chen, Xue Yong, Simon A. T. Redfern, Haotong Wei, Haiyu Wang, Huaizhong Shen, Wei Zhang, Weitao Zheng, Hao Zhang, John S. Tse, Bai Yang
Adv. Mater., January 15, 2018, https://doi.org/10.1002/adma.201705393 Read article
Breath figure provides a convenient approach to fabricating the honeycomb-like substrates with highly ordered hexagonal pore arrays. There are many strategies to functionalize the honeycomb films for biological applications, including modulating chemistry, wettability, and morphological parameters. The honeycomb films exhibit high potential in biological fields including for cell scaffold, antibacteria, bio-macromolecule arrays, bioseparation, and biosensors.
[Progress Report]
Shuangshuang Chen, Su Gao, Jiange Jing, Qinghua Lu
Adv. Healthcare Mater., January 15, 2018, https://doi.org/10.1002/adhm.201701043 Read article
By utilizing the active vacancy defects in the WS2 monolayer as step for WO3 deposition, WO3/WS2 hybrid structures are prepared by a one-pot chemical vapor deposition growth. The photoluminescence of the WS2 monolayer can be tuned by surface passivation with WO3 nanoparticles.
[Rapid Research Letter]
Lei Tao, Shudong Zhao, Peng Miao, Jianxin Yu, Xianjie Wang, Yi Wang, Zhiguo Liu, Bingsheng Li, Yang Wang, Yu Sui
Phys. Status Solidi RRL, January 12, 2018, https://doi.org/10.1002/pssr.201700371 Read article
[Communication]
Yongchun Fu, Maria R. Ehrenburg, Peter Broekmann, Alexander V. Rudnev
ChemElectroChem, January 12, 2018, https://doi.org/10.1002/celc.201701209 Read article
Three dimensionally porous polyallylamine functionalized PdCo alloy nanonetworks nanohybrids with high alloying degree are synthesized by polyallylamine-assisted cyanogel-reduction method. The inorganic-organic nanohybrids show the outstanding electrocatalytic activity, durability, and excellent resistance to ethanol crossover effect towards the oxygen reduction reaction in alkaline media due to their porous structure, high alloying degree, and suitable chemical functionalization.
[Full Paper]
Guang-Rui Xu, Cong-Cong Han, Ying-Ying Zhu, Jing-Hui Zeng, Jia-Xing Jiang, Yu Chen
Adv. Mater. Interfaces, January 11, 2018, https://doi.org/10.1002/admi.201701322 Read article
A universal, multifunctional, and substrate-independent spray coating based on mussel-inspired polyglycerol is described. Moreover, the coating process allows the fast construction of antibacterial and superhydrophobic coatings.
[Full Paper]
Christoph Schlaich, Mingjun Li, Chong Cheng, Ievgen S. Donskyi, Leixiao Yu, Geonho Song, Ernesto Osorio, Qiang Wei, Rainer Haag
Adv. Mater. Interfaces, January 11, 2018, https://doi.org/10.1002/admi.201701254 Read article
Light it up: The surface sulfurization of CuIn1−xGaxS2−ySey (CIGSSe) thin films is investigated by using Kelvin probe force microscopy (KPFM). The KPFM measurement setup under illumination as well as schematic band diagrams for CIGSSe films under illumination are shown for band-to-band transition and trap-to-band transition (see picture).
[Article]
Haeri Kim, Se Jin Park, Byungwoo Kim, Yun Jeong Hwang, Byoung Koun Min
ChemPhysChem, January 05, 2018, https://doi.org/10.1002/cphc.201701019 Read article
Synergistic catalysis: Cu/CeO2 catalysts with a proper copper content achieve superb activity for the vapor-phase continuous hydrogenation of diethyl carbonate to methanol. The enhanced catalytic performance is attributed mainly to synergism between the active copper species and the surface defects of the CeO2 support.
[Full Paper]
Huabo Li, Yuanyuan Cui, Qianqian Liu, Wei-Lin Dai
ChemCatChem, January 05, 2018, https://doi.org/10.1002/cctc.201701384 Read article
A facile approach to construct binary poly(N-isopropylacrylamide)/ poly[poly(ethylene glycol) methyl ether methacrylate] (POEGMA) brushes pattern is developed for controlled cell adhesion. PNIPAAm chains capture and release cells by thermoresponsiveness while POEGMA chains capture diseased cells specifically, inducing a switch of normal RBCs arrays to hemolytic RBCs arrays on the pattern with temperature.
[Communication]
Jianwen Hou, Lele Cui, Runhai Chen, Xiaodong Xu, Jiayue Chen, Ligang Yin, Jingchuan Liu, Qiang Shi, Jinghua Yin
Macromol. Rapid Commun., January 04, 2018, https://doi.org/10.1002/marc.201700572 Read article
Predicting peanut allergies: For the first time, epitope-resolved detection of peanut-specific IgE antibodies was achieved on a surface plasmon resonance imaging (SPRi) immunoarray using superparamagnetic bead-antibody conjugates (MB-Ab2). The level of IgE antibodies specific for a prominent peptide epitope, Ara h2–3, showed promise for predicting peanut sensitization.
[Communication]
Min Shen, Amit A. Joshi, Raghu Vannam, Chandra K. Dixit, Robert G. Hamilton, Challa V. Kumar, James F. Rusling, Mark W. Peczuh
ChemBioChem, January 04, 2018, https://doi.org/10.1002/cbic.201700513 Read article
Show me the light: Recently, optical techniques, including light extraction, recombination zone probing and spectral filtering based on the microcavity effect and localized surface plasmon resonance from metal nanoparticles, have been shown to improve the performance of light-emitting electrochemical cells. This Minireview provides an overview of these novel optical techniques.
[Minireview]
Hai-Ching Su
ChemPlusChem, January 03, 2018, https://doi.org/10.1002/cplu.201700455 Read article
A novel in situ one-step electrochemical treatment strategy to simultaneously fabricate protective surface films on carbon-based air-electrodes and Li metal anodes initiates continuous protection for both electrodes, as well as promoting significantly enhanced cycling stability of Li–O2 batteries. This work presents an efficient method to address the instability issues associated with carbon-based electrodes and Li metal anodes in Li–O2 batteries.
[Full Paper]
Bin Liu, Wu Xu, Jinhui Tao, Pengfei Yan, Jianming Zheng, Mark H. Engelhard, Dongping Lu, Chongmin Wang, Ji-Guang Zhang
Adv. Energy Mater., January 02, 2018, https://doi.org/10.1002/aenm.201702340 Read article
Photosystem II is mimicked to design an efficient OER system in neutral environments by introducing an oleylamine layer to cap the Co3O4 nanoparticles, and employing buffers as proton shuttles in the system. The surface chemistry indicates that oleylamine can promote the activity. The reason that buffers can facilitate the reaction is ascribed to the proton-coupled electron transfer processes.
[Full Paper]
Bing Ni, Kai Wang, Ting He, Yue Gong, Lin Gu, Jing Zhuang, Xun Wang
Adv. Energy Mater., January 02, 2018, https://doi.org/10.1002/aenm.201702313 Read article
Poly(sulfur-co-diisopropylenbenzene) copolymers with different sulfur-to-carbon ratios are studied for their surface properties and bioactivities. In these polymers, the organic component segregates to the surfaces, so that the resulting material is protein-adhesive. Overall, however, the sulfur content at the interface is sufficient to make them antimicrobial against Escherichia coli bacteria.
[Full Paper]
Zhuoling Deng, Alexander Hoefling, Patrick Théato, Karen Lienkamp
Macromol. Chem. Phys., December 29, 2017, https://doi.org/10.1002/macp.201700497 Read article
Photopolymerization-induced phase separation is controlled to manipulate surface structure of hybrid coatings. During photopolymerization, the competition between phase separation and gelation determines the extent of phase separation and evolved surface structure. The influence of photoinitiator content (as the kinetics influencing factor) and inorganic portion (as the thermodynamics influencing factor) on this competition and the final surface structure was investigated.
[Full Paper]
Mohsen Mohammad Raei Nayini, Saeed Bastani, Siamak Moradian, Céline Croutxé-Barghorn, Xavier Allonas
Macromol. Chem. Phys., December 29, 2017, https://doi.org/10.1002/macp.201700377 Read article
[Full Paper]
Negar Alizadeh, Rahman Hallaj, Abdollah Salimi
Electroanalysis, December 29, 2017, https://doi.org/10.1002/elan.201700727 Read article
Carbon fiber: Recent advances and technologies to improve the supercapacitor performance of carbon-fiber materials are briefly reviewed and discussed, as well as the future challenges and prospects.
[Minireview]
Shilei Xie, Si Liu, Prof Faliang Cheng, Xihong Lu
ChemElectroChem, December 27, 2017, https://doi.org/10.1002/celc.201701020 Read article
A straight forward strategy is proposed for the fabrication of graphene wrapped Ag array based SERS substrate with good sensitivity, homogeneity and long-term stability. The flexible membrane contains densely assembled Ag array to produce uniformly distributed hot spots, and tightly wrapped graphene cover could also act as a electron shuttle to protect Ag from reaction and direct interaction with targets.
[Full Paper]
Lei Ouyang, Yesheng Wang, Lihua Zhu, Joseph Irudayaraj, Heqing Tang
Adv. Mater. Interfaces, December 21, 2017, https://doi.org/10.1002/admi.201701221 Read article
The wetting transition from Cassie–Baxter state to Wenzel state is observed in the microconical structures. Two well-fabricated samples which are patterned truncated cones and hierarchical conical structures show different characteristics on wetting. The sharp Cassie–Wenzel transition is possible to observe in varying center-to-center distance and height, in this study.
[Full Paper]
Il Woong Park, Maria Fernandino, Carlos A. Dorao
Adv. Mater. Interfaces, December 21, 2017, https://doi.org/10.1002/admi.201701039 Read article
Impact with electrochemistry: The applications of electrochemical techniques to study individual entities in solution are overviewed. Specifically, strategies that enable rapid and simple investigation of redox-inactive and non-catalytic particles are highlighted, broadening the range of entities that can be examined and, therefore, the value and capabilities of electrochemistry in the field.
[Minireview]
Eduardo Laborda, Angela Molina, Christopher Batchelor-McAuley, Richard G. Compton
ChemElectroChem, December 19, 2017, https://doi.org/10.1002/celc.201701000 Read article
Tightly bound: By using in situ attenuated total reflectance surface-enhanced infrared absorption spectroscopy (ATR-SEIRAS), it is shown that carbon monoxide (CO) binds more strongly on the surface of copper oxides than on pure metallic copper and, consequently, the prolonged population of CO, a key intermediate of CO2 reduction, is observed.
[Article]
Seunghwa Lee, Jaeyoung Lee
ChemElectroChem, December 19, 2017, https://doi.org/10.1002/celc.201700892 Read article
Fluorescence techniques present unique capabilities for characterization of glass-forming polymers at the nanoscale. Advances in fluorescence over the past two decades have provided insight into the behavior of the glass transition temperature, physical aging, diffusion and mobility, and mechanical response in polymers confined to nanometer dimensions through sensitive, location-specific measurements.
[Review]
Mary J. Burroughs, Dane Christie, Laura A. G. Gray, Mithun Chowdhury, Rodney D. Priestley
Macromol. Chem. Phys., December 14, 2017, https://doi.org/10.1002/macp.201700368 Read article
Moderate surface oxygen can efficiently promote the HER activity of molybdenum carbide nanoladders via a good balance of Volmer and Heyrovsky/Tafel steps in kinetics, which should be ascribed to the downshift of d-band center of Mo atoms and the introduced steric hindrance from surface oxygen atoms.
[Full Paper]
Zhangping Shi, Boxu Gao, Qijie Mo, Zheng-Jiang Shao, Kaiqi Nie, Bolun Liu, Hongbin Zhang, Yangxia Wang, Yahong Zhang, Qingsheng Gao, Xuhui Sun, Xiao-Ming Cao, P. Hu, Yi Tang
ChemNanoMat, December 12, 2017, https://doi.org/10.1002/cnma.201700329 Read article
To graft or not to graft? Laccase-mediated grafting is a simple and mild approach to covalently modify surfaces and thereby generate (bio)functionalised materials. However, differentiation between adsorption and grafting is not always straightforward and can be easily overlooked.
[Review]
Sjoerd Slagman, Han Zuilhof, Maurice C. R. Franssen
ChemBioChem, December 12, 2017, https://doi.org/10.1002/cbic.201700518 Read article
The design and realization of 3D spatially selective modified poly(methylmethacrylate) surface with switchable amphiphilicity are described. The smart amphiphilic response is achieved through the in-plane and height distinguished grafting of highly hydrophobic 3,5- bis(trifluoromethyl)phenyl groups and temperature controlled hydrophilic/phobic poly(N-isopropylacrylamide) chains.
[Full Paper]
Olga Guselnikova, Pavel Postnikov, Petr Sajdl, Roman Elashnikov, Vaclav Švorčík, Oleksiy Lyutakov
Adv. Mater. Interfaces, December 11, 2017, https://doi.org/10.1002/admi.201701182 Read article
Water in milliliter order forms a pancake shape on a superhydrophobic surface. Subjecting such a pancake to interfacial jamming of nanoparticles allows a segmenting manipulation of the coated liquid pancake. Based on this mechanism, liquid shaping is realized with the resulting product, as liquid plasticine, characterized with accurate profile, large size, and high transparency.
[Communication]
Xiaoguang Li, Haixiao Shi, Yiqi Wang, Renxian Wang, Shuai Huang, Junchao Huang, Xingguo Geng, Duyang Zang
Adv. Mater. Interfaces, December 11, 2017, https://doi.org/10.1002/admi.201701139 Read article
The efficiency of autonomous crack healing to delay corrosion is shown for both orthogonally and longitudinally oriented cracks. A mechanically triggered self-healing approach is used and the efficiency is compared against manual crack healing. Next to a visual analysis, X-ray radiography is used to study the evolution of the rebar–cementitious matrix interface due to corrosion.
[Full Paper]
Kim Van Tittelboom, Bjorn Van Belleghem, Matthieu N. Boone, Luc Van Hoorebeke, Nele De Belie
Adv. Mater. Interfaces, December 11, 2017, https://doi.org/10.1002/admi.201701021 Read article
Recently, a new conceptual paradigm, nanoarchitectonics, has been proposed to combine nanotechnology and other methodologies including supramolecular chemistry, self-assembly and self-organization to satisfy major features of nanoscience and promote the creation of functional materials and systems. In this account article, our recent research results on materials development based on the nanoarchitectonics concept are summarized.
[Personal Account]
Katsuhiko Ariga, Taizo Mori, Lok Kumar Shrestha
Chem. Rec., December 04, 2017, https://doi.org/10.1002/tcr.201700070 Read article
An electrochemical-microfluidic combined methodology to modify transparent conductive oxides (TCOs) is proposed. The production of complex molecular structures, selectively localized in the microscale-sized areas where electrochemical grafting has taken place is demonstrated by realizing an electrochemical biosensor through a layer-by-layer approach. This strategy offers a method to produce customizable TCOs for different applications requiring defined patterning.
[Full Paper]
Francesco Lamberti, Stefano Salmaso, Alessandro Zambon, Laura Brigo, Alessio Malfanti, Teresa Gatti, Stefano Agnoli, Gaetano Granozzi, Giovanna Brusatin, Nicola Elvassore, Monica Giomo
Adv. Mater. Interfaces, December 04, 2017, https://doi.org/10.1002/admi.201701222 Read article
Biomaterials have and continue to play an important role in how to support and treat patients with various diseases through their use in tissue and blood interacting medical devices and drug delivery systems. This review focuses on outstanding challenges and new directions of anticlotting biomaterials research.
[Review]
Rana Gbyli, Anna Mercaldi, Harihara Sundaram, Kagya A. Amoako
Adv. Mater. Interfaces, December 04, 2017, https://doi.org/10.1002/admi.201700954 Read article
Local glass transition temperature Tg(z) profile of glassy polystyrene (PS) next to rubbery polybutadiene (PB) is compared with and without a small-molecule additive in PB migrating to the PS domain causing plasticization. It is also demonstrated that the broad and asymmetric experimentally observed Tg(z) profiles are not caused by the migration of low molecular weight chains across the interface.
[Full Paper]
Benjamin L. Kasavan, Roman R. Baglay, Connie B. Roth
Macromol. Chem. Phys., November 24, 2017, https://doi.org/10.1002/macp.201700328 Read article
In this review we highlight the latest progress of CB[n]-mediated host-guest complexes on surface with special attention to stimuli-responsive studies. Stimulus-responsive systems by pH, light or electrochemistry are attractive as such systems offer advantages such as dynamicity and reversibility, so that they are able to function as molecular machines or mimic molecular systems from nature.
[Review]
Maike Wiemann, Pascal Jonkheijm
Isr. J. Chem., November 23, 2017, https://doi.org/10.1002/ijch.201700109 Read article
Polydopamine based colloids are an important class of functional materials because they integrate bioinspired polydopamine chemistry from natural melanin and adhesive proteins secreted in mussel foots with colloidal science. We thereby review the recent progress in the synthesis and applications of polydopamine based colloidal materials.
[Personal Account]
Ziwei Deng, Bin Shang, Bo Peng
Chem. Rec., November 10, 2017, https://doi.org/10.1002/tcr.201700051 Read article
How size influences behavior: Sub-millimeter-sized amphiphilic Janus microparticles are found to self-assemble into clusters whose structures are similar to those made of nanoparticles. The amphiphilic Janus microparticles orient between the water–oil interface to form micelle-like structures. When the water evaporates, the particles aggregate into orderly superstructures.
[Article]
Xue-Hui Ge, Yu-Hao Geng, Jian Chen, Jian-Hong Xu
ChemPhysChem, August 24, 2017, https://doi.org/10.1002/cphc.201700838 Read article
Superwetting materials are receiving increasing attention in the field of removal of organic pollutants from water. On the basis of our previous work in the field, we summarized in this account the progress of removal of (1) floating and underwater insoluble, (2) emulsified insoluble, and (3) both insoluble and soluble organic pollutants from water using superwetting materials including 2D porous materials, 3D porous materials and particles.
[Personal Account]
Lingxiao Li, Junping Zhang, Aiqin Wang
Chem. Rec., August 02, 2017, https://doi.org/10.1002/tcr.201700029 Read article
© Wiley-VCH 2016.