Surfaces and Interfaces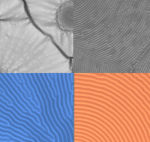 Interfaces and surfaces are where the action happens. Catalysis, molecular recognition, charge transfer, polymerization and many other critical processes take place at the boundary between one medium and another. With the need to integrate new materials into devices, and applications ranging from catalysis to sensors, medicine to self-cleaning surfaces, and displays to lasers, fundamental and applied studies of surface and interface processes and optimization are of critical importance in developing new technology to meet today's challenges. The selection of recent research articles presented below illustrates the vast potential of this field.
For recent reviews, see

RSS feed
Recent Articles
Electrochemistry: The performance stability of directly assembled La cobaltites can be significantly enhanced by forming a composite electrode or by replacing La with Sm. This study demonstrates the new opportunities in the design and development of intermediate-temperature solid oxide fuel cells based on the directly assembled high-performance and durable Sr-free cobaltite-based perovskite cathodes.
[Full Paper]
Na Ai, Na Li, William D. A. Rickard, Yi Cheng, Kongfa Chen, San Ping Jiang
ChemSusChem, February 21, 2017, DOI: 10.1002/cssc.201601645. Read article
In an experiment based on electroosmotic ion transport, 3.6 nm high graphene nanochannels with a clean, smooth and hydrophobic surface and large slip length have 115 times greater ionic conductivity than SiO2 nanochannels.
[Communication]
Wonsuk Jung, Jangheon Kim, Soohyun Kim, Hyung Gyu Park, Yousung Jung, Chang-Soo Han
Adv. Mater., February 21, 2017, DOI: 10.1002/adma.201605854. Read article
Heterojunction photocatalysts attract a lot of attention because of their effectiveness for spatial separation of photogenerated electron–hole pairs. Therefore, various types of heterojunction photocatalyst are applied in different photocatalytic fields, including H2 production, CO2 reduction, and pollutant degradation. The development of heterojunction photocatalysts can lead to significant advancements in the photocatalysis field.
[Review]
Jingxiang Low, Jiaguo Yu, Mietek Jaroniec, Swelm Wageh, Ahmed A. Al-Ghamdi
Adv. Mater., February 21, 2017, DOI: 10.1002/adma.201601694. Read article
All-inorganic halide perovskite nanocrystals (IPNCs) (CsPbX3, X = Cl, Br, I) based vertical cavity surface emitting laser is realized for the first time. These laser devices operate at a very low threshold, such that quasi-steady-state pumping is feasible. The results highlight the emerging CsPbX3 IPNCs as practical laser media and represent a significant leap toward practically desirable laser devices.
[Full Paper]
Yue Wang, Xiaoming Li, Venkatram Nalla, Haibo Zeng, Handong Sun
Adv. Funct. Mater., February 21, 2017, DOI: 10.1002/adfm.201605088. Read article
Effects of surface exposure: The chemical instability of imidazolium-based ionic liquids (ILs) in contact with lithium metal is discussed. After aging the ILs in contact with a lithium-metal sheet, possible decomposition products are analyzed. Furthermore, stable cycling behavior in lithium-metal batteries occurs through the addition of the solid–electrolyte interphase film-forming additive fluoroethylene carbonate.
[Full Paper]
Paulo Schmitz, Rene Jakelski, Marcelina Pyschik, Kirsi Jalkanen, Sascha Nowak, Martin Winter, Peter Bieker
ChemSusChem, February 20, 2017, DOI: 10.1002/cssc.201601496. Read article
An effective strategy is developed to pattern DNA recognition sites in a helical arrangement around an AuNR and a new set of heterogeneous AuNR@AuNP chiral plasmonic superstructures are fabricated by attaching complementary-DNA-modified AuNPs to the predesigned sites on the AuNR surface, producing complex chiral plasmonic nanostructures and rich chiroptical activities.
[Communication]
Chenqi Shen, Xiang Lan, Chenggan Zhu, Wei Zhang, Leyu Wang, Qiangbin Wang
Adv. Mater., February 20, 2017, DOI: 10.1002/adma.201606533. Read article
Silver nanowire array-based metamaterial films are fabricated and a facile method is proposed based on a one-step sputtering process with radio frequency bias-assisted deposition. Multi-layer nanowire array laminated structures are constructed and show more flexible control among multiple longitudinal resonances. This study takes designing, fabricating, and integrating nanostructured metamaterials and related nanophotonic devices one solid step further.
[Communication]
Junhua Gao, Xingzhi Wu, Qiuwu Li, Shiyu Du, Feng Huang, Lingyan Liang, Hongliang Zhang, Fei Zhuge, Hongtao Cao, Yinglin Song
Adv. Mater., February 20, 2017, DOI: 10.1002/adma.201605324. Read article
A winning combination: A promising monolithic CoO@Cu2O/SiC-foam catalyst is developed by a reaction-induced method, providing a unique combination of unprecedented Cu2O–CoO interface catalysis with improved hydrodynamics and enhanced heat/mass transfer in the gas-phase aerobic oxidation of bioethanol to acetaldehyde for a feed gas with a very high ethanol concentration of 20 vol %.
[Communication]
Guofeng Zhao, Songyua Fan, Xiaxia Pan, Pengjing Chen, Ye Liu, Yong Lu
ChemSusChem, February 17, 2017, DOI: 10.1002/cssc.201601848. Read article
CO2 desorption during formate decomposition in the steady-state reaction of HCOOH with O2 on Cu(110) is a thermal non-equilibrium process. During formate decomposition a large amount of released energy is transformed into the internal energies of CO2 molecules, which supports an Eley–Rideal-type mechanism for formate synthesis on copper catalysts.
[Communication]
Jiamei Quan, Takahiro Kondo, Guichang Wang, Junji Nakamura
Angew. Chem. Int. Ed., February 17, 2017, DOI: 10.1002/anie.201611342. Read article
The practicability of the typical 2D layered materials (h-BN, graphene, silicene, germanene, stanene, phosphorene, SnS, and SnSe) as protecting films for lithium or sodium metal anodes from aspects of both the diffusion and mechanical properties is studied by first-principles calculations, and the study focuses on their relationship with the crystalline structures, defect feature, and metal's proximity effect.
[Full Paper]
Hongzhen Tian, Zhi Wei Seh, Kai Yan, Zhongheng Fu, Peng Tang, Yingying Lu, Ruifeng Zhang, Dominik Legut, Yi Cui, Qianfan Zhang
Adv. Energy Mater., February 17, 2017, DOI: 10.1002/aenm.201602528. Read article
A vertical-cavity surface-emitting perovskite laser is achieved using a microcavity configuration where CH3NH3PbI3 thin solid films are embedded within a custom GaN-based high-quality (Q-factor) resonator. This single-mode perovskite laser reaches a low threshold (≈7.6 µJ cm−2) at room temperature and emits spatially coherent Gaussian laser beams. The devices allow direct access to the study of perovskite gain dynamics and material robustness.
[Communication]
Songtao Chen, Cheng Zhang, Joonhee Lee, Jung Han, Arto Nurmikko
Adv. Mater., February 17, 2017, DOI: 10.1002/adma.201604781. Read article
[Full Paper]
Yousry M. Issa, Omaima E. Sherif, Ahmed S. Abo Dena
Electroanalysis, February 16, 2017, DOI: 10.1002/elan.201700034. Read article
Pretty sticky: A triple bond, custom-tailored for adsorption, is what makes the strained cyclooctyne molecule bind so strongly to the Si(001) surface. Computational analysis reveals that molecular flexibility and dispersion forces lead to surprising features that are in contrast to the adsorption of smaller molecules.
[Full Paper]
Josua Pecher, Christoph Schober, Ralf Tonner
Chem. Eur. J., February 16, 2017, DOI: 10.1002/chem.201605952. Read article
This schematic shows a facile metasurface approach to realize polarization-controllable multichannel superpositions of orbital angular momentum (OAM) states with various topological charges. By manipulating the polarization state of the incident light, four kinds of superpositions of OAM states are realized using a single metasurface consisting of space-variant arrays of gold nanoantennas.
[Communication]
Fuyong Yue, Dandan Wen, Chunmei Zhang, Brian D. Gerardot, Wei Wang, Shuang Zhang, Xianzhong Chen
Adv. Mater., February 16, 2017, DOI: 10.1002/adma.201603838. Read article
Individual cells are captured by Au nanostar-coated micromechanical traps, which fold up and surround the cell surface and function as a surface-enhanced Raman spectroscopy sensor. Through this non-invasive label-free approach, proteins and lipids can be identified on the cell surface, and the spectra can be used to reconstruct a 3D microscopic image of the cellular surface chemical composition.
[Communication]
Qianru Jin, Ming Li, Beril Polat, Santosh K. Paidi, Aimee Dai, Amy Zhang, Jayson V. Pagaduan, Ishan Barman, David H. Gracias
Angew. Chem. Int. Ed., February 15, 2017, DOI: 10.1002/anie.201700695. Read article
Throwing DARTs at a surface: The strain-promoted oxidation-controlled cyclooctyne-1,2-quinone cycloaddition (SPOCQ) between bicyclo[6.1.0]nonyne (BCN) and a surface-bound quinone revealed an unprecedented 100 % conjugation efficiency.
[Communication]
Rickdeb Sen, Jorge Escorihuela, Floris van Delft, Han Zuilhof
Angew. Chem. Int. Ed., February 15, 2017, DOI: 10.1002/anie.201612037. Read article
Hofmeister effects: The conductance of a purely cation-selective peptide pore is regulated by anions in correlation with their position in the Hofmeister series (see picture). Moreover, the pore conformational dynamics are highly sensitive to the anion species. Both effects are related to preferential depletion of kosmotropic anions (accumulation of chaotropic anions) at the membrane–water interface.
[Communication]
Philip A. Gurnev, Torri C. Roark, Horia I. Petrache, Alexander J. Sodt, Sergey M. Bezrukov
Angew. Chem. Int. Ed., February 15, 2017, DOI: 10.1002/anie.201611335. Read article
The big split-up: Upon Al doping of lanthanum–strontium manganites, manganese enrichment and strontium depletion is observed at the perovskite surface. This is correlated with a higher redox activity and lower carbonate formation, both beneficial for CO2-splitting applications.
[Full Paper]
M. Ezbiri, V. Becattini, M. Hoes, R. Michalsky, A. Steinfeld
ChemSusChem, February 14, 2017, DOI: 10.1002/cssc.201601869. Read article
Role of oxide reducibility: Density functional theory calculations on CO oxidation on a model Au/ZrO2 catalyst, in which the support is a non-reducible oxide (zirconia), show that low-temperature CO oxidation on the supported Au nanoparticles occurs through direct interaction of an activated O2 molecule with adsorbed CO to form CO2. However, at room temperature or above the reaction follows another path as O2 desorbs from Au at 170 K.
[Full Paper]
Antonio Ruiz Puigdollers, Gianfranco Pacchioni
ChemCatChem, February 14, 2017, DOI: 10.1002/cctc.201601486. Read article
All that glitters isn't gold: The impact of different metal deposition methods on light-driven H2 production is studied. Au/Cu alloy particles formed by coprecipitation evolve much more H2 under visible light than separate Au0 and Cu0 particles formed by stepwise precipitation. The opposite is true under UV light.
[Full Paper]
Jacqueline B. Priebe, Jörg Radnik, Carsten Kreyenschulte, Alastair J. J. Lennox, Henrik Junge, Matthias Beller, Angelika Brückner
ChemCatChem, February 14, 2017, DOI: 10.1002/cctc.201601361. Read article
Polydimethylsiloxane (PDMS) can be grafted to metal-oxide photocatalysts such as titanium oxide by simple UV irradiation in solution or melt. The PDMS graft metal oxides are still photocatalytically active. They are hydrophobic, liquid repellent, self-cleaning, prevent biofouling and are long-term stable even in UV light.
[Communication]
Sanghyuk Wooh, Noemí Encinas, Doris Vollmer, Hans-Jürgen Butt
Adv. Mater., February 14, 2017, DOI: 10.1002/adma.201604637. Read article
A series of metal acetylacetonates produced by a full low-temperature (below 100 °C) process are successfully employed to obtain both "multistable" and high-performance planar-inverted perovskite solar cells. All the three kinds of champion cells in small area exhibit over 18% in conversion-efficiency with negligible hysteresis, along with above 16% in conversion-efficiency for planar PSCs in an aperture area of over 1 cm2.
[Communication]
Wei Chen, Leiming Xu, Xiyuan Feng, Jiansheng Jie, Zhubing He
Adv. Mater., February 14, 2017, DOI: 10.1002/adma.201603923. Read article
Anchoring the layers: To assess the role of an additional O anchor on the order and dynamics of self-assembled monolayers, the system involving mercaptobenzoic acid isomers 2-mercaptobenzoic acid (2-MBA) and 4-mercaptobenzoic acid (4-MBA), on Au(111) have been studied.
[Article]
Miriam C. Rodríguez González, Pilar Carro, Evangelina Pensa, Carolina Vericat, Roberto Salvarezza, Alberto Hernández Creus
ChemPhysChem, February 13, 2017, DOI: 10.1002/cphc.201601313. Read article
Ionic heterostructures are used as a strain-modulated memristive device based on the model system Gd0.1Ce0.9O2−δ/Er2O3 to set and tune the property of "memristance." The modulation of interfacial strain and the interface count is used to engineer the Roff/Ron ratio and the persistence of the system. A model describing the variation of mixed ionic–electronic mobilities and defect concentrations is presented.
[Communication]
Sebastian Schweiger, Reto Pfenninger, William J. Bowman, Ulrich Aschauer, Jennifer L. M. Rupp
Adv. Mater., February 13, 2017, DOI: 10.1002/adma.201605049. Read article
Self-healing induced by structural phase transformation is demonstrated using pentacene field-effect transistors. During the self-healing process, electrical properties at pentacene interfaces improve due to the phase transformation from monolayer phase to thin-film phase. Enhanced mobility is confirmed by first-principles calculations.
[Communication]
Evan S. H. Kang, Hongbin Zhang, Wolfgang Donner, Heinz von Seggern
Adv. Mater., February 10, 2017, DOI: 10.1002/adma.201604833. Read article
The importance of interfacial charge transfer and photogenerated charge separation at various interfaces involving semiconductors is discussed. Optimization leads to highly efficient photo-electrochemical water splitting and properties of solar energy devices. Various interfaces such as semiconductor–electrolyte, semiconductor–semiconductor, semiconductor–metal, and semiconductor–molecules are discussed and found to be involved in photo-electrochemical processes.
[Review]
Sandeep Kumar, Kasinath Ojha, Ashok K. Ganguli
Adv. Mater. Interfaces, February 09, 2017, DOI: 10.1002/admi.201600981. Read article
Lightning attack: Surface-modified gold multibranched nanoparticles (AuMs) are prepared through the simple chemical reduction of gold chloride aqueous solution followed by in situ modification using water-soluble arenediazonium tosylates with different functional organic groups. The antibacterial effect of surface-modified AuMs is evaluated by using Escherichia coli and Staphylococcus epidermidis bacteria under IR light illumination and without external triggering. Strong plasmon resonance on the AuMs cups leads to a significant reduction of the light power needed to kill bacteria.
[Full Paper]
Yevgeniya Kalachyova, Anasiya Olshtrem, Olga A. Guselnikova, Pavel S. Postnikov, Roman Elashnikov, Pavel Ulbrich, Silvie Rimpelova, Václav Švorčík, Oleksiy Lyutakov
ChemistryOpen, February 07, 2017, DOI: 10.1002/open.201600159. Read article
They deserve a promotion! The effect of the particle size and the addition of a K promoter on the oxidation state of Co/CeO2 is investigated and correlated with selectivity for ethanol steam reforming performed with various H2O/EtOH molar ratios. Spectroscopic studies show that the oxidation state of the catalyst components depends on the H2O/EtOH molar ratio.
[Full Paper]
Sylwia Turczyniak, Magdalena Greluk, Grzegorz Słowik, Wojciech Gac, Spyridon Zafeiratos, Andrzej Machocki
ChemCatChem, February 06, 2017, DOI: 10.1002/cctc.201601343. Read article
A sensitive subject: Organic sensitizers (D-π-A; D=donor, π=π-conjugated spacer, A=acceptor), inorganic quantum-dot (QD) sensitizers, and redox mediators for aqueous solar cells are reviewed.
[Focus Review]
Chun-Ting Li, Ryan Yeh-Yung Lin, Jiann T. Lin
Chem. Asian J., February 03, 2017, DOI: 10.1002/asia.201601627. Read article
A comprehensive review of recent developments of perovskite/carbon composites for oxygen electrocatalysis in alkaline media is provided, aiming to offer insights into key parameters that influence the ORR/OER performance and the origin of synergistic effect associated with the interfacial interaction in the composites. The existing challenges and future perspectives are also presented.
[Review]
Yinlong Zhu, Wei Zhou, Zongping Shao
Small, February 02, 2017, DOI: 10.1002/smll.201603793. Read article
Microcontact printing is employed to immobilize anti-class I molecule antibodies on glass surfaces in distinct geometric patterns. Upon seeding cells onto these, green fluorescent protein-tagged cell surface class I molecules are captured, resembling the antibody micropattern geometry in live cells. Interestingly, these accumulated class I molecules are physiologically functional, since they bind specifically antigenic peptides as visualized by fluorescence microscopy.
[Full Paper]
Cindy Dirscherl, Raghavendra Palankar, Mihaela Delcea, Tatiana A. Kolesnikova, Sebastian Springer
Small, February 02, 2017, DOI: 10.1002/smll.201602974. Read article
The tunable, progressive harvesting of visible-to-near infrared light (vis–NIR, λ > 570 nm) by designing plasmonic Au nanorods (NRs) and metal (Au, Ag, or Pt) nanoparticle (NP) codecorated 1D CdS nanowire ensemble is reported. Such cooperative synergy with tunable control of interfacial interaction, morphology optimization, and cocatalyst strategy results in the distinctly boosted performance for vis–NIR-driven plasmonic photocatalysis.
[Full Paper]
Chuang Han, Quan Quan, Hao Ming Chen, Yugang Sun, Yi-Jun Xu
Small, February 02, 2017, DOI: 10.1002/smll.201602947. Read article
Skim the surface: Carbon nanotubes (CNTs) were treated to incorporate oxygenated groups on the surface. The modified CNTs were used as supports for Ru in the direct conversion of ball-milled cellulose into sorbitol; high conversions were reached after 3 h at 205 °C. The effect of the surface chemistry of the catalytic support on the one-pot conversion of cellulose to sorbitol and on the individual hydrolysis and hydrogenation steps was evaluated.
[Full Paper]
Lucília S. Ribeiro, Juan J. Delgado, José J. de Melo Órfão, M. Fernando Ribeiro Pereira
ChemCatChem, February 02, 2017, DOI: 10.1002/cctc.201601224. Read article
Ag@SiO2/f-Al2O3/e-Al substrate is developed with strong plasmonic coupling of edge–edge orientation within Ag@SiO2 nanocubes. The sandwich structure creates a "multiple light source effect" to enhance efficiency of surface plasmon hotspots and shows a reproducible bifunctionality for detecting creatinine and flavin adenine dinucleotide by surface-enhanced Raman scattering and metal-enhanced photoluminescence.
[Full Paper]
Minh-Kha Nguyen, Wei-Nien Su, Bing-Joe Hwang
Adv. Healthcare Mater., February 02, 2017, DOI: 10.1002/adhm.201601290. Read article
[Original Research Paper]
H.-C. Pham, S. Taniguchi, Y. Inoue, J. Matsuda, J.-T. Chou, Y. Misu, K. Matsuoka, K. Sasaki
Fuel Cells, February 01, 2017, DOI: 10.1002/fuce.201600038. Read article
It is demonstrated that the open circuit voltage (Voc) in p-type dye sensitized solar cells is heavily limited by interfacial charge recombination and consequently that higher Voc values above 100 mV and as high as 500 mV can be attained with conventional materials (NiO and electrolytes) if the deleterious interfacial charge recombination reactions can be decreased.
[Full Paper]
Ludovic Favereau, Yann Pellegrin, Lionel Hirsch, Adèle Renaud, Aurélien Planchat, Errol Blart, Guy Louarn, Laurent Cario, Stéphane Jobic, Mohammed Boujtita, Fabrice Odobel
Adv. Energy Mater., January 30, 2017, DOI: 10.1002/aenm.201601776. Read article
An additive-free and reconfigurable assembly strategy based on capillary interaction between an air-bubble and floating object is demonstrated. The method is capable of long-range transport, assembly, and on-demand disassembly of floating objects at the water–air interface, by simply controlling the dynamics of the air bubble.
[Communication]
Thamarasseril Vijayan Vinay, Theneyur Narayanaswamy Banuprasad, Sajan Daniel George, Soney Varghese, Subramanyan Namboodiri Varanakkottu
Adv. Mater. Interfaces, January 30, 2017, DOI: 10.1002/admi.201601231. Read article
Layer by layer: The role of the electron-transport layer (ETL) in perovskite solar cells is investigated. An ET barrier tends to exist when a perovskite/PCBM/Ag structure is used and results in a poor fill factor (FF). Introduction of a thin bathocuproine (BCP) interlayer (see figure) increases the interface inversion and raises the FF from 56 to 76 %. PCBM: (6,6)-phenyl-C61-butyric acid methyl ester (ETL).
[Article]
Jiang Liu, Gang Wang, Kun Luo, Xulin He, Qinyan Ye, Cheng Liao, Jun Mei
ChemPhysChem, January 27, 2017, DOI: 10.1002/cphc.201601245. Read article
A method of brazing vertically oriented carbon nanotube (CNT) arrays for thermal interface applications is presented. Carbide formation occurs at heterogeneous material interfaces, and high thermal interface conductances are measured. Because of the mechanical compliance of CNT arrays, this interface material survives extreme thermal cycling and thermal shock, sustaining its thermal and mechanical integrity, despite experiencing enormous thermal strain.
[Full Paper]
Menglong Hao, Anurag Kumar, Stephen L. Hodson, Dmitry Zemlyanov, Pingge He, Timothy S. Fisher
Adv. Mater. Interfaces, January 27, 2017, DOI: 10.1002/admi.201601042. Read article
Textured composite surfaces with protruding fibers are fabricated for enhanced coefficient of friction on ice. Surface morphology of ten composites is elucidated in detail to determine the effect of abrasion on the frictional properties. Poly(p-phenylene-2,6-benzobisoxazole)–thermoplastic polyurethanes composite surfaces exhibit increased wear resistance of 22% and improved friction of 57%.
[Full Paper]
Ali Anwer, Zahra S. Bagheri, Geoff Fernie, Tilak Dutta, Hani E. Naguib
Adv. Mater. Interfaces, January 27, 2017, DOI: 10.1002/admi.201600983. Read article
An anode interface engineering with excellent compatible poly(3,4-ethylene dioxythiophene) derivative bilayer via a low-temperature, water-soluble process is presented. Through the combination of tune energy level, optical properties, and trap passivation effect of grafted sulfonated-acetone-formaldehyde lignin at the hole transport layer/perovskite interface, the bilayer can greatly enhance the charge extraction and reduce the interface recombination rate. The device with remarkable power conversion efficiency up to 17.78% is achieved.
[Full Paper]
Xichang Bao, Junyi Wang, Yuan Li, Dangqiang Zhu, Ying Wu, Peipei Guo, Xuefei Wang, Yongchao Zhang, Jiuxing Wang, Hin-Lap Yip, Renqiang Yang
Adv. Mater. Interfaces, January 27, 2017, DOI: 10.1002/admi.201600948. Read article
An autoclaving-derived antimicrobial and antifouling dual-functional surface coating is prepared using block copolymer of polyhexamethylene guanidine and polyethylene glycol. This coating exhibits significant in vivo anti-infection effect in a rodent subcutaneous infection model, offering an effective strategy for combating biomedical device-associated infections.
[Full Paper]
Yajuan Su, Zelun Zhi, Qiang Gao, Meihua Xie, Meng Yu, Bo Lei, Peng Li, Peter X. Ma
Adv. Healthcare Mater., January 27, 2017, DOI: 10.1002/adhm.201601173. Read article
The Si–void@SiOx nanowire anode is designed by a simple synthetic and environmentally friendly process, and in situ investigation of lithiated Si–void@SiOx nanowire is performed inside a transmission electron microscope. Si–void@SiOx nanowire electrodes exhibit improved lithium storage properties including the high specific capacity and high rate capability.
[Full Paper]
Qian Liu, Zhe Cui, Rujia Zou, Jianhua Zhang, Kaibing Xu, Junqing Hu
Small, January 25, 2017, DOI: 10.1002/smll.201603754. Read article
An interfacial modifier, poly(methyl methacrylate) (PMMA) having inorganic blocks at the chain ends, is prepared by living anionic polymerization. It is preferentially segregated in the mixture of PMMA to regulate the surface wettability and functions, which depend on the fed ratio. The effect of the interfacial modifications is clearly demonstrated in the cell proliferation behaviors on PMMA films.
[Full Paper]
Kentaro Yamamoto, Tomoyasu Hirai, Yukari Oda, Daisuke Kawaguchi, Hisao Matsuno, Keiji Tanaka
Macromol. Chem. Phys., January 25, 2017, DOI: 10.1002/macp.201600473. Read article
All on the surface? Fibrillation of amyloidogenic peptides is believed to be the cause of neurodegenerative diseases. Atomistic molecular dynamics simulations are used to show that adsorption of Aβ25–35 onto silver and gold surfaces catalyzes the formation of β-sheet-rich conformations of Aβ25–35. This study suggests that the interactions at the nano–bio interface prompts the toxicity of this peptide by altering its conformational state.
[Article]
Nima Soltani, Mohammad Reza Gholami
ChemPhysChem, January 25, 2017, DOI: 10.1002/cphc.201601000. Read article
Electronic devices suitable for integration with biological tissue have a great potential in areas like health monitoring, safety monitoring, prosthetics, and robotics. Fabrication techniques of devices that are flexible, stretchable, imperceptible, biocompatible, and self-healing for use as human-machine interfaces are summarized. In addition, insight into the future development of human-machine interfacing is provided.
[Review]
Hong Wang, Xiaohua Ma, Yue Hao
Adv. Mater. Interfaces, January 25, 2017, DOI: 10.1002/admi.201600709. Read article
A smart mixed-matrix coating is prepared comprising colloidal lysozyme-templated gold nanoclusters gating antimicrobial-loaded silica nanoparticles (MSN-AuNCs@lys) as nano-fillers in an amphiphilic polymer matrix. MSN-AuNCs@lys disperses homogenously within the polymer matrix with no phase separation and zero NP leaching. The mixed-matrix coating can successfully sense and inhibit bacterial contamination via a controlled release mechanism that is only triggered by bacteria.
[Full Paper]
Shahad K. Alsaiari, Mohammed A. Hammami, Jonas G. Croissant, Haneen W. Omar, Pradeep Neelakanda, Tahir Yapici, Klaus-Viktor Peinemann, Niveen M. Khashab
Adv. Healthcare Mater., January 25, 2017, DOI: 10.1002/adhm.201601135. Read article
Electron spin resonance spectroscopy is employed to investigate the kinetics of the reversible addition fragmentation chain transfer (RAFT) polymerization from silica nanoparticles. The obtained kinetic parameters reveal that the addition rate coefficient in the main equilibrium of RAFT graft polymerizations is smaller than the one for comparable RAFT polymerizations in solution phase, as translational diffusion of surface-attached molecules is limited.
[Full Paper]
Julia Moehrke, Philipp Vana
Macromol. Chem. Phys., January 24, 2017, DOI: 10.1002/macp.201600506. Read article
An osmotic-driven transport mechanism causes the formation of honeycomb-like structures in porous polymers and might apply to bees′ honeycombs as well.
[Communication]
Aggeliki Quell, Sascha Heitkam, Wiebke Drenckhan, Cosima Stubenrauch
ChemPhysChem, January 23, 2017, DOI: 10.1002/cphc.201600834. Read article
Colloidal stability of nanoparticles in biological fluids is a relevant issue for their use in biomedical applications, and tightly depends on the dispersion media but also on the nanoparticle coating.
[Full Paper]
Antonio Aires, David Cabrera, Laura C. Alonso-Pardo, Aitziber L. Cortajarena, Francisco J. Teran
ChemNanoMat, January 23, 2017, DOI: 10.1002/cnma.201600333. Read article
The composition, reactivity, and structure of buried interfaces in prototypical fast ion-conducting LaF3/SrF2 epitaxial multilayers are studied. A reduction of energy barrier for F ion vacancy formation is observed with respect to bare materials. Annealing also promotes F depletion at LaF3 side of buried interfaces. This is associated to the increase of ion conductivity in annealed heterostructures.
[Full Paper]
Konstantin Koshmak, Alexander Banshchikov, Regina Ciancio, Pasquale Orgiani, Francesco Borgatti, Giancarlo Panaccione, Angelo Giglia, Denis Céolin, Jean-Pascal Rueff, Nikolai S. Sokolov, Luca Pasquali
Adv. Mater. Interfaces, January 20, 2017, DOI: 10.1002/admi.201600875. Read article
On the basis of sequential self-limiting surface reactions, atomic layer deposition is capable of growing high quality, pinhole-free and conformal thin films as well as 3D nanoarchitectures, promoting advanced design and manufacture of highly-efficient and extremely-stable photoelectrochemical electrodes and triboelectric nanogenerators.
[Review]
Jingjie Su, Zhaodong Li, Yanhao Yu, Xudong Wang
Adv. Mater. Interfaces, January 20, 2017, DOI: 10.1002/admi.201600835. Read article
The best power conversion efficiency for a silicon/(copper oxide) heterojunction is achieved as a result of passivating the silicon surface. Passivation with methyl groups suppresses the formation of interfacial defects as the copper-oxide layer is deposited. The resulting air-stable photovoltaic device reaches a PCE of 6.02%.
[Full Paper]
Zhimin Liang, Yu Wang, Mingze Su, Wenjie Mai, Jianbin Xu, Weiguang Xie, Pengyi Liu
Adv. Mater. Interfaces, January 20, 2017, DOI: 10.1002/admi.201600833. Read article
[Review]
Sebastian Müller, Tatiana Cañeque, Verónica Acevedo, Raphaël Rodriguez
Isr. J. Chem., January 19, 2017, DOI: 10.1002/ijch.201600109. Read article
See beyond the layers: The growth of organic thin films on various electrodes is of crucial importance for organic electronics. Scanning tunneling microscopy studies on the growth modes of self-assembled multilayer films on metallic surfaces (see figure), the electronic states of the individual molecules in the layers, and the manipulation of spin states in spin-crossover compounds embedded in multilayers are reviewed.
[Minireview]
Yang He, Jörg Kröger, Yongfeng Wang
ChemPhysChem, January 18, 2017, DOI: 10.1002/cphc.201600979. Read article
A monolayer coating of pyridoxal 5′-phosphate (PLP) on TiO2 implants shows excellent hemophilicity, platelet inactivation, and osteointegration-inducing properties. Immobilized PLP on implants enhances adsorption of blood proteins and adhesion of platelets, while effectively delays platelet activation and blood coagulation. This enables sufficient supply of growth factors to promote osteoblast adhesion and proliferation, ultimately improving osteointegration to TiO2 implants.
[Full Paper]
Jung Seung Lee, Kyuri Kim, Joseph P. Park, Seung-Woo Cho, Haeshin Lee
Adv. Healthcare Mater., January 12, 2017, DOI: 10.1002/adhm.201600962. Read article
Liquid metal droplet wetting and dewetting transitions are shown using environmental stimuli to remove, reform, and transform droplet surface oxide. A comparison is made between the speed of oxide removal using NaOH and HCl, with NaOH proving to be significantly faster. The findings are applied to demonstrate a liquid metal switch controlled through purely environmental stimuli.
[Communication]
Raymond Adam Bilodeau, Dmitry Y. Zemlyanov, Rebecca K. Kramer
Adv. Mater. Interfaces, January 05, 2017, DOI: 10.1002/admi.201600913. Read article
A novel biomimetic 3D corneal model is created by optimizing the surface topography and mechanical strain similar to the microenvironment of native cornea. Compared to traditional 2D culture conditions, this 3D culture model, in the form of a collagen-modified, silk fibroin-patterned construct subjected to 3% dome-shaped strain, further enhances the expression of keratocyte and extracellular matrix markers, and better maintains the keratocyte phenotype.
[Full Paper]
Wei Zhang, Jialin Chen, Ludvig J. Backman, Adam D. Malm, Patrik Danielson
Adv. Healthcare Mater., December 27, 2016, DOI: 10.1002/adhm.201601238. Read article
[Full Paper]
Francesco Trozzi, Tainah Dorina Marforio, Andrea Bottoni, Francesco Zerbetto, Matteo Calvaresi
Isr. J. Chem., December 22, 2016, DOI: 10.1002/ijch.201600127. Read article
[Original Research Paper]
A. Cadi-Essadek, A. Roldan, N. H. de Leeuw
Fuel Cells, December 16, 2016, DOI: 10.1002/fuce.201600044. Read article
A robust and facile approach for the design of materials with switchable wettability is demonstrated. The switching effects are achieved by a combination of piezoelectric responsible composite poly(methylmethacrylate)/polyvinylidene difluoride and by tuning of pristine surface properties by grafting of arenediazonium tosylates with hydrophilic and hydrophobic substituents. Under the application of external triggering, the mechanical deformation and surface topography changes of materials occur, leading to the decrease of water contact angle.
[Full Paper]
Olga Guselnikova, Jan Svanda, Pavel Postnikov, Yevgeniya Kalachyova, Vaclav Svorcik, Oleksiy Lyutakov
Adv. Mater. Interfaces, December 12, 2016, DOI: 10.1002/admi.201600886. Read article
A thin-film composite electrolyte consisting of a polyethylene glycol-lithium salt complex in nanoporous SiOxCyHz films is fabricated for the first time. Confinement effects are found in the composite electrolyte. The combination of the composite concept with the thin-film approach, as demonstrated here, brings a new generic way to fabricate thin-film solid electrolytes.
[Full Paper]
Xubin Chen, Philippe M. Vereecken
Adv. Mater. Interfaces, December 12, 2016, DOI: 10.1002/admi.201600877. Read article
Well-defined polystyrene end-functionalized with N,N-diethylamino group is prepared by a living anionic polymerization and applied for the ionic bond formation with C8F17COOH. The ionic-bonded C8F17 group segregates at the top of film surface and can be removed by soaking in methanol. Moreover, the group that remained inside appears at the film surface by annealing, suggesting the surface reconstruction by environmental changes.
[Full Paper]
Kenji Sugiyama, Takeshi Yamada
Macromol. Chem. Phys., December 08, 2016, DOI: 10.1002/macp.201600444. Read article
[Full Paper]
Marco Arrigoni, Eugene A. Kotomin, Joachim Maier
Isr. J. Chem., November 15, 2016, DOI: 10.1002/ijch.201600056. Read article
Rosy outlook: Bioinspired rose-petal-like substrates with extremely high water adhesion have been generated by combining micropatterning and electropolymerization (see figure). The micropatterning specifications (pillar diameter and pitch) and the electropolymerization parameters were found to be key to obtaining both high water apparent contact angles and a high hysteresis.
[Full Paper]
Thierry Darmanin, Radoslaw Bombera, Pascal Colpo, Andrea Valsesia, Jean-Pierre Laugier, François Rossi, Frédéric Guittard
ChemPlusChem, October 12, 2016, DOI: 10.1002/cplu.201600387. Read article
Hydrogen adsorbed on surfaces is involved in a variety of chemical processes while it exhibits vibrational and rotational dynamics in its adsorption potential. Furthermore, hydrogen exchanges an electron with surfaces having a significant effect on the surface electronic structure. In this personal account, we review our recent studies on surface nuclear dynamics, transport across surfaces, catalytic hydrogenation reactions, and charge transfer between the surface and hydrogen by using nuclear reaction analysis and resonance enhanced multiphoton ionization in combination with surface science techniques.
[Personal Account]
K. Fukutani, M. Wilde, S. Ogura
The Chemical Record, August 26, 2016, DOI: 10.1002/tcr.201600077. Read article
© Wiley-VCH 2016.