Surfaces and Interfaces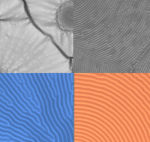 Interfaces and surfaces are where the action happens. Catalysis, molecular recognition, charge transfer, polymerization and many other critical processes take place at the boundary between one medium and another. With the need to integrate new materials into devices, and applications ranging from catalysis to sensors, medicine to self-cleaning surfaces, and displays to lasers, fundamental and applied studies of surface and interface processes and optimization are of critical importance in developing new technology to meet today's challenges. The selection of recent research articles presented below illustrates the vast potential of this field.
For recent reviews, see

RSS feed
Recent Articles
A matter of form: On-surface boronic esterification at the liquid/solid interface at room temperature between 4,4′-phenylazobenzoyl diboronic acid (ABBA) and 2,3,6,7,10,11-hexahydroxytriphenylene (HHTP) results in either a hybrid architecture or an extended surface covalent organic framework (COF; see figure), which is dependent on the monomer concentration.
[Full Paper]
Chunhua Liu, Yanxia Yu, Wei Zhang, Qingdao Zeng, Shengbin Lei
Chem. Eur. J., October 27, 2016, DOI: 10.1002/chem.201603547. Read article
Wetting phenomena: A long-range hydrophilic attraction in an oil medium was discovered between water and zwitterionic, cationic, and anionic polyelectrolyte molecules using an atomic force microscopy technique. The unexpected strong attraction could possibly be attributed to a strong dipolar interaction due to the large dipole moment of the polyelectrolyte molecules.
[Communication]
Chen Shi, Bin Yan, Lei Xie, Ling Zhang, Jingyi Wang, Atsushi Takahara, Hongbo Zeng
Angew. Chem. Int. Ed., October 27, 2016, DOI: 10.1002/anie.201608219. Read article
No sugar coating: A plant-derived pyrogallol is used for cytocompatible coating of various living cells, such as red blood cells, yeast, and HeLa cells. The coating occurs smoothly in an isotonic buffer, efficiently maintaining the cell viability.
[Communication]
Ji Yup Kim, Hojae Lee, Taegyun Park, Joonhong Park, Mi-Hee Kim, Hyeoncheol Cho, Wongu Youn, Sung Min Kang, Insung S. Choi
Chem. Asian J., October 26, 2016, DOI: 10.1002/asia.201601237. Read article
Break it up! A facile and high-yield approach is presented to prepare aqueous graphene dispersions based on the electrochemical exfoliation of graphite (see figure). The processability of the graphene dispersion was demonstrated in the fabrication of aerogels and films, which have been employed as absorbents and as electrodes in supercapacitors, respectively.
[Full Paper]
Marta Sevilla, Guillermo A. Ferrero, Antonio B. Fuertes
Chem. Eur. J., October 24, 2016, DOI: 10.1002/chem.201603321. Read article
A Janus fabric is generated in situ from a fabric filter used to separate oil-in-water emulsions. The asymmetric environment of the filter pulls different components to the surface of a switchable coating, generating a Janus fabric. One side of his easy-to-prepare Janus fabric destabilizes emulsions, while the other separates the coagulated oil from water.
[Communication]
Zijie Wang, Guojun Liu, Shuaishuai Huang
Angew. Chem. Int. Ed., October 24, 2016, DOI: 10.1002/anie.201607581. Read article
Cyclic polymer brushes: The cyclic polymer topology strongly alters the interfacial properties of polymer brushes. The smaller hydrodynamic volume coupled with the distinctive cyclic architecture generates surface assemblies with increased grafting density, augmented steric stabilization, improved antifouling and lubrication properties with respect to linear brush counterparts.
[Communication]
Giulia Morgese, Lucca Trachsel, Matteo Romio, Mohammad Divandari, Shivaprakash N. Ramakrishna, Edmondo M. Benetti
Angew. Chem. Int. Ed., October 24, 2016, DOI: 10.1002/anie.201607309. Read article
Gelatinated quantum dots with tunable negative charging at the surface are synthesized by using sequential acidic-alkaline processed gelatin with a greatly reduced isoelectric point when chemically adsorbed on quantum dots. The increase of pH greatly enhances emission but the decrease of pH greatly weakens emission, demonstrating reversible switching in photoluminescence for five cycles without obvious deterioration.
[Full Paper]
Shuhua Liu, Xiangyang Liu, Ming-Yong Han
Adv. Funct. Mater., October 24, 2016, DOI: 10.1002/adfm.201604351. Read article
Generalized Nernst layer model: A generalization of the Nernst layer model is proposed, which introduces particular diffusion layer thickness for each transporting component to simulate the convective diffusion process. The use of this theory is demonstrated for bromate electroreduction from an acidic solution under conditions of bromate excess in the bulk solution compared with protons.
[Article]
Mikhail A. Vorotyntsev, Anatoly Antipov
ChemElectroChem, October 20, 2016, DOI: 10.1002/celc.201600422. Read article
A superaerophobic RuO2-based nanostructured electrode is achieved by constructing a nanoarray electrode combining hydrothermal growth with an electrodeposition method. This electrode accelerates gas bubbles leaving behavior and minimizes the negative effect caused by bubble adhesion, giving rise to a superior chlorine evolution reaction activity and robust working stability.
[Full Paper]
Ming Jiang, Hao Wang, Yingjie Li, Haichuan Zhang, Guoxin Zhang, Zhiyi Lu, Xiaoming Sun, Lei Jiang
Small, October 18, 2016, DOI: 10.1002/smll.201602240. Read article
The charge-carrier balance strategy by interface engineering is employed to optimize the charge-carrier transport in inverted planar heterojunction perovskite solar cells. N,N-Dimethylformamide-treated poly(3,4-ethylenedioxythiophene):poly(styrenesulfonate) and poly(methyl methacrylate)-modified PCBM are utilized as the hole and electron selective contacts, respectively, leading to a high power conversion efficiency of 18.72%.
[Communication]
Ke Chen, Qin Hu, Tanghao Liu, Lichen Zhao, Deying Luo, Jiang Wu, Yifei Zhang, Wei Zhang, Feng Liu, Thomas P. Russell, Rui Zhu, Qihuang Gong
Adv. Mater., October 17, 2016, DOI: 10.1002/adma.201604048. Read article
Bathing beauty: An alternative method for the fabrication of anodes for solid oxide fuel cells is presented. Ni is incorporated into a porous scaffold and tested as an anode. X-ray tomography is used to compare the uncoated and Ni-coated scaffolds.
[Full Paper]
Enrique Ruiz-Trejo, Milla Puolamaa, Brian Sum, Farid Tariq, Vladimir Yufit, Nigel P. Brandon
ChemSusChem, October 14, 2016, DOI: 10.1002/cssc.201600813. Read article
Overcoming the charge collection limitation by in situ formed "crystal-deficient" overlayer is reported. The optimized ≈2.5 nm thickness of the "crystal-deficient" shell results in a depletion layer with a width of 3 nm, which overcomes the flat band limitation of the photovoltage and increases the light absorptivity of TiO2 nanowire core in the wavelength range from 300 to 420 nm.
[Full Paper]
Kan Zhang, Sandheep Ravishankar, Ming Ma, Ganapathy Veerappan, Juan Bisquert, Francisco Fabregat-Santiago, Jong Hyeok Park
Adv. Energy Mater., October 13, 2016, DOI: 10.1002/aenm.201600923. Read article
Recent advances of tandem organic light-emitting diodes (OLEDs) including the material selection, interface engineering, and optical design of numerous intermediate connectors are reviewed. Their interfaces are crucial in determining the driving voltage, efficiencies, and lifetime. The optical transparency, microcavity, light out-coupling, and voltage drop across the intermediate connectors have to be carefully considered for high-performance tandem OLEDs.
[Review]
Man-Keung Fung, Yan-Qing Li, Liang-Sheng Liao
Adv. Mater., October 13, 2016, DOI: 10.1002/adma.201601737. Read article
Active surface dopant sites: Rh (Rhδ+) dopants on the surface of Zn2GeO4 act as active sites for water splitting. As a result, the Rhδ+/Zn2GeO4 photocatalyst demonstrates excellent stability for up to 460 days and significant enhancement of the photocatalytic activity to that of the undoped photocatalyst (see figure).
[Communication]
Yu Lei Wang, Yu Hang Li, Xue Lu Wang, Ai Ping Chen, Hua Gui Yang
ChemPlusChem, October 12, 2016, DOI: 10.1002/cplu.201600445. Read article
Rosy outlook: Bioinspired rose-petal-like substrates with extremely high water adhesion have been generated by combining micropatterning and electropolymerization (see figure). The micropatterning specifications (pillar diameter and pitch) and the electropolymerization parameters were found to be key to obtaining both high water apparent contact angles and a high hysteresis.
[Full Paper]
Thierry Darmanin, Radoslaw Bombera, Pascal Colpo, Andrea Valsesia, Jean-Pierre Laugier, François Rossi, Frédéric Guittard
ChemPlusChem, October 12, 2016, DOI: 10.1002/cplu.201600387. Read article
This article reports the recent advances in the surface-engineering of LiCoO2 for better Li-ion batteries. As an outlook, the influence of surface-engineered LiCoO2 to achieve high-energy Li-ion full-cells is highly stressed with our recent studies. The Li-ion cells with surface-engineered LiCoO2 show excellent electrochemical and thermal properties at high cut-off voltages and elevated temperatures, and are competitive for next-generation applications.
[Progress Report]
Sujith Kalluri, Moonsu Yoon, Minki Jo, Suhyeon Park, Seungjun Myeong, Junhyeok Kim, Shi Xue Dou, Zaiping Guo, Jaephil Cho
Adv. Energy Mater., October 12, 2016, DOI: 10.1002/aenm.201601507. Read article
[Full Paper]
Ling Geng, Shanshan Xu, Jiachen Liu, Anran Guo, Feng Hou
Electroanalysis, October 10, 2016, DOI: 10.1002/elan.201600011. Read article
A plasmonic nanopin-based colorimetric sensor is developed for ricin qualitative recognition and analysis. This antibody-functionalized nanopin-cavity biosensor features high sensitivity and fast response, allowing for visual quantitative ricin detection within the range of 10–120 ng mL−1 (0.15 × 10−9–1.8 × 10−9 m), a limit of detection of 10 ng mL−1 and the typical measurement time of less than 10 min.
[Full Paper]
Jiao-Rong Fan, Jia Zhu, Wen-Gang Wu, Yun Huang
Small, October 06, 2016, DOI: 10.1002/smll.201601710. Read article
A facile and low-cost approach is demonstrated for the fabrication of high-density sub-1-nm gaps from Au nanoparticle monolayers as reproducible surface-enhanced Raman scattering (SERS) substrates. Remarkable SERS performance with a 1011 magnitude Raman enhacement is achieved for 120 nm Au nanoparticle monolayers due to the dramatic increase in the electromagnetic field enhancement when the obtained gap is smaller than 0.5 nm.
[Full Paper]
Shaorong Si, Wenkai Liang, Yinghui Sun, Jing Huang, Weiliang Ma, Zhiqiang Liang, Qiaoliang Bao, Lin Jiang
Adv. Funct. Mater., October 06, 2016, DOI: 10.1002/adfm.201602337. Read article
Developing a thin skin: The electrochemical properties of hard-carbon electrodes in sodium cells are examined. NaPF6-based electrolytes provide superior reversibility and cyclability of sodium insertion into hard carbon compared with NaClO4-based ones (see figure). The fluoroethylene carbonate (FEC) additive further improves capacity retention because of better passivation with a thinner surface layer. PVdF=polyvinylidene difluoride.
[Article]
Mouad Dahbi, Takeshi Nakano, Naoaki Yabuuchi, Shun Fujimura, Kuniko Chihara, Kei Kubota, Jin-Young Son, Yi-Tao Cui, Hiroshi Oji, Shinichi Komaba
ChemElectroChem, October 05, 2016, DOI: 10.1002/celc.201600365. Read article
Leave a gap! A carbon dioxide imprinted solid amine adsorbent (IPEIA-R) with polyethylenimine (PEI) as a skeleton was conveniently prepared by using glutaraldehyde to cross-link carbon dioxide-preadsorbed PEI (see figure). The solid amine adsorbent showed a remarkable CO2 adsorption capacity (8.56 mmol g−1) in the presence of water, owing to the high amine content and good swelling properties.
[Full Paper]
Hui He, Linzhou Zhuang, Shuixia Chen, Hucheng Liu
Chem. Asian J., October 04, 2016, DOI: 10.1002/asia.201601031. Read article
A new cathode material for lithium ion batteries consisting of V2O5 nanoparticles encapsulated in 3D network porous carbon matrix layer coated on carbon fibers is reported. The cathode delivers a high capacity, and much superior cycle stability with an almost 100% capacity retention at a high current density of 10 C after 5000 cycles.
[Full Paper]
Rujia Zou, Qian Liu, Guanjie He, Muk Fung Yuen, Kaibing Xu, Junqing Hu, Ivan P. Parkin, Chun-Sing Lee, Wenjun Zhang
Adv. Energy Mater., October 04, 2016, DOI: 10.1002/aenm.201601363. Read article
The effects of the perovskite film microstructure on the charge recombination and light-soaking phenomenon are investigated in hybrid perovskite solar cells (HPSCs). It is demonstrated that interface electron traps at the grain boundaries as well as at the crystal surface dominate the light soaking effect.
[Full Paper]
Shuyan Shao, Mustapha Abdu-Aguye, Tejas S. Sherkar, Hong-Hua Fang, Sampson Adjokatse, Gert ten Brink, Bart J. Kooi, L. Jan Anton Koster, Maria Antonietta Loi
Adv. Funct. Mater., October 04, 2016, DOI: 10.1002/adfm.201602519. Read article
Surface plasmon resonance in combination with HeLa cells is used to study cell uptake kinetics of several types of nanoparticles relevant to drug delivery applications. Mesoporous silica nanoparticles, branched polyethylenimine-plasmid DNA polyplexes, and red blood cell derived extracellular vesicles clearly show differences in the nature of the nanoparticle cell uptake depending on the type of nanoparticle under examination.
[Full Paper]
Teemu Suutari, Tiina Silen, Didem S˛en Karaman, Heikki Saari, Diti Desai, Erja Kerkelä, Saara Laitinen, Martina Hanzlikova, Jessica M. Rosenholm, Marjo Yliperttula, Tapani Viitala
Small, September 30, 2016, DOI: 10.1002/smll.201601815. Read article
A protocol to quantify the distribution of surface atoms of concave nanocatalysts according to their coordination number is proposed. The 3D surface of an Au@Pd concave nanocube is reconstructed and segmented. The crystallographic coordinates and low-coordinate surface atom densities of the concave facets are determined. The result shows that 32% of the surface atoms are low-coordinated, which may contribute to the high activity.
[Communication]
Ye Xia, Xiaoyan Zhong, Xiaoxing Ke, Gui-Rong Zhang, Zhiying Cheng, Bo-Qing Xu
Small, September 27, 2016, DOI: 10.1002/smll.201601944. Read article
Just like a mirror, the footprint of surface plasmon resonance (SPR)-generated hot electrons is clearly imaged by SPR-enhanced vibrational spectroscopy. Being indicative to the multiple transferring processes and to the abundance of hot electrons (HEs), the p-nitirothiophenol to p-aminobenzenethiol reaction is capable of tracking the fate of HEs. This ultimately leads us to unravel the key factor that constrains the utilization of Ag as plasmonic catalyst.
[Full Paper]
Rui Liu, Zuoliang He, Jiefang Sun, Jingfu Liu, Guibin Jiang
Small, September 27, 2016, DOI: 10.1002/smll.201601773. Read article
On the surface: Solid-state NMR spectroscopy shows that entangled carboxylic acid ligands interact with the surface of metal oxide nanocrystals through hydrogen-bonding and electrostatic interactions (see figure). Tightly bound carboxylic acids are mostly adsorbed on the nanocrystal surface through both the proton and carboxylate. A minor chelating mode is also identified.
[Full Paper]
Jonathan De Roo, Edwin A. Baquero, Yannick Coppel, Katrien De Keukeleere, Isabel Van Driessche, Céline Nayral, Zeger Hens, Fabien Delpech
ChemPlusChem, September 26, 2016, DOI: 10.1002/cplu.201600372. Read article
Magnesium-ion batteries: Cycle performance of bulk and film Sn electrodes in Mg half-cells, Mg diffusivity, and surface film formation in PhMgCl/THF electrolyte are studied. Bulk Sn electrode delivers 334–289 mAh g−1 over 30 cycles, and XPS reveals formation of a surface film composed of a mixture of inorganic Sn and Mg salts and organic functionality due to THF decomposition (see figure).
[Article]
Dan-Thien Nguyen, Xuan Minh Tran, Joonsup Kang, Seung-Wan Song
ChemElectroChem, September 26, 2016, DOI: 10.1002/celc.201600400. Read article
Material-induced cell aggregation drives a proangiogenic expression profile. Copolymer substrates containing cell-repellent and cell-adhesive domains force the aggregation of human mesenchymal stem cells, which results in enhanced tubulogenesis in vitro and stabilization of vasculature in vivo. These findings can be used to design instructive biomaterial scaffolds for clinical use.
[Communication]
Spencer W. Crowder, Daniel A. Balikov, Timothy C. Boire, Devin McCormack, Jung Bok Lee, Mukesh K. Gupta, Melissa C. Skala, Hak-Joon Sung
Adv. Healthcare Mater., September 26, 2016, DOI: 10.1002/adhm.201600819. Read article
rGO for efficiency! The effect of incorporating reduced graphene oxide (rGO) within the electron-transport, active, and hole-transport layers of a perovskite solar cell is investigated. Incorporation of rGO into the mesoporous TiO2 matrix results in highly efficient solar cells with power conversion efficiency of up to 19.54 %.
[Communication]
Kyung Taek Cho, Giulia Grancini, Yonghui Lee, Dimitrios Konios, Sanghyun Paek, Emmanuel Kymakis, Mohammad Khaja Nazeeruddin
ChemSusChem, September 22, 2016, DOI: 10.1002/cssc.201601070. Read article
Phase-transfer catalysis: FeIII meso-tetra-(4-N-methyl-pyridyl) porphine (FeIIITMPyP) is found to catalyze oxygen reduction at the liquid/liquid interface. Based on the size-selective ion-transfer voltammetry at the nanoscopic liquid/liquid interface, the reaction is rationalized to proceed through the phase-transfer catalysis mechanism.
[Article]
Xiao Huang, Yaofang Xuan, Lisiqi Xie, Bin Su
ChemElectroChem, September 20, 2016, DOI: 10.1002/celc.201600480. Read article
Leach away: Carbon-supported Pt–Cu alloy nanoparticles (Cu/Pt=2.6 on average) are used to study the influence of (electro)chemical leaching on their activity in the oxygen reduction reaction (ORR). ORR activity of the chemically leached nanoparticles was twice that of the original sample and was achieved by particles with a Cu-depleted alloy core topped by a Pt monolayer. Electrochemical leaching of this Cu-depleted material provided the highest ORR activity.
[Article]
Olga Petrova, Christian Kulp, Marga-Martina Pohl, Rik ter Veen, Lothar Veith, Thomas Grehl, Maurits W. E. van den Berg, Hidde Brongersma, Michael Bron, Wolfgang Grünert
ChemElectroChem, September 15, 2016, DOI: 10.1002/celc.201600468. Read article
[Full Paper]
Marek Mooste, Elo Kibena-Põldsepp, Leonard Matisen, Kaido Tammeveski
Electroanalysis, September 14, 2016, DOI: 10.1002/elan.201600451. Read article
Interfacial coupling: Electron-transfer (ET)/ion-transfer (IT) coupling between ferrocene (Fc) and [Fe(CN)6]3− at the water/1,2-dichloroethane (DCE) interface is investigated by using pipette electrodes. These ET and IT reactions are completely coupled, and whether coupling mechanism 1 or 2 (see figure) dominates depends on the concentration ratio of the redox species in the two phases.
[Article]
Xin Zhang, Haomin Wang, Celeste Morris, Chaoyue Gu, Mingzhi Li, Lane Baker, Yuanhua Shao
ChemElectroChem, September 09, 2016, DOI: 10.1002/celc.201600234. Read article
Surface species revealed: The formation of CO2 surface species on amine-grafted SBA-15 is observed through in situ FTIR spectroscopy. The results show that the structures of carbamate and carbamic acid species are different between primary and secondary amines, whereas only a small concentration of bicarbonate ions is observed on tertiary amines under ostensibly dry conditions.
[Full Paper]
Guo Shiou Foo, Jason J. Lee, Chia-Hsin Chen, Sophia E. Hayes, Carsten Sievers, Christopher W. Jones
ChemSusChem, August 30, 2016, DOI: 10.1002/cssc.201600809. Read article
Two faced: The morphological influence of Ir(1 1 1), Ir(1 1 0), and Ru(0 0 0 1) single crystals on oxide formation and the resulting oxygen evolution reaction activity is presented. Precise pretreatment control reveals distinct surface oxides on the studied single-crystalline model catalyst. These results provide guidelines for enhanced catalyst design.
[Full Paper]
Ebru Özer, Camillo Spöri, Tobias Reier, Peter Strasser
ChemCatChem, August 30, 2016, DOI: 10.1002/cctc.201600423. Read article
The proposed low temperature, oxidative plasma process demonstrates utility for preferentially removing membranes from shape memory polymer embolic foams to increase fluid permeability and cellular infiltration. Other surface effects are also characterized, including time dependent hydrophobicity, cell spreading, and platelet attachment. The proposed process shows promise for developing embolic devices or tissue scaffolds.
[Communication]
Landon D. Nash, Nicole C. Docherty, Mary Beth B. Monroe, Kendal P. Ezell, James K. Carrow, Sayyeda M. Hasan, Akhilesh K. Gaharwar, Duncan J. Maitland
Macromol. Rapid Commun., August 29, 2016, DOI: 10.1002/marc.201600268. Read article
Hydrogen adsorbed on surfaces is involved in a variety of chemical processes while it exhibits vibrational and rotational dynamics in its adsorption potential. Furthermore, hydrogen exchanges an electron with surfaces having a significant effect on the surface electronic structure. In this personal account, we review our recent studies on surface nuclear dynamics, transport across surfaces, catalytic hydrogenation reactions, and charge transfer between the surface and hydrogen by using nuclear reaction analysis and resonance enhanced multiphoton ionization in combination with surface science techniques.
[Personal Account]
K. Fukutani, M. Wilde, S. Ogura
The Chemical Record, August 26, 2016, DOI: 10.1002/tcr.201600077. Read article
Layered double hydroxide aggregation: Mono-, multi-, and polyvalent anions adsorb on layered double hydroxide (LDH) platelets to different extents, leading to different charging and aggregation behavior in aqueous suspensions. Simple monovalent salts destabilize LDHs by charge screening, polyelectrolytes by charge neutralization, whereas multivalent ions destabilize them by both effects. Highly stable LDH particles can be obtained by surface modification with polymeric compounds.
[Review]
Marko Pavlovic, Paul Rouster, Tamas Oncsik, Istvan Szilagyi
ChemPlusChem, August 12, 2016, DOI: 10.1002/cplu.201600295. Read article
From seeds to nanocrystals: Silicon and germanium nanocrystals (NCs) are attractive materials owing to their unique size and surface-dependent optical properties. The synthesis, surface functionalization, optical properties, biomedical applications, and cytotoxicity of these NCs are compared and contrasted (see figure).
[Review]
Benjamin F. P. McVey, Sujay Prabakar, Justin J. Gooding, Richard D. Tilley
ChemPlusChem, June 27, 2016, DOI: 10.1002/cplu.201600207. Read article
© Wiley-VCH 2016.