Surfaces and Interfaces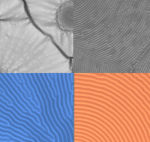 Interfaces and surfaces are where the action happens. Catalysis, molecular recognition, charge transfer, polymerization and many other critical processes take place at the boundary between one medium and another. With the need to integrate new materials into devices, and applications ranging from catalysis to sensors, medicine to self-cleaning surfaces, and displays to lasers, fundamental and applied studies of surface and interface processes and optimization are of critical importance in developing new technology to meet today's challenges. The selection of recent research articles presented below illustrates the vast potential of this field.
For recent reviews, see

RSS feed
Recent Articles
Size it up: Size-dependent activity of cobalt nanoparticles in Fischer–Tropsch synthesis is correlated with loss of carbon monoxide dissociation sites on small nanoparticles. Transient kinetic experiments and synchrotron spectroscopy reveal greater carbon accumulation on large nanoparticles. Carbon monoxide dissociation sites occur on face-centered cubic cobalt (221) steps.
[Communication]
Walter T. Ralston, Gérôme Melaet, Tommy Saephan, Gabor A. Somorjai
Angew. Chem. Int. Ed., May 24, 2017, https://doi.org/10.1002/anie.201701186 Read article
The performance of self-assembled alkane monolayers as the thermal interface material is assessed via molecular simulations, which demonstrate high thermal transparency and structural flexibility, and tunablity through the chain length, packing density, and deformation.
[Full Paper]
Yanlei Wang, Yu Cao, Ke Zhou, Zhiping Xu
Adv. Mater. Interfaces, May 23, 2017, https://doi.org/10.1002/admi.201700355 Read article
A novel approach to controlling the surface of gallium liquid metal alloys through organic ligands which modify the native oxide is presented. Modification of the liquid metal's surface energy (illustrated via a change in water contact angle in the figure), work function, and reduced chemical alloying with solid metal electrodes is demonstrated.
[Communication]
Nahid Ilyas, Alexander Cook, Christopher E. Tabor
Adv. Mater. Interfaces, May 22, 2017, https://doi.org/10.1002/admi.201700141 Read article
Experimental results on the surface conductivity and dielectric loss tangent of epitaxial graphene from data taken with a noncontact resonance microwave cavity are reported. When using amorphous boron nitride as encapsulation material, stability of graphene's surface conductivity and dielectric loss tangent under ambient and other types of conditions are preserved to within 10% of their previously measured values.
[Communication]
Albert F. Rigosi, Nicholas R. Glavin, Chieh-I Liu, Yanfei Yang, Jan Obrzut, Heather M. Hill, Jiuning Hu, Hsin-Yen Lee, Angela R. Hight Walker, Curt A. Richter, Randolph E. Elmquist, David B. Newell
Small, May 19, 2017, https://doi.org/10.1002/smll.201700452 Read article
High-performance paper-based pressure sensors are developed through inartificial design of the surface curl and roughness of paper and graphite. The proposed approach involves writing on paper with a pencil, and the sensors can be inexpensively fabricated over a large area. The paper-based pressure sensors are integrated into a fully functional 3D touch-pad device, which is a step toward the realization of advanced paper electronics.
[Communication]
Kilsoo Lee, Jaehong Lee, Gwangmook Kim, Youngjae Kim, Subin Kang, Sungjun Cho, SeulGee Kim, Jae-Kang Kim, Wooyoung Lee, Dae-Eun Kim, Shinill Kang, DaeEun Kim, Taeyoon Lee, Wooyoung Shim
Small, May 19, 2017, https://doi.org/10.1002/smll.201700368 Read article
Feeling the heat: The effect of the native SiO2 layer on Si wafer substrates was investigated towards the surface plasmon resonance (SPR)-mediated photocatalytic oxidation activity of Au and Ag nanoparticles. The SiO2 layer was crucial to achieving higher conversions. It acted to prevent the charge transfer of SPR-excited hot electrons from the nanoparticles to the Si substrate. This enabled the transfer of SPR-excited hot electrons to adsorbed O2 that subsequently participates in the oxidation of p-aminothiophenol.
[Communication]
Jiale Wang, Isabel C. de Freitas, Tiago V. Alves, Romulo A. Ando, Zebo Fang, Pedro H. C. Camargo
Chem. Eur. J., May 19, 2017, https://doi.org/10.1002/chem.201700651 Read article
The biphasic hydrogen evolution reaction in the presence of interfacial MoS2 at the water|1,2-dichlorobenzene (DCB) interface as an electrocatalytic process for hydrogen evolution reaction is investigated using the Galvani potential difference between the water and DCB phases (
φ) against with the standard hydrogen electrode (SHE).
[Full Paper]
Wisit Hirunpinyopas, Andrew N. J. Rodgers, Stephen D. Worrall, Mark A. Bissett, Robert A. W. Dryfe
ChemNanoMat, May 18, 2017, https://doi.org/10.1002/cnma.201700047 Read article
Location-selective and precursor-free laser-assisted nanowelding of graphene to metals is developed to improve interfacial properties, leading to an ultralow graphene–metal contact resistance of 2.57 Ω µm with minimal degradation in carrier mobility due the structural modifications in graphene being limited to its edges within the contact area. This method is applied to a suspended graphene photodetector with increased photocurrent by fourfold.
[Full Paper]
Kamran Keramatnejad, Yun Shen Zhou, Da Wei Li, Hossein Rabiee Golgir, Xi Huang, Qi Ming Zhou, Jing Feng Song, Stephen Ducharme, Yong Feng Lu
Adv. Mater. Interfaces, May 18, 2017, https://doi.org/10.1002/admi.201700294 Read article
Nanophase S particles from ball milling of microsized S powder are combined with surface coating of Al2O3 via low-temperature atomic layer deposition (ALD). The ALD Al2O3 evolves with ALD cycles from dispersed nanoparticles, to porous, connected films, and finally to dense and continuous films. The result is high performance Li–S batteries at high S loading.
[Full Paper]
Xiangbo Meng, Yuzi Liu, Yanqiang Cao, Yang Ren, Wenquan Lu, Jeffrey W. Elam
Adv. Mater. Interfaces, May 18, 2017, https://doi.org/10.1002/admi.201700096 Read article
Core–satellite nanoassemblies are fabricated in this work. The structure contains a silica nanoparticle core densely grafted with a thermoresponsive polymer shell to anchor numerous gold nanoparticle satellites on the outer periphery with a tunable stoichiometry. The reversible variation of the polymer size leads to thermoresponsive plasmonic properties of the core–satellite nanoassemblies.
[Full Paper]
Lei Wu, Ulrich Glebe, Alexander Böker
Adv. Mater. Interfaces, May 18, 2017, https://doi.org/10.1002/admi.201700092 Read article
A nanoscale resolved microscopy method to acquire in situ images of different material thin films assembled at liquid interfaces is introduced. The atomic force microscopy experimental approach is based on the minimization of naturally occurring gravity waves by reducing the liquid depth and the absence of large adhesion forces between tip and liquid by imaging liquid/liquid interfaces rather than air/liquid ones.
[Full Paper]
Luca Costa, Giovanni Li-Destri, Diego Pontoni, Oleg Konovalov, Neil H. Thomson
Adv. Mater. Interfaces, May 17, 2017, https://doi.org/10.1002/admi.201700203 Read article
Thermally activated magnetic slippery surfaces are developed for remote and high mobility droplet manipulation. These surfaces provide an extremely low-friction platform for locomotion of liquid droplets without any required custom fabrication of the solid. The implementation of these surfaces for droplet guiding, mixing, and trapping is demonstrated. The motion of droplets on these surfaces is independent of viscosity of the droplet.
[Communication]
Peyman Irajizad, Sahil Ray, Nazanin Farokhnia, Munib Hasnain, Steven Baldelli, Hadi Ghasemi
Adv. Mater. Interfaces, May 17, 2017, https://doi.org/10.1002/admi.201700009 Read article
In a rechargeable Li–CO2 battery, molybdenum carbide/carbon nanotubes as a cathode can stabilize the intermediate product on discharge, by building a new chemical bond between Mo and O. This amorphous discharge product effectively prevents the formation of crystalline Li2CO3 and thereby reduces the potential plateau on charge and improves the round-trip efficiency of the rechargeable Li–CO2 battery.
[Full Paper]
Yuyang Hou, Jiazhao Wang, Lili Liu, Yuqing Liu, Shulei Chou, Dongqi Shi, Huakun Liu, Yuping Wu, Weimin Zhang, Jun Chen
Adv. Funct. Mater., May 16, 2017, https://doi.org/10.1002/adfm.201700564 Read article
Water off a beetle's back: Surface nanodroplets were used as generic structural templates for the fabrication of functional surfaces with tailored wettability and morphology. The biomimetic surface of a desert beetle's back, with hydrophilic lumps on a hydrophobic background, was obtained by selective surface modification of polymerized surface nanodroplets and the background surface (see figure).
[Full Paper]
Shuhua Peng, Xuehua Zhang
Chem. Asian J., May 15, 2017, https://doi.org/10.1002/asia.201700358 Read article
The possibility to tune up or down the critical thickness at which a 2D electron gas appears at the LaAlO3/SrTiO3 interface, by capping the LaAlO3 with different metals is demonstrated. Besides electrostatic effects, X-ray photoemission spectroscopy reveals the importance of the partial oxidation of the metal on the properties of the gas.
[Communication]
Diogo Castro Vaz, Edouard Lesne, Anke Sander, Hiroshi Naganuma, Eric Jacquet, Jacobo Santamaria, Agnès Barthélémy, Manuel Bibes
Adv. Mater., May 15, 2017, https://doi.org/10.1002/adma.201700486 Read article
Inspired by the cooperative superwettability of a lotus leaf, it is demonstrated that a Janus sheet exhibiting versatile wettability can be stably fixed at multiphase interfaces. Based on the superhydrophobic/superhydrophilic binary cooperative effect, the Janus sheet floats on and tightly adheres to the interfaces.
[Full Paper]
Yuyan Zhao, Cunming Yu, Hao Lan, Moyuan Cao, Lei Jiang
Adv. Funct. Mater., May 15, 2017, https://doi.org/10.1002/adfm.201701466 Read article
A gradient heterojunction electron transport layer (GHJ ETL), prepared by a facile low-temperature route, is utilized in perovskite solar cells (PSCs) for the first time. PSCs based on the potential GHJ ETL demonstrate an efficiency of 18.08% with less hysteresis effect, which is due to excellent management of charge transport and recombination.
[Full Paper]
Yu Hou, Xiao Chen, Shuang Yang, Chunzhong Li, Huijun Zhao, Hua Gui Yang
Adv. Funct. Mater., May 15, 2017, https://doi.org/10.1002/adfm.201700878 Read article
Recent advances and challenges in the synthesis of stimuli-responsive nanoparticles and surface reactions enabling responsiveness are outlined. With increasing evidence that materials with sub-nanoparticles and stimuli-responsiveness offer unique properties, new applications in imaging, therapeutics, plasmonics, catalysis, and other fields are emerging.
[Review]
Xiaolin Liu, Ying Yang, Marek W. Urban
Macromol. Rapid Commun., May 12, 2017, https://doi.org/10.1002/marc.201700030 Read article
Dynamic ionic bonding is successfully incorporated into silicon-based lithium-ion battery anodes to increase cycle lifetimes and reliability. The formation of amine–carboxylate ionic bonding upon mixing amine functionalized Si nanoparticles with poly(acrylic acid) binder is confirmed by X-ray photoelectron spectroscopy and Raman spectroscopy. The dynamic ionic bonds effectively mitigate the deterioration of electrical interfaces resulting in longer cycling stability with 80% capacity retention after 400 cycles.
[Full Paper]
Sen Kang, Ke Yang, Scott R. White, Nancy R. Sottos
Adv. Energy Mater., May 12, 2017, https://doi.org/10.1002/aenm.201700045 Read article
In this sum frequency generation vibrational spectroscopy study, it is revealed that a fluorinated ether in contact with an amorphous silicon anode has a different adsorption orientation than its hydrocarbon counterpart even at open-circuit potential, leading to a better protective layer while enabling lithium ions to intercalate deeper into the amorphous silicon bulk.
[Full Paper]
Yonatan Horowitz, Hui-Ling Han, Walter T. Ralston, Joyce Rodrigues de Araujo, Eric Kreidler, Chris Brooks, Gabor A. Somorjai
Adv. Energy Mater., May 12, 2017, https://doi.org/10.1002/aenm.201602060 Read article
Highly efficient plasmon-mediated photocatalysts based on Au/CdSe nanocrystal clusters (NCs) are successfully fabricated through an emulsion-based self-assembly approach. The Au/CdSe NCs synergistically harness the excellent visible-light-absorption properties of CdSe quantum dots and Au nanoparticles, affording a remarkable H2 evolution rate of
in aqueous solution under visible-light illumination and excellent operational stability.
[Communication]
Run Shi, Yinhu Cao, Yanjun Bao, Yufei Zhao, Geoffrey I. N. Waterhouse, Zheyu Fang, Li-Zhu Wu, Chen-Ho Tung, Yadong Yin, Tierui Zhang
Adv. Mater., May 12, 2017, https://doi.org/10.1002/adma.201700803 Read article
Ag to the rescue: A highly efficient antimicrobial implant coating is investigated based on silver ion release from a sacrificial anode system. The combination of electrochemical, microbiological, force microscopic, and spectroscopic analyses allowed the quantification of efficient silver-ion release. Thus, these innovative systems are suggested as improved antimicrobial and biocompatible coatings to prevent implant-associated infections.
[Article]
A. El Arrassi, P. Bellova, S. M. Javid, Y. Motemani, C. Khare, C. Sengstock, M. Köller, A. Ludwig, K. Tschulik
ChemElectroChem, May 11, 2017, https://doi.org/10.1002/celc.201700247 Read article
A new implantable capacitive electrode array for electrocorticography signal recording is developed with barium titanate/polyimide (BaTiO3/PI) nanocomposite. This ultrathin and electrically safe capacitive BaTiO3/PI electrode array is capable of attaching to the biological tissue conformably. In vivo neural experiments indicate its feasibility. This work shows the potentials of capacitive BaTiO3/PI electrode arrays in the field of brain/computer interfaces.
[Full Paper]
Changyong Chen, Miaomiao Xue, Yige Wen, Guang Yao, Yan Cui, Feiyi Liao, Zhuocheng Yan, Long Huang, Saeed Ahmed Khan, Min Gao, Taisong Pan, Hulin Zhang, Wei Jing, Daqing Guo, Sanfeng Zhang, Hailiang Yao, Xiong Zhou, Qiang Li, Yang Xia, Yuan Lin
Adv. Healthcare Mater., May 11, 2017, https://doi.org/10.1002/adhm.201700305 Read article
Alkylated g-C3N4 nanosheets are synthesized via a simultaneous exfoliation and surface modification method. Due to the synergistic effects of reduced band gap and significantly enlarged surface area, the produced 2D g-C3N4 nanosheets show greatly improved photocatalytic performance in comparison to the bulk counterpart g-C3N4.
[Full Paper]
Xue-Huan Song, Lan Feng, Shun-Liu Deng, Su-Yuan Xie, Lan-Sun Zheng
Adv. Mater. Interfaces, May 10, 2017, https://doi.org/10.1002/admi.201700339 Read article
Semiaquatic plants have developed the ability to retain a layer of air when submerged in water, a supreme example is the complex surface of the floating fern Salvinia molesta. For the first time, the Salvinia effect is reported in an all carbon based architecture, vertically aligned carbon nanotubes. This effect opens promising pathways for the development of artificial biomimetic sensors.
[Communication]
Deepu J. Babu, Matthias Mail, Wilhelm Barthlott, Jörg J. Schneider
Adv. Mater. Interfaces, May 10, 2017, https://doi.org/10.1002/admi.201700273 Read article
Pseudohalogens in solar cells are applied and the performance is increased by reducing trap densities and implementing thick colloidal quantum dot (CQD) films. The pseudohalide-exchanged CQD films have four times lower trap state density than the controls, as seen in field-effect transistor (FET) studies. This results in an external quantum efficiency of 80% at the infrared excitonic peak, the highest reported in CQD photovoltaics.
[Communication]
Bin Sun, Oleksandr Voznyy, Hairen Tan, Philipp Stadler, Mengxia Liu, Grant Walters, Andrew H. Proppe, Min Liu, James Fan, Taotao Zhuang, Jie Li, Mingyang Wei, Jixian Xu, Younghoon Kim, Sjoerd Hoogland, Edward H. Sargent
Adv. Mater., May 10, 2017, https://doi.org/10.1002/adma.201700749 Read article
Big mouth! The relevance of the pore-mouth catalysis concept is demonstrated at the external surface of zeolite Beta by using DFT calculations. Open micropores exhibit significant acidity, but not the outermost surface.
[Full Paper]
Jérôme Rey, Pascal Raybaud, Céline Chizallet
ChemCatChem, May 09, 2017, https://doi.org/10.1002/cctc.201700080 Read article
A new family of in-plane heterostructures is created by tailoring auxetic and contractile graphene together. The extensive large-scale fully atomistic simulations demonstrate that the thermal transport properties of the graphene heterostructures can be regulated by pattering interfaces or applying an external mechanical loading, and are validated by the proposed thermal models.
[Full Paper]
Yuan Gao, Weizhu Yang, Baoxing Xu
Adv. Mater. Interfaces, May 09, 2017, https://doi.org/10.1002/admi.201700278 Read article
Metamorphic superomniphobic surfaces with a thermoresponsive shape memory polymer are fabricated, the distinctly different wetting transitions of liquids with different surface tensions are demonstrated, and the underlying physics is elucidated.
[Communication]
Wei Wang, Joshua Salazar, Hamed Vahabi, Alexandra Joshi-Imre, Walter E. Voit, Arun K. Kota
Adv. Mater., May 09, 2017, https://doi.org/10.1002/adma.201700295 Read article
A metal-oxide decoration scheme is utilized to modulate electronic transport properties (e.g., threshold voltage) of III–V nanowire (NW) field-effect transistors through adjusting the free carriers in NW channels via decorating different metal-oxide nanoparticles with different work functions. InAs NW inverters based on intrinsic D-mode and metal-oxide nanoparticles decorated E-mode InAs NW-paralleled-arrayed transistors further demonstrate the versatility of this technique for future nanoelectronic device fabrication and circuit integration.
[Full Paper]
Fengyun Wang, SenPo Yip, Guofa Dong, Fei Xiu, Longfei Song, Zaixing Yang, Dapan Li, Tak Fu Hung, Ning Han, Johnny C. Ho
Adv. Mater. Interfaces, May 08, 2017, https://doi.org/10.1002/admi.201700260 Read article
Light responsive (dynamic) interfaces on liquid crystal polymer networks present a new way to encode the surface topography of a biomaterial. Photoisomerization of azobenzene molecule conjugated in the network leads to changes in the order of the liquid crystal molecules resulting in volume changes in the illuminated areas, generating predesigned responsive topographical features in order to instruct cell behavior.
[Communication]
Gülistan Koçer, Jeroen ter Schiphorst, Matthew Hendrikx, Hailu G. Kassa, Philippe Leclère, Albertus P. H. J. Schenning, Pascal Jonkheijm
Adv. Mater., May 05, 2017, https://doi.org/10.1002/adma.201606407 Read article
Stay there and work: Despite advances in the complexity and level of sophistication of molecular machines that can be synthesized and operated in solution, their incorporation onto solid surfaces remains rare. This Review describes the developments in the field of covalently assembled interlocked architectures on gold, silica and polymer surfaces, and highlights the differences observed between solution and surface assembly of these unique structures.
[Review]
Rafael Da Silva Rodrigues, Kathleen M. Mullen
ChemPlusChem, May 04, 2017, https://doi.org/10.1002/cplu.201700065 Read article
A pollen-like hierarchical surface is developed by combining a filtering-assisted assembly method and soft lithography. The as-prepared surface can enable the capture of target cancer cells with high efficiency and specificity after modification with recognition agent. The work represents a good example of constructing cell recognition biointerfaces inspired by pollen–stigma adhesion.
[Communication]
Wenshuo Wang, Gao Yang, Haijun Cui, Jingxin Meng, Shutao Wang, Lei Jiang
Adv. Healthcare Mater., May 04, 2017, https://doi.org/10.1002/adhm.201700003 Read article
The reversible conversion mechanism of CuF2 in novel fluoride ion battery system is reported. Investigation of the electrode/electrolyte interface reveals structural variation upon cycling. The fading mechanism of the CuF2/La0.9Ba0.1F2.9/La cell capacity upon cycling can be explained by Cu diffusion into the electrolyte and side reactions due to the formation of the lanthanum oxyfluoride compound.
[Full Paper]
Duc Tho Thieu, Mohammed Hammad Fawey, Harshita Bhatia, Thomas Diemant, Venkata Sai Kiran Chakravadhanula, Rolf Jürgen Behm, Christian Kübel, Maximilian Fichtner
Adv. Funct. Mater., May 04, 2017, https://doi.org/10.1002/adfm.201701051 Read article
Upside-down catalyst: In contrast to the widely used photoelectrocatalysts consisting of Au nanoparticles on a TiO2 substrate, the authors reverse the species order and achieve a patterned structure in which TiO2 pillars are grown on a Raman-active Au substrate. This system shows excellent incident-photon-to-current efficiencies in the visible region along with increased photocurrents in the UV.
[Article]
Layal Daccache, Sven Zeller, Timo Jacob
ChemPhysChem, May 03, 2017, https://doi.org/10.1002/cphc.201700249 Read article
The effect of electrode potential on surface plasmon resonance is quantitatively described. It was shown that the main contribution to this effect is caused by the potential-dependent adsorption of anions, which obeys the order: Br−>Cl−>F−>ClO4−. The high sensitivity of the technique allowed one to determine the surface excesses of not only halides but even of poorly adsorbing perchlorate.
[Article]
Veronika K. Laurinavichyute, Shavkat Nizamov, Vladimir M. Mirsky
ChemPhysChem, May 03, 2017, https://doi.org/10.1002/cphc.201601288 Read article
Three Fab biochemical probes were generated to detect conformational changes in a therapeutic IgG1 antibody by local hydrogen-deuterium exchange mass spectrometry (HDX-MS). Surface plasmon resonance (SPR) experiments show that these domain-selective Fab probes are sensitive to conformational changes in a full-length therapeutic antibody upon oxidation.
[Full Paper]
Ulrike Leurs, Hermann Beck, Lea Bonnington, Ingo Lindner, Ewa Pol, Kasper Rand
ChemBioChem, May 03, 2017, https://doi.org/10.1002/cbic.201600670 Read article
A novel confined-space thermal dewetting strategy has been developed for the fabrication of Au nanocups with well-controlled morphologies. With tunable plasmon resonance in the near infrared region, the Au nanocups exhibit superior efficiency as contrast agents in spectral-domain optical coherence tomography imaging.
[Communication]
Aiqin Gao, Wenjing Xu, Yenisey Ponce de León, Yaocai Bai, Mingfu Gong, Kongliang Xie, Boris Hyle Park, Yadong Yin
Adv. Mater., May 03, 2017, https://doi.org/10.1002/adma.201701070 Read article
Flexible gold nanocone array surfaces fabricated by a simple and inexpensive method based on colloidal lithography are employed in the culture of rat cortical neurons. The geometrically controlled gold nanocone arrays enable high viability of neurons and significant acceleration of neurite outgrowth. The possible mechanisms of the notable morphological changes of neurons are discussed by the detailed observation of neuron/nanocone interfaces.
[Full Paper]
Mana Toma, Andreea Belu, Dirk Mayer, Andreas Offenhäusser
Small, May 02, 2017, https://doi.org/10.1002/smll.201700629 Read article
A wide bandgap semiconductor material, GaN, which exhibits persistent photocurrent after UV light exposure is used to alter the adhesion of PC12 cells in conjunction with substrate surface roughness and chemical functionalization. The synergy among these three parameters is used to direct the placement of the cells during in vitro experiments.
[Communication]
Patrick J. Snyder, Ronny Kirste, Ramon Collazo, Albena Ivanisevic
Small, May 02, 2017, https://doi.org/10.1002/smll.201700481 Read article
Surface pattern of nanoparticle (NP) plays an important role in cellular internalization. The NP with smooth, abacus-like and helical surface can be endocytosed in a "lying down," "standing up," and "gyroscope-like" manner, respectively. These endocytosis pathways are correlated with the energy barriers for cellular uptake and responsible for the different internalization capacities of these NPs.
[Full Paper]
Jiaxiao Xue, Zhou Guan, Jiaping Lin, Chunhua Cai, Wenjie Zhang, Xinquan Jiang
Small, May 02, 2017, https://doi.org/10.1002/smll.201604214 Read article
Spontaneously formed hydrophilic polymer brushes composed of poly[(tri(ethylene glycol) methacrylate)] (POH3MA) are fabricated through spontaneous surface segregation of polystyrene-block-poly[(tri(ethylene glycol) tert-butyldimethylsilyl ether methacrylate)] (PS-b-PSi3MA) in a polystyrene (PS) matrix followed by deprotection of PSi3MA to POH3MA at the PS/water interface.
[Full Paper]
Akiko Seki, Takashi Ishizone, Ayako Oyane, Hideaki Yokoyama
Macromol. Chem. Phys., May 02, 2017, https://doi.org/10.1002/macp.201700048 Read article
The synthesis of densely grafted (co)polymer brushes is achieved from sili­con wafer surfaces via a surface-initiated simplified electrochemically mediated atom transfer radical poly­merization under constant potential/current electrolysis conditions. The well-controlled characteristic of the system allows an extension of the grafted poly(n-butyl acrylate)/poly(2-dimethylaminoethyl methacrylate) chains with a second block of PtBA. Grafting densities up to 0.93 nm−2 are obtained.
[Full Paper]
Paweł Chmielarz, Pawel Krys, Zongyu Wang, Yi Wang, Krzysztof Matyjaszewski
Macromol. Chem. Phys., April 28, 2017, https://doi.org/10.1002/macp.201700106 Read article
[Full Paper]
Mudasir Ahmad Rather, Sajad Ahmad Bhat, Sarwar Ahmad Pandit, Ghulam Mohammad Rather, Khaliquz Zaman Khan, Mohsin Ahmad Bhat
Electroanalysis, April 27, 2017, https://doi.org/10.1002/elan.201700047 Read article
Unmodified or n-octyl-group-modified SiO2–TiO2 nanoparticle assemblies with hollow morphology were fabricated directly by one-step solvothermal reaction of precursor solutions including Ti(OiPr)4, Si(OEt)4 or n-C8H17-Si(OMe)3, o-phthalic acid, and acetic acid in methanol. The addition of acetic acid as the second acid is necessary to afford SiO2–TiO2 nanoparticle assemblies in high yield.
[Full Paper]
Hien Thi Thu Nguyen, Teppei Habu, Masataka Ohtani, Kazuya Kobiro
Eur. J. Inorg. Chem., April 26, 2017, https://doi.org/10.1002/ejic.201700253 Read article
At face value: The evolution of the surface structure of cubic Pd nanoparticles supported on multilayer graphene is traced in the partial hydrogenation of acetylene by advanced transmission electron microscopy. The relevant structure–function relationship and the stability of the Pd (1 0 0) facets is explored in detail.
[Communication]
Yiming Niu, Bingsen Zhang, Jingjie Luo, Liyun Zhang, Cheng-Meng Chen, Dang Sheng Su
ChemCatChem, April 26, 2017, https://doi.org/10.1002/cctc.201700020 Read article
The energy level alignments and the metal valences states are determined in LaFeO3/LaMnO3 heterostructures grown by molecular beam epitaxy. Hard X-ray photoemission spectroscopy derives the energy level alignment to be type I and electron energy loss spectroscopy reveals no significant charge transfer from the Mn to Fe cations.
[Full Paper]
Sergey Y. Smolin, Amber K. Choquette, Regan G. Wilks, Nicolas Gauquelin, Roberto Félix, Dominic Gerlach, Shigenori Ueda, Alex L. Krick, Johan Verbeeck, Marcus Bär, Jason B. Baxter, Steven J. May
Adv. Mater. Interfaces, April 26, 2017, https://doi.org/10.1002/admi.201700183 Read article
Tunable wettability on electrochemically responsive copper nanostructure is introduced. Superhydrophobic to superhydrophilic wetting behavior can be achieved by low voltage (<1.5 V) electrochemical transformation of the topmost copper oxide layer to metallic copper. The process is reversed upon exposure to air. An integrated droplet manipulation system is also demonstrated. The methodology is transferrable to biomedical solid particle handling and smart filtration.
[Full Paper]
Beniamin Zahiri, Pradeep Kumar Sow, Chun Haow Kung, Walter Mérida
Adv. Mater. Interfaces, April 26, 2017, https://doi.org/10.1002/admi.201700121 Read article
Assembly of hydrophobic particles at the air/water interface is significantly determined by the involved surface interactions. This work has investigated the effects of solution salinity and pH on the surface interactions between air bubbles and hydrophobic solids, and quantified the contributions of van der Waals, electric double-layer, hydrophobic and hydrodynamic interactions.
[Full Paper]
Xin Cui, Chen Shi, Shuo Zhang, Lei Xie, Jing Liu, Dazhi Jiang, Hongbo Zeng
Chem. Asian J., April 25, 2017, https://doi.org/10.1002/asia.201700388 Read article
In this paper, the fabrication steps involved in engineering a highly robust WO3/"solid" polymer electrolyte mono-electrochrome switch by tuning the underlying electrolyte chemistry are reported. These switches can be safely used for on-the-spot visual monitoring of charge storage levels. With high charge-discharge cycling stability, these devices also exhibit a broad optical modulation and fast response.
[Full Paper]
Gayathri Prabhu T. Ganesh, Biswapriya Deb
Adv. Mater. Interfaces, April 24, 2017, https://doi.org/10.1002/admi.201700124 Read article
By controlling CrxV1−x alloy film composition, the lattice mismatch with MgO single crystal is adjusted so that the misfit dislocation density varies at the epitaxial CrxV1−x alloy film/MgO interface. These interfaces are exposed to irradiation and in situ and ex situ results show that the film with a semicoherent interface withstands irradiation up to 100 dpa.
[Full Paper]
Vaithiyalingam Shutthanandan, Samrat Choudhury, Sandeep Manandhar, Tiffany C. Kaspar, Chongmin Wang, Arun Devaraj, Brian D. Wirth, Suntharampilli Thevuthasan, Richard G. Hoagland, Pratik P. Dholabhai, Blas P. Uberuaga, Richard J. Kurtz
Adv. Mater. Interfaces, April 24, 2017, https://doi.org/10.1002/admi.201700037 Read article
ZnO spherical particles exposing only Zn2+–(0001) polar planes are prepared via a solvothermal route using a water–ethylene glycol solvent mix. The roles of water molecules, ethylene glycol, and the intrinsic dipolar field of ZnO crystals are discussed. BET measurements in conjunction with the degradation of methylene blue dye data demonstrate their enhanced photocatalytic performance.
[Full Paper]
Heather F. Greer, Wuzong Zhou, Guan Zhang, Hervé Ménard
Adv. Mater. Interfaces, April 24, 2017, https://doi.org/10.1002/admi.201601238 Read article
Two asymmetric nanostructures arrays with different directions are integrated in a single surface. Water shows unidirectional wetting on it toward resultant direction of the two wetting directions, which provides a strategy to modulate the wetting behavior of water.
[Full Paper]
Peng Ge, Shuli Wang, Wendong Liu, Tieqiang Wang, Nianzuo Yu, Peihong Xue, Hongxu Chen, Huaizhong Shen, Junhu Zhang, Bai Yang
Adv. Mater. Interfaces, April 13, 2017, https://doi.org/10.1002/admi.201700034 Read article
TOP class: A mechanistic study of tri-n-octylphosphine decomposition at a nickel surface shows phosphide formation at temperatures as low as 150 °C accompanied by sp2 carbon deposition. These two results are confirmed on nickel nanoparticles.
[Full Paper]
Sophie Carenco, Zhi Liu, Miquel Salmeron
ChemCatChem, April 12, 2017, https://doi.org/10.1002/cctc.201601526 Read article
Elucidating biomass surface: Time-of-flight secondary-ion mass spectrometry (TOF-SIMS) analysis is an effective tool to understand the surface characteristics of biomass (see figure). Investigated here are the surface characteristics of untreated, ammonia-pretreated, and organosolv-pretreated Populus deltoides wood samples by means of TOF-SIMS. Other analytical methods are also discussed.
[Communication]
Allison K. Tolbert, Chang Geun Yoo, Arthur J. Ragauskas
ChemPlusChem, April 11, 2017, https://doi.org/10.1002/cplu.201700138 Read article
Zeros matter: The C 1s signal from adventitious carbon (AdC) is the most common binding energy (BE) reference in X-ray photoelectron spectroscopy. It is shown here that the BE of the C 1s peak
is substrate dependent, which makes BE referencing highly unreliable. Surprisingly, C 1s shifts correlate to changes in the sample work function
, such that the sum
is constant irrespective of the materials system and air exposure time, indicating vacuum level alignment. This discovery allows for significantly better accuracy of chemical state determination.
[Communication]
Grzegorz Greczynski, Lars Hultman
ChemPhysChem, April 11, 2017, https://doi.org/10.1002/cphc.201700126 Read article
Filling up the pores: Multilayers composed of perylene dyes are deposited on thin Al2O3 layers and mesoporous TiO2 by a simple dip-by-dip process. As many as 33 layers can be grown on Al2O3, whereas the voids between particles of mesoporous TiO2 can be bridged with dye layers (see figure). Microcrystal growth during the process can be controlled by employing appropriate washing techniques.
[Full Paper]
Lijo George, Elena Efimova, Essi Sariola-Leikas, Kimmo Lahtonen, Mika Valden, Paola Vivo, Hanna Hakola, Arto Hiltunen, Alexander Efimov
ChemPlusChem, April 07, 2017, https://doi.org/10.1002/cplu.201700061 Read article
Diffuse reflectors are used in liquid crystal displays, light emitting diodes, and solar panels. This study demonstrates the specular and diffuse reflectance of thermally phase-separated polymer blend (polystyrene/polymethylmethacrylate(PMMA)) films in which polystyrene is selectively removed, leaving behind surface-roughened PMMA films (SRPF). The resulting SRPF exhibits diffuse reflectance from nanosurface-roughened films, which, in turn, depend on scale of phase separation.
[Communication]
Asritha Nallapaneni, Matthew D. Shawkey, Alamgir Karim
Macromol. Rapid Commun., April 06, 2017, https://doi.org/10.1002/marc.201600803 Read article
Interesting intermetallics: Intermetallic compounds are potential catalyst alternatives to noble metals. Using surface-science methods, the catalytic properties of the γ-Al4Cu9 phase have been investigated for the first time. This material is highly selective for the partial hydrogenation of butadiene to butenes, that is, no butane is produced. Although the active sites are likely composed of Cu atoms (blue), neighboring Al atoms (grey) may strengthen the hydrocarbon–surface bond.
[Full Paper]
Laurent Piccolo, Lidiya Kibis, Marie-Cécile De Weerd, Emilie Gaudry, Julian Ledieu, Vincent Fournée
ChemCatChem, April 06, 2017, https://doi.org/10.1002/cctc.201601587 Read article
Working in tandem: Cyclic azasilanes contain a cryptic amine functionality that can perform a subsequent tandem coupling reaction with functional molecules after a surface-triggered ring-opening reaction (see figure), allowing for a one-pot self-assembly route on nanostructures.
[Communication]
Youlin Pan, Annalese Maddox, Taewoo Min, Ferdinand Gonzaga, Jonathan Goff, Barry Arkles
Chem. Asian J., April 06, 2017, https://doi.org/10.1002/asia.201700137 Read article
Stretchable and compressible hydrogels are prepared via host–guest interaction between cellulose nanocrystals and polymer chains. The regeneration of the sacrificed host–guest complexes in deformed hydrogels is prevented in the swollen hydrogels, which is owing to the highly heterogeneous hydrogel structure. Furthermore, the heterogeneous structure and host–guest interaction together can effectively retard the crack propagation in the hydrogels.
[Communication]
Heqin Huang, Yonggui Wang, Xiaojie Wang, Florian Rehfeldt, Kai Zhang
Macromol. Rapid Commun., April 04, 2017, https://doi.org/10.1002/marc.201600810 Read article
To transfer or not to transfer? Silicon surfaces are functionalized with β-cyclodextrin molecules to investigate the electronic coupling between these host monolayers and the substrate (see picture). The electron transfer of a ferrocene-based guest was found to be more favorable on p++ substrates compared to low-doped p-type surfaces.
[Article]
Janneke Veerbeek, Alejandro Méndez-Ardoy, Jurriaan Huskens
ChemElectroChem, April 04, 2017, https://doi.org/10.1002/celc.201600872 Read article
Different nanotopologies are generated on the surface of titanium implants by ultrasound treatment (left) and by anodic oxidation (right). The structural differences influence morphology and migration behavior of preosteoblastic cells growing on these surfaces. A quantitative wound healing assay in combination with live-cell imaging reveals more collective cell migration behavior on the disordered mesoporous surfaces generated by sonochemistry (left).
[Full Paper]
Yulia Zhukova, Christian Hiepen, Petra Knaus, Marc Osterland, Steffen Prohaska, John W. C. Dunlop, Peter Fratzl, Ekaterina V. Skorb
Adv. Healthcare Mater., March 30, 2017, https://doi.org/10.1002/adhm.201601244 Read article
Grafting binary poly(ethylene glycol) and fluoropolymer brushes via surface initiated polymerizations from mix-catecholic initiators are studied. The synthesis routine has combined mussel inspired coating and controlled polymerization (atom transfer radical polymerization and ring opening metathesis polymerization), and the universal anchoring ability of polydopamine promises the method application to various substrates, and the as-prepared "ambiguous" surfaces can inhibit biofouling effectively.
[Full Paper]
Qian Ye, Wenwen Zhao, Wufang Yang, Xiaowei Pei, Feng Zhou
Macromol. Chem. Phys., March 29, 2017, https://doi.org/10.1002/macp.201700085 Read article
The forbidden fruit: The gas-phase reaction between superoxide and hydrogen peroxide is studied at the theoretical level, and the major products are associated with a spin-forbidden pathway. Possible reasons for this preference are given in terms of characteristics of the calculated potential energy surfaces for the doublet and quartet states, including regions of crossing and near degeneracy between them.
[Communication]
Ezequiel F. V. Leitão, Elizete Ventura, Miguel A. F. de Souza, José M. Riveros, Silmar A. do Monte
ChemistryOpen, March 23, 2017, https://doi.org/10.1002/open.201600169 Read article
Three different series of brush polymers bearing glucosyl, maltosyl, or maltotriosyl moiety at the bristle end are successfully prepared. Excitingly, they demonstrate the formation of multibilayer structure in films, always providing saccharide-enriched surface. The saccharide-enriched film surfaces reveal exceptionally high specific binding affinity to concanavalin A but severely suppress nonspecific binding of plasma proteins severely.
[Communication]
Jongchan Lee, Jin Chul Kim, Hoyeol Lee, Sungjin Song, Heesoo Kim, Moonhor Ree
Macromol. Rapid Commun., March 21, 2017, https://doi.org/10.1002/marc.201700013 Read article
Sliding away: The atomistic mechanisms that govern the observed decrease of lubricating capabilities of MoS2 in humid environments is examined by means of ab initio molecular dynamic calculations.
[Article]
Giacomo Levita, Maria C. Righi
ChemPhysChem, January 09, 2017, https://doi.org/10.1002/cphc.201601143 Read article
[Full Paper]
Francesco Trozzi, Tainah Dorina Marforio, Andrea Bottoni, Francesco Zerbetto, Matteo Calvaresi
Isr. J. Chem., December 22, 2016, https://doi.org/10.1002/ijch.201600127 Read article
Open-and-shut case: Mechanical-stimulus-induced formation of quasi-stable nanocrystals at the air–water interface enables conformational switching of a simple binaphthyl from cisoid to transoid (open to closed). The switching is reversible in an on/off manner, in contrast to a continuous conformational variation, and occurs only in mixed monolayers at the air–water interface, attesting to the importance of the medium for operation of this effect.
[Communication]
Taizo Mori, Daisuke Ishikawa, Yusuke Yonamine, Yoshihisa Fujii, Jonathan P. Hill, Izumi Ichinose, Katsuhiko Ariga, Waka Nakanishi
ChemPhysChem, November 16, 2016, https://doi.org/10.1002/cphc.201601144 Read article
[Full Paper]
Marco Arrigoni, Eugene A. Kotomin, Joachim Maier
Isr. J. Chem., November 15, 2016, https://doi.org/10.1002/ijch.201600056 Read article
Single-molecule AFM studies reveal that 3,4-dihydroxyphenylalanine (DOPA) can bind to different rutile TiO2 crystal surfaces, namely, (110), (011), (111), and (100). The different binding modes are discussed.
[Communication]
Yiran Li, Huanyu Liu, Tiankuo Wang, Meng Qin, Yi Cao, Wei Wang
ChemPhysChem, June 07, 2016, https://doi.org/10.1002/cphc.201600374 Read article
© Wiley-VCH 2016.