Surfaces and Interfaces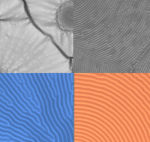 Interfaces and surfaces are where the action happens. Catalysis, molecular recognition, charge transfer, polymerization and many other critical processes take place at the boundary between one medium and another. With the need to integrate new materials into devices, and applications ranging from catalysis to sensors, medicine to self-cleaning surfaces, and displays to lasers, fundamental and applied studies of surface and interface processes and optimization are of critical importance in developing new technology to meet today's challenges. The selection of recent research articles presented below illustrates the vast potential of this field.
For recent reviews, see

RSS feed
Recent Articles
Nanocatalysis: Engineering high-energy interfacial structures is achieved by chemical coupling of active CoO nanoclusters with high-index facet Mn3O4 nano-octahedrons. The structures display synergistic effects enhancing their electrocatalytic performance and stability as compared to conventional electrocatalysts for bifunctional oxygen-involving reactions.
[Communication]
Chunxian Guo, Yao Zheng, Jingrun Ran, Fangxi Xie, Mietek Jaroniec, Shi-Zhang Qiao
Angew. Chem. Int. Ed., March 24, 2017, https://doi.org/10.1002/anie.201701531 Read article
Surface-enhanced selectivity: Randomly distributed 4,4′-bis(2,6-difluoropyridin-4-yl)-1,1′:4′,1′′-terphenyl (BDFPTP) undergoes both dehydrocyclization (DHC) and coupling reactions on Au(111). However, the DHC regioselectivity is greatly enhanced and the coupling reaction is completely suppressed when BDFPTP self-assembles on the surface prior to its reactions.
[Communication]
Qiwei Chen, Jacob R. Cramer, Jing Liu, Xin Jin, Peilin Liao, Xiang Shao, Kurt V. Gothelf, Kai Wu
Angew. Chem. Int. Ed., March 24, 2017, https://doi.org/10.1002/anie.201700745 Read article
The forbidden fruit: The gas-phase reaction between superoxide and hydrogen peroxide is studied at the theoretical level, and the major products are associated with a spin-forbidden pathway. Possible reasons for this preference are given in terms of characteristics of the calculated potential energy surfaces for the doublet and quartet states, including regions of crossing and near degeneracy between them.
[Communication]
Ezequiel F. V. Leitão, Elizete Ventura, Miguel A. F. de Souza, José M. Riveros, Silmar A. do Monte
ChemistryOpen, March 23, 2017, https://doi.org/10.1002/open.201600169 Read article
Selective surfaces: A study of the mechanism of the ring-opening reaction on Ir(1 1 1) and Co/Ir(1 1 1) surfaces is presented. Ir(1 1 1) has ring-opening activity for both furfural and tetrahydrofurfuryl alcohol, and Co/Ir(1 1 1) enhances the ring-opening of furfural. The interaction between the furan ring and the metal surface determines the activity of the ring-opening reaction.
[Full Paper]
Weiming Wan, Glen R. Jenness, Ke Xiong, Dionisios G. Vlachos, Jingguang G. Chen
ChemCatChem, March 23, 2017, https://doi.org/10.1002/cctc.201601646 Read article
Have you seen the film? A systematic study was used to evaluate the non-biofouling performance and binding capabilities of functionalizable, non-biofouling agarose films, which were prepared by using different agarose concentrations. Protein and cellular patterns were generated by using a microarrayer, microcontact printing, and micromolding in capillaries (see figure).
[Full Paper]
Gyeongyeop Han, Daehwa Hong, Bong Soo Lee, EunRae Ha, Ji Hun Park, Insung S. Choi, Sung Min Kang, Jungkyu K. Lee
Chem. Asian J., March 23, 2017, https://doi.org/10.1002/asia.201700010 Read article
The anodization of indium tin oxide films by varying current densities is investigated as a facile method to modify the morphological, electrical, and cytocompatibility profiles of the resulting anodized films as neural electrodes. The systematic study elucidates that the current density of 0.4 mA cm−2 results in a well-distributed surface morphology, minimum impedance, stability and support for cell viability, and neural network activity.
[Full Paper]
Catalina Vallejo-Giraldo, Niccolò Paolo Pampaloni, Anuradha R. Pallipurath, Parvaneh Mokarian-Tabari, John O'Connell, Justin D. Holmes, Alexandre Trotier, Katarzyna Krukiewicz, Gemma Orpella-Aceret, Eugenia Pugliese, Laura Ballerini, Michelle Kilcoyne, Eilís Dowd, Leo R. Quinlan, Abhay Pandit, Paul Kavanagh, Manus Jonathan Paul Biggs
Adv. Funct. Mater., March 23, 2017, https://doi.org/10.1002/adfm.201605035 Read article
Using hollow-prismatic Li3PO4 microcrystals as a solid precursor and 'tracer', the structural and morphological evolution from microprisms to [100]-oriented LiFePO4 ultrathin nanoplatelets is visualized.
[Communication]
Zhaojin Li, Tao Hu, Zhenzhen Peng, Minmin Hu, Kongjun Zhu, Xiaohui Wang
ChemNanoMat, March 22, 2017, https://doi.org/10.1002/cnma.201700007 Read article
The conversion between electrical and chemical energy by electrocatalysts means that they are critically important for a secure energy future. This Minireview highlights surface immobilization of molecular electrocatalysts for reduction of O2, oxidation of H2O, production of H2, and reduction of CO2 (see scheme).
[Minireview]
R. Morris Bullock, Atanu K. Das, Aaron M. Appel
Chem. Eur. J., March 22, 2017, https://doi.org/10.1002/chem.201605066 Read article
Turning bad into good: By using a simple yet facile annealing treatment, the surface-bound surfactants can be utilized to stabilize Au colloids on supports, rather than cause issues of surface blockage and particle sinter.
[Communication]
Wangcheng Zhan, Yuan Shu, Yujie Sheng, Huiyuan Zhu, Yanglong Guo, Li Wang, Yun Guo, Jinshui Zhang, Guanzhong Lu, Sheng Dai
Angew. Chem. Int. Ed., March 22, 2017, https://doi.org/10.1002/anie.201701191 Read article
Cleaning up: The efficiency of polymeric water purification membranes, which are capable of removing many impurities from water but frequently suffer from fouling, can be improved by surface modification. Common techniques used to modify membrane surfaces, including grafting, coating, chemical treatment, UV irradiation, plasma treatment, and polydopamine application, are reviewed.
[Review]
Daniel J. Miller, Daniel R. Dreyer, Christopher W. Bielawski, Donald R. Paul, Benny D. Freeman
Angew. Chem. Int. Ed., March 22, 2017, https://doi.org/10.1002/anie.201601509 Read article
Using atomic force microscopy-based force spectroscopy, the binding affinity of an artificial antibody to an antigen (hemoglobin) is found to be weaker than that of a natural antibody. The fine difference in the molecular interactions manifests into a significant difference in the bioanalytical parameters of biosensors based on these recognition elements.
[Communication]
Congzhou Wang, Rong Hu, Jeremiah J. Morrissey, Evan D. Kharasch, Srikanth Singamaneni
Small, March 21, 2017, https://doi.org/10.1002/smll.201604255 Read article
Three different series of brush polymers bearing glucosyl, maltosyl, or maltotriosyl moiety at the bristle end are successfully prepared. Excitingly, they demonstrate the formation of multibilayer structure in films, always providing saccharide-enriched surface. The saccharide-enriched film surfaces reveal exceptionally high specific binding affinity to concanavalin A but severely suppress nonspecific binding of plasma proteins severely.
[Communication]
Jongchan Lee, Jin Chul Kim, Hoyeol Lee, Sungjin Song, Heesoo Kim, Moonhor Ree
Macromol. Rapid Commun., March 21, 2017, https://doi.org/10.1002/marc.201700013 Read article
A high PCE of 17.1% for a planar structured perovskite solar cell is presented by simply depositing a phosphonic acid based mixed self-assembled monolayer (SAM) layer on top of transparent electrodes. This ultrathin SAM layer improves not only the charge extraction but also the crystalline quality of perovskite films and results in an effectively suppressed hysteresis effect.
[Communication]
Yi Hou, Simon Scheiner, Xiaofeng Tang, Nicola Gasparini, Moses Richter, Ning Li, Peter Schweizer, Shi Chen, Haiwei Chen, Cesar Omar Ramirez Quiroz, Xiaoyan Du, Gebhard J. Matt, Andres Osvet, Erdmann Spiecker, Rainer H. Fink, Andreas Hirsch, Marcus Halik, Christoph J. Brabec
Adv. Mater. Interfaces, March 21, 2017, https://doi.org/10.1002/admi.201700007 Read article
Representative snapshots illustrating how surface oxidation rate can affect conformational changes of prefolded poly(T)20 on graphene surfaces. In the case of the surface with low or high oxidation rate, strong van der Waals or electrostatic interactions make poly(T)20 unstable. However, on graphene oxide with moderate oxidation rate, poly(T)20 has a good structural retention due to balanced nonbonded interactions.
[Full Paper]
Ho Shin Kim, Barry L. Farmer, Yaroslava G. Yingling
Adv. Mater. Interfaces, March 21, 2017, https://doi.org/10.1002/admi.201601168 Read article
In this study, a fullerene-like carbon film is prepared by chemical vapor deposition and is verified to exhibit super long wear life in high vacuum. The frictional interface analysis indicates transformation of fullerene-like structure to nanocrystalline graphite and the deposition of tribofilm on counterface. Film tribological properties are proved to be closely related to this structural evolution.
[Full Paper]
Jing Shi, Yongfu Wang, Zhenbin Gong, Bin Zhang, Chengbing Wang, Junyan Zhang
Adv. Mater. Interfaces, March 21, 2017, https://doi.org/10.1002/admi.201601113 Read article
Stable for months: The formation and stability of ultrathin-shell water/oil/water double emulsions were studied by using a glass capillary device. The concentration of surfactant in the middle, oil phase plays a critical role in stabilising the double emulsions. The ultrathin-shell double emulsions (see figure) can be stable for up to several months, and this paves the way for their future applications in various fields.
[Article]
Chun-Xia Zhao, Dong Chen, Yue Hui, David A. Weitz, Anton P. J. Middelberg
ChemPhysChem, March 20, 2017, https://doi.org/10.1002/cphc.201601334 Read article
A phase transition induced Raman enhancement is demonstrated on MoX2 (X = S, Se) monolayer substrates. It is found to be due to the highly efficient charge transfer from the Fermi energy level of 1T-MoX2 to the highest occupied molecular orbital level of the probe molecule. These novel features of 1T-MoX2 may provide a new approach for the development of new type 2D surface-enhanced Raman spectroscopy substrates.
[Full Paper]
Ying Yin, Peng Miao, Yumin Zhang, Jiecai Han, Xinghong Zhang, Yue Gong, Lin Gu, Chengyan Xu, Tai Yao, Ping Xu, Yi Wang, Bo Song, Song Jin
Adv. Funct. Mater., March 17, 2017, https://doi.org/10.1002/adfm.201606694 Read article
Transient currents in atomically thin MoTe2 field-effect transistors (FETs) are measured during cycles of gate pulses. The curves of the transient currents are analyzed using a newly proposed model for charge-trapping dynamics that renders a time-dependent change in the threshold voltage as the dominant effect on the channel behavior. The model is instrumental in understanding the fundamental physics that governs the performance of atomically thin FETs.
[Communication]
Iddo Amit, Tobias J. Octon, Nicola J. Townsend, Francesco Reale, C. David Wright, Cecilia Mattevi, Monica F. Craciun, Saverio Russo
Adv. Mater., March 15, 2017, https://doi.org/10.1002/adma.201605598 Read article
Gold nanoprobes are developed to guide brain-tumor surgery by crossing the blood–brain barrier. Assembly of the nanoprobes in the acidic tumor extracellular fluid triggers the activation of both the magnetic resonance signal for preoperatively defining the tumor margins and the surface-enhanced resonance Raman spectroscopy signal for intraoperatively guiding the tumor surgery. These nanoprobes are promising candidates to improve the outcome of brain-tumor surgery.
[Communication]
Xihui Gao, Qi Yue, Zining Liu, Mengjing Ke, Xingyu Zhou, Sihan Li, Jianping Zhang, Ren Zhang, Liang Chen, Ying Mao, Cong Li
Adv. Mater., March 15, 2017, https://doi.org/10.1002/adma.201603917 Read article
Relaxation of oxygen-2p and Mn-3d orbital (p–d) hybridization is coupled to the layer-dependent octahedral tilts within a La2/3Sr1/3MnO3 film driven by interfacial octahedral coupling. Enhanced Curie temperatures are achieved by reducing the octahedral tilting via interface structure engineering, demonstrating the central role of thickness-dependent p–d hybridization in widely observed dimensionality effects present in correlated oxide heterostructures.
[Full Paper]
Zhaoliang Liao, Nicolas Gauquelin, Robert J. Green, Sebastian Macke, Julie Gonnissen, Sean Thomas, Zhicheng Zhong, Lin Li, Liang Si, Sandra Van Aert, Philipp Hansmann, Karsten Held, Jing Xia, Johan Verbeeck, Gustaaf Van Tendeloo, George A. Sawatzky, Gertjan Koster, Mark Huijben, Guus Rijnders
Adv. Funct. Mater., March 15, 2017, https://doi.org/10.1002/adfm.201606717 Read article
The ferromagnetic (FM)/antiferromagnetic (AFM) coupling between La0.7Sr0.3MnO3 (LSMO) and BiFeO3 (BFO) in [(LSMO)n/(BFO)n]60/n (n = 1, 2, 5, 10) superlattices on SrTiO3 substrate is investigated. The work indicates that the FM/AFM coupling in the BFO/LSMO interface is an obstacle for enhancing the magnetic properties of BFO.
[Communication]
Jie Xiong, Tianyu Lei, Junwei Chu, Chao Yang, Jiake Wei, Mujin Zhuo, Eun-Mi Choi, Bowan Tao, Wanli Zhang, Yongqiang Wang, Yanrong Li
Small, March 10, 2017, https://doi.org/10.1002/smll.201700107 Read article
A green mussel-inspired electropolymerization strategy with a rapid in situ polydopamine-reduced uniform nanoparticle decorating process to construct multifunctional Pt@TiO2 nanotube arrays (NTAs) is described. Experimental results demonstrate the promising application of such multifunctional Pt@TiO2 NTAs for self-cleaning surface-enhanced Raman scattering substrates for the photochemical detection of tracing organic molecules and nonenzymic photo-electrocatalytic oxidation of glucose.
[Full Paper]
Jingsheng Cai, Jianying Huang, Mingzheng Ge, James Iocozzia, Zhiqun Lin, Ke-Qin Zhang, Yuekun Lai
Small, March 10, 2017, https://doi.org/10.1002/smll.201604240 Read article
Current strategies for surface functionalization often yield the resulting upconversion nanoparticles with limited biocompatibility, specificity, functionality, and dispersibility in high-salt physiological environment. To this end, a rational design and synthesis of hairpin DNA-functionalized upconversion/gold nanoprobes is presented featuring improved stability, which is particularly useful for deep-tissue drug delivery.
[Communication]
Sanyang Han, Animesh Samanta, Xiaoji Xie, Ling Huang, Juanjuan Peng, Sung Jin Park, Daniel Boon Loong Teh, Yongdoo Choi, Young-Tae Chang, Angelo Homayoun All, Yanmei Yang, Bengang Xing, Xiaogang Liu
Adv. Mater., March 10, 2017, https://doi.org/10.1002/adma.201700244 Read article
A monolithically integrated supercapacitor is demonstrated to give high energy and power densities while avoiding delamination when being flexed. It relies on vapor-deposited poly(3,4-ethylenedioxythiophene) electrodes that penetrate partially into both sides of a paper/membrane substrate, leaving the substrate's interior as separator. The electrodes conform to the substrate's outer texture, resulting in their large surface area for fast ion transport.
[Communication]
Andong Liu, Peter Kovacik, Nolan Peard, Wenda Tian, Hilal Goktas, Jonathan Lau, Bruce Dunn, Karen K. Gleason
Adv. Mater., March 10, 2017, https://doi.org/10.1002/adma.201606091 Read article
Controlled water dosage: The interaction of controlled doses of water vapor with aminopropyl groups grafted on the surface of mesoporous silica nanoparticles is studied by solid-state NMR and IR spectroscopy and ab initio calculations (see figure). The presence of hydrogen-bonded species, weakly interacting aminopropyl chains with restricted mobility, and a small amount of NH3+ groups was found
[Article]
Geo Paul, Giorgia Elena Musso, Emanuela Bottinelli, Maurizio Cossi, Leonardo Marchese, Gloria Berlier
ChemPhysChem, March 09, 2017, https://doi.org/10.1002/cphc.201601135 Read article
Give me the signal: This work reports the novel photoelectrochemical probing of cellular interfaces and evaluation of cellular H2S production based on in situ-generated CdS-enhanced TiO2 nanotube heterostructures. Through the direct culturing and interfacing of HepG2 cells onto the TiO2 NT electrode, loaded with Cd2+, the pathway of cellular stimulation and H2S generation could be monitored based on the intensities of the photocurrent signals.
[Article]
Yuan-Cheng Zhu, Qian Wang, Li-Bin Zhang, Wei-Wei Zhao, Jing-Juan Xu, Hong-Yuan Chen
ChemElectroChem, March 08, 2017, https://doi.org/10.1002/celc.201700149 Read article
Amphiphilic polymers with diverse macromolecular architectures have been developed as low environmental impact coatings to combat marine biofouling. These novel "green" technologies employ different building blocks to endow the polymer film with surface activity, functionality, structure, and reconstruction as a result of a tailored amphiphilic character of the polymer platform.
[Feature Article]
Giancarlo Galli, Elisa Martinelli
Macromol. Rapid Commun., March 07, 2017, https://doi.org/10.1002/marc.201600704 Read article
A scalable synthesis method of low-density 3D macroscopic structure of graphene oxide (GO) interconnected with the polydimethylsiloxane (PDMS) is demonstrated. High affinity of PDMS molecules to GO functional groups is utilized to interconnect GO nanosheets, resulting in high tensile plasticity and toughness foam.
[Communication]
Peter Samora Owuor, Cristiano F. Woellner, Tong Li, Soumya Vinod, Sehmus Ozden, Suppanat Kosolwattana, Sanjit Bhowmick, Luong Xuan Duy, Rodrigo V. Salvatierra, Bingqing Wei, Syed A. S. Asif, James M. Tour, Robert Vajtai, Jun Lou, Douglas S. Galvão, Chandra Sekhar Tiwary, Pulickel. M. Ajayan
Adv. Mater. Interfaces, March 07, 2017, https://doi.org/10.1002/admi.201700030 Read article
A colloidal quantum dot (CQD)-ink is developed by phase-transfer exchange, enabling the fabrication of active layers by single-step coating to achieve a thick film. The CQD-ink exhibits low surface traps due to improvement of surface passivation. Thus, incorporating the CQD-ink into devices shows high efficiency and low voltage loss.
[Communication]
Havid Aqoma, Muhibullah Al Mubarok, Wisnu Tantyo Hadmojo, Eun-Hye Lee, Tae-Wook Kim, Tae Kyu Ahn, Seung-Hwan Oh, Sung-Yeon Jang
Adv. Mater., March 07, 2017, https://doi.org/10.1002/adma.201605756 Read article
An approach for engineering quantum dot (QD) encoded microbeads that are free from optical artifacts related to inter-QD resonance energy transfer is presented. The method paves the way to the development of quantitative QD-based multiplexed assays.
[Article]
Regina S. Bilan, Victor A. Krivenkov, Mikhail A. Berestovoy, Anton E. Efimov, Igor I. Agapov, Pavel S. Samokhvalov, Igor Nabiev, Alyona Sukhanova
ChemPhysChem, March 06, 2017, https://doi.org/10.1002/cphc.201601274 Read article
The peculiar packing structure of picene leads to weak interfacial coupling on clean metal surfaces. In contrast, pentacene is chemisorbed on Ag and Cu surfaces involving electron transfer from the substrate.
[Rapid Research Letter]
Qi Wang, Qian Xin, Rong-Bin Wang, Martin Oehzelt, Nobuo Ueno, Satoshi Kera, Steffen Duhm
Phys. Status Solidi RRL, March 03, 2017, https://doi.org/10.1002/pssr.201700012 Read article
Surface-functionalized titanate monolayers are obtained by a new exfoliation approach coupled with the surface modification. The original surface molecules on the monolayer surface are exchanged to the guest ones with the exfoliation. The exfoliation and the surface modification have potentials for bandgap engineering of the nanosheets.
[Full Paper]
Yuna Yamamoto, Yuya Oaki, Hiroaki Imai
Adv. Mater. Interfaces, March 03, 2017, https://doi.org/10.1002/admi.201601014 Read article
The standing acoustic wave field separates nanoparticles based on size differences. Larger particles are deflected further and filter out from the original route. This method enables size-based, label-free, and noncontact separation of varied types of nanoparticles.
[Full Paper]
Mengxi Wu, Zhangming Mao, Kejie Chen, Hunter Bachman, Yuchao Chen, Joseph Rufo, Liqiang Ren, Peng Li, Lin Wang, Tony Jun Huang
Adv. Funct. Mater., March 03, 2017, https://doi.org/10.1002/adfm.201606039 Read article
A chemo-enzymatic hybrid: The efficiency of a sensitizer–laccase–O2 system in the bio-inspired oxidation of olefins is greatly influenced by the location of the photocatalyst at the laccase surface. The sensitizer is a ruthenium–polypyridyl complex introduced by selective reductive alkylation chemistry at an accessible lysine residue.
[Full Paper]
Viviane Robert, Emanuele Monza, Lionel Tarrago, Ferran Sancho, Anna De Falco, Ludovic Schneider, Eloïne Npetgat Ngoutane, Yasmina Mekmouche, Pierre Rousselot Pailley, A. Jalila Simaan, Victor Guallar, Thierry Tron
ChemPlusChem, March 02, 2017, https://doi.org/10.1002/cplu.201700030 Read article
Waterworks: Direct surface-enhanced Raman scattering (SERS)-based quantification of inorganic metal species is problematic, because they have a small Raman cross-section or even no vibrational mode. An Au@SiO2@phenyl-azathiacrown SERS substrate is developed for quantification of such metal species, as exemplified by inorganic mercury (HgII). Size-fit and S-pulling effects of azathiacrown linked by phenyl on Au@SiO2 nanoparticles allow us to perform a direct, sensitive, and specific quantification of HgII in various waters.
[Communication]
Yuchao Wu, Limin Yang, Qiuquan Wang
ChemistryOpen, March 01, 2017, https://doi.org/10.1002/open.201600135 Read article
The technology of pulsed laser ablation in liquid (PLAL) opens a promising venue for the preparation of colloidal metal nanoparticles through a physical process. The PLAL nanoparticles possess unique surface features that are significantly distinctive from their counterparts synthesized chemically. This has rendered them attractive candidates for many interesting applications in catalysis, biology, sensing, and clean energy generation and storage.
[Review]
Jianming Zhang, Jerome Claverie, Mohamed Chaker, Dongling Ma
ChemPhysChem, February 27, 2017, https://doi.org/10.1002/cphc.201601220 Read article
Bound together: The unusual electrochemical behaviour of cytochrome c at liquid−gel and liquid−liquid interfaces reveals the formation of protein oligomers under electrochemical conditions. Experimental investigations using voltammetry, adsorptive stripping and electrophoretic separations are reported.
[Article]
Eva Alvarez de Eulate, Shane O'Sullivan, Damien W. M. Arrigan
ChemElectroChem, February 27, 2017, https://doi.org/10.1002/celc.201600851 Read article
It is a challenging task to fabricate crystalline oxides on Si since Si is reactive with many elements, especially oxygen, resulting in extensive inter-diffusion or chemical reactions. Here Liang et al. report an interface-engineering approach to this issue by molecular beam epitaxy. A thin-film transistor working in the enhancement mode was achieved, demonstrating it can potentially combine multi-functional crystalline oxides with the well-developed Si infrastructure.
[Rapid Research Letter]
Huili Liang, Zengxia Mei, Daqian Ye, Junqiang Li, Wen-Chiang Hong, Qinghua Zhang, Yaoping Liu, Lin Gu, Richeng Yu, Yicheng Lu, Xiaolong Du
Phys. Status Solidi RRL, February 23, 2017, https://doi.org/10.1002/pssr.201600443 Read article
Outside the BOx: The enhancement of the electrochemical activity toward oxygen reduction reaction with the addition of an enzyme (bilirubin oxidase, BOx) to a platinum group metal-free (PGM-free) catalyst is shown. The influence of chemistry and morphology of the PGM-free materials is found to have an impact in the level of enhancement of the hybrid catalyst.
[Full Paper]
Santiago Rojas-Carbonell, Sofia Babanova, Alexey Serov, Kateryna Artyushkova, Michael J. Workman, Carlo Santoro, Alex Mirabal, Scott Calabrese Barton, Plamen Atanassov
ChemSusChem, February 23, 2017, https://doi.org/10.1002/cssc.201601822 Read article
Islands in the sea: Bifunctional Ag@SiO2/Au nanoparticles were used as a SERS probe to monitor the stepwise Au-catalyzed reduction and Ag-catalyzed oxidation reactions.
[Full Paper]
Yiren Wu, Dong Su, Dong Qin
ChemNanoMat, February 22, 2017, https://doi.org/10.1002/cnma.201600359 Read article
A winning combination: A promising monolithic CoO@Cu2O/SiC-foam catalyst is developed by a reaction-induced method, providing a unique combination of unprecedented Cu2O–CoO interface catalysis with improved hydrodynamics and enhanced heat/mass transfer in the gas-phase aerobic oxidation of bioethanol to acetaldehyde for a feed gas with a very high ethanol concentration of 20 vol %.
[Communication]
Guofeng Zhao, Songyua Fan, Xiaxia Pan, Pengjing Chen, Ye Liu, Yong Lu
ChemSusChem, February 17, 2017, https://doi.org/10.1002/cssc.201601848 Read article
The practicability of the typical 2D layered materials (h-BN, graphene, silicene, germanene, stanene, phosphorene, SnS, and SnSe) as protecting films for lithium or sodium metal anodes from aspects of both the diffusion and mechanical properties is studied by first-principles calculations, and the study focuses on their relationship with the crystalline structures, defect feature, and metal's proximity effect.
[Full Paper]
Hongzhen Tian, Zhi Wei Seh, Kai Yan, Zhongheng Fu, Peng Tang, Yingying Lu, Ruifeng Zhang, Dominik Legut, Yi Cui, Qianfan Zhang
Adv. Energy Mater., February 17, 2017, https://doi.org/10.1002/aenm.201602528 Read article
[Full Paper]
Yousry M. Issa, Omaima E. Sherif, Ahmed S. Abo Dena
Electroanalysis, February 16, 2017, https://doi.org/10.1002/elan.201700034 Read article
The big split-up: Upon Al doping of lanthanum–strontium manganites, manganese enrichment and strontium depletion is observed at the perovskite surface. This is correlated with a higher redox activity and lower carbonate formation, both beneficial for CO2-splitting applications.
[Full Paper]
M. Ezbiri, V. Becattini, M. Hoes, R. Michalsky, A. Steinfeld
ChemSusChem, February 14, 2017, https://doi.org/10.1002/cssc.201601869 Read article
The importance of interfacial charge transfer and photogenerated charge separation at various interfaces involving semiconductors is discussed. Optimization leads to highly efficient photo-electrochemical water splitting and properties of solar energy devices. Various interfaces such as semiconductor–electrolyte, semiconductor–semiconductor, semiconductor–metal, and semiconductor–molecules are discussed and found to be involved in photo-electrochemical processes.
[Review]
Sandeep Kumar, Kasinath Ojha, Ashok K. Ganguli
Adv. Mater. Interfaces, February 09, 2017, https://doi.org/10.1002/admi.201600981 Read article
Lightning attack: Surface-modified gold multibranched nanoparticles (AuMs) are prepared through the simple chemical reduction of gold chloride aqueous solution followed by in situ modification using water-soluble arenediazonium tosylates with different functional organic groups. The antibacterial effect of surface-modified AuMs is evaluated by using Escherichia coli and Staphylococcus epidermidis bacteria under IR light illumination and without external triggering. Strong plasmon resonance on the AuMs cups leads to a significant reduction of the light power needed to kill bacteria.
[Full Paper]
Yevgeniya Kalachyova, Anasiya Olshtrem, Olga A. Guselnikova, Pavel S. Postnikov, Roman Elashnikov, Pavel Ulbrich, Silvie Rimpelova, Václav Švorčík, Oleksiy Lyutakov
ChemistryOpen, February 07, 2017, https://doi.org/10.1002/open.201600159 Read article
Ag@SiO2/f-Al2O3/e-Al substrate is developed with strong plasmonic coupling of edge–edge orientation within Ag@SiO2 nanocubes. The sandwich structure creates a "multiple light source effect" to enhance efficiency of surface plasmon hotspots and shows a reproducible bifunctionality for detecting creatinine and flavin adenine dinucleotide by surface-enhanced Raman scattering and metal-enhanced photoluminescence.
[Full Paper]
Minh-Kha Nguyen, Wei-Nien Su, Bing-Joe Hwang
Adv. Healthcare Mater., February 02, 2017, https://doi.org/10.1002/adhm.201601290 Read article
It is demonstrated that the open circuit voltage (Voc) in p-type dye sensitized solar cells is heavily limited by interfacial charge recombination and consequently that higher Voc values above 100 mV and as high as 500 mV can be attained with conventional materials (NiO and electrolytes) if the deleterious interfacial charge recombination reactions can be decreased.
[Full Paper]
Ludovic Favereau, Yann Pellegrin, Lionel Hirsch, Adèle Renaud, Aurélien Planchat, Errol Blart, Guy Louarn, Laurent Cario, Stéphane Jobic, Mohammed Boujtita, Fabrice Odobel
Adv. Energy Mater., January 30, 2017, https://doi.org/10.1002/aenm.201601776 Read article
An additive-free and reconfigurable assembly strategy based on capillary interaction between an air-bubble and floating object is demonstrated. The method is capable of long-range transport, assembly, and on-demand disassembly of floating objects at the water–air interface, by simply controlling the dynamics of the air bubble.
[Communication]
Thamarasseril Vijayan Vinay, Theneyur Narayanaswamy Banuprasad, Sajan Daniel George, Soney Varghese, Subramanyan Namboodiri Varanakkottu
Adv. Mater. Interfaces, January 30, 2017, https://doi.org/10.1002/admi.201601231 Read article
An interfacial modifier, poly(methyl methacrylate) (PMMA) having inorganic blocks at the chain ends, is prepared by living anionic polymerization. It is preferentially segregated in the mixture of PMMA to regulate the surface wettability and functions, which depend on the fed ratio. The effect of the interfacial modifications is clearly demonstrated in the cell proliferation behaviors on PMMA films.
[Full Paper]
Kentaro Yamamoto, Tomoyasu Hirai, Yukari Oda, Daisuke Kawaguchi, Hisao Matsuno, Keiji Tanaka
Macromol. Chem. Phys., January 25, 2017, https://doi.org/10.1002/macp.201600473 Read article
[Review]
Sebastian Müller, Tatiana Cañeque, Verónica Acevedo, Raphaël Rodriguez
Isr. J. Chem., January 19, 2017, https://doi.org/10.1002/ijch.201600109 Read article
[Full Paper]
Francesco Trozzi, Tainah Dorina Marforio, Andrea Bottoni, Francesco Zerbetto, Matteo Calvaresi
Isr. J. Chem., December 22, 2016, https://doi.org/10.1002/ijch.201600127 Read article
[Original Research Paper]
A. Cadi-Essadek, A. Roldan, N. H. de Leeuw
Fuel Cells, December 16, 2016, https://doi.org/10.1002/fuce.201600044 Read article
Well-defined polystyrene end-functionalized with N,N-diethylamino group is prepared by a living anionic polymerization and applied for the ionic bond formation with C8F17COOH. The ionic-bonded C8F17 group segregates at the top of film surface and can be removed by soaking in methanol. Moreover, the group that remained inside appears at the film surface by annealing, suggesting the surface reconstruction by environmental changes.
[Full Paper]
Kenji Sugiyama, Takeshi Yamada
Macromol. Chem. Phys., December 08, 2016, https://doi.org/10.1002/macp.201600444 Read article
The number of bacterial cells adherent on an immobilized liquid layer of silicone oil is significantly affected by the presence or absence of orbital flow, the species of bacteria, and the bacterial cell morphology. In all tested experimental conditions, however, immobilized liquid layers show superior resistance to irreversible bacterial adhesion compared to equivalent solid polydimethylsiloxane surfaces.
[Full Paper]
Yevgen Kovalenko, Irini Sotiri, Jaakko V. I. Timonen, Jonathan C. Overton, Gareth Holmes, Joanna Aizenberg, Caitlin Howell
Adv. Healthcare Mater., December 08, 2016, https://doi.org/10.1002/adhm.201600948 Read article
[Full Paper]
Marco Arrigoni, Eugene A. Kotomin, Joachim Maier
Isr. J. Chem., November 15, 2016, https://doi.org/10.1002/ijch.201600056 Read article
© Wiley-VCH 2016.