Surfaces and Interfaces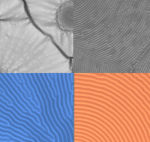 Interfaces and surfaces are where the action happens. Catalysis, molecular recognition, charge transfer, polymerization and many other critical processes take place at the boundary between one medium and another. With the need to integrate new materials into devices, and applications ranging from catalysis to sensors, medicine to self-cleaning surfaces, and displays to lasers, fundamental and applied studies of surface and interface processes and optimization are of critical importance in developing new technology to meet today's challenges. The selection of recent research articles presented below illustrates the vast potential of this field.
For recent reviews, see

RSS feed
Recent Articles
The power of enzymes: A multilayer film including a bi-enzyme reaction system establishes a proton gradient going from the bottom to the top of the film, leading to the localized self-assembly of peptides that underpin a supramolecular hydrogel. This approach constitutes an alternative to an electrode surface to induce pH-sensitive self-assembly processes.
[Communication]
Jennifer Rodon Fores, Miguel Leonardo Martinez Mendez, Xiyu Mao, Déborah Wagner, Marc Schmutz, Morgane Rabineau, Philippe Lavalle, Pierre Schaaf, Fouzia Boulmedais, Loïc Jierry
Angew. Chem. Int. Ed., November 16, 2017, https://doi.org/10.1002/anie.201709029 Read article
Prashanthi et al. report an anomalous negative thermal quenching of multiferroic BiFeO3 nanowires. Unlike conventional semiconductors, where the luminescence signal considerably diminishes at high temperatures, the green emission of BiFeO3 nanowires exhibits negative thermal quenching where the photoluminescence intensity increases with temperature.
[Rapid Research Letter]
Kovur Prashanthi, Željka Antić, Garima Thakur, Miroslav D. Dramićanin, Thomas Thundat
Phys. Status Solidi RRL, November 15, 2017, https://doi.org/10.1002/pssr.201700352 Read article
From the interplay of high-resolution scanning tunneling microscopy imaging, density functional theory calculations, we have successfully synthesized adenine oligomers on Au(111) through Ullmann coupling of a halogenated adenine derivative.
[Communication]
Yanmin Zhang, Yuanqi Ding, Lei Xie, Honghong Ma, Xinyi Yao, Chi Zhang, Chunxue Yuan, Wei Xu
ChemPhysChem, November 15, 2017, https://doi.org/10.1002/cphc.201701009 Read article
Tiny Templates: On-surface reactions can be performed on catalytic metal surfaces to combine molecular units into extended arrays. The structure of the catalyst, as well as its chemistry, is known to influence the shape of the product. Templating the catalyst with a porous self-assembled network gives rise to nanometer sized pores in which a chemical reaction can occur; leading to a different product to that formed on a non-templated surface.
[Communication]
Chris J. Judd, Neil R. Champness, Alex Saywell
Chem. Eur. J., November 15, 2017, https://doi.org/10.1002/chem.201704693 Read article
Intermediates in Volmer reactions: Adsorbed hydrogen atoms ionize into multiply hydrated protons (H5O2+, H7O3+, and H9O4+) on a Pt surface assisted by water layers. These hydrated protons spontaneously evolve into fully hydrated structures along the water overlayer. Surface hydrated protons may be important intermediates in the electrochemical Volmer reaction on a Pt electrode.
[Full Paper]
Youngsoon Kim, Chanwoo Noh, YounJoon Jung, Heon Kang
Chem. Eur. J., November 15, 2017, https://doi.org/10.1002/chem.201703882 Read article
A chemical garden: A novel strategy is employed to fabricate Au–polypyrrole composites with unusual morphology: Au−PPy nanotubules and flower-like Au mesoparticles–PPy composites are obtained by changing reaction process between AuCl4− ions loaded poly(4-vinylpyridine) brush grafted on graphene oxide and pyrrole monomer.
[Full Paper]
Guoke Xing, Wenqin Wang, Ke Wang, Ping Li, Tao Chen
Chem. Eur. J., November 15, 2017, https://doi.org/10.1002/chem.201703183 Read article
Sensitive to doping: A systematic analysis of oxygen reactivity and a has been performed for ethane C−H activation on doped Co3O4 (1 1 1) and (3 1 1) surfaces. Trends and correlations are found that will provide a useful guide for dopant performance in ethane activation on the surfaces of transition metal oxides.
[Full Paper]
Victor Fung, Franklin (Feng) Tao, De-en Jiang
ChemCatChem, November 15, 2017, https://doi.org/10.1002/cctc.201700960 Read article
A new leaf: Surface-functionalization and coordination-polymer chemistry are utilized to create metal–organic framework (MOF)-based nanoarchitectures on an alumina surface, which modify the surface′s inherent superhydrophilicity to the distinctive superhydrophobic behaviors of rose petals and lotus leaves.
[Communication]
Rahul Dev Mukhopadhyay, Balaraman Vedhanarayanan, Ayyappanpillai Ajayaghosh
Angew. Chem. Int. Ed., November 15, 2017, https://doi.org/10.1002/anie.201709463 Read article
Monolayered protrusions constructed by the self-assembly of asymmetric fullerene nanosurfactant in the anisotropic liquid crystal media amplify and transfer the molecular orientational order from surface to bulk, and finally create the automatic vertical molecular alignment on the macroscopic length scale.
[Full Paper]
Dae-Yoon Kim, Sang-A Lee, Soeun Kim, Changwoon Nah, Seung Hee Lee, Kwang-Un Jeong
Small, November 14, 2017, https://doi.org/10.1002/smll.201702439 Read article
A proficient method is used to design an effective catalyst acid-modified crystalline titania (TiO2) on the photocatalytic degradation of the azo dye Remazol Red (RR) for removing azo dye compounds from contaminated waste streams. The mechanism for RR photodegradation with acid-modified TiO2 (m-TiO2) was studied using UV-visible spectroscopy and scanning electron microscopy (SEM). Modification of the TiO2 surface with hydrochloric acid (HCl) plays an important role in enhanced RR photodecomposition in water. The RR photodecomposition reactions are 19% more efficient than those with pure commercial TiO2 under UV radiation.
[Communication]
Unjila Afrin, Mohammad Rasel Mian, Brian K. Breedlove, Md. Mufazzal Hossain
ChemistrySelect, November 13, 2017, https://doi.org/10.1002/slct.201701522 Read article
Surface tensions and ionic surface propensities at air–water interfaces were calculated by molecular dynamics simulations. The surface tensions of NaOH, HCl, and NaCl solutions agree remarkably well with experiment, and of the studied ions, only H3O+ adsorbs to the air–water interface. The adsorption is explained by the deep potential well caused by the orientation of the H3O+ dipole in the interfacial electric field.
[Communication]
Shavkat I. Mamatkulov, Christoph Allolio, Roland R. Netz, Douwe Jan Bonthuis
Angew. Chem. Int. Ed., November 13, 2017, https://doi.org/10.1002/anie.201707391 Read article
Recent progress in the development of polyethylene/metal-oxide nanocomposites with "optimal" interfaces for the next generation of extruded high-voltage direct-current cables with ultralow transmission-loss is presented. This is the most promising way of delivering clean and renewable energy from remote areas to more densely populated regions.
[Progress Report]
Amir Masoud Pourrahimi, Richard T. Olsson, Mikael S. Hedenqvist
Adv. Mater., November 13, 2017, https://doi.org/10.1002/adma.201703624 Read article
Flexible graphene solution-gated field-effect transistors are proposed as a new advanced technology for neural recordings thanks to the outstanding properties of single-layer graphene. In this paper, the key concepts of this technology are discussed and its perfect suitability for μ-ECoG applications is shown by demonstrating the recording of sensory-evoked potential as well as synchronous activity.
[Feature Article]
Clement Hébert, Eduard Masvidal-Codina, Alejandro Suarez-Perez, Andrea Bonaccini Calia, Gaelle Piret, Ramon Garcia-Cortadella, Xavi Illa, Elena Del Corro Garcia, Jose M. De la Cruz Sanchez, Damia Viana Casals, Elisabet Prats-Alfonso, Jessica Bousquet, Philippe Godignon, Blaise Yvert, Rosa Villa, Maria V. Sanchez-Vives, Anton Guimerà-Brunet, Jose A. Garrido
Adv. Funct. Mater., November 13, 2017, https://doi.org/10.1002/adfm.201703976 Read article
Polydopamine based colloids are an important class of functional materials because they integrate bioinspired polydopamine chemistry from natural melanin and adhesive proteins secreted in mussel foots with colloidal science. We thereby review the recent progress in the synthesis and applications of polydopamine based colloidal materials.
[Personal Account]
Ziwei Deng, Bin Shang, Bo Peng
Chem. Rec., November 10, 2017, https://doi.org/10.1002/tcr.201700051 Read article
Superhydrophobic surfaces have shown great potential value for future applications. For enhancing systematical understanding on superhydrophobic surfaces, classifications and summaries of classical wetting models, mechanism on typical surfaces in nature, frequently used fabricating methods for superhydrophobic surfaces in recent years, and applications of superhydrophobic material surfaces in three main aspects are presented as important issues.
[Review]
Jiaqiang E, Yu Jin, Yuanwang Deng, Wei Zuo, Xiaohuan Zhao, Dandan Han, Qingguo Peng, Zhiqing Zhang
Adv. Mater. Interfaces, November 10, 2017, https://doi.org/10.1002/admi.201701052 Read article
This paper explores the viability of plasmonic interaction between metal nanodisks and colloidal CdSe-based quantum dots (green and red) for use in light-emitting devices, by carrying out in-depth simulations and analyses to obtain overall photoluminescence enhancement factors. The calculated results are in agreement with the experimental results, allowing one to design plasmonic nanostructures for quantum dot based light-emitting devices.
[Full Paper]
Hyun Chul Park, Isnaeni, Suhyun Gong, Yong-Hoon Cho
Small, November 09, 2017, https://doi.org/10.1002/smll.201701805 Read article
Double take: We show that a "bootstrapped" biocatalysis substrate material can both purify and immobilize multiple enzymes site specifically and directly from crude cell lysates. We demonstrate the utility of the technique in a bienzymatic stereoselective reduction coupled with a cofactor recycling scheme. The domains allow for several cycles of selective removal and replacement of enzymes under mild conditions to regenerate the catalyst system.
[Communication]
Martin G. Nussbaumer, Peter Q. Nguyen, Pei K. R. Tay, Alexander Naydich, Erisa Hysi, Zsofia Botyanszki, Neel S. Joshi
ChemCatChem, November 09, 2017, https://doi.org/10.1002/cctc.201701221 Read article
Help from the surface: DNA self-assembly can be modulated by DNA–surface interactions that, in turn, can be readily tuned by metal ions. This allowed us to gain another layer of control over DNA self-assembly for preparation of DNA nanostructures.
[Communication]
Longfei Liu, Yulin Li, Yong Wang, Jianwei Zheng, Chengde Mao
ChemBioChem, November 09, 2017, https://doi.org/10.1002/cbic.201700545 Read article
An electrical-manipulated plasmon–exciton coupling device, based on monolayer graphene–Ag nanoparticles hybrid system, is fabricated as the surface-enhanced Raman scattering substrate. The gate voltage can increase density of state of hot electrons on the conduction band of graphene, and bias voltage can make hot electrons with higher kinetic energy. Both gate voltage and electrical currents can significantly promote plasmon–exciton-codriven surface catalytic reaction.
[Full Paper]
En Cao, Xiao Guo, Liqiang Zhang, Ying Shi, Weihua Lin, Xiaochun Liu, Yurui Fang, Liyan Zhou, Yinghui Sun, Yuzhi Song, Wenjie Liang, Mengtao Sun
Adv. Mater. Interfaces, November 09, 2017, https://doi.org/10.1002/admi.201700869 Read article
Properties of polymer particles such as surface wrinkling and porosity present the larger surface area and allow excellent interactions with wide range of active objects. Particularly, these structured particulate materials are highly important for biomedical applications such as for high loading and controlled release of cargos in drug delivery, scaffolds for tissue engineering, and for the enhanced cell-material interfacial functions.
[Review]
Nikunjkumar R. Visaveliya, Christopher W. Leishman, Kara Ng, Nicolas Yehya, Nelson Tobar, Dorthe M. Eisele, Johann Michael Köhler
Adv. Mater. Interfaces, November 08, 2017, https://doi.org/10.1002/admi.201700929 Read article
The wet-etching treatment on highly-strained VO2/TiO2 (001) epitaxy film is explored and the related metal–insulator transition (MIT) is examined. It is observed that the VO2 film thinned by "top-down" wet- etching shows an abnormal phase transition behavior and a stress-free ultra-thin VO2 film on TiO2 (001) substrate can be obtained through this etching process.
[Rapid Research Letter]
Hui Ren, Shi Chen, Yuliang Chen, Zhenlin Luo, Jingtian Zhou, Xusheng Zheng, Liangxin Wang, Bowen Li, Chongwen Zou
Phys. Status Solidi RRL, November 07, 2017, https://doi.org/10.1002/pssr.201700320 Read article
Electrons this way, holes that way: The photogenerated carrier separation mechanism is studied by DFT calculations in an anatase TiO2 interface model. The "selective migration" electronic structure concept is introduced for the design of surface junctions.
[Full Paper]
Weiyu Song, Sicong Ma, Lu Wang, Jian Liu, Zhen Zhao
ChemCatChem, November 07, 2017, https://doi.org/10.1002/cctc.201700922 Read article
Interface engineering has been widely practiced on planar p-i-n perovskite solar cells since it brings about significant improvement in both device performance and stability. Recent progress is reviewed about the engineering of each interface of such devices and its effects, including defect passivation, accelerated charge transfer, enhanced stabilities, etc., which are key parameters for the photovoltaic devices.
[Review]
Yang Bai, Xiangyue Meng, Shihe Yang
Adv. Energy Mater., November 07, 2017, https://doi.org/10.1002/aenm.201701883 Read article
Here a simple and scalable electrochemical technique is demonstrated to produce robust composite coatings with tunable hydrophobicity. The coatings are composed of an ultra-fine grain Ni matrix with embedded hydrophobic CeO2 particles. It is demon­strated that these composite materials sustain their hydrophobicity even after prolonged abrasive wear; hence, it is expected that they find widespread applicability as robust hydrophobic materials.
[Full Paper]
Jason Tam, Gino Palumbo, Uwe Erb, Gisele Azimi
Adv. Mater. Interfaces, November 07, 2017, https://doi.org/10.1002/admi.201700850 Read article
Reversible on-surface switching of spiropyran (SP) is achieved using a weakly interacting substrate and choosing a SP derivative such that the modification of the energetics in the adsorbed state is taken into account. The ring-opening reaction is induced by UV light. By an increase of temperature, the open merocyanine isomer is converted back to the closed SP form.
[Full Paper]
Fabian Nickel, Matthias Bernien, Kai Kraffert, Dennis Krüger, Lucas M. Arruda, Lalminthang Kipgen, Wolfgang Kuch
Adv. Funct. Mater., November 06, 2017, https://doi.org/10.1002/adfm.201702280 Read article
Depositing extra-thin gold film upon silver nanoislands grown on a glass surface with out-diffusion technique allows both tuning the spectral position of surface plasmon resonance and increasing the efficiency of surface enhanced Raman scattering. The gold coating can also prevent silver nanoislands from degradation in air and isolate analytes from biologically aggressive silver.
[Rapid Research Letter]
Ekaterina Babich, Alexey Redkov, Igor Reduto, Andrey Lipovskii
Phys. Status Solidi RRL, November 03, 2017, https://doi.org/10.1002/pssr.201700226 Read article
A self-driven water splitting device is fabricated by using the oxygen vacancies dominated cobalt–nickel sulfide interface porous nanowires (NiS2/CoS2–O NWs) as both anode and cathode, and powered by two-series-connected NiS2/CoS2–O NWs-based portable Zn–air batteries.
[Communication]
Jie Yin, Yuxuan Li, Fan Lv, Min Lu, Ke Sun, Wei Wang, Lei Wang, Fangyi Cheng, Yefei Li, Pinxian Xi, Shaojun Guo
Adv. Mater., November 02, 2017, https://doi.org/10.1002/adma.201704681 Read article
The use of nanofluidics opens up a new arena for materials science. Burgeoning progress is made, including new materials and methods for fabricating nanofluidic devices, nanofluidics with functionalized surfaces and functional material components, as well as nanofluidics for manipulating nanoscale materials and fabricating new nanomaterials.
[Progress Report]
Yan Xu
Adv. Mater., November 02, 2017, https://doi.org/10.1002/adma.201702419 Read article
A series of multiscale sponges with controlled pore sizes have been successfully developed via the adsorption of SiO2 electrospun nanofibers and following hydrothermal treatment. With their combined superhydrophilicity, high porosity, and delicately designed pore size compatible with oil/water mixtures, the obtained sponges can effectively separate a wide range of oily wastewater with ultrahigh permeation flux and satisfactory oil rejection.
[Full Paper]
Weiyang Lv, Qingqing Mei, Jianliang Xiao, Miao Du, Qiang Zheng
Adv. Funct. Mater., November 02, 2017, https://doi.org/10.1002/adfm.201704293 Read article
1D conductive bundle yarn-based triboelectric nanogenerators (1D CBY-TENGs) are designed to build a new class of wearable energy harvester operated by human motions. Hierarchically nanostructured 1D CBY-TENGs would lead to a breakthrough in wearable textile electronics and open up the field for a much broader range of free-form factor by weaving 1D yarn onto various 2D/3D textile networks.
[Communication]
Won Bae Ko, Da Song Choi, Choong Hyun Lee, Jung Yup Yang, Gap Soo Yoon, Jin Pyo Hong
Adv. Mater., October 31, 2017, https://doi.org/10.1002/adma.201704434 Read article
A novel method that combines atomic layer deposition of TiO2 and post-annealing has been developed to fully exploit the performance of LiNi0.5Mn1.5O4. The incorporation of Ti into both the tetrahedral and octahedral sites in the spinel structure suppresses the irreversible surface phase transition during initial charge and contributes to improved performance under both room temperature and 55 °C.
[Communication]
Biwei Xiao, Hanshuo Liu, Jian Liu, Qian Sun, Biqiong Wang, Karthikeyan Kaliyappan, Yang Zhao, Mohammad Norouzi Banis, Yulong Liu, Ruying Li, Tsun-Kong Sham, Gianluigi A. Botton, Mei Cai, Xueliang Sun
Adv. Mater., October 27, 2017, https://doi.org/10.1002/adma.201703764 Read article
With the highly oxidized monolayer graphene oxide and cellulose crystal nanorod as building blocks, this work for the first time experimentally reveals the induced 200 facet suppression and computationally studies the underlying mechanism of crystalline structure alternation, providing a methodology to intrinsically manipulating cellulose–matrix interface and potentially engineering the cellulose-based nanocomposite material properties for future applications.
[Full Paper]
Qian Mao, Lei Yang, Xiumei Geng, Liao Chen, Bedanga Sapkota, Huijuan Zhao, Hongli Zhu
Adv. Mater. Interfaces, October 25, 2017, https://doi.org/10.1002/admi.201700995 Read article
TiO2 nanoparticles are characterized in situ in aqueous dispersions by soft X-ray absorption spectroscopy at the oxygen K edge and titanium L edge. For this purpose, a new flow cell method using a holey membrane to increase X-ray transmission of the membrane is introduced. The influence of hydration on the electronic structure of TiO2 nanoparticles is discussed.
[Communication]
Tristan Petit, Jian Ren, Sneha Choudhury, Ronny Golnak, Sreeju S. N. Lalithambika, Marc F. Tesch, Jie Xiao, Emad F. Aziz
Adv. Mater. Interfaces, October 25, 2017, https://doi.org/10.1002/admi.201700755 Read article
A series of ultrathin PbTiO3 films is grown on La0.7Sr0.3MnO3 buffered NdGaO3(110) substrates. Cs-corrected scanning transmission electron microscopy demonstrates the ferroelectricity for the 1.2 nm thick film with the polarization of ≈50 µC cm−2. The 2 nm thick film possesses a polarization of bulk value. The giant enhancement of polarization is proposed to result from the charge transfer at interfaces.
[Communication]
Sirui Zhang, Yinlian Zhu, Yunlong Tang, Ying Liu, Shuang Li, Mengjiao Han, Jinyuan Ma, Bo Wu, Zuhuang Chen, Sahar Saremi, Xiuliang Ma
Adv. Mater., October 25, 2017, https://doi.org/10.1002/adma.201703543 Read article
A simple and fast process for the preparation of off-stoichiometric thiol–ene particles in glycerol without stabilizers or cosolvents is demonstrated. Particle sizes are controlled solely by changing mixing speeds. Versatile surface modification via thiol–ene chemistry or surface chain transfer free radical polymerization demonstrates the introduction of various functional groups and selectively changes the extent of grafting thickness.
[Communication]
Christian Hoffmann, Valeria Chiaula, Liyun Yu, Manuel Pinelo, John M. Woodley, Anders E. Daugaard
Macromol. Rapid Commun., October 24, 2017, https://doi.org/10.1002/marc.201700394 Read article
A series of bioinspired innovative fabrication technologies and anti-icing and ice-phobic materials with special wetting properties have emerged. Based on the anti-icing mechanism and ice-phobic mechanism, scientists show that low-surface energy coatings and liquid-infused layered coatings can effectively improve the efficiency toward anti-icing and icephobicity, which is significant for future development of the anti-icing and ice-phobic technologies.
[Review]
Songnan Zhang, Jianying Huang, Yan Cheng, Hui Yang, Zhong Chen, Yuekun Lai
Small, October 23, 2017, https://doi.org/10.1002/smll.201701867 Read article
Full speed ahead: Flow magnetic resonance imaging is used to acquire the velocity distribution of a biphasic electrochemical cell with a four-electrode configuration. Interest is centered on the liquid interface between the organic and aqueous phases. The stability of the interface agrees with the models used to describe the electrochemical measurements.
[Article]
María R. Serial, Manuel I. Velasco, Emilia V. Silletta, Franco M. Zanotto, Sergio A. Dassie, Rodolfo H. Acosta
ChemPhysChem, October 20, 2017, https://doi.org/10.1002/cphc.201700775 Read article
Coming of age: TiOxCy electrodes undergo surface oxidation to TiO2 during air exposure, which has an important impact on their interfacial conductivity and corrosion kinetics in acidic electrolyte.
[Article]
Celine Rüdiger, Carlos Valero-Vidal, Marco Favaro, Stefano Agnoli, Gaetano Granozzi, Julia Kunze-Liebhäuser
ChemElectroChem, October 19, 2017, https://doi.org/10.1002/celc.201700912 Read article
Go with the flow: A new concept of additive manufactured flow through electrode mixers is presented. The electrode geometry combines a high surface area with mixing properties, diminishing concentration polarization effects of transport-limited reactions.
[Article]
Jonas Lölsberg, Ottokar Starck, Serafin Stiefel, Jonas Hereijgers, Tom Breugelmans, Matthias Wessling
ChemElectroChem, October 19, 2017, https://doi.org/10.1002/celc.201700662 Read article
Testing the water: Reversible and switchable pH-sensitive superhydrophobic surfaces are prepared by electro-copolymerization of pyrene monomers with fluorinated chains and acid groups. Wetting switchability is achieved by acid–base treatment. The versatile and simple process described here should be easy to implement in a wide range of polymer technologies requiring robust wetting switchability.
[Article]
Gabriela Ramos Chagas, Denis Kiryanenko, Guilhem Godeau, Frédéric Guittard, Thierry Darmanin
ChemPhysChem, October 18, 2017, https://doi.org/10.1002/cphc.201700846 Read article
Redox reactions span the molecular modality of biology and the electrical modality of devices. Here, an approach to search for redox information through an interactive electrochemical probing that is analogous to sonar is adopted. The capabilities of this approach to access chemical information are illustrated using recent examples. Exciting results in the use of redox to actuate biology are also provided.
[Progress Report]
Yi Liu, Jinyang Li, Tanya Tschirhart, Jessica L. Terrell, Eunkyoung Kim, Chen-Yu Tsao, Deanna L. Kelly, William E. Bentley, Gregory F. Payne
Adv. Healthcare Mater., October 18, 2017, https://doi.org/10.1002/adhm.201700789 Read article
A rational cascade engineering of Au nanoparticles decorated 2D/2D Bi2WO6–TiO2 binanosheets with improved photoactivity toward reduction of nitroaromatics in water under UV–vis light illumination is reported, which benefits from the cooperative synergy effect of multiple charge-carrier transfer channels, including Z-scheme charge transfer, "electron sink," and the surface plasmon resonance effect within the as-designed ternary composite ensemble.
[Full Paper]
Lan Yuan, Bo Weng, Juan Carlos Colmenares, Yugang Sun, Yi-Jun Xu
Small, October 17, 2017, https://doi.org/10.1002/smll.201702253 Read article
Light Concentration: This Focus Review introduces the interesting phenomena that are induced by the highly concentrated energy of surface plasmons. In localized electromagnetic fields, the light–matter interactions change dramatically. Therefore, precise tuning of the energy and the localization of plasmonic fields on the molecular scale is key to the development of new photochemistry.
[Focus Review]
Hiro Minamimoto, Shunpei Oikawa, Xiaowei Li, Kei Murakoshi
ChemNanoMat, October 17, 2017, https://doi.org/10.1002/cnma.201700149 Read article
It is revealed that the CuI islands on the TiO2 electron transport layer can induce change of polarity increasing electron extraction, establish barrier-free band alignment with perovskite, and reduce the trap sites. These changes of interface properties induce power conversion efficiency of 19.0% perovskite solar cell with negligible hysteresis.
[Communication]
Mahdi Malekshahi Byranvand, Taewan Kim, Seulki Song, Gyeongho Kang, Seung Un Ryu, Taiho Park
Adv. Energy Mater., October 16, 2017, https://doi.org/10.1002/aenm.201702235 Read article
Low-temperature planar perovskite solar cells with efficiency of 18.82% are developed via a strategy that combines dual-functional self-assembled monolayer (SAM) modification of ZnO electron accepting layers with sequential deposition of perovskite active layers. The SAMs, constructed from newly synthesized molecules with high dipole moments, act both as excellent surface wetting control layers and as electric dipole layers for ZnO layers.
[Full Paper]
Randi Azmi, Wisnu Tantyo Hadmojo, Septy Sinaga, Chang-Lyoul Lee, Sung Cheol Yoon, In Hwan Jung, Sung-Yeon Jang
Adv. Energy Mater., October 16, 2017, https://doi.org/10.1002/aenm.201701683 Read article
Semiconductive materials are obtained by selective modification of snowman-type Janus nanoparticles. One lobe was made semiconductive and the other insulating. By varying the relative lobe size, bulk conductivity of the powder material can be tuned. The inherent polarity contrast between the lobes enables the concomitant tuning of the surface polarity, which varies inversely proportional with conductivity.
[Full Paper]
Voichita Mihali, Andrei Honciuc
Adv. Mater. Interfaces, October 13, 2017, https://doi.org/10.1002/admi.201700914 Read article
Inorganic CsPbI3 perovskite is epitaxially grown on the PbS colloidal quantum dot at a low temperature. Increased depletion width, lower trap density, reduced charge recombination, and enhanced built-in electric field within the solar cell are obtained by using the CsPbI3-perovskited coated PbS colloidal quantum dot as a light absorbing material in the solar cell, resulting in high performance.
[Full Paper]
Xiaoliang Zhang, Jindan Zhang, Dibya Phuyal, Juan Du, Lei Tian, Viktor A. Öberg, Malin B. Johansson, Ute B. Cappel, Olof Karis, Jianhua Liu, Håkan Rensmo, Gerrit Boschloo, Erik M. J. Johansson
Adv. Energy Mater., October 10, 2017, https://doi.org/10.1002/aenm.201702049 Read article
The surfaces of VS4 and NbS3, which consist of disulfide fragments (S
S)2− exhibit oxidizing properties and stabilize Ag2S nanoparticles. This contrasts with the formation of Ag0 on MoS2 under identical conditions. This result contributes to fundamental understanding of the unusual chemistry of polysulfide surfaces and to the number of synthetic paths toward supported Ag2S and chalcogenide/chalcogenide composites.
[Communication]
Mariia N. Kozlova, Ekaterina D. Grayfer, Pavel A. Poltarak, Sofya B. Artemkina, Alexander G. Cherkov, Lidiya S. Kibis, Andrei I. Boronin, Vladimir E. Fedorov
Adv. Mater. Interfaces, October 10, 2017, https://doi.org/10.1002/admi.201700999 Read article
Interfaces play a decisive role in efficient solar energy conversion and photoactive sensors. Gaining thorough insight into interfacial reactions, however, is particularly challenging in relevant complex, non-vacuum environments. This review focuses on in situ studies of interface formation during preparation in chemical vapor ambient, modification in gaseous and liquid environment, and coupling of inorganic photoactive material with bioactive soft matter.
[Review]
Oliver Supplie, Matthias M. May, Sebastian Brückner, Nadzeya Brezhneva, Thomas Hannappel, Ekaterina V. Skorb
Adv. Mater. Interfaces, October 10, 2017, https://doi.org/10.1002/admi.201601118 Read article
A double self-assembly process is disclosed based on surface interaction between graphene flakes and surfactant molecules at water/air interface. It enables formation of high-performance monolayer of graphene flakes and allows a fast, reliable, and equipment-free transferring of the formed monolayer on various substrates almost independent of their surface wettability. A conformal coating on complex 3D structures can be achieved.
[Full Paper]
Guobin Jia, Jonathan Plentz, Martin Presselt, Jan Dellith, Andrea Dellith, Sophie Patze, Folke Johannes Tölle, Rolf Mülhaupt, Gudrun Andrä, Fritz Falk, Benjamin Dietzek
Adv. Mater. Interfaces, October 05, 2017, https://doi.org/10.1002/admi.201700758 Read article
Connect the nanodots: Amorphous molybdenum oxide (MoO3−x) nanodots were successfully synthesized via a simple chemical reaction route under the ambient conditions. The as-prepared MoO3−x nanodots exhibit strong localized surface plasmon resonances (LSPR) in the visible and near-infrared region. Tunable plasmon resonances can be obtained in a wide range through choosing a suitable solvent, which can contribute to an enhanced photoelectrocatalytic activity.
[Communication]
Chuanhui Zhu, Qun Xu, Liang Ji, Yumei Ren, Mingming Fang
Chem. Asian J., October 04, 2017, https://doi.org/10.1002/asia.201701170 Read article
A new method for spontaneously adsorbing 2D graphene oxide sheets at both the air-water and the oil-water interfaces using surfactant molecules is demonstrated in the present work.. The surfactant acts to screen a proportion of the graphene oxide surface charge and render the sheet surface active, increasing their affinity for interfaces and greatly enhancing their ability to stabilize oil-in-water emulsions (see the graphical image).
[Full Paper]
Thomas M. McCoy, Stephen A. Holt, Ashley M. Rozario, Toby D. M. Bell, Rico F. Tabor
Adv. Mater. Interfaces, October 04, 2017, https://doi.org/10.1002/admi.201700803 Read article
Acoustic active surfaces are developed based on 2D arrays of acoustically resonant microbubbles, which provide highly directional propulsive forces in fluids through acoustic streaming. The surfaces are remotely powered by an external acoustic field and can be directly attached to passive devices to provide wirelessly addressable mechanical forces with multiple degrees of freedom.
[Communication]
Tian Qiu, Stefano Palagi, Andrew G. Mark, Kai Melde, Fabian Adams, Peer Fischer
Adv. Mater. Interfaces, September 29, 2017, https://doi.org/10.1002/admi.201700933 Read article
A facile two-step coating of platelet storage bag material with polydopamine and DA51-cat under mild aqueous conditions protects it against fibrinogen adsorption and platelet and bacterial adhesion. Addition of an antimicrobial peptide to DA51-cat introduces bactericidal activity, demonstrating the potential of such an approach for improving platelet storage, one of the challenges in blood product transfusion.
[Full Paper]
Narges Hadjesfandiari, Marie Weinhart, Jayachandran N. Kizhakkedathu, Rainer Haag, Donald E. Brooks
Adv. Healthcare Mater., September 29, 2017, https://doi.org/10.1002/adhm.201700839 Read article
The demonstrated nanoporous poly(2-hydroxyethyl methacrylate-co-ethylene dimethacrylate) polymer with defined surface roughness possesses dual functionality enabling the generation of a miniaturized array of multiple droplets on a superhydrophobic–hydrophilic micropattern (droplet microarray) and simultaneously promoting a prolonged inhibition of spontaneous differentiation of mouse embryonic stem cells (mESCs). This renders a miniaturized platform allowing screening of mESC while maintaining their undifferentiated state.
[Full Paper]
Tina Tronser, Anna A. Popova, Mona Jaggy, Martin Bastmeyer, Pavel A. Levkin
Adv. Healthcare Mater., September 29, 2017, https://doi.org/10.1002/adhm.201700622 Read article
A simple and all-aqueous method is presented to prepare core-shell quantum dots, encapsulated in a silica shell of tunable thickness, which can be functionalized with reactive groups and doped with energy transfer acceptors.
[Full Paper]
Huanhuan Feng, Jan Bart ten Hove, Tingting Zheng, Aldrik H. Velders, Joris Sprakel
Eur. J. Inorg. Chem., September 28, 2017, https://doi.org/10.1002/ejic.201700886 Read article
Solid-state Li–air and Li–S batteries with solid electrolytes demonstrate superior safety compared with conventional batteries using liquid organic electrolytes. Solid electrolytes can support long-term operation in open system. Besides, solid electrolytes can effectively prevent "shuttle effect" in Li–S batteries. A comprehensive review of solid electrolytes, cathodes, and interfaces in the solid-state Li–air and Li–S batteries is provided.
[Review]
Yijie Liu, Ping He, Haoshen Zhou
Adv. Energy Mater., September 27, 2017, https://doi.org/10.1002/aenm.201701602 Read article
A self-limiting wet chemical process for deposition of epitaxial oxide monolayers is presented. This method is fast, cheap, and yields perfect interfaces. It allows the growth of oxide heterostructures with half-unit-cell resolution. It is demonstrated for a hole-type oxide interface SrTiO3/BaO/LaAlO3. The transport through this interface exhibits properties of mixed electron–hole contributions with hole mobility exceeding that of electrons.
[Communication]
Alon Ron, Amir Hevroni, Eran Maniv, Michael Mograbi, Lei Jin, Chun-Lin Jia, Knut W. Urban, Gil Markovich, Yoram Dagan
Adv. Mater. Interfaces, September 27, 2017, https://doi.org/10.1002/admi.201700688 Read article
Diffusion welding technique in metallurgy field is introduced to fabricate copper heterogeneous (hydrophilic/superhydrophobic) surface with mesh screen as mask. By eliminating returning droplet disturbance, droplets array is generated with monodisperse size on vertical heterogeneous surface. The surface turns noncontrollable dropwise condensation into controllable condensation for various applications beyond heat exchangers.
[Full Paper]
Jian Xie, Jinliang Xu, Qi Liu, Xiang Li
Adv. Mater. Interfaces, September 27, 2017, https://doi.org/10.1002/admi.201700684 Read article
The hierarchical micro-nanostructure superhydrophobic surface is widely considered to be ideal anti-icing materials due to the double-scale effect inducing to entrap more air pockets. However, the results in application environments show an inverse situation, because many supercooled microdroplets suspending in the environment (diameter of 20-40 μm) firstly rush into the micrometer structures to result in the rapid ice accumulation.
[Full Paper]
Yizhou Shen, Guanyu Wang, Jie Tao, Chunling Zhu, Senyun Liu, Mingming Jin, Yuehan Xie, Zhong Chen
Adv. Mater. Interfaces, September 20, 2017, https://doi.org/10.1002/admi.201700836 Read article
Novel crystalline oxide structure between GaAs(100) and atomic layer deposition grown Al2O3 is shown to result in improvement of practical IR detectors. Hard X-ray photoelectron spectroscopy analysis shows that different InOx structures can give rise to different charge carrier recombination mechanisms, but they are straightforwardly suppressed with an optimal amount of In in the interfacial layer.
[Full Paper]
Jaakko Mäkelä, Marjukka Tuominen, Johnny Dahl, Sari Granroth, Muhammad Yasir, Juha-Pekka Lehtiö, Rami-Roope Uusitalo, Mikhail Kuzmin, Marko Punkkinen, Pekka Laukkanen, Kalevi Kokko, Roberto Félix, Mika Lastusaari, Ville Polojärvi, Jari Lyytikäinen, Antti Tukiainen, Mircea Guina
Adv. Mater. Interfaces, September 19, 2017, https://doi.org/10.1002/admi.201700722 Read article
A nanostructured paper chemiresistor with negative-going response dominant characteristics to human breathing and sweating is demonstrated, which involves decoration of a nanofibrous membrane paper with dendronized gold nanoparticles to enable highly tunable sensitivity in moisture-dominant sensing environment and constitutes a promising new strategy to design sensing array elements for wearable breath and sweat sensors.
[Full Paper]
Shan Yan, Xin Liu, Zakiya Skeete, Ning He, Zhi-Hui Xie, Wei Zhao, Jack P. Lombardi, Kai Liu, Ning Kang, Jin Luo, Benjamin S. Hsiao, Mark Poliks, Ivan Gitsov, Chuan-Jian Zhong
Adv. Mater. Interfaces, September 19, 2017, https://doi.org/10.1002/admi.201700380 Read article
Vibrational spectroscopy techniques provide molecular insight into the photoresponse of chemically specific molecular moieties and are therefore invaluable tools to understand how the molecular-scale photoisomerization of azobenzenes is translated into photoinduced orientation, chirality, self-assembly, and mass transport of macromolecules.
[Feature Article]
Jaana Vapaavuori, C. Geraldine Bazuin, Christian Pellerin
Macromol. Rapid Commun., September 12, 2017, https://doi.org/10.1002/marc.201700430 Read article
Going forward in neutral: A new strategy is described for the solid-supported synthesis of N,N-bis[(alkylthio)methyl]amine and N,N-bis[(arylthio)methyl]amine derivatives, catalyzed by activated neutral Al2O3 (calcined at 600 °C) under solvent-free stirring conditions at room temperature (25–30 °C).
[Full Paper]
Animesh Mondal, Chhanda Mukhopadhyay
Asian J. Org. Chem., September 07, 2017, https://doi.org/10.1002/ajoc.201700386 Read article
How size influences behavior: Sub-millimeter-sized amphiphilic Janus microparticles are found to self-assemble into clusters whose structures are similar to those made of nanoparticles. The amphiphilic Janus microparticles orient between the water–oil interface to form micelle-like structures. When the water evaporates, the particles aggregate into orderly superstructures.
[Article]
Xue-Hui Ge, Yu-Hao Geng, Jian Chen, Jian-Hong Xu
ChemPhysChem, August 24, 2017, https://doi.org/10.1002/cphc.201700838 Read article
Superwetting materials are receiving increasing attention in the field of removal of organic pollutants from water. On the basis of our previous work in the field, we summarized in this account the progress of removal of (1) floating and underwater insoluble, (2) emulsified insoluble, and (3) both insoluble and soluble organic pollutants from water using superwetting materials including 2D porous materials, 3D porous materials and particles.
[Personal Account]
Lingxiao Li, Junping Zhang, Aiqin Wang
Chem. Rec., August 02, 2017, https://doi.org/10.1002/tcr.201700029 Read article
© Wiley-VCH 2016.