Surfaces and Interfaces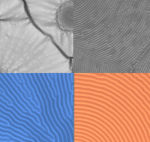 Interfaces and surfaces are where the action happens. Catalysis, molecular recognition, charge transfer, polymerization and many other critical processes take place at the boundary between one medium and another. With the need to integrate new materials into devices, and applications ranging from catalysis to sensors, medicine to self-cleaning surfaces, and displays to lasers, fundamental and applied studies of surface and interface processes and optimization are of critical importance in developing new technology to meet today's challenges. The selection of recent research articles presented below illustrates the vast potential of this field.
For recent reviews, see

RSS feed
Recent Articles
On the rebound: The reaction of the FeO+ cation with H2, a simple model for many oxidation processes, proceeds through a "rebound" as well as the known insertion–elimination mechanism. This was revealed by classical trajectory studies on the sextet and quartet potential energy surfaces of the title reaction.
[Communication]
Stéphanie Essafi, David P. Tew, Jeremy N. Harvey
Angew. Chem. Int. Ed., April 21, 2017, https://doi.org/10.1002/anie.201702009 Read article
The o-xylene based symmetrical dimers of 2-thiopyridine derivative (1-3) have shown reverse intramolecular stacked conformation in solid state. The reverse stacked conformations have also been proved by density functional theory however it varies from crystal geometry. Further, 1H NMR spectra as compared to their monomeric structures and higher wavelength shift of absorption maximum in UV spectrum revealed that intramolecular stacked geometry also stable in solutions state. The compound 3 has shown polymorphs such as 3a and 3b have been achieved by single crystal analysis, DSC spectra, overlay diagram and Hirshfeld surface analysis.
[Full Paper]
Ranjeet Kumar, Archana Gaurav, Shiv Pal, Krishnan R. Kumar, Balasubramanian Sridhar, Ashish K. Tewari
ChemistrySelect, April 13, 2017, https://doi.org/10.1002/slct.201700269 Read article
Two asymmetric nanostructures arrays with different directions are integrated in a single surface. Water shows unidirectional wetting on it toward resultant direction of the two wetting directions, which provides a strategy to modulate the wetting behavior of water.
[Full Paper]
Peng Ge, Shuli Wang, Wendong Liu, Tieqiang Wang, Nianzuo Yu, Peihong Xue, Hongxu Chen, Huaizhong Shen, Junhu Zhang, Bai Yang
Adv. Mater. Interfaces, April 13, 2017, https://doi.org/10.1002/admi.201700034 Read article
UV-induced polymerization, deposition, and patterning of plant-derived phenolic compounds are demonstrated. Phenolic compounds, rich in catechol and pyrogallol moieties, possess pronounced biological activity, including antioxidant and antimicrobial properties. This study demonstrates the ability to photochemically control their polymerization to form polyphenol coatings and patterns, which extends the scope of possible applications of this important group of structurally diverse substances.
[Full Paper]
Farid Behboodi-Sadabad, Huijie Zhang, Vanessa Trouillet, Alexander Welle, Nicolas Plumeré, Pavel A. Levkin
Adv. Funct. Mater., April 13, 2017, https://doi.org/10.1002/adfm.201700127 Read article
A mixed-ligand treatment for the fabrication of lead sulphide colloidal quantum dot solar cells is demonstrated. The mixed-ligand treatment facilitates the advantages of both organic (3-mercaptopropionic acid) and inorganic (zinc iodide) ligands to improve charge transport and trap passivation leading to a power conversion efficiency of 9.92% at a VOC of 0.66 V.
[Communication]
Santanu Pradhan, Alexandros Stavrinadis, Shuchi Gupta, Yu Bi, Francesco Di Stasio, Gerasimos Konstantatos
Small, April 12, 2017, https://doi.org/10.1002/smll.201700598 Read article
TOP class: A mechanistic study of tri-n-octylphosphine decomposition at a nickel surface shows phosphide formation at temperatures as low as 150 °C accompanied by sp2 carbon deposition. These two results are confirmed on nickel nanoparticles.
[Full Paper]
Sophie Carenco, Zhi Liu, Miquel Salmeron
ChemCatChem, April 12, 2017, https://doi.org/10.1002/cctc.201601526 Read article
No vacuum needed: We report the use of a solution-processed Mo(tfd-COCF3)3-doped PEDOT film as hole transport layer for achieving high-performance and stable hybrid perovskite solar cells prepared by vacuum-free processing.
[Full Paper]
Chih-Yu Chang, Bo-Chou Tsai, Yu-Cheng Hsiao
ChemSusChem, April 11, 2017, https://doi.org/10.1002/cssc.201700340 Read article
Elucidating biomass surface: Time-of-flight secondary-ion mass spectrometry (TOF-SIMS) analysis is an effective tool to understand the surface characteristics of biomass (see figure). Investigated here are the surface characteristics of untreated, ammonia-pretreated, and organosolv-pretreated Populus deltoides wood samples by means of TOF-SIMS. Other analytical methods are also discussed.
[Communication]
Allison K. Tolbert, Chang Geun Yoo, Arthur J. Ragauskas
ChemPlusChem, April 11, 2017, https://doi.org/10.1002/cplu.201700138 Read article
Zeros matter: The C 1s signal from adventitious carbon (AdC) is the most common binding energy (BE) reference in X-ray photoelectron spectroscopy. It is shown here that the BE of the C 1s peak
is substrate dependent, which makes BE referencing highly unreliable. Surprisingly, C 1s shifts correlate to changes in the sample work function
, such that the sum
is constant irrespective of the materials system and air exposure time, indicating vacuum level alignment. This discovery allows for significantly better accuracy of chemical state determination.
[Communication]
Grzegorz Greczynski, Lars Hultman
ChemPhysChem, April 11, 2017, https://doi.org/10.1002/cphc.201700126 Read article
Recent advances in biointegrated devices are attributed to the precise programming of nano–bio interactions, especially with regard to the rational assembly of constituent nanomaterials on multiple dimension scales. Their respective intrinsic merits are leveraged for different functions, such as multimodal theragnostics and smart therapeutics delivery, permitting their implementation into a variety of functional biointegrated devices, including flexible nanoelectronic devices.
[Review]
Pingqiang Cai, Wan Ru Leow, Xiaoyuan Wang, Yun-Long Wu, Xiaodong Chen
Adv. Mater., April 11, 2017, https://doi.org/10.1002/adma.201605529 Read article
Caught on film: A multilayer film with nano-topographic surface is fabricated through layer-by-layer assembly of poly(dopamine)-coated carbon nanotubes (CNTs@PDA) and poly(l-lysine) (PLL). The adhesion and proliferation of endothelial cells, smooth muscle cells, and pheochromocytoma cells on the PLL/CNTs@PDA film were followed and compared.
[Full Paper]
Bo-chao Li, Ke-feng Ren, He Zhang, Fan Jia, Jin-lei Wang, Hao Chang, Yun-bing Wang, Jian Ji
ChemNanoMat, April 10, 2017, https://doi.org/10.1002/cnma.201700024 Read article
Tens of nanometer scale AgCl seeds are uniformly synthesized in a microdroplet by controlling the reagent concentration, which are used for seed-mediated growth of Ag nanowires (NWs). The transversely- and longitudinally-tuned Ag-NWs are spectroscopically monitored, and their localized surface plasmon resonance properties are utilized for fluorescence enhancement, where the enhancement factor and fluorescence lifetime are measured.
[Full Paper]
Sunwoong Bae, Hyeji Han, Jin Gook Bae, Eun Yeol Lee, Sang Hyuk Im, Do Hyun Kim, Tae Seok Seo
Small, April 07, 2017, https://doi.org/10.1002/smll.201603392 Read article
Filling up the pores: Multilayers composed of perylene dyes are deposited on thin Al2O3 layers and mesoporous TiO2 by a simple dip-by-dip process. As many as 33 layers can be grown on Al2O3, whereas the voids between particles of mesoporous TiO2 can be bridged with dye layers (see figure). Microcrystal growth during the process can be controlled by employing appropriate washing techniques.
[Full Paper]
Lijo George, Elena Efimova, Essi Sariola-Leikas, Kimmo Lahtonen, Mika Valden, Paola Vivo, Hanna Hakola, Arto Hiltunen, Alexander Efimov
ChemPlusChem, April 07, 2017, https://doi.org/10.1002/cplu.201700061 Read article
Pentagonal patterned polymer brushes are fabricated to control spatiotemporal function on the surface. The polymer brush is prepared by surface modification of a self-oscillating polymer that exhibits autonomous conformation changes. The microlevel precision in patterning of the polymer brush via maskless photolithography allows the chemical waves to travel in one direction along the pentagonal array of this self-oscillating surface.
[Full Paper]
Kenta Homma, Tsukuru Masuda, Aya Mizutani Akimoto, Kenichi Nagase, Kazuyoshi Itoga, Teruo Okano, Ryo Yoshida
Small, April 06, 2017, https://doi.org/10.1002/smll.201700041 Read article
Diffuse reflectors are used in liquid crystal displays, light emitting diodes, and solar panels. This study demonstrates the specular and diffuse reflectance of thermally phase-separated polymer blend (polystyrene/polymethylmethacrylate(PMMA)) films in which polystyrene is selectively removed, leaving behind surface-roughened PMMA films (SRPF). The resulting SRPF exhibits diffuse reflectance from nanosurface-roughened films, which, in turn, depend on scale of phase separation.
[Communication]
Asritha Nallapaneni, Matthew D. Shawkey, Alamgir Karim
Macromol. Rapid Commun., April 06, 2017, https://doi.org/10.1002/marc.201600803 Read article
Rods of gold: Au nanorods are used to enhance the NIR-light absorption of Bi2WO6, a typical visible-light and novel NIR-light photocatalyst. The enhancement of the composite's NIR-light photocatalytic and photoelectrochemical properties can be attributed to the surface plasmon resonance (SPR) effects and wide-range NIR light harvesting of the Au nanorods.
[Full Paper]
Xiaolin Hu, Jian Tian, Yanjun Xue, Yujie Li, Hongzhi Cui
ChemCatChem, April 06, 2017, https://doi.org/10.1002/cctc.201601719 Read article
Interesting intermetallics: Intermetallic compounds are potential catalyst alternatives to noble metals. Using surface-science methods, the catalytic properties of the γ-Al4Cu9 phase have been investigated for the first time. This material is highly selective for the partial hydrogenation of butadiene to butenes, that is, no butane is produced. Although the active sites are likely composed of Cu atoms (blue), neighboring Al atoms (grey) may strengthen the hydrocarbon–surface bond.
[Full Paper]
Laurent Piccolo, Lidiya Kibis, Marie-Cécile De Weerd, Emilie Gaudry, Julian Ledieu, Vincent Fournée
ChemCatChem, April 06, 2017, https://doi.org/10.1002/cctc.201601587 Read article
Working in tandem: Cyclic azasilanes contain a cryptic amine functionality that can perform a subsequent tandem coupling reaction with functional molecules after a surface-triggered ring-opening reaction (see figure), allowing for a one-pot self-assembly route on nanostructures.
[Communication]
Youlin Pan, Annalese Maddox, Taewoo Min, Ferdinand Gonzaga, Jonathan Goff, Barry Arkles
Chem. Asian J., April 06, 2017, https://doi.org/10.1002/asia.201700137 Read article
Au@SiO2 core−shell nanoparticles are incorporated into perovskite solar cells based on tri-cation (cesium, methylammonium, and formamidinium) and dual-anion (Br and I) mixed perovskite. Significant enhancements are observed in nearly all photovoltaic parameters after Au@SiO2 nanoparticles incorporation. The enhanced device performance can be ascribed to the light absorption enhancement, more efficient carrier injection/transport, and the enhanced charge carriers mobilities.
[Full Paper]
Tao Ye, Shaoyang Ma, Xi Jiang, Lei Wei, Chellappan Vijila, Seeram Ramakrishna
Adv. Funct. Mater., April 06, 2017, https://doi.org/10.1002/adfm.201606545 Read article
Stretchable and compressible hydrogels are prepared via host–guest interaction between cellulose nanocrystals and polymer chains. The regeneration of the sacrificed host–guest complexes in deformed hydrogels is prevented in the swollen hydrogels, which is owing to the highly heterogeneous hydrogel structure. Furthermore, the heterogeneous structure and host–guest interaction together can effectively retard the crack propagation in the hydrogels.
[Communication]
Heqin Huang, Yonggui Wang, Xiaojie Wang, Florian Rehfeldt, Kai Zhang
Macromol. Rapid Commun., April 04, 2017, https://doi.org/10.1002/marc.201600810 Read article
To transfer or not to transfer? Silicon surfaces are functionalized with β-cyclodextrin molecules to investigate the electronic coupling between these host monolayers and the substrate (see picture). The electron transfer of a ferrocene-based guest was found to be more favorable on p++ substrates compared to low-doped p-type surfaces.
[Article]
Janneke Veerbeek, Alejandro Méndez-Ardoy, Jurriaan Huskens
ChemElectroChem, April 04, 2017, https://doi.org/10.1002/celc.201600872 Read article
One pot, four components, and a sulfonated catalyst: A new and efficient sulfonic-acid-functionalized organic solid-acid catalyst SPPN with a large surface area shows excellent catalytic activity in the one-pot synthesis of biologically important polyhydroquinoline derivatives.
[Full Paper]
Sujan Mondal, Bidhan Chandra Patra, Asim Bhaumik
ChemCatChem, April 04, 2017, https://doi.org/10.1002/cctc.201601409 Read article
Based on first-principles calculations, it has been shown that the interaction between metals and MoS2 monolayer can be tuned by interface engineering. By using an additional MoS2 layer as a buffer layer, the strong interfacial interaction is reduced, which results in a significantly lowered Schottky barrier height and a semiconducting MoS2 channel layer.
[Full Paper]
Jian Wei Chai, Ming Yang, Martin Callsen, Jun Zhou, Tong Yang, Zheng Zhang, Ji Sheng Pan, Dong Zhi Chi, Yuan Ping Feng, Shi Jie Wang
Adv. Mater. Interfaces, April 04, 2017, https://doi.org/10.1002/admi.201700035 Read article
Asymmetric metal nanobowls and Janus-type metal–metal dimers via a general synthetic method utilizing surface patterning of spherical metal nanoparticles with amphiphilic polymer tethers is reported. Proof-of-concept experiments on Janus-type patched Ag/ or Au/polymer NPs are shown, including i) synthesis of Au nanobowls via a selective galvanic replacement reaction and ii) preparation of Au–Pd heterodimers and Au–Au homodimers by a seed-mediated growth method.
[Communication]
Ben Liu, Srinivas Thanneeru, Aaron Lopes, Lei Jin, Meghan McCabe, Jie He
Small, April 03, 2017, https://doi.org/10.1002/smll.201700091 Read article
Anchoring stars to surfaces: By varying the temperature, it is possible to control the growth, size, and length of the spikes on gold nanostars during preparation. The effects of these nanostars on SERS signals are investigated by using glutathione and crystal violet as analytes. Shorter spikes lead to greater SERS signal enhancement than the longer spikes.
[Article]
S. V. Sheen Mers, S. Umadevi, V. Ganesh
ChemPhysChem, April 03, 2017, https://doi.org/10.1002/cphc.201601380 Read article
A multifunctional matrix/interface is created using a novel multicomponent coating to provide synergistic coupling of fibroblast growth factor 2 and chitosan with defined composition. The resultant cell culture matrix/interface enables the proliferation of spheroids of adipose stem cells with enhanced stemness and the capacity to (trans-)differentiate into multiple cell lineages in the mesoderm, endoderm, and ectoderm.
[Full Paper]
Chih-Yu Wu, Hui-Yu Liu, Chao-Wei Huang, Shu-Yun Yeh, Nai-Chen Cheng, Shih-Torng Ding, Hsien-Yeh Chen
Adv. Mater. Interfaces, April 03, 2017, https://doi.org/10.1002/admi.201700243 Read article
Make the switch: A global switching method is demonstrated to be as accurate as local switching in Tully's fewest switching method for describing the isomerization of azobenzene. The present method is therefore a useful tool in excited-state nonadiabatic molecular dynamics simulations of large systems in which nonadiabatic couplings are usually unavailable for most quantum chemistry methods. The present method is coded into the Newton-X platform.
[Article]
Ling Yue, Le Yu, Chao Xu, Yibo Lei, Yajun Liu, Chaoyuan Zhu
ChemPhysChem, March 31, 2017, https://doi.org/10.1002/cphc.201700049 Read article
Powerful skin: A Li+-conductive LixBPO4+x/2 nanolayer is formed by taking advantage of the residual alkaline substance (i. e. Li2CO3) on the surface of Li1.16(Ni0.25Mn0.75)0.84O2 particles. The layer not only removes some of the detrimental residues, but also provides a Li-ion diffusion path and physical protection, which contributes to the significant improvement of rate capability and cycling stability of Li1.16(Ni0.25Mn0.75)0.84O2.
[Article]
Leilei Ma, Yang Li, Zonghai Chen, Fan Zhang, Pengchong Ding, Lei Mao, Fang Lian
ChemElectroChem, March 30, 2017, https://doi.org/10.1002/celc.201700157 Read article
Different nanotopologies are generated on the surface of titanium implants by ultrasound treatment (left) and by anodic oxidation (right). The structural differences influence morphology and migration behavior of preosteoblastic cells growing on these surfaces. A quantitative wound healing assay in combination with live-cell imaging reveals more collective cell migration behavior on the disordered mesoporous surfaces generated by sonochemistry (left).
[Full Paper]
Yulia Zhukova, Christian Hiepen, Petra Knaus, Marc Osterland, Steffen Prohaska, John W. C. Dunlop, Peter Fratzl, Ekaterina V. Skorb
Adv. Healthcare Mater., March 30, 2017, https://doi.org/10.1002/adhm.201601244 Read article
Grafting binary poly(ethylene glycol) and fluoropolymer brushes via surface initiated polymerizations from mix-catecholic initiators are studied. The synthesis routine has combined mussel inspired coating and controlled polymerization (atom transfer radical polymerization and ring opening metathesis polymerization), and the universal anchoring ability of polydopamine promises the method application to various substrates, and the as-prepared "ambiguous" surfaces can inhibit biofouling effectively.
[Full Paper]
Qian Ye, Wenwen Zhao, Wufang Yang, Xiaowei Pei, Feng Zhou
Macromol. Chem. Phys., March 29, 2017, https://doi.org/10.1002/macp.201700085 Read article
Atomic layer deposition (ALD) is widely investigated for thin-film modifications of lithium-ion battery (LIB) surfaces. The influence of these coatings on the rate performance is often overlooked. In this paper, this rate-effect is investigated on model electrodes. ALD Al2O3 is found to induce a too high impedance toward lithium. ALD TiO2 does not impede lithium ions, and can aid in stabilizing LIB electrode interfaces.
[Full Paper]
Felix Mattelaer, Philippe M. Vereecken, Jolien Dendooven, Christophe Detavernier
Adv. Mater. Interfaces, March 29, 2017, https://doi.org/10.1002/admi.201601237 Read article
Different Lewis acids are used to catalyze hydrosilylation reactions on silicon nanosheets to modify the surface with different functional substrates. The resulting hybrid material exhibits outstanding (opto)electronic properties, which is shown by the fabrication of silicon nanosheet/semiconducting polymer-based field-effect transistors with enhanced sensitivity and increased transconductance.
[Full Paper]
Tobias Helbich, Alina Lyuleeva, Philipp Marx, Lavinia M. Scherf, Tapas K. Purkait, Thomas F. Fässler, Paolo Lugli, Jonathan G. C. Veinot, Bernhard Rieger
Adv. Funct. Mater., March 29, 2017, https://doi.org/10.1002/adfm.201606764 Read article
The forbidden fruit: The gas-phase reaction between superoxide and hydrogen peroxide is studied at the theoretical level, and the major products are associated with a spin-forbidden pathway. Possible reasons for this preference are given in terms of characteristics of the calculated potential energy surfaces for the doublet and quartet states, including regions of crossing and near degeneracy between them.
[Communication]
Ezequiel F. V. Leitão, Elizete Ventura, Miguel A. F. de Souza, José M. Riveros, Silmar A. do Monte
ChemistryOpen, March 23, 2017, https://doi.org/10.1002/open.201600169 Read article
Using hollow-prismatic Li3PO4 microcrystals as a solid precursor and 'tracer', the structural and morphological evolution from microprisms to [100]-oriented LiFePO4 ultrathin nanoplatelets is visualized.
[Communication]
Zhaojin Li, Tao Hu, Zhenzhen Peng, Minmin Hu, Kongjun Zhu, Xiaohui Wang
ChemNanoMat, March 22, 2017, https://doi.org/10.1002/cnma.201700007 Read article
Using atomic force microscopy-based force spectroscopy, the binding affinity of an artificial antibody to an antigen (hemoglobin) is found to be weaker than that of a natural antibody. The fine difference in the molecular interactions manifests into a significant difference in the bioanalytical parameters of biosensors based on these recognition elements.
[Communication]
Congzhou Wang, Rong Hu, Jeremiah J. Morrissey, Evan D. Kharasch, Srikanth Singamaneni
Small, March 21, 2017, https://doi.org/10.1002/smll.201604255 Read article
Three different series of brush polymers bearing glucosyl, maltosyl, or maltotriosyl moiety at the bristle end are successfully prepared. Excitingly, they demonstrate the formation of multibilayer structure in films, always providing saccharide-enriched surface. The saccharide-enriched film surfaces reveal exceptionally high specific binding affinity to concanavalin A but severely suppress nonspecific binding of plasma proteins severely.
[Communication]
Jongchan Lee, Jin Chul Kim, Hoyeol Lee, Sungjin Song, Heesoo Kim, Moonhor Ree
Macromol. Rapid Commun., March 21, 2017, https://doi.org/10.1002/marc.201700013 Read article
A high PCE of 17.1% for a planar structured perovskite solar cell is presented by simply depositing a phosphonic acid based mixed self-assembled monolayer (SAM) layer on top of transparent electrodes. This ultrathin SAM layer improves not only the charge extraction but also the crystalline quality of perovskite films and results in an effectively suppressed hysteresis effect.
[Communication]
Yi Hou, Simon Scheiner, Xiaofeng Tang, Nicola Gasparini, Moses Richter, Ning Li, Peter Schweizer, Shi Chen, Haiwei Chen, Cesar Omar Ramirez Quiroz, Xiaoyan Du, Gebhard J. Matt, Andres Osvet, Erdmann Spiecker, Rainer H. Fink, Andreas Hirsch, Marcus Halik, Christoph J. Brabec
Adv. Mater. Interfaces, March 21, 2017, https://doi.org/10.1002/admi.201700007 Read article
Stable for months: The formation and stability of ultrathin-shell water/oil/water double emulsions were studied by using a glass capillary device. The concentration of surfactant in the middle, oil phase plays a critical role in stabilising the double emulsions. The ultrathin-shell double emulsions (see figure) can be stable for up to several months, and this paves the way for their future applications in various fields.
[Article]
Chun-Xia Zhao, Dong Chen, Yue Hui, David A. Weitz, Anton P. J. Middelberg
ChemPhysChem, March 20, 2017, https://doi.org/10.1002/cphc.201601334 Read article
Give me the signal: This work reports the novel photoelectrochemical probing of cellular interfaces and evaluation of cellular H2S production based on in situ-generated CdS-enhanced TiO2 nanotube heterostructures. Through the direct culturing and interfacing of HepG2 cells onto the TiO2 NT electrode, loaded with Cd2+, the pathway of cellular stimulation and H2S generation could be monitored based on the intensities of the photocurrent signals.
[Article]
Yuan-Cheng Zhu, Qian Wang, Li-Bin Zhang, Wei-Wei Zhao, Jing-Juan Xu, Hong-Yuan Chen
ChemElectroChem, March 08, 2017, https://doi.org/10.1002/celc.201700149 Read article
A scalable synthesis method of low-density 3D macroscopic structure of graphene oxide (GO) interconnected with the polydimethylsiloxane (PDMS) is demonstrated. High affinity of PDMS molecules to GO functional groups is utilized to interconnect GO nanosheets, resulting in high tensile plasticity and toughness foam.
[Communication]
Peter Samora Owuor, Cristiano F. Woellner, Tong Li, Soumya Vinod, Sehmus Ozden, Suppanat Kosolwattana, Sanjit Bhowmick, Luong Xuan Duy, Rodrigo V. Salvatierra, Bingqing Wei, Syed A. S. Asif, James M. Tour, Robert Vajtai, Jun Lou, Douglas S. Galvão, Chandra Sekhar Tiwary, Pulickel. M. Ajayan
Adv. Mater. Interfaces, March 07, 2017, https://doi.org/10.1002/admi.201700030 Read article
The peculiar packing structure of picene leads to weak interfacial coupling on clean metal surfaces. In contrast, pentacene is chemisorbed on Ag and Cu surfaces involving electron transfer from the substrate.
It is a challenging task to fabricate crystalline oxides on Si since Si is reactive with many elements, especially oxygen, resulting in extensive inter-diffusion or chemical reactions. Here Liang et al. report an interface-engineering approach to this issue by molecular beam epitaxy. A thin-film transistor working in the enhancement mode was achieved, demonstrating it can potentially combine multi-functional crystalline oxides with the well-developed Si infrastructure.