Magnetic Materials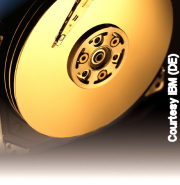 Magnetic phenomena are omnipresent in the modern world. The Nobel prize in Physics (2007) was awarded for studies of giant magnetoresistance to A. Fert and P. Grünberg; their discoveries were soon implemented in hard drives (see picture, courtesy of IBM Germany). Learn more about the current research into magnetic materials, basic or applied.

RSS feed
Recent Articles
Realization of permanent valley polarization in Cr-doped monolayer MoS2 is found to be unfeasible because of extended moment formation. Introduction of an additional hole is suggested as a viable solution. V-doped monolayer MoS2 is demonstrated to sustain permanent valley polarization and therefore can serve as a prototype material for valleytronics.
[Communication]
Nirpendra Singh, Udo Schwingenschlögl
Adv. Mater., October 24, 2016, DOI: 10.1002/adma.201600970. Read article
The authors show that the dephasing of charge carriers in rather thick black phosphorus (BP) devices is severely affected by surface states of a SiO2 substrate, resulting in a strongly localized regime. This is because carriers in a BP are mostly confined to a few bottom layers of the BP near the substrate by the surface band bending effect under proper gate-electric fields.
[Rapid Research Letter]
Tae-Ho Lee, Euyheon Hwang, Jung-Bum Choi, Myung-Ho Bae
phys. stat. sol. (RRL), October 19, 2016, DOI: 10.1002/pssr.201600290. Read article
[Full Paper]
Kristof Jess, Dirk Baabe, Matthias Freytag, Peter G. Jones, Matthias Tamm
Eur. J. Inorg. Chem., October 19, 2016, DOI: 10.1002/ejic.201600841. Read article
A multifunctional platform is reported for synergistic therapy with controlled drug release, magnetic hyperthermia, and photothermal therapy, which is composed of graphene quantum dots (GQDs) as caps and local photothermal generators and magnetic mesoporous silica nanoparticles (MMSN) as drug carriers and magnetic thermoseeds. The MMSN/GQDs multifunctional platform has great potential in cancer therapy for enhancing therapeutic efficiency.
[Full Paper]
Xianxian Yao, Xingxing Niu, Kexin Ma, Ping Huang, Julia Grothe, Stefan Kaskel, Yufang Zhu
Small, October 13, 2016, DOI: 10.1002/smll.201602225. Read article
The emergence of zero-bias bubbles (≈100 nm in diameter) with various Bloch lines and their triangular lattice is revealed in a colossal magnetoresistive material, La1−xSrxMnO3, by means of Lorentz transmission electron microscopy (LTEM). The magnetization dynamics, and accompanying changes of the topological number of bubbles via the field-driven motion of the Bloch lines, are demonstrated by in situ LTEM observations.
[Communication]
Xiuzhen Yu, Yusuke Tokunaga, Yasujiro Taguchi, Yoshinori Tokura
Adv. Mater., October 13, 2016, DOI: 10.1002/adma.201603958. Read article
A series of sterically encumbered ferrocenium derivatives exhibit unusually slow paramagnetic relaxation on the 57Fe Mössbauer time scale. The trends established for the spin–spin and spin–lattice (Orbach and Raman) relaxation parameters correlate well with the observations from electron paramagnetic resonance (EPR) spectroscopy and solid-state magnetic susceptibility studies for these compounds.
[Full Paper]
Matthias Reiners, Dirk Baabe, Peter Schweyen, Matthias Freytag, Peter G. Jones, Marc D. Walter
Eur. J. Inorg. Chem., October 12, 2016, DOI: 10.1002/ejic.201600873. Read article
One stroke: Imparting both magnetic properties and enhanced visible-light photocatalytic activity on the hierarchical Fe3O4/MIL-88B(Fe) composite in a one-pot preparation.
[Full Paper]
Zhaokui Jin, Wenjun Dong, Mu Yang, Jingjing Wang, Hongyi Gao, Ge Wang
ChemCatChem, October 11, 2016, DOI: 10.1002/cctc.201600952. Read article
Uniform nanoscale coordination polymers (NCPs) are robustly prepared with a Ru complex and Gd3+ for use as a dual-modality imaging probe. The excellent red fluorescence and high longitudinal relaxivity of the NCPs realize fluorescence-magnetic resonance dual-modality imaging with low background and toxicity.
[Full Paper]
Yong-Mei Wang, Wei Liu, Xue-Bo Yin
Adv. Funct. Mater., October 10, 2016, DOI: 10.1002/adfm.201602925. Read article
We report a rapid and facile route to the synthesis of a family of MnIII monomers of general formula [MnIIIF3(H2O)(L1–6)]. Magnetic susceptibility and magnetisation experiments along with multi-frequency/high-field EPR spectroscopy were employed to elucidate anisotropic D tensors. The terminal Mn–F vibrational stretches have been probed using Raman spectroscopy.
[Full Paper]
Edel Houton, Brian Kelly, Sergio Sanz, Eric J. L. McInnes, David Collison, Euan K. Brechin, Anne-Laure Barra, Alan G. Ryder, Leigh F. Jones
Eur. J. Inorg. Chem., October 07, 2016, DOI: 10.1002/ejic.201601124. Read article
Organic multiferroic tunnel junctions based on La0.6Sr0.4MnO3/poly(vinylidene fluoride) (PVDF)/Co structures are fabricated. The tunneling magneto-resistance sign can be changed by electrically switching the ferroelectric polarization of PVDF barrier. It is demonstrated that the spin-polarization of the PVDF/Co spinterface can be actively controlled by tuning the ferroelectric polarization of PVDF. This study opens new functionality in controlling the injection of spin polarization into organic materials via the ferroelectric polarization of the barrier.
[Communication]
Shiheng Liang, Hongxin Yang, Huaiwen Yang, Bingshan Tao, Abdelhak Djeffal, Mairbek Chshiev, Weichuan Huang, Xiaoguang Li, Anthony Ferri, Rachel Desfeux, Stéphane Mangin, Daniel Lacour, Michel Hehn, Olivier Copie, Karine Dumesnil, Yuan Lu
Adv. Mater., October 06, 2016, DOI: 10.1002/adma.201603638. Read article
A transition metal redox-active amphoteric dopant is investigated in the perovskite lattice. Electron paramagnetic resonance is used to determine the site occupancy of manganese ions doped in dilute concentrations in the SrTiO3 host lattice as a function of Sr/Ti cation non-stoichiometry.
[Full Paper]
Russell A. Maier, Aaron C. Johnston-Peck, Matthew P. Donohue
Adv. Funct. Mater., October 05, 2016, DOI: 10.1002/adfm.201602156. Read article
Two discrete Ln12 clusters with four-layer triangular shelf-shaped structures have been constructed by using 2-[(2-hydroxyethylimino)methyl]-6-methoxyphenol as a ligand. The Gd12 cluster acts as a cryogenic magnetic refrigerant with –ΔSm = 30.99 J kg–1 K–1 for H = 7 T at T = 4 K, whereas the Dy12 cluster exhibits weak slow magnetic relaxation.
[Full Paper]
Yi-Ming Li, Wei-Wei Kuang, Li-Li Zhu, Yun Xu, Pei-Pei Yang
Eur. J. Inorg. Chem., October 04, 2016, DOI: 10.1002/ejic.201600556. Read article
The optimized arginine-glycine-aspartic acid-l-tumor necrosis factor-related apoptosis-inducing ligand (RGD-l-TRAIL) protein modified novel magnetic microbubble delivery system is endowed with a multigradient cascade targeting strategy followed by magnetic field, RGD, as well as enhanced permeability and retention effect targeting. The results demonstrate highly targeted dual ultrasound and magnetic resonance imaging and targeted TRAIL molecules for tumor selective apoptotic activity.
[Full Paper]
Lei Duan, Fang Yang, Wen He, Lina Song, Fan Qiu, Ning Xu, Lu Xu, Yu Zhang, Zichun Hua, Ning Gu
Adv. Funct. Mater., October 04, 2016, DOI: 10.1002/adfm.201603637. Read article
Dynamic cantilever magnetometry is used to measure the magnetic properties of individual polycrystalline Ni and Ni80Co20 nanowires fabricated by template-assisted electrochemical deposition. Single nanowire measurements reveal significant differences from typical bulk ensemble measurements and pave the way for the use of these nanowires as quantitative sensors and actuators for probing micro- and nanoscale biophysical phenomena.
[Full Paper]
Naveen Shamsudhin, Ye Tao, Jordi Sort, Bumjin Jang, Christian L. Degen, Bradley J. Nelson, Salvador Pané
Small, September 30, 2016, DOI: 10.1002/smll.201602338. Read article
[Full Paper]
Virginie Béreau, Hélène Bolvin, Carine Duhayon, Jean-Pascal Sutter
Eur. J. Inorg. Chem., September 30, 2016, DOI: 10.1002/ejic.201600924. Read article
Creating new bonds: A new, magnetic, silica-based palladium nanocatalyst has been synthesized and applied for the first time in the direct coupling of acyl chlorides with terminal alkynes to prepare a variety of ynones under copper-free, phosphine-free, and aerobic conditions at room temperature without relying on additives or inert conditions.
[Full Paper]
Rakesh K. Sharma, Manavi Yadav, Rashmi Gaur, Radhika Gupta, Alok Adholeya, Manoj B. Gawande
ChemPlusChem, September 30, 2016, DOI: 10.1002/cplu.201600321. Read article
Tailor-made surfactants: A natural surfactant, sodium cholate, was modified at its three OH groups with hydrophilic chains endcapped with a carbamate group to afford novel surfactants. In conjunction with appropriate phospholipids, these surfactants could afford magnetically alignable bicelles characterized by unprecedented thermal stability, biomimetic lipid compositions, and excellent alignment induction of surrounding molecules.
[Article]
Ryoichi Matsui, Noriyuki Uchida, Masataka Ohtani, Kuniyo Yamada, Arisu Shigeta, Izuru Kawamura, Takuzo Aida, Yasuhiro Ishida
ChemPhysChem, September 30, 2016, DOI: 10.1002/cphc.201600897. Read article
Shields up! Composites of reduced graphene oxide (rGO)@MoS2/poly(vinylidene fluoride) (PVDF) composites have been prepared and investigated (see figure). The composites show superior microwave absorption and excellent electromagnetic interference shielding performances.
[Full Paper]
Ao-Ping Guo, Xiao-Juan Zhang, Shan-Wen Wang, Jia-Qiang Zhu, Lin Yang, Guang-Sheng Wang
ChemPlusChem, September 28, 2016, DOI: 10.1002/cplu.201600370. Read article
Unprecedented all-in-one multifunctional lanthanide-doped mesoporous silica frameworks (EuGdOx@MSF) are used for bimodal fluorescence/T1-magnetic resonance (MR) imaging and near infrared (NIR) light-triggered chemo-photodynamic therapy to completely destroy tumors. It is demonstrated that EuGdOx@MSF can sensitize formation of singlet oxygen upon NIR light excitation and exert nanomaterial-mediated photodynamic therapy effects without the need for externally added organic photosensitizers.
[Full Paper]
Poliraju Kalluru, Raviraj Vankayala, Chi-Shiun Chiang, Kuo Chu Hwang
Adv. Funct. Mater., September 26, 2016, DOI: 10.1002/adfm.201603749. Read article
Magnetic necklace: Mutated flagellar filaments displaying magnetite-binding motifs from magnetosome-associated proteins of magnetotactic bacteria were constructed. These surface-modified filaments were used as templates to capture magnetite nanoparticles from solution, thus directing the formation of magnetic nanofibers.
[Full Paper]
Éva Bereczk-Tompa, Mihály Pósfai, Balázs Tóth, Ferenc Vonderviszt
ChemBioChem, September 22, 2016, DOI: 10.1002/cbic.201600377. Read article
An assembled film of magnetic nanoparticles is fabricated by the layer-by-layer method as a model to explore orientation-dependent thermogenesis in the presence of an alternating magnetic field. The thermogenesis can be regulated by altering the orientation of the film relative to the field.
[Communication]
Jianfei Sun, Fengguo Fan, Peng Wang, Siyu Ma, Lina Song, Ning Gu
ChemPhysChem, September 21, 2016, DOI: 10.1002/cphc.201600787. Read article
Joining forces: Bimetallic iron–silver nanoparticles (NPs) can be synthesized by laser ablation, with surface-enhanced Raman spectroscopy (SERS) performances, ready responses to magnetic fields, and complete flexibility in surface coating, and used for the magnetic assembly of SERS substrates. Magnetic assembly allows a significant increase in the SERS signal of analytes compared with non-assembled NPs (see figure).
[Article]
Stefano Scaramuzza, Denis Badocco, Paolo Pastore, Diego F. Coral, Marcela B. Fernández van Raap, Vincenzo Amendola
ChemPhysChem, September 15, 2016, DOI: 10.1002/cphc.201600651. Read article
[Article]
Marc D. Walter, Dirk Baabe, Matthias Freytag, Peter G. Jones
Z. anorg. allg. Chem., September 05, 2016, DOI: 10.1002/zaac.201600267. Read article
An improved magnetic energy harvesting with magneto-mechano-electric (MME) generator is demonstrated by low-loss piezoelectric single-crystal fibers composite to realize a self-powered electronics. The low-loss MME generator can generate voltage of 94 V pp and current of 120 μA (corresponding to an output root mean square power density of 2.1 mW cm−3).
[Communication]
Venkateswarlu Annapureddy, Miso Kim, Haribabu Palneedi, Ho-Yong Lee, Si-Young Choi, Woon-Ha Yoon, Dong-Soo Park, Jong-Jin Choi, Byung-Dong Hahn, Cheol-Woo Ahn, Jong-Woo Kim, Dea-Yong Jeong, Jungho Ryu
Adv. Energy Mater., September 05, 2016, DOI: 10.1002/aenm.201601244. Read article
Highly magnetic nanoparticles are made by scalable flame aerosol technology combining properties crucial for diagnostics (magnetic resonance imaging) and therapeutics (magnetic hyperthermia). This allows for the simultaneous imaging and treatment of cells while the superior magnetic performance of the nanoparticles drastically reduces their required dose.
[Full Paper]
Fabian H. L. Starsich, Georgios A. Sotiriou, Moritz C. Wurnig, Christian Eberhardt, Ann M. Hirt, Andreas Boss, Sotiris E. Pratsinis
Adv. Healthcare Mater., September 05, 2016, DOI: 10.1002/adhm.201600725. Read article
Pair power: Axially symmetric and anionic bis(phthalocyaninato)TbIII complexes, owing to their large magnetic susceptibility anisotropies, constitute ideal candidates for a solution paramagnetic NMR spectroscopy study of ion pairing with diamagnetic counterions (see figure).
[Article]
Marko Damjanović, Takaumi Morita, Yoji Horii, Keiichi Katoh, Masahiro Yamashita, Markus Enders
ChemPhysChem, September 01, 2016, DOI: 10.1002/cphc.201600804. Read article
© Wiley-VCH 2016.