Magnetic Materials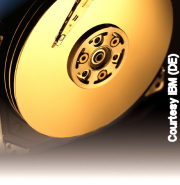 Magnetic phenomena are omnipresent in the modern world. The Nobel prize in Physics (2007) was awarded for studies of giant magnetoresistance to A. Fert and P. Grünberg; their discoveries were soon implemented in hard drives (see picture, courtesy of IBM Germany). Learn more about the current research into magnetic materials, basic or applied.

RSS feed
Recent Articles
[Article]
Jian-Jun Liu, Chi-Xian He, Fei-Xiang Cheng, Chang-Cang Huang
Z. Anorg. Allg. Chem., March 24, 2017, https://doi.org/10.1002/zaac.201700032 Read article
Quantitative test strips: Printing electrodes directly on lateral-flow membranes facilitates the quantification of conventional enzyme-labelled immunoassays. A complete magneto-immunoassay can be carried out on a test strip with amperometric detection, achieving detection limits in the ng mL−1 range within a few minutes.
[Article]
Gisela Ruiz-Vega, Maria Kitsara, Miguel Aller Pellitero, Eva Baldrich, F. Javier del Campo
ChemElectroChem, March 24, 2017, https://doi.org/10.1002/celc.201600902 Read article
Going dotty: Fe3O4 nanoparticles modified with graphene quantum dots (GQD) are used for the stabilization of PdCu bimetallic nanoparticles. This material is applied as an efficient catalyst for the Sonogashira reaction of aryl iodides, bromides, and chlorides in toluene or N,N-dimethylacetamide at 60–110 °C in very high yields with 0.3 mol % of Pd loading.
[Full Paper]
Mohammad Gholinejad, Jahantab Ahmadi, Carmen Nájera, Mohammad Seyedhamzeh, Fatemeh Zareh, Mohsen Kompany-Zareh
ChemCatChem, March 24, 2017, https://doi.org/10.1002/cctc.201601519 Read article
A radical approach: Crystalline (Bu4N+)2[MIII(HFl−O−)(Pc.3−)].−(Br−)⋅1.5 C6H4Cl2 (M=Al, Ga) containing AlIII and GaIII phthalocyanine (Pc) radical anions and diamagnetic fluoren-9-olato− anions (HFl−O−) coordinated to MIII centers in addition to (Bu4N+)[InIIIBr(Pc.3−)].−⋅solvent (3) with InIII phthalocyanine bromide radical anions are obtained. Their syntheses, crystal structures, and optical and magnetic properties are discussed.
[Full Paper]
Dmitri V. Konarev, Salavat S. Khasanov, Manabu Ishikawa, Yoshiaki Nakano, Akihiro Otsuka, Hideki Yamochi, Gunzi Saito, Rimma N. Lyubovskaya
Chem. Asian J., March 24, 2017, https://doi.org/10.1002/asia.201700138 Read article
Smart nanoparticles are exploited for remote cell stimulation. The most recent and exciting findings about the main classes of active nanoparticles, which allow for a "wireless" activation and modulation of cell activities, are summarized in this Progress Report.
[Progress Report]
Giada Graziana Genchi, Attilio Marino, Agostina Grillone, Ilaria Pezzini, Gianni Ciofani
Adv. Healthcare Mater., March 24, 2017, https://doi.org/10.1002/adhm.201700002 Read article
Kramer vs. Kramer: Two lanthanide monomers with the general molecular formula of [LnIII(HL)2(NO3)3] (where Ln=Dy (1) or Pr (2)) and their heterometallic zinc congeners were synthesized with the formula [ZnDy(L)2(NO3)2(CH3COO)] (3) and [Zn2Pr(L)2(CH3COO)4(NO3)] (4). The dc and ac data were collected on complexes 1–4. Detailed ac data analysis of 1 and 3 reveals the presence of a fivefold increase in effective energy barrier of 3 as compared to 1, which has been rationalized by Molcas calculations.
[Full Paper]
Apoorva Upadhyay, Chinmoy Das, Shefali Vaidya, Saurabh Kumar Singh, Tulika Gupta, Ranajit Mondol, Stuart K. Langley, Keith S. Murray, Gopalan Rajaraman, Maheswaran Shanmugam
Chem. Eur. J., March 23, 2017, https://doi.org/10.1002/chem.201700399 Read article
Mn2FeSbO6 ilmenite (R
) is found to show a massive non-linear magnetoelectric coupling at 260 K, breaking local symmetry through the cationic off-centering under the application of an external magnetic field.
[Communication]
Antonio J. Dos santos-García, Elena Solana-Madruga, Clemens Ritter, Adrián Andrada-Chacón, Javier Sánchez-Benítez, Federico J. Mompean, Mar Garcia-Hernandez, Regino Sáez-Puche, Rainer Schmidt
Angew. Chem. Int. Ed., March 23, 2017, https://doi.org/10.1002/anie.201609762 Read article
Yolk–shell structured Fe3O4@Au nanoparticles are designed to circumvent the decline in relaxivity of magnetic component caused by the introduction of water-impenetrable plasmonic components, which is unavoidable in traditional core–shell structured nanostructures. This feature, in conjunction with their compact size, near-infrared absorption, and drug delivery capability, makes them harmoniously integrated magnetic–plasmonic theranostic nanoplatforms for multimodal imaging and light-triggered chemothermal synergistic therapy.
[Communication]
Li-Sen Lin, Xiangyu Yang, Zijian Zhou, Zhen Yang, Orit Jacobson, Yijing Liu, Angela Yang, Gang Niu, Jibin Song, Huang-Hao Yang, Xiaoyuan Chen
Adv. Mater., March 22, 2017, https://doi.org/10.1002/adma.201606681 Read article
A tunable 3D nanostructured gel framework with continuous electron pathways can provide hierarchical pores for ion transport and form uniform coatings on each active particle against aggregation. The hybrid gel electrodes based on a polypyrrole gel framework and Fe3O4 nanoparticles demonstrate one of the best rate performance and the highest achieved specific capacities when considering total electrode mass.
[Communication]
Ye Shi, Jun Zhang, Andrea M. Bruck, Yiman Zhang, Jing Li, Eric A. Stach, Kenneth J. Takeuchi, Amy C. Marschilok, Esther S. Takeuchi, Guihua Yu
Adv. Mater., March 22, 2017, https://doi.org/10.1002/adma.201603922 Read article
Engineered manganite thin films grown by metal-organic chemical vapor deposition (MOCVD) show fascinating optical, electrical, and magnetic properties. These key functionalities convert manganite perovskites in promising materials for the development of novel miniaturized devices.
[Research News]
Dolors Pla, Carmen Jimenez, Mónica Burriel
Adv. Mater. Interfaces, March 21, 2017, https://doi.org/10.1002/admi.201600974 Read article
Multilayer silicene intercalated by magnetic Eu ions is synthesized by molecular beam epitaxy on tailor-made templates. This new polymorph of EuSi2 is the first magnetic silicene-based compound. The structure is confirmed with reflection high-energy electron diffraction, X-ray diffraction, and electron microscopy. The material exhibits anisotropic antiferromagnetism and weak ferromagnetism as well as anomalous behavior of magnetoresistivity.
[Full Paper]
Andrey M. Tokmachev, Dmitry V. Averyanov, Igor A. Karateev, Oleg E. Parfenov, Oleg A. Kondratev, Alexander N. Taldenkov, Vyacheslav G. Storchak
Adv. Funct. Mater., March 21, 2017, https://doi.org/10.1002/adfm.201606603 Read article
Relax and go slow! A new strategy is reported in which a diamagnetic Pt ion was used as a ligand on a Gd ion to bring about SMM-like behavior in a Gd complex. The heterometallic Gd−Pt bond lowers the symmetry of the Gd ion, splitting the Kramers doublet in a dc field. Thus, the complexes should undergo slow magnetic relaxation.
[Communication]
Takefumi Yoshida, Goulven Cosquer, David Chukwuma Izuogu, Hiroyoshi Ohtsu, Masaki Kawano, Yanhua Lan, Wolfgang Wernsdorfer, Hiroyuki Nojiri, Brian K. Breedlove, Masahiro Yamashita
Chem. Eur. J., March 20, 2017, https://doi.org/10.1002/chem.201700886 Read article
Silver lining: AgRuO3 has been synthesized under hydrothermal conditions as a coarse crystalline, single-phase material. It shows several unique and intertwined properties with respect to crystal structure, magnetic response, and electronic structure.
[Full Paper]
Beluvalli E. Prasad, Sudipta Kanungo, Martin Jansen, Alexander C. Komarek, Binghai Yan, Pascal Manuel, Claudia Felser
Chem. Eur. J., March 20, 2017, https://doi.org/10.1002/chem.201606057 Read article
Skyrmion formation in single-component magnetic materialswith noncentrosymmetric crystal structure is reviewed. Their topological spin arrangements and consequent emergent electromagnetic fields give rise to striking features in transport and magnetoelectric properties in metals and insulators. The electric controllability and nanometric particle nature highlight magnetic skyrmions as the potential information carrier for next-generation nonvolatile high-efficiency storage device.
[Progress Report]
Naoya Kanazawa, Shinichiro Seki, Yoshinori Tokura
Adv. Mater., March 17, 2017, https://doi.org/10.1002/adma.201603227 Read article
Seek and destroy: Herein we present an innovative theranostic agent based on folate-targeted poly(lactic-co-glycolic acid) nanoparticles loaded with a boron–curcumin complex (rubrocurcumin) and the MRI contrast agent Gd-DOTAMA. This approach combines boron neutron capture therapy with the anticancer activity of curcumin for the imaging-guided treatment of human ovarian cancer (IGROV-1) cells.
[Full Paper]
Diego Alberti, Nicoletta Protti, Morgane Franck, Rachele Stefania, Silva Bortolussi, Saverio Altieri, Annamaria Deagostino, Silvio Aime, Simonetta Geninatti Crich
ChemMedChem, March 16, 2017, https://doi.org/10.1002/cmdc.201700039 Read article
A little bit of magic: 5-Aminothiazoles are subjected to chemical and electrochemical oxidation to afford the corresponding radical cations. These radicals show broad absorption spectra and half-life times of up to several days. DFT calculations support the experimentally observed substantial bathochromic shifts in the maximum absorption wavelengths of the 5-aminothiazoles upon oxidation.
[Full Paper]
Kirara Yamaguchi, Toshiaki Murai, Shoichi Kutsumizu, Yohei Miwa, Masahiro Ebihara, Jing-Dong Guo, Norihiro Tokitoh
ChemistryOpen, March 15, 2017, https://doi.org/10.1002/open.201700016 Read article
Gold nanoprobes are developed to guide brain-tumor surgery by crossing the blood–brain barrier. Assembly of the nanoprobes in the acidic tumor extracellular fluid triggers the activation of both the magnetic resonance signal for preoperatively defining the tumor margins and the surface-enhanced resonance Raman spectroscopy signal for intraoperatively guiding the tumor surgery. These nanoprobes are promising candidates to improve the outcome of brain-tumor surgery.
[Communication]
Xihui Gao, Qi Yue, Zining Liu, Mengjing Ke, Xingyu Zhou, Sihan Li, Jianping Zhang, Ren Zhang, Liang Chen, Ying Mao, Cong Li
Adv. Mater., March 15, 2017, https://doi.org/10.1002/adma.201603917 Read article
Clusters on Bucky balls: How Ni, Pd, and Pt clusters adsorb on C60 is examined by using a computational approach. The calculations show that the base structure of C60 can host Nin/Pdn/Ptn (n=1–4) clusters with good adsorption stability and the complexes establish either two or no unpaired electrons. The binding energy of Pd and Pt clusters increases as the number of metal atom increases, which implies that the coverage of C60 with Pd or Pt preferentially establishes a large-size metal cluster.
[Article]
Nguyet N. T. Pham, Hung M. Le
ChemPhysChem, March 14, 2017, https://doi.org/10.1002/cphc.201601374 Read article
[Article]
Björn Anke, Sophie Hund, Christian Lorent, Oliver Janka, Theresa Block, Rainer Pöttgen, Martin Lerch
Z. Anorg. Allg. Chem., March 13, 2017, https://doi.org/10.1002/zaac.201700024 Read article
The ferromagnetic (FM)/antiferromagnetic (AFM) coupling between La0.7Sr0.3MnO3 (LSMO) and BiFeO3 (BFO) in [(LSMO)n/(BFO)n]60/n (n = 1, 2, 5, 10) superlattices on SrTiO3 substrate is investigated. The work indicates that the FM/AFM coupling in the BFO/LSMO interface is an obstacle for enhancing the magnetic properties of BFO.
[Communication]
Jie Xiong, Tianyu Lei, Junwei Chu, Chao Yang, Jiake Wei, Mujin Zhuo, Eun-Mi Choi, Bowan Tao, Wanli Zhang, Yongqiang Wang, Yanrong Li
Small, March 10, 2017, https://doi.org/10.1002/smll.201700107 Read article
Single-atom defects are systematically reviewed in two-dimensional material systems such as graphene, BN, and transition-metal dichalcogenides. The local atomic arrangement and associated electronic structure are probed by transmission electron microscopy and single-atom spectroscopy, and the influence from the defects on the macroscopic functionalities of two-dimensional materials is discussed, focusing mostly on electronics, photonics, nanomagnetism, and catalysis.
[Review]
Jinhua Hong, Chuanhong Jin, Jun Yuan, Ze Zhang
Adv. Mater., March 10, 2017, https://doi.org/10.1002/adma.201606434 Read article
A hydrogel system crosslinked by peptide–oligosaccharide noncovalent interaction exhibits fast self-healing and injectability. Injected hydrogels in immunocompetent mice and release of encapsulated compound are monitored up to 9 months by magnetic resonance imaging and optical imaging. This surprisingly stable hydrogel does not cause adverse inflammatory response, while its degradation is associated with invasion of macrophages and vascular formation.
[Full Paper]
Christoph Tondera, Robert Wieduwild, Elisabeth Röder, Carsten Werner, Yixin Zhang, Jens Pietzsch
Adv. Funct. Mater., March 09, 2017, https://doi.org/10.1002/adfm.201605189 Read article
Bulk (∼600 nm) crystallites of heavily Y-doped CeO2 display remarkable ferromagnetic-like response at room temperature. This response can be linked to the formation of defect-lined nanodomain interfaces in the interior of heavily doped crystals that result in the appearance of coherent mesoscopic domains with giant orbital paramagnetism.
[Rapid Research Letter]
R. M. Rakhmatullin, S. Sen
Phys. Status Solidi RRL, March 07, 2017, https://doi.org/10.1002/pssr.201700010 Read article
Helical microfibers with novel Janus, triplex, core–shell, and even double-helix structures are precisely generated by a coaxial capillary microfluidic system. The applications of these helical microfibers for magnetically and thermodynamically triggered microsprings, as well as for a force indicator for contraction of cardiomyocytes are all explored.
[Communication]
Yunru Yu, Fanfan Fu, Luoran Shang, Yao Cheng, Zhongze Gu, Yuanjin Zhao
Adv. Mater., March 07, 2017, https://doi.org/10.1002/adma.201605765 Read article
Which one reacts with iron? Femtosecond laser ablation of a pure iron plate in different solvents yields magnetic iron-based nanoparticles with clean surfaces. The structural and magnetic properties of the nanoparticles can be tuned by careful choice of the liquid environment, for example, for the generation iron oxides or carbides (see picture).
[Article]
Alexander Kanitz, Jan S. Hoppius, María del Mar Sanz, Marco Maicas, Andreas Ostendorf, Evgeny L. Gurevich
ChemPhysChem, March 06, 2017, https://doi.org/10.1002/cphc.201601252 Read article
The addition of gold nanoparticles in the postproduction treatment of iron oxide nanoparticles to form a nanocomposite material can improve the magnetic-heating properties of the iron oxide when it is subjected to an alternating magnetic field.
[Full Paper]
Gavin Bell, Lara K. Bogart, Paul Southern, Malini Olivo, Quentin A. Pankhurst, Ivan P. Parkin
Eur. J. Inorg. Chem., March 03, 2017, https://doi.org/10.1002/ejic.201601432 Read article
Light-induced EPR spectroscopy is ideally suited to study charge separated states in BHJ since it selectively probes the paramagnetic charge carriers and excited states. This review focusses on the application of advanced EPR techniques to characterize the electronic structure of positive and negative polarons as well as dynamics of spin-dependent charge separation and charge recombination processes in organic photovoltaic materials.
[Review]
Jens Niklas, Oleg G. Poluektov
Adv. Energy Mater., March 03, 2017, https://doi.org/10.1002/aenm.201602226 Read article
Modifying the structure of perovskite (Sr,Ba)MnO3 at will through Ba content and epitaxial strain gives rise to an accurate control of electrical and magnetoelectric functionalities. It is revealed to be decisive to tip the balance between the polar and nonpolar ground state, to tune the strength of magnetoelectric coupling, and to design the semiconductor band gap energy.
[Full Paper]
Eric Langenberg, Laura Maurel, Noelia Marcano, Roger Guzmán, Pavel Štrichovanec, Thomas Prokscha, César Magén, Pedro A. Algarabel, José A. Pardo
Adv. Mater. Interfaces, February 24, 2017, https://doi.org/10.1002/admi.201601040 Read article
Linkers that matter: The solution structure of a peptidyl carrier protein, flanked by its unstructured linkers, revealed contacts between the core and linkers. The interaction was shown to both stabilize the protein core and modulate dynamics in a manner suggestive of allosteric communication.
[Communication]
Bradley J. Harden, Dominique P. Frueh
ChemBioChem, February 22, 2017, https://doi.org/10.1002/cbic.201700030 Read article
[Review@RRL]
O. Gomonay, T. Jungwirth, J. Sinova
Phys. Status Solidi RRL, February 21, 2017, https://doi.org/10.1002/pssr.201700022 Read article
[Rapid Research Letter]
Vít Saidl, Petr Němec, Peter Wadley, Kevin W. Edmonds, Richard P. Campion, Vít Novák, Bryan L. Gallagher, František Trojánek, Tomáš Jungwirth
Phys. Status Solidi RRL, February 21, 2017, https://doi.org/10.1002/pssr.201600441 Read article
Magneto-photoluminescence can be observed, when the two-photon excitation exceeds the critical intensity 2080 mW cm−2 in up-converting Y2O2S:Er, Yb crystals at room temperature. Spin-dependent transition dipoles with operative spin mixing between antiparallel and parallel spins form the necessary condition to generate magneto-photoluminescence in up-conversion materials.
[Communication]
Hengxing Xu, Wei Qin, Mingxing Li, Ting Wu, Bin Hu
Small, February 20, 2017, https://doi.org/10.1002/smll.201603363 Read article
[Rapid Research Letter]
Patrick M. Buhl, Frank Freimuth, Stefan Blügel, Yuriy Mokrousov
Phys. Status Solidi RRL, February 17, 2017, https://doi.org/10.1002/pssr.201700007 Read article
Target density matters: The porosity of targets used in pulsed laser ablation in liquids (PLAL) is a crucial factor that has far-reaching implications on nanoparticle quality and productivity. The PLAL of pressed yttrium iron garnet (YIG) powders in water is studied and compared to the ablation of a single-crystal target to achieve YIG nanoparticles with sizes smaller than 3 nm and unexpected magnetic properties with huge coercive and irreversibility fields.
[Article]
Tim Schmitz, Ulf Wiedwald, Carsten Dubs, Bilal Gökce
ChemPhysChem, February 17, 2017, https://doi.org/10.1002/cphc.201601183 Read article
Solvent donicity makes the difference: Accurate NMR chemical shift analysis discloses a subtle balance between ion association and ion solvation in mixtures of imidazolium ionic liquids and polar molecular solvents. The less polar but more donating γ-butyrolactone favors cation solvation more than propylene carbonate. Anions modulate this effect via competing cation–anion interactions.
[Communication]
Bogdan A. Marekha, Oleg N. Kalugin, Marc Bria, Toshiyuki Takamuku, Slobodan Gadžurić, Abdenacer Idrissi
ChemPhysChem, February 14, 2017, https://doi.org/10.1002/cphc.201601445 Read article
[Rapid Research Letter]
A. A. Sapozhnik, R. Abrudan, Yu. Skourski, M. Jourdan, H. Zabel, M. Kläui, H.-J. Elmers
Phys. Status Solidi RRL, February 10, 2017, https://doi.org/10.1002/pssr.201600438 Read article
[Rapid Research Letter]
Jan Krieft, Johannes Mendil, Myriam H. Aguirre, Can O. Avci, Christoph Klewe, Karsten Rott, Jan-Michael Schmalhorst, Günter Reiss, Pietro Gambardella, Timo Kuschel
Phys. Status Solidi RRL, February 07, 2017, https://doi.org/10.1002/pssr.201600439 Read article
An efficient nuclear-targeted photothermal therapy (PTT) strategy is developed by using transferrin and TAT peptide (TAT: YGRKKRRQRRR) conjugated monodisperse magnetic nanoparticles. The multifunctional magnetic nanoparticles can be readily functionalized and stabilized for potential diagnostic and therapeutic applications. In addition, they exhibit excellent PTT effects by targeting nucleus, leading to a significant enhancement in the photothermal therapy.
[Full Paper]
Haibao Peng, Jing Tang, Rui Zheng, Guannan Guo, Angang Dong, Yajun Wang, Wuli Yang
Adv. Healthcare Mater., January 27, 2017, https://doi.org/10.1002/adhm.201601289 Read article
[Rapid Research Letter]
Aurélien Manchon
Phys. Status Solidi RRL, January 23, 2017, https://doi.org/10.1002/pssr.201600409 Read article
Atomic layer deposition of perovskite and perovskite related complex oxide thin films with piezo- and ferroelectric and ferromagnetic properties are summarized in this short Review.
[Review]
Henrik Hovde Sønsteby, Helmer Fjellvåg, Ola Nilsen
Adv. Mater. Interfaces, January 20, 2017, https://doi.org/10.1002/admi.201600903 Read article
[Rapid Research Letter]
Hiroyuki Fujita
phys. stat. sol. (RRL), December 14, 2016, https://doi.org/10.1002/pssr.201600360 Read article
Strongly correlated electron systems are observed for mixed valent transition metal oxide frameworks hosting alkaline earth and lanthanide cations. The introduction of barium in the cavities of the oxide framework allows generally an ordering with other cations due to its larger size. The specific affinity of barium with respect to oxygen allows the oxygen content, and consequently the electronic charge distribution to be tuned and favors oxygen and anionic vacancies ordering. These two specific characteristics allow best performances to be reached as well for the physical properties, such as superconductivity, magnetism or multiferroicity as for oxygen storage.
[Personal Account]
Bernard Raveau
Chem. Rec., November 25, 2016, https://doi.org/10.1002/tcr.201600119 Read article
© Wiley-VCH 2016.