Magnetic Materials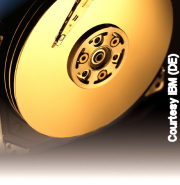 Magnetic phenomena are omnipresent in the modern world. The Nobel prize in Physics (2007) was awarded for studies of giant magnetoresistance to A. Fert and P. Grünberg; their discoveries were soon implemented in hard drives (see picture, courtesy of IBM Germany). Learn more about the current research into magnetic materials, basic or applied.

RSS feed
Recent Articles
[Article]
Fabian Eustermann, Frank Stegemann, Konstantin Renner, Oliver Janka
Z. Anorg. Allg. Chem., May 24, 2017, https://doi.org/10.1002/zaac.201700090 Read article
Zhao et al. investigated the magnetic and dielectric properties of single crystalline and polycrystalline samples of polar antiferromagnetic Ni3TeO6. The pyroelectric nature of the transition at Néel temperature (TN) is confirmed - and the possibility of any (additional) ferroelectricity appearing at TN is excluded. Due to its excellent pyroelectric properties (quasi-constant pyroelectric coefficient and no intrinsic hysteresis), Ni3TeO6 is a promising material for future devices.
[Rapid Research Letter]
L. Zhao, C.-H. Du, A. C. Komarek
Phys. Status Solidi RRL, May 24, 2017, https://doi.org/10.1002/pssr.201700073 Read article
Chiral cobalt cluster: An enantioselective coordination-induced mixed-valence homochiral Co20 supertetrahedral T4 cluster based on an inner CoIII4O4 cubane and four exterior CoII4O4 cubanes was synthesized from a racemic ligand, which displays ferromagnetic behavior and high photocatalytic activity.
[Full Paper]
Wei Du, Yue-Ling Bai, Xiuping Yin, Jianhui Fang, Shourong Zhu, Jun Tao
Chem. Eur. J., May 24, 2017, https://doi.org/10.1002/chem.201700797 Read article
Two CoII–CoIII mixed-valance complexes are synthesized and characterized by single-crystal X-ray diffraction and magnetic studies at low temperature. The individual CoII–CoIII units exhibit field-induced slow magnetic relaxation consistent with single-ion magnet behavior. Ab initio calculations confirm large zero-field splitting (zfs) from a first-order spin–orbit coupling in both complexes.
[Full Paper]
Soumen Manna, Apurba Bhunia, Soumen Mistri, Julia Vallejo, Ennio Zangrando, Horst Puschmann, Joan Cano, Subal Chandra Manna
Eur. J. Inorg. Chem., May 23, 2017, https://doi.org/10.1002/ejic.201700046 Read article
We shall overcome: As a result of efforts to overcome the sensitivity challenge of liquid-state NMR spectroscopy, a thousand-fold signal enhancement was achieved by dynamic nuclear polarization (DNP) for 13C signals at high magnetic field (3.4 T) and room temperature, thereby exceeding the predicted limitations of high-field liquid-state in situ DNP.
[Highlight]
György Pintér, Harald Schwalbe
Angew. Chem. Int. Ed., May 23, 2017, https://doi.org/10.1002/anie.201702766 Read article
[Full Paper]
Thiago C. Canevari, Fernando H. Cincotto, Delmarcio Gomes, Richard Landers, Henrique E. Toma
Electroanalysis, May 22, 2017, https://doi.org/10.1002/elan.201700167 Read article
Semiconducting materials: Si30.3(8)P15.7(8)Se7.930(3) and partial Te/Ge-substituted semiclathrates were synthesized and characterized (see figure). Theoretical calculations showed a semiconducting feature based on an ordered model of Si32P14Se7, and photoelectric response and diamagnetism were observed in Si30.3(8)P15.7(8)Se7.930(3).
[Full Paper]
Hui Zhang, Wei Peng, Gang Mu, Tao Hu, Fuqiang Huang, Xiaoming Xie
Chem. Eur. J., May 19, 2017, https://doi.org/10.1002/chem.201700972 Read article
Intense oxygen doping and functionalization of hexagonal boron nitride (h-BN) nanosheets narrow the bandgap of the material from ≈5.5 to 2.1 eV in experiments, and lead to the appearance of paramagnetism and photoluminescence properties, which are not seen in h-BN. These findings pave a new way for the engineering of the optical, electronic, and magnetic properties of BN nanosheets.
[Communication]
Qunhong Weng, Dmitry G. Kvashnin, Xi Wang, Ovidiu Cretu, Yijun Yang, Min Zhou, Chao Zhang, Dai-Ming Tang, Pavel B. Sorokin, Yoshio Bando, Dmitri Golberg
Adv. Mater., May 19, 2017, https://doi.org/10.1002/adma.201700695 Read article
In this work, Pati et al. have demonstrated the control of spin-reorientation transition in (0001) oriented α-Fe2O3 thin-film by external magnetic field and temperature. The authors have elucidated a simple way to determine the entropy change associated withthe first order spin-reorientation transition in α-Fe2O3
[Rapid Research Letter]
Satya Prakash Pati, Muftah Al-Mahdawi, Shujun Ye, Tomohiro Nozaki, Masashi Sahashi
Phys. Status Solidi RRL, May 18, 2017, https://doi.org/10.1002/pssr.201700101 Read article
The possibility to tune up or down the critical thickness at which a 2D electron gas appears at the LaAlO3/SrTiO3 interface, by capping the LaAlO3 with different metals is demonstrated. Besides electrostatic effects, X-ray photoemission spectroscopy reveals the importance of the partial oxidation of the metal on the properties of the gas.
[Communication]
Diogo Castro Vaz, Edouard Lesne, Anke Sander, Hiroshi Naganuma, Eric Jacquet, Jacobo Santamaria, Agnès Barthélémy, Manuel Bibes
Adv. Mater., May 15, 2017, https://doi.org/10.1002/adma.201700486 Read article
Poly(ethylene oxide)-poly(acrylic acid)-dopamine functionalized magnetic nanoparticles (PEO-MNPs) are biofunctionalized with Neu5Ac(α2-3)-Gal-(β1-4)Glcβ-sp (GM3) molecule via a click chemistry route to produce PEO-MNPs functionalized with GM3 (GM3-MNPs). GM3-MNPs specifically interact with the Escherichia coli strain K99 (EC K99) and cause them to aggregate together. When such a nanoparticle–bacterial complex is exposed to alternating magnetic fields, ≈3-log reduction in the colony forming unit of EC K99 is observed.
[Full Paper]
Yash S. Raval, Benjamin D. Fellows, Jamie Murbach, Yves Cordeau, Olin Thompson Mefford, Tzuen-Rong J. Tzeng
Adv. Funct. Mater., May 15, 2017, https://doi.org/10.1002/adfm.201701473 Read article
The interface between a ferromagnetic metal (Co) and a molecule (Fe phthalocyanine) can exhibit high spin polarization at room temperature. To control the magnetic coupling that underscores this promising spintronic property, the magnetoelectric properties at the neighboring interface between an oxide ferroelectric (PZT) and Co are used. This enables electrical control over the spintronic properties of any ferromagnet/molecule interface.
[Full Paper]
Michał Studniarek, Salia Cherifi-Hertel, Etienne Urbain, Ufuk Halisdemir, Rémi Arras, Beata Taudul, Filip Schleicher, Marie Hervé, Charles-Henri Lambert, Abbass Hamadeh, Loïc Joly, Fabrice Scheurer, Guy Schmerber, Victor Da Costa, Bénédicte Warot-Fonrose, Cécile Marcelot, Olivia Mauguin, Ludovic Largeau, Florian Leduc, Fadi Choueikani, Edwige Otero, Wulf Wulfhekel, Jacek Arabski, Philippe Ohresser, Wolfgang Weber, Eric Beaurepaire, Samy Boukari, Martin Bowen
Adv. Funct. Mater., May 10, 2017, https://doi.org/10.1002/adfm.201700259 Read article
A new class of negative thermal expansion (NTE) material is discovered, in which the NTE is induced by a new mechanism. Namely, the layered perovskite PrBaCo2O5.5+x (0 ≤ x ≤ 0.41) exhibits a strong NTE when embedding (F) clusters into the (AF) matrix, where the competition between the F and AF phases plays the essential role.
[Communication]
Ping Miao, Xiaohuan Lin, Akihiro Koda, Sanghyun Lee, Yoshihisa Ishikawa, Shuki Torii, Masao Yonemura, Takashi Mochiku, Hajime Sagayama, Shinichi Itoh, Kazutaka Ikeda, Toshiya Otomo, Yinxia Wang, Ryosuke Kadono, Takashi Kamiyama
Adv. Mater., May 08, 2017, https://doi.org/10.1002/adma.201605991 Read article
A magnetically actuated microscaffold is developed for targeted stem cell delivery. The microscaffold, which has a 3D porous microbead structure, supports mesenchymal stem cell adhesion and migration and is driven to a target site by external magnetic fields. Its function as a cell carrier through 2D/3D targeting tests using multiple microscaffolds containing D1 mouse mesenchymal stem cells is demonstrated.
[Full Paper]
Gwangjun Go, Jiwon Han, Jin Zhen, Shaohui Zheng, Ami Yoo, Mi-Jeong Jeon, Jong-Oh Park, Sukho Park
Adv. Healthcare Mater., May 08, 2017, https://doi.org/10.1002/adhm.201601378 Read article
The tumbling benzene: the shielding-cone behavior of benzene under different orientation of the external magnetic field is investigated by means of density functional calculations.
[Communication]
A. G. Papadopoulos, N. D. Charistos, A. Muñoz-Castro
ChemPhysChem, May 05, 2017, https://doi.org/10.1002/cphc.201700279 Read article
A dominant switchable magnetoresistance, at room temperature, in half-metallic La0.7Sr0.3MnO3 epitaxial films is achieved by engineering an extrinsic magnetic anisotropy, through the use of substrates with progressively larger miscut angles. This leads to an enhancement of the anisotropic magnetoresistance (AMR) signal, much larger than the other contributions such as the colossal magnetoresistance (CMR), enabling the realization of the manganite technological potential.
[Full Paper]
Paolo Perna, Davide Maccariello, Fernando Ajejas, Ruben Guerrero, Laurence Méchin, Stephane Flament, Jacobo Santamaria, Rodolfo Miranda, Julio Camarero
Adv. Funct. Mater., May 04, 2017, https://doi.org/10.1002/adfm.201700664 Read article
[Article]
Wei Li, Sheng-Di Bai, Feng Su, Xin-E Duan, Dian-Sheng Liu
Z. Anorg. Allg. Chem., May 03, 2017, https://doi.org/10.1002/zaac.201700044 Read article
Fancy ferrite: We study magnetic ferrite nanomaterials (NFNC) as catalysts in reduction reactions through hydrogen-transfer processes. The catalyst adsorbs both the pollutant molecules and reducing agent (NaBH4) on its surface, and 4-nitrophenol (4-NP) is reduced catalytically to 4-aminophenol (4-AP).
[Full Paper]
Chaitali Dey, Arka Chaudhuri, Ajay Ghosh, Madhuri Mandal Goswami
ChemCatChem, May 03, 2017, https://doi.org/10.1002/cctc.201700161 Read article
Code of conduct: An organic–inorganic hybrid (BEDT-TTF)2Cu2 (HCOO)5 composed of a θ-BEDT-TTF+0⋅5 layer and square lattice anionic sheet [Cu2(HCOO)5-]n is synthesized. The crystal shows long-range magnetic ordering at 8.0 K and is semiconducting with σrt=0.1 S cm. Thus, an antiferromagnetic square lattice is introduced into a molecular crystal.
[Communication]
Bin Zhang, Yan Zhang, Zheming Wang, Zengqiang Gao, Deliang Yang, Dongwei Wang, Yanjun Guo, Daoben Zhu
ChemistryOpen, April 19, 2017, https://doi.org/10.1002/open.201700041 Read article
Dual action: Bifunctional and bimodal nanoparticles (NPs) based on silica NPs that incorporate ruthenium complex and grafted with gadolinium complex (see figure) have been developed for potential use as a bimodal probe (luminescence/magnetic resonance imaging) and theranostic agent (photodynamic therapy/imaging). The biological potential of these NPs has been studied on HCT-116 cells and microscopy and cytotoxicity results are given.
[Full Paper]
Séverine Lechevallier, Robert Mauricot, Hélène Gros-Dagnac, Sylviane Chevreux, Gilles Lemercier, Erick Phonesouk, Muriel Golzio, Marc Verelst
ChemPlusChem, April 11, 2017, https://doi.org/10.1002/cplu.201700078 Read article
A novel platform for the development of highly efficient magnetic resonance imaging (MRI) contrast agents is demonstrated, by electrostatic self-assembly of cationic Gd complexes on spherical polyelectrolyte brushes. Both in vitro and in vivo experiments indicate excellent performance. It not only broadens the horizons of new MRI contrast agents, but also has a great potential for tumor diagnosis.
[Communication]
Qin Zhu, Zhenyu Yuan, Weiqiao Qian, Yuanyuan Li, Zhiqiang Qiu, Weijun Tang, Jie Wang, Yun Ding, Aiguo Hu
Adv. Healthcare Mater., April 03, 2017, https://doi.org/10.1002/adhm.201700071 Read article
[Article]
Björn Anke, Sophie Hund, Christian Lorent, Oliver Janka, Theresa Block, Rainer Pöttgen, Martin Lerch
Z. Anorg. Allg. Chem., March 13, 2017, https://doi.org/10.1002/zaac.201700024 Read article
Strongly correlated electron systems are observed for mixed valent transition metal oxide frameworks hosting alkaline earth and lanthanide cations. The introduction of barium in the cavities of the oxide framework allows generally an ordering with other cations due to its larger size. The specific affinity of barium with respect to oxygen allows the oxygen content, and consequently the electronic charge distribution to be tuned and favors oxygen and anionic vacancies ordering. These two specific characteristics allow best performances to be reached as well for the physical properties, such as superconductivity, magnetism or multiferroicity as for oxygen storage.
[Personal Account]
Bernard Raveau
Chem. Rec., November 25, 2016, https://doi.org/10.1002/tcr.201600119 Read article
[Corrigendum]
Sanyadanam Srinath, Pankaj Poddar, Raja Das, Deepti Sidhaye, Bhagavatula Lakshmi Vara Prasad, James Gass, Hariharan Srikanth
ChemPhysChem, December 11, 2014, https://doi.org/10.1002/cphc.201402414 Read article
© Wiley-VCH 2016.