Membranes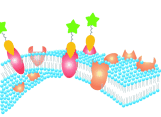 From bio(physical) chemistry to chemical engineering, membranes are frontiers of chemistry: They separate, yet at the same time they join and enable reactions.
Find all articles on membranes in Wiley Online Library...
Recent Articles

RSS feed
Burnt to a crisp: Surface-mounted metal–organic framework (MOF) membranes were pyrolyzed to produce electrocatalytic nanomaterials with 3D nanoarchitectures and abundant catalytic sites. Cobalt contained in the MOF thin-film has a dual function; it facilitates growth of nitrogen-doped carbon nanotubes and promotes oxygen reduction, hydrogen evolution, and oxygen evolution reactions.
[Communication]
Gan Jia, Wen Zhang, Guozheng Fan, Zhaosheng Li, Degang Fu, Weichang Hao, Chunwei Yuan, Zhigang Zou
Angew. Chem. Int. Ed., September 25, 2017, https://doi.org/10.1002/anie.201708385 Read article
Mesoporous silica nanoparticles (MSNs) are delivered into cells via membrane fusion thereby omitting endocytosis pathways. Fusion is induced by a pair of complementary coiled-coil lipopeptides inserted into the membrane of cells and in the bilayer of lipid-coated MSNs. In this manner proteins can be efficiently delivered into the cytoplasm of cells.
[Full Paper]
Jian Yang, Jing Tu, Gerda E. M. Lamers, René C. L. Olsthoorn, Alexander Kros
Adv. Healthcare Mater., September 25, 2017, https://doi.org/10.1002/adhm.201700759 Read article
Barriers leading to progress: The convergence of ionic-liquid catalysis and ionic-liquid membrane separation technologies is leading towards the development of catalytically active separation layers, at which valuable chemical transformations are performed simultaneously with product purification through the ionic membrane material (see figure).
[Review]
Pavel Izák, Felix D. Bobbink, Martin Hulla, Martina Klepic, Karel Friess, Štěpán Hovorka, Paul J. Dyson
ChemPlusChem, September 22, 2017, https://doi.org/10.1002/cplu.201700293 Read article
Get in place! Fluorescent labels can alter the phase behavior of lipids considerably. The synthetic route to fatty acid-labeled Gb3 derivatives that partition in the liquid-disordered phase, even after binding of Shiga toxin B subunits, is described.
[Full Paper]
Lukas J. Patalag, Jeremias Sibold, Ole M. Schütte, Claudia Steinem, Daniel B. Werz
ChemBioChem, September 20, 2017, https://doi.org/10.1002/cbic.201700414 Read article
A nanostructured paper chemiresistor with negative-going response dominant characteristics to human breathing and sweating is demonstrated, which involves decoration of a nanofibrous membrane paper with dendronized gold nanoparticles to enable highly tunable sensitivity in moisture-dominant sensing environment and constitutes a promising new strategy to design sensing array elements for wearable breath and sweat sensors.
[Full Paper]
Shan Yan, Xin Liu, Zakiya Skeete, Ning He, Zhi-Hui Xie, Wei Zhao, Jack P. Lombardi, Kai Liu, Ning Kang, Jin Luo, Benjamin S. Hsiao, Mark Poliks, Ivan Gitsov, Chuan-Jian Zhong
Adv. Mater. Interfaces, September 19, 2017, https://doi.org/10.1002/admi.201700380 Read article
Common sense: Cellulose-based materials functionalized with fluorescence sensors are employed in many areas of functional materials, including the sensing of heavy-metal ions and anions, and are widely used as chemical sensors and tools for environmental applications. Recent progress in the development of cellulose-based fluorescence sensors as parts of membranes and nanoscale materials for the detection of biological analytes is reviewed.
[Review]
Meng Li, Xiaoning Li, Hui-Ning Xiao, Tony James
ChemistryOpen, September 18, 2017, https://doi.org/10.1002/open.201700133 Read article
Just add nanoparticles! A straightforward strategy to tailor CO2 permeability, selectivity, and water transport with the addition of zeolitic imidazolate frameworks into a rubbery amphiphilic polymer is proposed. The incorporation of zeolitic imidazolate framework (ZIF-71) nanoparticles increases the fractional free volume, permeability, and selectivity of poly(ethylene oxide) terephthalate and poly(butylene terephthalate) (PEOT/PBT) membranes.
[Full Paper]
Wai Fen Yong, Yan Xun Ho, Tai-Shung Chung
ChemSusChem, September 13, 2017, https://doi.org/10.1002/cssc.201701405 Read article
The disruptors: Herein we report the design, synthesis, and potent antimicrobial activity of short α,γ-hybrid lipopeptides composed of 1:1 alternating α- and γ-amino acids. Investigation of the mechanism of action revealed that these short cationic lipopeptides bind and disrupt the bacterial cell membrane.
[Full Paper]
Sushil N. Benke, Hirekodathakallu V. Thulasiram, Hosahudya N. Gopi
ChemMedChem, September 13, 2017, https://doi.org/10.1002/cmdc.201700370 Read article
A pentablock copolymer with charged moieties along the midblock displays promising separation performance for both basic and acidic gases under humidified conditions. The permeation of polar (NH3 and CO2) and non-polar (N2) penetrants through this amphiphilic copolymer has been measured by single- and mixed-gas methods to elucidate the influence of nanoscale morphology (controllably varied by solvent templating/annealing) and relative humidity.
[Communication]
Luca Ansaloni, Zhongde Dai, Justin J. Ryan, Kenneth P. Mineart, Qiang Yu, Keara T. Saud, May-Britt Hägg, Richard J. Spontak, Liyuan Deng
Adv. Mater. Interfaces, September 13, 2017, https://doi.org/10.1002/admi.201700854 Read article
[Full Paper]
Aazam Korani, Abdollah Salimi, Babak Karimi
Electroanalysis, September 12, 2017, https://doi.org/10.1002/elan.201700466 Read article
[Full Paper]
O. Shirai, Y. Kitazumi, K. Kano
Electroanalysis, September 12, 2017, https://doi.org/10.1002/elan.201700368 Read article
Artificial basilar membrane (ABM) is an acoustic transducer that mimics cochlear tonotopy. This Progress Report provides a brief review of the ABMs for next-generation cochlear implants. The scope includes tonotopic characteristics of the ABM, in vivo experiments using animal models, and future perspectives of the ABM for next-generation cochlear implants.
[Progress Report]
Jongmoon Jang, Jeong Hun Jang, Hongsoo Choi
Adv. Healthcare Mater., September 11, 2017, https://doi.org/10.1002/adhm.201700674 Read article
High-performance mechanically flexible Si nanomembrane (NM) fully depleted silicon-on-insulator (FDSOI) field-effect transistors are realized via neutral mechanical plane (NMP) optimization. This NMP-optimized Si NM flexible device, using both the analytical and numerical modeling, shows excellent mechanical and electrical stability even at a 1 mm bending radius. The strain at this point is less than 0.01% much smaller than the strain tolerance of 0.1%.
[Communication]
Seung-Yoon Kim, Jae Hoon Bong, Cheolgyu Kim, Wan Sik Hwang, Taek-Soo Kim, Byung Jin Cho
Adv. Mater. Interfaces, September 07, 2017, https://doi.org/10.1002/admi.201700618 Read article
[Original Research Paper]
M. Zeppilli, A. Mattia, M. Villano, M. Majone
Fuel Cells, September 06, 2017, https://doi.org/10.1002/fuce.201700048 Read article
Mixed-dimensional (2D/3D) layered, van der Waals heterostructures based on triazine linkers are produced in a facile, one-pot, "wet" chemistry process. Macroscopic films of the material grow via a twinned mechanism—first the 2D crystalline phase then the 3D polymer—on a copper support that acts both as a catalyst and template and form an efficient type I heterojunction.
[Communication]
Dana Schwarz, Yu Noda, Jan Klouda, Karolina Schwarzová-Pecková, Ján Tarábek, Jiří Rybáček, Jiří Janoušek, Frank Simon, Maksym V. Opanasenko, Jiří Čejka, Amitava Acharjya, Johannes Schmidt, Sören Selve, Valentin Reiter-Scherer, Nikolai Severin, Jürgen P. Rabe, Petra Ecorchard, Junjie He, Miroslav Polozij, Petr Nachtigall, Michael J. Bojdys
Adv. Mater., August 31, 2017, https://doi.org/10.1002/adma.201703399 Read article
Permitting neurotransmitter passage: Dimethyl sulfoxide (DMSO) is commonly used in biological studies and as a vehicle for drug delivery. This study shows that DMSO chemically affects the permeability of cell membranes and possibly alters proteins involved in opening or closing pores during vesicle fusion, leading to a larger fraction of catecholamine being released from each vesicle.
[Communication]
Soodabeh Majdi, Neda Najafinobar, Johan Dunevall, Jelena Lovric, Andrew G. Ewing
ChemBioChem, August 21, 2017, https://doi.org/10.1002/cbic.201700410 Read article
Dynamically responsive nanoporous membranes with high substrate specificity and localized gating response are fabricated by integration of self-assembly and nonsolvent induced phase separation process from poly(isoprene-b-styrene-b-4-vinylpyridine) with pore functionalization by an enzyme (phosphotriesterase). This offers intriguing opportunities for molecularly engineered biomimetic materials tailored to respond to a complex range of external parameters, providing sensing, protection, and remediation capabilities.
[Communication]
Jennifer L. Poole, Scott Donahue, David Wilson, Yuk Mun Li, Qi Zhang, Yibei Gu, Rachel Ferebee, Zhao Lu, Rachel Mika Dorin, Lawrence F. Hancock, Larry Takiff, Ilhem F. Hakem, Michael R. Bockstaller, Ulrich Wiesner, Jeremy Walker
Macromol. Rapid Commun., August 15, 2017, https://doi.org/10.1002/marc.201700364 Read article
Getting more information: In addition to measuring how potential oscillations in polymer electrolyte membrane fuel cells (PEMFCs; see figure) affect CO2 production, it is possible to analyze how the CO molar fraction responds to these dynamics by coupling the anode output of the fuel cell to an on-line mass spectrometer.
[Full Paper]
Jéssica Alves Nogueira, Hamilton Varela
ChemistryOpen, August 07, 2017, https://doi.org/10.1002/open.201700098 Read article
Unsalted flow: A new multichannel membrane flow-stream capacitive deionization (MC-MCDI) concept is introduced. It includes two flow streams to control the environment around the electrodes, which allows to severely enhance the desalination capacity.
[Full Paper]
Choonsoo Kim, Juhan Lee, Pattarachai Srimuk, Mesut Aslan, Volker Presser
ChemSusChem, August 07, 2017, https://doi.org/10.1002/cssc.201700967 Read article
[Original Research Paper]
S. E. Neto, D. Melo-Diogo, I. J. Correia, C. M. Paquete, R. O. Louro
Fuel Cells, July 25, 2017, https://doi.org/10.1002/fuce.201700023 Read article
[Original Research Paper]
K. Wuttikid, S. Shimpalee, J. W. Weidner, K. Punyawudho
Fuel Cells, July 12, 2017, https://doi.org/10.1002/fuce.201600179 Read article
Antimicrobial activity: Novel efficient synthetic approaches to polymerizable quaternary ammonium salts (acryloxyalkyltriethylammonium bromides, AATEABs; see figure) with antimicrobial activity are reported, which are useful precursors for developing nanostructured membranes with anti-biofouling properties in wastewater treatment.
[Full Paper]
Raffaella Mancuso, Roberta Amuso, Biagio Armentano, Giuseppe Grasso, Vittoria Rago, Anna Rita Cappello, Francesco Galiano, Alberto Figoli, Giorgio De Luca, Jan Hoinkis, Bartolo Gabriele
ChemPlusChem, June 27, 2017, https://doi.org/10.1002/cplu.201700194 Read article
© Wiley-VCH 2016.