Membranes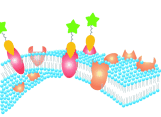 From bio(physical) chemistry to chemical engineering, membranes are frontiers of chemistry: They separate, yet at the same time they join and enable reactions.
Find all articles on membranes in Wiley Online Library...
Recent Articles

RSS feed
A triple-substituted triptycene microporous polyamide membrane, featuring a fisherman's net-shaped structure, imparts the microporous material with molecular-sieving network pores and a low driving force. The membrane displays preferential nitrogen permeation over volatile organic compounds such as cyclohexane.
[Communication]
Haoli Zhou, Fei Tao, Quan Liu, Chunxin Zong, Wenchao Yang, Xingzhong Cao, Wanqin Jin, Nanping Xu
Angew. Chem. Int. Ed., April 21, 2017, https://doi.org/10.1002/anie.201700176 Read article
Strike a pose: Interligand NOEs for pharmacophore mapping (INPHARMA) was shown to provide valuable information on ligand poses in the binding site of the G-protein-coupled-receptor human A2AR reconstituted in nanodiscs. By comparing experimental INPHARMA spectra with back-calculated spectra based on ligand poses obtained from MD simulations, a complex structure for the low-affinity ligand 3-pyrrolidin-1-ylquinoxalin-2-amine was determined.
[Communication]
Kai Fredriksson, Philip Lottmann, Sonja Hinz, Iounut Onila, Aliaksei Shymanets, Christian Harteneck, Christa E. Müller, Christian Griesinger, Thomas E. Exner
Angew. Chem. Int. Ed., April 21, 2017, https://doi.org/10.1002/anie.201612547 Read article
Hybrid synthetic lipids with dramatically reduced leakage properties incorporate many structural features used by Nature to generate stable membranes. Covalent attachment of cholesterol groups to membrane-spanning tetraether lipids makes it possible to generate stable liposomes with low permeability, while retaining the possibility to support functional biomolecules and deliver liposome-encapsulated molecules to living cells.
[Communication]
Takaoki Koyanagi, Kevin J. Cao, Geoffray Leriche, David Onofrei, Gregory P. Holland, Michael Mayer, David Sept, Jerry Yang
Chem. Eur. J., April 20, 2017, https://doi.org/10.1002/chem.201701378 Read article
Improving detergents: Structurally distinct resorcinarene-based facial glucosides were developed and compared with a conventional detergent (DDM) for membrane protein manipulation. Of all tested compounds, RGA-C11 and RGA-C13 displayed the most favourable efficacy, making these agents promising candidates for a membrane protein structural study.
[Communication]
Hazrat Hussain, Yang Du, Elena Tikhonova, Jonas S. Mortensen, Orquidea Ribeiro, Claudia Santillan, Manabendra Das, Muhammad Ehsan, Claus J. Loland, Lan Guan, Brian K. Kobilka, Bernadette Byrne, Pil Seok Chae
Chem. Eur. J., April 20, 2017, https://doi.org/10.1002/chem.201605016 Read article
Polystyrene copolymers with terpyridine and bis(methylbenzimidazolyl)pyridine ligands in the side chain are studied on metal ion coordination in solution and coordinative sequential assembly of films and membranes. Permeation across the membranes and separation of ions and aromatic molecules are investigated.
[Full Paper]
Gülara Krieger, Bernd Tieke
Macromol. Chem. Phys., April 18, 2017, https://doi.org/10.1002/macp.201700052 Read article
Layers of naturally occurring clay minerals are rearranged to prepare a multiresponsive bilayer membrane that responds to the minuscule changes in the surrounding environments by morphing in a specific manner. The clay–clay bilayer membrane demonstrates extreme robustness, heating up to 500 °C, cooling with liquid N2 and exposure to corrosive chemical vapors did not deteriorate its performance.
[Communication]
Raj Kumar Gogoi, Kalyan Raidongia
Adv. Mater., April 18, 2017, https://doi.org/10.1002/adma.201701164 Read article
A novel membrane architecture was developed by pressing porous powders into pellets followed by an infiltration with a gas impermeable polymer. After opening the percolation paths by polishing, the membranes were tested for H2/CO2 and H2/CH4 separation. In comparison to other state of the art membranes and the corresponding supported layers, these so called Polymer-Stabilized Percolation Membranes (PSPMs) feature similar capabilities above and around the Robeson boundary.
[Communication]
Sebastian Friebe, Alexander Mundstock, Daniel Schneider, Jürgen Caro
Chem. Eur. J., April 13, 2017, https://doi.org/10.1002/chem.201701266 Read article
All killer nanofiller: The organophilicity of networked, microporous polymers compensates for the abated loss of molecular transportation pathways in aged super glassy polymer pervaporation membranes. This solves the issues of insufficient flux and physical aging while enhancing selectivity to yield superior pervaporation polymer membranes that can transform biofuel production.
[Communication]
Xi Quan Cheng, Kristina Konstas, Cara M. Doherty, Colin D. Wood, Xavier Mulet, Zongli Xie, Derrick Ng, Matthew R. Hill, Cher Hon Lau, Lu Shao
ChemSusChem, April 10, 2017, https://doi.org/10.1002/cssc.201700362 Read article
[Full Paper]
Christina Bliem, Philipp Fruhmann, Anca-Iulia Stoica, Christoph Kleber
Electroanalysis, April 03, 2017, https://doi.org/10.1002/elan.201600782 Read article
No additional alkali: A high-temperature alkaline direct formate fuel cell is proposed owing to the fact that formate hydrolysis can provide hydroxide to meet the requirement of formate oxidation reaction. The proof-of-concept fuel cell shows a stable 100 min constant-current discharge in the absence of additional hydroxide at 90 °C, proving the feasibility of hydroxide self-feeding high-temperature alkaline fuel cells.
[Communication]
Yinshi Li, Xianda Sun, Ying Feng
ChemSusChem, March 30, 2017, https://doi.org/10.1002/cssc.201700228 Read article
A mechanically tunable substrate is developed for cell adhesion studies using extracellular matrix (ECM) functionalized-supported lipid bilayer. Specific adhesion of cells results in an enrichment of the protein on the bilayer. The lateral reorganization of the ECM proteins is controlled by altering the viscosity of the membrane using cholesterol.
[Full Paper]
Setareh Vafaei, Seyed R. Tabaei, Kabir H. Biswas, Jay T. Groves, Nam-Joon Cho
Adv. Healthcare Mater., March 30, 2017, https://doi.org/10.1002/adhm.201700243 Read article
Flexible and freestanding biomimetic multilayer membranes, which topography resemble the nanofeatures of the extracellular matrix, are successfully developed using a friendly user layer-by-layer technology. The ability to crosslink with genipin as well as the presence of a patterned topography on the surface of the natural-based membranes provides a promising system to tailor cellular behavior including cell alignment and differentiation.
[Full Paper]
Maria P. Sousa, Sofia G. Caridade, João F. Mano
Adv. Healthcare Mater., March 29, 2017, https://doi.org/10.1002/adhm.201601462 Read article
A membrane-based approach relying on intrinsic wetting threshold theory for highly efficient, convenient, and economical ionic liquid (IL)/water separation has been presented. By precisely tailoring surface energy, the porous membrane is capable of hydrophobicity and superILphilicity, and can separate not only mixtures of different ILs and water, but also IL/water systems containing inorganic salts, organic compounds, amino acids, and proteins.
[Full Paper]
Jiajing Zhang, Hongliang Liu, Lei Jiang
Adv. Funct. Mater., March 23, 2017, https://doi.org/10.1002/adfm.201606544 Read article
[Review]
K. Dhanabalan, T. Sadhasivam, J.-H. Park, H.-Y. Jung, B.-S. Kim, S.-H. Roh
Fuel Cells, March 08, 2017, https://doi.org/10.1002/fuce.201600215 Read article
[Full Paper]
Zeinab F. Akl
Electroanalysis, February 21, 2017, https://doi.org/10.1002/elan.201700007 Read article
Overengineering? Small structural changes related to the deplanarization of a fluorophore based on the dithienothiophene dimer lead to a complete loss of mechanosensitivity of this probe when it is integrated in lipid bilayer membranes; however, nanoparticles of this material are fluorescent in water.
[Full Paper]
Mariano Macchione, Nicolas Chuard, Naomi Sakai, Stefan Matile
ChemPlusChem, February 16, 2017, https://doi.org/10.1002/cplu.201600634 Read article
Large-diameter mesoporous silica (SBAS) particles are used to visualize the location and measure the diffusivity of lipids confined within nanopores and at particle surfaces using confocal microscopy. Depending on the pore size and presence of tethering groups, lipids are found in exterior bilayers or assembled in pores. Diffusivities increase with pore size and are statistically similar throughout lipid-filled particles.
[Full Paper]
Daniel M. Schlipf, Shanshan Zhou, M. Arif Khan, Stephen E. Rankin, Barbara L. Knutson
Adv. Mater. Interfaces, February 15, 2017, https://doi.org/10.1002/admi.201601103 Read article
[Full Paper]
Johan Berg, Stephan Block, Fredrik Höök, Peter Brzezinski
Isr. J. Chem., February 10, 2017, https://doi.org/10.1002/ijch.201600138 Read article
[Review]
C. Roy D. Lancaster, Yamila M. Betz, Sabine Heit, Michael A. Lafontaine
Isr. J. Chem., January 31, 2017, https://doi.org/10.1002/ijch.201600139 Read article
[Full Paper]
Christoph von Ballmoos, Irina Smirnova, Federica Poiana, Nathalie Gonska, Hsin-Yang Chang, Robert B. Gennis, Peter Brzezinski, Pia Ädelroth
Isr. J. Chem., January 23, 2017, https://doi.org/10.1002/ijch.201600136 Read article
[Full Paper]
Pravin Kumar, Nathalie Schilderink, Vinod Subramaniam, Martina Huber
Isr. J. Chem., November 10, 2016, https://doi.org/10.1002/ijch.201600083 Read article
© Wiley-VCH 2016.