Membranes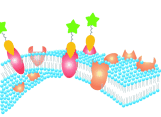 From bio(physical) chemistry to chemical engineering, membranes are frontiers of chemistry: They separate, yet at the same time they join and enable reactions.
Find all articles on membranes in Wiley Online Library...
Recent Articles

RSS feed
The mechanically strong substrate has a network structure in the plane and which prevents swelling in the X−Y (area) direction. Therefore, the selectivity of the counter ions is increased in that direction. The shape of the polymer network formed in the Z (thickness) direction provides a continuous pathway for the ions. Also the functional groups, concentrated only in the pore of the support, allow the ions to pass selectively and quickly.
[Communication]
Mi-Soon Lee, Han-Ki Kim, Chan-Soo Kim, Ho-Young Suh, Kee-Suk Nahm, Young-Woo Choi
ChemistrySelect, February 21, 2017, DOI: 10.1002/slct.201700167. Read article
Photo and humidity responsive poly(ionic liquid) mesoporous membrane has been fabricated through a flexible and simple template-free method. Due to the photoisomerization of azobenzene, the structure of pores changed on nanoscale after UV light irradiation. The membrane also demonstrates open and closed porous reversibly in response to humidity. Extremely high swelling ratio and charged character endow the membrane excellent selective adsorption capability for cationic dye methylene blue.
[Full Paper]
Aoli Wu, Fei Lu, Mingwei Zhao, Na Sun, Lijuan Shi, Liqiang Zheng
ChemistrySelect, February 21, 2017, DOI: 10.1002/slct.201601934. Read article
[Full Paper]
Zeinab F. Akl
Electroanalysis, February 21, 2017, DOI: 10.1002/elan.201700007. Read article
[Review]
Y. Hu, X. Li, L. Yan, B. Yue
Fuel Cells, February 20, 2017, DOI: 10.1002/fuce.201600172. Read article
A novel, environmentally friendly anion conductive membrane for a non-aqueous vanadium redox flow battery was prepared. A layer of a pseudo-interpenetrated Chitosan (C) /urushi (U) network was coated on the porous support, and the energy efficiency increased with increasing C in the C/U layer.
[Full Paper]
Sung-Jun Gong, Dongyoung Kim, Eunhae Cho, Seung Sang Hwang, Jongok Won
ChemistrySelect, February 17, 2017, DOI: 10.1002/slct.201601772. Read article
Highly selective macromembranes, fabricated by cation-decorated graphene oxide, exhibit an excellent selectivity toward a wide range of solvents. Mixed solvents are successfully separated, based on which a membrane reactor is designed to promote a series of chemical reactions. The cations bonding to the graphene oxide nanosheets are found to be responsible for this selectivity by cation–π, electrostatic interactions, and hydrogen bonding.
[Communication]
Yong Long, Kai Wang, Guolei Xiang, Kai Song, Gang Zhou, Xun Wang
Adv. Mater., February 17, 2017, DOI: 10.1002/adma.201606093. Read article
Small molecules automatically self-assemble into liquid-crystalline membranes to form supramolecular hydrogels with an interlayer spacing of 40 nm. The membrane domains act as physical crosslinks in these hydrogels via the cooperative hydrogen-bonding between membranes and linear polymers. These hydrogels show unique properties, such as temperature-dependent mechanical performance/optical transmittance, which have potential applications in biological membranes, drug release, and optical filters.
[Communication]
Youfeng Yue
Macromol. Rapid Commun., February 16, 2017, DOI: 10.1002/marc.201600762. Read article
Overengineering? Small structural changes related to the deplanarization of a fluorophore based on the dithienothiophene dimer lead to a complete loss of mechanosensitivity of this probe when it is integrated in lipid bilayer membranes; however, nanoparticles of this material are fluorescent in water.
[Full Paper]
Mariano Macchione, Nicolas Chuard, Naomi Sakai, Stefan Matile
ChemPlusChem, February 16, 2017, DOI: 10.1002/cplu.201600634. Read article
Easy transport: A polymeric membrane-supported gold nanoparticle (AuNP) catalyst is prepared on the basis of the extraction and in situ reduction of AuIII in one stage achieved by a facilitated transport system. This process is a synergic phenomenon in which all the membrane components are involved. The catalysts allow 95.4 % reduction of 4-nitrophenol in aqueous solution in 25 min and provides catalysis and separation in the same stage.
[Full Paper]
Lucía Mora-Tamez, Vicente Esquivel-Peña, Ana L. Ocampo, Eduardo Rodríguez de San Miguel, Daniel Grande, Josefina de Gyves
ChemSusChem, February 15, 2017, DOI: 10.1002/cssc.201601883. Read article
Hofmeister effects: The conductance of a purely cation-selective peptide pore is regulated by anions in correlation with their position in the Hofmeister series (see picture). Moreover, the pore conformational dynamics are highly sensitive to the anion species. Both effects are related to preferential depletion of kosmotropic anions (accumulation of chaotropic anions) at the membrane–water interface.
[Communication]
Philip A. Gurnev, Torri C. Roark, Horia I. Petrache, Alexander J. Sodt, Sergey M. Bezrukov
Angew. Chem. Int. Ed., February 15, 2017, DOI: 10.1002/anie.201611335. Read article
Large-diameter mesoporous silica (SBAS) particles are used to visualize the location and measure the diffusivity of lipids confined within nanopores and at particle surfaces using confocal microscopy. Depending on the pore size and presence of tethering groups, lipids are found in exterior bilayers or assembled in pores. Diffusivities increase with pore size and are statistically similar throughout lipid-filled particles.
[Full Paper]
Daniel M. Schlipf, Shanshan Zhou, M. Arif Khan, Stephen E. Rankin, Barbara L. Knutson
Adv. Mater. Interfaces, February 15, 2017, DOI: 10.1002/admi.201601103. Read article
Biomimetic dual-membrane-functionalized nanoparticles, incorporating the natural properties of two different cell types, are fabricated by a facile process employing fused cell membranes. The resulting hybrid cell-membrane-coated nanoparticles retain protein markers from each source cell and combine unique functions of both. The reported approach opens the door for fabrication of biocompatible nanocarriers with increasingly complex functionality.
[Communication]
Diana Dehaini, Xiaoli Wei, Ronnie H. Fang, Sarah Masson, Pavimol Angsantikul, Brian T. Luk, Yue Zhang, Man Ying, Yao Jiang, Ashley V. Kroll, Weiwei Gao, Liangfang Zhang
Adv. Mater., February 15, 2017, DOI: 10.1002/adma.201606209. Read article
[Full Paper]
Johan Berg, Stephan Block, Fredrik Höök, Peter Brzezinski
Isr. J. Chem., February 10, 2017, DOI: 10.1002/ijch.201600138. Read article
Red blood cell (RBC) membrane camouflaged hollow mesoporous Prussian blue nanoparticles (HMPB@RBC NPs) are fabricated. With RBC membrane cloaking technique, the stability, immune evading, and blood retention time of HMPB@RBC NPs are significantly increased. Doxorubicin loaded HMPB@RBC NPs show pH-/photoresponsive release properties. The in vivo studies demonstrate that HMPB@RBC NP is a stealthy system for synergistic photothermal-/chemotherapy of cancer.
[Full Paper]
Wansong Chen, Ke Zeng, Hong Liu, Jiang Ouyang, Liqiang Wang, Ying Liu, Hao Wang, Liu Deng, You-Nian Liu
Adv. Funct. Mater., February 07, 2017, DOI: 10.1002/adfm.201605795. Read article
A versatile plasma-membrane-engineered cell vehicle is developed for tumor targeting drug delivery and contact-cell-enhanced photodynamic therapy. This versatile cell vehicle can facilitate the development of personalized treatment for simultaneous tumor theranostics and combination therapy in a more safe way.
[Full Paper]
Shi-Ying Li, Wen-Xiu Qiu, Hong Cheng, Fan Gao, Feng-Yi Cao, Xian-Zheng Zhang
Adv. Funct. Mater., February 07, 2017, DOI: 10.1002/adfm.201604916. Read article
A photoelectrochemical cell consisting of a Pt/C-based membrane electrode assembly and a particulate SrTiO3 photoanode effected efficient and selective conversion of toluene and water into the hydrogen carrier methylcyclohexane. A faradaic efficiency of 100 % and an incident-photon-to-current conversion efficiency of 18 % at 320 nm were obtained under irradiation by a Xe lamp.
[Communication]
Yosuke Kageshima, Tsutomu Minegishi, Takashi Hisatomi, Tsuyoshi Takata, Jun Kubota, Kazunari Domen
ChemSusChem, February 06, 2017, DOI: 10.1002/cssc.201601758. Read article
Electrospun nanofibrous membranes (ENMs) have been widely applied to increase the detection sensitivity of chemosensors due to their huge advantages such as high surface-to-volume ratio, high porosity, low cost, and easiness of fabrication and functionalization. The preparation methods of ENM-immobilized chemosensors/receptors are classified and their applications for optical, electro, and mass detections of heavy metals are reviewed.
[Full Paper]
Nan Zhang, Ruirui Qiao, Jing Su, Juan Yan, Zhiqiang Xie, Yiqun Qiao, Xichang Wang, Jian Zhong
Small, February 03, 2017, DOI: 10.1002/smll.201604293. Read article
Manipulating or effectively incorporating graphene oxide (GO), a novel 2-dimensional material, into a membrane structure in three different forms, including i) pure/skeleton membrane material, ii) additive in and iii) functional coating on matrix membranes, is shown to significantly improve water purification performance.
[Progress Report]
Mahdi Fathizadeh, Weiwei L. Xu, Fanglei Zhou, Yeomin Yoon, Miao Yu
Adv. Mater. Interfaces, January 31, 2017, DOI: 10.1002/admi.201600918. Read article
A novel inside isoporous hollow fiber membrane is prepared using the dry-jet wet spinning technique. Subsequently, the self-assembly of block copolymer in combination with nonsolvent-induced phase separation takes place in the lumen side of the spun hollow fibers with a diameter of less than 1 mm leading to technologically favored inside membranes for water purification.
[Communication]
Kirti Sankhala, Joachim Koll, Maryam Radjabian, Ulrich A. Handge, Volker Abetz
Adv. Mater. Interfaces, January 30, 2017, DOI: 10.1002/admi.201600991. Read article
Lipid bilayers: Through extensive molecular dynamics simulations, the atomic-scale insertion dynamics of typical neurotransmitters into lipid bilayers is investigated (see figure). The inserted neurotransmitter disturbs the surrounding lipids, which is likely to promote fusion of the vesicle membrane with the adjacent presynaptic membrane to initiate the release of neurotransmitters.
[Article]
Chun Shen, Minmin Xue, Hu Qiu, Wanlin Guo
ChemPhysChem, January 27, 2017, DOI: 10.1002/cphc.201601184. Read article
A smart mixed-matrix coating is prepared comprising colloidal lysozyme-templated gold nanoclusters gating antimicrobial-loaded silica nanoparticles (MSN-AuNCs@lys) as nano-fillers in an amphiphilic polymer matrix. MSN-AuNCs@lys disperses homogenously within the polymer matrix with no phase separation and zero NP leaching. The mixed-matrix coating can successfully sense and inhibit bacterial contamination via a controlled release mechanism that is only triggered by bacteria.
[Full Paper]
Shahad K. Alsaiari, Mohammed A. Hammami, Jonas G. Croissant, Haneen W. Omar, Pradeep Neelakanda, Tahir Yapici, Klaus-Viktor Peinemann, Niveen M. Khashab
Adv. Healthcare Mater., January 25, 2017, DOI: 10.1002/adhm.201601135. Read article
[Full Paper]
Christoph von Ballmoos, Irina Smirnova, Federica Poiana, Nathalie Gonska, Hsin-Yang Chang, Robert B. Gennis, Peter Brzezinski, Pia Ädelroth
Isr. J. Chem., January 23, 2017, DOI: 10.1002/ijch.201600136. Read article
[Original Research Paper]
R. Gloukhovski, Y. Tsur, V. Freger
Fuel Cells, January 23, 2017, DOI: 10.1002/fuce.201600154. Read article
[Full Paper]
Romina R. Carballo, Irene N. Rezzano
Electroanalysis, January 19, 2017, DOI: 10.1002/elan.201600730. Read article
Electron beam irradiation appears as a novel and effective approach for the elimination of the crystallinity in polyethylene oxide (PEO)-based polymer films. Electron beam produces mainly cross-linking between the PEO chains, improving the gas separation performance of these materials at certain optimal doses.
[Full Paper]
Angel Marcos-Fernández, Esbaide Adem, Alejandra Rubio Hernández-Sampelayo, Jose E. Báez, Laura Palacio, Pedro Prádanos, Alberto Tena, Antonio Hernández
Macromol. Chem. Phys., January 05, 2017, DOI: 10.1002/macp.201600441. Read article
[Full Paper]
Pravin Kumar, Nathalie Schilderink, Vinod Subramaniam, Martina Huber
Isr. J. Chem., November 10, 2016, DOI: 10.1002/ijch.201600083. Read article
[Original Research Paper]
D. Guilbert, A. N'Diaye, P. Luberda, A. Djerdir
Fuel Cells, July 07, 2016, DOI: 10.1002/fuce.201600058. Read article
© Wiley-VCH 2016.