Membranes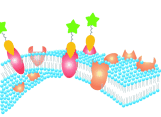 From bio(physical) chemistry to chemical engineering, membranes are frontiers of chemistry: They separate, yet at the same time they join and enable reactions.
Find all articles on membranes in Wiley Online Library...
Recent Articles

RSS feed
Lipid–protein nanoclusters: Tyrosine kinase c-Src attaches to the plasma membrane using a myristoyl (Myr) anchor that is shorter than the surrounding lipid matrix. Insertion of lipidated anchor of Myr-Src into various model biomembranes alters the nanoscale organization of the peptide upon membrane binding and leads to an altered lateral structure of the host membrane.
[Communication]
Mridula Dwivedi, Tom Mejuch, Herbert Waldmann, Roland Winter
Angew. Chem. Int. Ed., July 24, 2017, https://doi.org/10.1002/anie.201706233 Read article
Hiding Out: Live cells were imaged with super-resolution over extended time periods by combining the high-density plasma membrane probe DiI-TCO and the photostable STED dye SiR-Tz. These components undergo rapid tetrazine ligation within the plasma membrane to generate the high-density environment-sensitive (HIDE) probe DiI-SiR, which was used to visualize the filopodia dynamics in HeLa cells over 25 min at 0.5 s temporal resolution.
[Communication]
Alexander D. Thompson, Mitchell H. Omar, Felix Rivera-Molina, Zhiqun Xi, Anthony J. Koleske, Derek K. Toomre, Alanna Schepartz
Angew. Chem. Int. Ed., July 24, 2017, https://doi.org/10.1002/anie.201704783 Read article
Nanoporous inorganic membranes are fabricated from cylinder-forming block copolymer templates. Sequential infiltration synthesis followed by oxygen plasma etching converses polymer domains into uniform alumina pores with tunable pore size. The resulting cylindrical channels are continuous through the film thickness. The created membrane shows excellent protein separation ability. This fabrication route holds great promise in making multifunctional membranes.
[Full Paper]
Chun Zhou, Tamar Segal-Peretz, Muhammed Enes Oruc, Hyo Seon Suh, Guangpeng Wu, Paul F. Nealey
Adv. Funct. Mater., July 24, 2017, https://doi.org/10.1002/adfm.201701756 Read article
Reduction in modulus of suspended sub-2 nm single crystalline silicon nanomembranes (SiNMs) with free surface, measured by atomic force microscope in contact model verified by the first-principle theory simulation, is reported. Young's modulus of 1.6 nm thick SiNMs is extremely low (E = 4 GPa) compared to that of bulk silicon.
[Communication]
Xiaodong Zhu, Jiwu Lu, Haihua Pan, Zejie Zheng, Xiaodong Pi, Yi Zhao
Adv. Mater. Interfaces, July 20, 2017, https://doi.org/10.1002/admi.201700529 Read article
Without a membrane: The use of immiscible electrolytes makes possible the total removal of any membrane in a "proof-of-concept" battery. Moreover, the metallic pairs commonly used in redox flow batteries are replaced by organic molecules. The same molecule could be used in a symmetric battery design thanks to the different redox mechanisms occurring in each electrolyte.
[Communication]
Paula Navalpotro, Jesus Palma, Marc Anderson, Rebeca Marcilla
Angew. Chem. Int. Ed., July 19, 2017, https://doi.org/10.1002/anie.201704318 Read article
Artificial nanoscale red blood cells (RBCs) are fabricated by coating perfluorocarbon-loaded nanoparticles with an RBC membrane. Upon intravenous injection, such nanoparticles, with efficient oxygen-loading function, prolonged blood-circulation time, and great extravascular diffusion ability, are able to effectively deliver oxygen into tumors, leading to greatly relieved tumor hypoxia and thus remarkably enhanced treatment efficacy during radiotherapy.
[Communication]
Min Gao, Chao Liang, Xuejiao Song, Qian Chen, Qiutong Jin, Chao Wang, Zhuang Liu
Adv. Mater., July 19, 2017, https://doi.org/10.1002/adma.201701429 Read article
A biphase stratification growth strategy is developed for fabrication of the well-ordered mesoporous silica thin membranes with large vertical and tunable mesochannels on a variety of substrates. Profiting by centimeter-scale size, tunable, and well-defined vertical mesochannels, the obtained nanofilters based on free-standing mesoporous silica membranes show excellent size-selective separation power for gold nanoparticles mixtures, ovalbumin, and cytochrome c proteins.
[Communication]
Yupu Liu, Dengke Shen, Gang Chen, Ahmed A. Elzatahry, Manas Pal, Hongwei Zhu, Longlong Wu, Jianjian Lin, Daifallah Al-Dahyan, Wei Li, Dongyuan Zhao
Adv. Mater., July 18, 2017, https://doi.org/10.1002/adma.201702274 Read article
A biomimetic monolayer copper membrane is cleverly designed and successfully fabricated on steel mesh substrate via a simple and effective method. It not only possesses the ability of energy-efficient oil–water separation but also shows excellent self-recovery anti-oil-fouling properties, which is inspired by the typical nonwetting strategy of butterfly wing scales.
[Full Paper]
Zhiwu Han, Bo Li, Zhengzhi Mu, Shichao Niu, Junqiu Zhang, Luquan Ren
Small, July 17, 2017, https://doi.org/10.1002/smll.201701121 Read article
Situation stabilized: Lipid-like peptides (LLPs) can significantly stabilize detergent-solubilized integral membrane proteins in vitro. This stabilizing effect depends on the chemical nature of the LLP and the intrinsic stability of a particular integral membrane protein (IMP) in the detergent. Screening a subset of LLPs is sufficient to stabilize a particular IMP, which can have a substantial impact on the crystallization and quality of the crystal.
[Full Paper]
Katharina Veith, Maria Martinez Molledo, Yasser Almeida Hernandez, Inokentijs Josts, Julius Nitsche, Christian Löw, Henning Tidow
ChemBioChem, July 17, 2017, https://doi.org/10.1002/cbic.201700235 Read article
[Original Research Paper]
K. Wuttikid, S. Shimpalee, J. W. Weidner, K. Punyawudho
Fuel Cells, July 12, 2017, https://doi.org/10.1002/fuce.201600179 Read article
Bulk black phosphorus (BP) crystals are synthesized and exfoliated into layered BP with different lateral size and thickness. The results of real-time cell analysis display a concentration-, size-, and cell type-dependent cytotoxicity of layered BP. The cytotoxicity originates from the intracellular reactive oxygen species generation and cell membrane disruption, but only the latter is related to size effect.
[Full Paper]
Xuejiao Zhang, Ziming Zhang, Siyu Zhang, Dengyu Li, Wei Ma, ChuanXin Ma, Fengchang Wu, Qing Zhao, Qingfeng Yan, Baoshan Xing
Small, July 11, 2017, https://doi.org/10.1002/smll.201701210 Read article
[Full Paper]
Jonathon Duay, Timothy N. Lambert, Ruby Aidun
Electroanalysis, July 11, 2017, https://doi.org/10.1002/elan.201700337 Read article
A novel dihydroxyl-functionalized triptycene diamine, 2,6(7)-dihydroxy-3,7(6)-diaminotriptycene (DAT1-OH), was designed and used for the synthesis of an intrinsically microporous polyimide, 4,4′-(hexafluoroisopropylidene)diphthalic anhydride-DAT1-OH. The solution-processable polyimide is plasticization resistant and exhibits excellent mixed-gas performance with CO2 permeability of 50 Barrer and CO2/CH4 selectivity of 40 at a typical natural gas wellhead pressure of 10 bar.
[Communication]
Nasser Alaslai, Xiaohua Ma, Bader Ghanem, Yingge Wang, Fahd Alghunaimi, Ingo Pinnau
Macromol. Rapid Commun., July 10, 2017, https://doi.org/10.1002/marc.201700303 Read article
Should I freeze or should I melt? Solid-state NMR spectroscopy is used to reveal that lipids in nanodiscs display different dynamics properties compared with that in liposomes. Whereas lipids are normally in the gel phase below the phase-transition temperature (Tm), nanodiscs maintain fluid-phase characteristics (see figure).
[Article]
Denis Martinez, Marion Decossas, Julia Kowal, Lukas Frey, Henning Stahlberg, Erick J. Dufourc, Roland Riek, Birgit Habenstein, Stefan Bibow, Antoine Loquet
ChemPhysChem, June 30, 2017, https://doi.org/10.1002/cphc.201700450 Read article
Radical change: New polarizing agents are developed and characterized for dynamic nuclear polarization/solid-state NMR spectroscopy analysis of matrix-free supported lipid bilayers. Carefully designed lipid-anchored biradicals exhibit favorable physicochemical properties and a large enhancement in the intensities of the NMR signals of the membrane peptides.
[Article]
Evgeniy S. Salnikov, Sébastien Abel, Ganesan Karthikeyan, Hakim Karoui, Fabien Aussenac, Paul Tordo, Burkhard Bechinger, Olivier Ouari
ChemPhysChem, June 30, 2017, https://doi.org/10.1002/cphc.201700389 Read article
Insane with no membrane: Electrochemical reactions induced by a bipolar electrode result in a local ion depletion zone that controls the trajectory of charged particles traversing this zone. In other words, electrochemical processes result in efficient separation in the absence of a membrane.
[Article]
Collin D. Davies, Eunsoo Yoon, Richard M. Crooks
ChemElectroChem, June 30, 2017, https://doi.org/10.1002/celc.201700450 Read article
Assembling nanorods at the cell membrane by a remote spinning magnetic field leads to a complex biomagnetic macrorod constituted of both nanorods and intertwined cell membrane. This new object behaves as a torsion pendulum able to store elastic energy: it is able to freely rotate over multiple turns in response to the spinning stimulation.
[Communication]
François Mazuel, Samuel Mathieu, Riccardo Di Corato, Jean-Claude Bacri, Thierry Meylheuc, Teresa Pellegrino, Myriam Reffay, Claire Wilhelm
Small, June 29, 2017, https://doi.org/10.1002/smll.201701274 Read article
Super radicals: In situ fluorescence spectroscopy is used to confirm and detect the formation of superoxide anion radicals (O2.−) during operation of anion exchange membrane (AEM) fuel cells. The rate of generated radicals correlates well with the loss of ionexchange capacity and ionic conductivity of the AEM.
[Full Paper]
Yunzhu Zhang, Javier Parrondo, Shrihari Sankarasubramanian, Vijay Ramani
ChemSusChem, June 28, 2017, https://doi.org/10.1002/cssc.201700760 Read article
Antimicrobial activity: Novel efficient synthetic approaches to polymerizable quaternary ammonium salts (acryloxyalkyltriethylammonium bromides, AATEABs; see figure) with antimicrobial activity are reported, which are useful precursors for developing nanostructured membranes with anti-biofouling properties in wastewater treatment.
[Full Paper]
Raffaella Mancuso, Roberta Amuso, Biagio Armentano, Giuseppe Grasso, Vittoria Rago, Anna Rita Cappello, Francesco Galiano, Alberto Figoli, Giorgio De Luca, Jan Hoinkis, Bartolo Gabriele
ChemPlusChem, June 27, 2017, https://doi.org/10.1002/cplu.201700194 Read article
An imidazolium-based poly(ionic liquid) is covalently crosslinked via UV light-induced thiol–ene click chemistry to yield a stable porous polyelectrolyte membrane, which carries gradients of crosslink density and pore size distribution along its cross-section from top to bottom.
[Communication]
Alessandro Dani, Karoline Täuber, Weiyi Zhang, Helmut Schlaad, Jiayin Yuan
Macromol. Rapid Commun., June 26, 2017, https://doi.org/10.1002/marc.201700167 Read article
Cell-engineered nanovesicles (CNVs) fabricated from feeder cells successfully regulate the fates of embryonic stem cells through contact-dependent stimulus. Unlike feeder layer methods, scalable, diffusible, and storable characteristics of CNVs can constitute a novel tool for embryonic stem cell research. The CNV method might be used in various other applications that require heterotipic cell–cell interactions.
[Full Paper]
Junho Kim, Chugmin Han, Wonju Jo, Sehong Kang, Siwoo Cho, Dayeong Jeong, Yong Song Gho, Jaesung Park
Adv. Healthcare Mater., June 23, 2017, https://doi.org/10.1002/adhm.201700381 Read article
The cover picture shows the color change of shrimps during cooking, a combination of deplanarization and depolarization of chromophores that has inspired the development of twisted dithienothiophene dimers as sensors in lipid bilayer membranes. The promise is to image forces in cells using such mechanosensitive fluorescent probes, but beware of overtwisting. Details are given in the Full Paper by Stefan Matile and co-workers on page 1062 in Issue 7, 2017 (DOI: 10.1002/cplu.201600634).
[Cover Picture]
Mariano Macchione, Nicolas Chuard, Naomi Sakai, Stefan Matile
ChemPlusChem, June 14, 2017, https://doi.org/10.1002/cplu.201700265 Read article
Insane in the membrane: A nanofiber single-ion conducting electrolyte membrane is fabricated by using an electrospinning technique. By virtue of its nanofibrous morphology, it performs up to a 5C charge/discharge rate under ambient temperature conditions. It delivers a discharge capacity 163 mAh g−1 at 0.5 C rate, which is better than conventional liquid electrolytes
[Article]
Rupesh Rohan, Tsung-Chieh Kuo, Meng-Wei Chen, Jyh-Tsung Lee
ChemElectroChem, June 12, 2017, https://doi.org/10.1002/celc.201700389 Read article
The underwater superoleophobic APT-coated membrane is fabricated by leaching APT and sodium alginate suspension onto a PVDF membrane using a vacuum pump. The as-prepared membrane can effectively separate oil-in-water emulsions in highly acidic, alkaline and concentrated salty environments.
[Full Paper]
Jian Li, Zhihong Zhao, Yongqian Shen, Hua Feng, Yaoxia Yang, Fei Zha
Adv. Mater. Interfaces, May 26, 2017, https://doi.org/10.1002/admi.201700364 Read article
Biodegradable eight membered polycarbonates that exhibit broad spectrum antimicrobial activity are synthesized by organocatalytic ring-opening polymerization. These materials are nonhemolytic and nontoxic with the ability to lyse individual microbes or biofilm via membrane lytic mechanism. In a blood stream infection mouse model, the polymer, injected intravenously, removes bacteria from the blood more rapidly than the antibiotic Augmentin without causing toxicity.
[Full Paper]
Jeremy P. K. Tan, Daniel J. Coady, Haritz Sardon, Alexander Yuen, Shujun Gao, Shaun W. Lim, Zhen Chang Liang, Eddy W. Tan, Shrinivas Venkataraman, Amanda C. Engler, Mareva Fevre, Robert Ono, Yi Yan Yang, James L. Hedrick
Adv. Healthcare Mater., May 15, 2017, https://doi.org/10.1002/adhm.201601420 Read article
Overengineering? Small structural changes related to the deplanarization of a fluorophore based on the dithienothiophene dimer lead to a complete loss of mechanosensitivity of this probe when it is integrated in lipid bilayer membranes; however, nanoparticles of this material are fluorescent in water.
[Full Paper]
Mariano Macchione, Nicolas Chuard, Naomi Sakai, Stefan Matile
ChemPlusChem, February 16, 2017, https://doi.org/10.1002/cplu.201600634 Read article
[Full Paper]
Pravin Kumar, Nathalie Schilderink, Vinod Subramaniam, Martina Huber
Isr. J. Chem., November 10, 2016, https://doi.org/10.1002/ijch.201600083 Read article
© Wiley-VCH 2016.