Membranes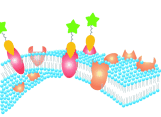 From bio(physical) chemistry to chemical engineering, membranes are frontiers of chemistry: They separate, yet at the same time they join and enable reactions.
Find all articles on membranes in Wiley Online Library...
Recent Articles

RSS feed
A membrane-based approach relying on intrinsic wetting threshold theory for highly efficient, convenient, and economical ionic liquid (IL)/water separation has been presented. By precisely tailoring surface energy, the porous membrane is capable of hydrophobicity and superILphilicity, and can separate not only mixtures of different ILs and water, but also IL/water systems containing inorganic salts, organic compounds, amino acids, and proteins.
[Full Paper]
Jiajing Zhang, Hongliang Liu, Lei Jiang
Adv. Funct. Mater., March 23, 2017, https://doi.org/10.1002/adfm.201606544 Read article
Cleaning up: The efficiency of polymeric water purification membranes, which are capable of removing many impurities from water but frequently suffer from fouling, can be improved by surface modification. Common techniques used to modify membrane surfaces, including grafting, coating, chemical treatment, UV irradiation, plasma treatment, and polydopamine application, are reviewed.
[Review]
Daniel J. Miller, Daniel R. Dreyer, Christopher W. Bielawski, Donald R. Paul, Benny D. Freeman
Angew. Chem. Int. Ed., March 22, 2017, https://doi.org/10.1002/anie.201601509 Read article
Layer-by-layer assembly of lipid bilayers is used to multiply the surface concentration of electroactive membrane enzymes at electrodes. The interconnected membrane multilayers, akin to that of thylakoid membranes, are investigated using cyclic voltammetry to reveal a linear increase in biocatalytic activity with each additional membrane layer containing a ubiquinol oxidase or an oxygen-tolerant hydrogenase.
[Full Paper]
George R. Heath, Mengqiu Li, Honling Rong, Valentin Radu, Stefan Frielingsdorf, Oliver Lenz, Julea N. Butt, Lars J. C. Jeuken
Adv. Funct. Mater., March 21, 2017, https://doi.org/10.1002/adfm.201606265 Read article
A MoS2/Celgard separator is demonstrated to greatly improve cycle stability and Coulombic efficiency when used as separator in Li–S batteries, due to the high lithium conductivity and the stacked structure, which not only acts as ion sieves to block polysulfides, but also provides free spaces to accommodate various polysulfide intermediates via physiochemical interaction.
[Communication]
Zahid Ali Ghazi, Xiao He, Abdul Muqsit Khattak, Niaz Ali Khan, Bin Liang, Azhar Iqbal, Jinxin Wang, Haksong Sin, Lianshan Li, Zhiyong Tang
Adv. Mater., March 20, 2017, https://doi.org/10.1002/adma.201606817 Read article
Nanoscale mass transport across atomically thin large-area single-crystalline graphene membranes is probed. Selective transport of sub-nanometer sized ions over nanometer sized molecules indicates the presence of sub-nanometer to nanometer sized intrinsic defects. This work presents a framework to test intrinsic quality of atomically thin materials over large areas and suggests the potential use of intrinsic defects in atomically thin materials for molecular separations or desalting.
[Communication]
Piran R. Kidambi, Michael S. H. Boutilier, Luda Wang, Doojoon Jang, Jeehwan Kim, Rohit Karnik
Adv. Mater., March 17, 2017, https://doi.org/10.1002/adma.201605896 Read article
Dual-phase separation, including nonsolvent-induced microphase separation and osmotically driven macrophase separation, is observed in a semiconfined system for processing the self-assembly of block copolymers, ultimately yielding heterogeneous membranes. These membranes with cellular dimensions show unique anisotropy, which holds great promise for practical applications in cell encoding and patterning.
[Communication]
Xiuyu Wang, Xueyan Feng, Guiping Ma, Di Zhang, Yahong Chai, Maofa Ge, Li Yao
Adv. Mater., March 15, 2017, https://doi.org/10.1002/adma.201605932 Read article
[Review]
K. Dhanabalan, T. Sadhasivam, J.-H. Park, H.-Y. Jung, B.-S. Kim, S.-H. Roh
Fuel Cells, March 08, 2017, https://doi.org/10.1002/fuce.201600215 Read article
Won't be degraded: Vanadium pentoxide asymmetric membranes prepared by using an adapted reverse-osmosis membrane technology combined with sol-gel chemistry demonstrate an excellent cycling performance and show no degradation after 380 cycles when applying a 100 mA g−1 current density.
[Article]
Ji Wu, Ian Byrd, Congrui Jin, Jianlin Li, Hao Chen, Tyler Camp, Ryan Bujol, Anju Sharma, Hanlei Zhang
ChemElectroChem, February 27, 2017, https://doi.org/10.1002/celc.201700102 Read article
[Full Paper]
Zeinab F. Akl
Electroanalysis, February 21, 2017, https://doi.org/10.1002/elan.201700007 Read article
High in fiber: An electrospun nanofiber electrode with Pd/C@dendritic Pt catalysts prepared by using electrospinning and pulse electrodeposition techniques obtains a peak power density of 0.682 W cm−2 at a low Pt loading of 0.1 mg cm−2. The utilization of Pt catalysts in the electrode is improved, owing to the nanofiber structure and the in situ deposition of Pt on the surface of Pd. The interaction between Pd and Pt as well as the exposed [111] facet of dendritic Pt enhance the ORR activity of Pt.
[Communication]
Shaojing Hong, Ming Hou, Yachao Zeng, Zhigang Shao, Baolian Yi
ChemElectroChem, February 20, 2017, https://doi.org/10.1002/celc.201600841 Read article
Small molecules automatically self-assemble into liquid-crystalline membranes to form supramolecular hydrogels with an interlayer spacing of 40 nm. The membrane domains act as physical crosslinks in these hydrogels via the cooperative hydrogen-bonding between membranes and linear polymers. These hydrogels show unique properties, such as temperature-dependent mechanical performance/optical transmittance, which have potential applications in biological membranes, drug release, and optical filters.
[Communication]
Youfeng Yue
Macromol. Rapid Commun., February 16, 2017, https://doi.org/10.1002/marc.201600762 Read article
Overengineering? Small structural changes related to the deplanarization of a fluorophore based on the dithienothiophene dimer lead to a complete loss of mechanosensitivity of this probe when it is integrated in lipid bilayer membranes; however, nanoparticles of this material are fluorescent in water.
[Full Paper]
Mariano Macchione, Nicolas Chuard, Naomi Sakai, Stefan Matile
ChemPlusChem, February 16, 2017, https://doi.org/10.1002/cplu.201600634 Read article
Easy transport: A polymeric membrane-supported gold nanoparticle (AuNP) catalyst is prepared on the basis of the extraction and in situ reduction of AuIII in one stage achieved by a facilitated transport system. This process is a synergic phenomenon in which all the membrane components are involved. The catalysts allow 95.4 % reduction of 4-nitrophenol in aqueous solution in 25 min and provides catalysis and separation in the same stage.
[Full Paper]
Lucía Mora-Tamez, Vicente Esquivel-Peña, Ana L. Ocampo, Eduardo Rodríguez de San Miguel, Daniel Grande, Josefina de Gyves
ChemSusChem, February 15, 2017, https://doi.org/10.1002/cssc.201601883 Read article
Large-diameter mesoporous silica (SBAS) particles are used to visualize the location and measure the diffusivity of lipids confined within nanopores and at particle surfaces using confocal microscopy. Depending on the pore size and presence of tethering groups, lipids are found in exterior bilayers or assembled in pores. Diffusivities increase with pore size and are statistically similar throughout lipid-filled particles.
[Full Paper]
Daniel M. Schlipf, Shanshan Zhou, M. Arif Khan, Stephen E. Rankin, Barbara L. Knutson
Adv. Mater. Interfaces, February 15, 2017, https://doi.org/10.1002/admi.201601103 Read article
[Full Paper]
Johan Berg, Stephan Block, Fredrik Höök, Peter Brzezinski
Isr. J. Chem., February 10, 2017, https://doi.org/10.1002/ijch.201600138 Read article
[Review]
C. Roy D. Lancaster, Yamila M. Betz, Sabine Heit, Michael A. Lafontaine
Isr. J. Chem., January 31, 2017, https://doi.org/10.1002/ijch.201600139 Read article
A novel inside isoporous hollow fiber membrane is prepared using the dry-jet wet spinning technique. Subsequently, the self-assembly of block copolymer in combination with nonsolvent-induced phase separation takes place in the lumen side of the spun hollow fibers with a diameter of less than 1 mm leading to technologically favored inside membranes for water purification.
[Communication]
Kirti Sankhala, Joachim Koll, Maryam Radjabian, Ulrich A. Handge, Volker Abetz
Adv. Mater. Interfaces, January 30, 2017, https://doi.org/10.1002/admi.201600991 Read article
[Full Paper]
Christoph von Ballmoos, Irina Smirnova, Federica Poiana, Nathalie Gonska, Hsin-Yang Chang, Robert B. Gennis, Peter Brzezinski, Pia Ädelroth
Isr. J. Chem., January 23, 2017, https://doi.org/10.1002/ijch.201600136 Read article
[Full Paper]
Romina R. Carballo, Irene N. Rezzano
Electroanalysis, January 19, 2017, https://doi.org/10.1002/elan.201600730 Read article
[Full Paper]
Pravin Kumar, Nathalie Schilderink, Vinod Subramaniam, Martina Huber
Isr. J. Chem., November 10, 2016, https://doi.org/10.1002/ijch.201600083 Read article
[Original Research Paper]
D. Guilbert, A. N'Diaye, P. Luberda, A. Djerdir
Fuel Cells, July 07, 2016, https://doi.org/10.1002/fuce.201600058 Read article
© Wiley-VCH 2016.