Membranes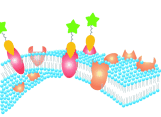 From bio(physical) chemistry to chemical engineering, membranes are frontiers of chemistry: They separate, yet at the same time they join and enable reactions.
Find all articles on membranes in Wiley Online Library...
Recent Articles

RSS feed
What's your poison? The aggregation processes of Aβ(1–42) on cells and cytotoxic events were investigated. Aβ formed amyloids after forming nontoxic oligomers composed of ≈ten Aβ molecules. The formation of amyloids was necessary to induce apoptosis and reduce the ability of the cell to proliferate; this indicates that amyloid formation is a key event in Aβ-induced cytotoxicity.
[Communication]
Naoya Itoh, Eri Takada, Kaori Okubo, Yoshiaki Yano, Masaru Hoshino, Akira Sasaki, Masataka Kinjo, Katsumi Matsuzaki
ChemBioChem, January 19, 2018, https://doi.org/10.1002/cbic.201700576 Read article
Ring-opening metathesis polymerization of cobaltocenium-containing cyclooctene with triazole as the only linker group, followed by backbone hydrogenation, has led to a new class of anion-exchange membranes (AEMs) with a polyethylene-like framework and alkaline-stable cobaltocenium cations for the ion transport. The AEMs show excellent thermal, chemical and mechanical stability, as well as high ion conductivity.
[Communication]
Tianyu Zhu, Shichao Xu, Anisur Rahman, Emir Dogdibegovic, Peng Yang, Parasmani Pageni, Mohammad Pabel Kabir, Xiao-dong Zhou, Chuanbing Tang
Angew. Chem. Int. Ed., January 16, 2018, https://doi.org/10.1002/anie.201712387 Read article
FRET/don't FRET! A new biomimetic sensor for microRNA is developed based on a liposome fusion mechanism. The presence of miR-29a, a flu biomarker, triggers fusion between DNA-functionalized liposomes, which can be monitored by an increase in FRET signal. The liposome fusion events offer high selectivity and can detect nanomolar concentrations of miR-29a.
[Communication]
Coline Jumeaux, Olov Wahlsten, Stephan Block, Eunjung Kim, Rona Chandrawati, Philip D. Howes, Fredrik Höök, Molly M. Stevens
ChemBioChem, January 15, 2018, https://doi.org/10.1002/cbic.201700592 Read article
Polymersomes, as engineered polymer vesicles, are well received as efficient carriers for the delivery of diagnostic and therapeutic molecules. Chemical modifications to self-assembling polymers allow customization of nanosized carriers for a wide variety of clinical applications. This review highlights the critical design features and discusses the current efforts to engineer polymersomes for the next generation of nanomedicine.
[Review]
Jiayu Leong, Jye Yng Teo, Vinay K. Aakalu, Yi Yan Yang, Hyunjoon Kong
Adv. Healthcare Mater., January 15, 2018, https://doi.org/10.1002/adhm.201701276 Read article
A transformable chimeric peptide (C16-K(TPE)-GGGH-GFLGK-PEG8, denoted as CTGP) with cell-encapsulation properties is designed to deliver doxorubicin (DOX) into tumor regions, for restricting DOX efflux, and overcoming multidrug resistance. After cleaving by tumor pericellular hypersecreted cathepsin B, CTGP@DOX can transform into dense nanofibers, which adhere firmly to cell membrane to encapsulate cells, restrict DOX efflux, and reverse tumor multidrug resistance.
[Communication]
Chi Zhang, Li-Han Liu, Wen-Xiu Qiu, Yao-Hui Zhang, Wen Song, Lu Zhang, Shi-Bo Wang, Xian-Zheng Zhang
Small, January 11, 2018, https://doi.org/10.1002/smll.201703321 Read article
Leave it to a Pro: Pro-GA, a novel diester-type cell-permeable prodrug of a γ-glutamylcyclotransferase (GGCT) inhibitor based on N-glutaryl-l-alanine (GA), was developed by structure optimization using temporary fluorophore-tagged candidates. The inhibitory effect of pro-GA, which releases GA in living cells, on cancer cell proliferation in vitro and tumor growth in vivo was demonstrated, indicating that GGCT inhibition is promising for cancer therapy.
[Full Paper]
Hiromi Ii, Taku Yoshiya, Susumu Nakata, Keiko Taniguchi, Koushi Hidaka, Shugo Tsuda, Masayoshi Mochizuki, Yuji Nishiuchi, Yuko Tsuda, Kosei Ito, Susumu Kageyama, Tatsuhiro Yoshiki
ChemMedChem, January 09, 2018, https://doi.org/10.1002/cmdc.201700660 Read article
Schematic representation of the asymmetric structure for (a) a conventional microporous membrane; (b) a hierarchically porous membrane.
[Personal Account]
André Ayral
Chem. Rec., January 04, 2018, https://doi.org/10.1002/tcr.201700079 Read article
A rigid stance: Introducing dianhydrides with rigid moieties into the backbone of a polymer is a promising strategy to fabricate microporous polyimide membranes with outstanding performance. The CO2/CH4 separation performance of pentiptycene-imide-containing diamine 4,4′-hexafluoroisopropylidene diphthalic anhydride membranes is on the 2008 Robeson upper bound.
[Full Paper]
Ahmad Arabi Shamsabadi, Farzad Seidi, Mohammad Nozari, Masoud Soroush
ChemSusChem, January 04, 2018, https://doi.org/10.1002/cssc.201701491 Read article
Perovskites on the ′brane: Efficient conversion of CO2 into fuels using excess thermal energy is an energy storage technology. An oxygen permeable La0.9Ca0.1FeO3−δ membrane is studied to facilitate CO2 reduction. A resistance-network model is developed to describe the process and the kinetics data are parameterized using the experimental values. This model shows that the rate-limiting steps are the surface reactions on the feed- and sweep sides under the conditions tested.
[Full Paper]
Xiao-Yu Wu, Ahmed F. Ghoniem
ChemSusChem, January 04, 2018, https://doi.org/10.1002/cssc.201701372 Read article
Nanomembranes, as quasi-2D nanomaterials, have large lateral dimension with flexible features, and can be (self-)assembled into 3D shapes. A number of diverse structures and functionalities have been realized. The combination of the properties of the constitutive materials, with 3D geometries, makes 3D nanomembrane structures attractive for applications in flexible electronics, nanophotonics, robotics, biology, lab on a chip, etc.
[Review]
Gaoshan Huang, Yongfeng Mei
Small, January 02, 2018, https://doi.org/10.1002/smll.201703665 Read article
Molecular recognition in sub-micrometer pores is controlled by the biomolecule-recognition gating membrane. The gating membrane is produced by immobilizing a recognition receptor inside the pores via the click reaction. Molecular recognition was conducted by effectively delivering target molecules into pores. The sensitivity of this method was 15 times higher than that of the standard sample immersion method.
[Communication]
Hiroto Okuyama, Yuhei Oshiba, Hidenori Ohashi, Takeo Yamaguchi
Small, December 27, 2017, https://doi.org/10.1002/smll.201702267 Read article
Hydroxide ion conductive poly(arylene ether sulfone)s containing symmetric side-chain benzyltrimethyl ammonium groups are synthesized. The 4C-60-Q membrane shows better-defined microphase separation morphology and higher ion conductivity (206.2 mS cm−1 at 80 °C) than most of the reported membranes. σ/ionic conduction efficiency can be improved and higher than that of the state-of-the-art, Nafion.
[Full Paper]
Wenjun Wu, Biaowen Wei, Jun Feng, Bin Chi, Shijun Liao, Xiuhua Li, Yigang Yu
Macromol. Chem. Phys., December 21, 2017, https://doi.org/10.1002/macp.201700416 Read article
[Review]
Štěpánka Skalová, Vlastimil Vyskočil, Jiří Barek, Tomáš Navrátil
Electroanalysis, December 21, 2017, https://doi.org/10.1002/elan.201700649 Read article
Battery with potential: An asymmetric-electrolyte Zn−air battery is developed with a bipolar membrane separating the acidic catholyte and alkaline anolyte, which exhibits an ultrahigh power density of 380 mW cm−2 and an energy density of 1522 Wh kg−1 with an open circuit voltage of 2.25 V. The significantly improved performance of the as-proposed Zn−air battery can be attributed to the conversion of electrochemical neutralization energy to electrical energy.
[Communication]
Pingwei Cai, Yan Li, Junxiang Chen, Jingchun Jia, Genxiang Wang, Zhenhai Wen
ChemElectroChem, December 18, 2017, https://doi.org/10.1002/celc.201701269 Read article
[Full Paper]
Bradley P. Hambly, James B. Sheppard, Bradford D. Pendley, Erno Lindner
Electroanalysis, December 15, 2017, https://doi.org/10.1002/elan.201700695 Read article
Secondary sources as the future supliers of raw materials are the focus of current research activities. On the basis of various research projects, this article discusses the potential of biohydrometallurgical methods for the mobilization of valuable substances, combined with the use of membrane processes for the subsequent generation of valuable materials.
[Review]
Arite Werner, Katja Meschke, Kevin Bohlke, Birgit Daus, Roland Haseneder, Jens-Uwe Repke
CBEN, December 12, 2017, https://doi.org/10.1002/cben.201700019 Read article
The design and realization of 3D spatially selective modified poly(methylmethacrylate) surface with switchable amphiphilicity are described. The smart amphiphilic response is achieved through the in-plane and height distinguished grafting of highly hydrophobic 3,5- bis(trifluoromethyl)phenyl groups and temperature controlled hydrophilic/phobic poly(N-isopropylacrylamide) chains.
[Full Paper]
Olga Guselnikova, Pavel Postnikov, Petr Sajdl, Roman Elashnikov, Vaclav Švorčík, Oleksiy Lyutakov
Adv. Mater. Interfaces, December 11, 2017, https://doi.org/10.1002/admi.201701182 Read article
A highly crosslinked polydimethylsiloxane (PDMS) can be synthesized via a thermal-crosslinking method followed by a postcrosslinking process. The PDMS (Mn = 577 kg mol−1) can be directly coated on a polyacrylonitrile (PAN) membrane substrate, and the resultant PDMS/PAN composite membrane is defect-free and has ultrahigh C3H8 and C3H6 permeances that are higher than 10 000 and 11 000 GPU, respectively.
[Communication]
Can Zeng Liang, Tai-Shung Chung
Macromol. Rapid Commun., December 06, 2017, https://doi.org/10.1002/marc.201700535 Read article
[Full Paper]
Zdeňka Jarolímová, Johann Bosson, Geraldine M. Labrador, Jérôme Lacour, Eric Bakker
Electroanalysis, December 05, 2017, https://doi.org/10.1002/elan.201700669 Read article
A variety of new protic phosphonium-based poly(ionic liquids) are synthesized, and clear standing films are prepared. Among all the three polymer chains and the three phosphonium cations studied, it is found that the couple of poly[(4-styrenesulfonyl) (trifluoromethanesulfonyl)imide] and HP+444 exhibits the best comprehensive performance. The "dry" ionic conductivity reaches 2 × 10−4 S cm−1 at 150 °C.
[Communication]
Mehmet Isik, Luca Porcarelli, Nerea Lago, Haijin Zhu, Maria Forsyth, David Mecerreyes
Macromol. Rapid Commun., December 04, 2017, https://doi.org/10.1002/marc.201700627 Read article
[Personal Account]
Masao Sugawara
Chem. Rec., November 14, 2017, https://doi.org/10.1002/tcr.201700046 Read article
Barriers leading to progress: The convergence of ionic-liquid catalysis and ionic-liquid membrane separation technologies is leading towards the development of catalytically active separation layers, at which valuable chemical transformations are performed simultaneously with product purification through the ionic membrane material (see figure).
[Review]
Pavel Izák, Felix D. Bobbink, Martin Hulla, Martina Klepic, Karel Friess, Štěpán Hovorka, Paul J. Dyson
ChemPlusChem, September 22, 2017, https://doi.org/10.1002/cplu.201700293 Read article
© Wiley-VCH 2016.