Membranes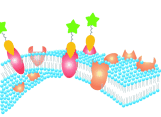 From bio(physical) chemistry to chemical engineering, membranes are frontiers of chemistry: They separate, yet at the same time they join and enable reactions.
Find all articles on membranes in Wiley Online Library...
Recent Articles

RSS feed
A renewable, flexible, and degradable mesoporous cellulose membrane is prepared using a facile and scalable approach, and exhibits rational capacitance and excellent cyclability used in solid-state energy storage devices. A simple yet smart integrated design of micro-supercapacitors is also developed by directly depositing the electrode materials on the membrane-based polymer electrolyte without the use of binder or complicated setups.
[Full Paper]
Dawei Zhao, Chaoji Chen, Qi Zhang, Wenshuai Chen, Shouxin Liu, Qingwen Wang, Yixing Liu, Jian Li, Haipeng Yu
Adv. Energy Mater., May 23, 2017, https://doi.org/10.1002/aenm.201700739 Read article
Porous poly(ionic liquid) (PIL) membranes are synthesized via in situ photo-crosslinking of vinyl imidazole with both hydrophilic and hydrophobic ionic liquid monomers. The prepared PIL membranes show high metal ion absorption capacity, and can be easily recycled.
[Communication]
Yongyuan Ren, Jiandong Zhang, Jiangna Guo, Fei Chen, Feng Yan
Macromol. Rapid Commun., May 22, 2017, https://doi.org/10.1002/marc.201700151 Read article
MIL-68(Al) thin membranes are prepared on cylindrical alumina supports. Different kinds of binders or linking agents (colloidal silica LUDOX®, silicalite-1, and chitosan) are used to promote the growth of MOF crystals. Single-gas permeation experiments are carried out to study the quality and efficiency of the membranes.
[Full Paper]
Adelaida Perea-Cachero, Pablo Calvo, Enrique Romero, Carlos Téllez, Joaquín Coronas
Eur. J. Inorg. Chem., May 18, 2017, https://doi.org/10.1002/ejic.201700302 Read article
A photocatalytic nanofiltration membrane (NFM) with self-cleaning capability is fabricated via a facile biomimetic mineralization process. In visible light, this membrane exhibits efficient photocatalytic activity for degrading dyes through the photo-Fenton reaction concurrently with effective nanofiltration performance. The as-prepared NFM shows great potential in advanced textile wastewater treatment with satisfactory stability.
[Full Paper]
Yan Lv, Chao Zhang, Ai He, Shang-Jin Yang, Guang-Peng Wu, Seth B. Darling, Zhi-Kang Xu
Adv. Funct. Mater., May 16, 2017, https://doi.org/10.1002/adfm.201700251 Read article
On the move: Oxygen mobility, as evaluated by oxygen isotopic exchange, is lower in CaTi0.9Fe0.1O3−δ than in CaTi0.8Fe0.2O3−δ. This difference in activity disappears if CaTi0.9Fe0.1O3−δ is associated with LaMnO3 in a dual-bed system. Only a small amount of manganite favors oxygen activation on CaTi0.9Fe0.1O3−δ and contact between the two beds, which results in a triple-phase boundary that is not indispensable.
[Communication]
Pierre-Alexis Répécaud, Helena Kaper, Mélissandre Richard, Fabien Can, Nicolas Bion
ChemCatChem, May 15, 2017, https://doi.org/10.1002/cctc.201700103 Read article
Biodegradable eight membered polycarbonates that exhibit broad spectrum antimicrobial activity are synthesized by organocatalytic ring-opening polymerization. These materials are nonhemolytic and nontoxic with the ability to lyse individual microbes or biofilm via membrane lytic mechanism. In a blood stream infection mouse model, the polymer, injected intravenously, removes bacteria from the blood more rapidly than the antibiotic Augmentin without causing toxicity.
[Full Paper]
Jeremy P. K. Tan, Daniel J. Coady, Haritz Sardon, Alexander Yuen, Shujun Gao, Shaun W. Lim, Zhen Chang Liang, Eddy W. Tan, Shrinivas Venkataraman, Amanda C. Engler, Mareva Fevre, Robert Ono, Yi Yan Yang, James L. Hedrick
Adv. Healthcare Mater., May 15, 2017, https://doi.org/10.1002/adhm.201601420 Read article
A nanocomposite of binary lipids and polymer with anticancer prodrug mitomycin C (MMC) (MMC-DHA-PLN) is designed to overcome multifaceted drug resistance. It first utilizes the biointeraction of nanomaterial docosahexaenoic acid (DHA) to facilitate cellular uptake of the nanoparticle-encapsulated MMC, and then synchronizes intracellular activation of MMC and lipid peroxidation of DHA to damage mitochondria, leading to enhanced anticancer efficacy in vitro and in vivo.
[Full Paper]
Rui Xue Zhang, Lily Yi Li, Jason Li, Zhensong Xu, Azhar Z. Abbasi, Lucy Lin, Mohammad A. Amini, Wei Yu Weng, Yu Sun, Andrew M. Rauth, Xiao Yu Wu
Adv. Funct. Mater., May 12, 2017, https://doi.org/10.1002/adfm.201700804 Read article
Virus rejection by a liquid crystal membrane is realized for the first time using a self-assembling mesogen stabilized by crosslinking in an ordered bicontinuous cubic phase. This structure allows for the level of control over pore size distribution necessary for efficient rejection of small particles including viruses while allowing for permeation of water. Applying pressurization to the membrane prior to testing results in improved virus removal efficiency and water flux.
[Communication]
Nicolas Marets, Daniel Kuo, Jason R. Torrey, Takeshi Sakamoto, Masahiro Henmi, Hiroyuki Katayama, Takashi Kato
Adv. Healthcare Mater., May 09, 2017, https://doi.org/10.1002/adhm.201700252 Read article
Robust graphene quantum dots modified thermally reduced graphene oxide membranes demonstrate ultrafast and long-term purification of dye-wasted water in an industry preferred cross-flow module.
[Full Paper]
Yulong Ying, Peng He, Mingjie Wei, Guqiao Ding, Xinsheng Peng
Adv. Mater. Interfaces, May 08, 2017, https://doi.org/10.1002/admi.201700209 Read article
An easy-to-fabricate charge reversible self-delivery chimeric peptide is developed to realize cell membrane targeted photodynamic therapy (PDT). Under light irradiation, C16––PRP–DMA can directly disrupt the cell membrane and rapidly induce cell necrosis, which remarkably increases the PDT effect.
[Full Paper]
Li-Han Liu, Wen-Xiu Qiu, Yao-Hui Zhang, Bin Li, Chi Zhang, Fan Gao, Lu Zhang, Xian-Zheng Zhang
Adv. Funct. Mater., May 02, 2017, https://doi.org/10.1002/adfm.201700220 Read article
Membrane remodeling by amyloid fibrils: Aggregation of the protein α-synuclein at the surface of negatively charged vesicle membrane results in the formation of membrane facets and lipid extraction.
[Article]
Himanshu Chaudhary, Vinod Subramaniam, Mireille M. A. E. Claessens
ChemPhysChem, April 27, 2017, https://doi.org/10.1002/cphc.201700050 Read article
Polystyrene copolymers with terpyridine and bis(methylbenzimidazolyl)pyridine ligands in the side chain are studied on metal ion coordination in solution and coordinative sequential assembly of films and membranes. Permeation across the membranes and separation of ions and aromatic molecules are investigated.
[Full Paper]
Gülara Krieger, Bernd Tieke
Macromol. Chem. Phys., April 18, 2017, https://doi.org/10.1002/macp.201700052 Read article
[Full Paper]
Christina Bliem, Philipp Fruhmann, Anca-Iulia Stoica, Christoph Kleber
Electroanalysis, April 03, 2017, https://doi.org/10.1002/elan.201600782 Read article
Flexible and freestanding biomimetic multilayer membranes, which topography resemble the nanofeatures of the extracellular matrix, are successfully developed using a friendly user layer-by-layer technology. The ability to crosslink with genipin as well as the presence of a patterned topography on the surface of the natural-based membranes provides a promising system to tailor cellular behavior including cell alignment and differentiation.
[Full Paper]
Maria P. Sousa, Sofia G. Caridade, João F. Mano
Adv. Healthcare Mater., March 29, 2017, https://doi.org/10.1002/adhm.201601462 Read article
[Review]
K. Dhanabalan, T. Sadhasivam, J.-H. Park, H.-Y. Jung, B.-S. Kim, S.-H. Roh
Fuel Cells, March 08, 2017, https://doi.org/10.1002/fuce.201600215 Read article
Overengineering? Small structural changes related to the deplanarization of a fluorophore based on the dithienothiophene dimer lead to a complete loss of mechanosensitivity of this probe when it is integrated in lipid bilayer membranes; however, nanoparticles of this material are fluorescent in water.
[Full Paper]
Mariano Macchione, Nicolas Chuard, Naomi Sakai, Stefan Matile
ChemPlusChem, February 16, 2017, https://doi.org/10.1002/cplu.201600634 Read article
[Full Paper]
Pravin Kumar, Nathalie Schilderink, Vinod Subramaniam, Martina Huber
Isr. J. Chem., November 10, 2016, https://doi.org/10.1002/ijch.201600083 Read article
© Wiley-VCH 2016.