Membranes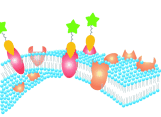 From bio(physical) chemistry to chemical engineering, membranes are frontiers of chemistry: They separate, yet at the same time they join and enable reactions.
Find all articles on membranes in Wiley Online Library...
Recent Articles

RSS feed
Well-defined graft polymers are synthesized by a combination of radiation-induced graft polymerization and atom transfer radical polymerization (ATRP) in the solid-state poly(ether ether ketone). The living nature of the propagating radicals at the terminal of grafted polymers is confirmed by successive ATRP.
[Full Paper]
Takashi Hamada, Shin Hasegawa, Yasunari Maekawa
Macromol. Chem. Phys., November 15, 2017, https://doi.org/10.1002/macp.201700346 Read article
Salt water is desalinated via poly(acrylic acid)-based hydrogels in a membrane-free forward osmosis process where the polyelectrolyte acts as both, the draw and the separation agent simultaneously. The energy consumption for this new process is calculated for the first time. Chemical parameters of the network structure and potential process parameters are varied to improve energy efficiency.
[Full Paper]
Lukas Arens, Julius B. Albrecht, Johannes Höpfner, Karin Schlag, Axel Habicht, Sebastian Seiffert, Manfred Wilhelm
Macromol. Chem. Phys., November 15, 2017, https://doi.org/10.1002/macp.201700237 Read article
[Personal Account]
Masao Sugawara
Chem. Rec., November 14, 2017, https://doi.org/10.1002/tcr.201700046 Read article
Water splitting made cheap: A precious-metal/metal-oxides-free, efficient alkaline water-electrolysis full cell is constructed employing Co3O4 nitrogen-doped reduced graphene oxide (Co3O4/NrGO) composite sponge as the anode and nickel nitrogen-doped reduced graphene oxide (NiNG) as the cathode catalysts system. It exhibits a current density of 270 mA cm−2 at 1.9 V.
[Full Paper]
Thazhe Veettil Vineesh, Archana Sekar, Sivamathini Rajappa, Shubhadeep Pal, Subbiah Alwarappan, Tharangattu N. Narayanan
ChemCatChem, November 14, 2017, https://doi.org/10.1002/cctc.201701018 Read article
Nanostructured solid polymer electrolytes are fabricated. The membranes show tunable mechanical properties from MPa to Gpa range. The membranes show an ionic conductivity anisotropy of ≈30 000.
[Full Paper]
Derrick M. Smith, Qiwei Pan, Shan Cheng, Wenda Wang, Timothy J. Bunning, Christopher Y. Li
Adv. Mater. Interfaces, November 09, 2017, https://doi.org/10.1002/admi.201700861 Read article
Hopping through the membrane? The use of a Nafion/phosphotungstic acid composite membrane and the impact of varying concentration of heteropoly acid on the well-known effective mechanisms of proton transport are investigated by using classical and quantum hopping molecular dynamics simulations.
[Article]
Saeed Akbari, Mohammad Taghi Hamed Mosavian, Ali Ahmadpour, Fatemeh Moosavi
ChemPhysChem, November 08, 2017, https://doi.org/10.1002/cphc.201700725 Read article
Layering up: Molecularly tailored bilayers of catalytic graphene oxide and electronically conducting poly(3,4-ethylenedioxythiophene) (PEDOT) demonstrate highly improved and synergistic water dissociation catalysis in the interfacial layer of a bipolar membrane in the presence of an electric field. This provides opportunities for utilization in electronic applications such as membrane-integrated solar-fuel generation.
[Full Paper]
Michael B. McDonald, Michael S. Freund, Paula T. Hammond
ChemSusChem, November 07, 2017, https://doi.org/10.1002/cssc.201701397 Read article
[Original Research Paper]
Peng Xu, Sichuan Xu
Fuel Cells, November 03, 2017, https://doi.org/10.1002/fuce.201700101 Read article
Understanding bioavailability: Peptides show a notoriously low passive membrane permeability, with cyclosporine A (CsA) as prominent exception. CsA and cyclosporine E (CsE) have a close structural similarity but large difference in permeability. NMR studies and kinetic models based on molecular dynamics simulations reveal a striking difference between CsE and CsA in the interconversion rates between conformations, which may explain the observed permeability difference.
[Communication]
Jagna Witek, Max Mühlbauer, Bettina G. Keller, Markus Blatter, Axel Meissner, Trixie Wagner, Sereina Riniker
ChemPhysChem, November 02, 2017, https://doi.org/10.1002/cphc.201700995 Read article
Aggregation of Parkinson's-associated proteins: The presence of a membrane changes the oligomerization pathway of Parkinson's-associated intrinsically disordered protein (IDP) α-synuclein from that observed in solution. Membrane remodeling and disruption are caused not by the final aggregates, but by specific membrane–aggregate interaction.
[Communication]
Mohammad A. Fallah, Hanne R. Gerding, Christian Scheibe, Malte Drescher, Christiaan Karreman, Stefan Schildknecht, Marcel Leist, Karin Hauser
ChemBioChem, November 02, 2017, https://doi.org/10.1002/cbic.201700355 Read article
[Original Research Paper]
H. K. Ma, Y. L. Hsu, W. F. Luo
Fuel Cells, October 27, 2017, https://doi.org/10.1002/fuce.201600161 Read article
[Original Research Paper]
A. Omosebi, R. S. Besser
Fuel Cells, October 25, 2017, https://doi.org/10.1002/fuce.201600183 Read article
Recent advances regarding microporous organic materials for membrane gas separation are reviewed. Critical challenges associated with the designed synthesis of membrane materials with defined porous structures, and the correlations between pore chemistry and membrane separation performance, in terms of selectivity and permeability, are discussed.
[Progress Report]
Xiaoqin Zou, Guangshan Zhu
Adv. Mater., October 24, 2017, https://doi.org/10.1002/adma.201700750 Read article
A sandwich-structured quasisolid polymer electrolyte is designed to separate cathode reaction with lithium anode in Li–O2 batteries application. A gel-like catholyte with redox mediator (tetramethyl piperidine) endows the cell with high capacity and reversibility. The shuttling effect of redox mediator has been limited effectively by lithiated Nafion ionomer and polypropylene-carbonate-based solid-state anolyte.
[Full Paper]
Kailiang Liu, Hongguang Sun, Shanmu Dong, Chenglong Lu, Yang Li, Junmei Cheng, Jianjun Zhang, Xiaogang Wang, Xiao Chen, Guanglei Cui
Adv. Mater. Interfaces, October 13, 2017, https://doi.org/10.1002/admi.201700693 Read article
[Short Communication]
Maria Cuartero, Robert G. Acres, Zdenka Jarolímová, Eric Bakker, Gaston A. Crespo, Roland De Marco
Electroanalysis, October 10, 2017, https://doi.org/10.1002/elan.201700510 Read article
Barriers leading to progress: The convergence of ionic-liquid catalysis and ionic-liquid membrane separation technologies is leading towards the development of catalytically active separation layers, at which valuable chemical transformations are performed simultaneously with product purification through the ionic membrane material (see figure).
[Review]
Pavel Izák, Felix D. Bobbink, Martin Hulla, Martina Klepic, Karel Friess, Štěpán Hovorka, Paul J. Dyson
ChemPlusChem, September 22, 2017, https://doi.org/10.1002/cplu.201700293 Read article
A nanostructured paper chemiresistor with negative-going response dominant characteristics to human breathing and sweating is demonstrated, which involves decoration of a nanofibrous membrane paper with dendronized gold nanoparticles to enable highly tunable sensitivity in moisture-dominant sensing environment and constitutes a promising new strategy to design sensing array elements for wearable breath and sweat sensors.
[Full Paper]
Shan Yan, Xin Liu, Zakiya Skeete, Ning He, Zhi-Hui Xie, Wei Zhao, Jack P. Lombardi, Kai Liu, Ning Kang, Jin Luo, Benjamin S. Hsiao, Mark Poliks, Ivan Gitsov, Chuan-Jian Zhong
Adv. Mater. Interfaces, September 19, 2017, https://doi.org/10.1002/admi.201700380 Read article
Common sense: Cellulose-based materials functionalized with fluorescence sensors are employed in many areas of functional materials, including the sensing of heavy-metal ions and anions, and are widely used as chemical sensors and tools for environmental applications. Recent progress in the development of cellulose-based fluorescence sensors as parts of membranes and nanoscale materials for the detection of biological analytes is reviewed.
[Review]
Meng Li, Xiaoning Li, Hui-Ning Xiao, Tony D. James
ChemistryOpen, September 18, 2017, https://doi.org/10.1002/open.201700133 Read article
© Wiley-VCH 2016.