Organic Electronics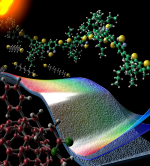 Over the last 20 years, tremendous progress has been achieved in the design and fabrication of organic electronic devices. High performance LEDs, transistors, and memory devices—the materials science journals have it all! Follow the continuing progress and the latest breakthroughs in the field of organic electronics in our top-quality journals.
Daniele Braga, Gilles Horowitz
High-Performance Organic Field-Effect Transistors
Adv. Mater., DOI: 10.1002/adma.200802733

RSS feed
Recent Articles
Film cast: Electrochemical impedance spectroscopy is used to characterize the charge-transport properties of both spin-cast and electrochemically deposited PEDOT films on a series of designed electrodes with systematic variations in size. The spectra are analyzed in terms of a two-element equivalent circuit model with a solution resistance Rs and film capacitance C. By normalizing the impedance with respect to Rs (Zn=|Z|/Rs) and the frequency with respect to fc (fn=f/fc), all of the experimental Bode curves can be collapsed into a single master plot of Zn versus fn.
[Article]
Dimitrios A. Koutsouras, Paschalis Gkoupidenis, Clemens Stolz, Vivek Subramanian, George G. Malliaras, David C. Martin
ChemElectroChem, June 14, 2017, https://doi.org/10.1002/celc.201700297 Read article
© Wiley-VCH 2016.