Organic Electronics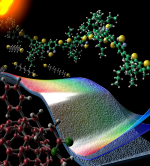 Over the last 20 years, tremendous progress has been achieved in the design and fabrication of organic electronic devices. High performance LEDs, transistors, and memory devices—the materials science journals have it all! Follow the continuing progress and the latest breakthroughs in the field of organic electronics in our top-quality journals.
Daniele Braga, Gilles Horowitz
High-Performance Organic Field-Effect Transistors
Adv. Mater., DOI: 10.1002/adma.200802733

RSS feed
Recent Articles
Doping-induced solubility control is a patterning technique for semiconducting polymers, which utilizes the reduction in polymer solubility upon p-type doping to provide direct, optical control of film topography and doping level. In situ direct-write patterning and imaging are demonstrated, revealing sub-diffraction-limited topographic features. Photoinduced force microscopy shows that doping level can be optically modulated with similar resolution.
[Communication]
Ian E. Jacobs, Erik W. Aasen, Derek Nowak, Jun Li, William Morrison, John D. Roehling, Matthew P. Augustine, Adam J. Moulé
Adv. Mater., October 14, 2016, DOI: 10.1002/adma.201603221. Read article
For efficient charge separation and extraction in a device, the specific characteristics of processing additives, such as high boiling points and selective solubility, provide a special opportunity to form a well phase-separated nanomorphology in a bulk-heterojunction (BHJ) film. The applications of processing additives to commercial OPVs can be further developed with respect to future demands for various BHJ materials, such as high performance, long-term stability and eco-friendly fabrication.
[Progress Report]
Sooncheol Kwon, Hongkyu Kang, Jong-Hoon Lee, Jinho Lee, Soonil Hong, Heejoo Kim, Kwanghee Lee
Adv. Energy Mater., October 07, 2016, DOI: 10.1002/aenm.201601496. Read article
Supramolecular peptide structures: The RFFFR peptide self-assembles into fibers that entangle into sphere-like structures. These spheres untangle below a critical concentration and so might be applicable as a drug-delivery system. Furthermore, the spheres conduct electricity, and the fibers might also find applications in molecular electronics.
[Full Paper]
Morten Slyngborg, Dennis Achton Nielsen, Peter Fojan
ChemBioChem, September 30, 2016, DOI: 10.1002/cbic.201600383. Read article
Large ratio, small size: Presented is the first example of a new class of donor–σ–acceptor rectifiers: hemibiquinones (HBQs). HBQs possess donor and acceptor moieties that are electronically isolated by inter-ring torsion. A HBQ–dinitrile self-assembles on a template-stripped gold surface through directed chemisorption forming a 1.1 nm-thick monolayer. Rectification is measured through the monolayer or single molecules by using three different top electrode arrangements.
[Communication]
Joseph E. Meany, Marcus S. Johnson, Stephen A. Woski, Robert M. Metzger
ChemPlusChem, August 19, 2016, DOI: 10.1002/cplu.201600383. Read article
© Wiley-VCH 2016.