Organic Electronics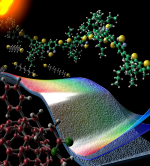 Over the last 20 years, tremendous progress has been achieved in the design and fabrication of organic electronic devices. High performance LEDs, transistors, and memory devices—the materials science journals have it all! Follow the continuing progress and the latest breakthroughs in the field of organic electronics in our top-quality journals.
Daniele Braga, Gilles Horowitz
High-Performance Organic Field-Effect Transistors
Adv. Mater., DOI: 10.1002/adma.200802733

RSS feed
Recent Articles
A single-molecule AND gate is constructed from two different switching mechanisms, the switch between conjugation to cross-conjugation by light and the shift of conducting orbitals by protonation. The two switches are orthogonal and can be switched reversibly. The switching ratio between the highest and lowest conductance states is 94.
[Communication]
Na Zhang, Wai-Yip Lo, Anex Jose, Zhengxu Cai, Lianwei Li, Luping Yu
Adv. Mater., May 17, 2017, https://doi.org/10.1002/adma.201701248 Read article
Organic photodetectors exhibit high photocurrent gain as well as fast response speed and large linear dynamic range at low positive voltage. The results are very similar to a bipolar phototransistor behavior. A normalized detectivity (D*) is over 1014 Jones by actual measurements, which is about two or three order of magnitudes higher than that of the highest existing photodetectors.
[Communication]
Riming Nie, Xianyu Deng, Lei Feng, Guiguang Hu, Yangyang Wang, Gang Yu, Jianbin Xu
Small, May 02, 2017, https://doi.org/10.1002/smll.201603260 Read article
© Wiley-VCH 2016.