Organic Electronics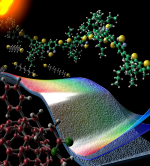 Over the last 20 years, tremendous progress has been achieved in the design and fabrication of organic electronic devices. High performance LEDs, transistors, and memory devices—the materials science journals have it all! Follow the continuing progress and the latest breakthroughs in the field of organic electronics in our top-quality journals.
Daniele Braga, Gilles Horowitz
High-Performance Organic Field-Effect Transistors
Adv. Mater., DOI: 10.1002/adma.200802733

RSS feed
Recent Articles
Through tailoring substituents at β-positions of NiII porphyrin complexes in a push–pull system, multilevel resistive memory devices with high performance have been realized via solution-processing fabrications. In contrast to the push–pull system, analogue complexes with push only or pull only moieties are found to show only binary logic. The present study may provide a new design strategy and inspiration for the development of multistate memory devices through push–pull systems of this type.
[Communication]
Hing Chan, Sai-Ho Lee, Chun-Ting Poon, Maggie Ng, Vivian Wing-Wah Yam
ChemNanoMat, January 31, 2017, DOI: 10.1002/cnma.201600365. Read article
The synthesis of large π-conjugated motifs based on two parallel oligo(phenyleneethynylene)s (OPEs) and an orthogonally situated redox-active stilbene-extended tetrathiafulvalene (TTF) is presented. The OPEs are end-capped with thioester groups as potential electrode anchoring groups.
[Full Paper]
Frederik Præstholm Jørgensen, Johannes F. Petersen, Cecilie Lindholm Andersen, Anders B. Skov, Martyn Jevric, Ole Hammerich, Mogens Brøndsted Nielsen
Eur. J. Org. Chem., December 13, 2016, DOI: 10.1002/ejoc.201601367. Read article
© Wiley-VCH 2016.