Organic Electronics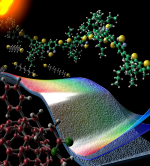 Over the last 20 years, tremendous progress has been achieved in the design and fabrication of organic electronic devices. High performance LEDs, transistors, and memory devices—the materials science journals have it all! Follow the continuing progress and the latest breakthroughs in the field of organic electronics in our top-quality journals.
Daniele Braga, Gilles Horowitz
High-Performance Organic Field-Effect Transistors
Adv. Mater., DOI: 10.1002/adma.200802733
RSS feed
Recent Articles
Both atomic-scale sharp and atomic-scale planar electrodes are fabricated and the gap size between electrodes can be controlled with subangstrom accuracy. With these two achievements, the electron transport as well as the Raman scattering in the molecular junctions can be modulated supplying a platform to study the interaction between electron transport and Raman scattering.
[Full Paper]
Zhikai Zhao, Ran Liu, Dirk Mayer, Maristella Coppola, Lu Sun, Youngsang Kim, Chuankui Wang, Lifa Ni, Xing Chen, Maoning Wang, Zongliang Li, Takhee Lee, Dong Xiang
Small, March 15, 2018, https://doi.org/10.1002/smll.201703815 Read article
A novel concept of molecular self-doping is introduced as designing perspective for organic optoelectronic materials. A highly luminescent dopant emerges as a minute-quantity byproduct during chemical synthesis of the host material. This results in a twofold luminescence enhancement of solution-grown single crystals, while charge transport is largely retained.
[Full Paper]
Olga D. Parashchuk, Artur A. Mannanov, Vladislav G. Konstantinov, Dmitry I. Dominskiy, Nikolay M. Surin, Oleg V. Borshchev, Sergei A. Ponomarenko, Maxim S. Pshenichnikov, Dmitry Yu. Paraschuk
Adv. Funct. Mater., March 12, 2018, https://doi.org/10.1002/adfm.201800116 Read article
High-performance organic field-effect transistors and near-infrared phototransistors with n-type two-dimensional organic single crystals are successfully fabricated. A field-effect electron mobility (1.36 cm2 V−1 s−1) and high on/off ratio (108) are obtained. Impressively, the ultrasensitive near-infrared phototransistors exhibit an ultrahigh detectivity exceeding 6 × 1014 Jones, superior to the majority of the reported organic-based near-infrared phototransistors.
[Communication]
Cong Wang, Xiaochen Ren, Chunhui Xu, Beibei Fu, Ruihao Wang, Xiaotao Zhang, Rongjin Li, Hongxiang Li, Huanli Dong, Yonggang Zhen, Shengbin Lei, Lang Jiang, Wenping Hu
Adv. Mater., March 07, 2018, https://doi.org/10.1002/adma.201706260 Read article
The evolution and dynamic changes of the interfacial chemical bonding during the formation of plasmonic molecular tunnel junctions are investigated by time-resolved electrochemical current measurement and surface-enhanced Raman scattering spectroscopy. These junctions are formed by the single gold nanoparticle collision events at a molecule-modified gold nanolectrode.
[Full Paper]
Jing Guo, Jie Pan, Shuai Chang, Xuewen Wang, Na Kong, Wenrong Yang, Jin He
Small, March 01, 2018, https://doi.org/10.1002/smll.201704164 Read article
© Wiley-VCH 2016.