Organic Electronics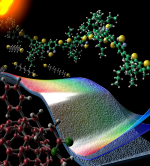 Over the last 20 years, tremendous progress has been achieved in the design and fabrication of organic electronic devices. High performance LEDs, transistors, and memory devices—the materials science journals have it all! Follow the continuing progress and the latest breakthroughs in the field of organic electronics in our top-quality journals.
Daniele Braga, Gilles Horowitz
High-Performance Organic Field-Effect Transistors
Adv. Mater., DOI: 10.1002/adma.200802733
RSS feed
© Wiley-VCH 2016.