Organocatalysis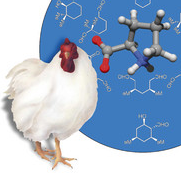 The term organocatalysis describes the acceleration of chemical reactions through the addition of a substoichiometric quantity of an organic compound. The interest in this field has increased spectacularly in the last few years as result of both the novelty of the concept and, more importantly, the fact that the efficiency and selectivity of many organocatalytic reactions meet the standards of established organic reactions. Organocatalytic reactions are becoming powerful tools in the construction of complex molecular skeletons.[1,2]
[1] P. I. Dalko, L. Moisan,
Angew. Chem. 2001, 113, 3840; Angew. Chem. Int. Ed. 2001, 40, 3726
Angew. Chem. 2004, 116, 5248; Angew. Chem. Int. Ed. 2004, 43, 5138.
[2] Special issue of Adv. Synth. Catal. 2004, 346, Nr. 9-10.
Recent Articles

RSS feed
Golden contribution: The unprecedented gold(I) activation of thiourea organocatalysts is described. The synergic effect between both species affords a more acidic and rigid catalytic complex than that provided by the thiourea alone, producing better reactivity and selectivity and reducing the catalyst loading to 1–3 mol %.
[Full Paper]
Anabel Izaga, Raquel P. Herrera, M. Concepción Gimeno
ChemCatChem, March 23, 2017, https://doi.org/10.1002/cctc.201601527 Read article
An organocatalytic strategy for the asymmetric N-alkylation of indoles and carbazoles was developed in which in situ generated aza-para-quinone methides are employed as the alkylating reagent. With the proper choice of a chiral phosphoric acid and N-protective group (P), the intermolecular C−N bond formation with various indole and carbazole nucleophiles proceeds under mild conditions with excellent efficiency and enantioselectivity.
[Communication]
Min Chen, Jianwei Sun
Angew. Chem. Int. Ed., March 23, 2017, https://doi.org/10.1002/anie.201701947 Read article
Medicine made easy: The first method to access optically active N-unprotected 1,5-benzothiazepinones has been developed under operational mild conditions by using only 1 mol % loading of an organocatalyst and readily available reagents. These important pharmacophores, isolated in good to excellent yields and enantioselectivities (up to 96 % ee), are useful for rapid derivatization, as demonstrated in the synthesis of antidepressant drug (R)-(−)-thiazesim.
[Communication]
Sara Meninno, Chiara Volpe, Alessandra Lattanzi
Chem. Eur. J., March 22, 2017, https://doi.org/10.1002/chem.201700837 Read article
Acid-induced 1,2-rearrangements of hydroxyindolenines lead to indoxyls and 2-oxindoles, but controlling product selectivity is often challenging. Phosphoric acids are found to be ideal organocatalysts to induce the highly regioselective rearrangement to 2-oxindoles for many examples.
[Communication]
Eva Schendera, Stephanie Lerch, Thorsten von Drathen, Lisa-Natascha Unkel, Malte Brasholz
Eur. J. Org. Chem., March 21, 2017, https://doi.org/10.1002/ejoc.201700085 Read article
Formally achieved: Enantioenriched α-alkylated aldehydes (2) are synthesized by exploiting the ability of chiral enamines (A) to generate radicals from (phenylsulfonyl)alkyl iodides (1) and trap them in a stereoselective fashion. Coupling this step with the simple desulfonylation of 2 provides a method to install either a methyl or a benzyl moiety with high stereoselectivity. SET=single-electron transfer.
[Communication]
Giacomo Filippini, Mattia Silvi, Paolo Melchiorre
Angew. Chem. Int. Ed., March 21, 2017, https://doi.org/10.1002/anie.201612045 Read article
N1, N2, N123, go! A highly N2-regioselective TsOH-catalyzed olefin hydroamination using NH-1,2,3-triazoles as the N-nucleophilc reagents leading to N2-alkyl-1,2,3-triazoles is reported. The reaction showed good to excellent N2-selectivities.
[Communication]
Hao Wei, Qingxia Hu, Yutao Ma, Liangming Wei, Jiaqiang Liu, Min Shi, Feijun Wang
Asian J. Org. Chem., March 21, 2017, https://doi.org/10.1002/ajoc.201700045 Read article
Hybrids of [60]fullerenes and bifunctional chiral thioureas have been easily prepared by Prato's reaction. These molecular thioureas behave as excellent organocatalysts for the nitro-Michael addition reaction. The catalysts function at very low loading, are easily recoverable, and reusable for five cycles.
[Full Paper]
José M. Andrés, Miguel González, Alicia Maestro, Daniel Naharro, Rafael Pedrosa
Eur. J. Org. Chem., March 15, 2017, https://doi.org/10.1002/ejoc.201601640 Read article
If you know what amine…! (R)-3-Alkyl-3-hydroxyindolin-2-one derivatives were prepared by a primary-amine-catalyzed aldol reaction between isatins and ketones. The biologically active natural product (R)-convolutamydine A was synthesized in 96 % yield and 95 % ee.
[Full Paper]
Jun-Tao Guo, Bao-Qiang Zhang, Yuan Luo, Zhi Guan, Yan-Hong He
Asian J. Org. Chem., March 15, 2017, https://doi.org/10.1002/ajoc.201700019 Read article
Eeny, meeny, enamines: Formation of dienamines and trienamines from common aminocatalysts and conjugated enals or dienals, respectively, have been monitored by 1H NMR spectroscopy. The protocol allows a fast, simple and direct comparison of various starting materials in the reactions examined.
[Communication]
Bartosz Łągiewka, Łukasz Albrecht
Asian J. Org. Chem., March 14, 2017, https://doi.org/10.1002/ajoc.201600616 Read article
Bifunctional squaramides have emerged as powerful hydrogen-bonding catalysts for promoting a wide array of useful asymmetric reactions, which provides convenient methods for the construction of complex molecular structures and chiral biologically active compounds. This review highlights the recent advances of our research group in the chiral squaramide-catalyzed asymmetric reactions, including Michael addition, Mannich reaction, aza-Henry reaction, Strecker reaction as well as cascade or sequential reactions.
[Personal Account]
Bo-Liang Zhao, Jun-Hua Li, Da-Ming Du
Chem. Rec., March 07, 2017, https://doi.org/10.1002/tcr.201600140 Read article
Done in one! An organocatalytic microwave-assisted reaction between isatin derivatives and dinitrotoluenes has been developed. A variety of 3-substituted 3-hydroxy-2-oxindoles were prepared in up to 99 % conversion by using this method. DFT calculations were performed to understand the nucleophilicity of 2,4-dinitrotoluene relative to the other toluene derivatives.
[Full Paper]
Jasneet Kaur, Nasarul Islam, Akshay Kumar, Swapandeep Singh Chimni
Asian J. Org. Chem., March 01, 2017, https://doi.org/10.1002/ajoc.201600614 Read article
Visible-light-induced iodoperfluoroalkylation of unactivated terminal alkenes and alkynes by using eosin Y is described. This process is effective for various perfluoroalkyl groups including difluoroacetate and alkenes and alkynes possessing a variety of functional groups. This reaction provides a new, metal-free, green method for the synthesis of perfluoroalkylated compounds.
[Communication]
Tomoko Yajima, Mako Ikegami
Eur. J. Org. Chem., February 28, 2017, https://doi.org/10.1002/ejoc.201700077 Read article
This revision is covering the limited examples reported for a pivotal strategy in the formation of C−P bonds such as the asymmetric organocatalytic hydrophosphonylation of carbonyl groups (Pudovik reaction). The scope and limitations, and the proposed mechanisms for the scarce different possibilities of asymmetric induction are also shown. The recent evolution and future trends of this undeveloped approach are commented.
[Personal Account]
Raquel P. Herrera
Chem. Rec., February 07, 2017, https://doi.org/10.1002/tcr.201600129 Read article
[Communication]
Adriane A. Pereira, Amanda S. Pereira, Amanda C. de Mello, Arthur G. Carpanez, Bruno A. C. Horta, Giovanni W. Amarante
Eur. J. Org. Chem., January 27, 2017, https://doi.org/10.1002/ejoc.201601613 Read article
1,2,3-Triazoles: unique heterocycles that allow both the coordination to metals and the establishment of supramolecular interactions. In this account we illustrate our recent results in the use of chiral triazole structures in metal Lewis-acid catalysis and anion-binding organocatalysis.
[Personal Account]
Mercedes Zurro, Olga García Mancheño
Chem. Rec., October 24, 2016, https://doi.org/10.1002/tcr.201600104 Read article
The capability of chiral ammonium oxyanions and fluorides to act as efficient ion pair organocatalysts in protonation or deprotonation reactions through their potent Brønsted or Lewis base behavior will be emphasized through authors′ personal research examples in the context of the existing literature.
[Personal Account]
Fabien Legros, Sylvain Oudeyer, Vincent Levacher
Chem. Rec., October 13, 2016, https://doi.org/10.1002/tcr.201600111 Read article
[Review]
Douglass F. Taber
Isr. J. Chem., April 15, 2015, https://doi.org/10.1002/ijch.201500006 Read article
© Wiley-VCH 2016.