Organocatalysis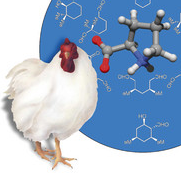 The term organocatalysis describes the acceleration of chemical reactions through the addition of a substoichiometric quantity of an organic compound. The interest in this field has increased spectacularly in the last few years as result of both the novelty of the concept and, more importantly, the fact that the efficiency and selectivity of many organocatalytic reactions meet the standards of established organic reactions. Organocatalytic reactions are becoming powerful tools in the construction of complex molecular skeletons.[1,2]
[1] P. I. Dalko, L. Moisan,
Angew. Chem. 2001, 113, 3840; Angew. Chem. Int. Ed. 2001, 40, 3726
Angew. Chem. 2004, 116, 5248; Angew. Chem. Int. Ed. 2004, 43, 5138.
[2] Special issue of Adv. Synth. Catal. 2004, 346, Nr. 9-10.
Recent Articles

RSS feed
[Personal Account]
Diego Alves, Bruna Goldani, Eder J. Lenardão, Gelson Perin, Ricardo F. Schumacher, Márcio W. Paixão
Chem. Rec., December 13, 2017, https://doi.org/10.1002/tcr.201700058 Read article
Aye, aye, CAPT: The first catalytic enantioselective Pummerer-type transformation has been developed employing chiral-anion phase-transfer catalysis (CAPT). This chemical transformation allows facile construction of a wide variety of enantioenriched cyclic N,S-acetal motifs which were previously difficult to access.
[Communication]
Souvagya Biswas, Koji Kubota, Manuel Orlandi, Mathias Turberg, Dillon H. Miles, Matthew S. Sigman, F. Dean Toste
Angew. Chem. Int. Ed., December 12, 2017, https://doi.org/10.1002/anie.201711277 Read article
Brand new cycle: The unnatural and densely substituted l-proline ester XL catalyzes the formation of bicyclic γ-lactams possessing three new chiral centers. This new reaction has no equivalent in organocatalytic, enzymatic, or organometallic chemistry and can be used in the synthesis of complex natural products.
[Communication]
María de Gracia Retamosa, Andrea Ruiz-Olalla, Tamara Bello, Abel de Cózar, Fernando P. Cossío
Angew. Chem. Int. Ed., December 12, 2017, https://doi.org/10.1002/anie.201708952 Read article
Vinylidene o-quinone methide (VQM) intermediates generated by base-catalyzed 1,5-H shift of ethynylnaphthol–benzofuran systems undergo stereoselective intramolecular dearomatizative [4+2] cycloaddition to give oxa-polyheterocyclic compounds with consecutive quaternary and tertiary asymmetric carbon atoms as single diastereomers. An enantioselective version of this reaction is also achieved.
[Communication]
Shota Beppu, Sachie Arae, Masaki Furusawa, Kosuke Arita, Hitoshi Fujimoto, Michinori Sumimoto, Tatsushi Imahori, Kazunobu Igawa, Katsuhiko Tomooka, Ryo Irie
Eur. J. Org. Chem., December 08, 2017, https://doi.org/10.1002/ejoc.201701481 Read article
Heterogeneous catalysis: This review focuses on conjugated microporous polymers (CMPs) as an intriguing platform for developing various highly efficient and recyclable heterogeneous catalysts. The design, synthesis, and structure of these CMP catalysts are also discussed.
[Focus Review]
Yun-Bing Zhou, Zhuang-Ping Zhan
Chem. Asian J., December 07, 2017, https://doi.org/10.1002/asia.201701107 Read article
Fast out of the blocks: The carbene-catalyzed addition reactions of acyl anion equivalents, homoenolates, and enolates with a variety of nitroalkenes provide access to important C3, C4, and C5 synthetic building blocks. Here the recent developments of N-heterocyclic-carbene-catalyzed reactions with nitroalkenes are summarized, including the single-electron-transfer mechanism.
[Focus Review]
Biswajit Maji
Asian J. Org. Chem., December 06, 2017, https://doi.org/10.1002/ajoc.201700520 Read article
Carbenes mean Heinz: The use of N-heterocyclic carbenes (NHCs) as catalysts has emerged as one of the most-powerful strategies for the construction of complex molecules. Recent advances in enantioselective NHC-catalyzed reactions that have been published since 2012 are highlighted and discussed.
[Focus Review]
Ming Zhao, Yu-Tong Zhang, Jie Chen, Ling Zhou
Asian J. Org. Chem., November 30, 2017, https://doi.org/10.1002/ajoc.201700538 Read article
Delightful deficiency: Because of its vacant p orbital, an incorporated boron atom can imprint peculiar optoelectronic properties on polycyclic aromatic hydrocarbons (PAHs). Recently, synthetic strategies have been developed to provide access to B-PAHs that are specifically tailored to applications as catalysts for the activation of small molecules or as luminophores and charge carriers in optoelectronic devices.
[Focus Review]
Esther von Grotthuss, Alexandra John, Thomas Kaese, Matthias Wagner
Asian J. Org. Chem., November 24, 2017, https://doi.org/10.1002/ajoc.201700495 Read article
AdPro: A direct route to chiral pyrimidine acyclic nucleoside analogues with a sulfur-containing side chain has been reported via enantioselective tandem conjugated addition/protonation reactions of thioacetic acid to α-pyrimidine substituted acrylates. In the presence of a quinine-derived thiourea catalyst, diverse chiral sulfur-containing pyrimidine acyclic nucleoside analogues were formed in excellent yields (95–99 %) and moderate to excellent enantioselectivities (up to 99 % ee).
[Communication]
Jian-Ping Li, Hao-Ran Tuo, Ming-Sheng Xie, Bo Kang, Gui-Rong Qu, Hai-Ming Guo
Asian J. Org. Chem., November 22, 2017, https://doi.org/10.1002/ajoc.201700533 Read article
[Personal Account]
Jasneet Kaur, Pankaj Chauhan, Sarbjit Singh, Swapandeep Singh Chimni
Chem. Rec., August 29, 2017, https://doi.org/10.1002/tcr.201700020 Read article
[Review]
Douglass F. Taber
Isr. J. Chem., April 15, 2015, https://doi.org/10.1002/ijch.201500006 Read article
© Wiley-VCH 2016.