Organocatalysis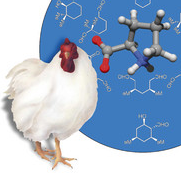 The term organocatalysis describes the acceleration of chemical reactions through the addition of a substoichiometric quantity of an organic compound. The interest in this field has increased spectacularly in the last few years as result of both the novelty of the concept and, more importantly, the fact that the efficiency and selectivity of many organocatalytic reactions meet the standards of established organic reactions. Organocatalytic reactions are becoming powerful tools in the construction of complex molecular skeletons.[1,2]
[1] P. I. Dalko, L. Moisan,
Angew. Chem. 2001, 113, 3840; Angew. Chem. Int. Ed. 2001, 40, 3726
Angew. Chem. 2004, 116, 5248; Angew. Chem. Int. Ed. 2004, 43, 5138.
[2] Special issue of Adv. Synth. Catal. 2004, 346, Nr. 9-10.
Recent Articles

RSS feed
Try again for triazoles: An enolate-mediated organocatalytic vinyl azide-carbonyl [3+2] cycloaddition (OrgVACC) of various ketones/aldehydes with vinyl azides is reported. It is an efficient catalytic intermolecular OrgVACC reaction for the synthesis of N-vinyl-1,2,3-triazoles.
[Communication]
Dhevalapally B. Ramachary, G. Surendra Reddy, Swamy Peraka, Jagjeet Gujral
ChemCatChem, December 07, 2016, DOI: 10.1002/cctc.201601317. Read article
[Communication]
Vasco Corti, Patricia Camarero Gonzalez, Julie Febvay, Lorenzo Caruana, Andrea Mazzanti, Mariafrancesca Fochi, Luca Bernardi
Eur. J. Org. Chem., December 02, 2016, DOI: 10.1002/ejoc.201601364. Read article
Constructing coumarins: An efficient synthesis of enantioselective 3,4-dihydroisocoumarins bearing a trifluoromethylated tetrasubstituted carbon stereocenter has been achieved through the asymmetric aldol-hemiacetalization of α,β-unsaturated trifluoromethyl ketones with toluene derivatives.
[Communication]
Jindian Duan, Yuyu Cheng, Jing Cheng, Rou Li, Pengfei Li
Chem. Eur. J., December 01, 2016, DOI: 10.1002/chem.201604920. Read article
Face to face: The isothiourea HyperBTM catalyses the acylative kinetic resolution of challenging aryl–alkenyl (sp2 vs. sp2) substituted secondary alcohols with high levels of selectivity.
[Full Paper]
Stefania F. Musolino, O. Stephen Ojo, Nicholas J. Westwood, James E. Taylor, Andrew D. Smith
Chem. Eur. J., November 30, 2016, DOI: 10.1002/chem.201604788. Read article
Aryl and hetaryl thioketones are used for the first time in asymmetric synthesis. The methodology, leading to biologically relevant 5,6-dihydro-2H-thiopyrans, is based on the aminocatalytic, trienamine-mediated thia-Diels–Alder reaction with interesting mechanistic implications. It benefits from operational simplicity, mild reaction conditions, and high enantioselectivity.
[Communication]
Joanna Hejmanowska, Marcin Jasiński, Grzegorz Mlostoń, Łukasz Albrecht
Eur. J. Org. Chem., November 28, 2016, DOI: 10.1002/ejoc.201601307. Read article
The enantioselective total synthesis of the highly reactive isoketal 5-D2-IsoK is accomplished. The synthesis features construction of the isoketal core through an organocatalyzed Michael addition between ideally functionalized aldehyde and nitroolefin partners with good enantioselectivity. ROS = reactive oxygen species; HWE = Horner–Wadsworth–Emmons; TES = triethylsilyl; PMB = p-methoxybenzyl.
[Communication]
Mathieu Candy, Thierry Durand, Jean-Marie Galano, Camille Oger
Eur. J. Org. Chem., November 21, 2016, DOI: 10.1002/ejoc.201601301. Read article
The asymmetric 1,4-addition of tritylthiol to vinylogous imines generated in situ from 2,5-dimethyl-3-[1-(arylsulfonyl)alkyl]pyrroles is presented for the first time. Employing a cinchona alkaloid based chiral bifunctional organocatalyst, this strategy offers a series of highly enantioselective sulfur-containing 3-sec-substituted pyrroles in an oil/water biphasic system.
[Communication]
Ping Chen, Qin Yang, Shengmei Lu, Peng Wang, Yan Liu, Can Li
Eur. J. Org. Chem., November 21, 2016, DOI: 10.1002/ejoc.201601180. Read article
All hollow: Monodisperse Jørgensen–Hayashi catalyst functionalized multihollow and hollow microspheres with a well-defined spherical morphology and high surface area enhance a complex, heterogeneous, three-component asymmetric triple cascade reaction. The hollow microspheres exhibit excellent stereoselectivity in the fifth reuse.
[Communication]
Fuqiang Dai, Zhiwei Zhao, Guangxin Xie, Dandan Feng, Xuebing Ma
ChemCatChem, November 17, 2016, DOI: 10.1002/cctc.201601120. Read article
Organically coupled: The use of metal-free organocatalysts and hydrogen bond donor (HBD) co-catalysts is reported herein to achieve oxetane/CO2 coupling and synthesize hydroxyl telechelic carbonates with high selectivity. CO2-based polyurethanes for industrial applications can then be synthesized using these oligocarbonates and 4,4′-methylene diphenyl diisocyanate (MDI).
[Full Paper]
Margot Alves, Bruno Grignard, Amélie Boyaval, Raphael Méreau, Julien De Winter, Pascal Gerbaux, Christophe Detrembleur, Thierry Tassaing, Christine Jérôme
ChemSusChem, November 15, 2016, DOI: 10.1002/cssc.201601185. Read article
[Communication]
Dasari Gangaprasad, John Paul Raj, Tayyala Kiranmye, Kesavan Karthikeyan, Jebamalai Elangovan
Eur. J. Org. Chem., November 08, 2016, DOI: 10.1002/ejoc.201601121. Read article
Putting CO2 to good use: Products based on >99 % CO2 are obtained by combining biological and chemical CO2 fixation. Bifunctional phosphorus-based organocatalysts are highly active for the production of oleochemical cyclic carbonates under mild and solvent-free conditions, and structure–activity relationships can be deduced. This reaction represents an excellent example for green and sustainable chemistry.
[Communication]
Hendrik Büttner, Johannes Steinbauer, Christoph Wulf, Mehmet Dindaroglu, Hans-Günther Schmalz, Thomas Werner
ChemSusChem, November 07, 2016, DOI: 10.1002/cssc.201601163. Read article
[Full Paper]
Chengyuan Wang, Shiya Zhu, Guanjun Wang, Zhuopeng Li, Xin-Ping Hui
Eur. J. Org. Chem., October 27, 2016, DOI: 10.1002/ejoc.201600958. Read article
1,2,3-Triazoles: unique heterocycles that allow both the coordination to metals and the establishment of supramolecular interactions. In this account we illustrate our recent results in the use of chiral triazole structures in metal Lewis-acid catalysis and anion-binding organocatalysis.
[Personal Account]
Mercedes Zurro, Olga García Mancheño
Chem. Rec., October 24, 2016, DOI: 10.1002/tcr.201600104. Read article
Tricyclic chromenone synthesis: N-Heterocyclic carbene (NHC)-catalyzed synthesis of highly functionalized pyrano[3,2-c]chromene-2,5-dione derivatives, pyrano[3,2-c]quinoline-2,5(6 H)-dione derivatives, and pyrano[4,3-b]pyran-2,5-dione derivatives with potential biological activities is reported. The reaction occurs through a Knoevenagel condensation and NHC-catalyzed enolate addition in one pot.
[Communication]
Jagadeesh Krishnan, Sneha Mathew, P. Anjana Jayaprakash, B. S. Sasidhar, T. S. Mayadevi, E. Suresh, Vijay Nair
Asian J. Org. Chem., October 24, 2016, DOI: 10.1002/ajoc.201600419. Read article
The capability of chiral ammonium oxyanions and fluorides to act as efficient ion pair organocatalysts in protonation or deprotonation reactions through their potent Brønsted or Lewis base behavior will be emphasized through authors′ personal research examples in the context of the existing literature.
[Personal Account]
Fabien Legros, Sylvain Oudeyer, Vincent Levacher
Chem. Rec., October 13, 2016, DOI: 10.1002/tcr.201600111. Read article
The missing piece: The construction of chlorinated quaternary stereocenters is a challenge for organic chemists. The growth in organocatalysis has prompted the exploration of such a strategy for this purpose. This review focuses on state-of-the-art research in the area of organocatalysis for the construction of chlorinated quaternary stereocenters and presents both successful examples and limitations that still need to be overcome.
[Focus Review]
Melania Gómez-Martínez, Diego A. Alonso, Isidro M. Pastor, Gabriela Guillena, Alejandro Baeza
Asian J. Org. Chem., October 11, 2016, DOI: 10.1002/ajoc.201600404. Read article
Back to Lewis basics: Oxygen- and nitrogen-containing heterocyclic compounds are widely recognized as key components in many natural products and biologically relevant molecules, but often problems result in finding methodologies in synthesizing them. Asymmetric electrophilic halocyclization with chalcogen-containing molecules as catalysts are discussed, along with applications of the reaction products.
[Personal Account]
Matthew H. Gieuw, Zhihai Ke, Ying-Yeung Yeung
Chem. Rec., October 04, 2016, DOI: 10.1002/tcr.201600088. Read article
Making bonds: The Morita–Baylis–Hillman reaction of nitroallylic alcohols and derived acetates and amines have been utilised in asymmetric catalysis and heterocycle synthesis. These adducts are useful synthons in organocatalysis that involves cascade reactions, kinetic resolution, and desymmetrisation. In addition, these substrates can also be used for the construction of numerous substituted heterocycles.
[Personal Account]
Wan-Yun Huang, Shaik Anwar, Kwunmin Chen
Chem. Rec., October 04, 2016, DOI: 10.1002/tcr.201600075. Read article
Molecular Swiss Army Knives! This review covers the reactivity of chiral isothioureas, which emerged as nucleophilic organocatalysts in 2006. Multiple modes of activation rapidly came to be displayed by these heterocycles; this now makes them powerful catalysts in the toolbox of the organic chemist.
[Microreview]
Jérémy Merad, Jean-Marc Pons, Olivier Chuzel, Cyril Bressy
Eur. J. Org. Chem., July 13, 2016, DOI: 10.1002/ejoc.201600399. Read article
[Review]
Douglass F. Taber
Isr. J. Chem., April 15, 2015, DOI: 10.1002/ijch.201500006. Read article
© Wiley-VCH 2016.