Organocatalysis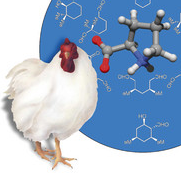 The term organocatalysis describes the acceleration of chemical reactions through the addition of a substoichiometric quantity of an organic compound. The interest in this field has increased spectacularly in the last few years as result of both the novelty of the concept and, more importantly, the fact that the efficiency and selectivity of many organocatalytic reactions meet the standards of established organic reactions. Organocatalytic reactions are becoming powerful tools in the construction of complex molecular skeletons.[1,2]
[1] P. I. Dalko, L. Moisan,
Angew. Chem. 2001, 113, 3840; Angew. Chem. Int. Ed. 2001, 40, 3726
Angew. Chem. 2004, 116, 5248; Angew. Chem. Int. Ed. 2004, 43, 5138.
[2] Special issue of Adv. Synth. Catal. 2004, 346, Nr. 9-10.
Recent Articles

RSS feed
Perfect regioselectivity is achieved in the γ-alkylation of linear α,β-unsaturated aldehydes in the presence of trifluoroethanol (TFE). Furthermore, in situ kinetic resolution is demonstrated for enantioenrichment of the γ-alkylated products. Together, the activation of electrophiles by TFE and in situ kinetic resolution allow excellent selectivity in dienamine catalysis to be realized.
[Communication]
Mahesh S. Kutwal, Chandrakumar Appayee
Eur. J. Org. Chem., June 23, 2017, https://doi.org/10.1002/ejoc.201700645 Read article
Asymmetric supramolecular organocatalysis emerges from many interactions between substrates and catalysts: namely, substrate–catalyst, catalyst–catalyst and substrate–substrate interactions. Here the importance and applications of these interactions in governing both the reactivity and the selectivity of asymmetric organocatalytic reactions as a result of stable pre-transition states are shown.
[Microreview]
Kengadarane Anebouselvy, Kodambahalli S. Shruthi, Dhevalapally B. Ramachary
Eur. J. Org. Chem., June 21, 2017, https://doi.org/10.1002/ejoc.201700611 Read article
One component or two: Single-component aminosquaramides act as effective bifunctional hydrogen-bonding catalysts for the controlled ring-opening polymerization of lactide under mild conditions in the presence of BnOH. Such organocatalysts perform better in lactide ring-opening polymerization than related squaramide/NEt3 two-component catalysts.
[Full Paper]
David Specklin, Frédéric Hild, Li Chen, Lucas Thévenin, Maxime Munch, Françoise Dumas, Franck Le Bideau, Samuel Dagorne
ChemCatChem, June 21, 2017, https://doi.org/10.1002/cctc.201700272 Read article
Flip a switch: The switchable NHC-catalyzed asymmetric reaction between isatin-derived enals and N-sulfonyl ketimines by the homoenolate pathway selectively leads to spirocyclopentane oxindoles bearing either a β-lactam or an enaminone moiety. The reaction proceeds in high yields and with excellent stereoselectivities for a wide range of substrates.
[Communication]
Lei Wang, Sun Li, Marcus Blümel, Rakesh Puttreddy, Anssi Peuronen, Kari Rissanen, Dieter Enders
Angew. Chem. Int. Ed., June 20, 2017, https://doi.org/10.1002/anie.201704210 Read article
Paired off: The rational design and implementation of enantiodivergent enamine catalysis is reported. A simple secondary amine catalyst, 2-methyl-l-proline, and its tetrabutylammonium salt function as an enantiodivergent catalyst pair delivering the enantiomers of α-functionalized aldehyde products in excellent enantioselectivities. This novel concept of designed enantiodivergence is applied to the enantioselective α-amination, aldol, and α-aminoxylation/α-hydroxyamination reactions of aldehydes.
[Communication]
Juliet Macharia, Victor Wambua, Yun Hong, Lawrence Harris, Jennifer S. Hirschi, Gary B. Evans, Mathew J. Vetticatt
Angew. Chem. Int. Ed., June 20, 2017, https://doi.org/10.1002/anie.201703919 Read article
Direct with a switch: Most catalytic reactions with vinylogous enolate equivalents generated in situ proceed through the γ-carbon atom (conjugation preserved). It is now shown that a bifunctional tertiary amine/hydrogen-bonding catalyst can be used for highly diastereo- and enantioselective α-additions of β,γ-unsaturated ketones to nitroolefins.
[Communication]
Igor Iriarte, Olatz Olaizola, Silvia Vera, Iñaki Gamboa, Mikel Oiarbide, Claudio Palomo
Angew. Chem. Int. Ed., June 20, 2017, https://doi.org/10.1002/anie.201703764 Read article
Se(e) the Red Cat? A general and efficient method for the selenium-catalyzed cyclofunctionalization reaction of alkenoic acids and alkenols is presented. Hydrogen peroxide was used as the green oxidant and all of the products were obtained in very good yields.
[Communication]
Luca Sancineto, Francesca Mangiavacchi, Caterina Tidei, Luana Bagnoli, Francesca Marini, Antimo Gioiello, Jacek Scianowski, Claudio Santi
Asian J. Org. Chem., June 20, 2017, https://doi.org/10.1002/ajoc.201700193 Read article
Follow your primary intuition! An unprecedented route for the degradation of lignin model compounds and lignin is developed through catalytic oxidation of the primary hydroxyl groups in β-O-4 lignin units by a TEMPO/DAIB system [TEMPO=2,2,6,6-tetramethylpiperidine-N-oxyl, DAIB=(diacetoxy)iodobenzene]. This unique pathway widens the scope of the existing strategies in the area of lignin depolymerization.
[Communication]
Saumya Dabral, José G. Hernández, Paul C. J. Kamer, Carsten Bolm
ChemSusChem, June 14, 2017, https://doi.org/10.1002/cssc.201700703 Read article
Both enantiomeric aldols are readily obtainable by using two different, structurally robust, pseudoenantiomeric organocatalysts with cis-1,2-cyclohexanediamine structure, which are easily prepared from commercially available cis-4-cyclohexene-1,2-dicarboxylic acid in a four-step sequence. The Diels–Alder strategy of 2-alkyl-1,3-butadiene and maleic anhydride could provide a general approach to the facile synthesis of various pseudoenantiomeric organocatalysts.
[Communication]
Hyo-Jun Lee, Shin A. Moteki, Natarajan Arumugam, Abdulrahman I. Almansour, Raju Suresh Kumar, Yan Liu, Keiji Maruoka
Asian J. Org. Chem., June 13, 2017, https://doi.org/10.1002/ajoc.201700229 Read article
Desymmetrization by silylation: A stereocontrolled nucleophilic substitution reaction for creating silicon-centered chirality has been developed via a strategy based on chirality superposition through a chiral silylation directed by Ar-BINMOL (1,1′-binaphthalene-2-α-arylmethanol-2′-ol). In this way, the desymmetrization of dichlorosilanes is accomplished by diastereoselective alcoholysis under mild reaction conditions.
[Communication]
Xing-Feng Bai, Jin-Feng Zou, Mu-Yi Chen, Zheng Xu, Li Li, Yu-Ming Cui, Zhan-Jiang Zheng, Li-Wen Xu
Chem. Asian J., June 09, 2017, https://doi.org/10.1002/asia.201700640 Read article
Faster under pressure: The first application of chiral phosphoric acids as catalysts under hyperbaric conditions is reported. The reaction of indoles with trifluoromethyl ketones is effectively accelerated at 9 kbar (1 kbar=100 MPa) with a very low loading of a 1,1′-bi-2-naphthol (BINOL)-derived phosphoric acid (0.05–0.2 mol % of TRIP) and gives the products with high enantioselectivity (up to 98 % ee).
[Communication]
Michał Biedrzycki, Adrian Kasztelan, Piotr Kwiatkowski
ChemCatChem, June 05, 2017, https://doi.org/10.1002/cctc.201700281 Read article
Keeping it simple: Polyimidazolium salts containing aromatic linkers with differing steric demands are prepared in a single step from commercially available reagents. The polyimidazolium salts are efficient heterogeneous catalysts for the cycloaddition of CO2 into epoxides to form cyclic carbonates operating under ambient conditions. The polyimidazolium salts display prolonged lifetimes and are able to convert a range of different epoxides.
[Full Paper]
Wei Zhong, Felix D. Bobbink, Zhaofu Fei, Paul J. Dyson
ChemSusChem, June 01, 2017, https://doi.org/10.1002/cssc.201700570 Read article
[Communication]
Panduga Ramaraju, Nisar A. Mir, Deepika Singh, Preetika Sharma, Rajni Kant, Indresh Kumar
Eur. J. Org. Chem., May 29, 2017, https://doi.org/10.1002/ejoc.201700500 Read article
[Microreview]
Elisabetta Rossi, Giorgio Abbiati, Valentina Pirovano
Eur. J. Org. Chem., May 24, 2017, https://doi.org/10.1002/ejoc.201700120 Read article
The huge versatility of supported ionic liquids (SILs): SILs represent a very useful class of materials. In this account, we report some examples of our ongoing research dealing with the use of different SILs based catalysts for a wide range of applications such as asymmetric organocatalysis, alcohols oxidation and etherification, chemical fixation of CO2 and Pd-mediated C–C cross coupling reactions.
[Personal Account]
Vincenzo Campisciano, Francesco Giacalone, Michelangelo Gruttadauria
Chem. Rec., April 26, 2017, https://doi.org/10.1002/tcr.201700005 Read article
Organocatalyzed Atom Transfer Radical Polymerization (O-ATRP) is a new variant of controlled radical polymerization. Here, different classes of photocatalysts for O-ATRP are compared and contrasted in terms of the mechanism of O-ATRP in order to highlight relevant design principles for catalysts. Remaining challenges and outlook for future advances in O-ATRP are also discussed.
[Feature Article]
Jordan C. Theriot, Blaine G. McCarthy, Chern-Hooi Lim, Garret M. Miyake
Macromol. Rapid Commun., April 03, 2017, https://doi.org/10.1002/marc.201700040 Read article
Bifunctional squaramides have emerged as powerful hydrogen-bonding catalysts for promoting a wide array of useful asymmetric reactions, which provides convenient methods for the construction of complex molecular structures and chiral biologically active compounds. This review highlights the recent advances of our research group in the chiral squaramide-catalyzed asymmetric reactions, including Michael addition, Mannich reaction, aza-Henry reaction, Strecker reaction as well as cascade or sequential reactions.
[Personal Account]
Bo-Liang Zhao, Jun-Hua Li, Da-Ming Du
Chem. Rec., March 07, 2017, https://doi.org/10.1002/tcr.201600140 Read article
This revision is covering the limited examples reported for a pivotal strategy in the formation of C−P bonds such as the asymmetric organocatalytic hydrophosphonylation of carbonyl groups (Pudovik reaction). The scope and limitations, and the proposed mechanisms for the scarce different possibilities of asymmetric induction are also shown. The recent evolution and future trends of this undeveloped approach are commented.
[Personal Account]
Raquel P. Herrera
Chem. Rec., February 07, 2017, https://doi.org/10.1002/tcr.201600129 Read article
[Review]
Douglass F. Taber
Isr. J. Chem., April 15, 2015, https://doi.org/10.1002/ijch.201500006 Read article
© Wiley-VCH 2016.