Organocatalysis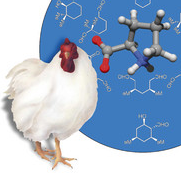 The term organocatalysis describes the acceleration of chemical reactions through the addition of a substoichiometric quantity of an organic compound. The interest in this field has increased spectacularly in the last few years as result of both the novelty of the concept and, more importantly, the fact that the efficiency and selectivity of many organocatalytic reactions meet the standards of established organic reactions. Organocatalytic reactions are becoming powerful tools in the construction of complex molecular skeletons.[1,2]
[1] P. I. Dalko, L. Moisan,
Angew. Chem. 2001, 113, 3840; Angew. Chem. Int. Ed. 2001, 40, 3726
Angew. Chem. 2004, 116, 5248; Angew. Chem. Int. Ed. 2004, 43, 5138.
[2] Special issue of Adv. Synth. Catal. 2004, 346, Nr. 9-10.
Recent Articles

RSS feed
A simple and efficient protocol to prepare new 1-(2-(organylselanyl)pyridin-3-yl)-1H-1,2,3-triazole-4-carboxylate derivatives is described. The methodology employs different β-keto-esters or ketones and 3-azido-2-organylselanyl-pyridines in the presence of Et2NH (1 mol%) as organocatalyst. The reactions were conducted in DMSO at room temperature in air and all products were obtained in high yields.
[Communication]
Luis Fernando B. Duarte, Nelson M. Nascimento, Gelson Perin, Rafael Luque, Diego Alves, Ricardo F. Schumacher
ChemistrySelect, August 16, 2017, https://doi.org/10.1002/slct.201701280 Read article
A systematic analysis of free N-heterocyclic carbenes (NHCs) present in the reaction flask after NHC-organocatalyzed reactions has been performed by treating the reaction mixture with elemental sulfur and isolating and analyzing the formed thiourea/thione derivatives.
[Full Paper]
Tamal Kanti Das, Akkattu T. Biju
Eur. J. Org. Chem., August 16, 2017, https://doi.org/10.1002/ejoc.201700903 Read article
Double game: A bifunctional Brønsted base catalyst promotes the reaction of both α-aryl and α-alkyl isocyano(thio)acetates with vinyl ketones, opening a divergent access to quaternary either Δ4- or Δ5-dehydroprolines with high enantioselectivity.
[Communication]
Amaiur Odriozola, Mikel Oiarbide, Claudio Palomo
Chem. Eur. J., August 16, 2017, https://doi.org/10.1002/chem.201703526 Read article
Enantioselective α-hydrazination was key: An efficient synthesis of the potently cytotoxic marine peptide hemiasterlin is presented. The tetramethyltryptophan moiety is assembled de novo by tert-prenylation of indole, followed by the high-yielding organocatalyzed α-hydrazination of a sterically congested aldehyde with excellent enantioselectivity. A novel phenonium-type rearrangement of the indole system occurred when subjecting dihydroxylated 3-tert-prenylindole to Mitsunobu conditions.
[Communication]
Jan Hendrik Lang, Peter G. Jones, Thomas Lindel
Chem. Eur. J., August 16, 2017, https://doi.org/10.1002/chem.201702812 Read article
Polar ends: The first stereoselective organocatalyzed [3+2] cycloaddition reaction of donor-acceptor cyclopropanes is presented. By using an optically active bifunctional Brønsted base catalyst, racemic di-cyano cyclopropylketones can be activated to undergo a stereoselective 1,3-dipolar reaction with mono- and polysubstituted nitroolefins. The reaction affords functionalized cyclopentanes with three contiguous stereocenters in high yield and stereoselectivity.
[Communication]
Jakob Blom, Andreu Vidal-Albalat, Julie Jørgensen, Casper L. Barløse, Kamilla S. Jessen, Marc V. Iversen, Karl Anker Jørgensen
Angew. Chem. Int. Ed., August 16, 2017, https://doi.org/10.1002/anie.201706150 Read article
Aha! The preorganocatalyst CH3SCH2Cl/KI was discovered during an investigation into the hydration and hydrolysis reactions of glycals, enol ethers, esters, oximes, O-methyl oximes, and hydrazones in the presence of cyanuric chloride activated dimethyl sulfoxide (DMSO) as the catalyst. The precatalyst was used in acetalization reactions under wet conditions and a glycosylation reaction that is more diastereoselective than a Ferrier rearrangement.
[Full Paper]
Wenjiao Yuan, Yali Liu, Chunbao Li
Asian J. Org. Chem., July 20, 2017, https://doi.org/10.1002/ajoc.201700272 Read article
This review summarizes the recent developments in the organocatalytic asymmetric synthesis of tetrahydrothiophenes and tetrahydrothiopyrans. A variety of sulfur-containing compounds have been employed for their preparation.
[Microreview]
Buddhadeb Mondal, Shiny Nandi, Subhas Chandra Pan
Eur. J. Org. Chem., July 19, 2017, https://doi.org/10.1002/ejoc.201700503 Read article
A catalytic method was developed for the direct transformation of primary and secondary benzylic alcohols into various sulfonamide products using a mixture of 2,3,4,5-tetrafluorophenylboronic acid and oxalic acid as a co-catalytic system under mild conditions. The gram-scalable reaction affords acceptable to excellent yields of products using relatively benign starting materials.
[Full Paper]
Tristan Verdelet, Robert M. Ward, Dennis G. Hall
Eur. J. Org. Chem., July 10, 2017, https://doi.org/10.1002/ejoc.201700621 Read article
Mimicking DMSO: An unprecedented DMSO-like polymer catalyst Au@polythiophene–polythiophene oxides is developed for effective dehydration of fructose into 5-hydroxymethylfurfural (HMF) in low-boiling 1,4-dioxane or water, over which the side-reaction of HMF rehydration to levulinic acid is thoroughly suppressed.
[Full Paper]
Xiawei Guo, Jinqiang Tang, Bo Xiang, Liangfang Zhu, Huaqing Yang, Changwei Hu
ChemCatChem, July 03, 2017, https://doi.org/10.1002/cctc.201700136 Read article
The miller's tale: Mechanochemical polymerization of lactide is carried out by using ball milling. Mechanical energy from the collisions between the balls and the vessel efficiently promoted an organic-base-mediated metal- and solvent-free solid-state polymerization. Addition of a small amount of liquid enabled energy dissipation and poly(lactic acid) was thereby obtained with a molecular weight of over 1×105 g mol−1.
[Communication]
Nuri Ohn, Jihoon Shin, Sung Sik Kim, Jeung Gon Kim
ChemSusChem, June 29, 2017, https://doi.org/10.1002/cssc.201700873 Read article
Asymmetric supramolecular organocatalysis emerges from many interactions between substrates and catalysts: namely, substrate–catalyst, catalyst–catalyst and substrate–substrate interactions. Here the importance and applications of these interactions in governing both the reactivity and the selectivity of asymmetric organocatalytic reactions as a result of stable pre-transition states are shown.
[Microreview]
Kengadarane Anebouselvy, Kodambahalli S. Shruthi, Dhevalapally B. Ramachary
Eur. J. Org. Chem., June 21, 2017, https://doi.org/10.1002/ejoc.201700611 Read article
Both enantiomeric aldols are readily obtainable by using two different, structurally robust, pseudoenantiomeric organocatalysts with cis-1,2-cyclohexanediamine structure, which are easily prepared from commercially available cis-4-cyclohexene-1,2-dicarboxylic acid in a four-step sequence. The Diels–Alder strategy of 2-alkyl-1,3-butadiene and maleic anhydride could provide a general approach to the facile synthesis of various pseudoenantiomeric organocatalysts.
[Communication]
Hyo-Jun Lee, Shin A. Moteki, Natarajan Arumugam, Abdulrahman I. Almansour, Raju Suresh Kumar, Yan Liu, Keiji Maruoka
Asian J. Org. Chem., June 13, 2017, https://doi.org/10.1002/ajoc.201700229 Read article
[Microreview]
Elisabetta Rossi, Giorgio Abbiati, Valentina Pirovano
Eur. J. Org. Chem., May 24, 2017, https://doi.org/10.1002/ejoc.201700120 Read article
The huge versatility of supported ionic liquids (SILs): SILs represent a very useful class of materials. In this account, we report some examples of our ongoing research dealing with the use of different SILs based catalysts for a wide range of applications such as asymmetric organocatalysis, alcohols oxidation and etherification, chemical fixation of CO2 and Pd-mediated C–C cross coupling reactions.
[Personal Account]
Vincenzo Campisciano, Francesco Giacalone, Michelangelo Gruttadauria
Chem. Rec., April 26, 2017, https://doi.org/10.1002/tcr.201700005 Read article
Bifunctional squaramides have emerged as powerful hydrogen-bonding catalysts for promoting a wide array of useful asymmetric reactions, which provides convenient methods for the construction of complex molecular structures and chiral biologically active compounds. This review highlights the recent advances of our research group in the chiral squaramide-catalyzed asymmetric reactions, including Michael addition, Mannich reaction, aza-Henry reaction, Strecker reaction as well as cascade or sequential reactions.
[Personal Account]
Bo-Liang Zhao, Jun-Hua Li, Da-Ming Du
Chem. Rec., March 07, 2017, https://doi.org/10.1002/tcr.201600140 Read article
This revision is covering the limited examples reported for a pivotal strategy in the formation of C−P bonds such as the asymmetric organocatalytic hydrophosphonylation of carbonyl groups (Pudovik reaction). The scope and limitations, and the proposed mechanisms for the scarce different possibilities of asymmetric induction are also shown. The recent evolution and future trends of this undeveloped approach are commented.
[Personal Account]
Raquel P. Herrera
Chem. Rec., February 07, 2017, https://doi.org/10.1002/tcr.201600129 Read article
[Review]
Douglass F. Taber
Isr. J. Chem., April 15, 2015, https://doi.org/10.1002/ijch.201500006 Read article
© Wiley-VCH 2016.