Organocatalysis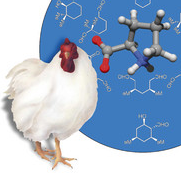 The term organocatalysis describes the acceleration of chemical reactions through the addition of a substoichiometric quantity of an organic compound. The interest in this field has increased spectacularly in the last few years as result of both the novelty of the concept and, more importantly, the fact that the efficiency and selectivity of many organocatalytic reactions meet the standards of established organic reactions. Organocatalytic reactions are becoming powerful tools in the construction of complex molecular skeletons.[1,2]
[1] P. I. Dalko, L. Moisan,
Angew. Chem. 2001, 113, 3840; Angew. Chem. Int. Ed. 2001, 40, 3726
Angew. Chem. 2004, 116, 5248; Angew. Chem. Int. Ed. 2004, 43, 5138.
[2] Special issue of Adv. Synth. Catal. 2004, 346, Nr. 9-10.
Recent Articles

RSS feed
The huge versatility of supported ionic liquids (SILs): SILs represent a very useful class of materials. In this account, we report some examples of our ongoing research dealing with the use of different SILs based catalysts for a wide range of applications such as asymmetric organocatalysis, alcohols oxidation and etherification, chemical fixation of CO2 and Pd-mediated C–C cross coupling reactions.
[Personal Account]
Vincenzo Campisciano, Francesco Giacalone, Michelangelo Gruttadauria
Chem. Rec., April 26, 2017, https://doi.org/10.1002/tcr.201700005 Read article
The domino effect: Investigations of the metal-free six-step domino reaction of aldehydes with malononitrile are reported, extending the scope of aldehydes and organocatalysts. NMR studies of selected products and DFT calculations of the thermodynamics of this reaction are presented. Evaluation of seven highly functionalized and artemisinin-containing domino products against human cytomegalovirus and Plasmodium falciparum 3D7 reveals high activity, with the compounds outperforming the clinical drugs ganciclovir and chloroquine.
[Full Paper]
Christina M. Bock, Gangajji Parameshwarappa, Simon Bönisch, Walter Bauer, Corina Hutterer, Maria Leidenberger, Oliver Friedrich, Manfred Marschall, Barbara Kappes, Andreas Görling, Svetlana B. Tsogoeva
ChemistryOpen, April 26, 2017, https://doi.org/10.1002/open.201700005 Read article
COS metal-free is better: Using metal-free Lewis pairs composed of triethylborane and various Lewis bases (LBs), colorless and highly transparent poly(monothiocarbonate)s were successfully obtained with over 99 % tail-to-head content and high molecular weight (up to 92.5 kg mol−1). The turnover frequency of these Lewis pair catalyzed processes were up to 119 h−1 at ambient temperature.
[Communication]
Jia-Liang Yang, Hai-Lin Wu, Yang Li, Xing-Hong Zhang, Donald J. Darensbourg
Angew. Chem. Int. Ed., April 26, 2017, https://doi.org/10.1002/anie.201701780 Read article
A practical (re)solution: The kinetic resolution of 2-substituted indolines by catalytic N-sulfonylation is reported using an atropisomeric 4-dimethylaminopyridine-N-oxide organocatalyst (see scheme). Vibrational cicrcular dichroism is used to assign the absolute configuration of the catalyst and a qualitative model that accounts for the stereodiscrimination is proposed.
[Communication]
James I. Murray, Nils J. Flodén, Adriano Bauer, Nico D. Fessner, Daniel L. Dunklemann, Opetoritse Bob-Egbe, Henry S. Rzepa, Thomas Bürgi, Jeffery Richardson, Alan C. Spivey
Angew. Chem. Int. Ed., April 26, 2017, https://doi.org/10.1002/anie.201700977 Read article
Bioinspired Organocatalytic Cascade: Dual mimicking of purpurogallin biosynthesis and copper amine oxidases activity allows the chemoselective oxidative cross-coupling of primary amines to imines under environmentally benign metal-free conditions.
[Communication]
Martine Largeron, Maurice-Bernard Fleury
Chem. Eur. J., April 24, 2017, https://doi.org/10.1002/chem.201701402 Read article
Stereocenters through cyclization: Bifunctional Brønsted-base-catalyzed stereodivergent all-carbon [4+2] cycloadditions of α,β-unsaturated aldehydes and nitroolefins is achieved, leading to chiral cyclohexenes with four contiguous stereocenters in high yields and selectivity. Compared to dienamine catalysis, this chemistry represents a conceptually novel HOMO-raising activation strategy on remote functionalization of the aldehyde functionality.
[Communication]
Ji-Kang Xie, Yang Wang, Jun-Bing Lin, Xiao-Rui Ren, Peng-Fei Xu
Chem. Eur. J., April 20, 2017, https://doi.org/10.1002/chem.201701315 Read article
One catalyst to rule them all: Mechanistic investigations were performed to unveil the activation modes and catalytic efficiency of the H-Pro-Pro-pAla-OMe catalyst in the 1,4-addition between aldehydes and nitroalkenes. This tripeptide behaves as a multi-activating catalyst, able to interact through a secondary amine group and non-covalent activations. A restrained tripeptide is optimal for better selectivities and fast reaction.
[Full Paper]
Margery Cortes-Clerget, Jesús Jover, Jade Dussart, Emilie Kolodziej, Maelle Monteil, Evelyne Migianu-Griffoni, Olivier Gager, Julia Deschamp, Marc Lecouvey
Chem. Eur. J., April 20, 2017, https://doi.org/10.1002/chem.201700604 Read article
Green Amides: A general, metal-free organocatalytic process for N-aryl amide synthesis has been developed using cheap and readily available lactones and aromatic amines. The formal ring-opening aminolysis (ROA) of the lactone partner occurs under mild reaction conditions and highlights the use of potentially bio-sourced lactones. The formal synthesis of pharma-relevant suberoyl-anilide-hydroxamic acid (SAHA) compounds is demonstrated using this new ROA methodology.
[Full Paper]
Wusheng Guo, José Enrique Gómez, Luis Martínez-Rodríguez, Nuno A. G. Bandeira, Carles Bo, Arjan W. Kleij
ChemSusChem, April 13, 2017, https://doi.org/10.1002/cssc.201700415 Read article
Tales of the unexpected: A series of alkanolamines, low-cost and biodegradable bases, were used to catalyze the carboxylative cyclization of propargylic amines with CO2. Triethanolamine (TEOA) was found to be a highly efficient organocatalyst for this important transformation at atmospheric pressure and a series of desired 2-oxazolidinone products were synthesized in good to excellent yields.
[Full Paper]
Yuling Zhao, Jikuan Qiu, Zhiyong Li, Huiyong Wang, Maohong Fan, Jianji Wang
ChemSusChem, April 11, 2017, https://doi.org/10.1002/cssc.201700241 Read article
[Microreview]
Hideto Miyabe
Eur. J. Org. Chem., April 04, 2017, https://doi.org/10.1002/ejoc.201700036 Read article
Organocatalyzed Atom Transfer Radical Polymerization (O-ATRP) is a new variant of controlled radical polymerization. Here, different classes of photocatalysts for O-ATRP are compared and contrasted in terms of the mechanism of O-ATRP in order to highlight relevant design principles for catalysts. Remaining challenges and outlook for future advances in O-ATRP are also discussed.
[Feature Article]
Jordan C. Theriot, Blaine G. McCarthy, Chern-Hooi Lim, Garret M. Miyake
Macromol. Rapid Commun., April 03, 2017, https://doi.org/10.1002/marc.201700040 Read article
Not a cooking recipe: An efficient method for the synthesis of 1,2-dihydropyridine derivatives from simple and readily available aromatic ketones, DMF, amines and propargylic alcohols has been developed via a Brønsted-acid-catalyzed multicomponent one-pot reaction. This reaction proceeded smoothly under metal- and ligand-free conditions in good yields, leading to functional organic molecules, via a self-organized sequence.
[Full Paper]
Yi-Bi Xie, Si-Pei Ye, Wei-Feng Chen, Yu-Lin Hu, De-Jiang Li, Long Wang
Asian J. Org. Chem., March 31, 2017, https://doi.org/10.1002/ajoc.201700127 Read article
Acid-induced 1,2-rearrangements of hydroxyindolenines lead to indoxyls and 2-oxindoles, but controlling product selectivity is often challenging. Phosphoric acids are found to be ideal organocatalysts to induce the highly regioselective rearrangement to 2-oxindoles for many examples.
[Communication]
Eva Schendera, Stephanie Lerch, Thorsten von Drathen, Lisa-Natascha Unkel, Malte Brasholz
Eur. J. Org. Chem., March 21, 2017, https://doi.org/10.1002/ejoc.201700085 Read article
N1, N2, N123, go! A highly N2-regioselective TsOH-catalyzed olefin hydroamination using NH-1,2,3-triazoles as the N-nucleophilc reagents leading to N2-alkyl-1,2,3-triazoles is reported. The reaction showed good to excellent N2-selectivities.
[Communication]
Hao Wei, Qingxia Hu, Yutao Ma, Liangming Wei, Jiaqiang Liu, Min Shi, Feijun Wang
Asian J. Org. Chem., March 21, 2017, https://doi.org/10.1002/ajoc.201700045 Read article
Hybrids of [60]fullerenes and bifunctional chiral thioureas have been easily prepared by Prato's reaction. These molecular thioureas behave as excellent organocatalysts for the nitro-Michael addition reaction. The catalysts function at very low loading, are easily recoverable, and reusable for five cycles.
[Full Paper]
José M. Andrés, Miguel González, Alicia Maestro, Daniel Naharro, Rafael Pedrosa
Eur. J. Org. Chem., March 15, 2017, https://doi.org/10.1002/ejoc.201601640 Read article
If you know what amine…! (R)-3-Alkyl-3-hydroxyindolin-2-one derivatives were prepared by a primary-amine-catalyzed aldol reaction between isatins and ketones. The biologically active natural product (R)-convolutamydine A was synthesized in 96 % yield and 95 % ee.
[Full Paper]
Jun-Tao Guo, Bao-Qiang Zhang, Yuan Luo, Zhi Guan, Yan-Hong He
Asian J. Org. Chem., March 15, 2017, https://doi.org/10.1002/ajoc.201700019 Read article
Eeny, meeny, enamines: Formation of dienamines and trienamines from common aminocatalysts and conjugated enals or dienals, respectively, have been monitored by 1H NMR spectroscopy. The protocol allows a fast, simple and direct comparison of various starting materials in the reactions examined.
[Communication]
Bartosz Łągiewka, Łukasz Albrecht
Asian J. Org. Chem., March 14, 2017, https://doi.org/10.1002/ajoc.201600616 Read article
Bifunctional squaramides have emerged as powerful hydrogen-bonding catalysts for promoting a wide array of useful asymmetric reactions, which provides convenient methods for the construction of complex molecular structures and chiral biologically active compounds. This review highlights the recent advances of our research group in the chiral squaramide-catalyzed asymmetric reactions, including Michael addition, Mannich reaction, aza-Henry reaction, Strecker reaction as well as cascade or sequential reactions.
[Personal Account]
Bo-Liang Zhao, Jun-Hua Li, Da-Ming Du
Chem. Rec., March 07, 2017, https://doi.org/10.1002/tcr.201600140 Read article
Done in one! An organocatalytic microwave-assisted reaction between isatin derivatives and dinitrotoluenes has been developed. A variety of 3-substituted 3-hydroxy-2-oxindoles were prepared in up to 99 % conversion by using this method. DFT calculations were performed to understand the nucleophilicity of 2,4-dinitrotoluene relative to the other toluene derivatives.
[Full Paper]
Jasneet Kaur, Nasarul Islam, Akshay Kumar, Swapandeep Singh Chimni
Asian J. Org. Chem., March 01, 2017, https://doi.org/10.1002/ajoc.201600614 Read article
This revision is covering the limited examples reported for a pivotal strategy in the formation of C−P bonds such as the asymmetric organocatalytic hydrophosphonylation of carbonyl groups (Pudovik reaction). The scope and limitations, and the proposed mechanisms for the scarce different possibilities of asymmetric induction are also shown. The recent evolution and future trends of this undeveloped approach are commented.
[Personal Account]
Raquel P. Herrera
Chem. Rec., February 07, 2017, https://doi.org/10.1002/tcr.201600129 Read article
1,2,3-Triazoles: unique heterocycles that allow both the coordination to metals and the establishment of supramolecular interactions. In this account we illustrate our recent results in the use of chiral triazole structures in metal Lewis-acid catalysis and anion-binding organocatalysis.
[Personal Account]
Mercedes Zurro, Olga García Mancheño
Chem. Rec., October 24, 2016, https://doi.org/10.1002/tcr.201600104 Read article
[Review]
Douglass F. Taber
Isr. J. Chem., April 15, 2015, https://doi.org/10.1002/ijch.201500006 Read article
© Wiley-VCH 2016.