Organocatalysis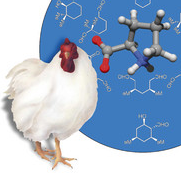 The term organocatalysis describes the acceleration of chemical reactions through the addition of a substoichiometric quantity of an organic compound. The interest in this field has increased spectacularly in the last few years as result of both the novelty of the concept and, more importantly, the fact that the efficiency and selectivity of many organocatalytic reactions meet the standards of established organic reactions. Organocatalytic reactions are becoming powerful tools in the construction of complex molecular skeletons.[1,2]
[1] P. I. Dalko, L. Moisan,
Angew. Chem. 2001, 113, 3840; Angew. Chem. Int. Ed. 2001, 40, 3726
Angew. Chem. 2004, 116, 5248; Angew. Chem. Int. Ed. 2004, 43, 5138.
[2] Special issue of Adv. Synth. Catal. 2004, 346, Nr. 9-10.
Recent Articles

RSS feed
All hail the halo: A halogen bond catalyzed bromo-carbocyclization of N-cinnamyl sulfonamides and O-cinnamyl phenyl ethers is described. N-methyl 4-iodopyridinium triflate is used as the halogen-bonding organocatalyst. The reaction features good yield, high chemoselectivity, mild reaction conditions, broad substrate scope, and the catalyst is air and moisture stable.
[Communication]
Yuk-Cheung Chan, Ying-Yeung Yeung
Angew. Chem. Int. Ed., February 23, 2018, https://doi.org/10.1002/anie.201800261 Read article
The addition of alcohols to carbodiimides is catalyzed by transition-metal-free compounds such as 1,5,7-triazabicyclo[4.4.0]dec-5-ene (TBD) and its alkali-metal salts. Isoureas are obtained in short reaction times and high yields when TBDK is used as the catalyst.
[Communication]
Arnaud Imberdis, Guillaume Lefèvre, Pierre Thuéry, Thibault Cantat
Angew. Chem. Int. Ed., February 21, 2018, https://doi.org/10.1002/anie.201711737 Read article
Two are better than one: The use of assisting Brønsted-acids allows the modulation of reactivities and selectivities of chiral Brønsted-acid organocatalysts. Experimental and theoretical investigations of the intra- and intermolecular hydrogen-bonding interactions, which play a key role in the reaction mechanisms, are used to develop a better understanding of these combined-acid catalysts.
[Minireview]
Raja Mitra, Jochen Niemeyer
ChemCatChem, February 12, 2018, https://doi.org/10.1002/cctc.201701698 Read article
Known for being choosy: A cornerstone reaction in organic synthesis, the vicinal anti-dioxygenation of simple alkenes provides a direct access to 1,2-diols and their derivatives. In this Focus Review, the advances in this research area are surveyed and organized according to the type of the reaction pathway.
[Focus Review]
Chuan Wang
Asian J. Org. Chem., February 05, 2018, https://doi.org/10.1002/ajoc.201700621 Read article
Chiral indoline–benzodiazepine scaffolds with seven-membered rings were synthesized via an enantioselective Pictet–Spengler-type reaction catalyzed by chiral imidodiphosphoric acids. A variety of substitution patterns were achieved with high yields (up to 97 %) and enantioselectivities (up to 99 % ee).
[Communication]
Jigang Gao, Yingying Chen, Tianyun Zhou, Guofeng Liu, Dong An, Minghua Zhuo, Guangliang Zhang, Suoqin Zhang
Asian J. Org. Chem., February 01, 2018, https://doi.org/10.1002/ajoc.201700708 Read article
A combination of organocatalytic aldehyde gem-difluorination and copper-catalyzed decarboxylative aldolization has been developed providing a one-pot access to gem-difluorohydrins. This is possible by the in situ generation and trapping of the volatile bis-fluorinated aldehyde intermediates using a compatible decarboxylative aldolization, resulting in the otherwise difficult C–C bond formation.
[Communication]
Angela Ricucci, Jean Rodriguez, Adrien Quintard
Eur. J. Org. Chem., January 17, 2018, https://doi.org/10.1002/ejoc.201701459 Read article
[Personal Account]
Diego Alves, Bruna Goldani, Eder J. Lenardão, Gelson Perin, Ricardo F. Schumacher, Márcio W. Paixão
Chem. Rec., December 13, 2017, https://doi.org/10.1002/tcr.201700058 Read article
[Review]
Douglass F. Taber
Isr. J. Chem., April 15, 2015, https://doi.org/10.1002/ijch.201500006 Read article
© Wiley-VCH 2016.