Organocatalysis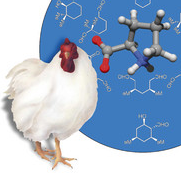 The term organocatalysis describes the acceleration of chemical reactions through the addition of a substoichiometric quantity of an organic compound. The interest in this field has increased spectacularly in the last few years as result of both the novelty of the concept and, more importantly, the fact that the efficiency and selectivity of many organocatalytic reactions meet the standards of established organic reactions. Organocatalytic reactions are becoming powerful tools in the construction of complex molecular skeletons.[1,2]
[1] P. I. Dalko, L. Moisan,
Angew. Chem. 2001, 113, 3840; Angew. Chem. Int. Ed. 2001, 40, 3726
Angew. Chem. 2004, 116, 5248; Angew. Chem. Int. Ed. 2004, 43, 5138.
[2] Special issue of Adv. Synth. Catal. 2004, 346, Nr. 9-10.
Recent Articles

RSS feed
Highly efficient organocatalysis: Reductive functionalization of CO2 with amines employing tetrabutylammonium fluoride affords formamides and methylamines, respectively. Such a protocol allows selective two- or six-electron reduction of CO2 coupled to C−N bond construction (see scheme).
[Full Paper]
Xiao-Fang Liu, Ran Ma, Chang Qiao, Han Cao, Liang-Nian He
Chem. Eur. J., October 21, 2016, DOI: 10.1002/chem.201603688. Read article
Aldehydes derived from glutamic acid and from aspartic acid were subjected to proline-catalyzed α-hydroxylation and reductive amination to synthesize two stereoisomers of each of hydroxylysine, hydroxyornithine and 2,4-diamino-3-hydroxybutanoic acid. A facile synthesis of the aminocaprolactam ring of bengamide A was also achieved.
[Full Paper]
Anijamol T. Philip, Eerlapally Raju, Ramesh Ramapanicker
Eur. J. Org. Chem., October 20, 2016, DOI: 10.1002/ejoc.201600842. Read article
N-Heterocyclic carbene (NHC) catalysis is a versatile and powerful strategy to construct complex molecules. To extend and enhance the reactivity of these nucleophiles, cooperative catalysis and related activation approaches have been developed by integrating complementary modes (Lewis/Brønsted acidity, transition-metal processes, photoredox). Recent contributions are summarized in this Minireview.
[Minireview]
Michael H. Wang, Karl A. Scheidt
Angew. Chem. Int. Ed., October 20, 2016, DOI: 10.1002/anie.201605319. Read article
Witched switch: Devising straightforward, environmentally sustainable and practical chemical syntheses is a must (Noyori). We have conceived a switchable synthetic method to access either enantiopure dihydropyrimidinones or hexahydropyrimidinones. It is not magic, but just the right combination of players being conducted in an enzyme-like manner by the catalytic job of a salan organocatalysts that displays a network of cooperative hydrogen bonds.
[Communication]
V. J. Lillo, J. M. Saá
Chem. Eur. J., October 18, 2016, DOI: 10.1002/chem.201604433. Read article
The capability of chiral ammonium oxyanions and fluorides to act as efficient ion pair organocatalysts in protonation or deprotonation reactions through their potent Brønsted or Lewis base behavior will be emphasized through authors′ personal research examples in the context of the existing literature.
[Personal Account]
Fabien Legros, Sylvain Oudeyer, Vincent Levacher
Chem. Rec., October 13, 2016, DOI: 10.1002/tcr.201600111. Read article
Abnormally selective: The first catalytic asymmetric cycloaddition using 2-indolylmethanols as 3 C building blocks has been established by chiral phosphoric acid-catalyzed enantioselective and regioselective [3+3] cycloaddition of 2-indolylmethanols with azomethine ylides, which constructed biologically important tetrahydro-γ-carboline framework in high yields and excellent enantioselectivities (up to 83 % yield, 99:1 e.r.).
[Communication]
Xiao-Xue Sun, Hong-Hao Zhang, Guo-Hao Li, Ying-Ying He, Feng Shi
Chem. Eur. J., October 13, 2016, DOI: 10.1002/chem.201603049. Read article
[Full Paper]
Shan-Ping Ji, Lin-Wei Liu, Feng Chen, Hong-Xia Ren, Yu Yang, Zheng-Bing Zhang, Lin Peng, Li-Xin Wang
Eur. J. Org. Chem., October 12, 2016, DOI: 10.1002/ejoc.201600884. Read article
The missing piece: The construction of chlorinated quaternary stereocenters is a challenge for organic chemists. The growth in organocatalysis has prompted the exploration of such a strategy for this purpose. This review focuses on state-of-the-art research in the area of organocatalysis for the construction of chlorinated quaternary stereocenters and presents both successful examples and limitations that still need to be overcome.
[Focus Review]
Melania Gómez-Martínez, Diego A. Alonso, Isidro M. Pastor, Gabriela Guillena, Alejandro Baeza
Asian J. Org. Chem., October 11, 2016, DOI: 10.1002/ajoc.201600404. Read article
An effective Barbas [4+2]-cycloaddition is disclosed to access druglike six-membered spirooxindoles from simple aliphatic substrates in good yields with excellent enantioselectivities through synergistic amine/acid catalysis. DCE = 1,2-dichloroethane.
[Communication]
Dhevalapally B. Ramachary, P. Sreekanth Reddy, Kodambahalli S. Shruthi, R. Madhavachary, P. V. Govardhana Reddy
Eur. J. Org. Chem., October 07, 2016, DOI: 10.1002/ejoc.201601011. Read article
Enriching our understanding: The detailed mechanism as well as chemo- and stereoselectivity of the NHC-catalyzed [4+2] annulation reaction for the formation of enantioenriched coumarins have been investigated using the DFT method.
[Full Paper]
Linjie Zheng, Yang Wang, Donghui Wei, Yan Qiao
Chem. Asian J., October 05, 2016, DOI: 10.1002/asia.201601022. Read article
Back to Lewis basics: Oxygen- and nitrogen-containing heterocyclic compounds are widely recognized as key components in many natural products and biologically relevant molecules, but often problems result in finding methodologies in synthesizing them. Asymmetric electrophilic halocyclization with chalcogen-containing molecules as catalysts are discussed, along with applications of the reaction products.
[Personal Account]
Matthew H. Gieuw, Zhihai Ke, Ying-Yeung Yeung
Chem. Rec., October 04, 2016, DOI: 10.1002/tcr.201600088. Read article
Making bonds: The Morita–Baylis–Hillman reaction of nitroallylic alcohols and derived acetates and amines have been utilised in asymmetric catalysis and heterocycle synthesis. These adducts are useful synthons in organocatalysis that involves cascade reactions, kinetic resolution, and desymmetrisation. In addition, these substrates can also be used for the construction of numerous substituted heterocycles.
[Personal Account]
Wan-Yun Huang, Shaik Anwar, Kwunmin Chen
Chem. Rec., October 04, 2016, DOI: 10.1002/tcr.201600075. Read article
An asymmetric Mannich reaction of various aryl methyl ketones (acetophenone derivatives) with different substituted cyclic imine benzo[e][1,2,3]oxathiazine 2,2-dioxides has been developed using an alkaloid-derived primary amine as organocatalyst, providing benzo-fused cyclic sulfamidate N-heterocycles with 85-98 % ee.
[Full Paper]
Xiao-Yu Cui, Hui-Xin Duan, Yongna Zhang, You-Qing Wang
Chem. Asian J., September 30, 2016, DOI: 10.1002/asia.201601149. Read article
Amine-mediated cascade reactions of unprotected ketoses were elaborated. Extremely matched or mismatched cases were detected by deployment of d- or l-proline in these transformations.
[Full Paper]
Celin Richter, Michael Krumrey, Kristin Klaue, Rainer Mahrwald
Eur. J. Org. Chem., September 29, 2016, DOI: 10.1002/ejoc.201601058. Read article
I've got anion you: A simple approach for the N-formylation of aliphatic and aromatic amines with CO2 and hydrosilane reducing agents at room temperature and atmospheric pressure is described. Fluoride and hydroxide salts efficiently catalyze the reaction, principally through activation of the hydrosilanes. Using n-Bu4NF as a simple ammonium salt catalyst, the N-formylated products are obtained in excellent yields with high selectivities.
[Communication]
Martin Hulla, Felix D. Bobbink, Shoubhik Das, Paul J. Dyson
ChemCatChem, September 26, 2016, DOI: 10.1002/cctc.201601027. Read article
Observing back and forth: Mass spectrometric back reaction screening of quasi-enantiomeric products may serve as a valuable tool for examining the mechanism of an enantioselective catalytic process. By comparing the results from the forward and back reaction, direct evidence for the involvement of a catalytic intermediate in the enantioselective step can be obtained. The potential of this method is demonstrated for various organocatalytic asymmetric reactions.
[Personal Account]
Patrick G. Isenegger, Andreas Pfaltz
The Chemical Record, July 15, 2016, DOI: 10.1002/tcr.201600072. Read article
Molecular Swiss Army Knives! This review covers the reactivity of chiral isothioureas, which emerged as nucleophilic organocatalysts in 2006. Multiple modes of activation rapidly came to be displayed by these heterocycles; this now makes them powerful catalysts in the toolbox of the organic chemist.
[Microreview]
Jérémy Merad, Jean-Marc Pons, Olivier Chuzel, Cyril Bressy
Eur. J. Org. Chem., July 13, 2016, DOI: 10.1002/ejoc.201600399. Read article
[Review]
Douglass F. Taber
Isr. J. Chem., April 15, 2015, DOI: 10.1002/ijch.201500006. Read article
© Wiley-VCH 2016.