Organocatalysis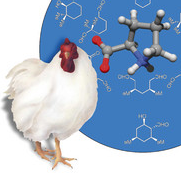 The term organocatalysis describes the acceleration of chemical reactions through the addition of a substoichiometric quantity of an organic compound. The interest in this field has increased spectacularly in the last few years as result of both the novelty of the concept and, more importantly, the fact that the efficiency and selectivity of many organocatalytic reactions meet the standards of established organic reactions. Organocatalytic reactions are becoming powerful tools in the construction of complex molecular skeletons.[1,2]
[1] P. I. Dalko, L. Moisan,
Angew. Chem. 2001, 113, 3840; Angew. Chem. Int. Ed. 2001, 40, 3726
Angew. Chem. 2004, 116, 5248; Angew. Chem. Int. Ed. 2004, 43, 5138.
[2] Special issue of Adv. Synth. Catal. 2004, 346, Nr. 9-10.
Recent Articles

RSS feed
Chromane synthesis: An organocatalytic asymmetric intramolecular [4+2] cycloaddition of in situ generated ortho-quinone methides is described. In the presence of a chiral imidophosphoric acid catalyst, various salicylaldehydes react with dienyl alcohols to afford highly functionalized furanochromanes or pyranochromanes in excellent diastereo- and enantoselectivity.
[Communication]
Youwei Xie, Benjamin List
Angew. Chem. Int. Ed., February 17, 2017, DOI: 10.1002/anie.201612149. Read article
This revision is covering the limited examples reported for a pivotal strategy in the formation of C−P bonds such as the asymmetric organocatalytic hydrophosphonylation of carbonyl groups (Pudovik reaction). The scope and limitations, and the proposed mechanisms for the scarce different possibilities of asymmetric induction are also shown. The recent evolution and future trends of this undeveloped approach are commented.
[Personal Account]
Raquel P. Herrera
Chem. Rec., February 07, 2017, DOI: 10.1002/tcr.201600129. Read article
[Communication]
Zoltán Dobi, Tamás Holczbauer, Tibor Soós
Eur. J. Org. Chem., February 06, 2017, DOI: 10.1002/ejoc.201601524. Read article
1 bar? Wunderbar! Economical and readily available cyanuric acid was demonstrated to be an excellent organocatalyst for the utilization of atmospheric pressure carbon dioxide. The catalytic system was applicable to various propargylamines and 2-aminobenzonitriles for the synthesis of 2-oxazolidinones and quinazoline-2,4(1H,3H)-diones. In particular, CO2 in air was directly converted into 2-oxazolidinone in excellent yields without external reagents.
[Communication]
Bing Yu, Daeun Kim, Seoksun Kim, Soon Hyeok Hong
ChemSusChem, January 31, 2017, DOI: 10.1002/cssc.201601684. Read article
An aerobic oxidative coupling method for the formation of S−N and S−S bonds, using TEMPO as a catalyst and O2 as an oxidant, has been developed. Reactions showed good tolerance toward various amines and thiols, and sulfenamides were produced in up to 99% yield in a one-pot synthesis.
[Communication]
Liting Yang, Shuding Li, Yingchao Dou, Shan Zhen, Heng Li, Panke Zhang, Bingxin Yuan, Guanyu Yang
Asian J. Org. Chem., January 30, 2017, DOI: 10.1002/ajoc.201600588. Read article
[Communication]
Adriane A. Pereira, Amanda S. Pereira, Amanda C. de Mello, Arthur G. Carpanez, Bruno A. C. Horta, Giovanni W. Amarante
Eur. J. Org. Chem., January 27, 2017, DOI: 10.1002/ejoc.201601613. Read article
A better understanding: The catalytic efficiency and selectivity of bicyclic guanidines (1,5,7-triazabicyclo[4.4.0]dec-5-ene, TBD, and 7-methyl-1,5,7-triazabicyclo[4.4.0]dec-5-ene, MTBD) for the coupling of a propargylic alcohol with CO2 under mild conditions is investigated in detail through the combination of DFT calculations and online kinetic studies by in situ attenuated-total reflection (ATR)–IR spectroscopy.
[Full Paper]
Amélie Boyaval, Raphaël Méreau, Bruno Grignard, Christophe Detrembleur, Christine Jerome, Thierry Tassaing
ChemSusChem, January 27, 2017, DOI: 10.1002/cssc.201601524. Read article
One-pot magic: A green organocatalytic one-pot procedure for the dihydroxylation of alkenes is described. The reaction proceeds through an intermolecular ring opening of the in situ prepared epoxide in the presence of water to lead to the desired product. A variety of homoallylic alcohols, aminoalkenes, and simple alkenes were converted into the corresponding polyalcohols in excellent yields.
[Full Paper]
Alexis Theodorou, Ierasia Triandafillidi, Christoforos G. Kokotos
Eur. J. Org. Chem., January 03, 2017, DOI: 10.1002/ejoc.201601144. Read article
1,2,3-Triazoles: unique heterocycles that allow both the coordination to metals and the establishment of supramolecular interactions. In this account we illustrate our recent results in the use of chiral triazole structures in metal Lewis-acid catalysis and anion-binding organocatalysis.
[Personal Account]
Mercedes Zurro, Olga García Mancheño
Chem. Rec., October 24, 2016, DOI: 10.1002/tcr.201600104. Read article
The capability of chiral ammonium oxyanions and fluorides to act as efficient ion pair organocatalysts in protonation or deprotonation reactions through their potent Brønsted or Lewis base behavior will be emphasized through authors′ personal research examples in the context of the existing literature.
[Personal Account]
Fabien Legros, Sylvain Oudeyer, Vincent Levacher
Chem. Rec., October 13, 2016, DOI: 10.1002/tcr.201600111. Read article
Back to Lewis basics: Oxygen- and nitrogen-containing heterocyclic compounds are widely recognized as key components in many natural products and biologically relevant molecules, but often problems result in finding methodologies in synthesizing them. Asymmetric electrophilic halocyclization with chalcogen-containing molecules as catalysts are discussed, along with applications of the reaction products.
[Personal Account]
Matthew H. Gieuw, Zhihai Ke, Ying-Yeung Yeung
Chem. Rec., October 04, 2016, DOI: 10.1002/tcr.201600088. Read article
Making bonds: The Morita–Baylis–Hillman reaction of nitroallylic alcohols and derived acetates and amines have been utilised in asymmetric catalysis and heterocycle synthesis. These adducts are useful synthons in organocatalysis that involves cascade reactions, kinetic resolution, and desymmetrisation. In addition, these substrates can also be used for the construction of numerous substituted heterocycles.
[Personal Account]
Wan-Yun Huang, Shaik Anwar, Kwunmin Chen
Chem. Rec., October 04, 2016, DOI: 10.1002/tcr.201600075. Read article
[Review]
Douglass F. Taber
Isr. J. Chem., April 15, 2015, DOI: 10.1002/ijch.201500006. Read article
© Wiley-VCH 2016.