Photocatalysis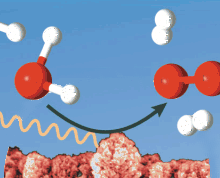 Photocatalysis has seen growing interest recently: Not only in the reactions of small molecules such as H2O (water splitting)[1] and CO2 (forming solar fuels),[2] but also in organic synthesis.[3]
[1] J. Xing, W. Q. Fang, H. J. Zhao, H. G. Yang: Inorganic Photocatalysts for Overall Water Splitting
Chem. Asian J. 2012, 7, 642–657
[2] S. N. Habisreutinger, L. Schmidt-Mende, J. K. Stolarczyk: Photocatalytic Reduction of CO2 on TiO2 and Other Semiconductors
Angew. Chem. Int. Ed. 2013, 52, 7372–7408
[3] J. Xuan, W.-J. Xiao: Visible-Light Photoredox Catalysis
Angew. Chem. Int. Ed. 2012, 51, 6828–6838
Also see: Pierre Pichat (Ed): Photocatalysis and Water Purification: From Fundamentals to Recent Applications, Wiley-VCH 2013.
Find all articles on photocatalysis in Wiley Online Library...
Recent Articles

RSS feed
Continuously increasing CO2 emission and world energy demands draws attention to utilize CO2 as feed stock to produce alternative energy fuels. Photocatalytic reduction of CO2 is a potential approach to mitigate global warming. Here, InVO4 was prepared by hydrothermal route without using any organic template. CO2 reduction has been done in liquid media under visible light irradiation. Prepared catalyst provides CO as selective product under LED light irradiations. The maximum CO yield is 519.75 ppm with traces of H2 over InVO4 catalyst after 48 h irradiation in 20W visible light LED.
[Communication]
Nikita Singhal, Umesh Kumar
ChemistrySelect, April 27, 2017, https://doi.org/10.1002/slct.201700527 Read article
Click reaction was used as an immobilization strategy for heterogenization of cobalt complex to nanoporous graphitic carbon nitride. The synthesized photocatalyst was used for direct esterification reaction of aldehydes with alcohols under visible light irradiation at room temperature. Photocatalyst exhibited higher stability and recyclability for several runs with consistent activity.
[Full Paper]
Anurag Kumar, Pawan Kumar, Abhishek Kumar Pathak, Appala Naidu Chokkapu, Suman L. Jain
ChemistrySelect, April 27, 2017, https://doi.org/10.1002/slct.201602031 Read article
A melem-derived narrow bandgap carbon nitride nanosheet photocatalyst with a high hydrogen evolution rate is reported. The synthesis of narrow bandgap CNNS with high quantum efficiency is of importance. A record-low bandgap of 2.45 eV comes with improved optical absorption and shows excellent charge transport dynamics. A high hydrogen evolution rate of 863 µmol h−1 with apparent quantum efficiency of 16% at 420 nm is demonstrated.
[Full Paper]
Mohammad Rahman, Kenneth Davey, Shi-Zhang Qiao
Small, April 25, 2017, https://doi.org/10.1002/smll.201700376 Read article
ZnO spherical particles exposing only Zn2+–(0001) polar planes are prepared via a solvothermal route using a water–ethylene glycol solvent mix. The roles of water molecules, ethylene glycol, and the intrinsic dipolar field of ZnO crystals are discussed. BET measurements in conjunction with the degradation of methylene blue dye data demonstrate their enhanced photocatalytic performance.
[Full Paper]
Heather F. Greer, Wuzong Zhou, Guan Zhang, Hervé Ménard
Adv. Mater. Interfaces, April 24, 2017, https://doi.org/10.1002/admi.201601238 Read article
Visibly better: A facile one-step pyrolysis process was developed to synthesize iron-doped graphitic carbon nitride nanosheets. The sample with 0.5 wt % FeCl3 exhibited the best photocatalytic performance in the degradation of Methylene Blue and water splitting under visible light irradiation.
[Full Paper]
Jingtian Gao, Yun Wang, Shijian Zhou, Wei Lin, Yan Kong
ChemCatChem, April 20, 2017, https://doi.org/10.1002/cctc.201700492 Read article
Illuminating: A series of CuI photosensitizers were developed by changing various substituents of the ligand. A CuI photosensitizer with bulky and electron-donating triphenylamine ligands shows strong visible-light absorption, a high photoluminescence quantum yield, and long excited-state lifetime. It achieves a high turnover number of 19 000 for photocatalytic H2 evolution from water and could potentially replace noble-metal-based photosensitizers.
[Communication]
Jaekwan Kim, Dong Ryeol Whang, Soo Young Park
ChemSusChem, April 13, 2017, https://doi.org/10.1002/cssc.201700389 Read article
[Article]
Fan Ye, Zhi-Xian Wei, Jiang-Feng Song, Xu-Hong Wu, Pan Yue
Z. Anorg. Allg. Chem., April 12, 2017, https://doi.org/10.1002/zaac.201700096 Read article
Tri-s-triazine-based crystalline carbon nitride nanosheets have been successfully extracted via a simple and cost-effective sonication–centrifugation process. Benefiting from the inherent structure of 2D crystals, these few-layered tri-s-triazine-based crystalline carbon nitride nanosheets show high photocatalytic H2 production activity under visible light irradiation, reaching a high apparent quantum efficiency of 8.57% at 420 nm.
[Communication]
Honghui Ou, Lihua Lin, Yun Zheng, Pengju Yang, Yuanxing Fang, Xinchen Wang
Adv. Mater., April 12, 2017, https://doi.org/10.1002/adma.201700008 Read article
Multifunctional TiO2@xGd nanobeads (NBs) show perfect biocompatibility in the absence of light and enhanced reactive oxygen species generation under irradiation, which provides efficient cancer-cell destruction. Gadolinium doping adds the benefit of optical imaging and significantly improves magnetic resonance imaging relaxation times to the NBs, beneficial for cancer diagnosis.
[Full Paper]
Roghayeh Imani, Ralf Dillert, Detlef W. Bahnemann, Meysam Pazoki, Tomaž Apih, Veno Kononenko, Neža Repar, Veronika Kralj-Iglič, Gerrit Boschloo, Damjana Drobne, Tomas Edvinsson, Aleš Iglič
Small, April 04, 2017, https://doi.org/10.1002/smll.201700349 Read article
High–light: A Cu2O/g-C3N4/WS2 triple-layer photocathode is fabricated by using a layer-by-layer assembly method with Cu2O as the light harvester, g-C3N4 as the protective layer, and exfoliated mixed-phase WS2 as the hydrogen evolution catalyst. A high light-to-hydrogen conversion efficiency can be obtained with a low overpotential and a large photocurrent.
[Article]
Xintian Xu, Yizhe Liu, Yuanzhi Zhu, Xiaobin Fan, Yang Li, Fengbao Zhang, Guoliang Zhang, Wenchao Peng
ChemElectroChem, April 03, 2017, https://doi.org/10.1002/celc.201700014 Read article
Anisotropic bimetallic gold/palladium nanostructures are synthesized by first site-selectively coating silica either at the ends or side surface of gold nanobipyramids and subsequently overgrowing palladium at the exposed sites of the nanobipyramids. Such anisotropic bimetallic nanostructures exhibit plasmonic photocatalytic activities that are dependent on the position of palladium nanoparticles on the nanobipyramids.
[Full Paper]
Xingzhong Zhu, Henglei Jia, Xiao-Ming Zhu, Si Cheng, Xiaolu Zhuo, Feng Qin, Zhi Yang, Jianfang Wang
Adv. Funct. Mater., April 03, 2017, https://doi.org/10.1002/adfm.201700016 Read article
A sacrifice to the Sun god: Photocatalytic hydrogen production from water and renewable feedstocks is gaining tremendous attention as a potential standalone process for efficient energy production. In this Review, the crucial effect of the cocatalyst and the sacrificial agent are critically discussed and the recent progress on the development of novel photocatalysts is presented with particular attention to organic and hybrid organic/ inorganic materials.
[Review]
Konstantinos C. Christoforidis, Paolo Fornasiero
ChemCatChem, March 27, 2017, https://doi.org/10.1002/cctc.201601659 Read article
Gimme the light! Benzylic C−H bonds of toluene derivatives are directly arylated with aryl halides by means of a nickel–dtbbpy catalyst under irradiation with UV light; dtbbpy=4,4′-di-tert-butyl-2,2′-bipyridine.
[Communication]
Naoki Ishida, Yusuke Masuda, Norikazu Ishikawa, Masahiro Murakami
Asian J. Org. Chem., March 21, 2017, https://doi.org/10.1002/ajoc.201700115 Read article
A closer look: Various reliable characterization methods for a photocatalytic reactor consisting of semiconductor particles and mediator shuttles are proposed. The method is exemplified utilizing photocatalytic titania particles in an iron-based aqueous electrolyte for effective oxygen evolution and mediator reduction reactions under illumination. Several product characterization methods, including an optical oxygen sensor, pressure sensor, gas chromatography, and UV/Vis spectroscopy are used and compared.
[Full Paper]
Lihao Han, Meng Lin, Sophia Haussener
ChemSusChem, March 16, 2017, https://doi.org/10.1002/cssc.201601901 Read article
Go for gold: Gold-nanoparticle-decorated BiOCl nanosheets are fabricated in one step based on laser ablation of a gold target in a hydrochloric acid solution of bismuth nitrate without surfactant. They exhibit significantly enhanced photocatalytic activity on organic pollutants under visible-light irradiation and with good recycling performance.
[Article]
Yi Wei, Hongjian Zhou, Hongwen Zhang, Xiaoguang Zhu, Guangqiang Liu, Yue Li, Weiping Cai
ChemPhysChem, February 22, 2017, https://doi.org/10.1002/cphc.201601261 Read article
Well-defined polymers are obtained through photoinduced atom transfer radical polymerization (photoATRP) by iron(III) as an air-stable catalyst. This system only requires monomer, FeBr3 in MeCN without any additional ATRP initiator, ligand, radical initiator, or reducing agent. This low cost method also shows temporal control and high chain end functionality.
[Communication]
Xiangcheng Pan, Nikhil Malhotra, Sajjad Dadashi-Silab, Krzysztof Matyjaszewski
Macromol. Rapid Commun., December 20, 2016, https://doi.org/10.1002/marc.201600651 Read article
A novel polymerization method, step transfer-addition and radical-termination, suitable for α,ω-unconjugated dienes has been discovered through the construction of perfluorocarbon-containing alternating copolymers under irradiation of visible light at room temperature for the first time.
[Communication]
Tianchi Xu, Hongnan Yin, Xiaohong Li, Lifen Zhang, Zhenping Cheng, Xiulin Zhu
Macromol. Rapid Commun., November 11, 2016, https://doi.org/10.1002/marc.201600587 Read article
A novel photocatalyst 1,2,3,5-tetrakis(carbazol-9-yl)-4,6-dicyanobenzene is successfully used to mediate a metal-free atom transfer radical polymerization of methyl methacrylate just with ppm level usage under irradiation of blue light emitting diode at room temperature.
[Communication]
Zhicheng Huang, Yu Gu, Xiaodong Liu, Lifen Zhang, Zhenping Cheng, Xiulin Zhu
Macromol. Rapid Commun., October 28, 2016, https://doi.org/10.1002/marc.201600461 Read article
© Wiley-VCH 2016.