Photocatalysis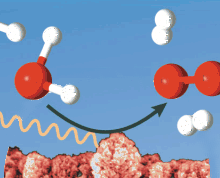 Photocatalysis has seen growing interest recently: Not only in the reactions of small molecules such as H2O (water splitting)[1] and CO2 (forming solar fuels),[2] but also in organic synthesis.[3]
[1] J. Xing, W. Q. Fang, H. J. Zhao, H. G. Yang: Inorganic Photocatalysts for Overall Water Splitting
Chem. Asian J. 2012, 7, 642–657
[2] S. N. Habisreutinger, L. Schmidt-Mende, J. K. Stolarczyk: Photocatalytic Reduction of CO2 on TiO2 and Other Semiconductors
Angew. Chem. Int. Ed. 2013, 52, 7372–7408
[3] J. Xuan, W.-J. Xiao: Visible-Light Photoredox Catalysis
Angew. Chem. Int. Ed. 2012, 51, 6828–6838
Also see: Pierre Pichat (Ed): Photocatalysis and Water Purification: From Fundamentals to Recent Applications, Wiley-VCH 2013.
Find all articles on photocatalysis in Wiley Online Library...
Recent Articles

RSS feed
Dot, dot, dot: CsPbBr3 quantum dots as a new type of photocatalytic material achieve an efficient yield and high selectivity of over 99 % for solar CO2 reduction.
[Communication]
Jungang Hou, Shuyan Cao, Yunzhen Wu, Zhanming Gao, Fei Liang, Yiqing Sun, Zheshuai Lin, Licheng Sun
Chem. Eur. J., June 23, 2017, https://doi.org/10.1002/chem.201702237 Read article
Donation welcome: Recent developments in visible-light photocatalysis allow the utilization of increasingly negative reduction potentials. Successive energy and electron transfer with polycyclic aromatic hydrocarbons enables the catalytic formation of strongly reducing arene radical anions, classical stoichiometric reagents for one-electron reduction in organic synthesis.
[Highlight]
Malte Brasholz
Angew. Chem. Int. Ed., June 23, 2017, https://doi.org/10.1002/anie.201704763 Read article
III-Nitride semiconductors have a unique ability to stabilize ultra-small ruthenium clusters with a high loading density up to 5 wt %. The metal/semiconductor interfacial Schottky junction facilitates photogenerated electron transfer from III-nitrides to ruthenium, rendering ruthenium an electron sink that promotes N≡N bond cleavage during low-temperature ammonia synthesis.
[Communication]
Lu Li, Yichen Wang, Srinivas Vanka, Xiaoyue Mu, Zetian Mi, Chao-Jun Li
Angew. Chem. Int. Ed., June 23, 2017, https://doi.org/10.1002/anie.201703301 Read article
Flavin-containing old yellow enzymes (OYE) are activated by molecular photosensitizers through direct transfer of photoinduced electrons to the prosthetic flavin moiety without any NAD(P)H cofactor. Rose bengal (4,5,6,7-tetrachloro-2′,4′,5′,7′-tetraiodofluorescein, RB) and its xanthene derivatives are explored as photosensitizers to drive OYE-catalyzed reduction of conjugated C=C bonds under visible light illumination.
[Communication]
Sahng Ha Lee, Da Som Choi, Milja Pesic, Yang Woo Lee, Caroline E. Paul, Frank Hollmann, Chan Beum Park
Angew. Chem. Int. Ed., June 23, 2017, https://doi.org/10.1002/anie.201702461 Read article
Hydrogen titanates were achieved via a room temperature hydrolysis route, which were subjected to a subsequent hot water treatment to achieve TiO2 crystallites. The energy-efficient, low-temperature synthetic route guarantees abundant hydroxyl groups and high specific surface area for TiO2, which exhibited an efficiency doubled that of commercial P25 toward photodegradation of rhodamine B under the UV light illumination.
[Full Paper]
Lu–Lu Lai, Wei Wen, Jin-Ming Wu
ChemistrySelect, June 22, 2017, https://doi.org/10.1002/slct.201700372 Read article
The energy conversion from solar light to chemical is one of the most important areas of research in renewable energy studies. The photocatalytic work that light can achieve with a certain photonic energy range, from UV light to visible light to near-infrared light, is summarized. The mechanisms and specific strategies of light–chemical energy conversion based on various photonic energies are discussed.
[Progress Report]
Xiaoning Wang, Fulei Wang, Yuanhua Sang, Hong Liu
Adv. Energy Mater., June 16, 2017, https://doi.org/10.1002/aenm.201700473 Read article
Thermally stable metal-organic frameworks as hard templates are successfully employed to afford porous metal oxides and subsequently metal sulfides by a nanocasting approach. Remarkably, the resultant hierarchically porous CdS demonstrates its superior photocatalytic performance to the corresponding bulk and nanosized counterparts in hydrogen production by water splitting under visible light irradiation.
[Full Paper]
Juan-Ding Xiao, Hai-Long Jiang
Small, June 01, 2017, https://doi.org/10.1002/smll.201700632 Read article
Sound and light for a nice show! The combination of sonochemistry (power ultrasound) and photocatalysis (UV light) represents an innovative way to valorize biomass into fuels or platform molecules… but how to proceed?
[Concept]
Gregory Chatel, Sabine Valange, Ronan Behling, Juan Carlos Colmenares
ChemCatChem, June 01, 2017, https://doi.org/10.1002/cctc.201700297 Read article
Tune up the backbone: The effects on water oxidation of tuning the donating ability of carbon donors by ligand substitutions in the backbones of N-heterocyclic carbenes (NHCs) in Ru–NCNHCO type complexes were investigated.
[Full Paper]
Wei Su, Hussein A. Younus, Somboon Chaemchuen, Cheng Chen, Francis Verpoort
ChemCatChem, May 29, 2017, https://doi.org/10.1002/cctc.201700049 Read article
Visible-light-mediated polymerization has been shaping the progress and direction of the polymer community due to its facile setup and its robust spatial, temporal, and sequence control. The current innovations in visible-light-mediated polymerization are highlighted and an overview of the future directions of the field is given.
[Review]
Sivaprakash Shanmugam, Jiangtao Xu, Cyrille Boyer
Macromol. Rapid Commun., May 26, 2017, https://doi.org/10.1002/marc.201700143 Read article
Alkylated g-C3N4 nanosheets are synthesized via a simultaneous exfoliation and surface modification method. Due to the synergistic effects of reduced band gap and significantly enlarged surface area, the produced 2D g-C3N4 nanosheets show greatly improved photocatalytic performance in comparison to the bulk counterpart g-C3N4.
[Full Paper]
Xue-Huan Song, Lan Feng, Shun-Liu Deng, Su-Yuan Xie, Lan-Sun Zheng
Adv. Mater. Interfaces, May 10, 2017, https://doi.org/10.1002/admi.201700339 Read article
Photonic photocatalysis: This work reports a novel strategy to fabricate in situ gold-loaded fluorinated titania inverse opal photocatalysts with slow photon effects tuned in a way to match either with the electronic band gap of titania or with the localized surface plasmon resonance of gold nanoparticles. The inverse opal photocatalysts displayed excellent hydrogen yield in solar-light-driven hydrogen-production experiments.
[Full Paper]
Theyyathum Kavil Rahul, Neelakandapillai Sandhyarani
ChemNanoMat, May 03, 2017, https://doi.org/10.1002/cnma.201700062 Read article
A series of perylene-containing conjugated microporous polymer photocatalysts is designed and synthesized. The linkage geometry has a large influence on the photocatalytic performances of the resulting polymers.
[Full Paper]
Yunfeng Xu, Na Mao, Shi Feng, Chong Zhang, Feng Wang, Yu Chen, Jinghui Zeng, Jia-Xing Jiang
Macromol. Chem. Phys., May 02, 2017, https://doi.org/10.1002/macp.201700049 Read article
ZnO spherical particles exposing only Zn2+–(0001) polar planes are prepared via a solvothermal route using a water–ethylene glycol solvent mix. The roles of water molecules, ethylene glycol, and the intrinsic dipolar field of ZnO crystals are discussed. BET measurements in conjunction with the degradation of methylene blue dye data demonstrate their enhanced photocatalytic performance.
[Full Paper]
Heather F. Greer, Wuzong Zhou, Guan Zhang, Hervé Ménard
Adv. Mater. Interfaces, April 24, 2017, https://doi.org/10.1002/admi.201601238 Read article
Well-defined polymers are obtained through photoinduced atom transfer radical polymerization (photoATRP) by iron(III) as an air-stable catalyst. This system only requires monomer, FeBr3 in MeCN without any additional ATRP initiator, ligand, radical initiator, or reducing agent. This low cost method also shows temporal control and high chain end functionality.
[Communication]
Xiangcheng Pan, Nikhil Malhotra, Sajjad Dadashi-Silab, Krzysztof Matyjaszewski
Macromol. Rapid Commun., December 20, 2016, https://doi.org/10.1002/marc.201600651 Read article
A novel polymerization method, step transfer-addition and radical-termination, suitable for α,ω-unconjugated dienes has been discovered through the construction of perfluorocarbon-containing alternating copolymers under irradiation of visible light at room temperature for the first time.
[Communication]
Tianchi Xu, Hongnan Yin, Xiaohong Li, Lifen Zhang, Zhenping Cheng, Xiulin Zhu
Macromol. Rapid Commun., November 11, 2016, https://doi.org/10.1002/marc.201600587 Read article
© Wiley-VCH 2016.