Photocatalysis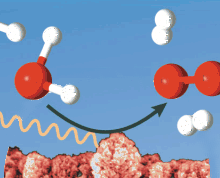 Photocatalysis has seen growing interest recently: Not only in the reactions of small molecules such as H2O (water splitting)[1] and CO2 (forming solar fuels),[2] but also in organic synthesis.[3]
[1] J. Xing, W. Q. Fang, H. J. Zhao, H. G. Yang: Inorganic Photocatalysts for Overall Water Splitting
Chem. Asian J. 2012, 7, 642–657
[2] S. N. Habisreutinger, L. Schmidt-Mende, J. K. Stolarczyk: Photocatalytic Reduction of CO2 on TiO2 and Other Semiconductors
Angew. Chem. Int. Ed. 2013, 52, 7372–7408
[3] J. Xuan, W.-J. Xiao: Visible-Light Photoredox Catalysis
Angew. Chem. Int. Ed. 2012, 51, 6828–6838
Also see: Pierre Pichat (Ed): Photocatalysis and Water Purification: From Fundamentals to Recent Applications, Wiley-VCH 2013.
Find all articles on photocatalysis in Wiley Online Library...
Recent Articles

RSS feed
Black N white photographene: Bioinspired mesoporous g-C3N4 materials with supramolecular helical and liquid crystal layered structures were synthesized from chiral nematic CNC films through nanocasting with a SiO2 template. The g-C3N4 exhibited an ultrahigh hydrogen evolution rate that can be modulated by circularly polarized light during the photocatalytic processes.
[Communication]
Wensheng Lin, Wei Hong, Lu Sun, Di Yu, Dingshan Yu, Xudong Chen
ChemSusChem, December 14, 2017, https://doi.org/10.1002/cssc.201701984 Read article
An efficient, easy, and general method for growing highly porous and large-scale carbon nitride (g-CN) networks on various substrates using the doctor blade technique is introduced. The g-CN films have high electrochemical active surface area, excellent dye adsorption, and good photoelectrochemical and photodegradation properties. This method opens opportunities for exploitation of g-CN in electronic and photoelectronic devices.
[Communication]
Guiming Peng, Lidan Xing, Jesús Barrio, Michael Volokh, Menny Shalom
Angew. Chem. Int. Ed., December 12, 2017, https://doi.org/10.1002/anie.201711669 Read article
Heterogeneous catalysis: This review focuses on conjugated microporous polymers (CMPs) as an intriguing platform for developing various highly efficient and recyclable heterogeneous catalysts. The design, synthesis, and structure of these CMP catalysts are also discussed.
[Focus Review]
Yun-Bing Zhou, Zhuang-Ping Zhan
Chem. Asian J., December 07, 2017, https://doi.org/10.1002/asia.201701107 Read article
We integrated laser-synthesized [NiFe]-layered double hydroxide nanocatalysts with BiVO4 photoanodes, optimized catalyst mass loading, and mitigated nanoparticle aggregation. Our systematic optimization strategies led to enhanced photoelectrochemical performance.
[Full Paper]
Timothy S. Sinclair, Harry B. Gray, Astrid M. Müller
Eur. J. Inorg. Chem., December 06, 2017, https://doi.org/10.1002/ejic.201701231 Read article
A novel nanodevice composed of vertical MoS2/C3N4 produced via the solid-state reaction of two layered precursors is reported for the first time. The interface sites of the vertical MoS2/C3N4 are the electron-accumulation regions due to the presence of metallic Mo
N bonds, which are significant for hydrogen generation. MoS2/C3N4 shows a ten times higher photocurrent response than the reference samples.
[Full Paper]
Hui Bian, Yujin Ji, Junqing Yan, Ping Li, Ling Li, Youyong Li, Shengzhong (Frank) Liu
Small, December 04, 2017, https://doi.org/10.1002/smll.201703003 Read article
[Article]
Jennifer Leduc, Joseph I. Pacold, David K. Shuh, Chung-Li Dong, Sanjay Mathur
Z. Anorg. Allg. Chem., December 01, 2017, https://doi.org/10.1002/zaac.201700294 Read article
Atomic layer deposition–synthesized oxyselenide coatings on 1D TiO2 nanotubes layers act as efficient co-photocatalyst. Increased light absorption, reduced optical bandgap, and formation of core-shell-like heterojunction due to ultrathin and uniform coatings within TiO2 nanotubes are accounted for enhanced photoelectrochemical activity of the resulting heterojunction and strongly enhanced photocatalytic activity in visible spectral region.
[Full Paper]
Siowwoon Ng, Milos Krbal, Raul Zazpe, Jan Prikryl, Jaroslav Charvot, Filip Dvořák, Lukas Strizik, Stanislav Slang, Hanna Sopha, Yuliia Kosto, Vladimir Matolin, Fong Kwong Yam, Filip Bures, Jan M. Macak
Adv. Mater. Interfaces, December 01, 2017, https://doi.org/10.1002/admi.201701146 Read article
The α-Fe2O3@reduced graphene oxide/polyacrylonitrile nanofiber composite membrane is obtained by hydrothermal method followed by vacuum filtration. Photocatalytic experiments show that the composite membrane can effectively degrade a variety of organic dyes and high degradation efficiency is obtained even under natural sunlight, demonstrating the great potential applications of the novel membranes in industrial dye wastewater treatment.
[Full Paper]
Kai Sun, Lifang Wang, Chunzhi Wu, Jianping Deng, Kai Pan
Adv. Mater. Interfaces, December 01, 2017, https://doi.org/10.1002/admi.201700845 Read article
A thorough understanding of the catalyst structure-activity relationship at the smallest possible length scales is required for intelligent improvement of catalysts. Such nanometer-resolved investigations are enabled by combined fluorescence and electron microscopy. This review discusses different experimental approaches and insights obtained through their application.
[Focus Review]
Jordi Van Loon, Alexey V. Kubarev, Maarten B. J. Roeffaers
ChemNanoMat, November 27, 2017, https://doi.org/10.1002/cnma.201700301 Read article
Powers of separation: NiCoP/g-C3N4, synthesized by simple one-pot method, is a highly efficient photocatalyst for hydrogen production from water, exhibiting a hydrogen evolution rate that is 21 times higher than that of bare g-C3N4. The excellent performance is due to a combination of improved separation efficiency and effective charge transfer efficiency.
[Full Paper]
Lingling Bi, Xupeng Gao, Lijing Zhang, Dejun Wang, Xiaoxin Zou, Tengfeng Xie
ChemSusChem, November 23, 2017, https://doi.org/10.1002/cssc.201701574 Read article
Hot rod: A simple one-step hydrothermal method to prepare the CdS/ZnO heterostructure with a novel spatial arrangement is reported. Under visible-light irradiation, CdS/ZnO exhibits enhanced photocatalytic hydrogen generation owing to improved charge separation from the two-phase intergrowth effect.
[Communication]
Xu Guo, Yubin Chen, Zhixiao Qin, Jinzhan Su, Liejin Guo
ChemCatChem, November 23, 2017, https://doi.org/10.1002/cctc.201701078 Read article
Heteroatom doping is a powerful tool for modulating electronic structure, geometrical structure, surface chemistry, and subsequent electronic conductivity, optical properties, and photocatalysis of carbon materials. This Review emphasizes the synthesis, properties, and photocatalytic applications of doped carbonaceous materials, discusses the fundamental understanding of promoting effect of doping, and also outlines the challenges and future perspectives.
[Review]
Zhongkui Zhao, Guifang Ge, Di Zhang
ChemCatChem, November 16, 2017, https://doi.org/10.1002/cctc.201700707 Read article
MOFs for hydroxylation catalysis: A type of CuII-based metal–organic framework (MOF) has been prepared and characterized, which shows an excellent performance in the direct hydroxylation of benzene to phenol in aqueous solution.
[Full Paper]
Li Zhang, Shuhai Qiu, Guoqing Jiang, Guomin Jiang, Ruiren Tang
Asian J. Org. Chem., November 15, 2017, https://doi.org/10.1002/ajoc.201700501 Read article
That′s a good hybrid! This work demonstrates a new design strategy for highly active, noble-metal-free, and redox-mediator-free Z-scheme photocatalyst, CdS/Co-C@Co9S8, for H2 production through water splitting under solar irradiation.
[Full Paper]
D. Amaranatha Reddy, Hanbit Park, Madhusudana Gopannagari, Eun Hwa Kim, Seunghee Lee, D. Praveen Kumar, Tae Kyu Kim
ChemSusChem, November 09, 2017, https://doi.org/10.1002/cssc.201701643 Read article
Lighting it softly: Soft post-modification of polymethylsilsesquioxane (PMSQ) aerogel with metal complexes has proven to afford highly active photocatalysts.
[Communication]
Suresh Sanda, Kazuyoshi Kanamori, Toshiaki Takei, Kentaro Tashiro
ChemNanoMat, October 30, 2017, https://doi.org/10.1002/cnma.201700276 Read article
[Communication]
Laura Buglioni, Paola Riente, Emilio Palomares, Miquel A. Pericàs
Eur. J. Org. Chem., October 23, 2017, https://doi.org/10.1002/ejoc.201701242 Read article
The mass and energy circulation in the solar-hydrogen-electricity circle is delineated herein. The general concepts of natural photosynthesis in green plants, the different strategies of light-driven water splitting proposed in laboratories, the progress of electrocatalytic hydrogen evolution reaction and the oxygen evolution reaction, and the electrode reactions in hydrogen fuel cells are discussed.
[Review]
Jing Qi, Wei Zhang, Rui Cao
Adv. Energy Mater., October 23, 2017, https://doi.org/10.1002/aenm.201701620 Read article
© Wiley-VCH 2016.