Photocatalysis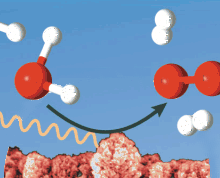 Photocatalysis has seen growing interest recently: Not only in the reactions of small molecules such as H2O (water splitting)[1] and CO2 (forming solar fuels),[2] but also in organic synthesis.[3]
[1] J. Xing, W. Q. Fang, H. J. Zhao, H. G. Yang: Inorganic Photocatalysts for Overall Water Splitting
Chem. Asian J. 2012, 7, 642–657
[2] S. N. Habisreutinger, L. Schmidt-Mende, J. K. Stolarczyk: Photocatalytic Reduction of CO2 on TiO2 and Other Semiconductors
Angew. Chem. Int. Ed. 2013, 52, 7372–7408
[3] J. Xuan, W.-J. Xiao: Visible-Light Photoredox Catalysis
Angew. Chem. Int. Ed. 2012, 51, 6828–6838
Also see: Pierre Pichat (Ed): Photocatalysis and Water Purification: From Fundamentals to Recent Applications, Wiley-VCH 2013.
Find all articles on photocatalysis in Wiley Online Library...
Recent Articles

RSS feed
This works describes the functionalization of TiO2 with tin-doped carbon dots (Sn@C-dots/TiO2) and explores the photocatalytic activity for the organic dye molecules.
[Full Paper]
Vijay Bhooshan Kumar, Nina Perkas, Ze'ev Porat, Aharon Gedanken
ChemistrySelect, August 16, 2017, https://doi.org/10.1002/slct.201701375 Read article
No more sacrifice: A molecular chromophore–catalyst assembly containing a chromophore ruthenium(II) center (
) and a catalytic copper(II) center (
) has been easily prepared for photocatalytic oxidation of sulfides under air in the absence of sacrificial reagents. The highest turnover number (TON) of 32 000 is achieved.
[Communication]
Duobin Chao, Mengying Zhao
ChemSusChem, August 16, 2017, https://doi.org/10.1002/cssc.201700930 Read article
Macroscopic polarization enhancement by V5+ replacement in the piezoelectric semiconductor BiOIO3 can greatly facilitate charge separation and provide efficient photo- and piezoelectric-induced molecular oxygen activation. Powerful superoxide and hydroxyl radicals can be thereby produced in abundance.
[Communication]
Hongwei Huang, Shuchen Tu, Chao Zeng, Tierui Zhang, Ali H. Reshak, Yihe Zhang
Angew. Chem. Int. Ed., August 16, 2017, https://doi.org/10.1002/anie.201706549 Read article
Split and run: A supramolecular cage that allows a photocatalytic hydrogen evolution to be combined with sulfide oxidation in a one-pot process was developed, by preorganization of the dye controlling the crucial electron-transfer steps. The overall reaction is hydrogen sulfide splitting forming molecular hydrogen and elemental sulfur, which is analogous to the water-splitting reaction.
[Communication]
Xu Jing, Yang Yang, Cheng He, Zhiduo Chang, Joost N. H. Reek, Chunying Duan
Angew. Chem. Int. Ed., August 16, 2017, https://doi.org/10.1002/anie.201704327 Read article
Brookite TiO2 quasi-nanocubes (Cu-BTN) decorated with Cu nanoclusters are synthesized, showing significantly improved activity and selectivity for CO2 photoreduction to CH4 as compared to pristine BTN and Ag-BTN.
[Article]
Jingpeng Jin, Jiang Luo, Ling Zan, Tianyou Peng
ChemPhysChem, August 15, 2017, https://doi.org/10.1002/cphc.201700563 Read article
Spongy amorphous carbon nitride (a-CN) has been developed and demonstrated for photocatalytic hydrogen production via water-splitting. Hydrogen production with a-CN has an apparent quantum efficiency of 6.1% under visible light irradiation (420 nm). This is a high benchmark for hydrogen production, superseding all previously reported a-CN photocatalysts.
[Full Paper]
Mohammad Z. Rahman, Patrick C. Tapping, Tak W. Kee, Ronald Smernik, Nigel Spooner, Jillian Moffatt, Youhong Tang, Kenneth Davey, Shi-Zhang Qiao
Adv. Funct. Mater., August 14, 2017, https://doi.org/10.1002/adfm.201702384 Read article
Selectivity in photocatalysis: Crystalline, porous, and semiconducting chalcogenides represent an ideal platform for the development of size- and charge-selective ion exchange processes and photocatalysts.
[Full Paper]
Xitong Chen, Xianhui Bu, Qipu Lin, Chengyu Mao, Quan-Guo Zhai, Yuan Wang, Pingyun Feng
Chem. Eur. J., August 11, 2017, https://doi.org/10.1002/chem.201702418 Read article
Facet engineered interface design of Ag-BiOCl-PdOx photocatalysts is performed through depositing plasmonic Ag and PdOx cocatalyst on suitable BiOCl facets. Enabled by the superior hole transfer abilities across BiOCl(110)-based interfaces and the shortest hole transfer distance between Ag and PdOx, Ag-(110)BiOCl(110)-PdOx achieves higher photocatalytic O2 evolution activity compared with Ag-BiOCl-PdOx structures with other locations of Ag and PdOx.
[Full Paper]
Lijie Bai, Fan Ye, Luna Li, Jingjing Lu, Shuxian Zhong, Song Bai
Small, August 10, 2017, https://doi.org/10.1002/smll.201701607 Read article
Coordination configuration matters: A Ru dimer, [Ru(NCNHCO)(pic)2]22+ (2), which transforms to two single-site Ru-OH2 species to initiate water oxidation, was prepared and fully characterized. Complex 2 could catalyze water oxidation electrochemically, chemically and photochemically, exhibiting an excellent reactivity and stability.
[Full Paper]
Wei Su, Kui Zhou, Fanglin Cai, Cheng Chen, Bibimaryam Mousavi, Somboon Chaemchuen, Francis Verpoort
Chem. Asian J., August 10, 2017, https://doi.org/10.1002/asia.201700837 Read article
Let the sun shine: A metal-free and inexpensive catalyst, sulfur-doped graphene oxide quantum dots, is developed for efficient photocatalytic H2 production in pure water. Under direct sunlight irradiation, high initial H2 production rates in pure water and in 80 % ethanol aqueous solution indicate great potential in the development of sustainable and environmentally friendly photocatalysts for efficient H2 generation from water splitting.
[Full Paper]
Jacek Gliniak, Jia-Hoa Lin, Yi-Ting Chen, Chuen-Ru Li, Efat Jokar, Chin-Hao Chang, Chun-Sheng Peng, Jui-Nien Lin, Wan-Hsiang Lien, Hui-Min Tsai, Tung-Kung Wu
ChemSusChem, August 03, 2017, https://doi.org/10.1002/cssc.201700910 Read article
Through the link: The facile and eco-friendly synthesis of highly active carbon nanodots-silica hybrid photocatalyst (CNDSH) by a reverse microemulsion method with a nonionic surfactant. The photocatalyst-biocatalyst coupled system developed using CNDSH as photocatalyst functions efficiently to carry out high NADH regeneration followed by its consumption in exclusive formic acid production from CO2.
[Full Paper]
Rajesh K. Yadav, Abhishek Kumar, No-Joong Park, Dolly Yadav, Jin-Ook Baeg
ChemCatChem, August 03, 2017, https://doi.org/10.1002/cctc.201700789 Read article
Dots the way, a-ha, a-ha, I like it: N-doped carbon quantum dots (NCDs) with high N/C atomic ratios (0.14–0.30) were fabricated by a facile hydrothermal process. N-doping suppressed nonradiative quenching in the NCDs, delivering photoluminescence quantum yields as high as 68 %. NCDs/P25-TiO2 composites showed good activity for photocatalytic H2 evolution under both UV and visible illumination, which can be attributed to efficient excitation wavelength-dependent interfacial charge transfer.
[Full Paper]
Run Shi, Zi Li, Huijun Yu, Lu Shang, Chao Zhou, Geoffrey I. N. Waterhouse, Li-Zhu Wu, Tierui Zhang
ChemSusChem, July 31, 2017, https://doi.org/10.1002/cssc.201700943 Read article
Joining the dots: Oxygen-functionalized graphene quantum dots (GQDs) are encapsulated into flocculated flexible titania nanosheets (TNSs) to form GQDs/TNSs composite photocatalyst through a facile electrostatic flocculation route. GQDs/TNSs exhibit high photocatalytic activity for the degradation of Rhodamine B under visible light irradiation owing to promoted charge separation.
[Full Paper]
Shiyue Bian, Chenjuan Zhou, Peiran Li, Jiyang Liu, Xiaoping Dong, Fengna Xi
ChemCatChem, July 26, 2017, https://doi.org/10.1002/cctc.201601594 Read article
Tubular potential: Cobalt and iron corrole complexes have been used as catalysts of H2O reduction to generate H2. Electro- and photocatalysis of water reduction occurred with dissolved corroles. Carbon nanotubes doped with corroles were used as photo-electrochemical catalysts with increased hydrogen production. The catalytic efficiency increased by five orders of magnitude if the molecular catalysts were adsorbed onto the carbon nanotubes.
[Full Paper]
Miguel A. Morales Vásquez, Mariana Hamer, Nicolás I. Neuman, Alvaro Y. Tesio, Andrés Hunt, Horacio Bogo, Ernesto J. Calvo, Fabio Doctorovich
ChemCatChem, July 24, 2017, https://doi.org/10.1002/cctc.201700349 Read article
Coming together: The integration of TiO2 with a AuI complex containing a thiocoumarin moiety results in a catalyst that is intrinsically active for the photogeneration of H2. This is the first example of a AuI-complex–semiconductor hybrid photocatalyst. The rate of H2 generation under dynamic conditions from water/ethanol is approximately one order of magnitude superior on a metal basis to that obtained over conventional TiO2 decorated with Au metal nanoparticles.
[Communication]
Elisabet Aguiló, Lluís Soler, Albert Casanovas, Artur J. Moro, João Carlos Lima, Laura Rodríguez, Jordi Llorca
ChemCatChem, July 21, 2017, https://doi.org/10.1002/cctc.201700518 Read article
In aqueous TiO2 photocatalytic hydroxylation of weakly polar aromatics, a series of inverse H/D KIEs of 0.7–0.8 were observed which is different than the normal H/D kinetic isotope effects (KIEs) usually observed for polar aromatics.
[Communication]
Yuanzheng Gong, Chun Yang, Hongwei Ji, Chuncheng Chen, Wanhong Ma, Jincai Zhao
Chem. Asian J., July 19, 2017, https://doi.org/10.1002/asia.201700658 Read article
Nanobowls, -rings, and -seals: A simple, low-temperature chemical etching method for selective preparation of monodispersed, hexagonal, single-crystal ZnO nanostructures is reported. The relationship among the morphology, dimensions, and function of ZnO was determined by investigating polar planes, surface areas, energy bands, defects, optical properties, and catalytic activity for rhodamine B degradation.
[Full Paper]
Yanting Zhao, Tingting Cui, Tong Wu, Chen Jin, Ru Qiao, Yao Qian, Guoxiu Tong
ChemCatChem, July 06, 2017, https://doi.org/10.1002/cctc.201700135 Read article
Tyrosyl-radical-trapping-moiety-functionalized closo-dodecaborate (TRT-DB) 1 is conjugated to bovine serum albumin (BSA). Approximately 2.4 molecules of 1 are bound to each BSA if BSA (10 µm) is treated with 1 (1 mm) in the presence of Ru(bpy)3 (1 mm; bpy = 2,2′-bipyridyl) and ammonium persulfate (APS; 1 mm) under light irradiation for 1 min.
[Communication]
Shinichi Sato, Satomu Ishii, Hiroyuki Nakamura
Eur. J. Inorg. Chem., July 05, 2017, https://doi.org/10.1002/ejic.201700578 Read article
Visible-light-mediated dehydrogenative cross-coupling of 2-naphthol/2-naphthylamine derivatives with aniline/phenol derivatives was achieved. This effective approach enabled the construction of asymmetrical atropisomeric biaryls in good yields with high regioselectivities.
[Full Paper]
Junlei Wang, Yating Zhao, Han Gao, Guo-Lin Gao, Chao Yang, Wujiong Xia
Asian J. Org. Chem., July 04, 2017, https://doi.org/10.1002/ajoc.201700242 Read article
© Wiley-VCH 2016.