Water Splitting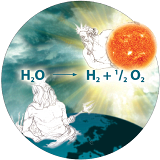 Water splitting, artificial photosynthesis, hydrogen evolution reactions: The generation of chemical fuels from water and sunlight is one of the key scientific challenges for the 21st century.
Picture by U. Rosenthal et al., Cover of Angewandte Chemie 25/2012: Photoassisted Ti–O Activation in a Decamethyltitanocene Dihydroxido Complex: Insights into the Elemental Steps of Water Splitting
Further reading: A. Lasia, Hydrogen evolution reaction, in Handbook of Fuel Cells, Wiley, 2010.
Find all articles on water splitting in Wiley Online Library...
Recent Articles

RSS feed
Water exfoliation: The β-cyclodextrin-assisted aqueous-exfoliation method is successfully introduced to prepare transition-metal dichalcogenide nanosheets (TMDs), whose production allows for better biocompatibility, broader applicability and greater sustainability.
[Communication]
Wancheng Zhao, Xingxing Tan, Jingyun Jiang, Feijie Liu, Tiancheng Mu
Chem. Asian J., April 26, 2017, https://doi.org/10.1002/asia.201700355 Read article
Shedding light into the water-splitting cycle of photosystem II: DFT calculations indicate that the recent X-ray free-electron laser (XFEL) structure of photosystem II complex cannot be interpreted on the grounds of a single structure: two S1 isomers may coexist together with a minority contribution of the S0 state.
[Communication]
Daniele Narzi, Giuseppe Mattioli, Daniele Bovi, Leonardo Guidoni
Chem. Eur. J., April 25, 2017, https://doi.org/10.1002/chem.201700722 Read article
A new way for metal–carbon composite: Ultrafine transition metal-based nanoparticles (Ni-Fe, Ni-Mo) embedded in N-doped carbon by employing in situ reduction of metal precursor and metal-assisted carbon etching process. They are applied as efficient hydrogen evolution reaction and oxygen evolution reaction catalysts for water splitting.
[Full Paper]
Yongqi Zhang, Xinhui Xia, Xun Cao, Bowei Zhang, Nguyen Huy Tiep, Haiyong He, Shi Chen, Yizhong Huang, Hong Jin Fan
Adv. Energy Mater., April 25, 2017, https://doi.org/10.1002/aenm.201700220 Read article
A bi-metallic (Cu and Co) embedded, N-doped mesoporous carbon framework is developed as an oxygen reduction reaction (ORR) and hydrogen evolution reaction (HER) electrocatalyst, by a Cu-confined thermal conversion strategy of Cu(OH)2 nanowires and ZIF-67 polyhedrons. This hybrid electrocatalyst presents abundant bi-metallic electrocatalytic active sites, high nitrogen doping level, strong synergetic coupling, and excellent mass transfer, thus significantly boosting electrocatalytic ORR and HER performances.
[Full Paper]
Min Kuang, Qihao Wang, Peng Han, Gengfeng Zheng
Adv. Energy Mater., April 25, 2017, https://doi.org/10.1002/aenm.201700193 Read article
Fibrous photocatalyst: A new method is developed to fabricate active TiO2 photocatalysts by tuning the morphology of the catalyst support through solution-phase TiO2 deposition on silica. With the nanosilica KCC-1 as a support, a relatively large amount of surface area remains intact because of its open fibrous morphology, even at the highest TiO2 loading. This improves the accessibility of active sites, which increases the catalytic performance of the KCC-1/TiO2 photocatalyst.
[Full Paper]
Nisha Bayal, Rustam Singh, Vivek Polshettiwar
ChemSusChem, April 24, 2017, https://doi.org/10.1002/cssc.201700135 Read article
A facile yet efficient strategy is developed for stabilizing metastable MXenes against oxidation-induced structural degradation and the fabrication of high-performance MXene-based nanohybrids. The great promise of MXene-based materials in cornerstone applications for energy storage and conversion is highlighted by using MoS2/Ti3C2-MXene@C nanohybrids as ultra-long life anode materials in Li-ion batteries and highly active electrocatalyst for hydrogen evolution.
[Communication]
Xianhong Wu, Zhiyu Wang, Mengzhou Yu, Luyang Xiu, Jieshan Qiu
Adv. Mater., April 24, 2017, https://doi.org/10.1002/adma.201607017 Read article
Rh
MoS2 nanocomposite (5.2 wt%) exhibits dramatic hydrogen evolution reaction activity with a lower Tafel slope and higher mass activity than those of 20 wt% Pt/C catalysts. This superior electrocatalytic performance may be attributed to the hydrogen spillover from Rh to MoS2.
[Full Paper]
Yafei Cheng, Shunkai Lu, Fan Liao, Liangbin Liu, Yanqing Li, Mingwang Shao
Adv. Funct. Mater., April 24, 2017, https://doi.org/10.1002/adfm.201700359 Read article
Hetero-nanofibers of Fe3C-Mo2C/N-doped carbon with tunable composition are fabricated by electrospinning followed by pyrolysis, resulting in synergic enhancement to catalyze the two elementary steps in the hydrogen evolution reaction. The optimized nanofibers present high activity and good stability in acidic electrolytes, performing among the best current noble-metal-free electrocatalysts.
[Full Paper]
Huanlei Lin, Wenbiao Zhang, Zhangping Shi, Minwei Che, Xiang Yu, Yi Tang, Qingsheng Gao
ChemSusChem, April 20, 2017, https://doi.org/10.1002/cssc.201700207 Read article
N into O: Artificial photosynthesis using oxynitride semiconductors requires a good matching of the band gap to the solar spectrum. By comparing the electronic structure of isostructural LaTiOz and LaTiOxNy we show that the effect of the N substitution into the O sites affects not only the valence band maximum but also significantly shifts downward the energy of the conduction band minimum.
[Full Paper]
Markus Pichler, Jakub Szlachetko, Ivano E. Castelli, Nicola Marzari, Max Döbeli, Alexander Wokaun, Daniele Pergolesi, Thomas Lippert
ChemSusChem, April 18, 2017, https://doi.org/10.1002/cssc.201601632 Read article
Iron-doped cobalt monophosphide nanosheet/carbon nanotube hybrids are constructed as electrocatalysts for the hydrogen evolution reaction. They can also be in situ electrochemically transformed into high-performance electrocatalysts for the oxygen evolution reaction. An alkaline water electrolyzer constructed with the best catalysts among these hybrids could afford a current density of 10 mA cm−2 for overall water splitting at a voltage of 1.50 V.
[Full Paper]
Xing Zhang, Xiao Zhang, Haomin Xu, Zishan Wu, Hailiang Wang, Yongye Liang
Adv. Funct. Mater., April 18, 2017, https://doi.org/10.1002/adfm.201606635 Read article
Cooking up catalysts: We report the microwave-assisted synthesis of a new class of amorphous Ir oxohydroxide water oxidation electrocatalysts, presenting unprecedented performance in acidic media at loadings low enough for commercial application. Such novel materials achieved 33 times longer lifetimes than the best commercial benchmark available (see † in Figure)and thus constitute a major advance in the rational design of efficient oxygen evolution catalysts for acidic water electrolysis.
[Full Paper]
Cyriac Massué, Xing Huang, Andrey Tarasov, Chinmoy Ranjan, Sébastien Cap, Robert Schlögl
ChemSusChem, April 12, 2017, https://doi.org/10.1002/cssc.201601864 Read article
Amorphous molybdenum sulfide/carbon nanotubes (MoSx/CNTs) hybrid nanospheres are synthesized using a simple ultrasonic spray pyrolysis method as highly efficient electrocatalysts for hydrogen evolution reaction (HER). Electrochemical measurements and X-ray photoelectron spectroscopy analysis reveal that the CNT network not only promotes the charge transfer in HER process but also enhances the stability of active sites in amorphous MoSx.
[Full Paper]
Zhifeng Ye, Jia Yang, Bo Li, Lei Shi, Hengxing Ji, Li Song, Hangxun Xu
Small, April 11, 2017, https://doi.org/10.1002/smll.201700111 Read article
Uniform ultrathin (CoP)x–(FeP)1−x nanorods are successfully decorated on the surface of 2D graphene nanosheets. The as-prepared (CoP)x–(FeP)1−x–NRs/G hybrids show a large exposed surface, controllable mesoporous texture, and small mass transport resistance. They can be used as an excellent electrocatalyst for boosting hydrogen evolution reaction catalysis.
[Full Paper]
Baocang Liu, Lili Huo, Zhiqing Gao, Guolei Zhi, Geng Zhang, Jun Zhang
Small, April 10, 2017, https://doi.org/10.1002/smll.201700092 Read article
From Earth's crust: A new class of molecular catalysts for efficient water splitting, aluminum porphyrins, containing the Earth's most abundant metal as their central ion. One-electron oxidation of an aluminum porphyrin initiates the two-electron oxidation of water to form hydrogen peroxide as the primary reaction product with the lowest known overpotential (97 mV) and a turnover frequency up to ∼2×104 s−1.
[Full Paper]
Fazalurahman Kuttassery, Siby Mathew, Shogo Sagawa, Sebastian Nybin Remello, Arun Thomas, Daisuke Yamamoto, Satomi Onuki, Yu Nabetani, Hiroshi Tachibana, Haruo Inoue
ChemSusChem, April 10, 2017, https://doi.org/10.1002/cssc.201700322 Read article
W-onderful C-atalyst: New 2 D tungsten carbide-based materials (NC@WxC/NRGO) are synthesized by controlling the structure and composition of polyoxotungstate/conductive polypyrrole/graphene (PCG) precursor precisely and performing a temperature-programmed reaction. The composite presents splendid performance toward the hydrogen evolution reaction (HER) in acidic media and is one of the highest HER catalysts among the tungsten carbide-based materials.
[Full Paper]
Xiao-Li Wang, Yu-Jia Tang, Wei Huang, Chun-Hui Liu, Long-Zhang Dong, Shun-Li Li, Ya-Qian Lan
ChemSusChem, April 10, 2017, https://doi.org/10.1002/cssc.201700276 Read article
Passivated but active: Significantly improved stability and photoelectrochemical activity toward H2 generation is achieved with vertically aligned CdS/1 D Zr:Fe2O3 heterojunction photoanode with an Al2O3 passivation layer under solar light irradiation.
[Full Paper]
Mahadeo A. Mahadik, Arunprabaharan Subramanian, Hee-Suk Chung, Min Cho, Jum Suk Jang
ChemSusChem, April 10, 2017, https://doi.org/10.1002/cssc.201700140 Read article
Catalyst or support: Graphene hybrids have been considered as very promising electrocatalysts for water electrolysis. This Minireview summarizes the recent advances of graphene hybrid electrocatalysts for overall water-splitting, especially highlighting the detailed roles of graphene as catalysts and/or supports in electrochemical water-splitting.
[Minireview]
Jiayuan Li, Zeqiong Zhao, Yuanyuan Ma, Yongquan Qu
ChemCatChem, April 06, 2017, https://doi.org/10.1002/cctc.201700175 Read article
Microbial electrolysis cells (MECs) can convert organic matter to hydrogen gas at low energy consumption. Cathode catalysts for the hydrogen evolution reaction (HER) present a major challenge for the practical applications of MECs. An ideal cathode catalyst should be catalytically active, simple to synthesize, durable in complex environment, and cost-effective. MECs in turn can serve as a research platform to study the durability of the HER catalysts.
[Personal Account]
Heyang Yuan, Zhen He
Chem. Rec., April 04, 2017, https://doi.org/10.1002/tcr.201700007 Read article
Improving the photoinduced OER: A controlled electrochemical pretreatment provokes reductive doping for both nanoporous NiTiO3 and anatase electrodes. Such a process depends on the electrode morphology and electrolyte pH. It improves the charge transport, thereby increasing the photocatalytic water oxidation activity.
[Article]
María Isabel Díez-García, Damián Monllor-Satoca, Victor Vinoth, Sambandam Anandan, Teresa Lana-Villarreal
ChemElectroChem, April 03, 2017, https://doi.org/10.1002/celc.201700039 Read article
Oxynitride photoanode thin film heterostructures for solar water splitting based on LaTiOxNy are fabricated. Polycrystalline samples are used to probe surface physicochemical evolution induced by photoelectrochemical tests. A comparative analysis of samples with different crystalline properties shows that not only the crystalline quality, but also the crystallographic surface orientation determines the photoelectrochemical response.
[Feature Article]
Markus Pichler, Wenping Si, Fatima Haydous, Helena Téllez, John Druce, Emiliana Fabbri, Mario El Kazzi, Max Döbeli, Silviya Ninova, Ulrich Aschauer, Alexander Wokaun, Daniele Pergolesi, Thomas Lippert
Adv. Funct. Mater., March 31, 2017, https://doi.org/10.1002/adfm.201605690 Read article
Stable supports: Supported iridium particles produced by a microwave-assisted method are identified as outstanding electrocatalysts for the oxygen evolution reaction (OER) in acid media. The superior OER performance can be linked to the nature of the produced IrIII/IV-oxohydroxide phase. As a result of the combination of high activity and stability, IrIII/IV oxohydroxides are proposed as desirable alternatives to stable but less active IrO2.
[Full Paper]
Cyriac Massué, Verena Pfeifer, Xing Huang, Johannes Noack, Andrey Tarasov, Sébastien Cap, Robert Schlögl
ChemSusChem, March 30, 2017, https://doi.org/10.1002/cssc.201601817 Read article
Well-dispersed Pt/Cu alloy nanoparticles encapsulated in carbon nanofibers are synthesized and possess outstanding hydrogen evolution reaction activity.
[Full Paper]
Juan Wang, Jia Wei Chen, Jia Dong Chen, Han Zhu, Ming Zhang, Ming Liang Du
Adv. Mater. Interfaces, March 30, 2017, https://doi.org/10.1002/admi.201700005 Read article
Hydrogen-treated TiO2-covered electrodes: A rutile shell is built around a graphite felt electrode to increase its selectivity for the V3+/V2+ redox reaction and to inhibit the hydrogen evolution reaction. The shell is partially reduced in hydrogen, forming oxygen vacancies in the TiO2 structure, which enhances the catalytic activity for the vanadium negative reaction. This results in an electrode that is suitable for vanadium redox flow batteries at high rates (up to 300 mA cm−2) and for long-term cycling.
[Full Paper]
Javier Vázquez-Galván, Cristina Flox, Cristian Fàbrega, Edgar Ventosa, Andres Parra, Teresa Andreu, Joan Ramón Morante
ChemSusChem, March 28, 2017, https://doi.org/10.1002/cssc.201700017 Read article
[Corrigendum]
Sandra Reinhard, Felix Rechberger, Markus Niederberger
ChemPlusChem, March 28, 2017, https://doi.org/10.1002/cplu.201700088 Read article
A sacrifice to the Sun god: Photocatalytic hydrogen production from water and renewable feedstocks is gaining tremendous attention as a potential standalone process for efficient energy production. In this Review, the crucial effect of the cocatalyst and the sacrificial agent are critically discussed and the recent progress on the development of novel photocatalysts is presented with particular attention to organic and hybrid organic/ inorganic materials.
[Review]
Konstantinos C. Christoforidis, Paolo Fornasiero
ChemCatChem, March 27, 2017, https://doi.org/10.1002/cctc.201601659 Read article
By the spontaneous galvanic replacement reaction, the low-cost iron foam is used as an ideal 3D electrode substrate for fabrication of integrated bimetallic or even trimetallic electrocatalysts for both oxygen and hydrogen evolution reactions, which offers significant advantages of simplicity and zero energy consumption. An alkaline electrolyzer combining both electrode materials is constructed to realize efficient overall water splitting.
[Full Paper]
Jianying Wang, Lvlv Ji, Shangshang Zuo, Zuofeng Chen
Adv. Energy Mater., March 17, 2017, https://doi.org/10.1002/aenm.201700107 Read article
A closer look: Various reliable characterization methods for a photocatalytic reactor consisting of semiconductor particles and mediator shuttles are proposed. The method is exemplified utilizing photocatalytic titania particles in an iron-based aqueous electrolyte for effective oxygen evolution and mediator reduction reactions under illumination. Several product characterization methods, including an optical oxygen sensor, pressure sensor, gas chromatography, and UV/Vis spectroscopy are used and compared.
[Full Paper]
Lihao Han, Meng Lin, Sophia Haussener
ChemSusChem, March 16, 2017, https://doi.org/10.1002/cssc.201601901 Read article
Supercritical CO2-assisted reverse-micelle-induced phase engineering can form strained 2D single-layers, which directly contributes to the successful transformation of 2H- to 1T-phase MS2. The obtained 1T-MoS2 exhibits good activity for the hydrogen evolution reaction in comparison with 2H-MoS2.
[Communication]
Xin Tong, Yuhang Qi, Jing Chen, Nan Wang, Qun Xu
ChemNanoMat, March 01, 2017, https://doi.org/10.1002/cnma.201700011 Read article
R⋅⋅⋅u single? Single-site Ru complexes are synthesized and evaluated as water oxidation catalysts. The catalytic activity is enhanced by the presence of electron-donating groups, and a linear relationship between the Hammett parameters of the substituents and the turnover frequencies is established. A general pathway for deactivation of these Ru catalysts during water oxidation through poisoning by CO is also established.
[Communication]
Ahmed F. Abdel-Magied, Wael A. A. Arafa, Tanja M. Laine, Andrey Shatskiy, Markus D. Kärkäs, Björn Åkermark, Eric V. Johnston
ChemCatChem, February 24, 2017, https://doi.org/10.1002/cctc.201601382 Read article
[Review]
Yu. F. Zhukovskii, S. Piskunov, O. Lisovski, D. Bocharov, R. A. Evarestov
Isr. J. Chem., December 12, 2016, https://doi.org/10.1002/ijch.201600099 Read article
[Review]
Sandhya Shenoy, Umesh V. Waghmare, S. R. Lingampalli, Anand Roy, C. N. R. Rao
Isr. J. Chem., November 16, 2016, https://doi.org/10.1002/ijch.201600120 Read article
© Wiley-VCH 2016.