Water Splitting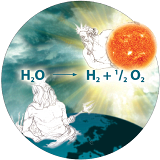 Water splitting, artificial photosynthesis, hydrogen evolution reactions: The generation of chemical fuels from water and sunlight is one of the key scientific challenges for the 21st century.
Picture by U. Rosenthal et al., Cover of Angewandte Chemie 25/2012: Photoassisted Ti–O Activation in a Decamethyltitanocene Dihydroxido Complex: Insights into the Elemental Steps of Water Splitting
Further reading: A. Lasia, Hydrogen evolution reaction, in Handbook of Fuel Cells, Wiley, 2010.
Find all articles on water splitting in Wiley Online Library...
Recent Articles

RSS feed
Here we demonstrate the fabrication of a noble metal-free ternary H-TiO2/CdS/Cu2-xS heterostructure with enhanced solar energy absorption and efficient charge separation, which can achieve a high hydrogen production rate of 261.54 μmol⋅g−1⋅h−1.
[Full Paper]
Jiayu Chu, Xijiang Han, Zhen Yu, Yunchen Du, Bo Song, Ping Xu
ChemistrySelect, March 24, 2017, https://doi.org/10.1002/slct.201700419 Read article
In flower: A flowerlike Ni-Mo-dopamine complex is first synthesized by a facile method under room temperature. Ni doping in situ is realized by utilizing NiMoO4 nanowire as both template and precursor. An enlarged surface area and nanosized Ni doping greatly enhance the electrocatalytic properties of Ni-Mo2C/C due to more active sites.
[Full Paper]
Lianshan Sun, Chunli Wang, Qujiang Sun, Yong Cheng, Limin Wang
Chem. Eur. J., March 20, 2017, https://doi.org/10.1002/chem.201605928 Read article
By the spontaneous galvanic replacement reaction, the low-cost iron foam is used as an ideal 3D electrode substrate for fabrication of integrated bimetallic or even trimetallic electrocatalysts for both oxygen and hydrogen evolution reactions, which offers significant advantages of simplicity and zero energy consumption. An alkaline electrolyzer combining both electrode materials is constructed to realize efficient overall water splitting.
[Full Paper]
Jianying Wang, Lvlv Ji, Shangshang Zuo, Zuofeng Chen
Adv. Energy Mater., March 17, 2017, https://doi.org/10.1002/aenm.201700107 Read article
N, O, and O tri-doped carbon encapsulated Co9S8 nanomaterials are successfully synthesized and serve as efficient noble metal-free bifunctional electrocatalysts for alkali water splitting with remarkable catalytic performance. The two-electrode electrolyzer assembled using the Co9S8@NOSC-900 material as electrocatalyst at both the anode and the cathode electrodes gives current densities of 10 and 20 mA cm−2 at potentials of 1.60 and 1.74 V, respectively.
[Full Paper]
Senchuan Huang, Yuying Meng, Shiman He, Anandarup Goswami, Qili Wu, Junhao Li, Shengfu Tong, Tewodros Asefa, Mingmei Wu
Adv. Funct. Mater., March 17, 2017, https://doi.org/10.1002/adfm.201606585 Read article
Trifunctional electrocatalyst: A novel iron/cobalt-containing supramolecularly cross-linked polypyrrole hydrogel is developed to produce a unique electrocatalyst, which exhibits excellent activities for the oxygen reduction reaction, oxygen evolution reaction, and hydrogen evolution reaction. Furthermore, a self-powered water-splitting device is demonstrated to stably generate H2 and O2 gases under ambient conditions.
[Full Paper]
Jia Yang, Xu Wang, Bo Li, Liang Ma, Lei Shi, Yujie Xiong, Hangxun Xu
Adv. Funct. Mater., March 17, 2017, https://doi.org/10.1002/adfm.201606497 Read article
A closer look: Various reliable characterization methods for a photocatalytic reactor consisting of semiconductor particles and mediator shuttles are proposed. The method is exemplified utilizing photocatalytic titania particles in an iron-based aqueous electrolyte for effective oxygen evolution and mediator reduction reactions under illumination. Several product characterization methods, including an optical oxygen sensor, pressure sensor, gas chromatography, and UV/Vis spectroscopy are used and compared.
[Full Paper]
Lihao Han, Meng Lin, Sophia Haussener
ChemSusChem, March 16, 2017, https://doi.org/10.1002/cssc.201601901 Read article
For the first time, Weyl semimetals are used as catalysts for highly effective hydrogen evolution reactions. The high mobility of carriers because of linear band crossings near the Fermi level is the major factor for their high activity. Unlike other catalysts, effect of the disorder at the surface is not a concern due to the topologically protected robust surface states.
[Communication]
Catherine R. Rajamathi, Uttam Gupta, Nitesh Kumar, Hao Yang, Yan Sun, Vicky Süß, Chandra Shekhar, Marcus Schmidt, Horst Blumtritt, Peter Werner, Binghai Yan, Stuart Parkin, Claudia Felser, C. N. R. Rao
Adv. Mater., March 15, 2017, https://doi.org/10.1002/adma.201606202 Read article
A dual-mesh hybrid foam of in situ selectively-formed 2D mesoporous graphitic-C3N4 mesh with 2D mesoporous N-doped graphene mesh has been prepared. As a new type of nonmetal electrocatalyst, it's unique pore-hierarchical architecture exhibits excellent electrocatalytic activity and robust durability, superior to most nonmetal materials and even better than some non-noble metallic catalysts.
[Full Paper]
Qing Han, Zhihua Cheng, Jian Gao, Yang Zhao, Zhipan Zhang, Liming Dai, Liangti Qu
Adv. Funct. Mater., March 10, 2017, https://doi.org/10.1002/adfm.201606352 Read article
It's what water splitting craves: Efficient, inexpensive, flexible, and versatile devices for electrocatalytic water splitting are highly desired. This review discusses the significance and impact of the electrolyte on electrocatalytic performance, with a particular focus placed on the role of ions in the kinetics and mass transport.
[Review]
Tatsuya Shinagawa, Kazuhiro Takanabe
ChemSusChem, March 09, 2017, https://doi.org/10.1002/cssc.201601583 Read article
It's all evolving: Iron−nickel nanoparticles (Fe−Ni NPs) are successfully synthesized in various stoichiometries by using the inverse micelle method followed by combustion at 500 °C for 12 h in H2. Fe−Ni NPs operate as bifunctional electrode materials at room temperature in alkaline medium and show enhanced electrocatalytic activity in water electrolysis for the H2 and O2 evolution reactions.
[Article]
Jahangeer Ahmed, Tansir Ahamad, Saad M. AlShehri
ChemElectroChem, March 08, 2017, https://doi.org/10.1002/celc.201600754 Read article
Amorphous cobalt–iron hydroxide (CoFe
H) nanosheets and BiVO4 are effectively integrated, constructing a catalyst/BiVO4 structure for achieving efficient photo-electrochemical (PEC) water oxidation. Benefiting from the properties of CoFe
H and the rational design of electrocatalyst/semiconductor architecture, CoFe
H/BiVO4 photoanodes exhibit an enhanced photocurrent density and a low onset potential for PEC water oxidation.
[Full Paper]
Wei Liu, Hu Liu, Lianna Dang, Hongxiu Zhang, Xiaolin Wu, Bin Yang, Zhongjian Li, Xingwang Zhang, Lecheng Lei, Song Jin
Adv. Funct. Mater., March 07, 2017, https://doi.org/10.1002/adfm.201603904 Read article
Let the sun in: A new design strategy for a CdS/WS2-MoS2 nanocomposite with potential applications as sunlight-driven photocatalysts for hydrogen production is demonstrated. The observed high rate of hydrogen evolution and remarkable stability may be a result of the ultrafast separation of photogenerated charge carriers and transport between the CdS nanorods and the WS2-MoS2 nanosheets
[Full Paper]
D. Amaranatha Reddy, Hanbit Park, Rory Ma, D. Praveen Kumar, Manho Lim, Tae Kyu Kim
ChemSusChem, March 02, 2017, https://doi.org/10.1002/cssc.201601799 Read article
Supercritical CO2-assisted reverse-micelle-induced phase engineering can form strained 2D single-layers, which directly contributes to the successful transformation of 2H- to 1T-phase MS2. The obtained 1T-MoS2 exhibits good activity for the hydrogen evolution reaction in comparison with 2H-MoS2.
[Communication]
Xin Tong, Yuhang Qi, Jing Chen, Nan Wang, Qun Xu
ChemNanoMat, March 01, 2017, https://doi.org/10.1002/cnma.201700011 Read article
R⋅⋅⋅u single? Single-site Ru complexes are synthesized and evaluated as water oxidation catalysts. The catalytic activity is enhanced by the presence of electron-donating groups, and a linear relationship between the Hammett parameters of the substituents and the turnover frequencies is established. A general pathway for deactivation of these Ru catalysts during water oxidation through poisoning by CO is also established.
[Communication]
Ahmed F. Abdel-Magied, Wael A. A. Arafa, Tanja M. Laine, Andrey Shatskiy, Markus D. Kärkäs, Björn Åkermark, Eric V. Johnston
ChemCatChem, February 24, 2017, https://doi.org/10.1002/cctc.201601382 Read article
Catalyzing HER: A nickel phosphosulfide (Ni5P4|S) active species is successfully constructed in situ on a 3D Ni foam substrate and exhibits a highly electrocatalytic performance for hydrogen evolution.
[Article]
Yan Lin, Yuan Pan, Jun Zhang
ChemElectroChem, February 23, 2017, https://doi.org/10.1002/celc.201600808 Read article
A novel composite coating enables stable and efficient solar hydrogen generation under both basic and alkaline conditions and provides a versatile approach to scalably protect semiconductor light absorbers, integrate catalysts, and manage charge transport. This strategy is verified by demonstration of devices with unbiased solar-to-hydrogen conversion efficiencies exceeding 10% with pure gas product streams in both laboratory and outdoor testing environments.
[Full Paper]
Karl A. Walczak, Gideon Segev, David M. Larson, Jeffrey W. Beeman, Frances A. Houle, Ian D. Sharp
Adv. Energy Mater., February 17, 2017, https://doi.org/10.1002/aenm.201602791 Read article
Mott–Schottky type Janus Co/CoP nanoparticles are constructed by a proof-of-concept strategy, promoting the overall water splitting activity as typical Mott–Schottky electrocatalysts. The electron redistribution at the Co/CoP interface significantly and generally boosts the catalytic activity of Janus nanoparticles for both hydrogen evolution reaction and oxygen evolution reaction across a wide pH range.
[Full Paper]
Zhong-Hua Xue, Hui Su, Qiu-Ying Yu, Bing Zhang, Hong-Hui Wang, Xin-Hao Li, Jie-Sheng Chen
Adv. Energy Mater., February 15, 2017, https://doi.org/10.1002/aenm.201602355 Read article
A noble-metal-free Ni40Fe40P20 metallic glass is developed as a superior bulk catalyst toward hydrogen and oxygen evolution reactions for electrochemical water splitting in acidic and alkaline solutions. Amorphous structure can effectively decouple the intertangling catalytic activities and electrochemical stability of transition metal alloys and offers high catalytic performances originating from nonperiodic atomic structure.
[Communication]
Yongwen Tan, Fan Zhu, Hao Wang, Yuan Tian, Akihiko Hirata, Takeshi Fujita, Mingwei Chen
Adv. Mater. Interfaces, February 15, 2017, https://doi.org/10.1002/admi.201601086 Read article
[Review]
Yu. F. Zhukovskii, S. Piskunov, O. Lisovski, D. Bocharov, R. A. Evarestov
Isr. J. Chem., December 12, 2016, https://doi.org/10.1002/ijch.201600099 Read article
[Review]
Sandhya Shenoy, Umesh V. Waghmare, S. R. Lingampalli, Anand Roy, C. N. R. Rao
Isr. J. Chem., November 16, 2016, https://doi.org/10.1002/ijch.201600120 Read article
[Original Research Paper]
N. Baumann, C. Cremers, K. Pinkwart, J. Tübke
Fuel Cells, July 14, 2016, https://doi.org/10.1002/fuce.201500212 Read article
© Wiley-VCH 2016.