Water Splitting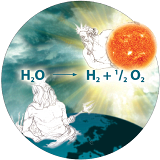 Water splitting, artificial photosynthesis, hydrogen evolution reactions: The generation of chemical fuels from water and sunlight is one of the key scientific challenges for the 21st century.
Picture by U. Rosenthal et al., Cover of Angewandte Chemie 25/2012: Photoassisted Ti–O Activation in a Decamethyltitanocene Dihydroxido Complex: Insights into the Elemental Steps of Water Splitting
Further reading: A. Lasia, Hydrogen evolution reaction, in Handbook of Fuel Cells, Wiley, 2010.
Find all articles on water splitting in Wiley Online Library...
Recent Articles

RSS feed
Black N white photographene: Bioinspired mesoporous g-C3N4 materials with supramolecular helical and liquid crystal layered structures were synthesized from chiral nematic CNC films through nanocasting with a SiO2 template. The g-C3N4 exhibited an ultrahigh hydrogen evolution rate that can be modulated by circularly polarized light during the photocatalytic processes.
[Communication]
Wensheng Lin, Wei Hong, Lu Sun, Di Yu, Dingshan Yu, Xudong Chen
ChemSusChem, December 14, 2017, https://doi.org/10.1002/cssc.201701984 Read article
Two is better than one: A simple method has been developed for synthesis of MoSx and MoSx-rGO composites by polyoxometalates precursors. Catalytic performance of annealed MoSx-rGO samples for HER is comparable to best catalyst reported so far. Strong synergy between rGO and MoS2 is important for Improved catalytic activity of MoS2-rGO catalyst. Synthetic ease and scalable method is advantageous for practical use of these catalysts.
[Full Paper]
Sourav Ghosh, Uday Pratap Azad, Ashish Kumar Singh, Akhilesh Kumar Singh, Rajiv Prakash
ChemistrySelect, December 13, 2017, https://doi.org/10.1002/slct.201702737 Read article
Surprise HER with flowers: A novel MoS2-based flower-like nanohybrid for hydrogen evolution was fabricated through coating the Cu-containing metal-organic framework (HKUST-1) onto MoS2 nanosheets (see figure). This design opens new possibilities to effectively synthesize non-noble metal catalysts with high performance for the hydrogen evolution reaction (HER).
[Full Paper]
Chengli Wang, Yingchun Su, Xiaole Zhao, Shanshan Tong, Xiaojun Han
Chem. Eur. J., December 11, 2017, https://doi.org/10.1002/chem.201704080 Read article
A 3D mesoporous van der Waals heterostructure of graphene and nitrogen-doped MoS2 is fabricated through a two-step sequential chemical vapor deposition method. This affords an all-round engineering of 2D materials including the morphology, edges, defects, interfaces, and electronic structure, thereby leading to robustly modified properties and greatly enhanced electrochemical activities.
[Communication]
Cheng Tang, Ling Zhong, Bingsen Zhang, Hao-Fan Wang, Qiang Zhang
Adv. Mater., December 11, 2017, https://doi.org/10.1002/adma.201705110 Read article
Out of the box: We diversify MoSx morphologies and structures by a facile template-free solvothermal method to prepare fascinating MoSx nanosheet-based hollow porous flat boxes and nanotubes. Catalytic measurements demonstrate that the hollow porous MoSx flat boxes and nanotubes have similar outstanding performances for the hydrogen evolution reaction and can reach 10 mA cm−2 current at overpotentials of approximately 206 and 210 mV, respectively.
[Full Paper]
Liao Chen, Hongli Zhu
ChemCatChem, December 07, 2017, https://doi.org/10.1002/cctc.201701306 Read article
Flower-like β-NiS is a promising multifunctional electrode for the two most intriguing flexible, supercapattery and water-splitting, applications, and it renders a new direction to develop high-performance flexible energy storage and conversion system based on the binder-free NiS materials for various applications.
[Full Paper]
Subramani Surendran, Ramakrishnan Kalai Selvan
Adv. Mater. Interfaces, December 04, 2017, https://doi.org/10.1002/admi.201701056 Read article
Recent advances of phosphorene production approaches have led to the great progress in its energy related applications. In this in-depth review, one can readily access the state of the art research on phosphorene. Examples include stability strategies, electrochemistry energy storage, and energy conversion.
[Review]
Jinbo Pang, Alicja Bachmatiuk, Yin Yin, Barbara Trzebicka, Liang Zhao, Lei Fu, Rafael G. Mendes, Thomas Gemming, Zhongfan Liu, Mark H. Rummeli
Adv. Energy Mater., December 01, 2017, https://doi.org/10.1002/aenm.201702093 Read article
Flower power: Flower-like nickel phosphide microballs assembled by nanoplates with exposed high-energy (0 0 1) facets are prepared by a facile precursor route. This material displays an excellent electrocatalytic activity for the hydrogen evolution reaction with a low overpotential of 35.4 mV to reach current densities of 10 mA cm−2.
[Full Paper]
Honglei Wang, Ying Xie, Hongshuai Cao, Yanchao Li, Lin Li, Zhikun Xu, Xiuwen Wang, Ni Xiong, Kai Pan
ChemSusChem, November 30, 2017, https://doi.org/10.1002/cssc.201701647 Read article
Iron doping in geometrical octahedral sites would significantly enhance the catalytic ability toward oxygen evolution reaction. Geometrical-site confinement of iron ions leads to the cobalt ions in tetrahedral sites continuously activated under an activation process, achieving a strikingly high activity (ηj = 10 mA cm−2 = 229 mV and ηj = 100 mA cm−2 = 281 mV).
[Full Paper]
Sung-Fu Hung, Ying-Ya Hsu, Chia-Jui Chang, Chia-Shuo Hsu, Nian-Tzu Suen, Ting-Shan Chan, Hao Ming Chen
Adv. Energy Mater., November 30, 2017, https://doi.org/10.1002/aenm.201701686 Read article
Nitrogen-doped carbon encapsulated metal-semiconductor nanowire arrays are constructed as integrated core-shell Mott-Schottky electrocatalysts. Due to a prominent synergetic effect of defective oxide nanowires, bimetallic nanoalloys and a nitrogen-doped carbon layer, the NC/CuCo/CuCoOx electrocatalysts approaches 10 mA cm−2 at a cell voltage of 1.53 V. This work opens an avenue to develop efficient and stable Mott-Schottky bifunctional electrocatalysts for energy conversion.
[Full Paper]
Jungang Hou, Yiqing Sun, Yunzhen Wu, Shuyan Cao, Licheng Sun
Adv. Funct. Mater., November 30, 2017, https://doi.org/10.1002/adfm.201704447 Read article
POMs for HER: Remarkable electrocatalytic efficiency towards the hydrogen evolution reaction (HER) of polyoxometalate@oxidized graphene flakes hybrids is reported in acidic media. The synergetic effect between them leads to HER activities beyond the state-of-art catalyst, with impressive exchange current densities (0.65–1.02 mA cm−2) as well as very low overpotentials (0.033–0.044 V vs. RHE) and Tafel slopes (0.033–0.041 V dec−1).
[Article]
Diana M. Fernandes, Mariana P. Araújo, Ali Haider, Ali S. Mougharbel, António J. S. Fernandes, Ulrich Kortz, Cristina Freire
ChemElectroChem, November 28, 2017, https://doi.org/10.1002/celc.201701210 Read article
Twin peaks: An electrochemical cell is constructed to obtain the real-time faradaic efficiency for efficient evaluation of water splitting catalysts through coupled potentiometry and mass spectrometry. This allows for simultaneous data recording from both reduction and oxidation processes.
[Article]
Henrik Svengren, Mylad Chamoun, Jekabs Grins, Mats Johnsson
ChemElectroChem, November 28, 2017, https://doi.org/10.1002/celc.201701086 Read article
Hot to trot! The plasmon resonance effect of metal nanoparticles (NPs) offers a promising route to improve the solar energy conversion efficiency of semiconductors. Hot electrons generated by the plasmon resonance effect of gold NPs, however, inject into the surface states, instead of the conduction band of Fe2O3 photoanodes, so surface recombination occurs. The surface of Fe2O3 can be passivated through modifying inert oxides before loading gold NPs for plasmon-enhanced photoelectrochemical water splitting.
[Full Paper]
Zhe Xu, Zhongwen Fan, Zhan Shi, Mengyu Li, Jianyong Feng, Lang Pei, Chenguang Zhou, Junkang Zhou, Lingxia Yang, Wenchao Li, Guangzhou Xu, Shicheng Yan, Zhigang Zou
ChemSusChem, November 23, 2017, https://doi.org/10.1002/cssc.201701679 Read article
Powers of separation: NiCoP/g-C3N4, synthesized by simple one-pot method, is a highly efficient photocatalyst for hydrogen production from water, exhibiting a hydrogen evolution rate that is 21 times higher than that of bare g-C3N4. The excellent performance is due to a combination of improved separation efficiency and effective charge transfer efficiency.
[Full Paper]
Lingling Bi, Xupeng Gao, Lijing Zhang, Dejun Wang, Xiaoxin Zou, Tengfeng Xie
ChemSusChem, November 23, 2017, https://doi.org/10.1002/cssc.201701574 Read article
Time to split: Filamentous bacteriophages are genetically engineered to express DOPA on the surface of the major coat protein. A cobalt oxide based oxygen evolution catalyst (Co-OEC) is deposited onto the DOPA-displaying phages by simply immersing the phages in precursor solutions that contain Co2+. The oxygen evolution reaction activity of the Co-OEC-deposited phages is investigated by drop casting on the electrode.
[Communication]
Jihun Rho, Sung Yul Lim, Inseong Hwang, Jeongse Yun, Taek Dong Chung
ChemCatChem, November 23, 2017, https://doi.org/10.1002/cctc.201701111 Read article
Twice the value: In electrocatalytic water splitting devices, decreasing anodic overpotential and simultaneously changing the anodic reaction to produce valuable chemicals instead of O2 would be a major improvement in overall cost efficiency. Oxyhydroxides of cobalt, nickel/iron, and nickel are industrially relevant electrocatalysts that, as anodes, can selectively catalyze the production of n-butyronitrile from n-butylamine as an easily retrievable valuable product.
[Communication]
Song Xue, Sebastian Watzele, Viktor Čolić, Kurt Brandl, Batyr Garlyyev, Aliaksandr S. Bandarenka
ChemSusChem, November 22, 2017, https://doi.org/10.1002/cssc.201701802 Read article
Heteroatom doping is a powerful tool for modulating electronic structure, geometrical structure, surface chemistry, and subsequent electronic conductivity, optical properties, and photocatalysis of carbon materials. This Review emphasizes the synthesis, properties, and photocatalytic applications of doped carbonaceous materials, discusses the fundamental understanding of promoting effect of doping, and also outlines the challenges and future perspectives.
[Review]
Zhongkui Zhao, Guifang Ge, Di Zhang
ChemCatChem, November 16, 2017, https://doi.org/10.1002/cctc.201700707 Read article
That′s a good hybrid! This work demonstrates a new design strategy for highly active, noble-metal-free, and redox-mediator-free Z-scheme photocatalyst, CdS/Co-C@Co9S8, for H2 production through water splitting under solar irradiation.
[Full Paper]
D. Amaranatha Reddy, Hanbit Park, Madhusudana Gopannagari, Eun Hwa Kim, Seunghee Lee, D. Praveen Kumar, Tae Kyu Kim
ChemSusChem, November 09, 2017, https://doi.org/10.1002/cssc.201701643 Read article
Efficient bifunctional catalysts based on NiCo2O4 for overall water splitting can be obtained by growth of hollow Ni@NiCo2O4 nanorod arrays on three-dimensional Ni foam. An alkaline electrolyzer constructed with the hybrid catalysts delivers excellent activity towards overall water splitting with a current of 10 mA cm−2 at only ∼1.58 V and almost no deactivation after 10 h.
[Full Paper]
Luyu Wang, Changdong Gu, Xiang Ge, Jialei Zhang, Hongyi Zhu, Jiangping Tu
ChemNanoMat, October 25, 2017, https://doi.org/10.1002/cnma.201700291 Read article
The mass and energy circulation in the solar-hydrogen-electricity circle is delineated herein. The general concepts of natural photosynthesis in green plants, the different strategies of light-driven water splitting proposed in laboratories, the progress of electrocatalytic hydrogen evolution reaction and the oxygen evolution reaction, and the electrode reactions in hydrogen fuel cells are discussed.
[Review]
Jing Qi, Wei Zhang, Rui Cao
Adv. Energy Mater., October 23, 2017, https://doi.org/10.1002/aenm.201701620 Read article
© Wiley-VCH 2016.