Water Splitting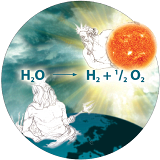 Water splitting, artificial photosynthesis, hydrogen evolution reactions: The generation of chemical fuels from water and sunlight is one of the key scientific challenges for the 21st century.
Picture by U. Rosenthal et al., Cover of Angewandte Chemie 25/2012: Photoassisted Ti–O Activation in a Decamethyltitanocene Dihydroxido Complex: Insights into the Elemental Steps of Water Splitting
Further reading: A. Lasia, Hydrogen evolution reaction, in Handbook of Fuel Cells, Wiley, 2010.
Find all articles on water splitting in Wiley Online Library...
Recent Articles

RSS feed
Time to split: Metallic Bi-modified BiVO4 photoanodes with oxygen vacancies as an effective photoelectrocatalyst are prepared. The oxygen vacancies can increase photogenerated electron capture and the adsorption of H2O. The Bi nanocrystals are beneficial for the photo-response range and separation of photogenerated carriers. This obtained BiVO4 photoanodes exhibit excellent performance for photoelectrochemical water splitting.
[Article]
Junqi Li, Liu Guo, Nan Lei, Qianqian Song, Zheng Liang
ChemElectroChem, August 17, 2017, https://doi.org/10.1002/celc.201700680 Read article
More than a nickel: Density functional theory is employed to model the mechanisms of several oxygen-evolution reactions. It is found that the catalytic activity of NiOOH (composed of partially hydrogenated NiO2 2D sheets) is not limited to the defect sites and the edges, as usually assumed, but that many reaction centers are available on the NiO2 surface itself.
[Communication]
Jeremie Zaffran, Maytal Caspary Toroker
ChemElectroChem, August 17, 2017, https://doi.org/10.1002/celc.201700445 Read article
Metal–organic frameworks (MOF) derived Co3O4/TiO2/Si heterostructured nanorod (NR) array photoanodes for efficient photoelectrochemical water oxidation are developed. The abnormal type-II TiO2/Si heterojunction greatly improves the photogenerated hole separation and electron injection efficiencies. The synergistic function in Co3O4/TiO2/Si NR photoanode brings a greatly enhanced photoconversion efficiency of 0.54% and a photocurrent density of 2.71 mA cm−2 in an alkaline electrolyte.
[Full Paper]
Rui Tang, Shujie Zhou, Zhimin Yuan, Longwei Yin
Adv. Funct. Mater., August 15, 2017, https://doi.org/10.1002/adfm.201701102 Read article
A highly ordered Fe2TiO5 nanotube array photoanode with high crystallinity is synthesized with ultrathin anodic aluminum oxide as a template and hybrid microwave annealing, which achieves an excellent photoelectrochemical water splitting performance by additional triple modifications. The strategy paves a way for other photoelectrode materials to significantly improve their performance.
[Full Paper]
Hemin Zhang, Ju Hun Kim, Jin Hyun Kim, Jae Sung Lee
Adv. Funct. Mater., August 14, 2017, https://doi.org/10.1002/adfm.201702428 Read article
Don't be DFT: A 3D nanostructure (CNx@N-RGO) is found, consisting of nitrogen-doped graphene (N-RGO) layers distributed over the interconnected arms of carbon nitride (CNx) tetrapods, which acts as an efficient catalyst for the electrochemical hydrogen evolution reaction (HER). The improved activity of the catalyst is studied and confirmed at the molecular level by using DFT calculations.
[Article]
Pranav K. Gangadharan, Sreekuttan M. Unni, Nandha Kumar, Prasenjit Ghosh, Sreekumar Kurungot
ChemElectroChem, August 10, 2017, https://doi.org/10.1002/celc.201700479 Read article
In this work the electronic structure of well defined hematite thin films is investigated. On the basis of changes in the crystallographic properties changes in the core-level and valence band spectra of photoelectron spectra are being discussed. The combination of these different techniques allows for an assignment of the origin of contributions from oxygen and iron to the density of states.
[Full Paper]
Christian Lohaus, Céline Steinert, Joachim Brötz, Andreas Klein, Wolfram Jaegermann
Adv. Mater. Interfaces, August 10, 2017, https://doi.org/10.1002/admi.201700542 Read article
NiO hole transfer layer prepared by spin coating on F:SnO2 followed by a postannealing process is introduced to form an Ohmic back contact a to Cu2O photocathode, which can extract photogenerated holes from Cu2O, thus improving the charge carrier separation at the back contact efficiently. This constitution provides an example for enhancing the performance of photoelectrodes via introducing low-cost back contact materials.
[Communication]
Yijia Wei, Xiaoxia Chang, Tuo Wang, Chengcheng Li, Jinlong Gong
Small, August 08, 2017, https://doi.org/10.1002/smll.201702007 Read article
Significant hydrogen evolution is observed using bismuth chalcogenide topological insulators as catalysts.
[Communication]
Catherine R. Rajamathi, Uttam Gupta, Koushik Pal, Nitesh Kumar, Hao Yang, Yan Sun, Chandra Shekhar, Binghai Yan, Stuart Parkin, Umesh V. Waghmare, Claudia Felser, C. N. R. Rao
ChemPhysChem, August 08, 2017, https://doi.org/10.1002/cphc.201700344 Read article
Perovskite power: BaMn0.5Fe0.5O3−δ demonstrates over 90 % water-splitting conversion and over 90 % syngas-yield using a hybrid solar-redox process. Computational modelling, fluidized-bed experiments, and in situ XRD analysis indicate that perovskite BaMn0.5Fe0.5O3−δ is ideal for the proposed redox reactions. Process simulations indicate a 70 % reduction in CO2 emissions for hydrogen production compared to the current state-of-the-art processes.
[Full Paper]
Vasudev Pralhad Haribal, Feng He, Amit Mishra, Fanxing Li
ChemSusChem, August 07, 2017, https://doi.org/10.1002/cssc.201700699 Read article
A Pd/FeOx(OH)2−2x heterostructure is fabricated by electrochemical cycling starting from Pd/Fe3O4 core/shell nanoparticles. The optimum FeOx(OH)2−2x coverage can balance the rates of both the water dissociation step and the hydrogen formation step for hydrogen evolution reaction in alkaline to reach the highest electrocatalytic efficiency.
[Communication]
Hanbin Liao, Chao Wei, Jingxian Wang, Adrian Fisher, Thirumany Sritharan, Zhenxing Feng, Zhichuan J. Xu
Adv. Energy Mater., August 07, 2017, https://doi.org/10.1002/aenm.201701129 Read article
3D self-supported Fe-doped Ni2P nanosheet arrays are fabricated by hydrothermal method and in situ phosphorization. The performance of the nanosheet arrays toward overall water splitting depends on the Fe doping ratio. An alkaline electrolyzer using two identical (Ni0.33Fe0.67)2P nanosheet arrays electrodes can operate at 10 mA cm-2 under 1.49 V.
[Full Paper]
Yingjie Li, Haichuan Zhang, Ming Jiang, Qian Zhang, Peilei He, Xiaoming Sun
Adv. Funct. Mater., August 04, 2017, https://doi.org/10.1002/adfm.201702513 Read article
Let the sun shine: A metal-free and inexpensive catalyst, sulfur-doped graphene oxide quantum dots, is developed for efficient photocatalytic H2 production in pure water. Under direct sunlight irradiation, high initial H2 production rates in pure water and in 80 % ethanol aqueous solution indicate great potential in the development of sustainable and environmentally friendly photocatalysts for efficient H2 generation from water splitting.
[Full Paper]
Jacek Gliniak, Jia-Hoa Lin, Yi-Ting Chen, Chuen-Ru Li, Efat Jokar, Chin-Hao Chang, Chun-Sheng Peng, Jui-Nien Lin, Wan-Hsiang Lien, Hui-Min Tsai, Tung-Kung Wu
ChemSusChem, August 03, 2017, https://doi.org/10.1002/cssc.201700910 Read article
A modified photoanode: An iridium complex is immobilized on a WO3 electrode to construct a composite photoanode for photoelectrochemical (PEC) water splitting. The photoanode shows a significant improvement both in photocurrent and faradaic efficiency. Kinetic studies reveal that the molecular iridium catalyst exhibits a different interfacial charge-transfer mechanism on the WO3 photoanode for PEC water oxidation compared to iridium oxide.
[Full Paper]
Haili Tong, Yi Jiang, Qian Zhang, Jialing Li, Wenchao Jiang, Donghui Zhang, Na Li, Lixin Xia
ChemSusChem, August 03, 2017, https://doi.org/10.1002/cssc.201700721 Read article
The catalytically inert basal plane of MoS2 is activated for the hydrogen evolution reaction (HER) by combining the atomic layer deposition (ALD) technique and an in situ electrochemical activation process. The basal plane activated MoS2 (ALD(Act.)-MoS2) catalysts significantly improve the HER performance, resulting from more favorable hydrogen-binding.
[Full Paper]
Youngmin Kim, David H. K. Jackson, Daewon Lee, Min Choi, Tae-Wan Kim, Soon-Yong Jeong, Ho-Jeong Chae, Hyun Woo Kim, Noejung Park, Hyunju Chang, Thomas F. Kuech, Hyung Ju Kim
Adv. Funct. Mater., August 02, 2017, https://doi.org/10.1002/adfm.201701825 Read article
Hierarchical core-shell structure NiCo2O4/Ni2P nanocone array is fabricated on Ni foam substrate as a highly active and stable bifunctional electrocatalyst for water splitting. The synergistic interactions between NiCo2O4 and Ni2P layers contribute to the enhanced activity for both oxygen evolution reaction and hydrogen evolution reaction. The present work may encourage researches on improving the various electrocatalysts activity by synergistical structures.
[Full Paper]
Luyu Wang, Changdong Gu, Xiang Ge, Jialei Zhang, Hongyi Zhu, Jiangping Tu
Adv. Mater. Interfaces, July 31, 2017, https://doi.org/10.1002/admi.201700481 Read article
Hybrid nanostructures of NiSe2 ultrathin nanowires decorated with amorphous NiOx nanoparticles are fabricated to serve as highly active and ultrastable electrocatalysts for hydrogen evolution, oxygen evolution reaction, and overall water splitting. The excellent performances are likely attributed to the protection of NiOx layers on the NiSe2 to avoid further oxidation and more necessary active sites for electrocatalytic process.
[Communication]
Haoyi Li, Shuangming Chen, Haifeng Lin, Xiaobin Xu, Haozhou Yang, Li Song, Xun Wang
Small, July 26, 2017, https://doi.org/10.1002/smll.201701487 Read article
Splitting the difference: Iron-doped cobalt phosphide (Fe-CoP) and iron-doped cobalt phosphate borate nanoarray (Fe-Co-Pi-Bi) supported on carbon cloth behave as complementary water-splitting electrocatalysts at near-neutral pH. Their use in a two-electrode electrolyzer affords a catalytic current density of 10 mA cm−2 at a cell voltage of 1.95 V with strong electrochemical stability in 0.1 m K-Bi.
[Communication]
Min Ma, Guilei Zhu, Fengyu Xie, Fengli Qu, Zhiang Liu, Gu Du, Abdullah M. Asiri, Yadong Yao, Xuping Sun
ChemSusChem, July 26, 2017, https://doi.org/10.1002/cssc.201700693 Read article
Mn@CoxMn3−xO4 nanoparticles with abundant edge sites are designed and synthesized via a simple seed-mediated growth strategy. The edge sites with unsaturated coordination exhibit intense affinity for OH− in the alkaline electrolyte, which greatly enhances the electrochemical oxygen evolution reaction performance.
[Communication]
Congling Hu, Lei Zhang, Zhi-Jian Zhao, Jun Luo, Jing Shi, Zhiqi Huang, Jinlong Gong
Adv. Mater., July 26, 2017, https://doi.org/10.1002/adma.201701820 Read article
The fundamental understanding of electrocatalytic hydrogen-evolution reaction active sites is important for the development of metal complex involved carbon electrocatalysts with low kinetic barrier. Here, the molecular active centers are selectively incorporated into ladder-type, highly crystalline coordination polymers as model carbon electrocatalysts for H2 generation from water. The activity origin is clarified.
[Communication]
Lihuan Wang, Diana C. Tranca, Jian Zhang, Yanpeng Qi, Stavroula Sfaelou, Tao Zhang, Renhao Dong, Xiaodong Zhuang, Zhikun Zheng, Gotthard Seifert
Small, July 25, 2017, https://doi.org/10.1002/smll.201700783 Read article
Tubular potential: Cobalt and iron corrole complexes have been used as catalysts of H2O reduction to generate H2. Electro- and photocatalysis of water reduction occurred with dissolved corroles. Carbon nanotubes doped with corroles were used as photo-electrochemical catalysts with increased hydrogen production. The catalytic efficiency increased by five orders of magnitude if the molecular catalysts were adsorbed onto the carbon nanotubes.
[Full Paper]
Miguel A. Morales Vásquez, Mariana Hamer, Nicolás I. Neuman, Alvaro Y. Tesio, Andrés Hunt, Horacio Bogo, Ernesto J. Calvo, Fabio Doctorovich
ChemCatChem, July 24, 2017, https://doi.org/10.1002/cctc.201700349 Read article
Laser-induced porous graphene (LIG) is formed on wood by laser irradiation. This LIG is engineered into energy storage devices and electrocatalysis electrodes. The LIG from pine (P-LIG) is coated with polyaniline to form supercapacitors and with metals Co, Ni, and Fe to form electrocatalysts. The electrocatalysis of water using metal-coated P-LIG produces H2 and O2.
[Communication]
Ruquan Ye, Yieu Chyan, Jibo Zhang, Yilun Li, Xiao Han, Carter Kittrell, James M. Tour
Adv. Mater., July 24, 2017, https://doi.org/10.1002/adma.201702211 Read article
CuxS nanoflake arrays (NFAs) with abundant surficial defects and a perfect internal structure are applied in photoelectrochemical (PEC) water splitting; the surficial defects give rise to strong localized surface plasmon resonance effect and quick charge separation near the surface. They also provide active sites for catalyzing hydrogen evolution. As a result, the NFAs achieve the top PEC properties ever reported for CuxS-based photocathodes.
[Communication]
Kaixv Ren, Pengfei Yin, Yuzhu Zhou, Xingzhong Cao, Cunku Dong, Lan Cui, Hui Liu, Xiwen Du
Small, July 19, 2017, https://doi.org/10.1002/smll.201700867 Read article
Advanced 3D-printed conical arrays of Ti-substrates are acting as substrates to form TiO2-based photoanodes with enhanced photoelectrochemical water splitting performance. Tunable sizes and densities of conical arrays are achievable from 3D printing technology. These 3D printed metal-based structures in addition to ease of functional modifications open a new way in fabricating novel electrode materials for photoelectrochemical related applications.
[Communication]
Chong-Yong Lee, Adam C. Taylor, Stephen Beirne, Gordon G. Wallace
Adv. Energy Mater., July 18, 2017, https://doi.org/10.1002/aenm.201701060 Read article
General synthesis strategies are proposed for the design of hierarchical nanostructures targeted for electrocatalytic and photoelectrochemical water splitting applications, based on a comprehensive survey on the broad range of literature in related disciplines. This study could provide guidelines for researchers to pursue more efficient material design for sustainable water splitting in the future.
[Review]
Ming Fang, Guofa Dong, Renjie Wei, Johnny C. Ho
Adv. Energy Mater., July 17, 2017, https://doi.org/10.1002/aenm.201700559 Read article
The results of integrated water electrolysis using the hybrids of electrospun perovskite nanorods attached to reduced graphene oxide nanosheets as bifunctional electrodes are reported. Via rationalizing the composition and morphology of the nanohybrids, excellent catalytic performance and stability toward oxygen evolution reaction and hydrogen evolution reaction are achieved in alkaline media.
[Communication]
Bin Hua, Meng Li, Ya-Qian Zhang, Yi-Fei Sun, Jing-Li Luo
Adv. Energy Mater., July 14, 2017, https://doi.org/10.1002/aenm.201700666 Read article
Hopscotch: Sb2Se3 thin films are electrodeposited and thermally treated, showing different crystallographic texturization. The (120)-texturized films present lower photocurrents, because the charge carriers need to hop between ribbon structures, whereas (221)-texturized films, with easier charge transport along the covalent bonds, have an optimized photocurrent for hydrogen gas evolution.
[Article]
Magno Barcelos Costa, Francisco Willian de Souza Lucas, Lucia Helena Mascaro
ChemElectroChem, July 11, 2017, https://doi.org/10.1002/celc.201700511 Read article
Realizing the potential: A core–shell-structured NiS2@Ni-Bi nanoarray on carbon cloth (NiS2@Ni-Bi/CC) is derived from the NiS2 nanoarray on carbon cloth (NiS2/CC) by oxidative polarization in 0.1 m K-Bi. In near-neutral electrolyte, NiS2@Ni-Bi/CC behaves as a durable catalyst electrode for the oxygen evolution reaction with the need of an overpotential of only 486 mV to drive a geometrical catalytic current density of 20 mA cm−2.
[Communication]
Xiao Ma, Min Ma, Danni Liu, Shuai Hao, Fengli Qu, Gu Du, Abdullah M. Asiri, Xuping Sun
ChemCatChem, July 06, 2017, https://doi.org/10.1002/cctc.201700350 Read article
Getting the better of HER: Electrocatalytic water splitting is a promising approach for clean and sustainable hydrogen production. Earth-abundant transition-metal carbides, especially molybdenum carbides (MoxC), are regarded as potential candidates to replace state-of-art but expensive platinum-group electrocatalysts. In this Review, the recent progress on MoxC electrocatalysts for hydrogen evolution reaction (HER) is summarized.
[Review]
Mao Miao, Jing Pan, Ting He, Ya Yan, Bao Yu Xia, Xin Wang
Chem. Eur. J., July 04, 2017, https://doi.org/10.1002/chem.201701064 Read article
The first graphdiyne (GD)-based highly-efficient overall water-splitting catalyst (NiCo2S4 nanowire/GD foam) is prepared through a facile, scalable strategy. It shows an unprecedented catalytic activity and stability toward both oxygen evolution and hydrogen evolution reactions, as well as overall water splitting in alkaline media. Such a GD-based bifunctional electrocatalyst is likely to lead to breakthroughs and new understandings of electrocatalysis.
[Full Paper]
Yurui Xue, Zicheng Zuo, Yongjun Li, Huibiao Liu, Yuliang Li
Small, June 14, 2017, https://doi.org/10.1002/smll.201700936 Read article
© Wiley-VCH 2016.