Water Splitting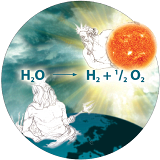 Water splitting, artificial photosynthesis, hydrogen evolution reactions: The generation of chemical fuels from water and sunlight is one of the key scientific challenges for the 21st century.
Picture by U. Rosenthal et al., Cover of Angewandte Chemie 25/2012: Photoassisted Ti–O Activation in a Decamethyltitanocene Dihydroxido Complex: Insights into the Elemental Steps of Water Splitting
Further reading: A. Lasia, Hydrogen evolution reaction, in Handbook of Fuel Cells, Wiley, 2010.
Find all articles on water splitting in Wiley Online Library...
Recent Articles

RSS feed
It's time to split: This review focuses on the state-of-the-art progress of the strategies for modifying g-C3N4-based photocatalysts toward efficient solar water splitting. In particular, the importance of interfacial engineering and nanostructural control to promote the charge separation and transfer is highlighted. This review should inspire the design of new types of g-C3N4-based photocatalysts for more efficient solar fuel production.
[Focus Review]
Yilong Yang, Songcan Wang, Yongli Li, Jinshu Wang, Lianzhou Wang
Chem. Asian J., June 21, 2017, https://doi.org/10.1002/asia.201700540 Read article
The first graphdiyne (GD)-based highly-efficient overall water-splitting catalyst (NiCo2S4 nanowire/GD foam) is prepared through a facile, scalable strategy. It shows an unprecedented catalytic activity and stability toward both oxygen evolution and hydrogen evolution reactions, as well as overall water splitting in alkaline media. Such a GD-based bifunctional electrocatalyst is likely to lead to breakthroughs and new understandings of electrocatalysis.
[Full Paper]
Yurui Xue, Zicheng Zuo, Yongjun Li, Huibiao Liu, Yuliang Li
Small, June 14, 2017, https://doi.org/10.1002/smll.201700936 Read article
Metal oxides are one of the most important classes of materials for photoelectrochemical water splitting. This review highlights the recent advances in using metal oxide nanomaterials as photoelectrodes and co-catalysts and for creating integrated devices for direct water splitting. The performance, limitations, challenges and potentials of metal oxide nanomaterials are discussed.
[Review]
Yi Yang, Shuwen Niu, Dongdong Han, Tianyu Liu, Gongming Wang, Yat Li
Adv. Energy Mater., June 12, 2017, https://doi.org/10.1002/aenm.201700555 Read article
Flake news: FeOOH and Au layers on single-crystalline α-Fe2O3 nanoflake photoanodes display a synergistic effect in water splitting. Au seeding provides nucleation centers to grow high-density hematite nanoflake arrays on Fe substrate. Additional FeOOH decoration facilitates hole transfer at the electrode/electrolyte interface, while the remaining Au underlayer provides a sink for electron transport to the back contact, leading to drastically improved charge-separation efficiency.
[Communication]
Lei Wang, Nhat Truong Nguyen, Yajun Zhang, Yingpu Bi, Patrik Schmuki
ChemSusChem, June 08, 2017, https://doi.org/10.1002/cssc.201700522 Read article
Mesoskeletal MoCx: A diatomite-type structural MoCx electrocatalysts are prepared via the modified organic-inorganic hybrid transformation procedure, which present efficient electrocatalytic performance towards hydrogen evolution reaction under both acid and alkiline solutions.
[Article]
Yangxia Wang, Zhangping Shi, Qijie Mo, Boxu Gao, Bolun Liu, Lei Wang, Yahong Zhang, Qingsheng Gao, Yi Tang
ChemElectroChem, June 06, 2017, https://doi.org/10.1002/celc.201700378 Read article
Maintaining integrity: FeP hollow microspheres composed of nanosheet subunits were synthesized through a facile and controllable solvothermal method. The microspheres exhibit excellent catalytic activity in the hydrogen evolution reaction with low onset overpotential, small Tafel slope, and good stability under acidic conditions.
[Article]
Xiaosong Guo, Zijia Feng, Zezhong Lv, Yufan Bu, Qiulin Liu, Longqing Zhao, Chuncheng Hao, Guicun Li, Qingquan Lei
ChemElectroChem, May 31, 2017, https://doi.org/10.1002/celc.201700366 Read article
We present the application of a copper(II) complex, [CuL1](ClO4)2 (1), as a catalyst in the electrochemically driven hydrogen evolution reaction (HER) in buffered water and seawater. Homogeneous and heterogeneous proton reduction catalysis was observed depending on the reaction conditions.
[Full Paper]
Sebastian Nestke, Merle Kügler, Julius Scholz, Mona Wilken, Christian Jooss, Inke Siewert
Eur. J. Inorg. Chem., May 30, 2017, https://doi.org/10.1002/ejic.201700154 Read article
Ni-Fe oxyhydroxide foil is fabricated through continuous roll-to-roll compatible methods of electrodeposition and anodization. The catalysts exhibit good oxygen evolution activity and excellent stability. Moreover, Ni-Fe catalytic substrate is integrated with an amorphous silicon solar cell to demonstrate a monolithic photoassisted water splitting device. This approach provides insights for exploiting highly efficient and industry applicable water splitting device.
[Full Paper]
Wan Jae Dong, Young Jin Song, Hansub Yoon, Gwan Ho Jung, Kisoo Kim, Sungjoo Kim, Jong-Lam Lee
Adv. Energy Mater., May 23, 2017, https://doi.org/10.1002/aenm.201700659 Read article
Ir-based nanoclusters (NCs) with highly dispersive feature are synthesized using a wet-chemical large-scalable strategy. Benefiting from the clean surface, high surface-to-volume ratio, large proportion of surface atoms, as well as strong interaction with support, this new series of Ir-based NCs exhibit superior activity and enhanced durability as bifunctional electrocatalysts for overall water splitting in acidic electrolyte.
[Full Paper]
Yecan Pi, Qi Shao, Pengtang Wang, Jun Guo, Xiaoqing Huang
Adv. Funct. Mater., May 16, 2017, https://doi.org/10.1002/adfm.201700886 Read article
ZnO-Fe2O3 and ZnO-WO3 nanoheterostructures, consisting of Zn(II) oxide porous deposits conformally covered by iron or tungsten oxide overlayers, are developed by a hybrid synthetic strategy combining chemical vapor deposition and sputtering processes. The target systems are characterized in detail and investigated as anodes for photoelectrochemical water splitting, a critical research area promising the efficient conversion of solar energy into chemical fuels.
[Full Paper]
Davide Barreca, Giorgio Carraro, Alberto Gasparotto, Chiara Maccato, Thomas Altantzis, Cinzia Sada, Kimmo Kaunisto, Tero-Petri Ruoko, Sara Bals
Adv. Mater. Interfaces, May 15, 2017, https://doi.org/10.1002/admi.201700161 Read article
The iron (II) isopropyl-ketomiminate complex is applicable as chemical vapor deposition (CVD) and atomic layer deposition (ALD) precursor. The mixed oxygen nitrogen coordination atmosphere enables sufficient stability and reactivity for water-assisted ALD processes, but is in turn labile enough to work as CVD precursor in oxygen atmosphere from 350 °C onward.
[Full Paper]
Daniel Peeters, Alexander Sadlo, Katarina Lowjaga, Oliver Mendoza Reyes, Lidong Wang, Lukas Mai, Maximilian Gebhard, Detlef Rogalla, Hans-Werner Becker, Ignacio Giner, Guido Grundmeier, Dariusz Mitoraj, Markus Grafen, Andreas Ostendorf, Radim Beranek, Anjana Devi
Adv. Mater. Interfaces, May 08, 2017, https://doi.org/10.1002/admi.201700155 Read article
Electrocatalytic H2 evolution coupled with furfural oxidation to 2-furoic acid was catalyzed by a bifunctional electrocatalyst of Ni2P-derived arrays on nickel foam (Ni2P/Ni/NF). When Ni2P/Ni/NF acted as the electrocatalyst for both anode and cathode, nearly 100 % Faradaic efficiency and robust stability were achieved. Such an integrated electrolysis catalyzed by Ni2P/Ni/NF required an applied voltage ≈110 mV smaller than that of pure water splitting to achieve the current density of 10 mA cm−2.
[Full Paper]
Nan Jiang, Xin Liu, Jinmei Dong, Bo You, Xuan Liu, Yujie Sun
ChemNanoMat, May 03, 2017, https://doi.org/10.1002/cnma.201700076 Read article
Microbial electrolysis cells (MECs) can convert organic matter to hydrogen gas at low energy consumption. Cathode catalysts for the hydrogen evolution reaction (HER) present a major challenge for the practical applications of MECs. An ideal cathode catalyst should be catalytically active, simple to synthesize, durable in complex environment, and cost-effective. MECs in turn can serve as a research platform to study the durability of the HER catalysts.
[Personal Account]
Heyang Yuan, Zhen He
Chem. Rec., April 04, 2017, https://doi.org/10.1002/tcr.201700007 Read article
Supercritical CO2-assisted reverse-micelle-induced phase engineering can form strained 2D single-layers, which directly contributes to the successful transformation of 2H- to 1T-phase MS2. The obtained 1T-MoS2 exhibits good activity for the hydrogen evolution reaction in comparison with 2H-MoS2.
[Communication]
Xin Tong, Yuhang Qi, Jing Chen, Nan Wang, Qun Xu
ChemNanoMat, March 01, 2017, https://doi.org/10.1002/cnma.201700011 Read article
© Wiley-VCH 2016.