Water Splitting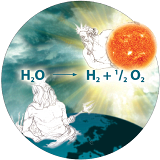 Water splitting, artificial photosynthesis, hydrogen evolution reactions: The generation of chemical fuels from water and sunlight is one of the key scientific challenges for the 21st century.
Picture by U. Rosenthal et al., Cover of Angewandte Chemie 25/2012: Photoassisted Ti–O Activation in a Decamethyltitanocene Dihydroxido Complex: Insights into the Elemental Steps of Water Splitting
Further reading: A. Lasia, Hydrogen evolution reaction, in Handbook of Fuel Cells, Wiley, 2010.
Find all articles on water splitting in Wiley Online Library...
Recent Articles

RSS feed
Chl-A/ZnO nanorods synthesized using electrodeposition route has potential to be utilized for photoelectrochemical water splitting and switching applications.
[Full Paper]
Mohit Prasad, Vidhika Sharma, Azam Mayabadi, Avinash Rokade, Amit Pawbake, Sachin Rondiya, Ravindra Waykar, Ashok Jadhavar, Habib Pathan, Sandesh Jadkar
ChemistrySelect, February 21, 2017, DOI: 10.1002/slct.201601814. Read article
Finding active catalytic species: An in situ generated cobalt catalyst efficiently conducts photo- and electrochemical water oxidation under near-neutral conditions. This work sheds light upon the ability to directly assemble molecular metal–organic catalyst films on the surface of different conducting electrodes for the potential molecular engineering of cobalt-based electrocatalytic films.
[Full Paper]
Hussein A. Younus, Nazir Ahmad, Adeel H. Chughtai, Matthias Vandichel, Michael Busch, Kristof Van Hecke, Mekhman Yusubov, Shaoxian Song, Francis Verpoort
ChemSusChem, February 21, 2017, DOI: 10.1002/cssc.201601477. Read article
A novel composite coating enables stable and efficient solar hydrogen generation under both basic and alkaline conditions and provides a versatile approach to scalably protect semiconductor light absorbers, integrate catalysts, and manage charge transport. This strategy is verified by demonstration of devices with unbiased solar-to-hydrogen conversion efficiencies exceeding 10% with pure gas product streams in both laboratory and outdoor testing environments.
[Full Paper]
Karl A. Walczak, Gideon Segev, David M. Larson, Jeffrey W. Beeman, Frances A. Houle, Ian D. Sharp
Adv. Energy Mater., February 17, 2017, DOI: 10.1002/aenm.201602791. Read article
Mott–Schottky type Janus Co/CoP nanoparticles are constructed by a proof-of-concept strategy, promoting the overall water splitting activity as typical Mott–Schottky electrocatalysts. The electron redistribution at the Co/CoP interface significantly and generally boosts the catalytic activity of Janus nanoparticles for both hydrogen evolution reaction and oxygen evolution reaction across a wide pH range.
[Full Paper]
Zhong-Hua Xue, Hui Su, Qiu-Ying Yu, Bing Zhang, Hong-Hui Wang, Xin-Hao Li, Jie-Sheng Chen
Adv. Energy Mater., February 15, 2017, DOI: 10.1002/aenm.201602355. Read article
A noble-metal-free Ni40Fe40P20 metallic glass is developed as a superior bulk catalyst toward hydrogen and oxygen evolution reactions for electrochemical water splitting in acidic and alkaline solutions. Amorphous structure can effectively decouple the intertangling catalytic activities and electrochemical stability of transition metal alloys and offers high catalytic performances originating from nonperiodic atomic structure.
[Communication]
Yongwen Tan, Fan Zhu, Hao Wang, Yuan Tian, Akihiko Hirata, Takeshi Fujita, Mingwei Chen
Adv. Mater. Interfaces, February 15, 2017, DOI: 10.1002/admi.201601086. Read article
Water works: The mechanism of water oxidation catalyzed by a mononuclear Mn complex is investigated through DFT calculations. The O−O bond formation can occur through oxo–oxo coupling or nucleophilic water attack because these processes have similar barriers.
[Full Paper]
Ying-Ying Li, Ke Ye, Per E. M. Siegbahn, Rong-Zhen Liao
ChemSusChem, February 14, 2017, DOI: 10.1002/cssc.201601538. Read article
Carbide–phosphide composites with minimal lattice mismatch are prepared for energy conversion technologies. Nickel phosphide deposited on molybdenum carbide shows enhanced electrocatalytic activity and stability over 240 h in acidic electrolyte. The synthesis is facile, highly reproducible, and has the potential to produce a new family of electrocatalysts based on earth-abundant elements.
[Full Paper]
Yagya N. Regmi, Asa Roy, Gabriel A. Goenaga, James R. McBride, Bridget. R. Rogers, Thomas A. Zawodzinski, Nicole Labbé, Stephen C. Chmely
ChemCatChem, February 14, 2017, DOI: 10.1002/cctc.201601477. Read article
Lighten up: We investigate the photohydrogen production of the xanthene dye 5-carboxyeosin and the [FeFe]-hydrogenase of Chlamydomonas reinhardtii. The three-component system is effectively fueled by ambient sunlight on two typical winter days in February.
[Full Paper]
David Adam, Lisa Bösche, Leonardo Castañeda-Losada, Martin Winkler, Ulf-Peter Apfel, Thomas Happe
ChemSusChem, February 09, 2017, DOI: 10.1002/cssc.201601523. Read article
Nifty nickel nanosheets: Carbon paper supported Ni(OH)2 nanosheets [CP@Ni(OH)2] can attain an anodic current density of 20 mA cm−2 at a low overpotential of 338 mV, comparable to that of the RuO2 nanocatalyst supported on CP, for electrochemical water oxidation in alkaline solution. CP@Ni(OH)2 can sustain water oxidation at 100 mA cm−2 for 50 h without any degradation. OER=oxygen evolution reaction.
[Full Paper]
Dehua Xiong, Wei Li, Lifeng Liu
Chem. Asian J., February 07, 2017, DOI: 10.1002/asia.201601590. Read article
A novel 3D WO3/BiVO4/cobalt phosphate composite inverse opal is designed for photoeletrochemical (PEC) water splitting, yielding a significantly improved PEC performance.
[Communication]
Haifeng Zhang, Weiwei Zhou, Yaping Yang, Chuanwei Cheng
Small, February 06, 2017, DOI: 10.1002/smll.201603840. Read article
3D hierarchical cobalt sulfide acts as robust bifunctional photocatalysts for visible-light-driven hydrogen evolution with triethanolamine and eosin-Y, and oxygen evolution with Na2S2O8 and [Ru(bpy)3]2+.
[Full Paper]
Min Zheng, Yong Ding, Li Yu, Xiaoqiang Du, Yukun Zhao
Adv. Funct. Mater., February 06, 2017, DOI: 10.1002/adfm.201605846. Read article
For the first time, novel CoP/TiO2 hybrid nanophotocatalyst is successfully constructed, exhibiting high separation of photoexcited charge carriers and retarding the recombination of electron–hole pairs, excellent photocatalytic H2 evolution performance, and sufficient photostability. The obtained structure as photocatalysts has advantageous factors for both the material and structure, and achieves significantly enhanced photoconversion efficiency.
[Full Paper]
Xinzheng Yue, Shasha Yi, Runwei Wang, Zongtao Zhang, Shilun Qiu
Small, February 02, 2017, DOI: 10.1002/smll.201603301. Read article
By cycling the cathode gas flow, two accelerated stress tests were introduced; simulating short periods of air starvation with duration of either 10 or 60 seconds. Short cathode undersupply does not lead to fuel cell failure. Air starvation results in a voltage drop and hydrogen evolution. This is accompanied by the reduction of platinum oxides in the respective areas, which leads to an improvement of the active catalyst surface area. After extensive cycling, degradation becomes the dominant effect. X-ray computed tomography is used to visualize the change of the catalyst particle size and distribution in dependence on the location in the fuel cell. Throughout the experiments, a total voltage decay rate of 1.427 mV h−1, a total fluoride emission rate of 0.0031 µmol h−1 cm−2 and severe current and temperature gradients during starvation were observed, leading to an inhomogeneous agglomeration of the platinum electrocatalyst.
[Original Research Paper]
M. Bodner, A. Schenk, D. Salaberger, M. Rami, C. Hochenauer, V. Hacker
Fuel Cells, February 02, 2017, DOI: 10.1002/fuce.201600132. Read article
Speedy synthesis: A series of sub-μm-sized, differently coloured mixed-metal oxide light absorbers was prepared by ultraviolet pulsed-laser in liquids synthesis. Assessment of their photoelectrochemical properties in strong aqueous acid allows the quick identification of which elemental compositions, crystal phases, and morphologies are most beneficial for enhanced photoanode performance.
[Article]
Carl M. Blumenfeld, Marcus Lau, Harry B. Gray, Astrid M. Müller
ChemPhysChem, February 02, 2017, DOI: 10.1002/cphc.201601285. Read article
In situ coupling of cobalt phosphide polyhedrons and carbon nanotubes exhibits excellent hydrogen evolution reaction performance due to exposing of the active sites and meanwhile maintaining the superior electric conductivity.
[Full Paper]
Can Wu, Yijun Yang, Duo Dong, Yuhang Zhang, Jinghong Li
Small, February 01, 2017, DOI: 10.1002/smll.201602873. Read article
Metal–organic framework derived cobalt phosphide nanoparticles encapsulated B/N co-doped graphene nanotubes are fabricated through pyrolysis and phosphidation, which exhibit excellent electrocatalytic activity for hydrogen evolution reaction.
[Communication]
Hassina Tabassum, Wenhan Guo, Wei Meng, Asif Mahmood, Ruo Zhao, Qingfei Wang, Ruqiang Zou
Adv. Energy Mater., January 25, 2017, DOI: 10.1002/aenm.201601671. Read article
Ultrasmall crystalline Ni/Co mixed oxide nanoparticles with unusual miscibility in the whole composition range are prepared. Their unusual properties are attributed to a stabilizing effect of the nanoscale combined with kinetic control of particle formation. The particles demonstrate tunable electrocatalytic activity in both the hydrogen and oxygen evolution reaction depending on the relative amount of cobalt and nickel.
[Full Paper]
Ksenia Fominykh, Gülen Ceren Tok, Patrick Zeller, Hamidreza Hajiyani, Thomas Miller, Markus Döblinger, Rossitza Pentcheva, Thomas Bein, Dina Fattakhova-Rohlfing
Adv. Funct. Mater., January 13, 2017, DOI: 10.1002/adfm.201605121. Read article
DFT calculations show that Graphitic N with low doping concentration and distributed near the edge sites is the ideal candidate as a catalyst with high OER activity.
[Full Paper]
Xiangkai Kong, Qiangchun Liu, Debao Chen, Guilin Chen
ChemCatChem, January 12, 2017, DOI: 10.1002/cctc.201601268. Read article
NiFe film for oxygen evolution reaction (OER): An ultrathin NiFe-hydroxide film is generated by stepwise electrodeposition with a significantly improved catalytic OER activity, as compared to NiFe films obtained by using traditional methods. The turnover frequency of 8.7 s−1 at an overpotential of 329 mV is extraordinary and represents the highest value among heterogeneous OER catalysts.
[Communication]
Wei Zhang, Yizhen Wu, Jing Qi, Mingxing Chen, Rui Cao
Adv. Energy Mater., January 06, 2017, DOI: 10.1002/aenm.201602547. Read article
[Review]
Yu. F. Zhukovskii, S. Piskunov, O. Lisovski, D. Bocharov, R. A. Evarestov
Isr. J. Chem., December 12, 2016, DOI: 10.1002/ijch.201600099. Read article
Molybdenum diselenide decorated porous carbon fiber (MoSe2-PCF) composite successfully fabricated through combination of pyrolysis of polydopamine-coated polystyrene fibers and subsequent hydrothermal treatment process. The as-prepared MoSe2-PCF composite exhibits remarkable catalytic activity toward hydrogen evolution reaction, indicating great potentials as efficient metal-free electrodes for energy-related applications.
[Full Paper]
Jiajie Yan, Youfang Zhang, Yunpeng Huang, Yue-E Miao, Tianxi Liu
Adv. Mater. Interfaces, December 05, 2016, DOI: 10.1002/admi.201600825. Read article
[Review]
Sandhya Shenoy, Umesh V. Waghmare, S. R. Lingampalli, Anand Roy, C. N. R. Rao
Isr. J. Chem., November 16, 2016, DOI: 10.1002/ijch.201600120. Read article
[Original Research Paper]
N. Baumann, C. Cremers, K. Pinkwart, J. Tübke
Fuel Cells, July 14, 2016, DOI: 10.1002/fuce.201500212. Read article
© Wiley-VCH 2016.