Water Splitting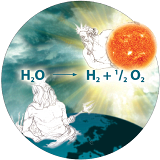 Water splitting, artificial photosynthesis, hydrogen evolution reactions: The generation of chemical fuels from water and sunlight is one of the key scientific challenges for the 21st century.
Picture by U. Rosenthal et al., Cover of Angewandte Chemie 25/2012: Photoassisted Ti–O Activation in a Decamethyltitanocene Dihydroxido Complex: Insights into the Elemental Steps of Water Splitting
Further reading: A. Lasia, Hydrogen evolution reaction, in Handbook of Fuel Cells, Wiley, 2010.
Find all articles on water splitting in Wiley Online Library...
Recent Articles

RSS feed
Active interfaces: MnS and CuS are well hybridized into manganese copper sulfide nanocomposites with versatile nanostructures for effective photo- and electrocatalytic hydrogen generation from water splitting.
[Full Paper]
Jing Wang, Yee-Fun Lim, Ghim Wei Ho
ChemCatChem, October 18, 2017, https://doi.org/10.1002/cctc.201700865 Read article
FeP/Ti spherical clusters were developed as efficient electrocatalysts for HER through low-temperature phosphorization calcinations of FeOOH/Ti precursors. The FeP/Ti could be directly applied as an electrode without extra processing and exhibited good catalytic performance in acidic media. It showed a low overpotential of 104 mV to reach a current density of 10 mA cm−2 and the exchange current density was as high as 0.46 mA cm−2 comparable to commercial Pt/C catalysts. In addition, the FeP/Ti also had satisfactory long-term durability.
[Full Paper]
Mengjia Liu, Jinghong Li
ChemistrySelect, October 16, 2017, https://doi.org/10.1002/slct.201701491 Read article
Conscious decoupling: Ga2O3 nanoparticles were synthesized by chemical vapor synthesis (CVS) at different temperatures and pressures. When loaded with Rh/CrOx co-catalysts all samples evolved H2 and O2 in the stoichiometric ratio of 2:1 in photocatalytic overall water splitting (OWS). The OWS activity of the CVS samples is demonstrated to depend on the optimum ratio of crystallinity and specific surface area.
[Full Paper]
Sasa Lukic, Jasper Menze, Philipp Weide, G. Wilma Busser, Markus Winterer, Martin Muhler
ChemSusChem, October 16, 2017, https://doi.org/10.1002/cssc.201701309 Read article
Arrays of ZnSe/MoSe2 nanotubes grown on fluorine-doped tin oxide glass substrates are synthesized and demonstrated as an efficient binder-free electrocatalyst for enhanced hydrogen evolution reaction. Energy band alignment between ZnSe and MoSe2 facilitates electron injection into MoSe2 and promotes fast electron transfer at the MoSe2–electrolyte interface for hydrogen evolution reaction.
[Full Paper]
Meihui Wu, Yanyan Huang, Xialan Cheng, Xiangshun Geng, Qiong Tang, Yu You, Yongqiang Yu, Ru Zhou, Jun Xu
Adv. Mater. Interfaces, October 13, 2017, https://doi.org/10.1002/admi.201700948 Read article
In this work it is demonstrated that the transition metal (TM)
N bonds in TM ion-doped conductive polymers can efficiently create high electrocatalytic active centers and obviously lower energy barriers of intermediates and products of hydrogen evolution reaction (HER) and oxygen evolution reaction (OER), and the TM ion-doped conductive polymers exhibit the significantly improved electrocatalytic performance for HER and OER.
[Full Paper]
Yu-Tao Dong, Jin-Xian Feng, Gao-Ren Li
Macromol. Chem. Phys., October 12, 2017, https://doi.org/10.1002/macp.201700359 Read article
3 D porous bimetallic nickel–cobalt nitrides are grown on nickel foam as electrocatalysts with excellent catalytic activity for water splitting in an alkaline electrolyte. The nitridation treatment is an efficient approach to promote the catalytic performance, and the incorporation of nickel further boosts the catalytic activity.
[Full Paper]
Yueqing Wang, Baohua Zhang, Wei Pan, Houyi Ma, Jintao Zhang
ChemSusChem, October 12, 2017, https://doi.org/10.1002/cssc.201701456 Read article
Bioinspired dimensional transition of MoS2 enables the modulation of catalytic property and drastically improves the long-term operational stability while preserving the synthetic scalability. The experimental demonstration provides elegant insights into how physical transformation can be leveraged to direct energetics of electrochemical processes.
[Communication]
Yen-Chang Chen, Ang-Yu Lu, Ping Lu, Xiulin Yang, Chang-Ming Jiang, Marina Mariano, Brian Kaehr, Oliver Lin, André Taylor, Ian D. Sharp, Lain-Jong Li, Stanley S. Chou, Vincent Tung
Adv. Mater., October 12, 2017, https://doi.org/10.1002/adma.201703863 Read article
Ultrathin nitrogen-doped carbon sheath intercalated NiMo/NiMoOx nanowires as integrated core–shell architectures are constructed as oxygen evolution reaction and hydrogen evolution reaction electrocatalysts. Due to the abundant active sites, high electrical conductivity, low charge-transfer resistance, and fast electron transfer configuration, the integrated NC/NiMo/NiMoOx electrocatalyst approaches 10 mA cm−2 at a voltage of 1.57 V, opening an avenue to the rational design of the promising electrode materials with architecture structures toward the electrochemical energy storage and conversion.
[Full Paper]
Jungang Hou, Yunzhen Wu, Shuyan Cao, Yiqing Sun, Licheng Sun
Small, October 11, 2017, https://doi.org/10.1002/smll.201702018 Read article
Single Pt atoms can be synthesized on CoP-based nanotube arrays supported by Ni foams through potential cycling. In their Communication on page 13694 ff., X. J. Liu, J. Luo, and co-workers use this strategy to transfer single Pt atoms from a Pt source to a nanotube substrate in a neutral phosphate buffer solution (PBS). As an electrocatalyst for the hydrogen evolution reaction (HER) in PBS, these single atoms exhibit a higher Pt-mass activity and a better stability than commercial Pt/CIn.
[Cover Picture]
Lihan Zhang, Lili Han, Haoxuan Liu, Xijun Liu, Jun Luo
Angew. Chem. Int. Ed., October 05, 2017, https://doi.org/10.1002/anie.201709950 Read article
Dependence on the pendants: Three IrCp* complexes with hydroxy- or amino-functionalized N-heterocyclic carbene (NHC) ligands are reported as catalysts for water oxidation. Hydroxy groups on the NHC ligands are proposed to structurally stabilize high-valent Ir species, increasing the activity up to 15 times over that of an IrCp* complex without heteroatom functionalization.
[Full Paper]
Bani Mahanti, Greco González Miera, Elisa Martínez-Castro, Michele Bedin, Belén Martín-Matute, Sascha Ott, Anders Thapper
ChemSusChem, October 04, 2017, https://doi.org/10.1002/cssc.201701370 Read article
Finding the active component: The physicochemical properties of Pt nanoparticles introduced into anatase titania are investigated to find the active co-catalyst. Photocatalytic H2 evolution is directly proportional to the surface concentration of Pt metal, conclusively demonstrating metallic platinum as the active co-catalyst, and offering a simple parameter to quantitatively predict the photocatalytic performance of Pt/TiO2 in H2 production.
[Full Paper]
Zhi Jiang, Mark A. Isaacs, Zheng Wen Huang, Wenfeng Shangguan, Yifeng Deng, Adam F. Lee
ChemCatChem, October 04, 2017, https://doi.org/10.1002/cctc.201700901 Read article
A hybrid Au nanosphere/molybdenum-doped bismuth vanadium oxide (Mo:BiVO4) photoanode interwoven in a hexagonal pattern to investigate the plasmon-induced energy transfer effect on the photoelectrochemical performance of Mo:BiVO4 is described. This study finds that the Au nanosphere array not only increases the light absorption of the photoanode as expected but also improves both its charge transport and charge transfer efficiencies via plasmon induced energy transfer.
[Full Paper]
Jung Kyu Kim, Xinjian Shi, Myung Jin Jeong, Joonsuk Park, Hyun Soo Han, Suk Hyun Kim, Yu Guo, Tony F. Heinz, Shanhui Fan, Chang-Lyoul Lee, Jong Hyeok Park, Xiaolin Zheng
Adv. Energy Mater., October 04, 2017, https://doi.org/10.1002/aenm.201701765 Read article
Nanofibers with nanoclusters: Monodispersed mesoporous silica spheres (MSS) with fibrous nanostructure and highly open porosity loaded with Co3O4 nanoclusters for catalyzing the oxygen-evolution reaction demonstrate a clear advantage over ordered mesoporous silica loaded with Co3O4 nanoparticles.
[Full Paper]
Xiaohui Deng, Ritsu Rin, Jo-Chi Tseng, Claudia Weidenthaler, Ulf-Peter Apfel, Harun Tüysüz
ChemCatChem, October 02, 2017, https://doi.org/10.1002/cctc.201701001 Read article
The optimization of first-row transition metal based catalysts for oxygen evolution reaction is considerably important to accelerate water splitting. Basic principles and emerging optimization strategies are categorized in terms of Gibbs free energy tuning, modification of electron transport, and enlargement of surface area, with particular emphasis on promoting catalytic performance by concrete approaches.
[Review]
Fei Lu, Min Zhou, Yuxue Zhou, Xianghua Zeng
Small, September 28, 2017, https://doi.org/10.1002/smll.201701931 Read article
Based upon metallurgical eutectic solidification control and dealloying inheritance, facile dealloying is developed to fabricate mesoporous Ni-Fe-O nanowire network. The composite exhibits exceptionally high electrocatalytic activity and long-term stability toward oxygen evolution and overall water splitting, which is attributed to the unique mesoporous nanowire network architecture and the synergistic effect of the metal core and the active metal oxide.
[Communication]
Chaoqun Dong, Tianyi Kou, Hui Gao, Zhangquan Peng, Zhonghua Zhang
Adv. Energy Mater., September 27, 2017, https://doi.org/10.1002/aenm.201701347 Read article
Earth abundant and environmentally friendly metal oxide semiconducting nanostructures are ideal candidates for the development of a solid platform in renewable energies, including energy conversion through solar cells and energy storage in solar fuels and electrochemical water splitting. The latest advancements in the field are presented and discussed in this review.
[Review]
Isabella Concina, Zafar Hussain Ibupoto, Alberto Vomiero
Adv. Energy Mater., September 26, 2017, https://doi.org/10.1002/aenm.201700706 Read article
Space and time separation: Photocatalytic water oxidation and electrochemical proton reduction were mediated by electron-coupled-proton buffer, providing an efficient way to avoid gas mixing by separating oxygen evolution from hydrogen evolution in space and time.
[Communication]
Fei Li, Fengshou Yu, Jian Du, Yong Wang, Yong Zhu, Xiaona Li, Licheng Sun
Chem. Asian J., September 25, 2017, https://doi.org/10.1002/asia.201701123 Read article
Defect-rich, partially delaminated, p-type hierarchical ZrO2 nanowires show extraordinary photoelectrochemical water splitting property in the visible light with a record photocurrent density of −42.5 mA cm−2 at 0 V versus RHE and a high half-cell solar-to-hydrogen conversion efficiency above 3.1%.
[Full Paper]
Md Anisur Rahman, Joseph P. Thomas, Kam Tong Leung
Adv. Energy Mater., September 22, 2017, https://doi.org/10.1002/aenm.201701234 Read article
Coworking metals: FeCoPM12 nanoparticles, with high electrochemical stability and catalytic performance for the oxygen evolution reaction (OER), were fabricated through a coprecipitation route. Compared with iron–cobalt hydroxide and state-of-the-art RuO2 electrocatalysts, the FeCoPM12 catalyst possesses a low overpotential of 258 mV at a current density of 10 mA cm−2 and a small Tafel slope of 33 mV dec−1 (see figure).
[Full Paper]
Haoying Zhai, Taotao Gao, Ting Qi, Yajie Zhang, Guangfeng Zeng, Dan Xiao
Chem. Asian J., September 21, 2017, https://doi.org/10.1002/asia.201700905 Read article
Lickety-split: A dumbbell-shaped CaBi2O4 nanostructure film is hydrothermally prepared and used as a photoelectrode for photoelectrochemical water splitting. This photoelectrode exhibits a high photocurrent density of 1.19 mA cm−2. The remarkable performance may be attributed to improved light absorption, an ideal band gap value, and efficient charge–hole pair separation and collection.
[Communication]
Xuan Wang, Zhihua Liu, Zhifeng Liu
ChemCatChem, September 14, 2017, https://doi.org/10.1002/cctc.201700938 Read article
Layer it up! Benefiting from expanded interlayer spacing and nanoarray structure, benzoate anion-intercalated layered cobalt hydroxide nanobelt array behaves as a highly efficient catalyst for the oxygen evolution reaction, driving a large current density a low overpotential in alkaline media.
[Communication]
Ruixiang Ge, Xiang Ren, Xuqiang Ji, Zhiang Liu, Gu Du, Abdullah M. Asiri, Xuping Sun, Liang Chen
ChemSusChem, September 13, 2017, https://doi.org/10.1002/cssc.201701358 Read article
Powered by plastic: Polyoxometalate-doped conducting organic polymers are viable easily processed plastic anodes for electrocatalytic water oxidation.
[Article]
Marta Blasco-Ahicart, Joaquin Soriano-López, Jose Ramon Galán-Mascarós
ChemElectroChem, September 13, 2017, https://doi.org/10.1002/celc.201700696 Read article
Time to split: Photocatalytic overall water splitting is realized by taking advantage of the semiconductive and porous properties of MIL-125(Ti). CoPi and Pt are deposited into MIL-125(Ti) in two steps, and the as-prepared MIL-125(Ti)-CoPi-Pt produces stoichiometric H2 and O2 evolution from pure water with no external bias. The co-catalysts CoPi and Pt not only act as reactive sites for oxygen and hydrogen evolution, respectively, but also decrease the overpotential of O2 and H2 evolution from water and improve the photogenerated charge separation efficiency.
[Communication]
Yang An, Benyan Xu, Yuanyuan Liu, Zeyan Wang, Peng Wang, Ying Dai, Xiaoyan Qin, Xiaoyang Zhang, Baibiao Huang
ChemistryOpen, September 07, 2017, https://doi.org/10.1002/open.201700100 Read article
Putting the F in iron: Hematite photoanodes with enhanced light absorption and efficient water splitting performance were fabricated by fluorine doping. The optimization strategy proposed herein may shed light on the future design of photocatalysts for energy-related applications.
[Communication]
Junfeng Xie, Weiwei Liu, Jianping Xin, Fengcai Lei, Li Gao, Haichao Qu, Xiaodong Zhang, Yi Xie
ChemSusChem, August 31, 2017, https://doi.org/10.1002/cssc.201701074 Read article
Catch the sun: Photodeposition of CdSe on a CdS-preloaded mesoporous TiO2 nanocrystalline film yields CdS(core)–CdSe(shell) quantum dots (CdS@CdSe/mp-TiO2) with a heteroepitaxial nanojunction at 298 K. Two-electrode quantum-dot-sensitized photoelectrochemical (QD-SPEC) cells were fabricated and demonstrated a solar-to-current efficiency of 0.03 % without external bias under simulated sunlight (λ>430 nm, AM 1.5, one sun).
[Communication]
Kaoru Kitazono, Ryo Akashi, Keigo Fujiwara, Atsunobu Akita, Shin-ichi Naya, Musashi Fujishima, Hiroaki Tada
ChemPhysChem, August 28, 2017, https://doi.org/10.1002/cphc.201700708 Read article
Singles suitable for HER: Large-area single Pt atoms on CoP-based nanotube arrays supported by Ni foams were synthesized by potential cycling. These binder-free electrocatalysts are centimeter-scale and can be scaled up further. They exhibit unparalleled performance when catalyzing the hydrogen evolution reaction in neutral media.
[Communication]
Lihan Zhang, Lili Han, Haoxuan Liu, Xijun Liu, Jun Luo
Angew. Chem. Int. Ed., August 23, 2017, https://doi.org/10.1002/anie.201706921 Read article
© Wiley-VCH 2016.